---
Ready to make some smoothies with frozen fruit? Let's take a look at the best blenders for frozen fruit smoothies, some recipes, and easy instructions to make a smoothie using frozen fruit.
---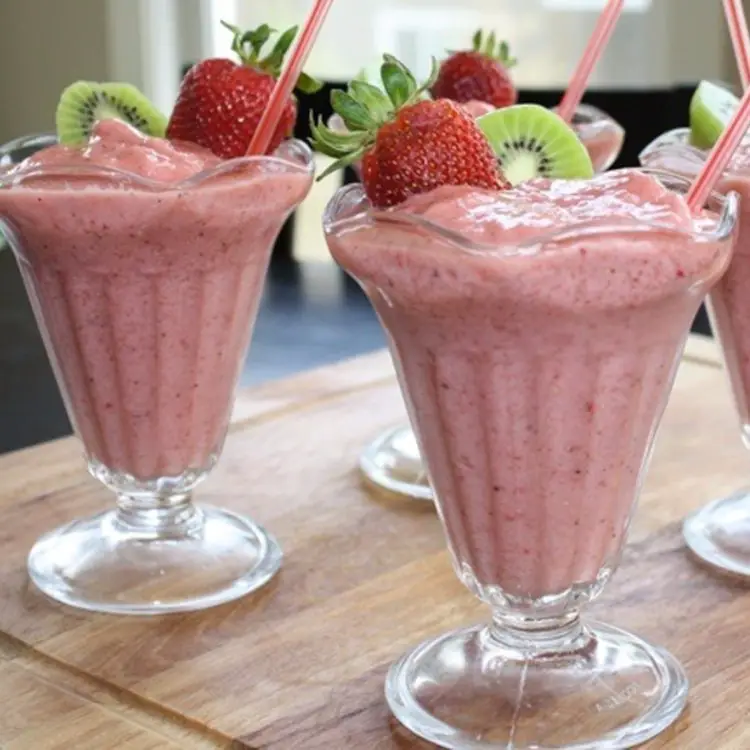 Welcome to Life Hacks for Moms - we hope you enjoy all our tips and tricks for busy moms! Please note that we use affiliate links and ads to generate some income at no cost to you.
---
✅ Best Blenders for Frozen Fruit Smoothies
1. Ninja Professional Blender (BL610)
27 new from $61.49
9 used from $53.00

as of May 7, 2022 8:10 am
Features
1000 watts of professional performance power and sleek design
Makes drinks and smoothies in seconds with total crushing technology
Includes a safety feature that keeps the blades from spinning unless lid is secured
BFA free and contains dishwasher safe parts
Product Description
The Ninja Professional Blender 1000 features a sleek design and outstanding performance with 1000 watts of professional power. Ninja Total Crushing blades gives you perfect ice crushing, blending, pureeing, and controlled processing. The XL 72 oz. professional blender jar is great for making drinks and smoothies for the whole family. All parts are BPA free and dishwasher safe.
 Ninja Professional Blender (BL660)✅ See This Nutri Ninja Pro (BL456)✅ See This Ninja Mega Kitchen System (BL770)✅ See This
2. Jamba Appliances Quiet Shield Blender with 32 oz & Personal Single Serve 20 oz Jars, Gray (58916)
 out of stock
as of May 7, 2022 8:10 am
Features
Significantly quieter than the leading competitors
Sound enclosure minimizes noise while blending
Powerful 1.6 peak HP motor easily pulverizes ice cubes and tough fruits & vegetables
Infinite speed control with pulse
Includes dishwasher safe 32 oz. and 20 oz. jars, custom tamper, and recipe book
Product Description
Jamba Juice Company, a leading healthy, active lifestyle brand, and leading retailer of freshly squeezed juice, has created a line of Jamba branded blenders and juicing products. Jamba appliances will deliver on the brand promise of Blend in the Good and allow consumers to have the Jamba experience at home.
3. Ninja Mega Kitchen System (BL770)
11 new from $136.79
11 used from $90.00
Free shipping
as of May 7, 2022 8:10 am
Features
This professional kitchen system comes packed with 1500 watts of power to handle all of your drink and meal-making needs.
XL 72oz. Total Crushing Pitcher pulverizes ice to snow in seconds for creamy frozen drinks and smoothies
8-Cup Food Processor Bowl provides perfect, even chopping and makes up to 2 lbs. of dough in 30 seconds
Two 16 oz. Nutri Ninja cups with To-Go lids are perfect for creating personalized, nutrient-rich drinks to take on the go.
1500 Watts
Product Description
The Ninja Mega Kitchen System comes packed with 1500 watts of power to handle all of your drink and meal-making needs. The XL 72 oz*. blender pitcher features Total Crushing technology to blast through ice and frozen fruit. Two 16 oz. Nutri Ninja cups with To-Go Lids are perfect for creating personalized, nutrient-rich drinks to take on the go. The 8-cup food processor bowl comes equipped with a chopping blade for perfect, even results and a dough blade that can mix up to 2 lbs. of dough in 30 seconds!
4. Cleanblend 3HP 1800-Watt Commercial Blender
2 new from $178.97
Free shipping
as of May 7, 2022 8:10 am
Features
Impressively powerful 3 horsepower, 1800w motor that keeps things running-and blending-smoothly
Oversized, virtually unbreakable 64-ounce BPA-free container that holds all the fruits and veggies you can handle and is a cinch to clean
Stainless steel enclosed blade assembly with a sealed ball bearing ensures the entire blender is strong and sturdy
Pulse feature to give you the perfect chop and a light, creamy finish to thicker recipes
The included tamper wand provides extreme processing power and breaks up air pockets while you blend, giving you a smoother smoothie without the chunks and lumps
Product Description
Cleanblend has designed the perfect blender to help you through the journey to better health. It is a 3 horsepower, dynamo of a blender, that will LIQUEFY fruits and vegetables to get the most vitamins, proteins and antioxidants from the whole food into one delicious drink. The Cleanblend blender is less expensive than its competition but with all the same features. We guarantee the blenders for five (5) years and have focused on quality in every detail, including a BPA free container. Welcome to the next generation of commercial blenders. Welcome to Cleanblend.
5. Oster VERSA Pro Performance Blender with Tamper 1400-watt, BLSTVB-RV0
5 new from $154.93
1 used from $126.82
Free shipping
as of May 7, 2022 8:10 am
Features
Powerful 1400 Watt motor
64-ounce BPA-Free Tritan Jar
Three programmed settings (Smoothies, Dips/Spreads and Soup) and variable speed dial to instantly adjust speed as needed
Stainless steel blade spins at Over 250 mph thoroughly blending ingredients so recipes turn out perfect every time
Includes 2 color cookbooks with recipes to inspire you; 7 year warranty
Product Description
High-performance blender for blending just about anything--from soup to nuts. view larger Experience the power and versatility needed to support a healthy lifestyle. view larger 3 programmed settings for Smoothie, Soup, and Dips/Spreads--plus pulse and a variable speed dial. view larger Stainless-steel blade spins over 250 MPH for thorough, effortless blending. view larger Blender fits under most kitchen cabinets for convenient storage. view larger Tamper included for easily moving difficult-to-process ingredients down into the blade. view larger Crushes ice and blends fruit for smoothies, shakes, and fun party drinks. view larger 2 recipe books with over 130 recipes included for inspiration. view larger Make fresh homemade salsa in no time. Oster Versa Performance Blender A Healthy Blend of Power, Precision, and Value Step aside basic blender. The Oster Versa Performance blender comes equipped...
6. Vitamix Pro Series 750 Brushed Stainless Finish with 64oz Container and Cookbook, Heritage
11 new from $530.00
1 used from $529.95

as of May 7, 2022 8:10 am
Features
New and Upgraded Pro 750 Model Released in 2016
Stainless steel blades with a Low-profile container made from BPA-free Eastman Tritan copolyester
5 pre-programmed settings
Includes DVD, getting started guide, cookbook and low-profile tamper
2.2 horsepower with 120 volts
Product Description
59326 Finish: Brushed Metal Features: -Automated blending: Five pre-programmed settings ensure simple cleaning, walk-away convenience, and consistent results for smoothie, frozen dessert, soup, and puree recipes. -Quieter motor: The commercial-grade 2.2-peak horsepower motor is able to blend the toughest ingredients, latest sound technology makes quietest motor. -Easy cleaning: With a drip of dish soap and warm water, your Vitamix machine can clean itself in 30 to 60 seconds. Country of Manufacture: -United States. Product Type: -Countertop Blender. Jar Material: -Plastic. Lid Material: -Plastic. Number of Items Included: -6. Jar Material Details: -Eastman Tritan Copolyester. Dimensions: -Laser-cut stainless steel hammer mill and cutting blades measuring 4" diameter. Overall Height - Top to Bottom: -17.4". Overall Width - Side to Side: -7.7". Overall Depth - Front to Back: -9.4". Overall Product Weight: -13 lbs.
7. Blendtec Total Blender Classic, with FourSide Jar, Black
6 new from $295.00
1 used from $299.00
Free shipping
as of May 7, 2022 8:10 am
Features
Commercial-Quality: For years, blending professionals have used Blendtec machines in the best coffee shops, juice bars and eateries around the world. The Total Blender Classic delivers the same great results in your own home. A 1,560-watt countertop blender with 3.0 peak horsepower motor ensures commercial quality
Features 6 preprogrammed blending cycles: Batters, Ice Crush, Smoothie, Ice Cream, Whole Juice, Hot Soup with easy to read touchpad controls and 10 speed plus Pulse. This exclusive blend cycle technology creates the perfect blends with the touch of a button.
Measures 15.5 inches tall, fits perfectly under most kitchen cabinets
Includes the Blendtec FourSide Jar with Vented Gripper Lid. The FourSide jar effectively harnesses the power of your Blendtec blender. Blunt safety blade is thicker and stronger than other blender blades. The Jar is made from impact-resistant, BPA-free copolyester. The FourSide jar is compatible with all Blendtec consumer blenders.
Warranty: 8 years
Product Description
The Total Blender Classic is the all-in-one appliance that makes smoothies, fresh juice, ice cream, milk shakes, cappuccinos, margaritas, soups, sauces, batters, dressings, salsas and more! It replaces up to 9 other appliances with 1 fast, easy-to-use machine. The Total Blender Classic is the iconic Blendtec original that took the blending world by storm and introduced all of the power and features that made Blendtec the choice of professionals.
8. Glantop® Official Professional Commercial Blender (Black, 2200W, 2L)
 out of stock
as of May 7, 2022 8:10 am
Features
2200 Watts of Professional Performance Power,Copper Intergrated motor design
High grade stainless steel sharp blades,FDA approved and BPA-free materials used in jar
Variable Speed Control & Pulse feature lets you create fruit smoothies, hot soups, ice crusher, sauces, frozen desserts with one machine.
70 oz (2L) Big Capacity, can make drink for whole family or business use. CE & RoHS Certificated
Instead of plastic connect that wear quickly, uses a metal connect system to connect the container to the motor base-allowing better blends and longer lifespan
Product Description
The deluxe Glantop blender is ideal as commercial or household food processor Specification Jar Capacity: 2L (2000cc) HP: 3-peak Rpm: 45000-peak Power: 2200 W Voltage: AC 110V~120V/60Hz Blades: High grade stainless steel ever sharp blades (2 IN 1 BLADES) Jar Container Material:Premium Quality: FDA approved and BPA-free materials used in jar Control Panel Features: Traditional / Work Top Type Design Feature: Radial cooling fan and thermal protection system Motor: German original motor technology Pulse function for crushing ice and solid foods Features Metal connect System Instead of plastic connect that wear quickly, a metal connect system is used to connect the container to the motor base-allowing better blends and longer lifespan Hardened stainless steel blades Japanese original blade technology. Solid and sharp with stronger toughness and longer working life Copper Integrated motor design 100% Copper integrated motor is designed to make sure...
9. Breville Hemisphere Control Blender with Free Smoothie Recipe Book
 out of stock
as of May 7, 2022 8:10 am
Features
Die-cast metal base
Permanent hemisphere blade and bowl system with central blades
Electronic 5 speed control with pulse
Extra wide stainless steel ice-crushing blades
LCD display timer counts up on speed settings and down for pre-programmed settings
Product Description
Pull down what's on top while whipping up what's below with this Hemisphere Control Blender from Breville. Central blades crush and chop for velvety cocktails, while bowl-hugging blades whip and aerate for creamier smoothies. This 750 watt blender has an LCD timer and pre-programmed Ice Crush and Smoothie settings, which automatically alter speeds to improve blending results. The illuminated five speed control buttons plus pulse ensure consistent results every time, and this blender adds the functionality of some food processing tasks for versatility and convenience. It also features a large 48 ounce, dishwasher safe, BPA-Free Eastman Tritan copolyester carafe fitted with a permanent hemisphere blade and bowl system. The blade design and high torque motor deliver quiet and efficient blending performance, while the contoured bowl design minimizes food traps and makes for easy cleaning. Backed by a manufacturer's one year limited warranty, it also features cord storage and an assist...
10. NutriBullet 9 Piece NB9-0901 Pro 900 Hi-Speed Blender/Mixer Set
$93.99


$

87.00
 out of stock
2 new from $87.00
Free shipping
as of May 7, 2022 8:10 am
Features
Extracts nutrition from within food, breaking down whole fruits & vegetables
Powerful 900-watt motor, quick and simple to use and clean
Extract and drink from the same cup, life changing recipes book included
Product Description
NutriBullet PRO 900. A Powerhouse for Power Users. The 900-watt. NutriBullet Pro 900 features unique extraction blades and exclusive cyclonic action to break down, pulverize, and emulsify whole fruits and vegetables better than any standard blender or juicer, creating silky-smooth nutrient-extracted beverages that nourish your system from the inside out. Great for those who are active in their lives and proactive about their health, the NutriBullet Pro 900 makes ultra-nutritious NutriBlast smoothies to enjoy at home or on the go. Its compact size and simple assembly fit onto any countertop, while its cups, blades, and accessories rinse clean under the tap or in the dishwasher. All units feature the Life Changing Recipes book for recipes, information, and inspiration to bolster your NutriBlast habit. Included in the 9-piece Set. High-torque Power Base. Extractor Blade, 32 oz. Colossal Cup, 24 oz. Tall Cup, handled lip ring, regular lip ring, flip top to-go lid, life changing recipes...
Frozen fruit smoothies come in many varieties. They can differ in taste, texture, and ingredients. The important thing to remember is to keep them as healthy as possible using these simple guidelines.
How To Make Frozen Fruit Smoothies
Frozen Fruit Smoothie Ingredients
There are a few basics to get you started with smoothies, which you can then build upon as your tastes change.
Best Frozen Fruits for Smoothies:
Bananas, berries of all types, peaches, apples, nectarines, pears, mangos, kiwi, and pineapple are all great fruits to use for your frozen fruit smoothies.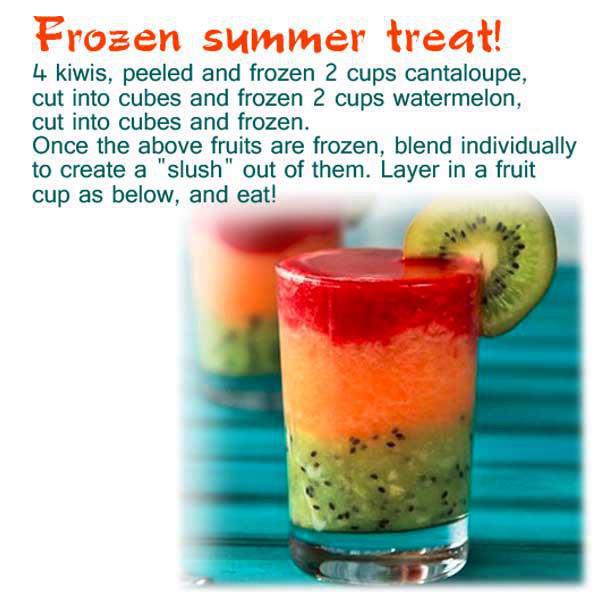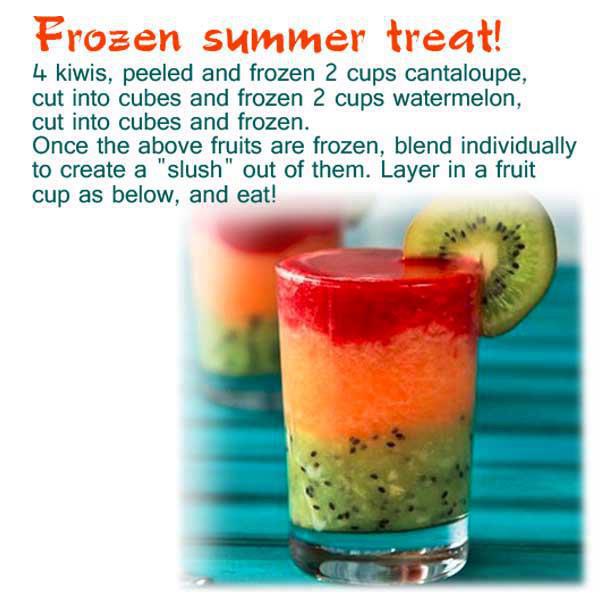 Liquids for Frozen Fruit Smoothies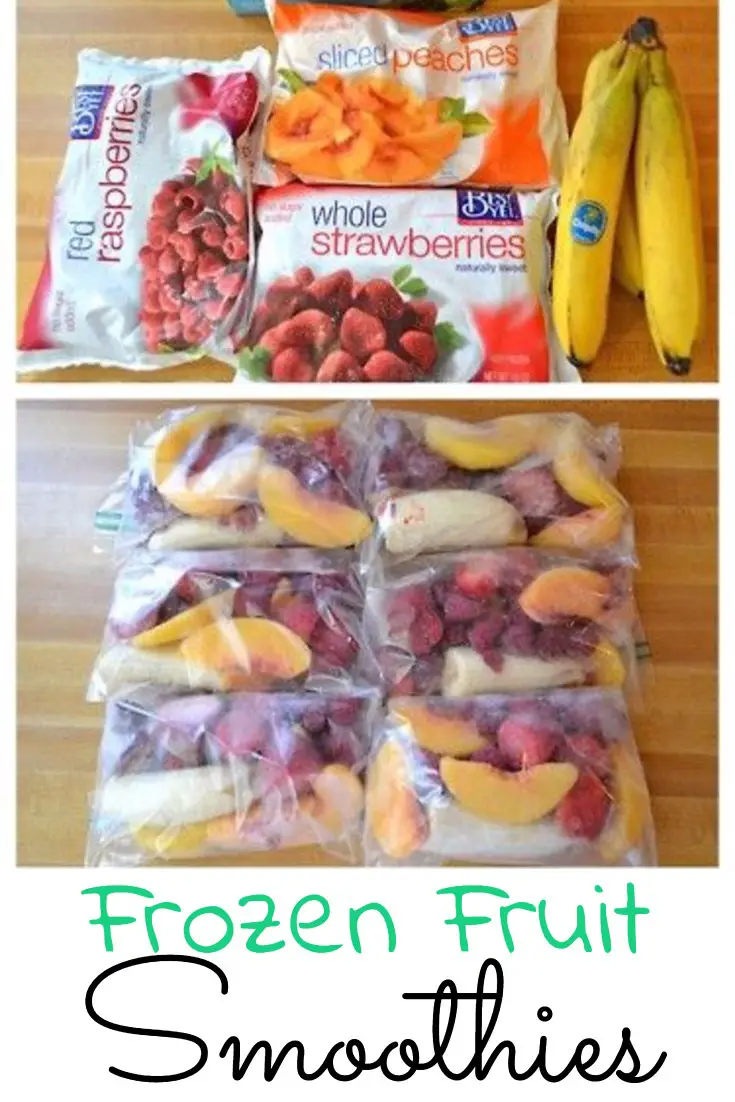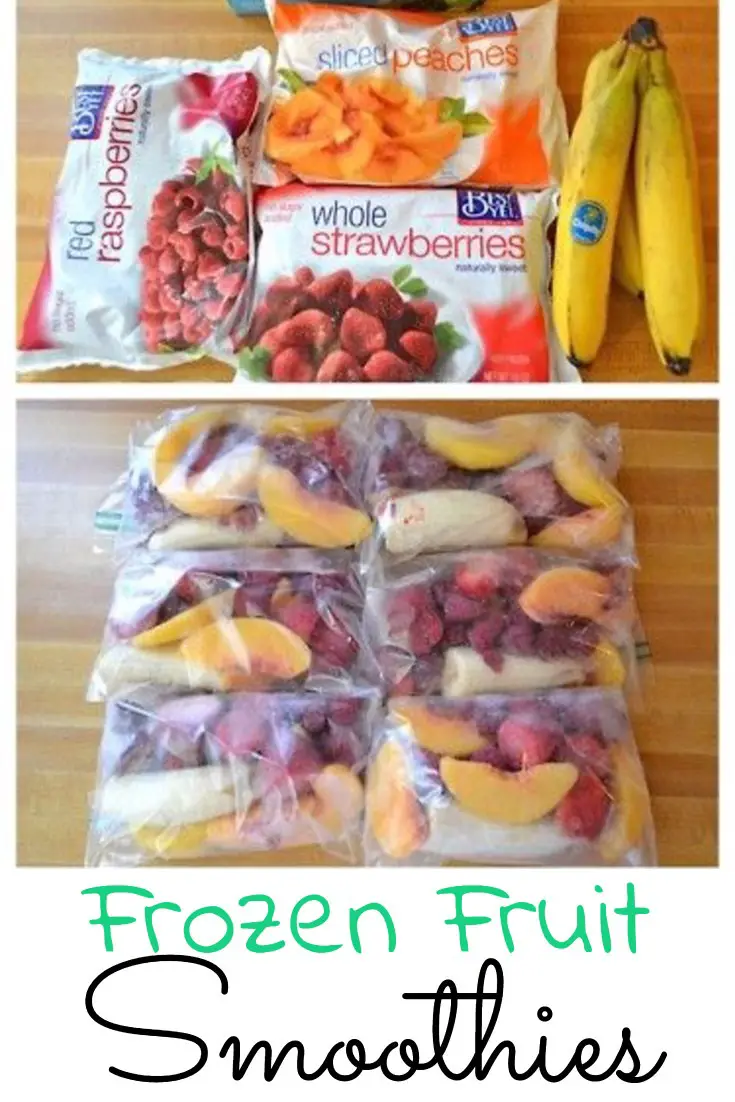 A liquid is added to the blender as you are making your smoothie. The type and amount of liquid will determine how thick it becomes.
Commonly used liquids such as water, milk (2% or skim is fine and will help reduce the fat and calories in your diet), fruit juice, rice milk, or soy milk will make differing flavors of smoothie.
Remember to use unsweetened juice. You really don't need or want the sugar or high fructose corn syrup commonly found in sweetened juices.
Also important to note: if you're using frozen fruit in your smoothies, you most likely will NOT need as much liquid.
Thickeners for Frozen Fruit Smoothies
Often used thickeners include low-fat yogurt, frozen fruit, a cup of ice, or a small can of frozen juice concentrate (read the label for added sugar or other sweetener).
The basic recipes are centered around one part fruit, one part liquid, and two parts thickener. You can pick and choose any combination of these that you want to experiment with. Add more liquid or thickener as needed to reach the desired consistency.
Don't be afraid to be daring in selecting your ingredients. You really can't go wrong. If sweetener is needed remember to use crystalline fructose or honey because they are more "body friendly." Usually, the fruit is sweet enough to satisfy your sweet tooth.
Serve immediately if possible because the taste is at its height. Refrigerating is possible but the flavor and texture suffer.
Frozen fruit smoothies can be used as a healthy breakfast food, a healthy snack, or even as a dessert. Try them you'll like them.
Best Blenders For Smoothies with Frozen Fruit
Last updated on May 7, 2022 8:10 am
Chocolate? Yes! Peanut Butter? Yes! How about a healthy chocolate peanut butter smoothie recipe that is so easy to make AND good for you? If you work out or just would like a healthy low calorie snack there's nothing like a chocolate peanut butter smoothie. Only problem is: there are …
Do you make meal prep pre-made smoothie bags and put them in your freezer to save time in the morning? So do I! I love being able to prepare my breakfast smoothie ingredients, put them in a baggie, and toss them in the freezer all in one batch so all I have to do is pop a baggie full in my blender and go.
Let's Make EASY Smoothies with a Nutri Ninja Smoothie Maker! Is the Nutri Ninja Auto IQ Blender REALLY worth the money and all the "best blender EVER" hype? Are there better blender options than the Ninja Auto IQ model? Is this just another over-priced junky blender or a great kitchen appliance?
Let's talk CHOCOLATE smoothies. The fast and easy chocolate smoothie recipes below are both delicious AND healthy. The smoothie drinks of today have gone from the traditional to the bizarre. That's because smoothies are very versatile – you can mix almost anything, and yet, it will still usually taste good.