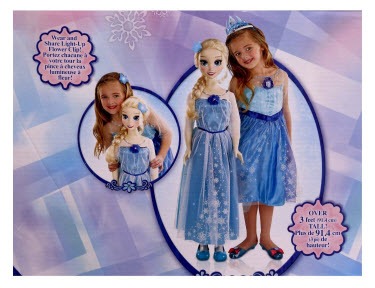 I asked the 5-year-old what she wanted for Christmas this year – her immediate answer?  FROZEN DOLLS!!  ELSA!!!
One would think that after just having an Elsa/Frozen themed birthday party AND getting all THOSE Frozen toys, that she might want something else.
But nope, she wants FROZEN DOLLS!
And she doesn't want just any Elsa doll – she wants the BIG life-size (ok, her size) Elsa doll that is in the picture to the right.  You can find that BIG Elsa doll here.
So I'm making this page so I can keep up with all the prices and sales on Frozen Dolls (!!)
You're welcome to use this page too – I have a sneaky feeling it will be a Frozen Shopping Frenzy this holiday.
If the price is in red, that indicates a sale price. 
Last updated on June 17, 2021 11:49 am
Hottest Toys for Christmas 2019? We Found the HOT Toys This Year!
Top 10 Christmas Toys – Hottest Toys for Christmas This Year (Most Wanted By Age)