---
Funeral Hashbrown Potatoes Casserole Recipes – The EASIEST Funeral Potatoes Recipes To Feed A Large Crowd – Perfect To Make Ahead And Freeze too! These Easy Cheesy Potato Casserole Recipes and Funeral Food Casserole Variations Are Perfect For a Celebration of Life Memorial, Funeral Reception, Wake or Church Potluck (I make 'em for work potluck parties, too!)
If you want a potluck-style casserole recipe to make and/or take, these super simple potato casseroles are perfect!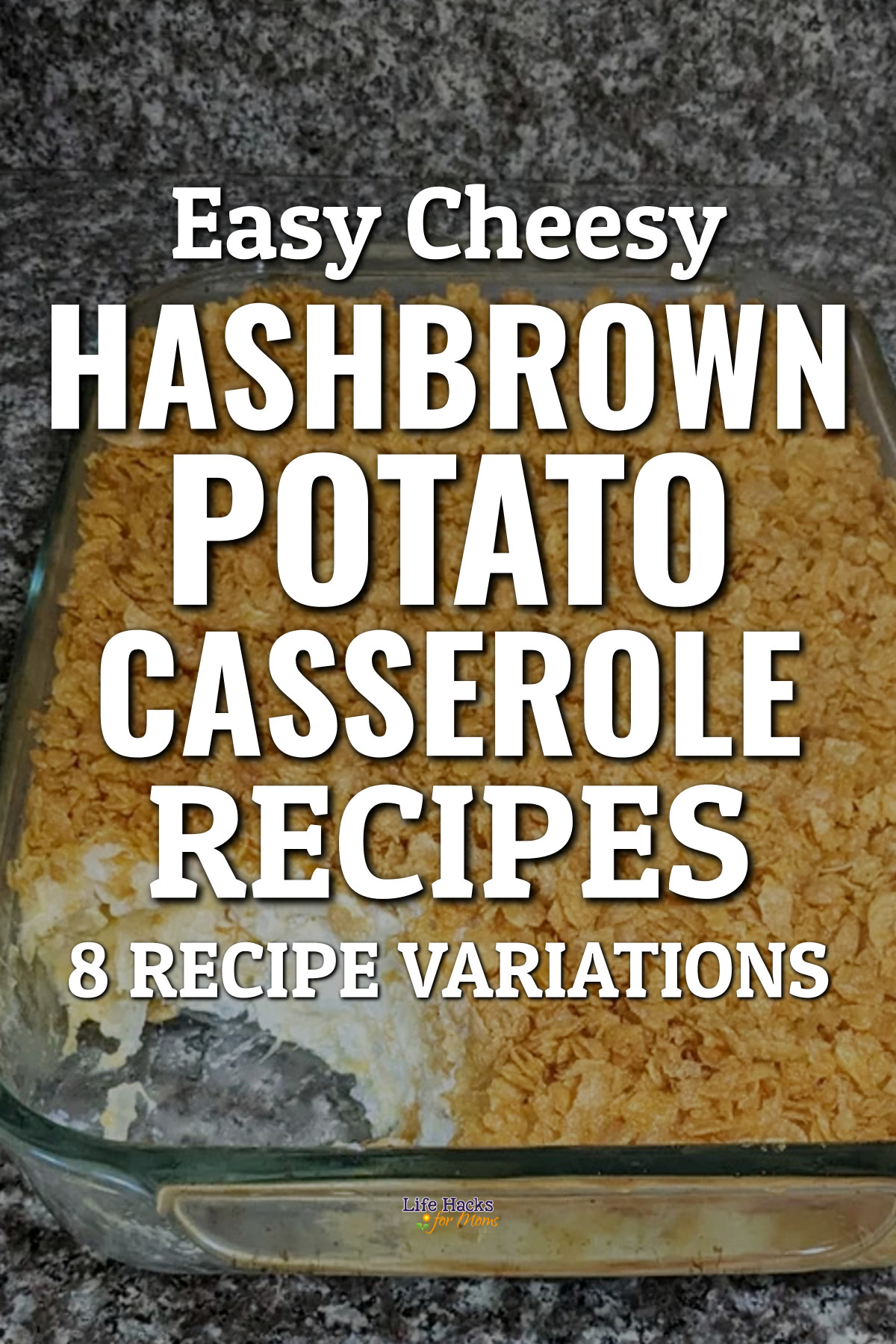 Welcome to Life Hacks for Moms - we hope you enjoy all our tips and tricks for busy moms! Please note that we use affiliate links and ads to generate income at no cost to you.
---
Easy Funeral Potatoes Recipes:
Funeral reception menu ideas can be a REAL challenge – especially when you're looking for CHEAP and EASY funeral food ideas – cooking on a budget for a large group is a REAL challenge these days!
These cheesy funeral potatoes casserole recipes are EASY funeral food ideas and what I consider the BEST funeral food recipes that are cheap to make and are COMFORTING.
Whether you want a make ahead casserole to send to the grieving family or take a super simple casserole to a funeral reception buffet, you will NOT go wrong with the funeral potatoes recipe variations below.
Whether you want a SUPER easy funeral potatoes recipes without corn flakes or with, using shredded hash browns or an easy make ahead cheesy potato recipe with frozen hash browns, these funeral cheesy potato casserole recipes are perfect for a funeral reception or a potluck luncheon at church after the service.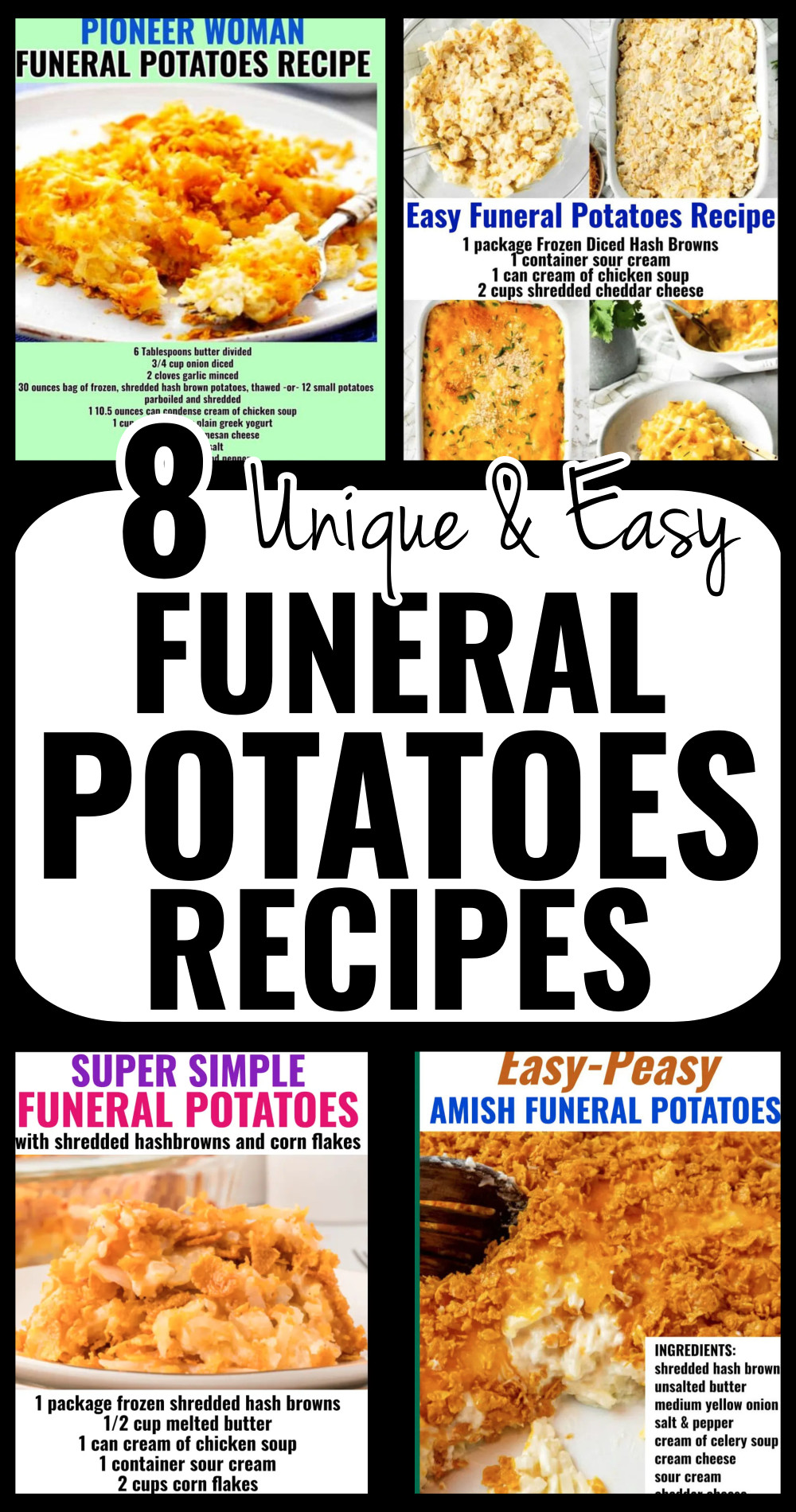 ✅
BONUS:
these funeral potatoes make for a wonderful
make ahead and freeze dishes
for funerals… Southern funeral food is THE best for a wake or memorial service – don't you agree?
Here are the super simple funeral potato casserole recipes you'll find below:
Easy Funeral Potatoes Recipes:
Amish Funeral Potatoes-EASY Recipe Below
Pioneer Woman Funeral Potatoes Recipe
Mormon Funeral Potatoes-VIDEO Recipe Below
With Shredded Hash Browns
With Ritz Crackers
Without Cornflakes
More Funeral Food Ideas
Alrighty, let's jump right into the recipes…
Amish Funeral Potatoes Recipe
When it comes to funeral reception buffet food ideas, nothing is better, more comforting or EASIER than Amish Funeral Potatoes.
Here are the ingredients: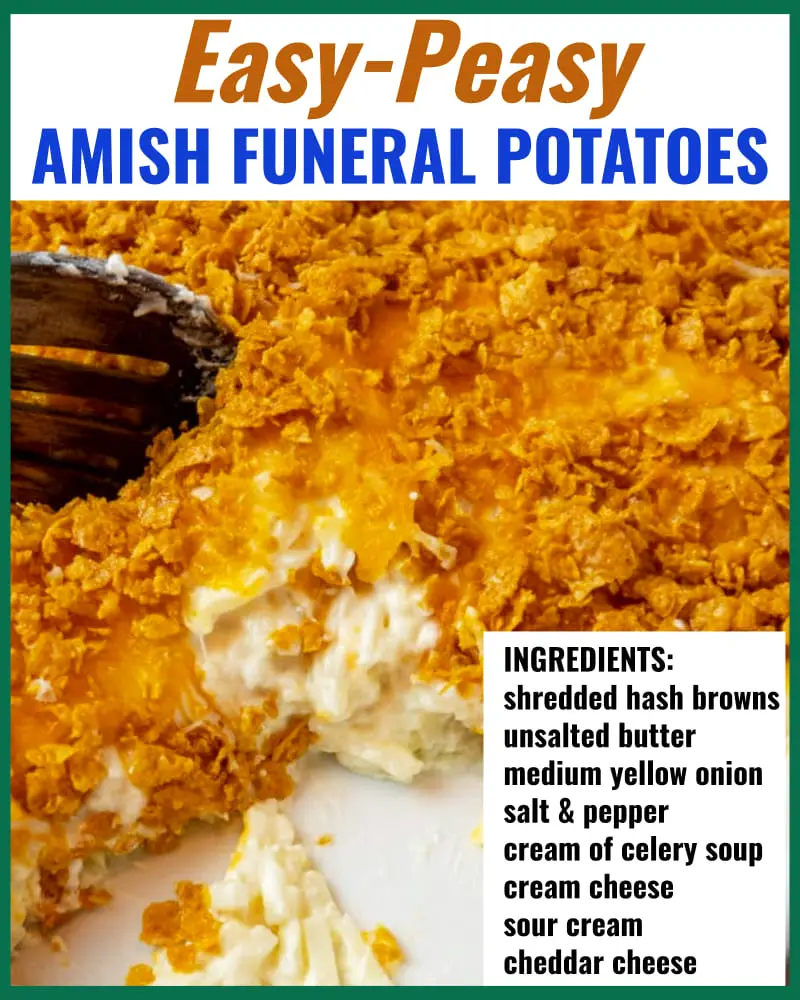 The Best Funeral Potatoes – Funeral potatoes, also called "Amish potatoes," are a classic side dish that is often served at family dinners and funerals. This casserole … print recipe
Pioneer Woman Recipe
This Pioneer Woman Cheesy Potato Casserole recipe is usually called "Funeral Potatoes" – and it is the ULTIMATE comfort food for a funeral reception buffet or for a church potluck supper.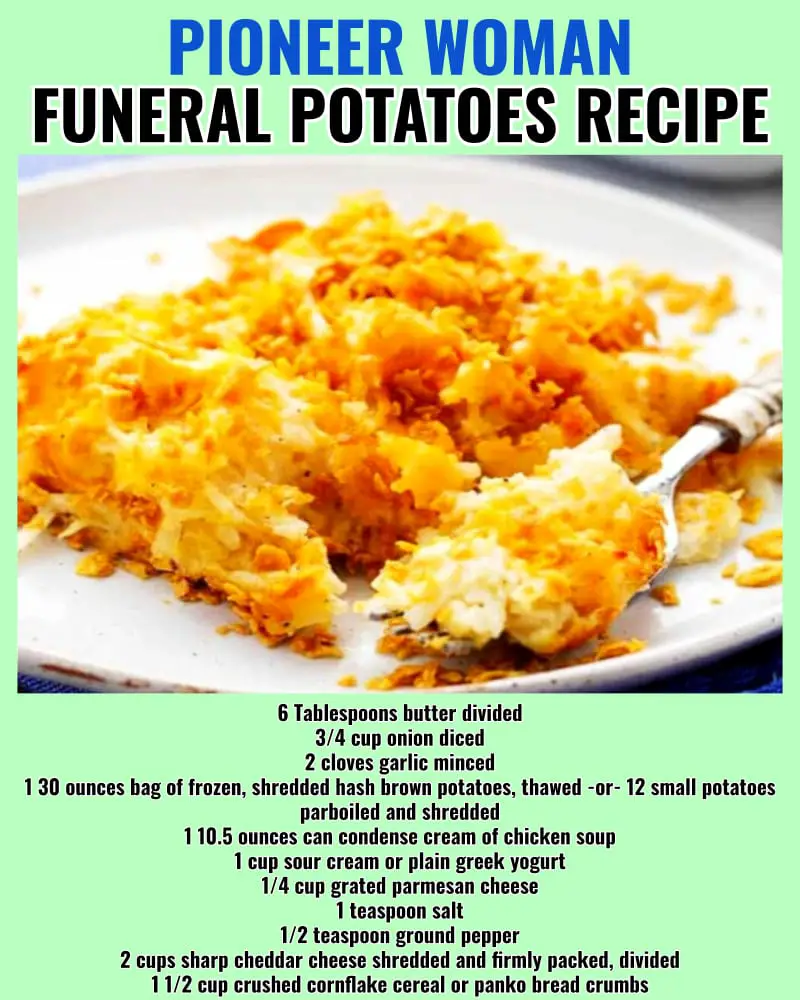 Pioneer Woman Funeral Potatoes -The Best Pioneer Woman Funeral Potatoes Ever! This Pioneer Woman Funeral Potatoes, a crispy topping hash brown dish, is The Best Pioneer Woman Funeral Potatoes Ever! Sour cream, onions, garlic, and that buttery top all combine with the potatoes to make a side dish fit for any occasion. Serve this Pioneer Woman Funeral Potatoes at your next holiday or special occasion and watch it go. It's a comfort meal staple! … print the recipe
Mormon Funeral Potatoes
Wondering how to make an EASY Mormon Funeral Potato Casserole?
The video below will walk you right through the entire (simple!) recipe:
Ingredients:
1/2 cup butter
2 cans cream of chicken soup
2 cups sour cream
1 1/2 cups shredded Cheddar cheese
1/2 cup chopped onions
32 oz package frozen shredded or cubed hash browns
3 cups coarsely crushed corn flakes
2 tablespoons melted butter
Mormon Funeral Potatoes Recipe – A popular Utah casserole, these Funeral Potatoes are good for more than just funerals! This classic potato casserole is comforting and crowd-pleasing. Print the recipe
With Shredded Hash Browns
This next super simple funeral potato casserole recipe is WITH shredded hash browns and WITH corn flakes as the topping.
Here are the few ingredients: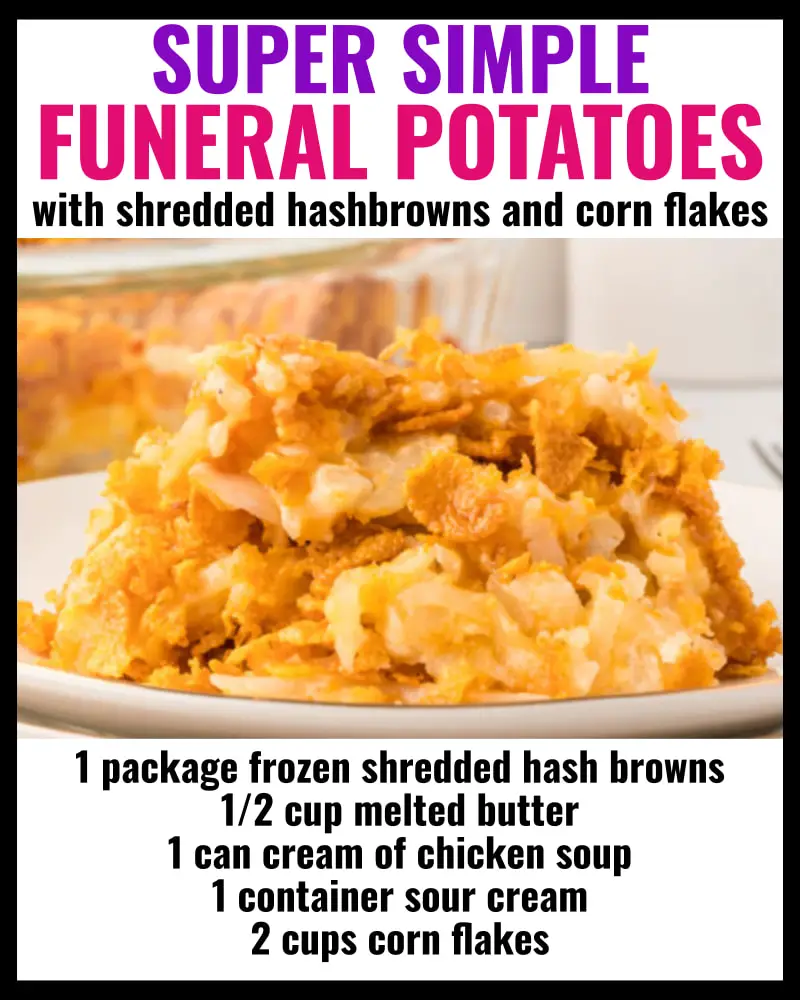 Hash Brown Casserole – aka Funeral Potatoes – Ingredients · 1 package (2 pounds) frozen hash brown potatoes, thawed · 1/2 cup butter, melted · 1 can (10.5 oz.) condensed cream of chicken soup, … print recipe
With Ritz Crackers
Below is THE ultimate cheesy potatoes recipe that is going VIRAL on TikTok – if I had to choose ONE easy funeral potatoes recipe to make, this is THE recipe I would make or take to funeral reception… it is SO good!
Here are the ingredients:
1 bag of shredded hash browns
1 can of cream of chicken
1 can of cream of celery
1 cup of sour cream
4 tablespoons of melted butter
3-4 cups of grated cheddar cheese
Salt and pepper for seasoning
And here's the video showing how to make this EASY funeral potatoes recipe:
Without Cornflakes
If you want a SUPER SIMPLE Funeral potatoes recipe WITHOUT corn flakes, this recipe variation below has only FOUR ingredients and is so easy to make: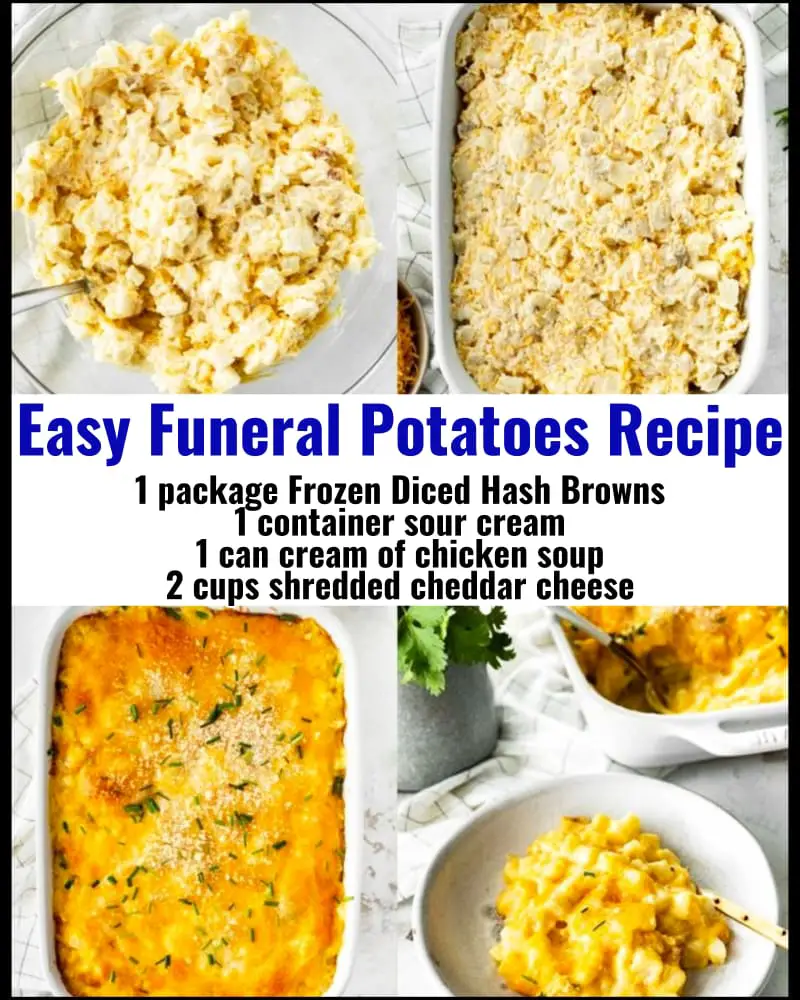 Cheesy Potato Casserole (Funeral Potatoes) – Preheat oven to 350ºF. and grease or spray a 9×13″ baking dish. Combine slightly thawed potatoes, sour cream, soup and cheese in a large mixing … print recipe
More Funeral Food Ideas
Miss Anything?
Go back to the top of: ==>> Funeral Potatoes Recipes
Go back to a specific section: