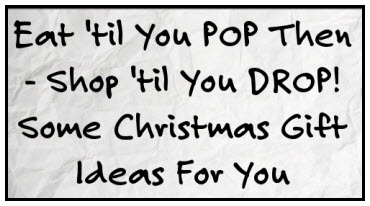 Now that Turkey Day is over – and the big meal is finally completely digested – and even the dishes are done…. it's time to shop, Shop, SHOP!  Let the deal hunting begin!
Eat 'Til You Pop, then Shop 'Til You Drop, right?
If you're like me, you are (again) saying, "THIS YEAR, I am finishing my Christmas shopping EARLY!!!!"
Then off you go, to get said gifts…and the ol' brain shuts down – goes BLANK.
So, let me give you some ideas to help.
These are things people have bought today and should help get those creative shopping juices flowing again so you can click, click and add to cart your way to your Christmas shopping really done early for once!
Here we go:
Last updated on July 4, 2021 8:11 pm
How's that for a start to get your gift ideas flowing?
How about some cheap DIY homemade gift ideas?
If nothing yet – take a look at the deals and gift ideas other readers are finding right now:
Hottest Toys for Christmas 2019? We Found the HOT Toys This Year!
Top 10 Christmas Toys – Hottest Toys for Christmas This Year (Most Wanted By Age)