After Thanksgiving Leftover Recipes –
Wondering how to use Thanksgiving leftovers because you're tired of boring leftover turkey sandwiches? So were we! Take a look at these quick and easy ideas for all that leftover turkey, stuffing, mashed potatoes, leftover turkey and dressing, cranberry sauce, vegetables and gravy ideas for your leftovers from your Thanksgiving meal. There's everything from leftover turkey casserole – and more easy leftover turkey recipes – to leftover mashed potato soup (yum!)
Easy Leftover Thanksgiving Food Ideas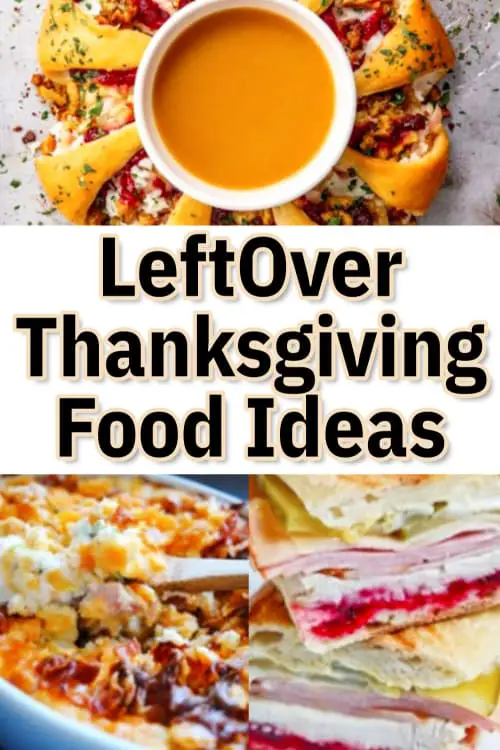 Below are 15 of my favorite easy leftover Thanksgiving food ideas. Personally, I think they are the BEST Thanksgiving leftover recipes!
All of these recipes below use the leftovers from your Thanksgiving or Christmas meal (or any Holiday meal you cook for a crowd and find yourself left with a TON of leftovers). If you want to repurpose Thanksgiving leftovers (or Christmas dinner / Holiday party leftovers) these are some of the best leftover meals to try.
1. Thanksgiving Leftovers Breakfast Casserole
My daughter said "Sometimes you make this from Thanksgiving leftovers – what kind of breakfast casserole thing was it – it's SOOOOO good!"
Well, here's the recipe:
Put that leftover sausage stuffing to a good use and make this delicious breakfast casserole. You only need 4 ingredients and it feeds a crowd! Remember I told I made this Instant Pot sausage stuffing recipe like 5 times in one month? No, no exaggeration here!
It is SO good – a favorite breakfast or brunch idea – especially when we have company and I need creative ways to reuse ALL that left over food.
The best part? I can make it AHEAD of time!
✅
Love Make Ahead Breakfast Ideas?
Simple make ahead breakfast recipes for a crowd and healthy night before breakfast recipes for Holiday mornings, large groups, brunch party, girls weekend or for a full house. If you're looking for simple breakfast food you can make the night before or freeze for later, take a look at these …
2. Leftover Mashed Potatoes Casserole
Looking for a leftover mashed potato recipe? This Loaded Mashed Potato Bake casserole is the most delicious way to use up leftover mashed potatoes. It's loaded with bacon, cheese and sour cream!
3. Instant Pot Leftover Turkey Soup
This Instant Pot Turkey Vegetable Soup with Leftovers Recipe Tutorial contains Amazon links. Please note, as an affiliate marketer for them, clicking and purchasing from these links results in me making a small commission from this action. First of all, it is that time of the year for soups and warm meal options.
I've been using my Instant Pot for quite some time now. Many people ask me: is Instant Pot Worth it? I can't tell you how many friends and family have asked me "Was your Instant Pot worth the money? Like, REALLY worth it? Or is it just MORE kitchen gadget hype?"
4. Leftover Turkey Cuban Sandwiches
A tasty Thanksgiving style Cuban sandwich with roasted turkey, smoked ham, swiss cheese, pickles and cranberry sauce. Although Thanksgiving dinner is always amazing it is the leftovers that I like the most! In particular, may favourite way to enjoy some of those leftovers is a roasted turkey sandwich stuffed full with cranberry sauce.
5. One Dish Thanksgiving Leftover Casserole
For Thanksgiving this year, I cooked an 18 pound turkey. This was a pretty big deal for me because I've only cooked one other turkey before and I pretty much screwed that one up so I wanted this one to be perfect. I bought a roaster and roasted up my huge turkey to perfection this year.
6. Easy Leftover Turkey Soup
This easy leftover turkey soup recipe is fast, simple, and healthy. Full of veggies and flavor! This easy turkey soup recipe hits the spot on a cold day. The potatoes melt in your mouth and make this soup extra comforting. A splash of cream makes the broth taste even better without going overboard on the extra calories.
---
---
7. Leftover Ham Casserole
Creamy casserole lover's alert ~ this Leftover Ham & Noodle Casserole is for you! Loaded with chopped ham, tender noodles, and veggies surrounded in a creamy cheesy sauce, it's one comfort-food dinner dish, for sure. Not to mention, it's a fabulous way to enjoy those ham leftovers.
8. Turkey Cheese & Ranch Quesadillas
This is such a great recipe for Thanksgiving leftovers! Whip up a quick and snazzy lunch that gives this traditional meat a non-traditional spin. The turkey, cheese, and a drizzle of ranch tucked inside a fluffy tortilla make the perfect combination.
9. Leftover Mashed Potatoes Potato Cakes
This is one of my family's favorite leftover mashed potatoes recipe – in fact, it might be their #1 favorite thing I make with Thanksgiving leftovers of all!
Do you have lots of leftover mashed potatoes? Try this easy recipe for Leftover Mashed Potato Pancakes with Cheese! Made with 4 simple ingredients and ready in just 15 minutes, they make the best quick meal or appetizer. Served with applesauce or your favorite toppings, they are great for breakfast or lunch.
10. Leftover Turkey and Stuffing Crescent Rolls
Leftover Turkey Crescent Rolls – Make an easy recipe for crescent roll appetizers, filled with leftover turkey, stuffing, and cheese!
11. Leftover Turkey Breast Enchiladas
Way better (and WAY more fun) than a leftover turkey sandwich, these Thanksgiving Leftover Enchiladas are definitely my favorite way to use up all those Thanksgiving leftovers. Easy, cheesy, and exploding with all those holiday flavors. To be honest I didn't think I would get a post out today.
12. Leftover Mashed Potatoes and Turkey Crescent Ring
Want to transform your leftovers into something spectacular? This Thanksgiving Ring recipe from Delish.com is the best.
---
13. Easy Leftover Turkey Casserole
I have to admit, I'm a recipe addict. I love checking them out, collecting them, trying them.Although, I tend to collect a whole lot more than I actual make them, it's a fun little addiction. I'm sure we're all looking for delicious recipes at this time of the year.
14. Leftover Mashed Potato Soup
Whatever leftover mashed potatoes you have (at least 2 cups) milk chicken broth or vegetable stock (water if you don't have these) stick butter or oleo celery salt shredded cheese to garnish In a large pot, mix potatoes with the following ratios.
15. Thanksgiving Leftovers Pie Casserole
Wondering what to do with all those Thanksgiving Leftovers? The turkey, mashed potatoes, cranberry sauce, stuffing, and gravy. This Thanksgiving Leftovers Pie, a big ole Turkey Pot Pie recipe if you will, is exactly the easy Thanksgiving Leftover Recipe you've been looking for.
When coming up with ideas for Thanksgiving desserts, your sure don't want to make the same ol thing, right? How about trying one of the unique and easy Thanksgiving dessert recipes below? The recipes are pretty simple AND your dinner guests or hostess will LOVE you for offering a unique and creative dessert for Thanksgiving (or Christmas).
Miss Anything?
Easy Side Dishes For Thanksgiving Dinner (perfect for a crowd) – Let me share with you some of our favorite easy Thanksgiving side dishes – make ahead recipes for a crowd, vegetable side dishes, casserole recipes, side dishes you can make in your slow cooker or crockpot, traditional side dish ideas, and some healthy Thanksgiving dinner side dish ideas as well.