---
Unique, Fun and Super Sweet Baby Shower Cupcakes Ideas and Recipes
I've been looking for unique dessert ideas for my neighbor's baby shower. It's going to be a smaller event so I don't feel SUPER stressed about having to make a ton of food for a LOT of people. I came across these mason jar cupcakes which I think will be ADORABLE and such a nice personal touch for her shower.
Just LOOK how cute these are!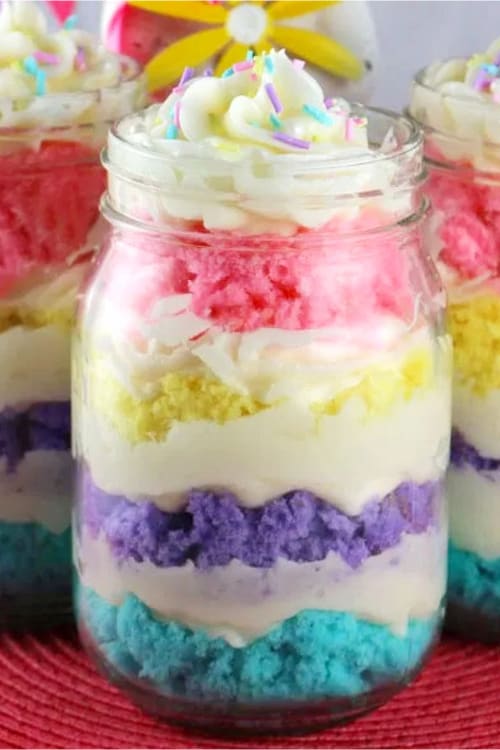 Welcome to Life Hacks for Moms - we hope you enjoy all our tips and tricks for busy moms! Please note that we use affiliate links and ads to generate income at no cost to you.
---
My first thought when I saw these cupcakes in a jar dessert ideas was:
Must. Make. THESE!
Some of these types of cupcakes are actually baked in the mason jar – others are baked first and then put together in the jar.
Isn't that AWESOME-SAUCE! What freakin' fantastic baby shower food ideas.
Best of all, the baby guests can take them home and that would be a really special gift for our baby shower guests, don't you think?
Genius!
But please, you had me at : CAKE. IN. JAR!
You really don't have to twist my arm when it comes to ANYTHING that involves CAKE!
Here's another cute ideas for the jar cakes: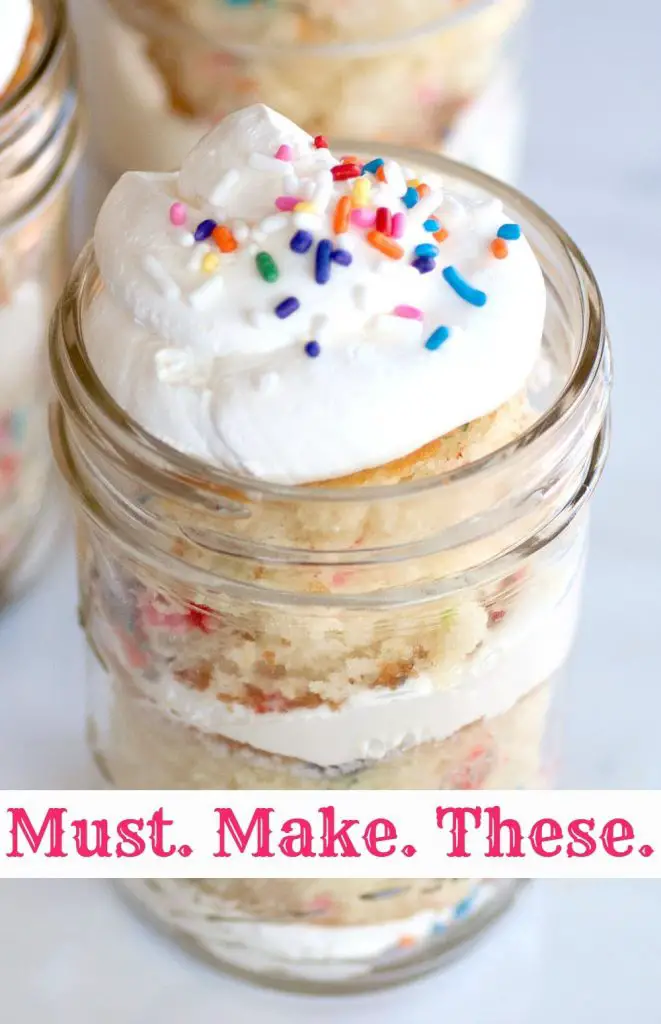 What's really handy-dandy for a lazy and forgetful person like me, is that some of the mason jar cupcake recipes I found here can be kept in the freezer.
Know what that means for ME? That I can go make a bunch of these, put them in the freezer, and then when I realize I forgot to get someone something for Christmas or as a Thank You gift (again)…
I can pull one of these yummy pieces of art out of the freezer and TA-DA!
I'm the best person EVER!
Such a thoughtful, homemade gift! Ain't I great?!?!
Here are links to the cupcake in a jar recipes and instructions I've found:
More Mason Jar Cupcakes Recipes
==>> Get all the recipes in the video here
Here's the recipe to print for the baby shower mason jar cupcakes in the first picture:
We love making cupcakes in a jar. They always end up being a fun make-ahead dessert for any occasion. This Springtime Cupcake in a Jar is no exception. They are a unique take on a cupcake that is a real crowd-pleaser at a party.
They'd also be SUPER cute for Easter or a birthday party, too!
And here's some more baby shower ideas in case YOU are planning (or going to) a baby shower, too!
Cute Ideas for a Co-Ed "Jack and Jill" Baby Shower * Need ideas for a "joint" baby shower for the women AND the men? Co-Ed baby showers (couples baby showers) are always such a fun way to get the guys involved too. There are so many cute ideas for a "Jack and Jill" baby shower!
What moms REALLY want for baby shower gifts! Such cute and UNIQUE baby shower basket ideas! Learn how to put together a baby shower gift basket and how to make a baby shower gift basket at home on a budget.
Unique and Unusual Non Baby Gifts for New Moms – Let me show you some creative, thoughtful and unique baby shower gifts for the mom-to-be that are NOT baby items. Yes, a gift just for her! Whether it's a new mom survival kit or a hospital gift basket, these baby shower gift ideas for mommy are great ideas even if she has "everything".
Easy Homemade DIY Baby Shower Gift Ideas For Baby Girls, for Baby Boys or for Gender Unknown (gender neutral) * Want to give her an amazing baby shower gift, but you're a budget and need to find some inexpensive (or downright cheap) baby shower gift ideas to make or to buy?
Other Mason Jar Recipes And Ideas
Turns out, you can make LOTS of food in mason jars… who knew?
Sure, I knew mason jars were for canning food… but actually there are LOTS of recipes and food gift ideas you make in mason jars.
Cake In a Jar Recipes and Instructions – Looking for come creative cupcakes and cake in a jar ideas? Take a look below at these super easy mason jar cupcakes recipes and DIY how to instructions I've collected on this page. All these cupcakes are made in a mason jar – how cute is that?
Cupcake in a Jar Gift, Cupcake in a Jar Recipe, How to Make Cupcakes in a Jar, Mason Jar Cakes With Cake Mix, Cake in a Jar Recipes, Baking in Mason Jars, Mason Jar Cake Recipe, How to Make Cake in a Jar, Baking Cupcakes in Mason Jars.