---
Make Ahead Appetizers To Freeze For ANY Party Crowd – If you need make ahead and freeze appetizers, freezable dips and easy premade freezer finger foods for parties, these make now and freeze for later appetizer recipes below are the perfect inexpensive snacks for feeding a crowd on a budget.
Lots of recipes below for simple freezer-friendly make ahead bite size party appetizers, freezable finger foods and more that can stay in your freezer until YOU are ready to serve them when entertaining.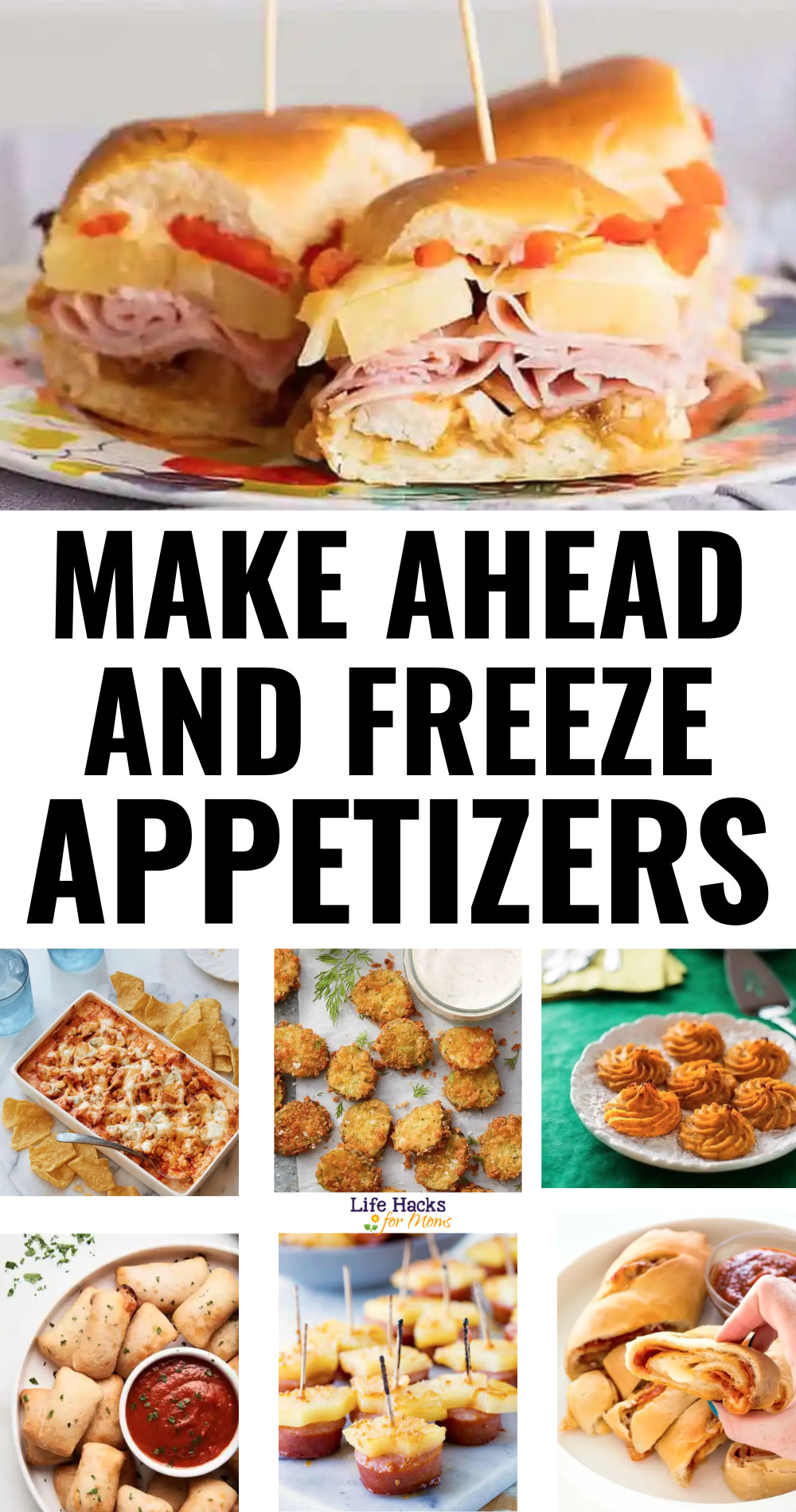 Welcome to Life Hacks for Moms - we hope you enjoy all our tips and tricks for busy moms! Please note that we use affiliate links and ads to generate income at no cost to you.
---
Make Ahead Appetizers
Below are my favorite make ahead and freeze party appetizers, finger foods, roll ups, etc that I keep in my freezer so I'm ready with some simple snacks to feed any crowd at a Game Day party, my potluck parties at work, baby showers, birthday parties – even to warm up when we have the neighbors over for wine and game night.
TIP:
If you're planning to make your appetizers ahead of time and then freeze them, make SURE you are storing them in the freezer so they LAST.
Nothing is more gross than freezer-burnt food (if you know, you know).
Don't waste your time or money making party food that won't last in your freezer. Instead, invest in some inexpensive, but quality, freezer food storage options.
 36 Pack Freezer Safe Appetizer Containers✅ I Found It Here Space-Saving Food Saver Freezer Bag Sealer✅ I Found It Here
Ok, let's jump in and look at a bunch of delicious make and freeze appetizer recipes. A BIG thanks to the wonderful food bloggers that come up with these simple and inexpensive make ahead party food!
Freezer Appetizers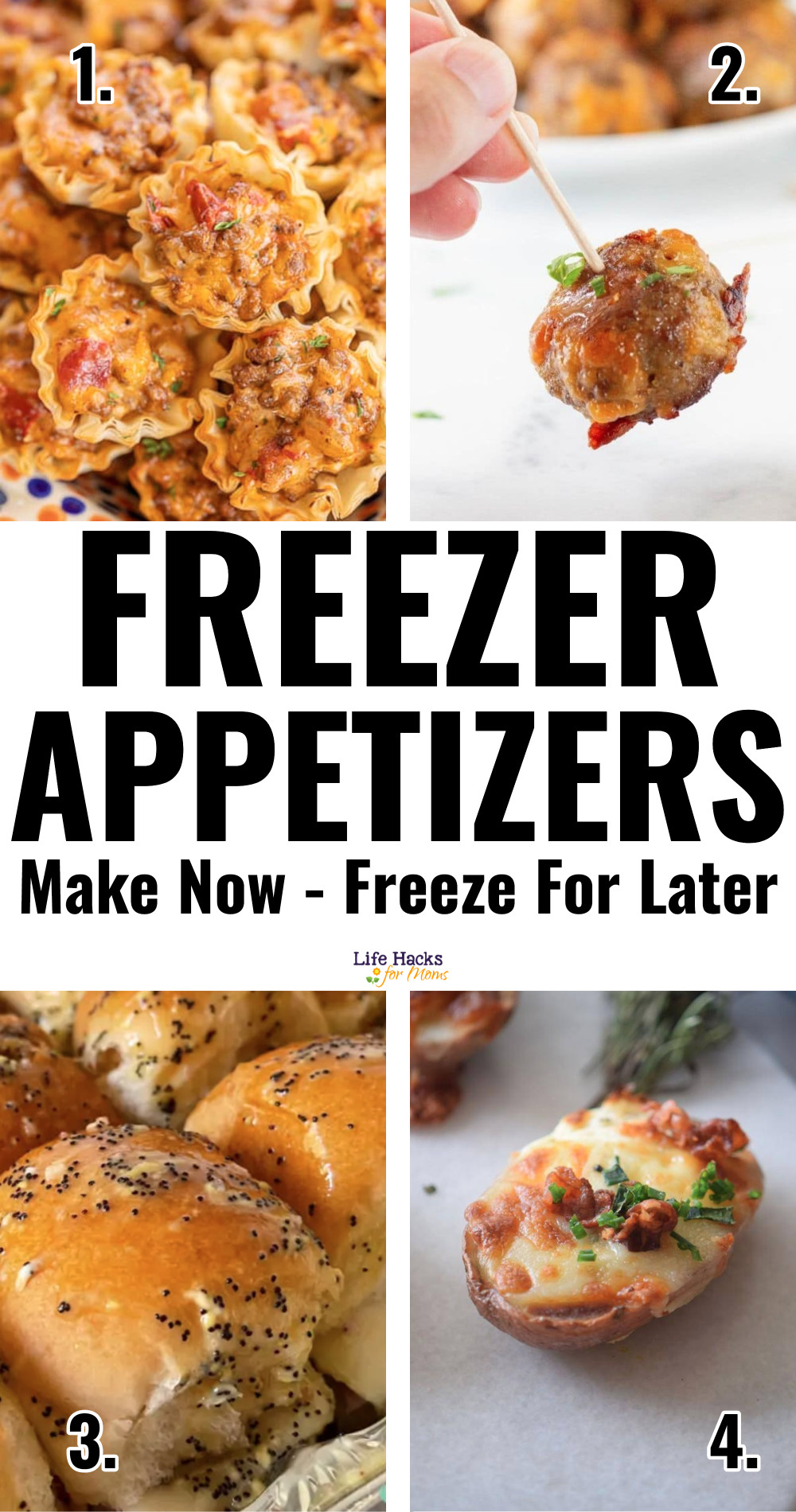 (1) – Taco Ranch Bites – simple make ahead and freeze appetizer with only 6 ingredients (ground beef, taco seasoning, diced tomatoes and green chiles, cheddar cheese, ranch dressing, and phyllo tart shells) – see the recipe.
---
(2) – 3-Ingredient Sausage Balls – My favorite classic sausage ball recipe that freeze SO well. Just fully bake them, allow them to cool a bit, then put in a freezer bag or airtight container and they'll be good for up to 3 months.
To reheat, just use your microwave! Put on a microwave safe plate and reheat for a minute or two (depending on YOUR microwave) – see the recipe.
---
(3) – Ham and Cheese Sliders – These freezer-friendly sandwiches can be made up to six months in advance and stored in your freezer until you're ready to serve them – see the recipe.
---
(4) – Freezer Friendly Potato Skins – No pre-baking required for these yummy mini potato skins! Just assemble them, wrap them in plastic wrap and store in your freezer. When you're ready to cook them, bake at 370 for about 30 minutes or so – see the recipe.
Hawaiian Roll Sliders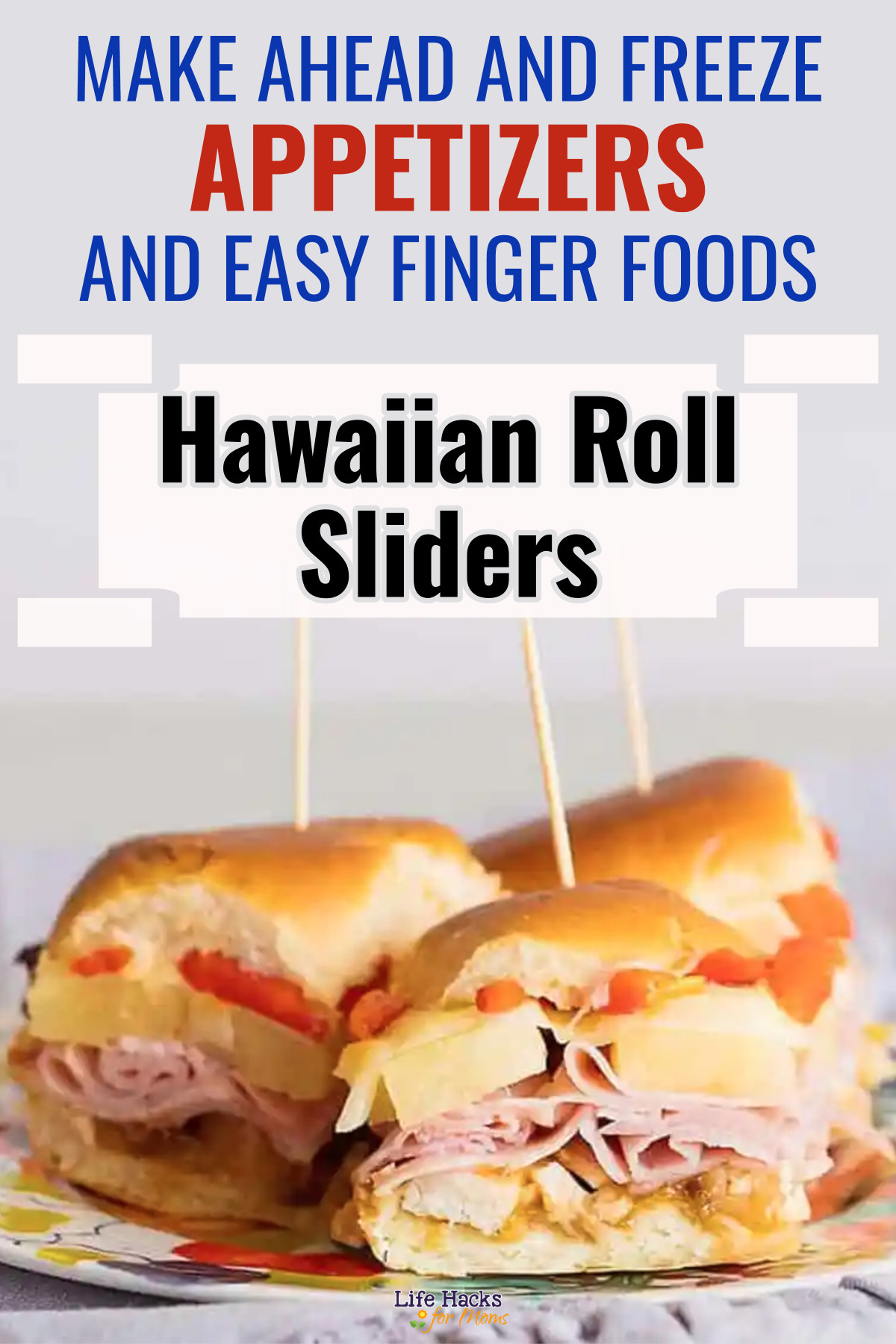 Say Ahola to these yummy make ahead mini ham and cheese slider party sandwiches. Stuffed inside the Hawaiian rolls is roasted chicken, teriyaki sauce, pineapple, ham, and provolone cheese. So good!
Yes! these little party sandwiches ARE a make ahead and freeze recipe! Just take them out of the freezer, thaw for a few hours and bake. To freeze them. simply cover with plastic wrap, press down to remove as much air as possible, then cover with foil and put in your freezer. They'll stay good in your freezer for up to 3 months!
Potato Puffs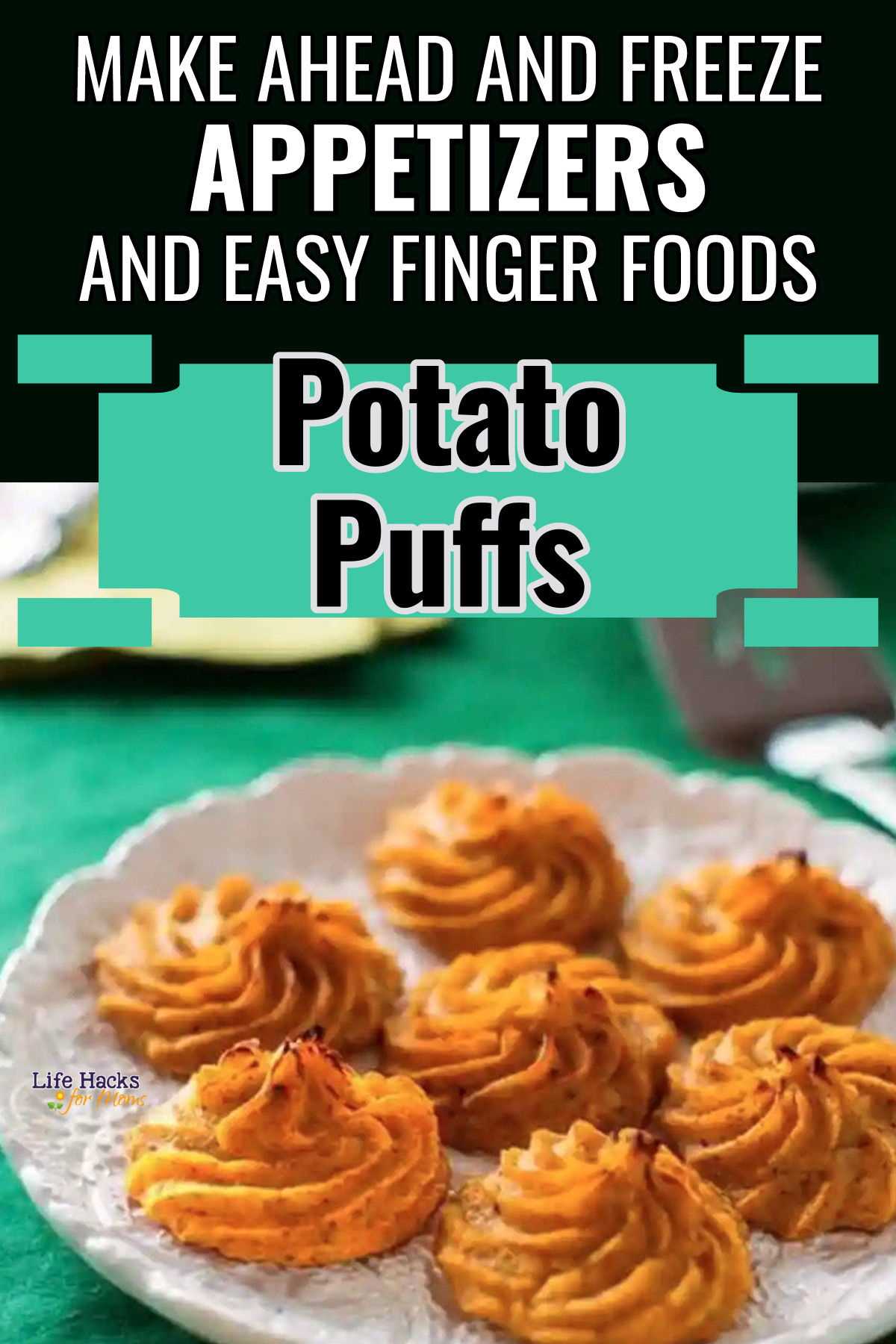 Crisp on the outside and creamy on the inside, these Potato Puffs are a unique take on mashed potatoes and are perfect to make ahead and freeze.
Bake them as instructed, cool, then store in your freezer. When you're ready to serve, defrost then pop them back into a 400 degree oven for 5 – 10 minutes, just to heat them through.
Buffalo Chicken Dip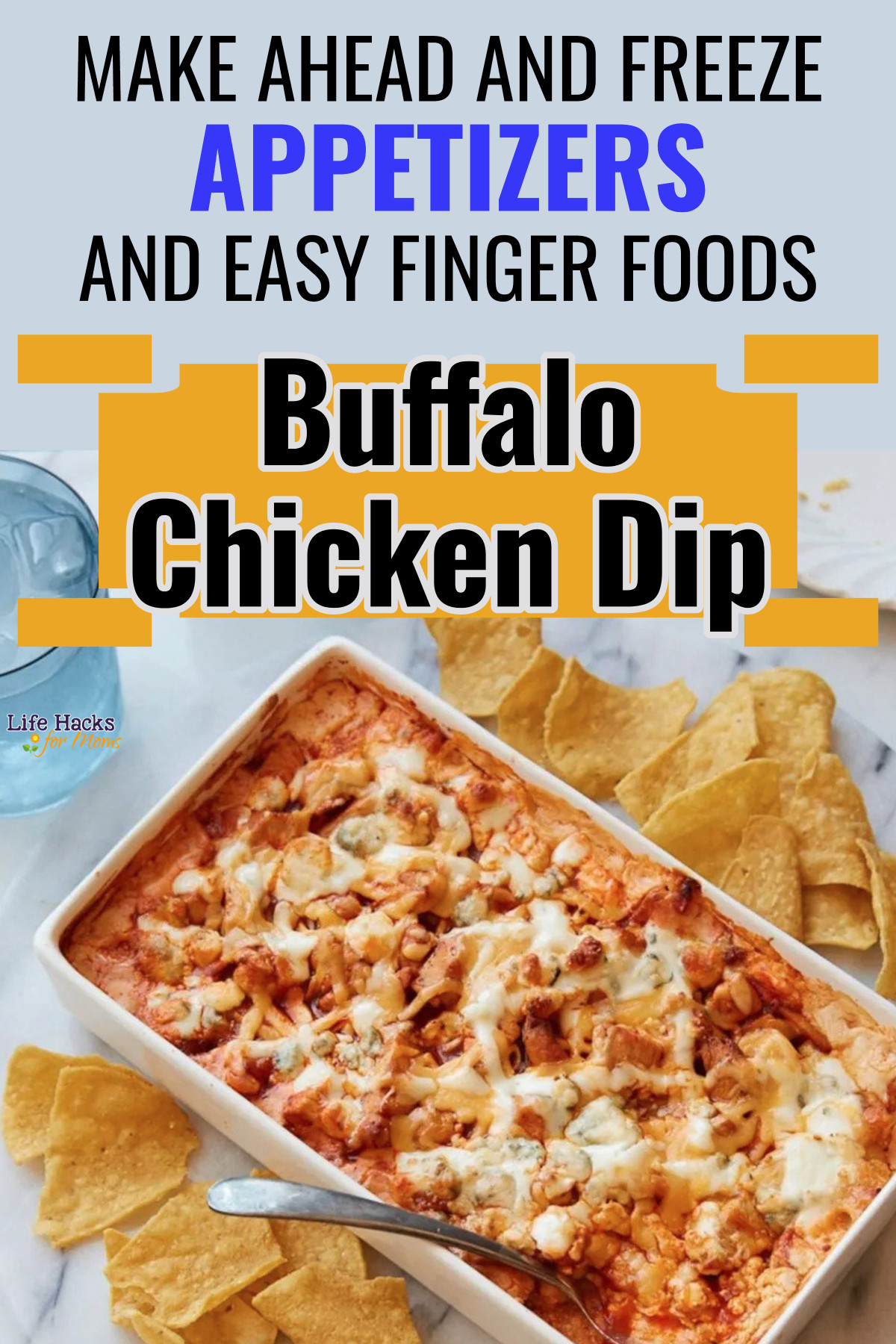 This hot party dip has a little "kick" to it and is an absolute crowd-pleaser. Just make ahead, freeze for later – it easily goes from freezer to oven when YOU are ready to heat it up.
Recipe from Seriously Good Freezer Meals.
Kielbasa Bites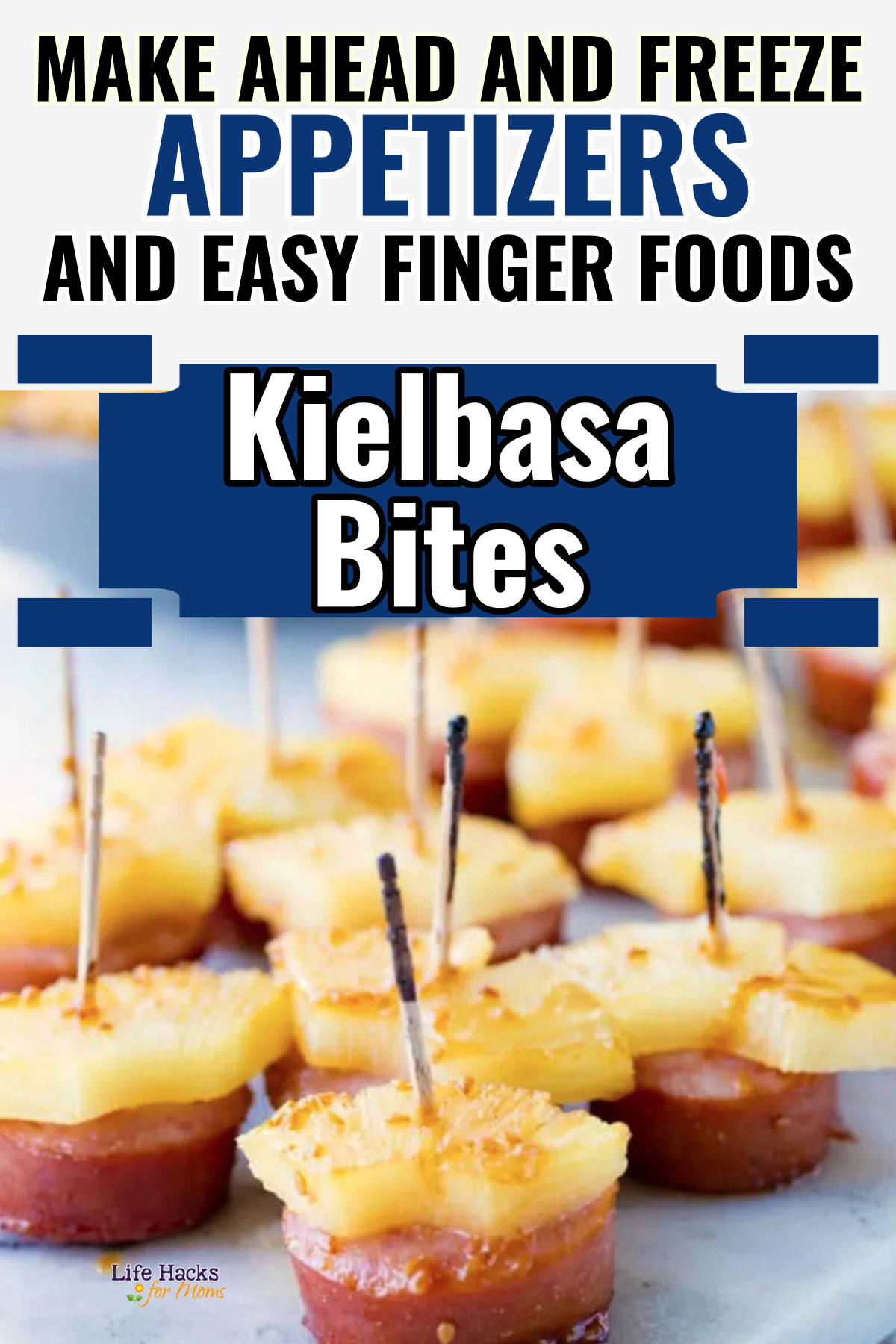 These Glazed Kielbasa Bites are the perfect make ahead, bite-sized toothpick appetizer. They have this unique sweet and salty flavor that people can't stop eating and are always the FIRST to disappear of the party food table!
Pickle Chips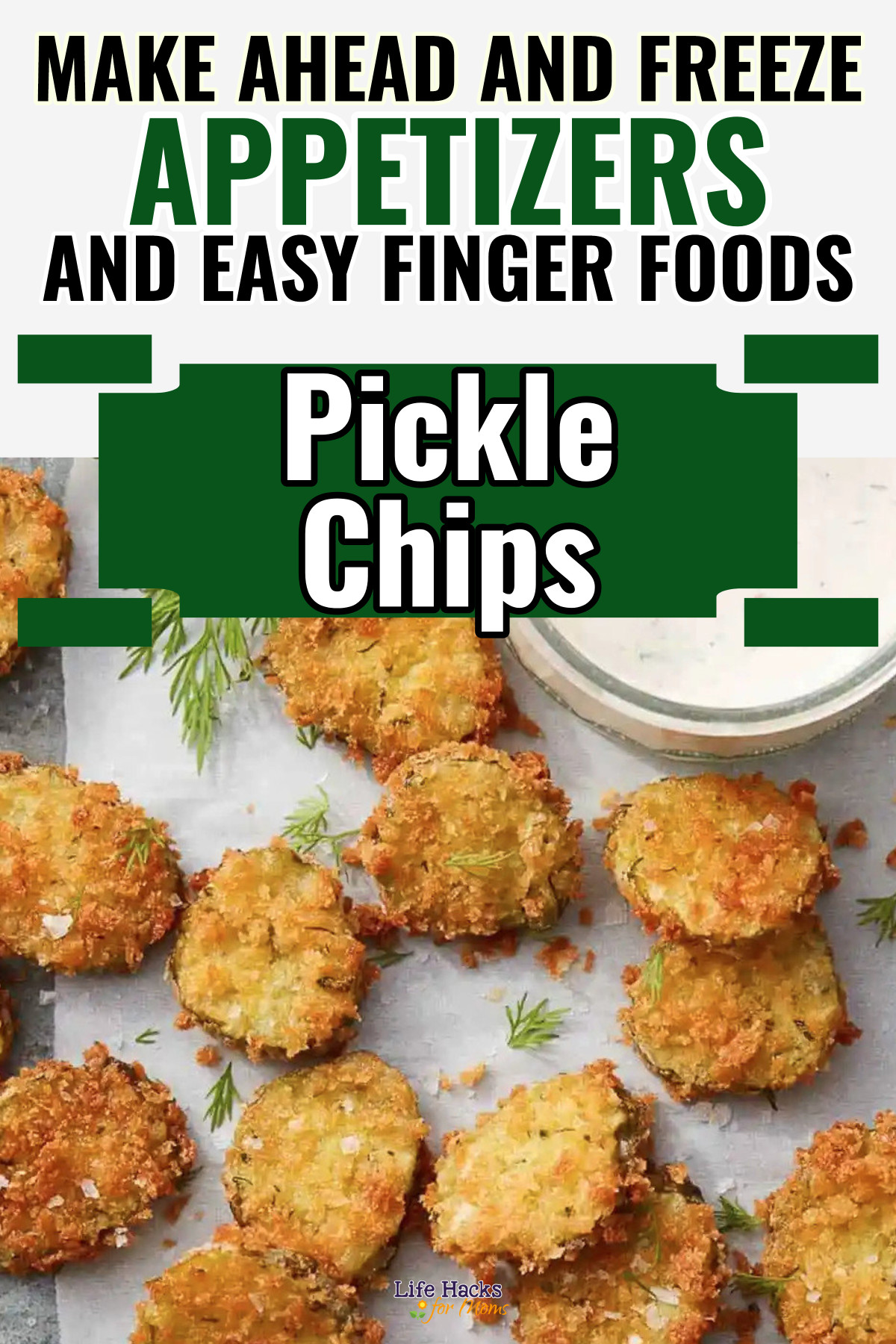 If your groups loves friend pickles just like my crowd does, they will LOVE this little Pickle Chips. Make them ahead of time and freeze for later…. so SO good!
Recipe from Seriously Good Freezer Meals.
Pepperoni Bread Bites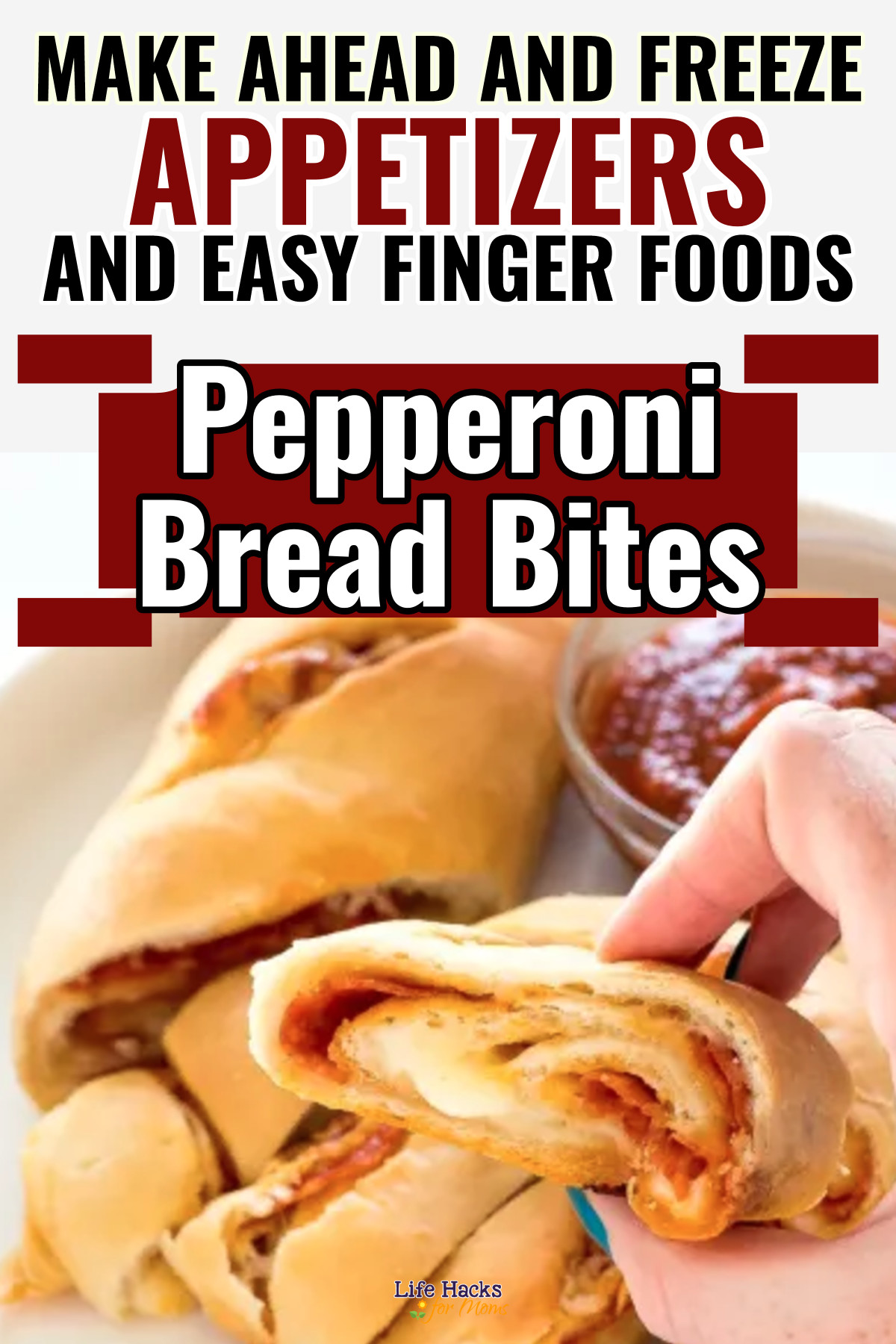 When stored in an airtight container, these yummy pepperoni bread bites freeze really well and can be kept in your freezer for up to 4 months. Once you're ready to serve, just thaw at room temp for an hour or 2 and then reheat in your oven or microwave until warmed through.
Serve with some Marinara sauce for dipping.
The recipe calls for homemade pizza dough, but I rarely have time for all that! I've used store bought pizza dough many times and they turn out just as delicious with a LOT less effort.
Air Fryer Pizza Rolls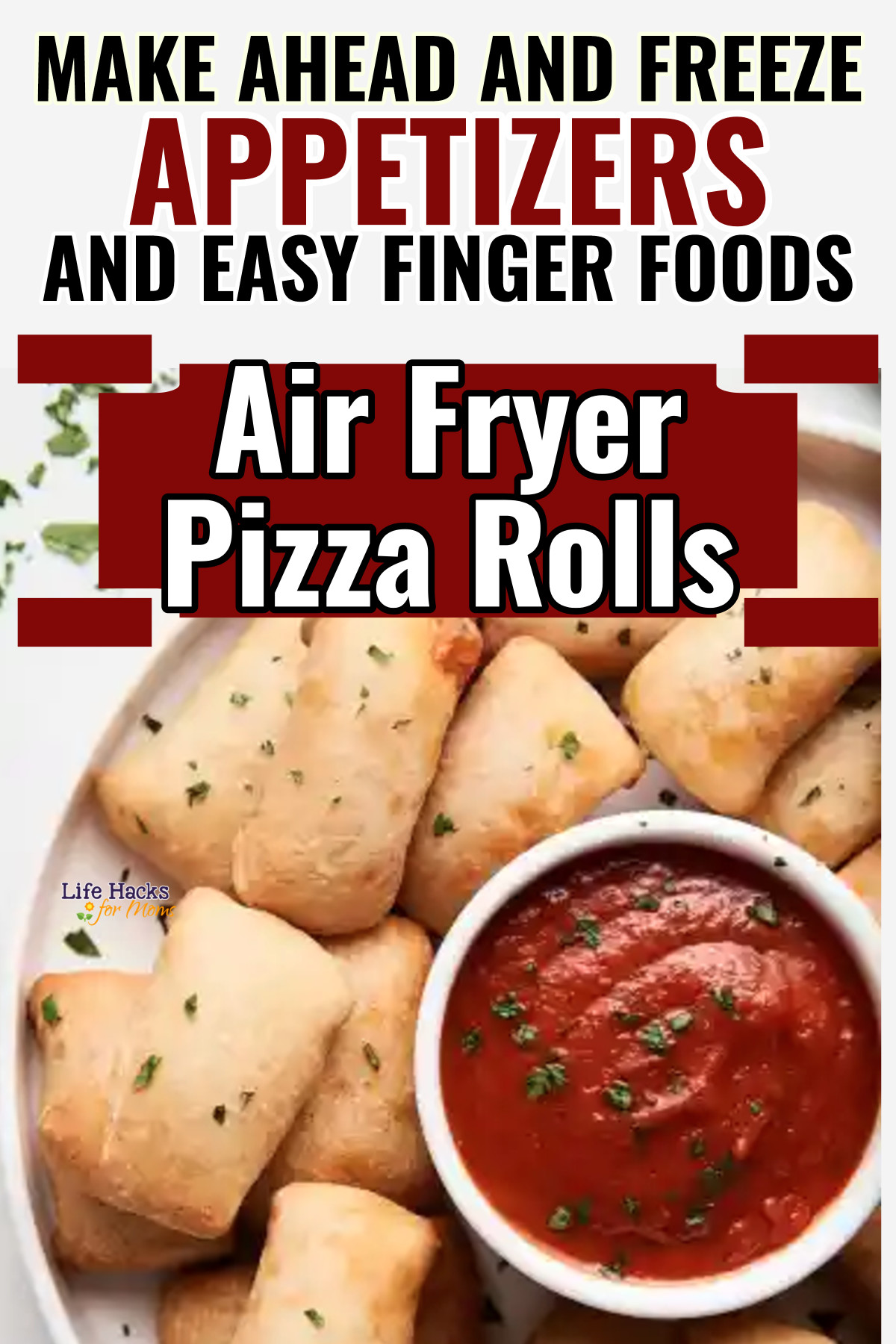 These homemade pizza roll appetizer bites are are cheesy, saucy, and perfectly crisp – and can be stored in an airtight freezer-safe baggie for up to 6 months. When you're ready to serve, pop them back in your air fryer and reheat them for about 8 minutes at 400 degrees (be sure to preheat).
This recipe also calls for homemade dough, but again, I use the good ol' store-bought premade pizza dough and they turn out great.
More Make Ahead Party Food
---
Recommended
 Seriously Good Freezer Meals And Appetizers✅ I Found It Here Excellent Freezer-Friendly Food & Appetizer Sealer✅ I Found It Here
---
---
Miss Anything?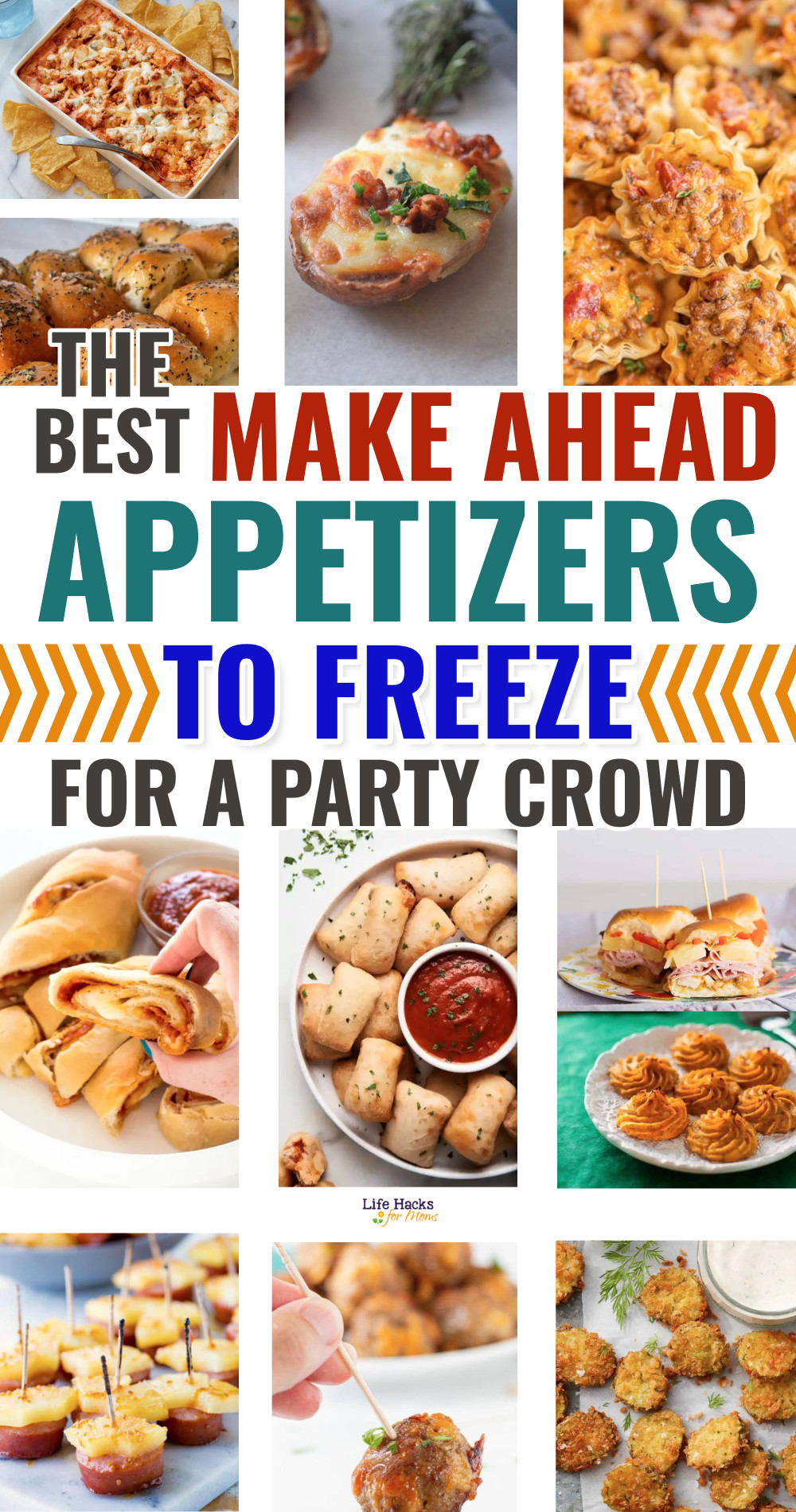 All Time Best Appetizers✅ I Found It Here 4-In-1 Crockpot Divider✅ I Found It Here Triple Serve Appetizer Slow Cooker✅ I Found It Here 2-Pack Hot Dip Crockpots✅ I Found It Here