Rustic farmhouse decor is always popular with Christmas being no exception. These farmhouse style Christmas decorating ideas and Christmas crafts are sure to bring a warm country feel to your home this Holiday season.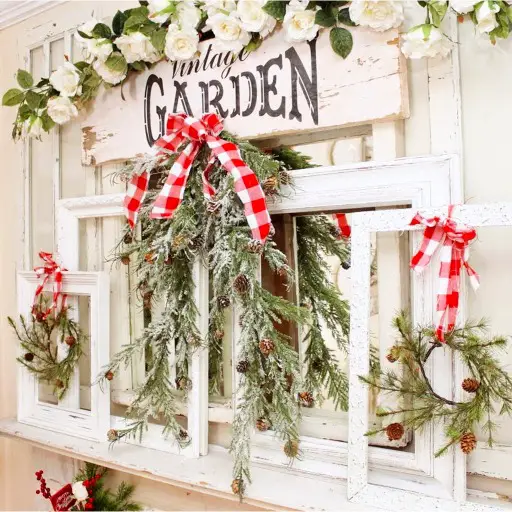 'Tis the season!
How about some GORGEOUS DIY farmhouse Christmas decor ideas? That's what we've a LOT of right here on this page.
If you love the warm, cozy feeling of a rustic farmhouse Christmas, I think you'll love these decorating ideas as much as we do!
Feel free to pin any idea you love to Pinterest so you can save the ideas for YOUR house.
Enjoy – and a very merry farmhouse Christmas to you!
&
DIY Farmhouse Christmas Decor Ideas
INSTA: victoriapaigetidmore
Last updated on September 25, 2021 9:15 pm
If you're ready to decorate your home for Christmas in cozy farmhouse decor, you found the perfect page for ideas! Below are some of my favorite country-style Christmas decorating ideas for every area of your home – inside and out. These DIY farmhouse Christmas decor ideas are not only gorgeous, they're great for decorating on a budget!
Homemade Christmas Gift Ideas For Friends and Family * There is nothing more personal than a homemade Christmas gift, but it can be hard to come up with clever and creative gift ideas, right? On this page, I have a LOT of really unique DIY Christmas gifts for everyone on your list.
Last updated on September 25, 2021 9:15 pm
If you want a fake Christmas tree that looks REAL, take a look at these affordable artificial Christmas trees that look SO real! From Douglas Fir to Balsam Fraser Fir, these are our picks for most real-looking fake Christmas trees this year.
Small Entryway and Foyer Decorating Ideas On a Budget – Foyer decorating inspiration and entryway decor ideas! Let's take a look at some small entryway ideas for the foyer in your house or apartment. These are beautiful DIY entryway decor and foyer decorating ideas that are perfect for small areas.