---
Woodland Theme Nursery Decorating Ideas and Checklist for Boys, Girls or Gender Neutral – From the Woodland animals theme to the adventure theme to the adorable Woodland fox, there are so many cute and affordable Woodland nursery decorating ideas, styles and nursery accessories to choose from. Here are Woodland baby room decorating ideas and pictures for your baby boy, baby girl and even gender neutral.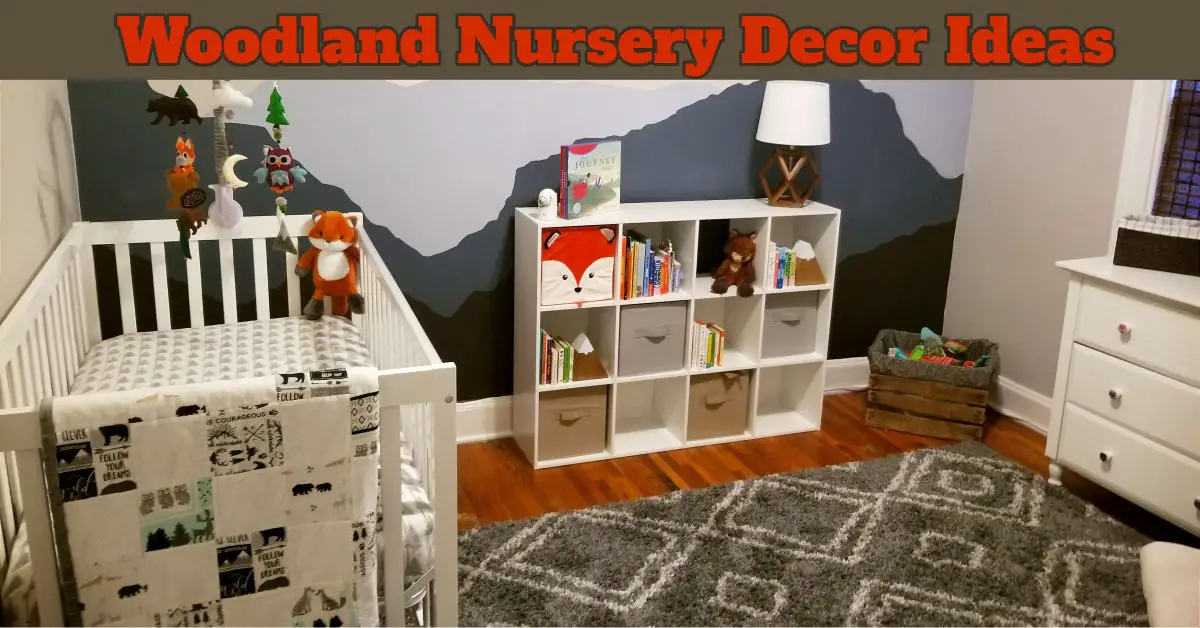 Welcome to Life Hacks for Moms - we hope you enjoy all our tips and tricks for busy moms! Please note that we use affiliate links and ads to generate income at no cost to you.
---
Woodland Baby Nursery Decor
The nursery decorating ideas below are perfect for small spaces, apartments or even for homes that are blessed to have a large room for their baby's nursery. There are also nursery tours of Woodland boy nursery rooms, baby girl Woodland nurseries and gender neutral decorating ideas too.
Let's start with the Woodland baby nursery decor checklist to get your started planning everything you'll need to decorate the nursery (even if you're on a budget).
✅ Checklist
If you need a checklist of all the things you will need to decorate your baby's nursery in the Woodlands Animal theme, here's what you need:
Woodland Crib Bedding
Woodland Animals Crib Mobile
Woodland Animal Print Wall Decor
Rustic Nursery Wall Signs
Nursery Lamp
Throw Rug / Accent Rug
Woodland Style Curtains
Woodlands Baby Milestones Blanket
Themed/Matching Receiving Blankets and Swaddles
Color Coordinated Burp Cloths
Rustic Style Wall Shelves
Matching Woodlands Hamper or Laundry Basket
Style Coordinated Rocker Glider
Woodland Style Crib Sheets
Matching Storage Baskets and Organizers
That's the basics of what you need to completely decorate your baby's room in the Woodland Animals theme.
Now, let's take a look at all the different options and color themes for these Woodland nursery decor items listed above.
Woodland Nursery Bedding
There are so many styles and colors of Woodland nursery bedding – from grey and blue to neutrals to browns to greys to pinks to greens, you name it.
It all depends on what colors you want and whether you're decorating a Woodland style nursery for a baby boy, a baby girl – or gender neutral.
Here are just a few ideas of the popular Woodland animals nursery bedding available – and they all have matching nursery decor and accessories.
 Blue and Gray Woodland Nursery BeddingShow Me This Woodland Nursery Woodland Animals BeddingShow Me This Grey Neutral Woodland Nursery BeddingShow Me This Woodland Nursery Bedding For GirlsShow Me This
Woodland Animals Decor
From lamps to framed pictures to accent wall decor items, there are LOTS of unique and affordable Woodland nursery decor items to choose from to complete your baby's room.
 Woodland Nursery Wall DecorShow Me This Woodland Animals Wall DecalsShow Me This Woodland Baby Room Wall SignsShow Me This Woodland Baby Nursery LampsShow Me This
Hobby Lobby Woodland Nursery Decor
Hobby Lobby is the PERFECT place to find Woodland nursery decor and wall accents.
In these shopping tips, she was looking for decor items for her Adventure Woodland nursery – and found some super cute things for cheap.
https://www.youtube.com/watch?v=OFvjq4P3LrE
Woodland Nursery Wall Decor
Whether you want a more rustic adventure style Woodland nursery or a more modern neutral style, there are SO many cute wall decor items to create the perfect accent wall over the crib or over the changing table.
Here are just a few of the adorable (and affordable) ideas I found:
 TimeYard Arrow Decor, Set of 2 Arrows, Rustic Wood Arrow Sign Wall Decor – Decorative Farmhouse Home Wall Hanging DecorShow Me This Boy Nursery Wall Decor – Baby Boy Room Decor – Woodland Nursery Decor for Boys – Boys Room Decorations for Bedroom – SET OF 4 Prints – 8×10 Each – UNFRAMEDShow Me This Homode Floating Shelves, Set of 2 Mountain Wall Shelves, Rustic Wood Display Storage Shelf with Metal Wire, Geometric Decor for Bathroom, Nursery, Bedroom, OfficeShow Me This P. Graham Dunn Little Man Cave Antlers Rustic Brown 7 x 7 Inch Wood Pallet Wall Hanging SignShow Me This Woodland Nursery Decor, Baby Animal Pictures for Nursery, Woodland Decor, Baby Wall Decor, Nursery Wall Decor, Woodland Nursery Decor for Boys, Nursery Wall Art, Set of 6 – 8×10Show Me This SoCal Buttercup Hair Bow Holder Organizer for Girls – Rustic Farmhouse Decor – Headband, Hair Tie, Bow Organizers – Baby Hair Accessories Storage Display – Decoration for Girls Room – ToddlerShow Me This Set of 2 Rustic Wood Floating Nursery Shelves – Wall Shelves for Farmhouse Bathroom Decor, Kitchen Spice Rack, or Book Shelf Organizer for Baby Nursery Decor (Barnwood Brown)Show Me This MRC Wood Products Adventure Awaits Rustic Wooden Plank Sign 5×10Show Me This
Woodland Nursery for Boys
Here is a Woodland nursery room tour that is decorated for a baby boy.
Lots of blues, greys and a teal accent color.
Such a cute Woodland Animals nursery!
Woodland Nursery For Girls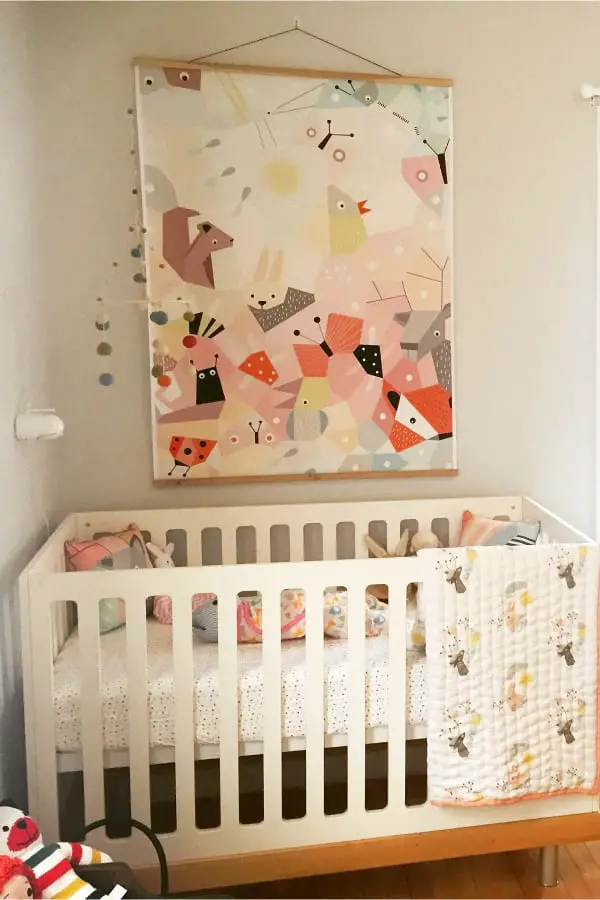 I found this tour of a baby girl Woodland nursery and I just LOVE how it turned out.
She use lots of pink, white and neutrals with modern rustic decor and Woodland animal themed touches… so cute!
Gender Neutral Woodland Nursery Ideas
This family decorated their Woodland style nursery in gender neutral colors – and it was all done on a tight budget.
It turned out SO pretty!
Apartment Woodland Nursery Ideas
Since decorating an apartment provides its own special challenges, here is a nursery reveal of a gender neutral Woodland nursery in a small space apartment bedroom.
Good tips and tricks for decorating your apartment nursery without risking your security deposit or breaking the rules of your lease.
Woodland Nursery Accessories
Here are some adorable Woodland nursery decorating accessories for all styles and colors of a Woodland themed baby room.
I personally love the Woodland fox and found a fox nightlight, toddler sized chair AND a woodland fox high chair!
 OREZI Cute Woodland Forest Animals Deer Rabbit Bear Fox Raccoon Bird Owl Laudry Hamper,Waterproof and Foldable Laundry Bag for Storage Dirty Clothes Toys in Bedroom,Bathroom Dorm RoomShow Me This Sitting Woodland Fox Orange 3.5 x 6 Inch Acrylic Decorative Plug-In Wall Night LightShow Me This T&T Homewares Small Cute Orange Fox Basket for Baby Diaper Organizer, Baby Laundry Baskets, Nursery Storage, Kids Room Organizer, Woodland Nursery Decor, Dog Cat Toy BasketShow Me This Lambs & Ivy Little Woodland Animals Fitted Crib Sheet, WhiteShow Me This The Peanutshell Crib Sheet Set for Baby Boys or Girls | Woodland Creatures and Grey Plaid | 2 Pack SetShow Me This ARIGHTEX Fox Blanket Throw Cute Red Fox Fleece Blanket for Kids Girls Boys Adult Woodland Animal Printed Sherpa Blanket Fluffy Soft Couch Sofa Throws (50Show Me This Fox Valley Traders Personalized 2-in-1 Children's Step Stool and Chair, Customized with Kid's Name, Woodland Animals DesignShow Me This Animal Adventure | Sweet Seats | Fox Children's Plush Chair Orange, Larger :14Show Me This Infantino 4-in-1 Highchair – Space-Saving, Multi-Stage Booster and Toddler Chair with Multi-use Meal mat and Dishwasher-Safe Tray, in a Fox-Themed DesignShow Me This Bedtime Originals Acorn Lamp with Shade & Bulb, OrangeShow Me This
Woodland Baby Shower Ideas
Since you're planning the nursery, I figured I'd also share these Woodland animal themed baby shower ideas.
More Nursery Theme Ideas
Nursery Closet Ideas
More Ideas: