---
Small Kitchen Makeover Inspo To Freshen Up YOUR Kitchen on a Tight Budget – LOTS of Small Kitchen Ideas & Pictures Before and After Low Budget Remodels and Makeovers.
Let's look at some before and after pictures of low budget small kitchen remodels and makeovers.
Whether you have a small galley kitchen or a teeny-tiny apartment kitchen, here are some budget-friendly DIY remodel ideas to refresh your small kitchen for only a few hundred bucks.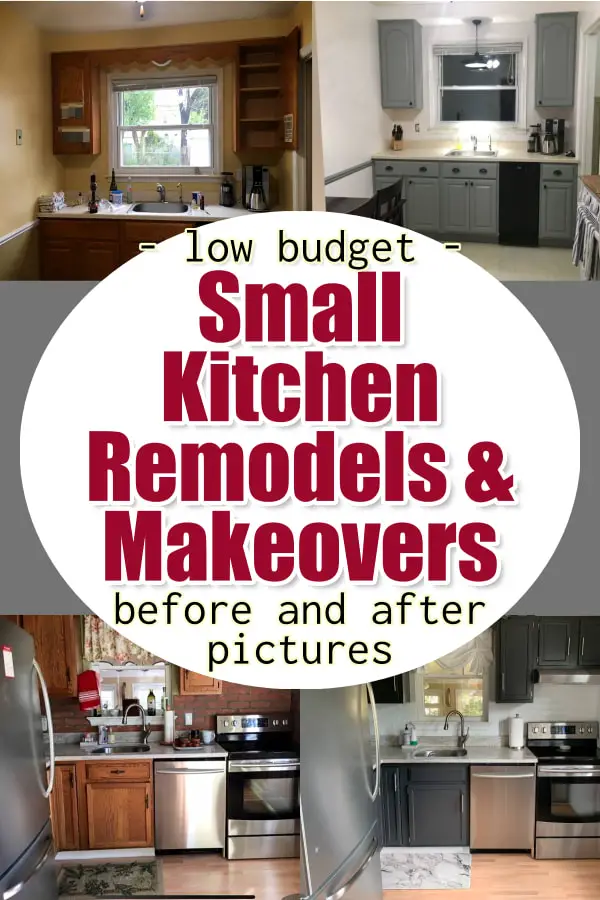 Welcome to Life Hacks for Moms - we hope you enjoy all our tips and tricks for busy moms! Please note that we use affiliate links and ads to generate income at no cost to you.
---
Small Kitchen Ideas
Let's take a look at some small simple kitchen designs, budget remodel ideas and some before and after pictures of small kitchen makeovers.
As you'll see below, there is no reason to spend $5000 or more for a small kitchen remodel – many of these tiny kitchens below were totally remodeled for less than $300.
Here are a few tips and tricks for a small kitchen remodel on a budget:
Determine Your Budget
First, determine how much you're willing to spend on your kitchen remodel or makeover. Even with a small budget, you can make some big changes in your tiny kitchen. It is also important to be realistic, at this time, in knowing what you can afford and what you can't afford. Sticking to a budget can be challenging so it really helps to have your numbers all planned out BEFORE you start your remodeling project.
How MUCH Should You Budget?
When it comes down to how much you should budget for your small kitchen remodel makeover, it all comes down to how much can you AFFORD to spend – and then plan your remodeling budget according to that amount.
But let me tell you this: you can absolutely remodel a small kitchen on a very low budget.
For example, take a look at the before and after pictures below of this small kitchen remodel.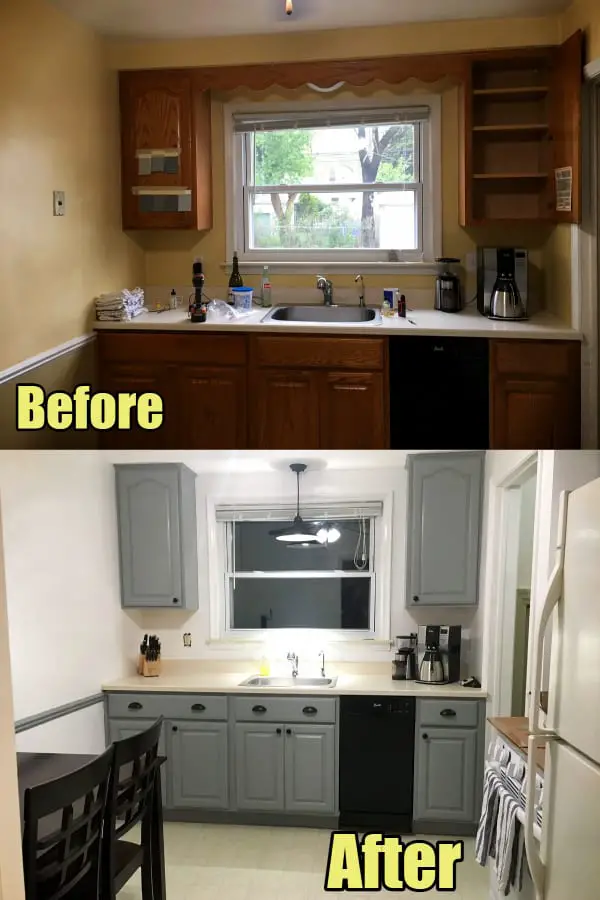 That gorgeous small kitchen makeover was done on a total budget of $300.
Yes, ONLY $300!
And now that previously old, ugly, out-dated kitchen is a modern updated kitchen that is simple gorgeous.
LOVE the grey cabinets, don't you?
But… do you notice the only two major changes that happened in that small kitchen transition?
Yep, paint and a new modern light fixture over the kitchen sink – that's it… and those things are very cheap to do yourself.
Kitchen Paint
Remember paint is cheap and goes a long way in bringing a fresh updated look to any small kitchen.
Painting your kitchen walls is easy, but painting the kitchen cabinets can be a bit tricky the first time.
If you're uncomfortable painting your cabinets, you could consider hiring a painting contractor near you, but that will cost money and increase your remodel budget.
But as you can see in this next low budget small kitchen remodel, paint makes a BIG difference in the over-all finished look of your kitchen makeover.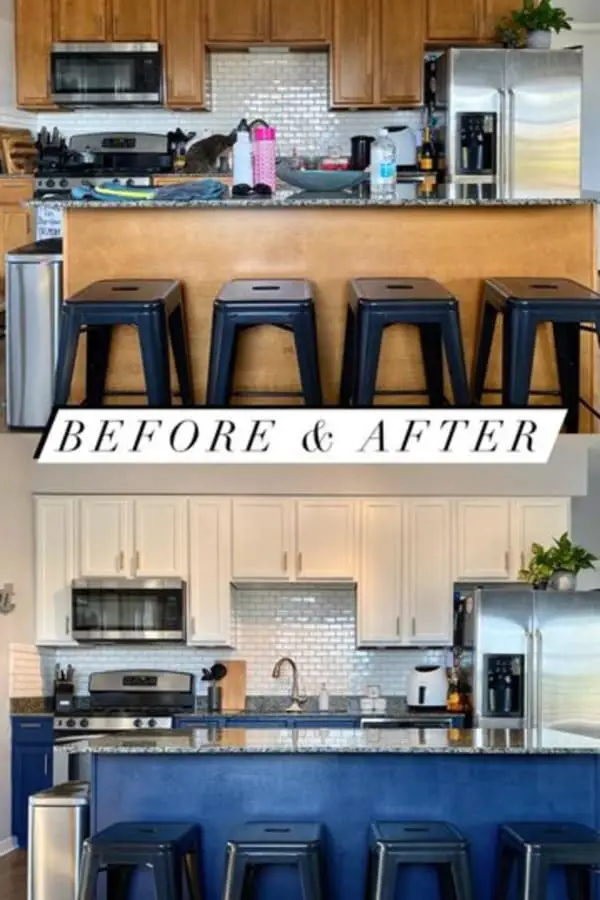 That small kitchen above went from blah and boring to bright and cheerful simply by painting.
I think the kitchen LOOKS bigger in the "after" picture, too, don't you?
The only real change in that kitchen makeover is… paint.
Backsplash Ideas
Replacing the backsplash in your kitchen is not a difficult DIY project – and it can be a very affordable way to update the look of your kitchen.
The small kitchen in the pictures above has white subway tile like this as their backsplash – looks great!
There are all kinds of styles and types of kitchen backsplash ideas – take some time to shop around to determine your style and what fits within your budget. If you are up to the task, you'll find that there are many beautiful tile patterns that come in sheets and are fairly easy to install.
There are even classes at your local hardware store that will teach you and answer questions on installing tile. Remember, a backsplash usually isn't a large area and shouldn't be too overwhelming.
Budget Countertops
There are tons of various kitchen countertop styles and materials to choose from. Naturally, some styles are MUCH more expensive than others.
Replacing your current countertops in your small kitchen can be done on a limited budget, but if you're trying to spend the least amount of money possible, consider leaving your current countertops. You can even paint them, if you want.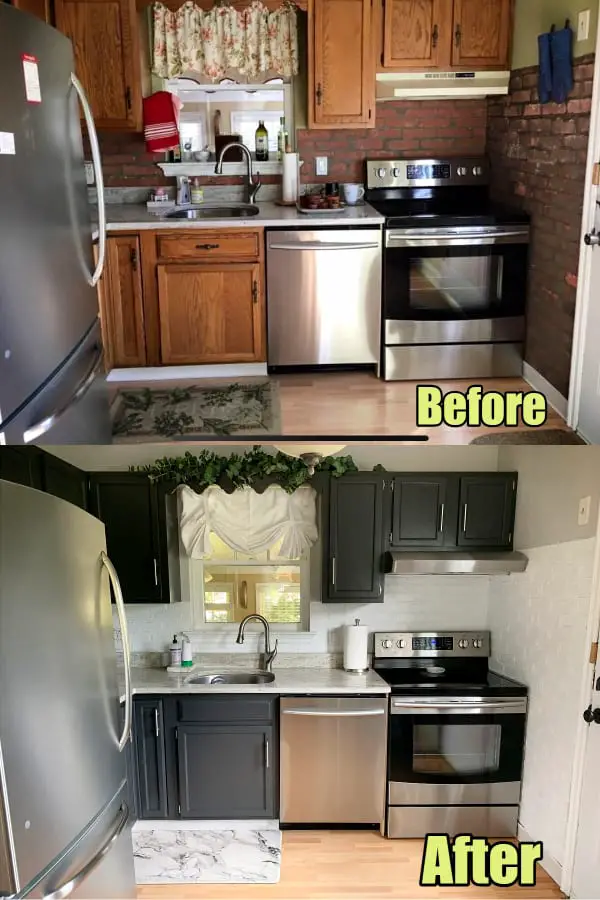 Appliances
If your kitchen remodel budget allows it, consider replacing an old appliance or two. If you can afford a new refrigerator, dishwasher, oven or a new stove, you should seriously consider doing it.
Keep this in mind though…
If you have any plans at all to sell your house in the near future, remember that only your refrigerator will move with you (as a general rule), the rest of your appliances will be part of those things left behind when you move.
Tired of kitchen clutter?
Flooring
When it comes to your flooring, you will need to evaluate what you have to work with – and most likely keep the flooring you have.
If your floor is in good shape there's no reason to spend the money to replace it.
It's amazing, but many times just a really good deep cleaning of your kitchen floor can make it LOOK new.
If you absolutely cannot stand you current kitchen flooring, but can't afford to replace it, get some bright beautiful kitchen rugs – they can really change the whole look of your kitchen and tie it all together without the expense of totally redoing your floors.
Small Kitchen Remodel for Under $300
This kitchen below had a complete remodel makeover for less than $300!
The before and after is just stunning – plus, the kitchen looks more fresh and modern now… and a lot cleaner (the grey and white kitchen color combination does that to a small kitchen)
Want more small kitchen ideas?
What To Read Next:
Miss Anything?
More DIY Home Decor Ideas