---
Life Hacks for Working Moms – How to Make Mom Life Easier When You Work. I don't care if you work from home or GO to work away from home, these 13 tips and tricks are sure to help eliminate the stress from your busy mom life – and it's all so simple…if you LET it be.
Many have asked me HOW to simplify life as a working mom so TA-DA – Here's how I do it.
And – let me tell you this.. working mom life is HARD but I do NOT feel guilty about any of these mom hacks I use to save time, make better decisions for the kids, reduce frustration and eliminate STRESS – they make my life EASIER (mom guilt sucks, right?!!)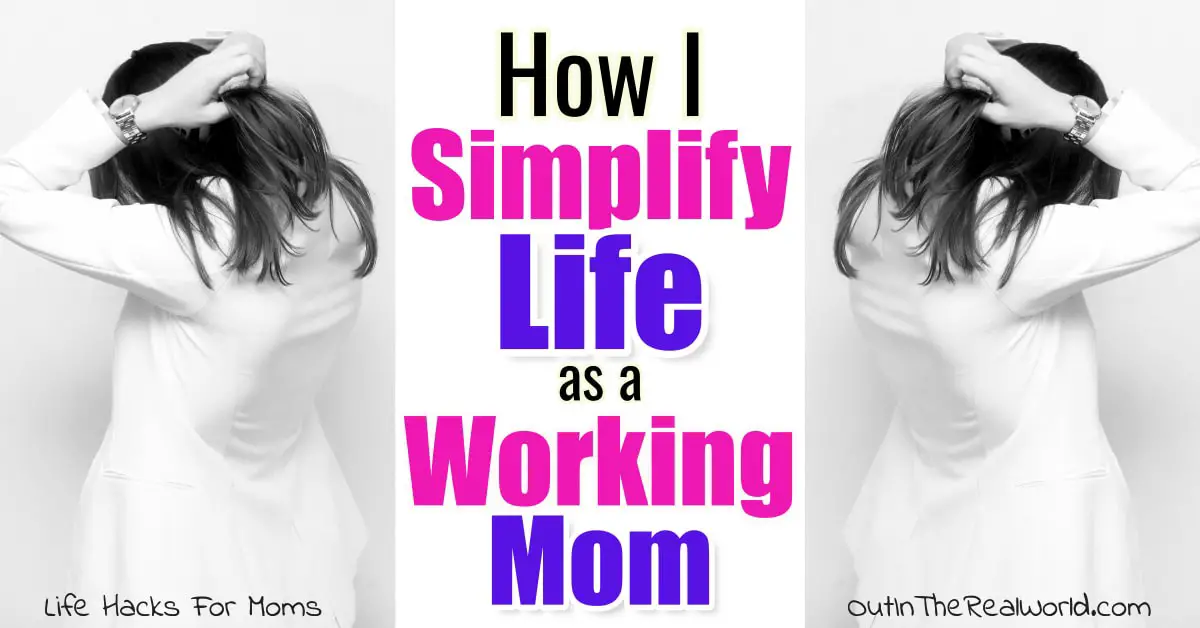 Welcome to Life Hacks for Moms - we hope you enjoy all our tips and tricks for busy moms! Please note that we use affiliate links and ads to generate income at no cost to you.
---
Working Mom Life Hacks
I have some clever tips up my sleeve that help working moms save time AND frustration.
These working mom hacks are such useful hacks for everyday life and made such a HUGE difference in MY life.
All moms are "busy moms", but it you have a career or job that demands your time, these genius working mommmy hacks WILL help (because they REALLY helped me make life as a working mom MUCH easier)
Here's two quick hacks to really simplify your life… get these 2 printables TODAY:
How Working Moms Do It ALL
I've always wondered how working moms do it all and turns out, they have some secret life hacks for moms that actually work!
There is NOTHING "simple" about motherhood – add in a job and becoming a working mom only complicates things more, right?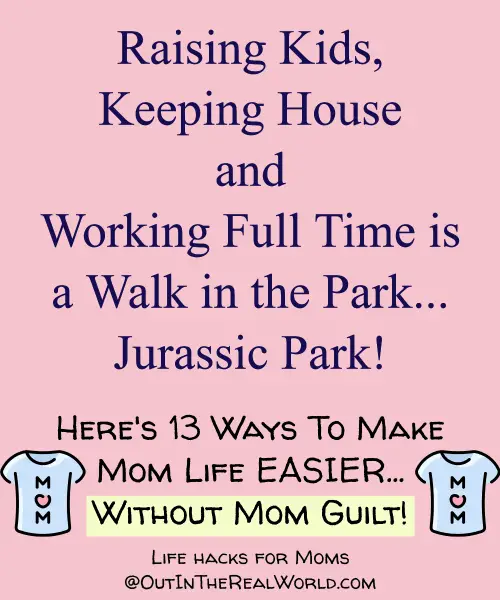 Minimalist Working Mom?
So if you're a working mom, the only solution to simplify life is to be a MINIMALIST working mom?
My goodness, NO – there is nothing minimal about life as a working mom – but there are many things working moms can do to minimize the effort it takes to get EVERYTHING done.
That's how I learned to simplify life as a working mom – by doing these 13 things to minimize the time and effort (and stress) it took to get it all done.
 The Working Mom Blueprint: Winning at Parenting Without Losing YourselfShow Me This You Are a F*cking Awesome Mom: So Embrace the Chaos, Get over the Guilt, and Be True to YouShow Me This
How To Simplify Life as a Working Mom: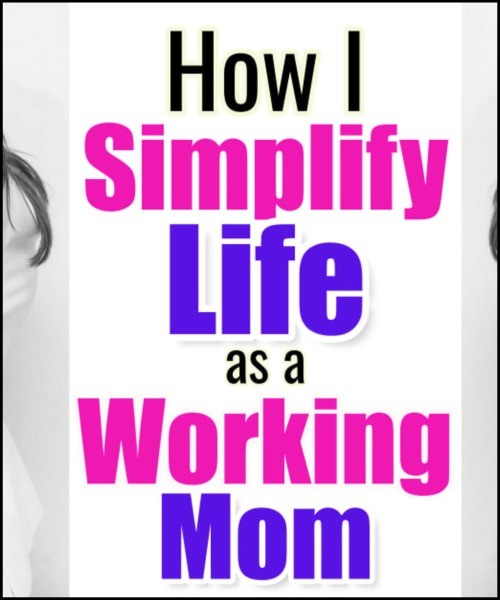 While I AM a working mom, I am FAR from a PERFECT working mom…. FAR FAR from it.
But I DO manage to get it all done.
It took learning new habits and some secrets from organized moms to figure it out, but these 13 things below REALLY helped me simplify my life.
13 Ways I Simplify Working Mom Life
I Learned To Fake It
I Only Ask For HELPFUL Help
I Use GOOD Checklists
I Do NOT Go In a Grocery Store Anymore
I Learned To Motivate Myself
I Only Cook THIS
Yes… I Say NO
I Don't Let Clutter Get Overwhelming
I Got Myself a Mom Gang
I Created a Drop Zone
I Figured How To Get The Kids To Help
I Stay On Top Of Laundry
I Learned That 'Perfect' Is A Myth
Those 13 things above REALLY helped make my working mom life easier and WITHOUT GUILT (trust me, Mom Guilt is a TOTAL waste of time and energy!)
Ok, let's dig into each of these 13 things and I'll explain each in more detail.
I Learned How To Fake It
Yep, you read that correctly…
To simplify my working mom life I learned to FAKE it.
Fake WHAT?!?!?!
Fake a CLEAN house, of course!
(what were YOU thinking? hahaha!)
Now, I didn't learn how to fake a clean house for company or for anyone other than for ME.
I use that simple fake clean strategy for MYSELF.
I like to do that before I go to bed each night so *I* wake up to a clean-appearing home that is NOT a cluttered mess….
and that, right there, starts each and every day off great!
I Ask For HELPFUL Help
As a working mom, the first tip ANYONE seems to give when you're overwhelmed with life is…
"Girl, ask for HELP!"
Look, there's help… and there's HELPFUL help.
I used to ask, cry, plead, nag and just about EXPLODE trying to get the husband and the kids to help around the house.
It was SO frustrating and I felt like a b-word All. The. TIME.
When they WOULD "help", it wasn't really helpful.
Not only was I stressed beyond reason by the point they did something, I usually had to RE-do whatever they "helped" with.
I managed to nip THAT situation right in the bud…. and now, they all are actual HELPFUL helpers who also now appreciate ALL I do.
I Use Cleaning Checklists
I used to run around like a wild woman trying to clean each and every mess I saw when I saw it.
Ugh! That was NOT a simple way to keep my house clean.
While it IS smart to clean up messes as you go, the real cleaning needs more structure for both me AND for my kids.
Enter these cleaning schedules and checklists.
So helpful!
Not only do those cleaning checklists make my daily chores more structured, I also never feel overwhelmed because I know what needs to be done, WHEN it needs to be done – and then just check it off.
And checking things off a list is SO satisfying, right?
I Use Grocery Pickup Services
If you've never used a grocery store pick-up service, you really missing out on one of the most AMAZING services ALL moms should take advantage of!
Life CHANGING!
My local Kroger grocery store offers this service and it has been a game-changer for me.
I simply go through their app or website to order the groceries I need, schedule a time and then cruise right over to pick them up.
Oh, and they put everything in the car for me – I never have to get OUT of the car and neither do the KIDS.
Time saver and a money saver too (less kids shopping IN the store with me means less aggravation AND less money spent).
I Learned How To Motivate Myself
Just like most working moms, and ALL moms, I tend to get in a "rut" every now and then where I just STOP doing things around the house.
And my goodness, it SHOWS when I stop – yikes!
This is how I learned how to get motivated to clean – even when I was down or felt like garbage.
Self motivation is an important skill for all moms to have, don't you agree?
✅ Tip: Try These 10 Minute Decluttering Challenges
I Only Cook What The Kids Will Eat
Girl, if I cook ONE more meal that the kids or the hubby just turn their noses up at, I might literally scream!
Ever felt like that?
I stopped cooking anything they won't eat. Period.
So, what DO I cook?
---
✅ I found these kid-approved Instant Pot meals (in fact, we ALL love them).
---
✅ I found these super easy chicken recipes (and all the recipes have VERY few ingredients – which is nice!)
---
✅ I found these easy weeknight dinner ideas (we ALL love the Dorito Chicken Cheese casserole!)
---
And on those rare occasions that it's just me and the hubby, I make these chicken dinner recipes for 2 with FROZEN vegetables – so, SO good!
I Say "No" More Often
Learning to say "NO" more often really helped simplify my life as a working mom – and it's also the skill I had to work the hardest at.
Now that I have learned to say no more often, I feel a TON less stressed and overwhelmed… a TON!
WHO am I saying No to?
I've learned to say NO to co-workers, casual "friends", neighbors, etc that ask me to do things I really don't WANT to do – or have TIME to do.
I don't know why I used to always say Yes to anything others asked of me when I absolutely did not WANT to do it or have the TIME to do it (perhaps I was a chronic people-pleaser?)
That HAD to stop – and it did.
Now, I have more time to say "YES" to time with my kids, time with my hubby…and time for ME.
 Girl, Stop Apologizing (Audible Exclusive Edition): A Shame-Free Plan for Embracing and Achieving Your GoalsShow Me This Boundaries, Updated and Expanded Edition: When to Say Yes, How to Say No to Take Control of Your LifeShow Me This
I Stay On Top Of Clutter
I feel as if I've always been overwhelmed with TOO MUCH STUFF ever since I started HAVING my own stuff in my own home.
It just multiplies, doesn't it?
I finally learned all the decluttering mistakes I made (and good golly, I made a ton of them!) and worked hard to change my habits for how I keep clutter under control around here.
Clutter just sucks the life and joy and creativity RIGHT out of a home – for EVERYONE.
Clutter doesn't just affect you – a cluttered house can really affect your kids, too.
And it's bad… suffocating even.
It took me a LONG time to learn how to stay on top of our clutter situation so it did NOT become an overwhelming mess.
I took a little time and learned this simple decluttering system and put it into action.
What a difference it made!
I strongly recommend learning how to purge your house of junk and clutter – it will REALLY simplify your life all around.
I Created a Working Mom Network
I have a few dear friends that live near me that are all working moms.
We built our own little network (we call it our "Mom Gang") to help each other out when one of us gets stuck with Mom Life duties.
It's been a life-saver SO many times.
When I was a single mom, it really helped simplify life!
Now, I don't recommend doing this with other moms you only know because of your kids – be sure these other women are people you trust AND that you genuinely like as people.
It makes a big difference – especially if you have a hard time saying "No".
I Use a Drop Zone
Want to really simplify life as a working mom?
Make a Drop Zone… Today!
Just think about how much TIME you spend looking for STUFF…. your stuff, the KIDS STUFF… his stuff, etc.
Trust me on this – create a drop zone and save your sanity (and time)!
I Use Chore Charts
I've read a lot of conflicting information about whether or not chore charts REALLY work for kids – but I'm here to tell you…
THEY WORK!
With money? Without money? What is the "prize" for doing their chores, what chores for what ages, etc etc etc are all questions people ask me.
My answer?
Try it all with YOUR kids and then…
Do what WORKS for YOU.
There are tons of great chore chart ideas here, if you're interested.
I TRY To Stay On Top Of Laundry
Please notice I emphasized the word "TRY", ok?
I'm not a Super Mom hahaha!
But yes, I really do try to stay on top of our laundry – it takes a lot of stress off of me when a load is done daily.
But I still forget a load in the washer and had to learn how to get that sour smell out of clothes that happens when you leave a wet load in the washer overnight (or longer lol!)
I've also had to learn how to get mildew smell out of clothes since these precious angels of mine tend to leave wet towels in the car and other random places.
Speaking of smells…
my washing machine used to stink SO badly!
If that's ever happened to you…
✅ Read:
I Gave Up Trying To Be Perfect
Gone are the days that I worked SO hard to be the perfect mom.
There is NOTHING perfect about motherhood so just let it go!
An efficient and simplified mom life is the magic that brings joy.
Strive for joy – not perfection.
No More 'Mom Guilt'
When trying to simplify your life as a working mom, it's all about finding balance and NOT losing your mind in the process.
Here are some really good tips for finding balance as a working mom and NOT feeling guilty about it.
 Mom Brain: Proven Strategies to Fight the Anxiety, Guilt, and Overwhelming Emotions of Motherhood―and Relax into Your New SelfShow Me This The Art of Good Enough: The Working Mom's Guilt-Free Guide to Thriving While Being Perfectly ImperfectShow Me This Reminder Binder 18-Month Planner + 361 Planner Stickers, Weekly & Monthly Views, Hard Cover, Elastic Closure, Monthly Divider Tabs, Pockets, To-Do ListsShow Me This Dry Erase Calendar Whiteboard 4in1 3 Magnetic Calendars for Refrigerator Habit Tracker Monthly Weekly Whiteboard Calendar Set for FamilyShow Me This
Are you a teacher or help with Sunday school at church?
Miss Anything?
Go back to the top of: ==>> Life Hacks for Working Moms
Go back to a specific section: