---
Kid-Friendly Instant Pot Dump Meals – Easy Dump and Go Instant Pot Recipes For Busy Day Family Dinners –
My Kids LOVE These Easy Instant Pot Dump Recipes – From Fresh or Freezer to Instant Pot in 30 Minutes or Less For a Stress Free Dinner Tonight.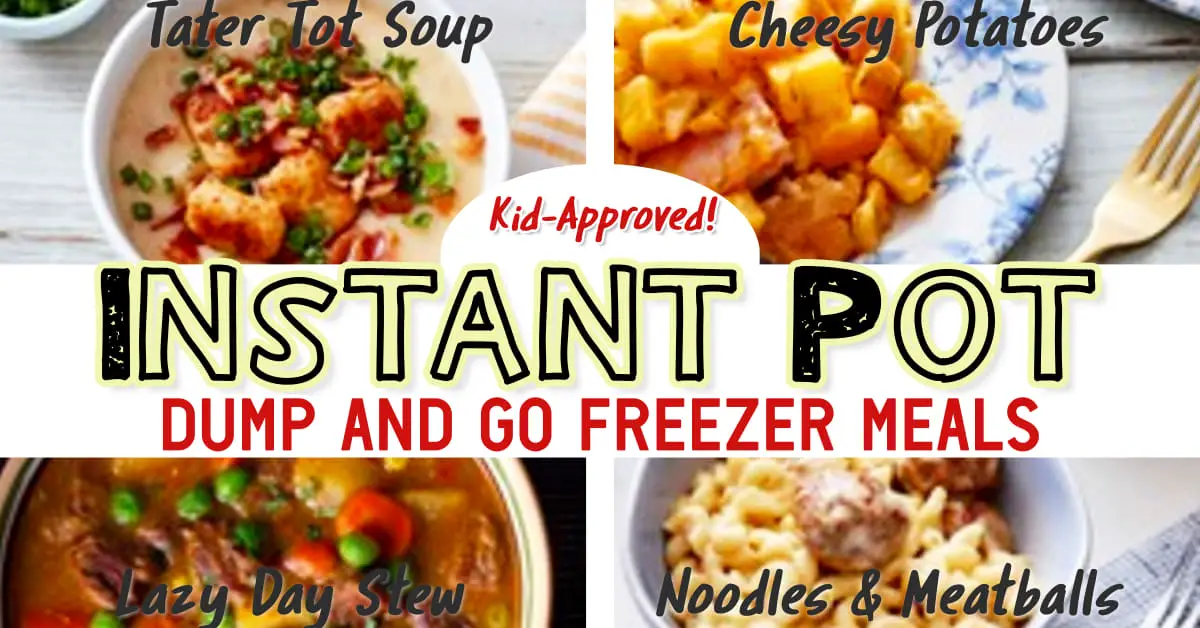 Welcome to Life Hacks for Moms - we hope you enjoy all our tips and tricks for busy moms! Please note that we use affiliate links and ads to generate income at no cost to you.
---
Having a super busy day and need to feed your picky eaters FAST?
Why not make one of these freezer "dump" Instant Pot recipes below? And YES, you CAN cook frozen meat in your Instant Pot!
All of these dump and start Instant Pot recipes can go from freezer to Instant Pot to table in 30 minutes or less (some take 20 minutes or faster than that).
Best of all, these are kid-friendly Instant Pot dinner recipes that they WILL eat.
What a refreshing idea – fast and easy dinner tonight WITHOUT feeling overwhelmed or nagging the kids to eat – yes!
Instant Pot Dump Dinners
Below are 9 of my family's favorite Instant Pot Dump Dinners plus some Instant Pot freezer baggie meals you can also just dump and go.
Two GREAT things about these easy Instant Pot recipes:
1. They all go from freezer to Instant Pot to table in 30 minutes or less, and
2. My kids actually EAT them…and LIKE them.
I consider THAT a WIN for this overwhelmed mom!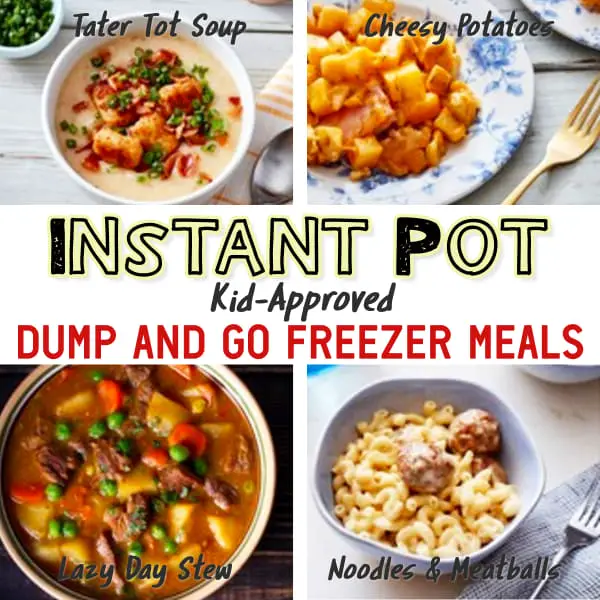 Tater Tot Soup
Instant Pot Tater Tot Soup Recipe – This YUMMY cheesy Tater Tot soup is insanely good and YES, you use FROZEN tater tots! Just take the tater tots out of the freezer and dump.
This is also an amazing and simple busy day soup idea, too!
Buttered Spaghetti Noodles
Instant Pot Buttered Spaghetti Noodles Recipe – This super simple and QUICK Instant Pot dump dinner is a FAVORITE in this house and it's cheap, too (if you're cooking on a budget).
There was a time when all my youngest would EAST was spaghetti noodles with butter (ugh!), but now, with this simple Instant Pot pressure cooker pasta recipe, I can feel a bit better about making it for dinner.
Dump and Go Lasagna
This is THE favorite kid-approved instant pot dump and go recipe in THIS house.
In fact, we ALL love it (but I think *I* love it most because it's so easy to make and is ready fast
---
Cheesy Ham and Potato Casserole
Instant Pot Cheesy Ham and Potato Casserole – If 5 ingredient or less Instant Pot recipes that your kids WILL eat is what what you're searching for, you're in luck! I recently did a month of Instant Pot meals, and this cheesy potato casserole was a winner with the whole family (and with everyone at our family potluck, too)
This recipe is definitely one of my picks for EASY 5 Star Instant Pot recipes.
Buffalo Chicken Wings
Instant Pot Buffalo Chicken Wings – How about we take those FROZEN chicken wings out of the freezer, dump them in the Instant Pot and then enjoy buffalo-style chicken wings in just a few MINUTES.
How's THAT for super simple?
Now, the kids DO like these and they DO eat them, but this is a favorite of my husband. It makes him so happy that we have an Instant Pot to cook him wings whenever he wants (and they're ready to eat fast)!
Mac and Cheese with Meatballs
Instant Pot Mac and Cheese with Meatballs – We moms know you can NOT go wrong with anything Macaroni and Cheese, right? How about adding some more protein to it by adding frozen meatballs straight from your freezer. Just dump and go with this Instant Pot dinner recipe!
✅ You might also like:
Chicken Noodle Soup
Instant Pot Chicken Noodle Soup – This Instant Pot chicken noodle soup is SUCH a comfort food and it is made in your Instant Pot with frozen chicken straight outta the freezer!
Lazy Day Beef Stew
Instant Pot Lazy Day Beef Stew – My family LOVES beef stew, but I detest how long it takes me to make the "old fashioned" way. Enter this Lazy Day Instant Pot Beef Stew recipe.
Fast, SIMPLE and yes, you use frozen stew meet right from the freezer!
Spaghetti and Meatballs
Instant Pot Spaghetti and Meatballs – Of all these Instant Pot dump recipes, I probably make this spaghetti and meatballs recipe the most often. It's so simple and is ready in just a few minutes.
Instant Pot Freezer Dump Bags
If you like to meal-prep and have easy make ahead dinners in your freezer that you can just dump in your Instant Pot, you will LOVE these Instant Pot freezer meals dump bags.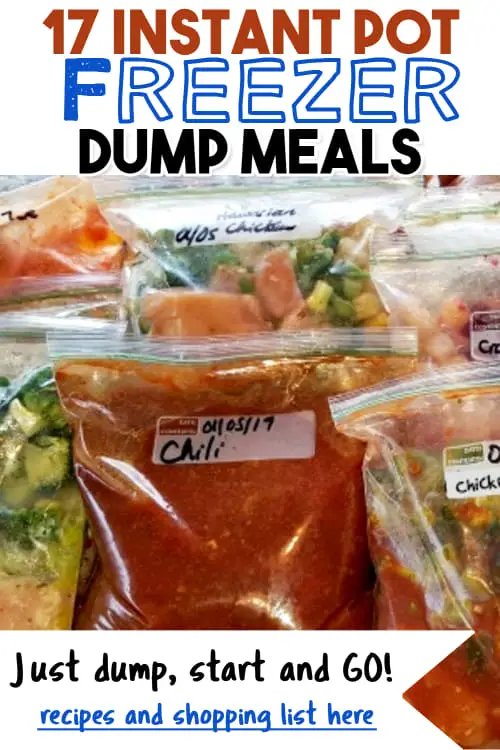 You literally just dump the bag of frozen ingredients into your Instant Pot and GO!
Shopping List
Need the shopping list to go WITH the easy Instant Pot freezer dump bag meals?
You're in luck!
She even has a shopping list for these Instant Pot freezer meals that makes it really easy to have all your ingredients on hand and meal prep for the next 2 weeks or longer.
More Easy Instant Pot Recipes
Miss Anything?
=>
Back To Home Page