---
Homemade DIY Chore Chart Ideas – 47 clever DIY chore boards, behavior charts, printable checklists and responsibility charts for kids PLUS a TikTok tutorial video showing you how to make an easy homemade chore chart (see pictures and videos below)
Will a chore chart simplify your busy life and REALLY help get your kids to do chores around the house?
Should you give money as a reward for doing their chores?
What about using a chore chart to earn electronics screen time? Or to earn an allowance?
Below are lots of DIY chore chart ideas & pictures you can make (or buy) as well as the bottom line or whether chore charts for kids work – or just make mom life harder.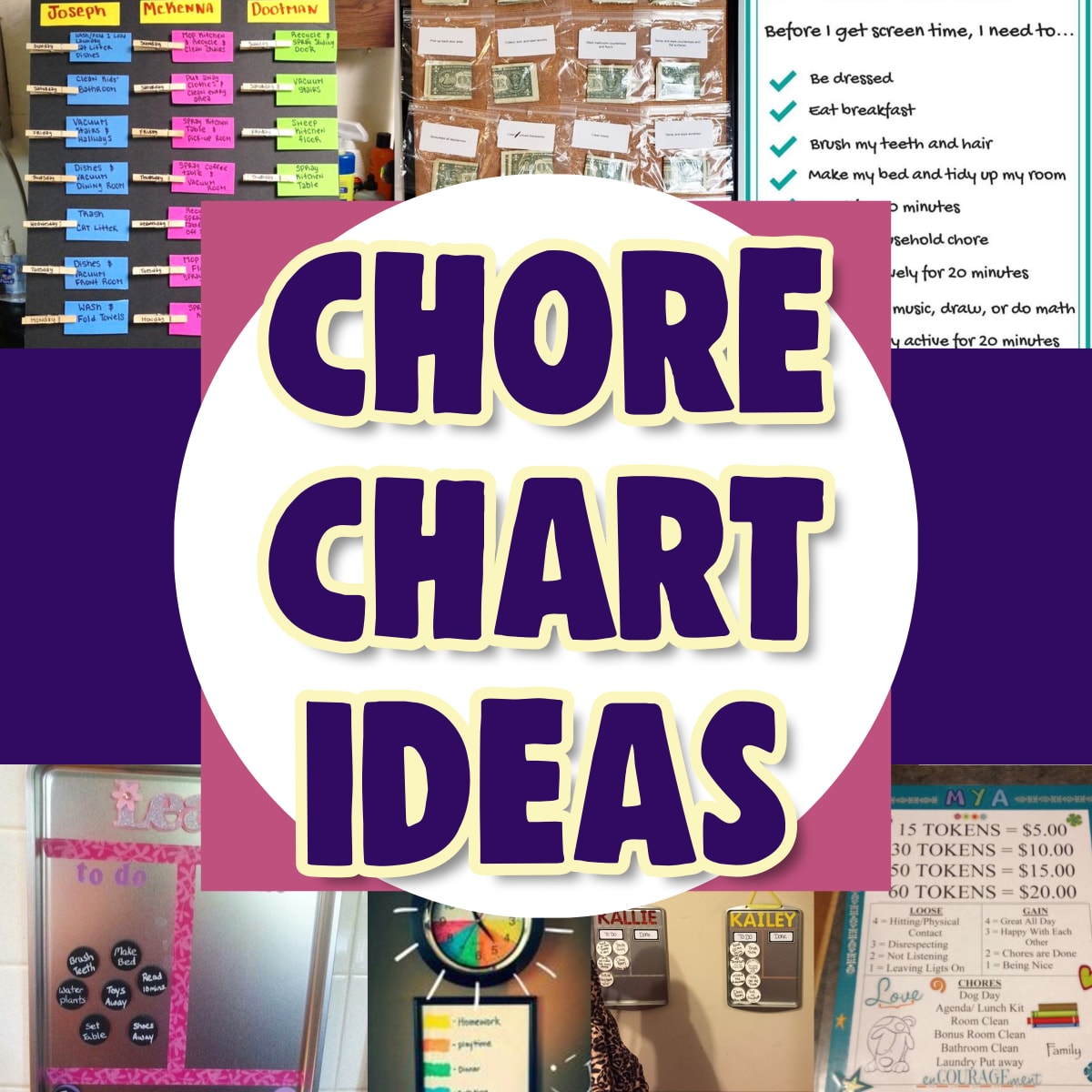 Welcome to Life Hacks for Moms - we hope you enjoy all our tips and tricks for busy moms! Please note that we use affiliate links and ads to generate income at no cost to you.
---
Chore Chart Ideas
Whether you want a simple checklist style chore chart, a white board chore board, a magnetic style responsibility chart, etc there are LOTS of ways to make a homemade chore chart for your child or children no matter what age they are.
Chore lists work for just about everyone – but especially for kids.
From toddlers to 5 year olds to tweens and teens, having a chart of chores for your kids to do around the house can help end the nagging on your part AND finally get some help.
BUT – only if you're consistent in using the chore boards.
Let's look at some chore chart ideas you can make at home as well as some tips and tricks to get a chore chart to work for YOUR family.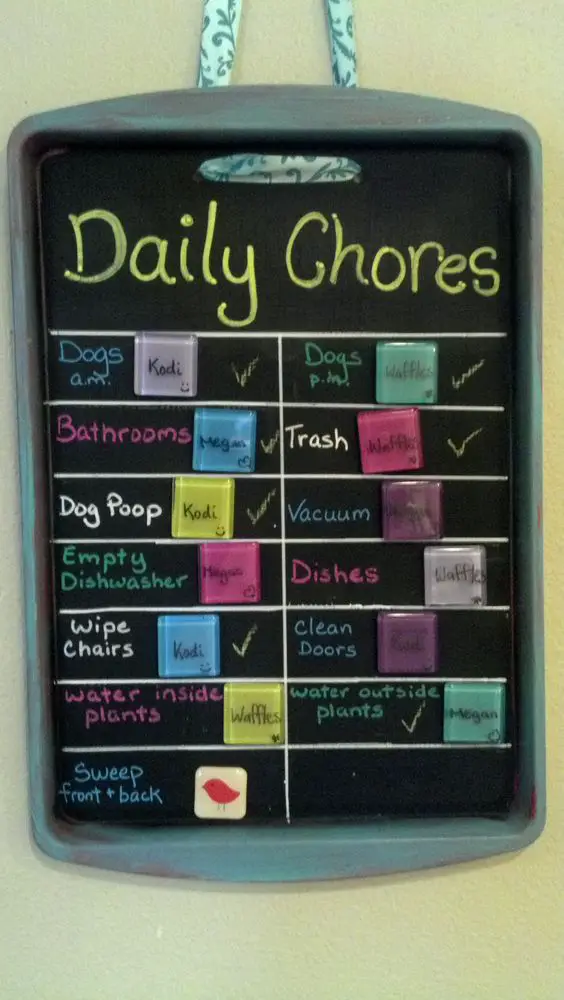 How To Make a Chore Chart
If you want a really easy and clever way to make a chore chart for your child (or children), here is a super simple homemade chore chart tutorial – and it's REALLY cute too!
This isn't the best picture, but look at the blue arrows…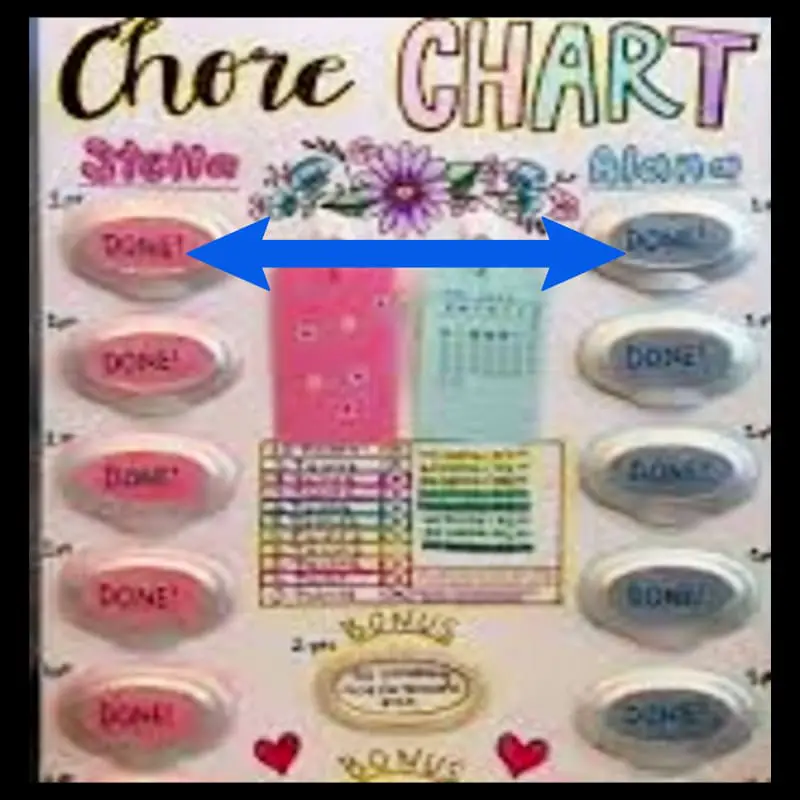 And YES, she is using baby wipe lids!
Here's how to make this homemade chore chart:
I LOVE upcycled projects, don't you? Such a great way to save money!
✅ Pictures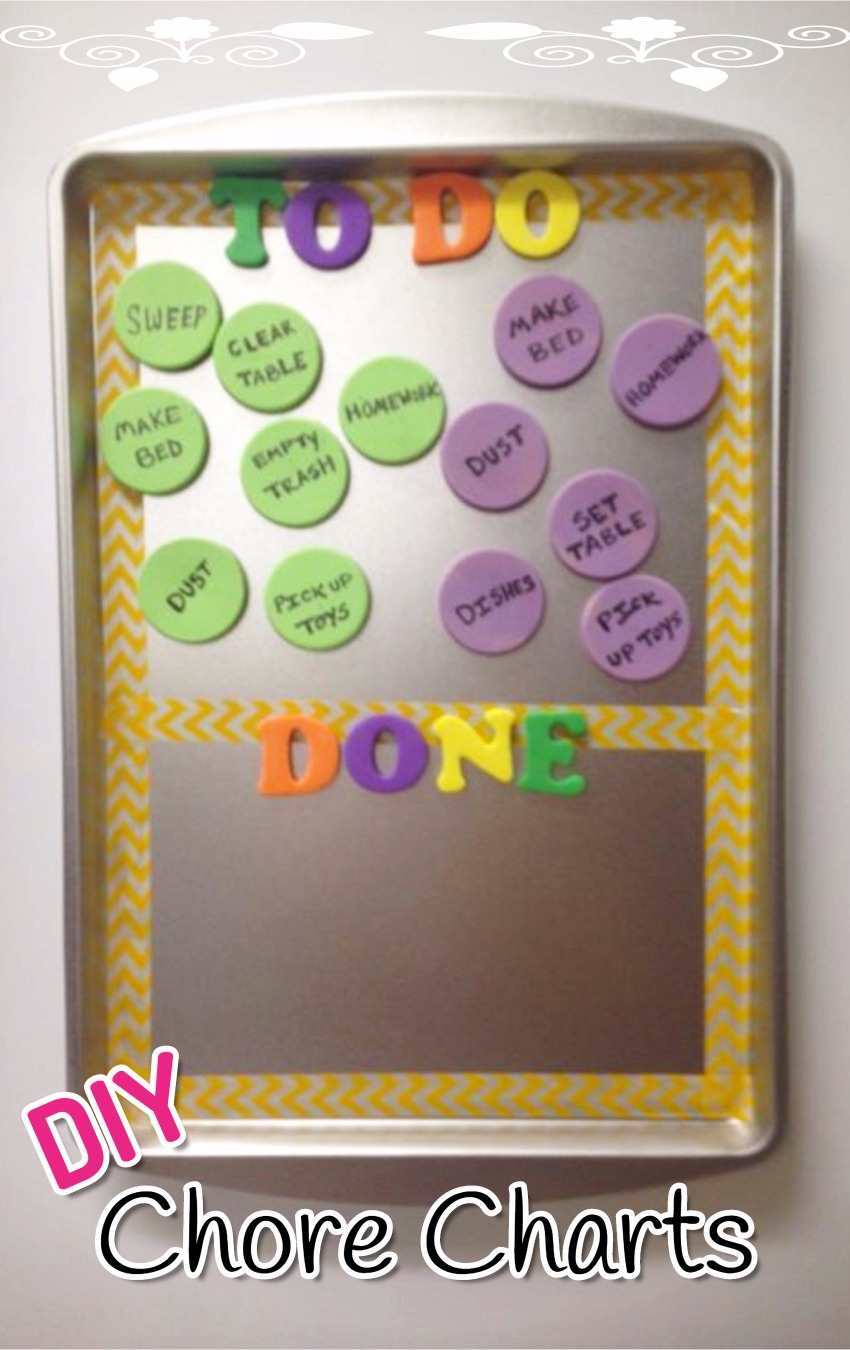 If you're thinking about making a chore chart for your child, here is some important info you need to know BEFORE you start.
One of the newest methods of getting the kids to help out around the house – with the least amount of effort on the part of you as the parent – is to set up a chore chart.
There's a wide variety of DIY chore charts and designs to choose from and each depends on a particular family's preferences and needs.
We have a lot of DIY chore charts ideas here on this page – feel free to pin any of these ideas on Pinterest to save for later.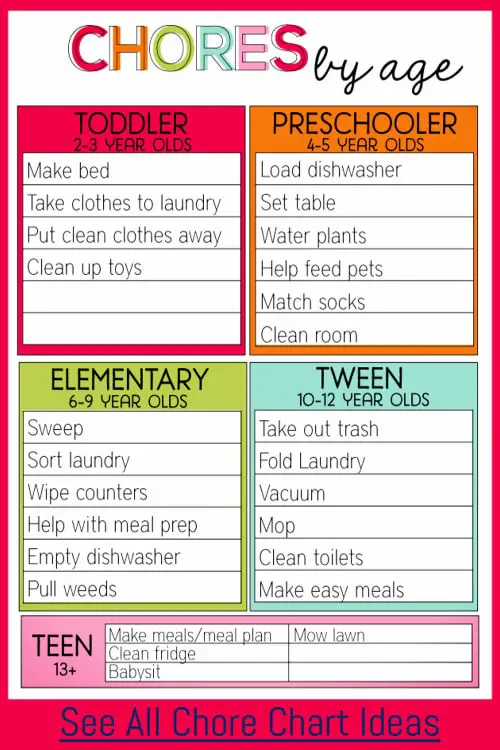 Do Chore Charts Work?
The bottom line verdict from most parents is that chore charts DO work – and they work really well… when you, the parent, use them properly.
Best of all, chore charts help relieve the endless task (ie, "nagging") of having to constantly remind your kids to do their chores.
Checklists make EVERYTHING easier for everyone (yep, that means for you too, mom!)
Here are some free cleaning printable lists you can use.
Just print them out and put those daily tasks into action.
Wouldn't it be nice if your kids had a checklist for cleaning their room AND they actually DID it?
Oh YES, that would be amazing, right?!?!
In short, these chore chart ideas are THE secret for getting your kids to do their part AND to make household chores fun in the process!
If your kids are involved in the chore chart creation process, and are also allowed to manage their individual tasks and check each off as its completed, it not only provides the help around the house YOU need, but also motivates them to clean and learn good habits.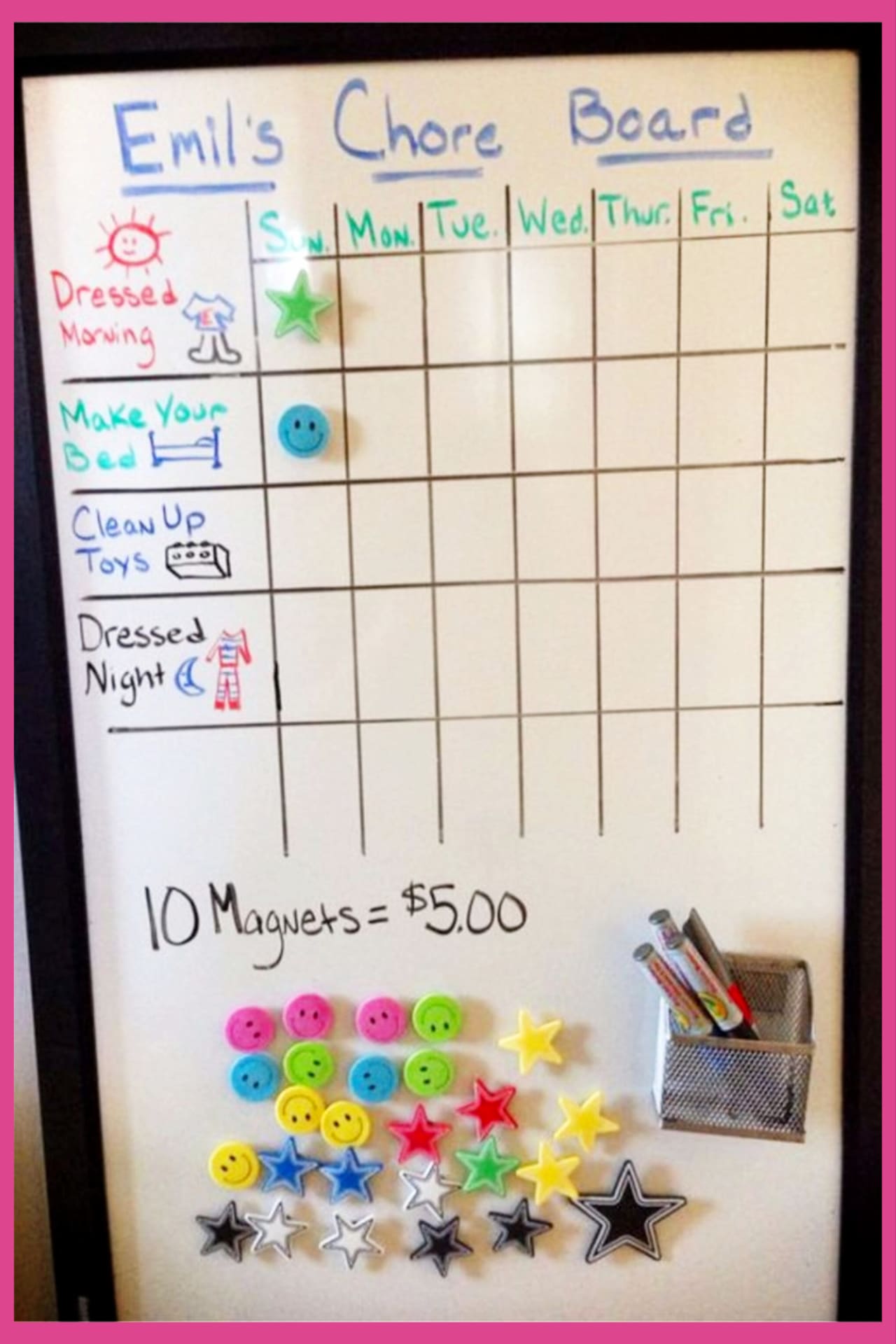 Children get a real sense of pride once their chores are done and they can visually see the results of their efforts being tracked on the chart.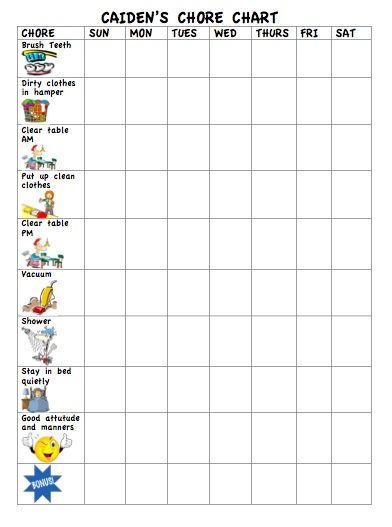 Rewards For Chores
The reward aspect of completing chores on their chore charts can be applied in different ways.
How Should You Reward Kids For Chores Done?
First off, make sure you are making a list of age appropriate chores for your child.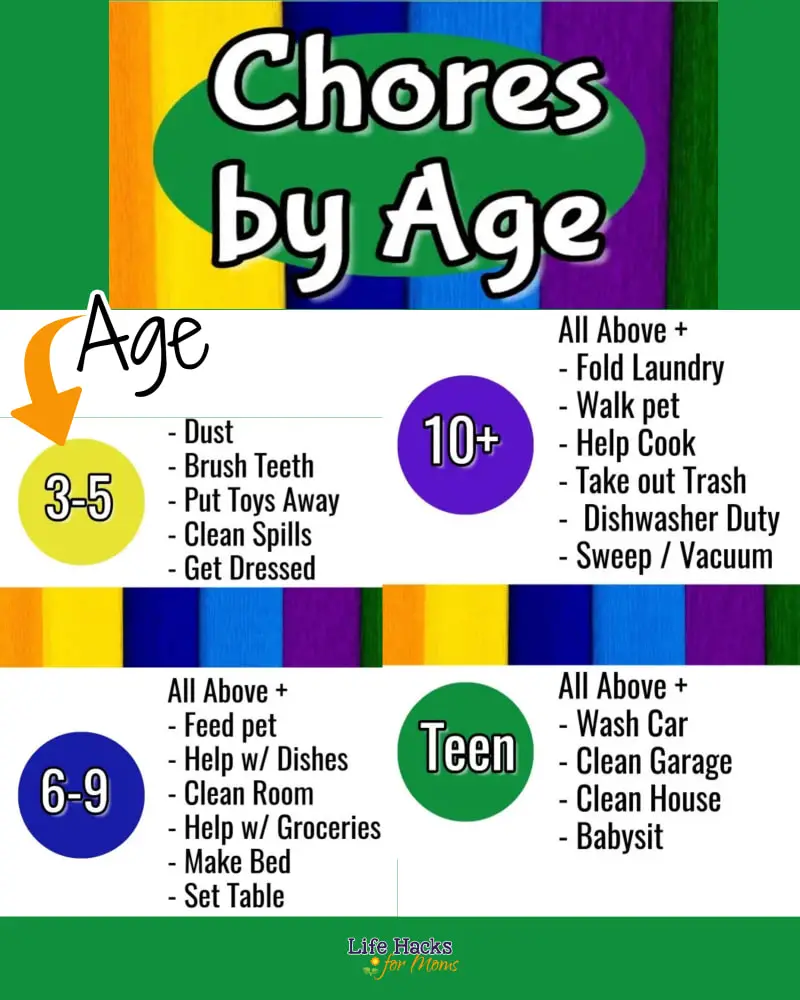 You definitely do NOT want to set them up for failure with cleaning tasks that are too advanced for them.
After your expectations are fair, THEN think about how you will reward your child for the chores they do.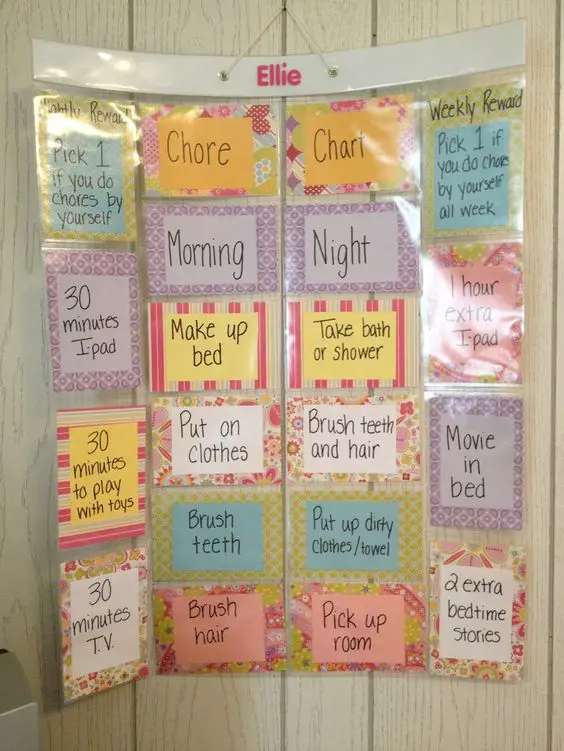 Parents can set up a 'points' system or reward system that provides a certain value for each chore – the more effort the chore entails, the more value points received for it.
Once the week or month ends, depending on your preference, and all of the chores have been completed to your satisfaction, you and the kids can add up their total points and then determine what the return will be – a weekly allowance, screen time on their tablet or electronics, etc – things along those lines work well depending on their age.
Keep in mind that points should also be deducted, not just added.
If one or more of your child's chores are not performed to your liking, no points should be given until the task is correctly completed.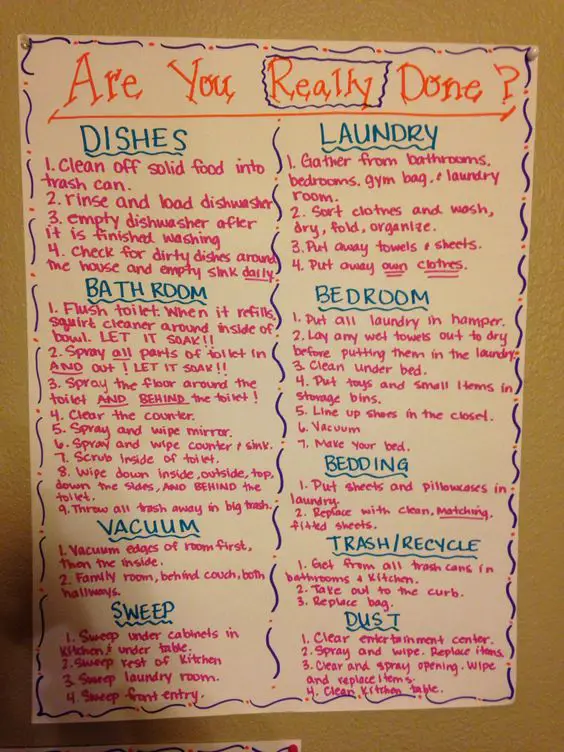 You can also deduct points and not re-incorporate those losses back into your child's total as a method of teaching them the concept of 'doing it right the first time'.
Of course, some tasks may not be as familiar to your kids as others, so base point deductions on that concept as well.
But if the chore is something they can easily accomplish and have done so before on a regular basis and just 'slacked' on it a bit this time, then that's an instance where you'd want to deduct points without allowing the kids to regain that reward until the following week if and when the chore is then satisfactorily performed.
Money For Chores?
Should you PAY your kids to do chores around the house?
Parents are equally divided as to whether paying kids to do chores as a reward is a good idea or not.
However, the bottom line is: 'money talks', and when it comes to kids – it's speaks quite LOUDLY and is a huge motivator to do the chores on their chart.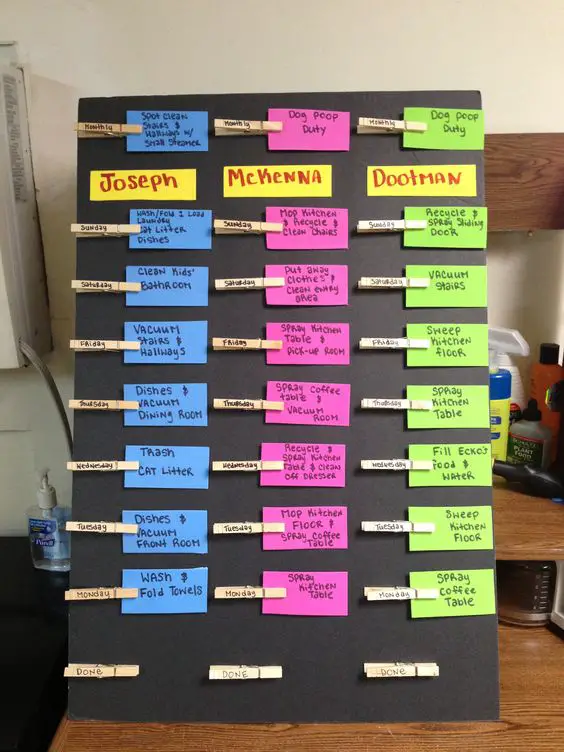 I've found that the older the child is, the more money is a motivator.
But, with the little ones, just making waffles or something sweet is a huge motivator haha!
Base the chore chart rewards on the individual child – this is not a one size fits all system that fits every normal busy family.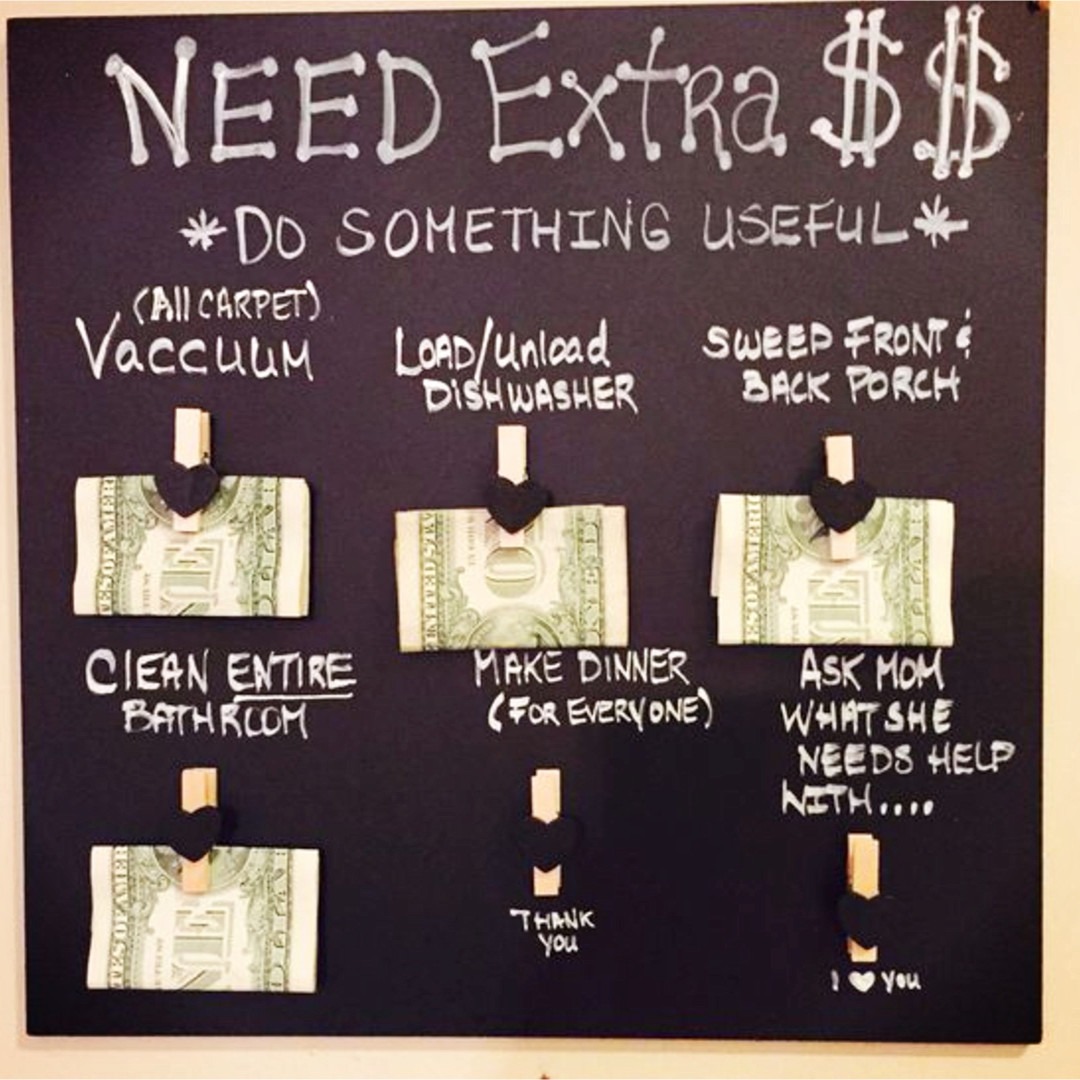 Allowances are a good method of compensating kids for their efforts, if those efforts result in a job well-done.
Don't just hand over money for the sake of it because all of their friends are getting an allowance and you feel guilty.
You'll be helping your children much more by utilizing the positive reinforcement of compensating them only when and if they hold up their end of the household bargain(s).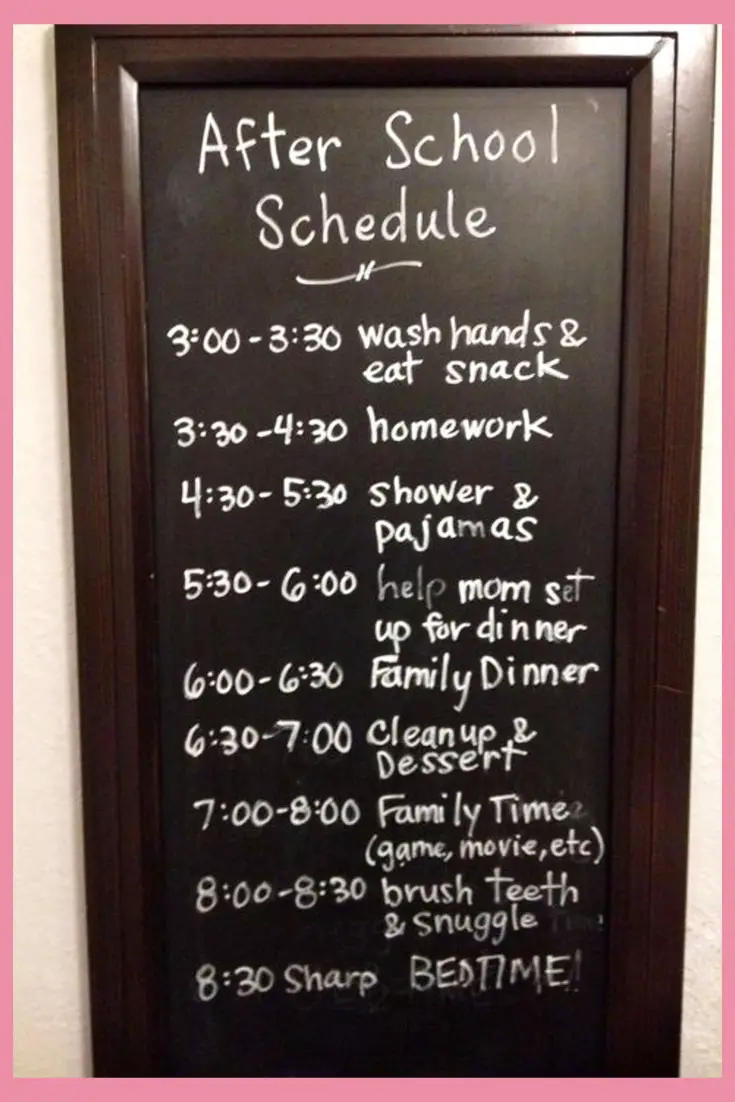 Providing them with monetary compensation for satisfactorily completing their chores will also instill a good work ethic in them no matter how young they are.
Note: It's actually recommended that if you do choose to provide your kids with an allowance, start the process as young as possible – usually around age four or five.
You can incorporate their allowances onto a chore chart by creating blocks next to each task that show how much they've earned when each is completed. This way, it not only motivates them to 'earn their keep', but provides them with the anticipation of pride that they'll experience once they've been paid for their 'hard' work.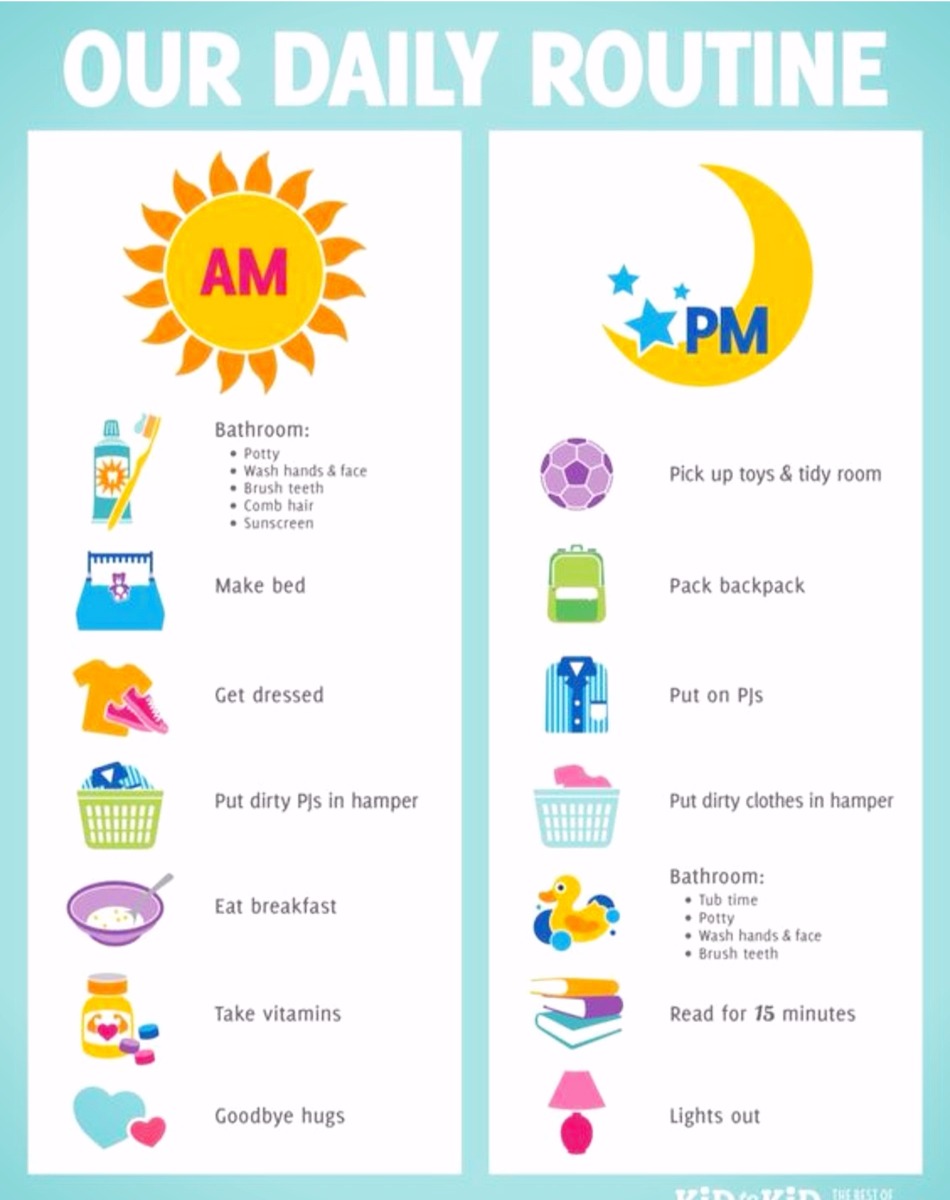 Bottom line:
YES, chore charts DO work!
Make sure your chore system for your child is set up clearly from the start AND is age-appropriate.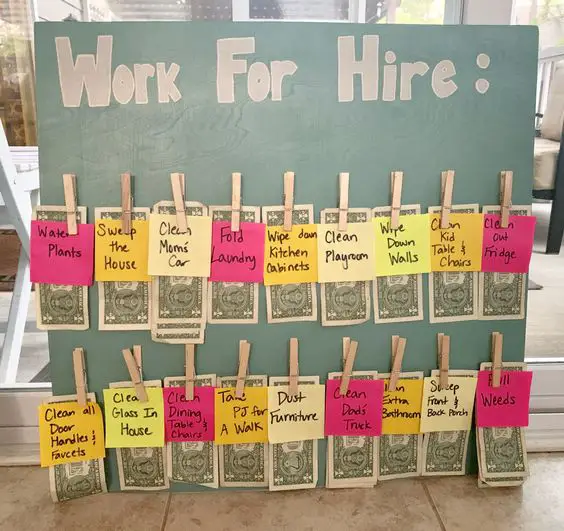 Consistency is key.
Children love, and thrive, on consistency and routine, so don't change up the chore "rules" unless you truly feel the chore system is too difficult for their age.
Last updated on August 30, 2023 8:49 am