Easy Sweet Snacks To Make in 5 Minutes… or Less – Simple 5 minute sweet snacks, desserts and sweet treats with just a few little ingredients to satisfy your sweet tooth any time of day even if you're a night owl and have the 'I need something sweet!" munchies at 3 am.
From healthy sweet snacks for weight loss, sugar control or your low carb diet to easy midnight snacks to make in 5 minutes, you can make any of these easy and quick sweet snacks recipes whenever you need to feed your craving for something sweet any time of day.
From quick and simple to healthy and no bake desserts, you'll find something sweet and easy to make right here.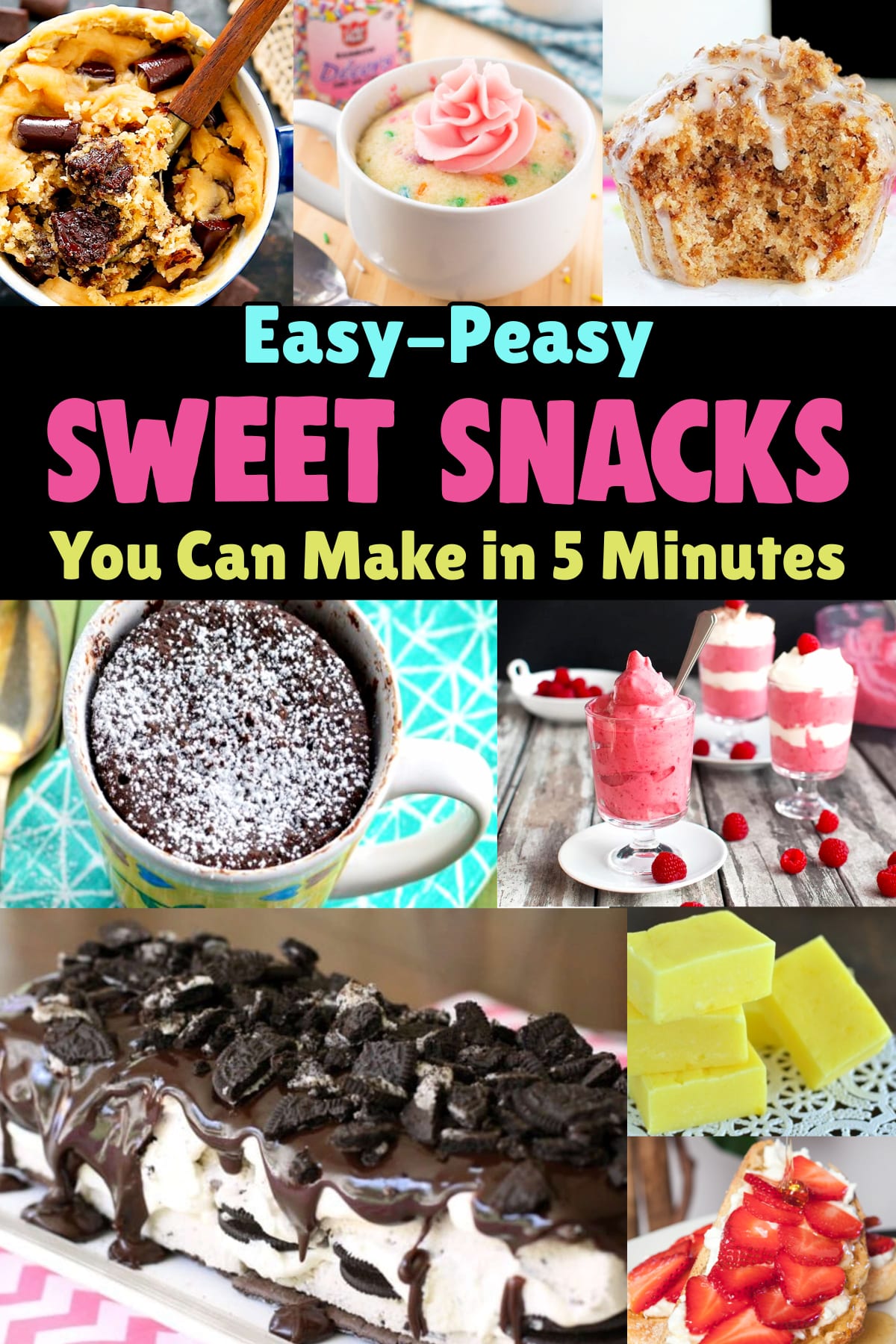 Welcome to Life Hacks for Moms - we hope you enjoy all our tips and tricks for busy moms! Please note that we use affiliate links and ads to generate some income at no cost to you.
---
Easy Sweet Snacks
Here's my favorite EASY sweet snacks you can make in 5 minutes – or less. Whether it's a quick and easy dessert for one or a last minute sweet dessert for a party, you will find the yummiest and easiest 5 minute sweet treats right here.
This is an ongoing list so if you have an awesome recipe to share, let me know!
I love ALL the sweet treats!
 Small Batch Cookies, Brownies, Pies, and Cakes✅ See This No-Bake Vegan & Gluten-Free Sweet Snacks✅ See This Clean Sweets: Simple, High-Protein Desserts✅ See This
5 Minute Recipes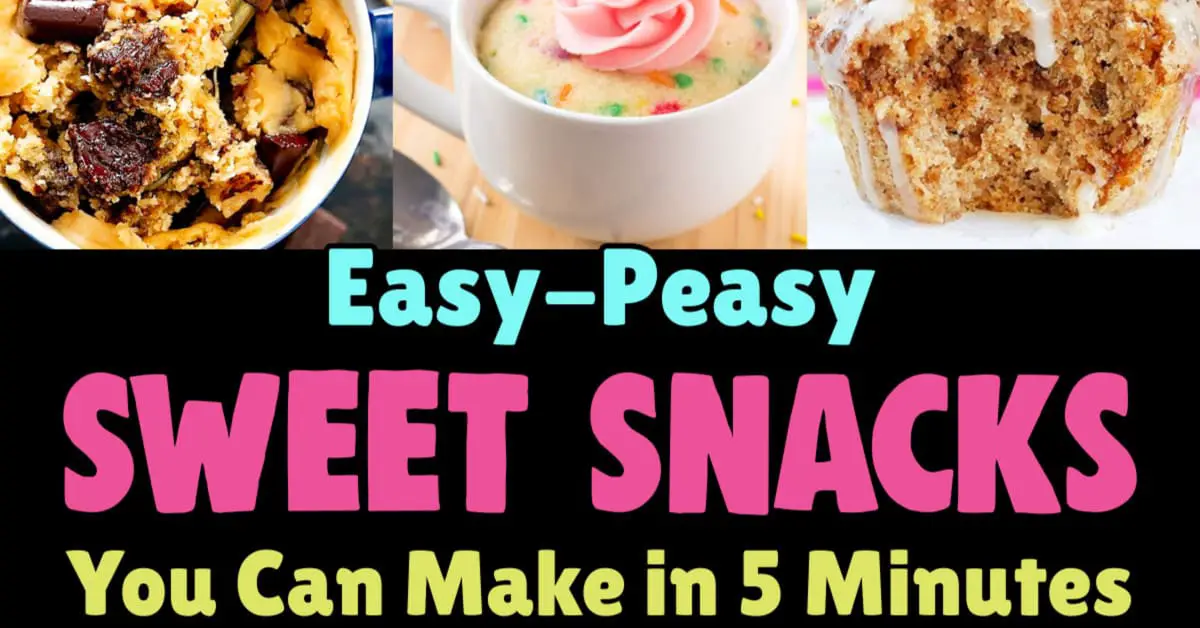 Here's the yummy 5 minute sweet snacks you can make – all the recipes are right here on this page:
15 Easy Sweet Snacks To Make in 5 Minutes… or Less!
5 Minute Chocolate Cake
5 Minute Apple Crisp
5 Minute Fudge
5 Minute Sweet Treats WITHOUT Chocolate
5 Minute Coffee Cake
5 Minute HEALTHY Sweet Snacks
5 Minute Brownies
Apple Nachos
100 Calorie Chocolate Snack Mix
5 Minute HEALTHY Muffins
5 Minute Vegan Chocolate Cups
5 Minute Fruit Desserts
5 Minute Sugar-Free Muffins
No Bake Cookies
5 Minute Fruit Mousse
and many, many more 5 minute sweet snack recipes below.
If you're craving something sweet and want it NOW, take a scroll through these easy sweet snacks and dessert recipes below.
5 Minute Chocolate Mug Cake
5 Minute Apple Crisp
5 Minute Microwave Fudge
Yum! FUDGE! We love all our easy chocolate fudge recipes (the Kit Kat fudge is my favorite!)
Here's another easy-peasy fudge recipe to try:
✅ Love fudge?
You will LOVE all these 3-ingredient fudge recipes:
5 Minute Coffee Cake
5 Minute Chocolate Chip Cake
5 Minute Brownies
Without Chocolate
It seems all easy sweet snack recipes have chocolate as one of the ingredients.
If you're not a huge chocolate fan, here are some easy sweet snacks without chocolate you can make in 5 minutes or less.
---
---
5 Minute Sprinkle Mug Cake
5 Minute Bread Pudding
5 Minute Lemon Fudge
5 Minute Cranberry Bread
✅ Love Easy Bread Recipes?
Healthy Sweet Snacks
Here are some healthy sweet snacks to make at home in 5 minutes or less. There are quick sweet snacks under 100 calories, low carb, Weight Watchers approved, keto and sugar free (for my diabetic friends)
---
---
Healthy 5 Minute Brownie Bites
Apple Nachos
100 Calorie Chocolate Snack Mix
5 Minute HEALTHY Muffins
5 Minute Vegan Chocolate Cups
3 Ingredient Desserts
With just little ingredients, these super simple desserts are quick and easy to make…
and they are SO good!
 Complete Cake Mix Magic: 300 Easy Desserts Good as Homemade✅ See This Easy Keto Desserts: 60+ Low-Carb, High-Fat Desserts for Any Occasion✅ See This Sinfully Easy Delicious Desserts: Quicker, Smarter Recipes✅ See This
No Bake Desserts
These 5 minute no bake desserts are not only delicious, they are sure to satisfy your sweet tooth in a jiffy.
No Bake Cookies
Last Minute Party Sweet Snacks
If you're needing some last minute party desserts or something sweet for your dinner guests that you can whip together REALLY fast, here are some delicious and simple last minute party desserts and sweet treats ANY crowd will love.
5 Minute Oreo Ice Cream Cake
Not only is this Oreo ice cream cake fast and easy to make for a sweet snack when you need one, it's also an amazing last minute dessert idea for a party or unexpected dinner guests.
Last Minute Sweet Snack Mix
5 Minute Fruit Desserts
Craving something sweet, but you want fruit in the recipe?
Here are some unique and EASY 5 minute sweet snacks with fruit that you will love.
5 Minute Grape Sorbet
5 Minute Fruit Mousse
5 Minute Chocolate Fruit Dip
Strawberry Honey Toast
Easy 10 Minute Desserts
If you have a few more minutes, here are some easy 10 minute desserts and sweet snacks.
They are all super simple to make and have few ingredients.
Peanut Butter Fritos
Yes, I said peanut butter Fritos.
I know it sounds like an odd combination, but they are GOOD – and very easy to make.
More Easy Desserts
Miss Anything?
Go back to the top of: ==>> Easy Sweet Snacks To Make in 5 Minutes
Go back to a specific section: