---
Breakfast Ideas For a Crowd – Simple make ahead breakfast ideas for a large group, family gathering, group of ladies or overnight guests. Simple make ahead breakfast ideas and overnight recipes for a brunch party, a breakfast potluck, a breakfast buffet at home, camping trip or for a full house during the holidays.
If you're looking for simple breakfast food you can make the night before or freeze for later, take a look at these simple and yummy make ahead breakfast casseroles, brunch food ideas, bundt cakes, muffins and more recipes below.
They are sure to be crowd-pleasers your large group will LOVE whether it's for Christmas morning breakfast, breakfast potluck, for weekend guests, or for your large family Sunday brunch.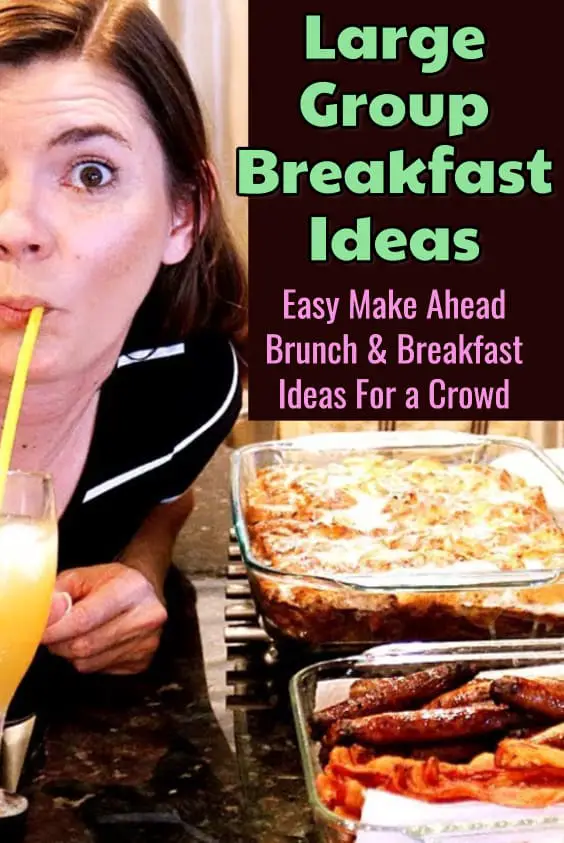 Welcome to Life Hacks for Moms - we hope you enjoy all our tips and tricks for busy moms! Please note that we use affiliate links and ads to generate income at no cost to you.
---
Group Breakfast Ideas
Having a large group over for breakfast or brunch and need some make ahead food ideas for that crowd?
Take a look at these easy and delicious family gathering breakfast ideas that are on this page below:
10 Breakfast Ideas For Large Groups:
Make Ahead Breakfast Bundt Cakes
Breakfast Party Pizza
Ladies Group Breakfast Casserole
Bundt Pan Breakfast with Biscuits
Make Ahead Hashbrown Casserole
Blueberry Summer Breakfast Casserole
Make Ahead French Toast Casserole
Make Ahead Blueberry Muffins
Blueberry Breakfast Cake Recipe
Muffin Mix Pancakes
 Brunch Mimosa KitShow Me This 140 Brunch RecipesShow Me This Brunch PartyShow Me This
Make Ahead Breakfast Bundt Cakes
Bundt cakes and casseroles are perfect make ahead breakfast ideas – take a look at all these easy breakfast bundt cake recipes:
Personally, I love ANYTHING blueberry – especially for breakfast.
Like this Blueberry Pie Bundt Cake – so yummy!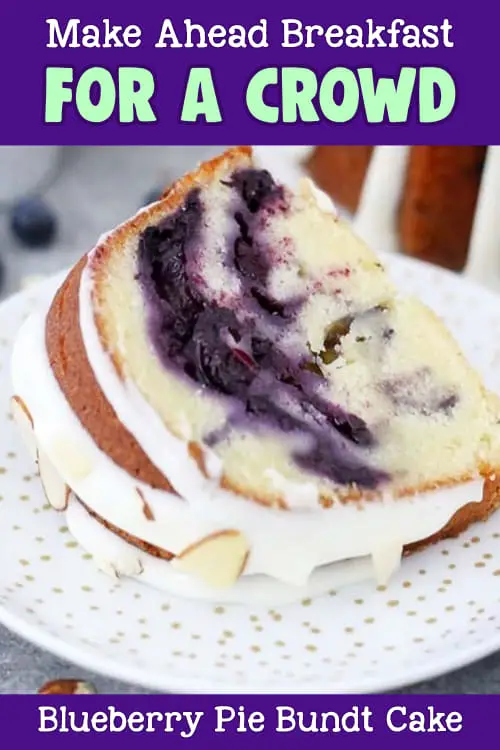 The slivers of almonds on the top icing are just the right amount of crunch and extra flavor!
Breakfast Party Pizza
Pizza? For breakfast? You bet!
This sausage gravy breakfast party pizza below is a family-favorite. I make this for Christmas breakfast every year and my family devours it!
When cooking breakfast for a large group of 40 or so, I'll make 2 or 3 of these breakfast pizzas.
They're very easy to make (especially with pre-cooked sausage crumbles) and they are so, SO good!
Here's the recipe (feel free to pin it to Pinterest so you don't lose it).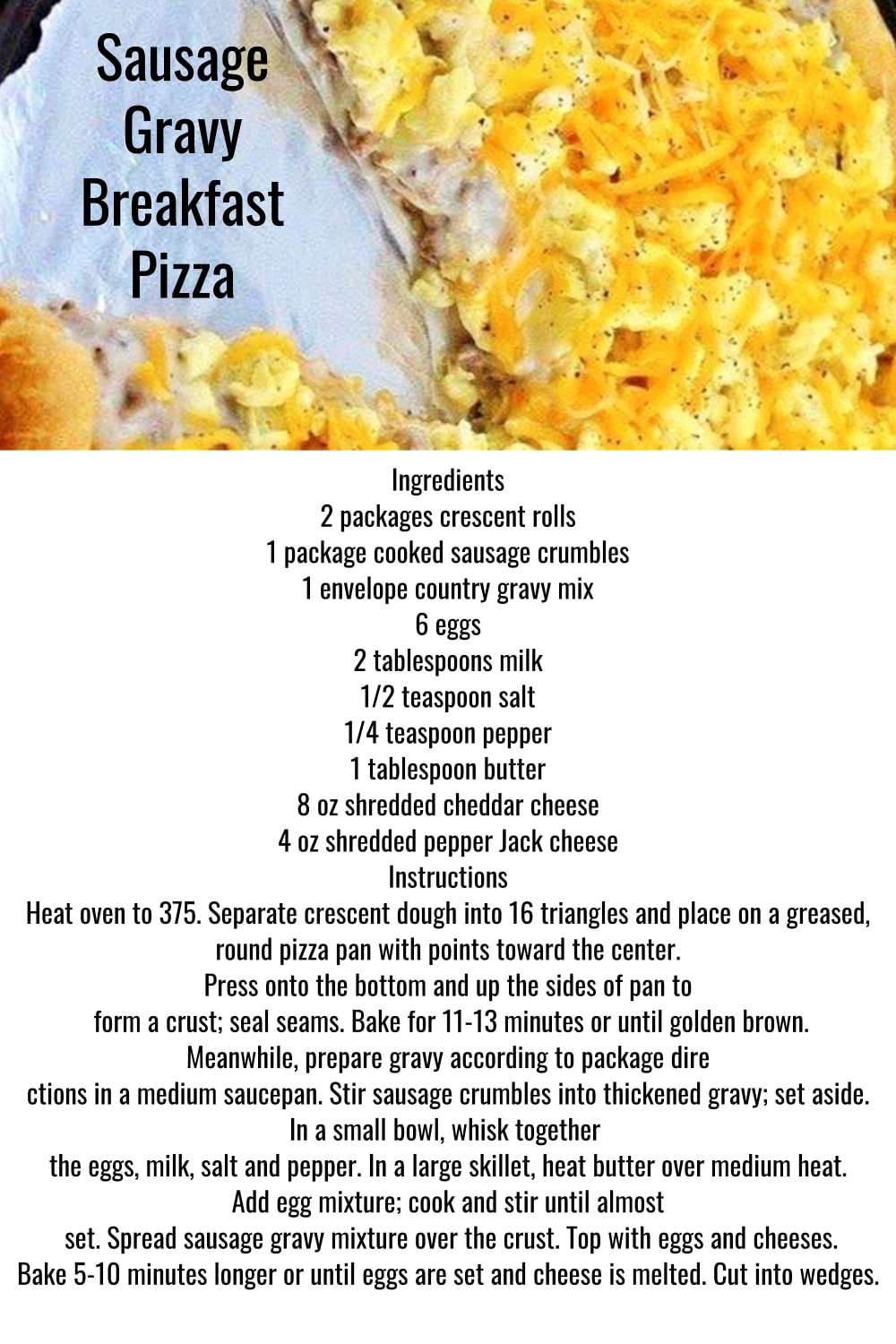 Ladies Group Breakfast Casserole
Can cooking breakfast for a group get ANY easier than throwing a bunch of stuff in your crock pot – and walking away?
This crock pot ladies group breakfast casserole is delicious!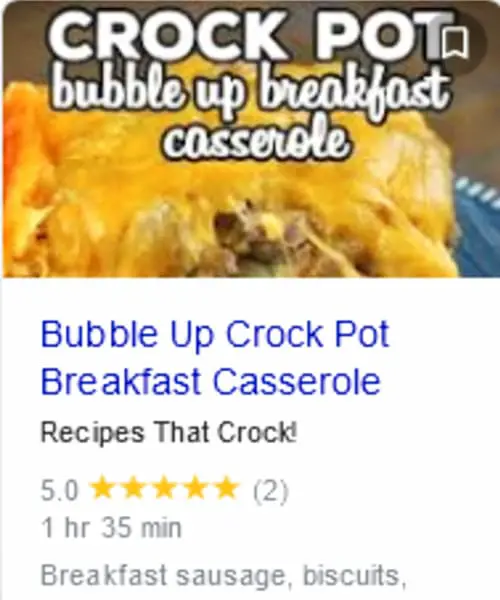 If you're a slow cooker kinda gal..
Get more Crock Pot Breakfast Recipes here
Bundt Pan Breakfast with Biscuits
This make ahead sausage bundt cake recipe is a super simple and cheap breakfast idea for large groups.
It's an insanely good sausage, egg and cheddar cheese breakfast casserole!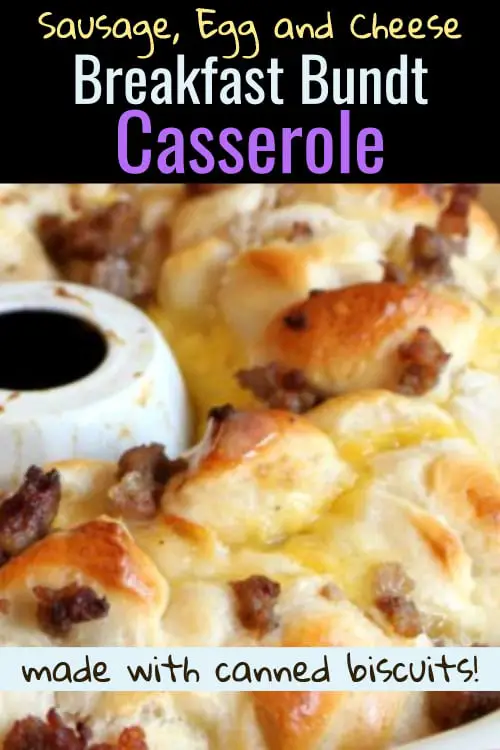 Did I mention it uses refrigerated canned biscuits!
That makes it extra easy-peasy!
---
---
Make Ahead Hashbrown Casserole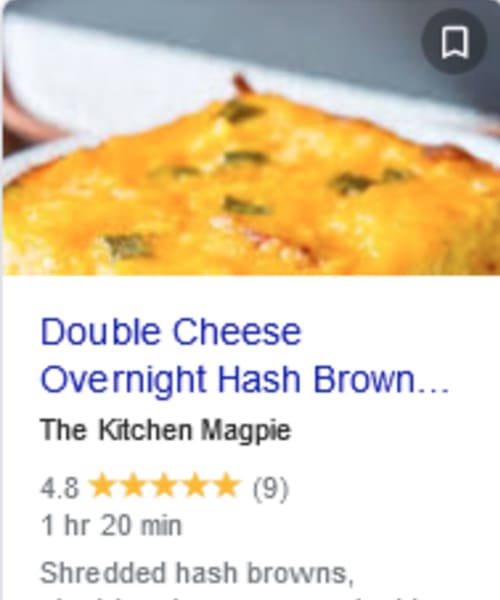 You simply can't go wrong with hashbrowns and CHEESE for a quick and easy make ahead breakfast for any crowd.
Cheesy potatoes for breakfast potluck or served at a brunch?
Wait… DOUBLE cheese!
Oh yessssss! That makes everyone happy!
This is our favorite hash brown casserole recipe ever =)
Blueberry Summer Breakfast Casserole
When it comes to EASY big breakfast recipes I can make ahead for guests, this blueberry summer breakfast casserole is to die for!
Just LOOK how yummy it looks: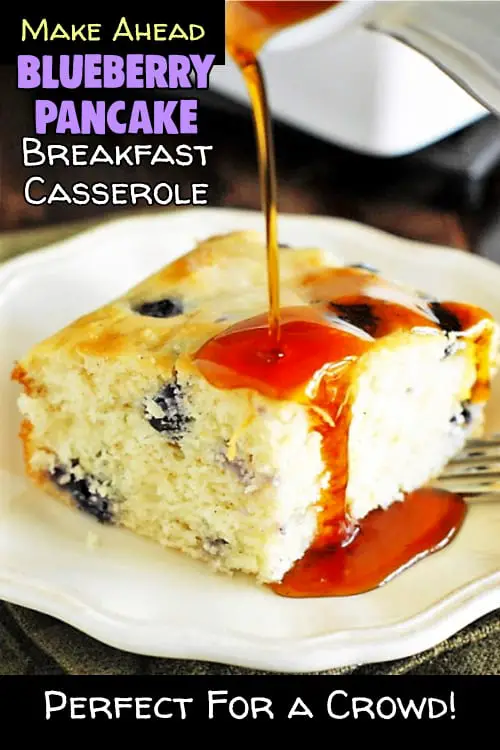 So simple – only 5 ingredients! You can have it completely ready in about 30-40 minutes or make it the night before because it reheats perfectly!
Now this NEXT simple breakfast recipe is a real CROWD PLEASER in my house!
Make Ahead French Toast Casserole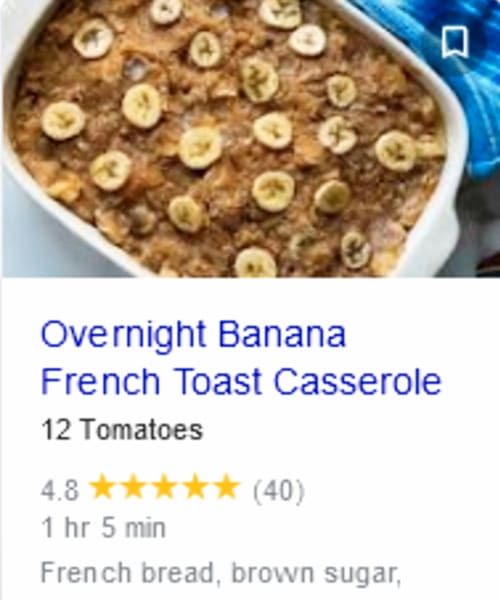 Oh my, this next make ahead breakfast casserole is SOOOOOO GOOD!
If you love banana bread and you love french toast, this clever breakfast casserole recipe will soon be one of your favorites!
Perfect breakfast or brunch idea you can easily make the night before to save time in the morning when you have guests or it's a Holiday morning.
Make Ahead Blueberry Muffins
I don't know about you, but blueberry muffins can solve ALL the world's problems – they're my favorite comfort food!
It's also my go to recipe when cooking breakfast for a group of ladies – they all love them at church!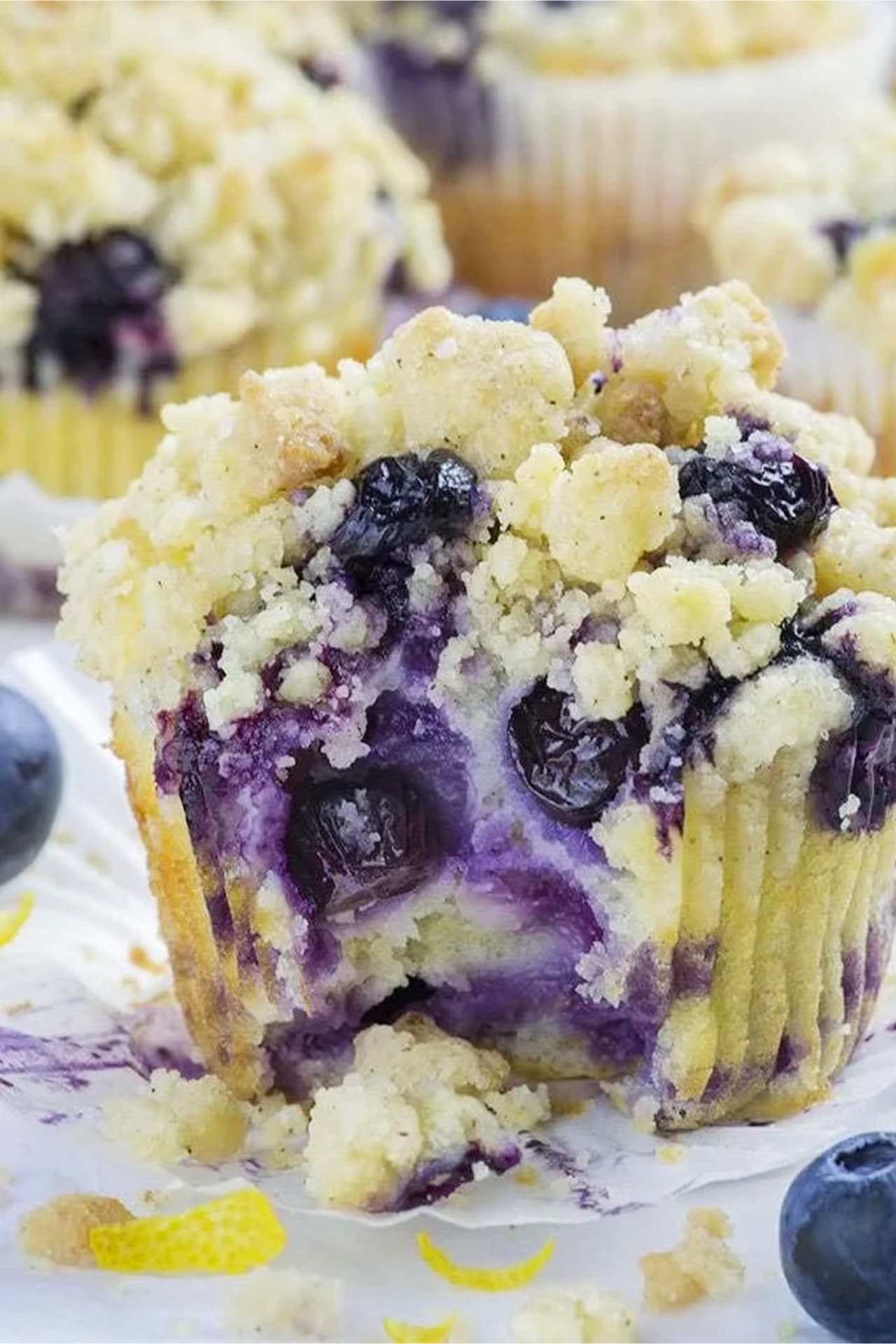 These make ahead blueberry breakfast muffins are so moist and delicious and are a great choice for your brunch or family gathering breakfast.
Blueberry Breakfast Cake Recipe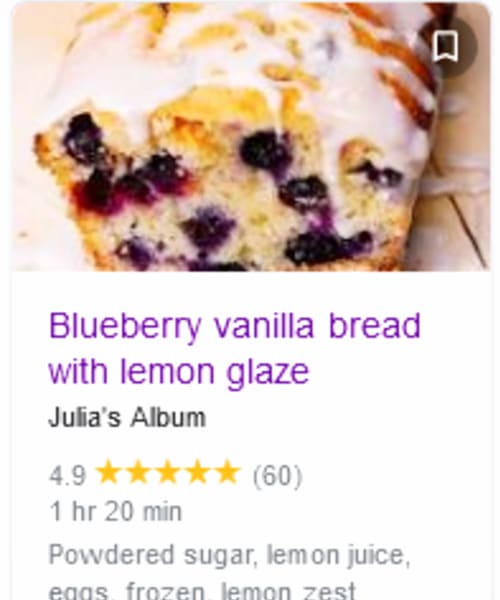 Personally, I love ANY recipe that includes blueberries and this blueberry breakfast cake is no exception.
Whenever I am in charge of breakfast or brunch for my family, or any large group, this is one of my Go To recipes to make – and everyone loves it!
It also makes for a comforting funeral food idea to take or send to a grieving family.
I tend to have multiple loaves of this blueberry bread in my freezer at any time so I have it on hand whenever I need it.
Muffin Mix Pancakes
Will you have kids at your large group breakfast?
I cannot recommend these muffin mix pancakes enough… the kids LOVE them and love picking the pancake flavors.
Needless to say, the adults love them too – and they're SO easy to make!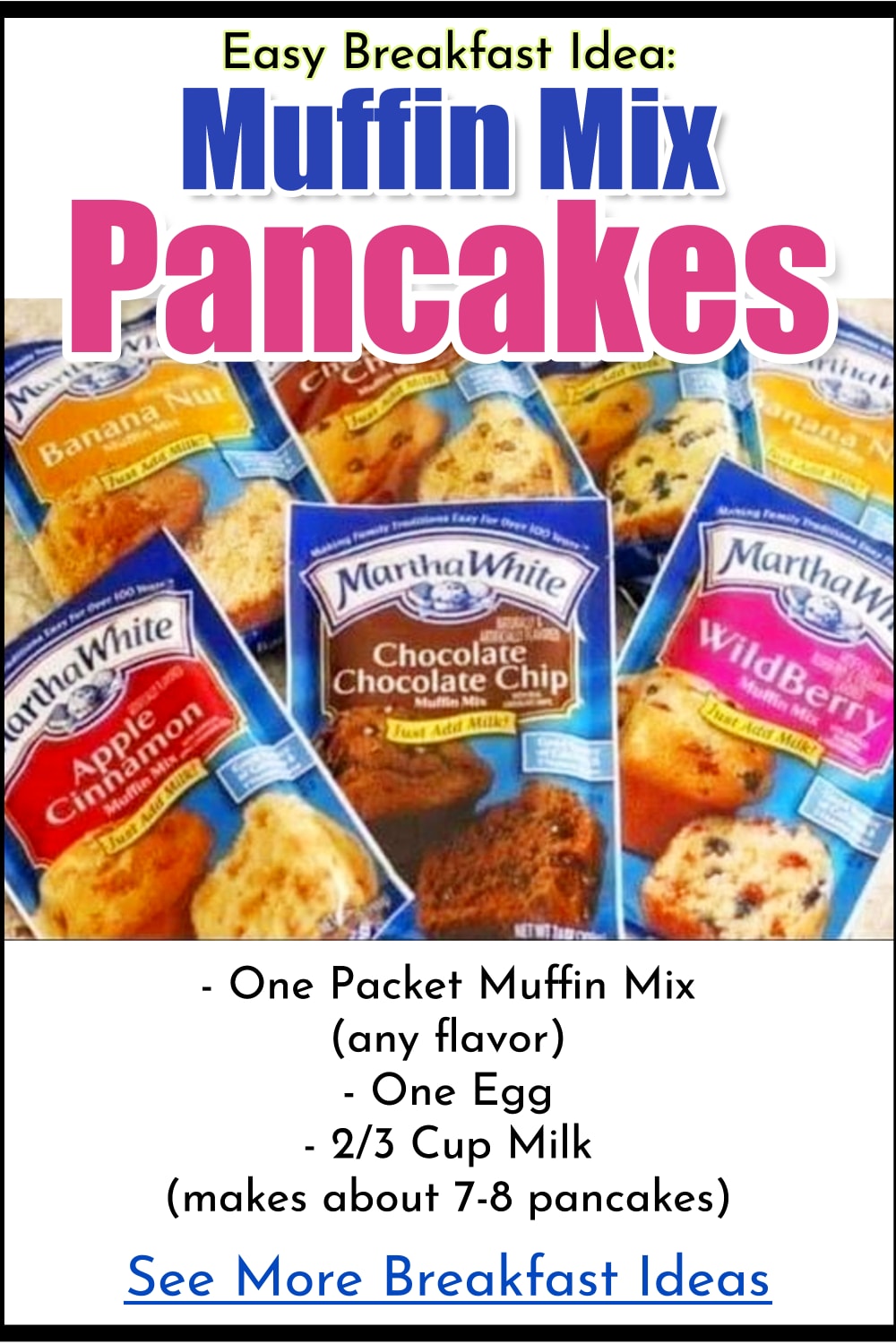 Easy Breakfast Buffet At Home
Want to make a breakfast buffet table at home for your guests?
Here's some super simple ideas:
More Party Food Ideas
---
– Best Store Bought Appetizers For a Potluck
---
– Easy 3 Ingredient Cold Appetizers For a Crowd
---
– Simple Chicken Breast Dinner Recipes with Few Ingredients
---
– Leftover Thanksgiving Food Ideas
---
– 12 Simple Christmas Party Punch Recipes For a Large Groups
---
– Super Simple CHOCOLATE Fudge Recipes
---
– Fast and Easy Instant Pot "Dump Dinner" Recipes
---
– Easy Thanksgiving Dessert Ideas For a Crowd
---
– Make Ahead Smoothie Packs Recipes and Ideas
---
---
Miss Anything?
Go back to the top of: ==>> Breakfast Ideas For Large Groups
Go back to a specific section:
✅ Want More Easy Breakfast and Brunch Food Ideas?