---
Christmas Punch Recipes – 12 Super Easy Christmas Themed Punch Recipes For a Crowd Or Small Gathering –
From Holiday punch with alcohol to traditional Christmas punch that is NON alcoholic, these are some quick and easy Christmas party punch ideas for any sized crowd.
The kids will LOVE the Grinch Punch! And Mom – you are gonna LOVE 'Santa's Little Ho Ho' party punch (it includes strawberries and champagne – SO good!)
Let's jump in and take a look at 12 fun and easy Holiday punch recipes for Christmas Day, any holiday party, Christmas morning – or for New Years (these punch recipes can also be used for big batch party cocktails, too!)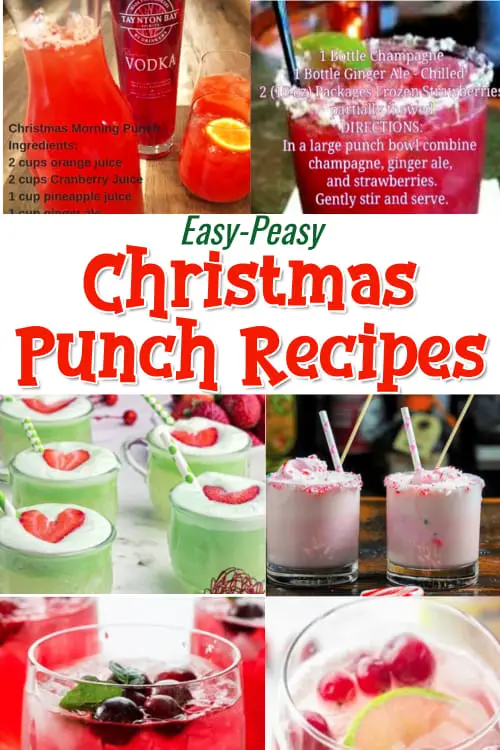 Welcome to Life Hacks for Moms - we hope you enjoy all our tips and tricks for busy moms! Please note that we use affiliate links and ads to generate income at no cost to you.
---
Christmas Punch Recipe Ideas
Easy peasy Christmas and Holiday punch recipes for Christmas morning, brunch, big batch punch recipes for a crowd. See Christmas themed spiked punch recipes and non-alcoholic too. The punch recipes below include ingredients like vodka, ginger ale, sherbet, pineapple juice, raspberry, cranberry and more.
Skip the traditional boring Christmas party punches at your winter party this year and try these unique twists on holiday drinks.
Poinsettia Punch
1 carton pulp-free orange juice
1-2 cups pomegranate juice
2 bottles Sprite, 7-Up, or Ginger Ale
1 lime sliced
Place the orange juice in a mold and freeze until solid. Loosen with warm water and set inside a punch bowl. Pour two bottles of your favorite sparkling soda over the frozen orange juice and then add pomegranate juice. You can add more or less pomegranate juice to taste. Add lime slices and serve.
---
Cape Cod Holiday Punch
32 ounces chilled cranberry juice
1 frozen lemonade concentrate container, thawed
1 liter chilled club soda
Small ice cubes
1 lime, sliced
Mix cranberry juice and lemonade concentrate in a punch bowl. Slowly add club soda and ice and layer in lime slices. Enjoy.
Green Sherbet Punch
1 half gallon green sherbet, slightly softened
1 half liter cold ginger ale
1 cup lemon juice
1 cup orange juice
1 cup pineapple juice
1 package strawberry gelatin
1 and a half cups sugar
4 cups of water, divided
Boil two cups of water. Add gelatin and sugar. Stir to dissolve. Add two cups cold water and the fruit juices. Chill until you're ready to serve. Before your guests arrive, pour in ginger ale and spoon in the orange sherbet
Christmas Brunch Punch Recipe
Love this Christmas brunch drink recipe! C'mon… anything with vodka in it is a win!
Christmas Morning Punch
Santa's Little Ho Ho Punch
Grinch Punch Recipe
Super Easy Christmas Punch
Peppermint Eggnog Punch
Cranberry Pineapple Holiday Punch
Sparkling Cranberry Vodka Punch
Miss Anything?