Fun and easy Christmas punch recipes for Christmas Day, any holiday party, Christmas morning – or for New Years (these punch recipes can also be used for big batch party cocktails, too!)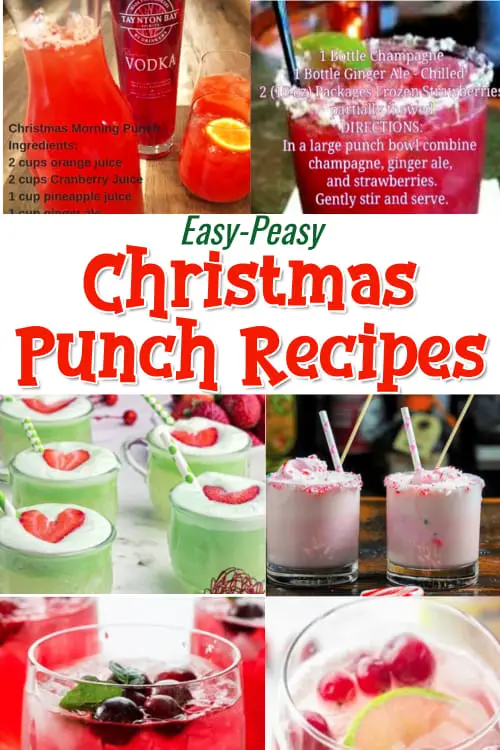 Christmas Punch Recipe Ideas
Easy peasy Christmas and Holiday punch recipes for Christmas morning, brunch, big batch punch recipes for a crowd. See Christmas themed spiked punch recipes and non-alcoholic too. The punch recipes below include ingredients like vodka, ginger ale, sherbet, pineapple juice, raspberry, cranberry and more.
Skip the traditional boring Christmas party punches at your winter party this year and try these unique twists on holiday drinks.
Poinsettia Punch
1 carton pulp-free orange juice
1-2 cups pomegranate juice
2 bottles Sprite, 7-Up, or Ginger Ale
1 lime sliced
Place the orange juice in a mold and freeze until solid. Loosen with warm water and set inside a punch bowl. Pour two bottles of your favorite sparkling soda over the frozen orange juice and then add pomegranate juice. You can add more or less pomegranate juice to taste. Add lime slices and serve.
---
Cape Cod Holiday Punch
32 ounces chilled cranberry juice
1 frozen lemonade concentrate container, thawed
1 liter chilled club soda
Small ice cubes
1 lime, sliced
Mix cranberry juice and lemonade concentrate in a punch bowl. Slowly add club soda and ice and layer in lime slices. Enjoy.
Most Popular Christmas Desserts * Let's take a look at the best Holiday dessert recipes, award-winning Christmas dessert recipes and the Top 10 Holiday desserts that are NOT the standard pumpkin pie or pecan pie – these are unique Christmas dessert recipes. These just might be the best Christmas dessert …
Green Sherbet Punch
1 half gallon green sherbet, slightly softened
1 half liter cold ginger ale
1 cup lemon juice
1 cup orange juice
1 cup pineapple juice
1 package strawberry gelatin
1 and a half cups sugar
4 cups of water, divided
Boil two cups of water. Add gelatin and sugar. Stir to dissolve. Add two cups cold water and the fruit juices. Chill until you're ready to serve. Before your guests arrive, pour in ginger ale and spoon in the orange sherbet
Christmas Brunch Punch Recipe
Love this Christmas brunch drink recipe! C'mon… anything with vodka in it is a win!
Simple Christmas Brunch Punch Recipe With Vodka for a Crowd Or a Small Group.
Christmas Morning Punch
Easy Punch Recipes for a Crowd and Easy Party Drinks Ideas too! Lots of insanely good and super simple party punch recipes on this page! There are both non-alcoholic punch recipes and simple party punch recipes with alcohol in them.
Santa's Little Ho Ho Punch
(null)
Grinch Punch Recipe
This post may contain affiliate links, read our Disclosure Policy for more information. As an Amazon Associate I earn from qualifying purchases, thank you! Make your Christmas party super fun with this Grinch Punch recipe! The little strawberry hearts just make the whole thing memorable! Also try our Elf punch that uses a different drink.
Super Easy Christmas Punch
Peppermint Eggnog Punch
Cranberry Pineapple Holiday Punch
Cranberry Pineapple Punch is crisp, refreshing, and super enjoyable. It's also very pretty, which is important when you want to jazz things up for the holidays. The cranberries in this holiday punch absolutely sparkle next to the fresh lime. Oh and one more thing: this Christmas punch is totally easy; like add and stir.
Sparkling Cranberry Vodka Punch
Easy Breakfast Bundt Cake & Make Ahead Brunch Casserole Recipes * I've been searching all over for EASY Easter breakfast recipes and crowd-pleasing brunch food ideas that are great for a crowd. With the Holidays coming and lots of overnight guests and brunch get-togethers, I really want some simple and fast breakfast ideas that everyone will love and some easy Holiday party food ideas.
Easy Potluck Appetizers, Cold Dip Recipes for a Crowd and Fast & Easy Cold Finger Food Buffet Ideas – These cheap and quick 3 ingredient cold appetizers are my favorite fast and easy recipes with few ingredients for any potluck, work party, cold food buffet table or any party or …
Simple make ahead breakfast recipes for a crowd and healthy night before breakfast recipes for Holiday mornings, large groups, brunch party, girls weekend or for a full house. If you're looking for simple breakfast food you can make the night before or freeze for later, take a look at these …