---
Potluck Ideas – Quick, Cheap and Easy Potluck Food Ideas: Appetizers, Must Make Side Dishes, Finger Foods, Cold Salads, Store Bought Food Ideas To Take, Last Minute Recipes & More
From make ahead to last minute or store-bought, these are easy potluck bring-a-dish ideas for work, church, family reunions, tailgating or any bring a dish party that WILL impress any potluck crowd – even if you're picking up something simple and cheap at the store last minute to feed a large group or small picnic gathering.
From a brunch at the office to potluck meals at work, these quick and cheap ideas all travel well and are perfect no matter WHAT your potluck theme is. These are my favorite team potluck ideas too!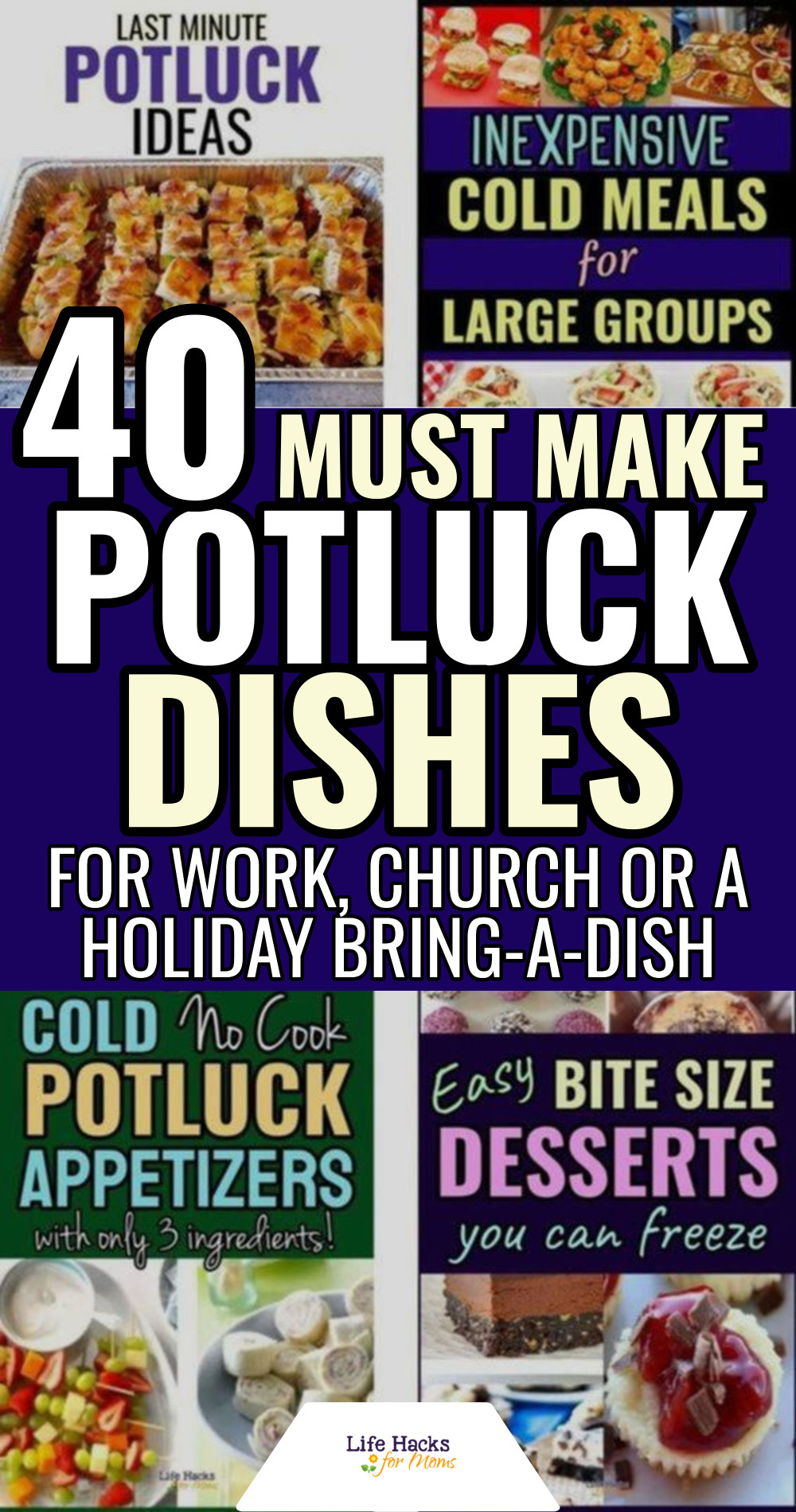 Welcome to Life Hacks for Moms - we hope you enjoy all our tips and tricks for busy moms! Please note that we use affiliate links and ads to generate income at no cost to you.
---
In the big list below you'll find potluck ideas for work, fun & creative potluck ideas, breakfast potluck and family reunion food ideas, cheap and quick potluck food to take (potluck dishes that travel well are a MUST), hot and cold finger foods, potluck casseroles – and potluck lunch food to buy when you need something for that Christmas potluck party, Holiday get-together, summer picnic, block party or office potluck at the last minute.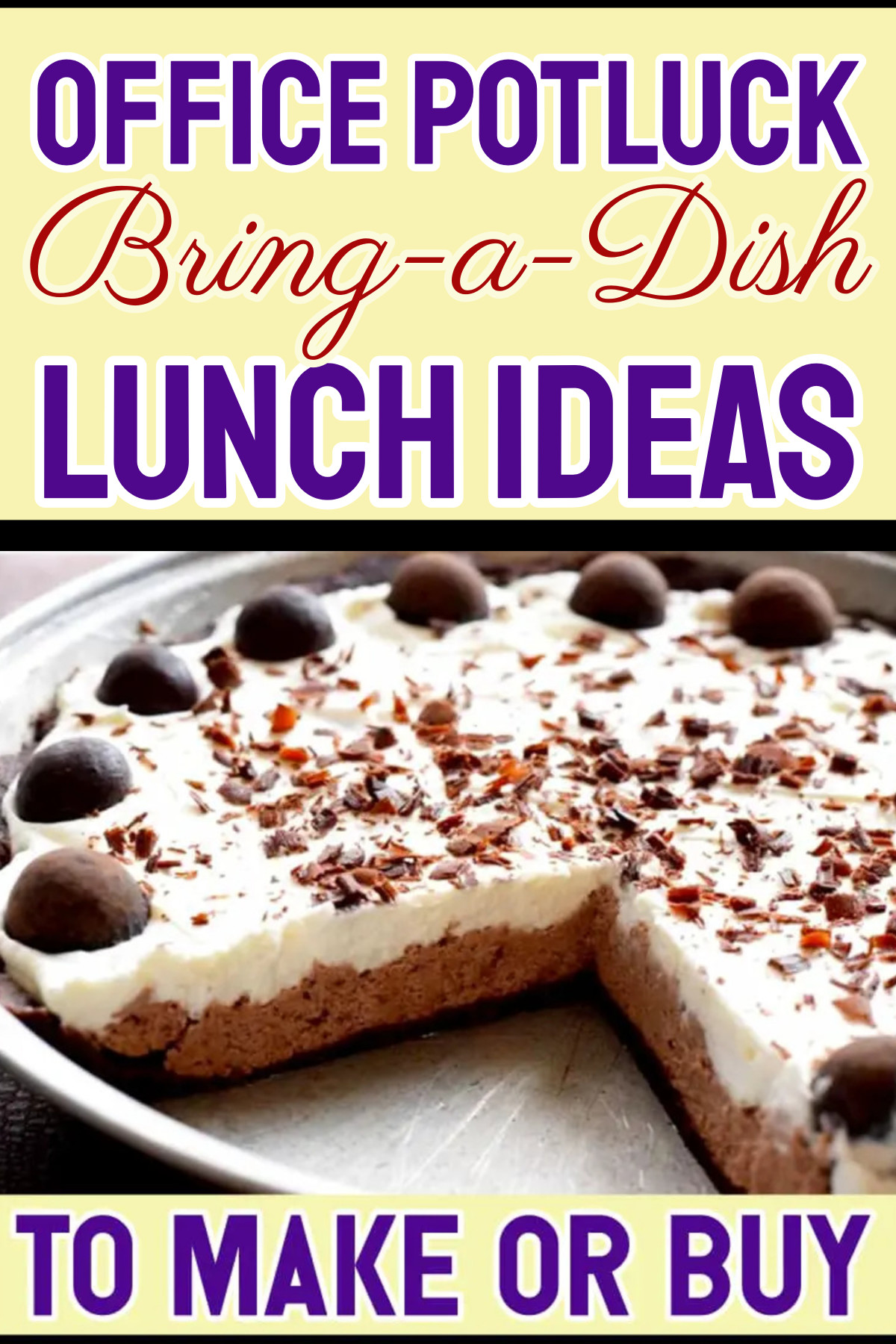 Quick Potluck Ideas
Whether it's a work potluck, Christmas potluck or a potluck luncheon for a large crowd or a team potluck, here are our favorite cheap, quick and EASY potluck ideas that you can make OR buy – and they're all really good ideas no matter what the potluck theme is!
✅ If you need easy potluck
main dishes
for a large crowd at work, church, picnic, large group family reunion etc –
those ideas are here
.
 Taste of Home: Best Church Suppers: Over 500 Potluck Favorites!Show Me This Potluck Recipes: 543 Stove-Top and Oven Dishes That Everyone LovesShow Me This
✅ Last Minute Ideas
Nothing like needing food ideas at the very last minute, right?
When you have no time, you really only have 2 options – make something fast and easy, or BUY something.
If you want to MAKE something REALLY simple…
Or – let's talk about what to buy…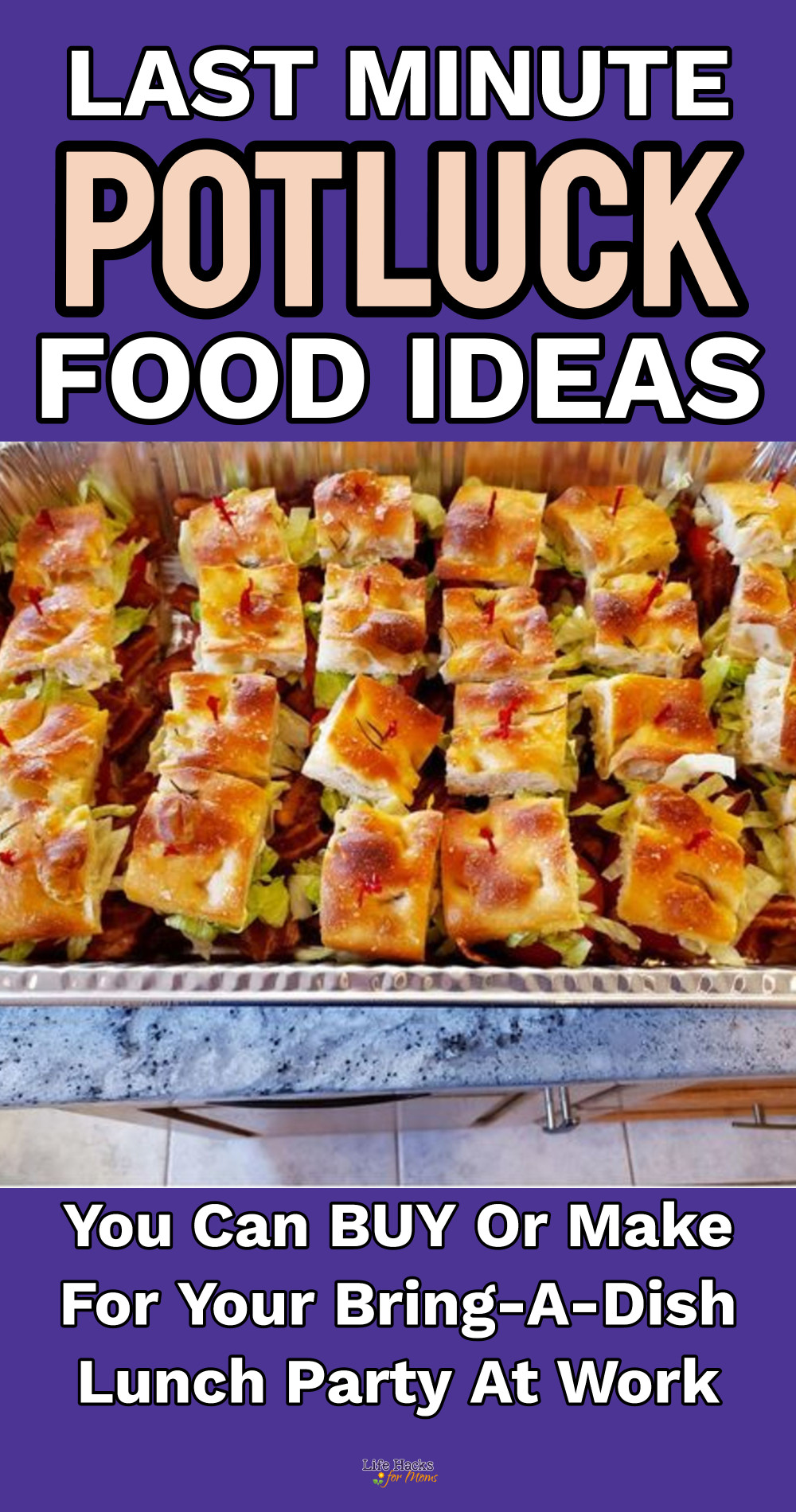 Here are some cheap potluck ideas to buy or make that are my personal Go To appetizer recipes (I'm a whiz when it comes to store bought appetizers lol!)
No oven or refrigerator?
The best potluck ideas don't need heat or refrigeration-SEE LIST BELOW. For example, the cheap store-bought list of ideas here of appetizers, bakery items, bags of chips, cookies, etc. Even room-temperature side dishes are an option to bring to a work potluck if they can sit out safely and travel well.
Here are more potluck ideas you can pick up at the store…
What To BUY?
If you need to buy something for a potluck, don't stress it! You're not being lazy or cheap! There are lots of good items to pick up at the store for a potluck that are all budget-friendly.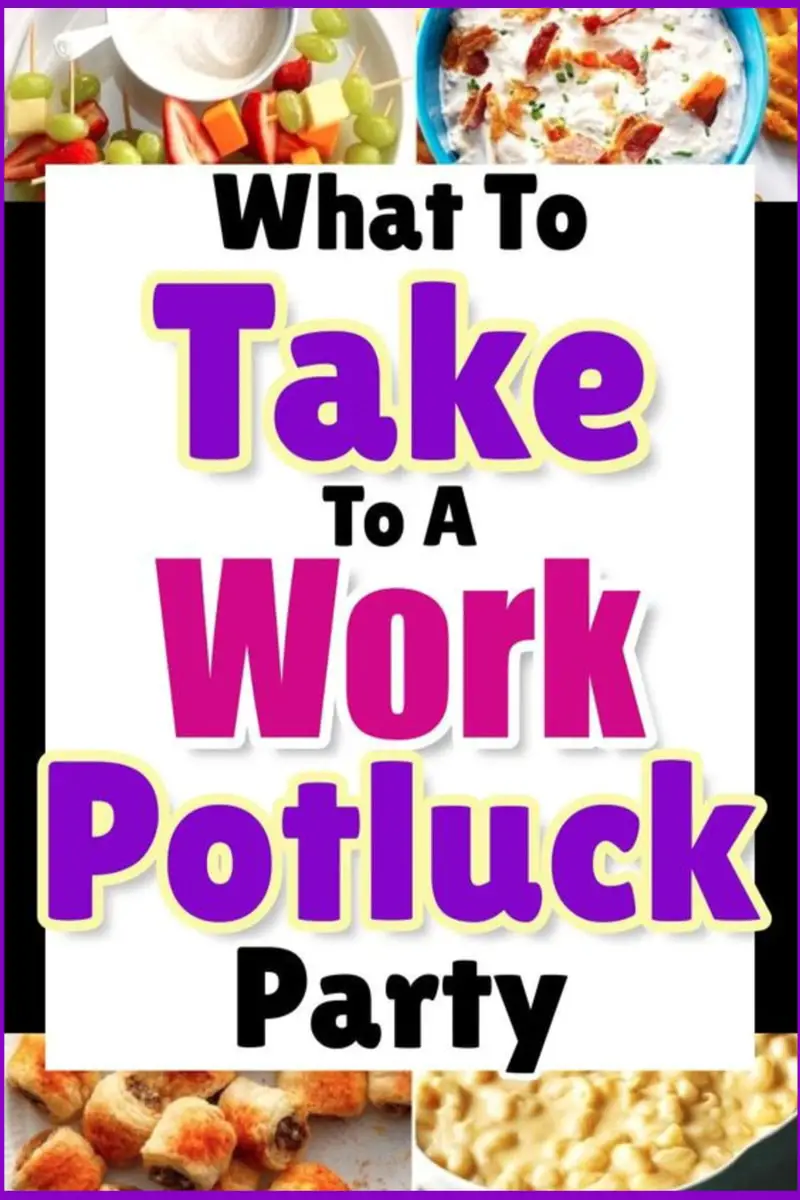 Cheap Potluck Ideas To Buy At Stores Last Minute:
Cheese platter
Fruit platter
Lunch meat tray
Chicken wings
Veggie Dips
Hot Dips
Cookies
Cupcakes
Sheet cake
Frozen pigs in a blanket
Chicken tenders platter
Shrimp ring
Bakery breads and flavored butters
Deli side dishes
Chicken salad
I have my own 'swipe file' of my Go To Potluck Recipes that I refer back to time and time again when I can't think of anything to take.
From pinwheel rollups and an easy large group punch recipe to super simple party dips, all my favorite recipes are in the image below.
Feel free to pin it to Pinterest so YOU have this 'Swipe File' on hand whenever YOU need it: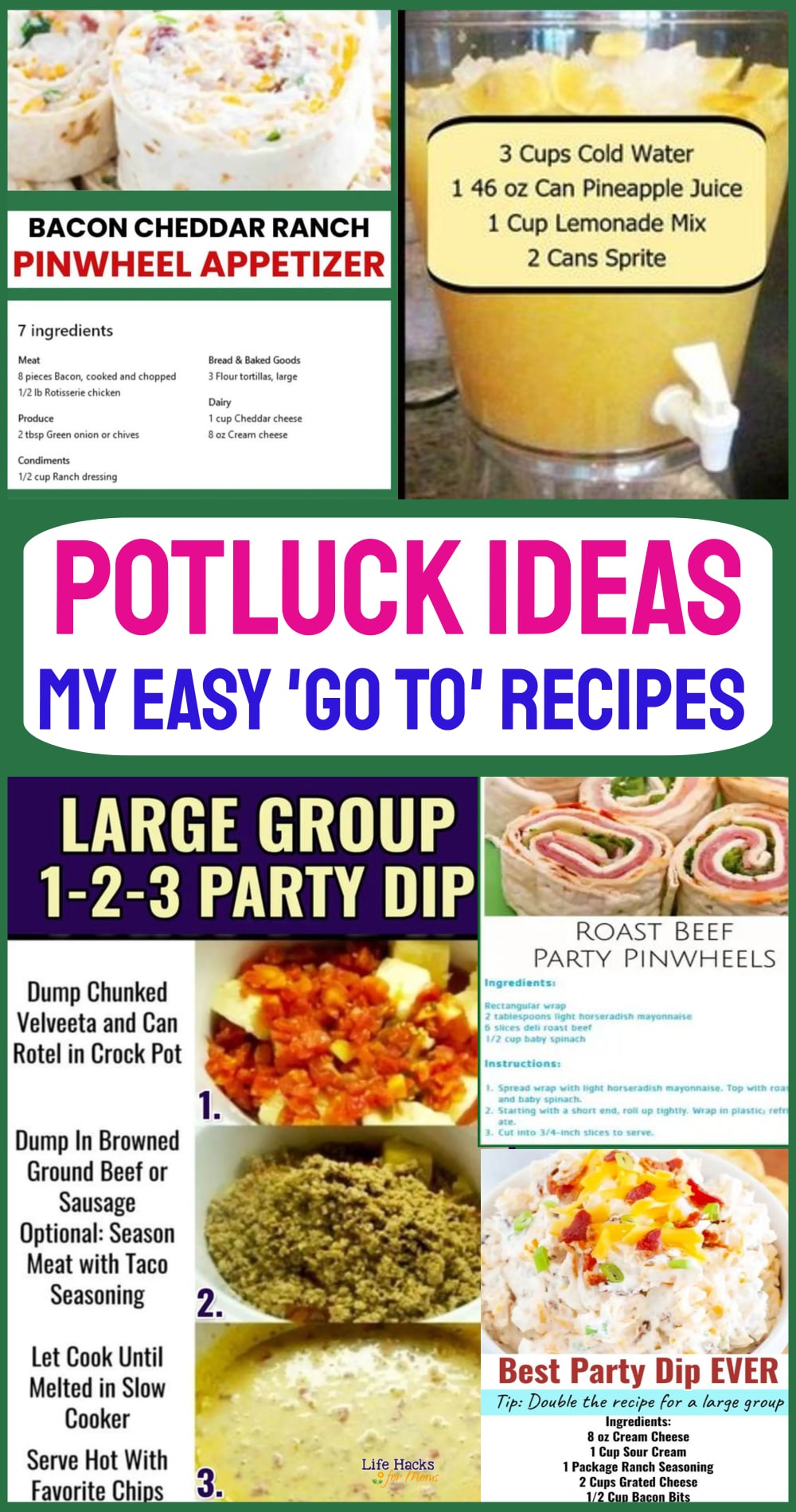 Below are more quick and easy last minute potluck food ideas to make:
NO COOK Potluck Ideas
If you're headed to a potluck, the LAST thing you want to worry about is COOKING something or BAKING something.
Plus, KEEPING food hot during the potluck can be an extra challenge.
In those cases, I like to make a simple party platter. Not only do they LOOK pretty and appetizing, they are real crowd-pleasers too.
Here are some of my favorite potluck food platters to make and take: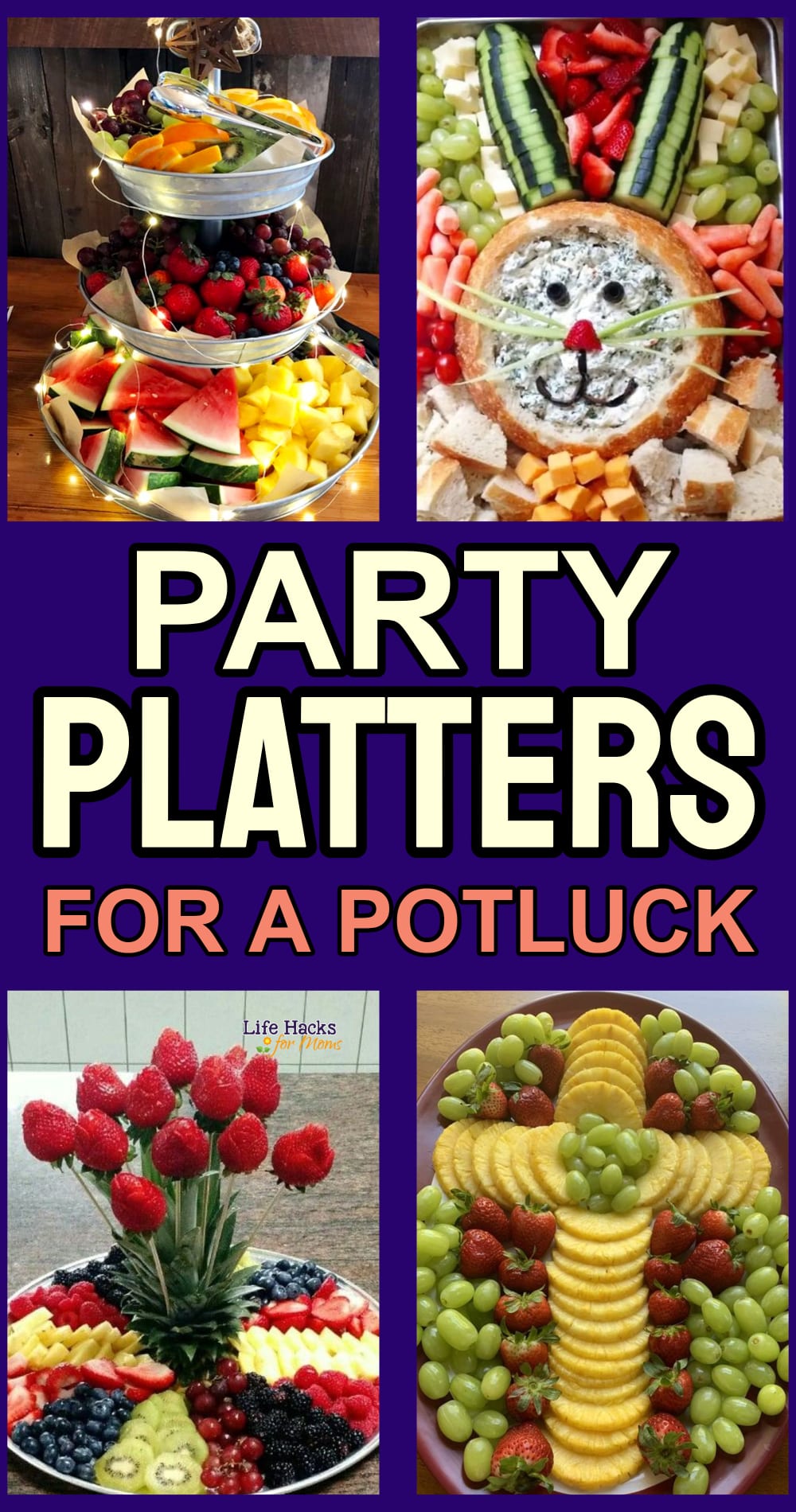 Here are more cheap no cook potluck ideas you can make last minute OR make ahead of time that ANY crowd will love:
Easy CHEAP Dishes
Are you in charge of bringing a main dish a potluck party this year?
We've got some super simple potluck dishes to try:
They're my personal "Go To" recipes that I made and they're all really good AND you can make them ahead of time OR last minute!
Easy Meals and Desserts
Below are 4 VERY helpful resources to find quick food ideas, main dish meals and desserts for a potluck at work or any carry in "bring-a-dish" event: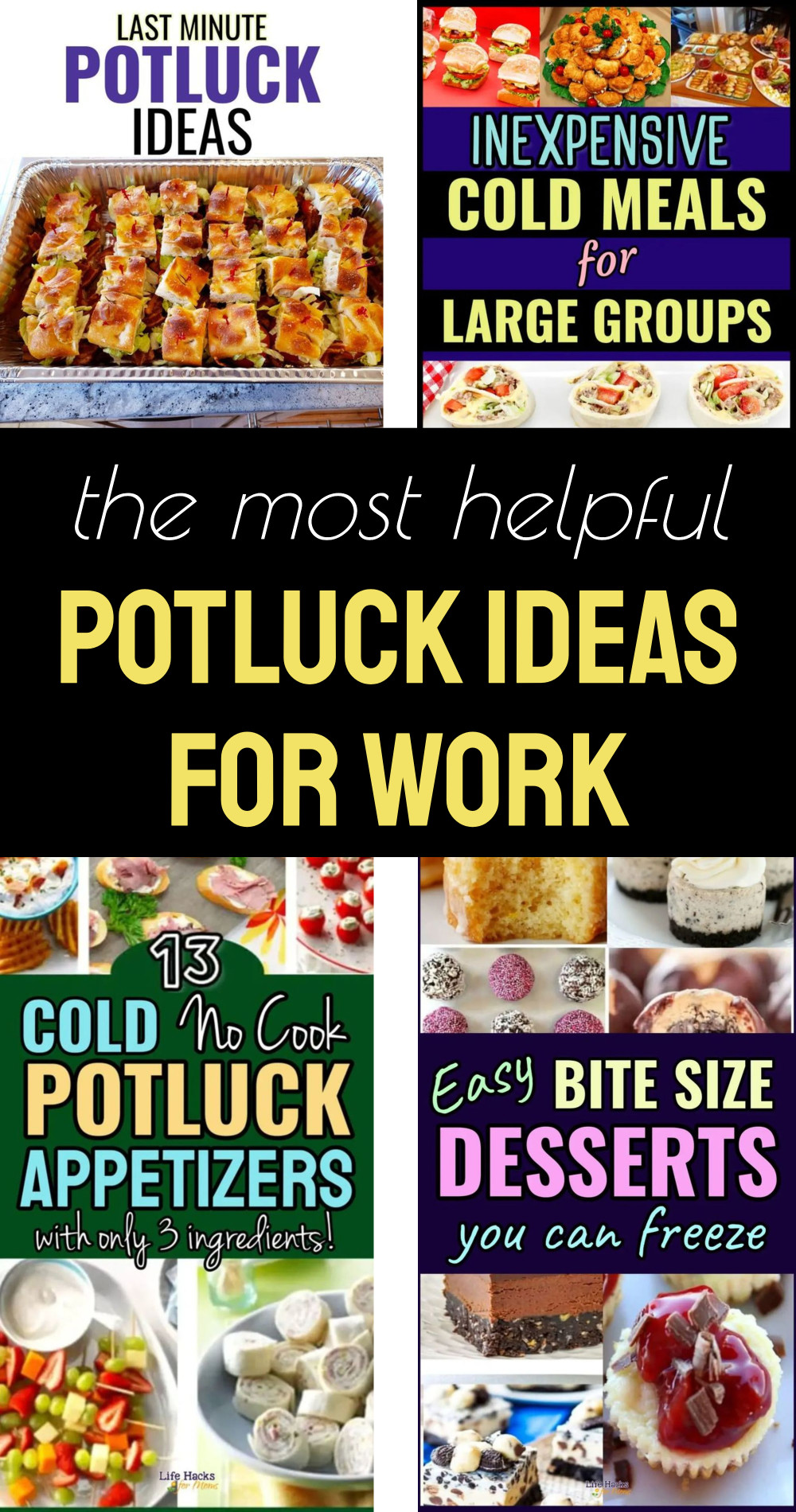 Resources In The Picture:
(1) Last Minute Lunch Potlick Ideas For Work
---
(2) Inexpensive Cold Meals For Large Groups
---
(3) Cold Potluck Appetizers For a Crowd
---
(4) Bite Size Potluck Desserts You Can Freeze
Crockpot Potluck Ideas
I don't care WHERE the potluck is – church, the office, your grandma's house – it's just not a potluck without rows of crockpots and slow cookers lined up, right?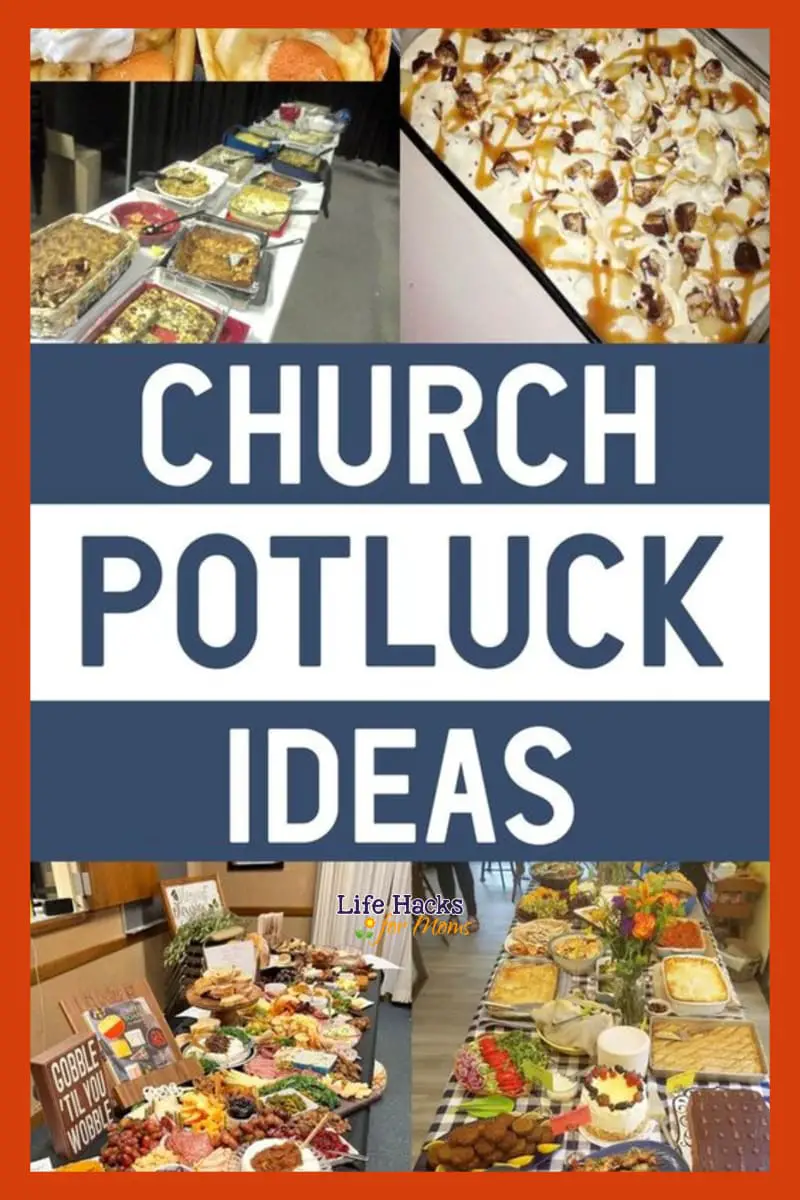 Here's some easy crock-pot potluck ideas that even the ladies at church will love:
=> Easy Breakfast Potluck Ideas
---
=> Potluck Mac and Cheese For a Crowd
Who Brings WHAT?
If you're in charge of organizing your potluck at work or ANY bring-a-dish get-together, you're probably wondering Who Bring WHAT… and HOW MUCH?
Figuring out how much food and supplies you need is the first step before you even put out that sign up sheet.
Here's a good example of who brings what and how much to a potluck for 40 people: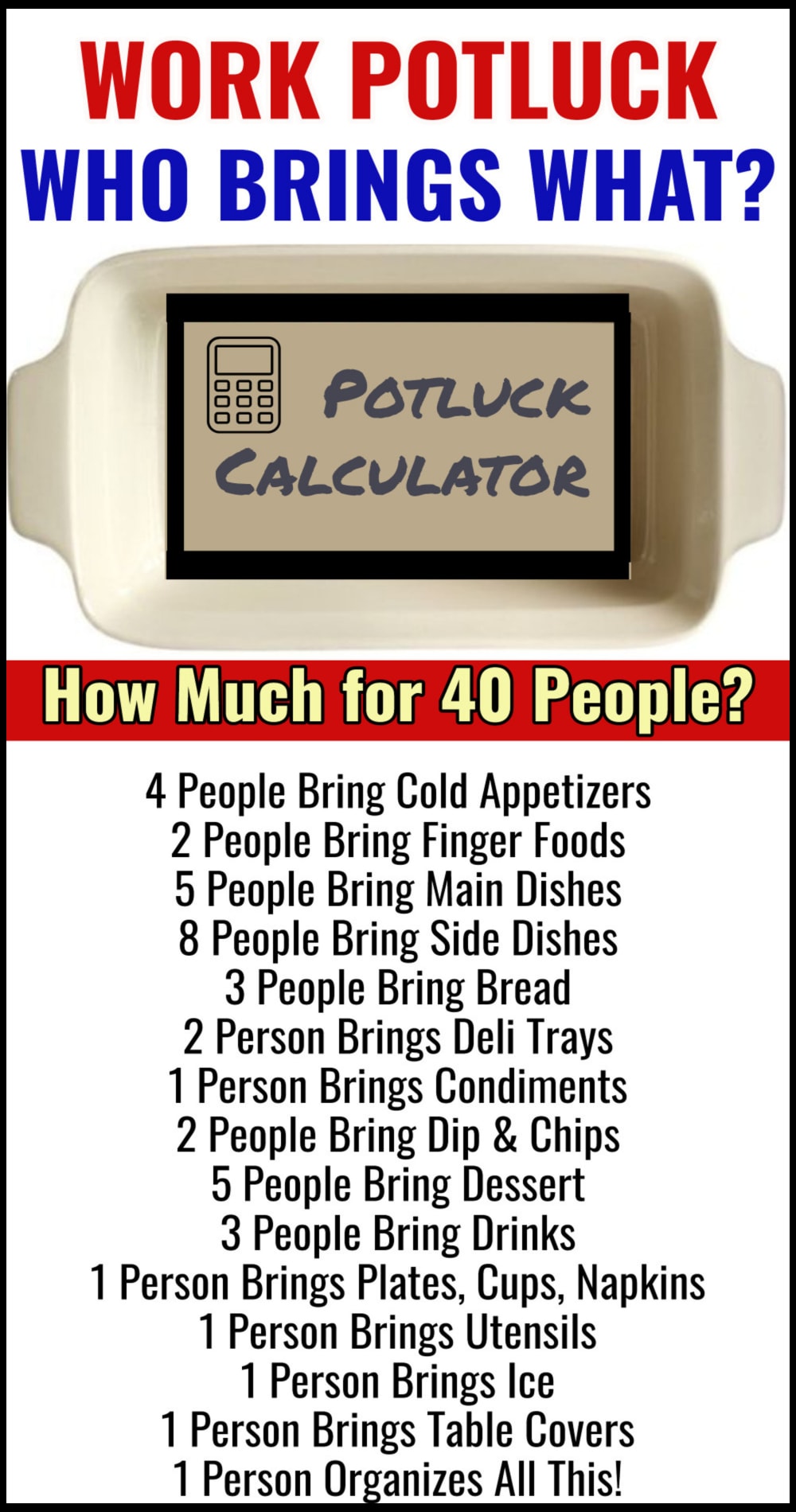 Best Potluck Dishes
☑ What is a good dish to bring to a potluck?

Popular potluck dishes include salads (potato salad, pasta salad), cold appetizers, desserts, easy finger foods, baked beans, party platters etc. Pretty much any quick and easy side dish or appetizers you can make for a crowd. Naturally, for a breakfast potluck, you'd bring breakfast casseroles, bundt cakes, etc.
Breakfast Potluck Ideas
7 Easy Brunch Potluck Recipes For a Crowd – With the Holidays coming and brunch potlucks and get-togethers, I really want some quick and easy breakfast ideas that everyone at the potluck will love and …
Potluck Finger Food Ideas
Need Easy Finger Food Ideas?
More budget-friendly potluck appetizers and finger foods:
Potluck Appetizers – 15+ Super Simple Appetizers & Finger Food Ideas [cheap potluck food ideas for a crowd] – Easy potluck appetizers (hot AND cold) that you can make ahead of time OR make last minute for your office potluck, family reunion, block party, etc
Potluck Ideas For Work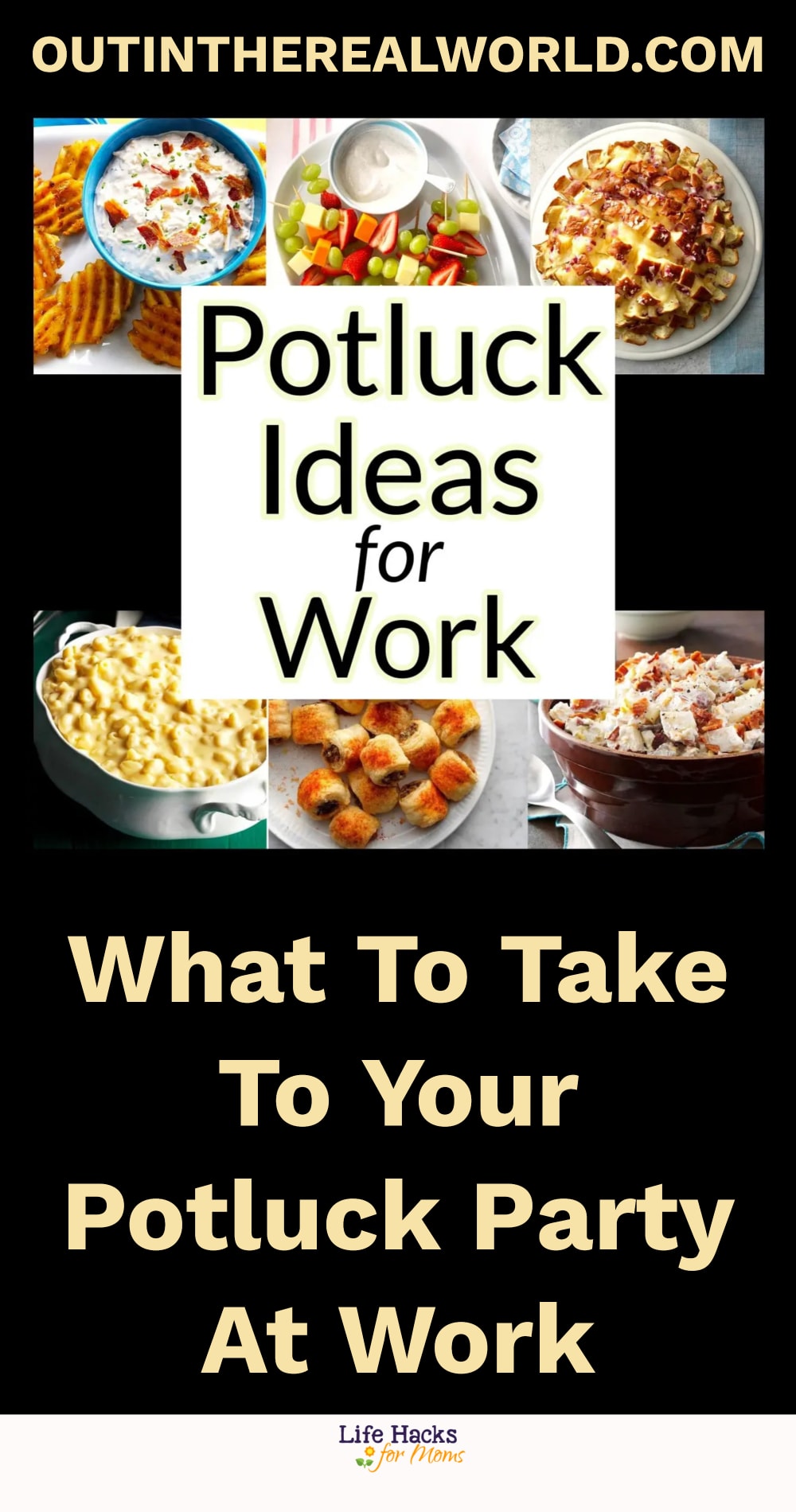 The best potluck food ideas to bring to a potluck at work are simple, cheap and travel well.
Oh, also they need to be crowd-pleasers – you sure don't want to bring food to a potluck at work that NOBODY eats!
If you need cheap STORE BOUGHT ideas, these work / office party potluck food ideas below ARE cheap and easy ideas to buy for work!
 Easy Potluck Food IdeasShow Me This Stay Hot Food Travel PotShow Me This
Last Minute Potluck Ideas To Buy
When it comes to easy – you can't beat buy it / take it for potluck food for your work / office potluck party =)
23 Potluck Ideas For Work To Buy or Make Last Minute:
Cheap Fruit Platter – see pictures
Grab n' Go Veggie and Cheese Tray
Last Minute Dessert Tray
Store-Bought Finger Sandwiches
Grocery Guacamole Dip
Deli Cole Slaw
Cheesy Potatoes
Meatballs
5-Layer Dip
Cocktail Weenies
Queso Dip
Deviled Eggs
Chips and Ranch Dip
Antipasto Salad
Buffalo Chicken Dip
Pasta Salad
Baked Beans
Potato Salad
Lasagna
and this taco casserole is a BIG favorite at my work!
 What Can I Bring? Potluck Food & IdeasShow Me This Cook & Carry Slow Cooker Crock PotShow Me This Potluck Cold Food Serving BarsShow Me This Potluck Dishes and Insulated Carry CaseShow Me This
Potluck Dessert Ideas
12 Easy-Peasy NO BAKE Potluck Desserts for a Crowd – If you're willing to MAKE a dessert for your work potluck, but do not want to COOK, these easy No Bake desserts are as easy as it gets…and they're REALLY good, too – sure to impress!
Super Simple Desserts: Easy Dump Cake Recipes For Quick and Easy Potluck Desserts – Super Simple Make Ahead Desserts That Are Perfect For A Crowd! These dump cake recipes below are the EASIEST and most super simple dessert recipes you'll ever make. When you …
Quick and Easy Peach Cobbler Recipes – Impressive Potluck Dessert Dishes For a Crowd – Simple Peach Cobbler Recipes – Easy Desserts To Impress! Mmmmmmm…. peach cobbler. It's absolutely one of my favorites. I thought all peach cobbler recipes were about the same until I …
Potluck Ideas For a Crowd
---
Summer Potluck Ideas
When your 'bring a dish' event happens in the summer, it's probably outside (like a picnic, cookout, block party etc).
Being food to an outdoor party can create a new host of problems.
First off, you need food that travels well.
Secondly, it's OUTSIDE so plugging in the ol' trusty Crockpot is most likely NOT an option.
And of course – bugs (ewww).
Here are some clever ideas for a summer outdoor potluck event.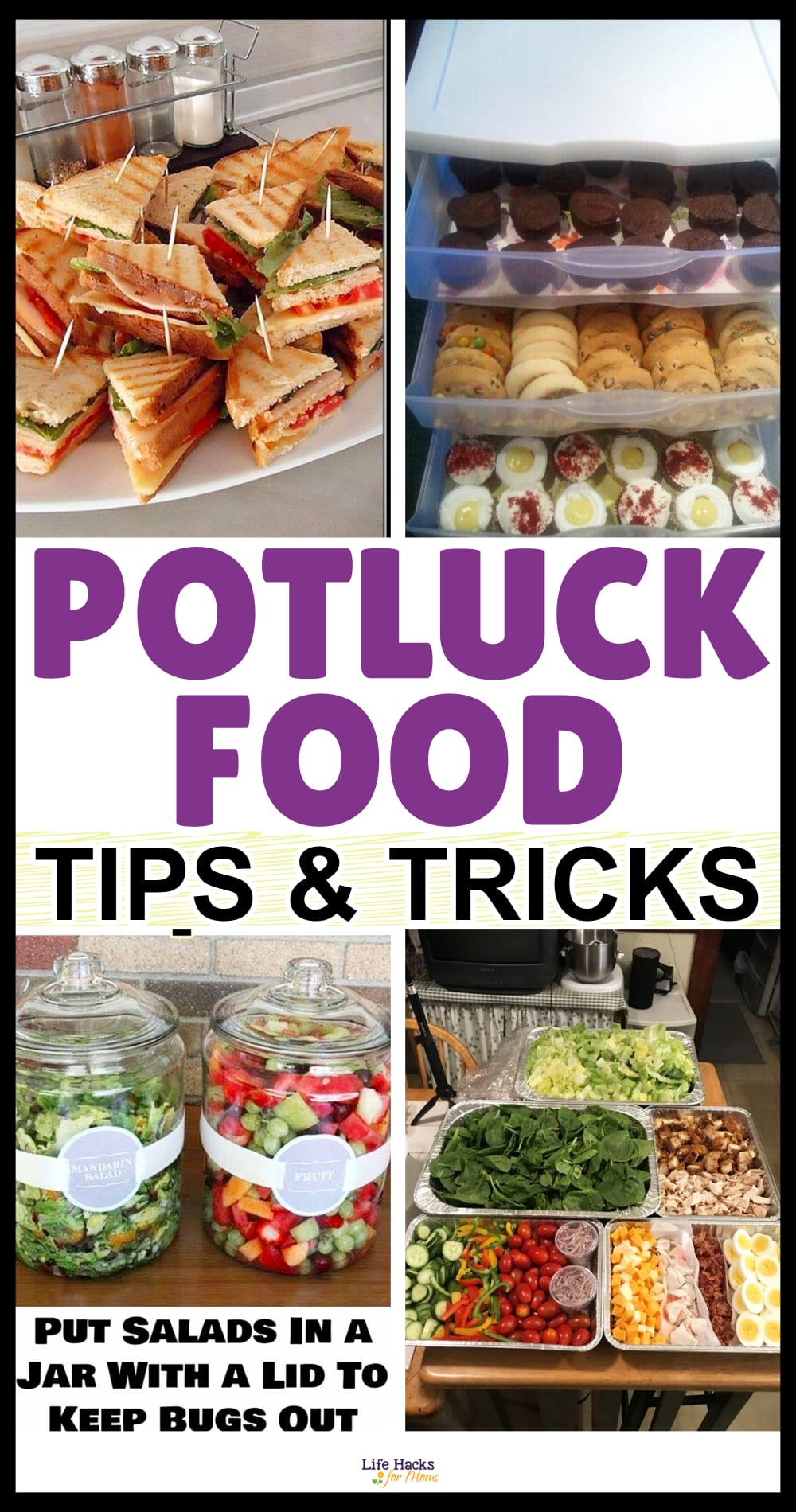 In the pictures above:
1 – Not sure WHAT to make and take? Simply make YOUR favorite type of sandwich ahead of time and cut it up into individual servings and pop a toothpick in each serving.
For example, I LOVE a good turkey club sandwich, so I'll whip up a bunch of them, cut 'em into four's, pop a toothpick in them and TA-DA – easy and delicious food to take to my outdoor potluck.
2 – To keep bugs out of your desserts and sweet treats or ANY single serve food option, get one of those 3-drawer plastic organizer things and put your bite-sized food IN the drawers.
Pretty genius, right? Not only does it keep bugs out but it's ALSO easy to transport to your potluck.
3 – Another 'keep the bugs out' potluck food tip – put your cold salads in jars with a lid.
Keeps the bugs and flies off the food AND it's looks really cute too.
4 – Summer is hot – people want cold and refreshing food.
If you're not sure WHAT to take to that summer potluck, simple make your own picnic salad bar.
Below are food ideas for your summer potluck party:
5 Easy Summer Salads for a Crowd – Summer Potluck Salad Recipes – Some of our favorite quick and delicious summer salads crowds love. Whether you're having a cookout, a family dinner, or a potluck meal this summer, you might …
Summer Potluck Punch Recipes – Easy Punch Recipes for a Crowd and Easy Party Drinks Ideas too! Lots of insanely good and super simple punch recipes for your potluck, office party, family reunion, Holiday…
Food Ideas for a Summer Potluck – EASY Summer Party Foods – Easy Summer cookout food ideas and unique BBQ party recipes that are SURE to be crowd-pleasers. These are also great food ideas for a summer potluck or …
 Cheese Charcuterie board PlatterShow Me This Mesh Food Protector TentsShow Me This
7-Layer Salad
 Layered Salad or Dessert BowlShow Me This Salad Bowls That Travel WellShow Me This
Pasta Salad
Here are some quick and easy potluck pasta salad recipes to try:
---
Vegetarian Pasta Salad
Easy Pasta Salad Recipe (The Best!) – Cooking Classy – Vegetarian Pasta Salad Ingredients · Tri-color rotini pasta · Bottled Italian dressing · Parmesan · Olives · Red onion · Baby carrots · Broccoli · Grape …
Italian Pasta Salad
Quick Italian Pasta Salad Recipe | Allrecipes – Combine pasta, salami, green bell pepper, red bell pepper, onion, salad dressing, olives, and mozzarella cheese in a large bowl. Mix dry salad dressing into …
Summer Pasta Salad
Summer Pasta Salad…Fast and Easy For A Crowd! – Instructions · In a large bowl add tomatoes, pine nuts, Parmesan cheese, basil, garlic, olive oil and splash of vinegar to taste. · Let it sit on …
 Potluck Casserole Dishes & CarrierShow Me This Potluck Crock Pot Slow CookerShow Me This
Creamy Pasta Salad
Creamy Pasta Salad – Barefeet In The Kitchen – Stir together the mayonnaise, vinegar, salt, pepper, and sugar in a large mixing bowl. Add the cooked pasta and broccoli to the bowl and stir …
Mediterranean Pasta Salad
Mediterranean Pasta Salad – A Southern Soul – Mediterranean Pasta Salad · 12 ounces pasta · 1 cup halved grape tomatoes · 1 cup sliced and quartered cucumbers · 1/4 cup thinly sliced red onion · 1 cup baby …
Pasta Salad with Mayo
Macaroni Pasta Salad with Mayo – Duke's Mayo – Ingredients · 1 cup Duke's Mayonnaise · 2 Tbsp. vinegar · 1 Tbsp. prepared mustard · 1 tsp. sugar · 1 tsp. salt · 1/4 tsp. pepper · 1 8 oz. package elbow macaroni, …
Penne Pasta Salad
Penne Pasta Salad Recipe: How to Make It | Taste of Home – Ingredients · 1 package (16 ounces) penne pasta · 1 cup quartered cherry tomatoes · 1/2 cup chopped green pepper · 1/4 cup chopped green onions · 1 can (2-1/4 ounces) …
Potato Salad
Here are some quick and easy potluck potato salad recipes to try:
Classic Potato Salad
Best Classic Potato Salad Recipe – How to Make Easy Potato Salad – Classic Potato Salad · In a large pot, cover potatoes with water and season generously with salt. Bring water to a boil and cook until potatoes …
Southern Potato Salad
Southern Potato Salad Recipe: How to Make It | Taste of Home – Ingredients · 5 medium potatoes, peeled and cubed · 6 hard-boiled large eggs, chopped · 1/2 cup thinly sliced green onions · 1/4 cup chopped sweet pickles · 1 …
 Potluck Food Service SetsShow Me This Potluck Food Label ChalkboardsShow Me This
Sour Cream Potato Salad
Sour Cream Potato Salad Recipe – The Spruce Eats – Sour cream replaces some of the mayonnaise, resulting in a very creamy and slightly tangy potato salad. Serve it at your next cookout as a …
Vegan Potato Salad
Best Vegan Potato Salad – Nora Cooks – How to make vegan potato salad · Boil the diced potatoes for 10-15 minutes, until fork tender. · Add the dressing ingredients to a bowl: vegan …
Baked Beans
Here are some quick and easy potluck potato salad recipes to try:
 Large Baked Beans PotShow Me This Baked Beans Serving DishShow Me This
Easy Baked Beans
Easy Baked Beans (perfect potluck recipe!) – The Chunky Chef – HOW TO MAKE BAKED BEANS · Cook bacon halfway through in whichever method you prefer. · Preheat oven to 325°F and set oven rack to lower-middle position. · Cook …
Brown Sugar Baked Beans
Brown Sugar Baked Beans Recipe | Food Network – Add 1 of the cans of beans with their liquid. Drain and rinse the remaining beans, then add them to the skillet. Add the ketchup, sugar, mustard, vinegar, …
Southern Baked Beans
Southern Baked Beans | Paula Deen – Ingredients · 1/2 lb bacon · 1 large onion · 1 (16 oz) can pork and beans · 3 tablespoons yellow mustard · 5 tablespoons maple syrup · 4 tablespoons ketchup …
Creative Potluck Ideas
35 Creative Potluck Themes + free potluck printables! – Tons of Creative Potluck Theme Ideas: · 1. Restaurant Re-creations · 2. Family Favorites · 3. Rookie Cookie · 4. Throwback Night Bring a food that …
60 Christmas Themed Food Ideas for Office Potluck Parties – Cheese Christmas Cracker Snack. Whip up a platter of crackers and cheese and add a dash of creativity for your Christmas potluck. This idea is …
12 Perfect Potluck Themes to Share with Friends – 1. Welcome fall · 2. Baked potato bar · 3. Family heritage meal · 4. Soup cook-off competition · 5. Favorite comfort food · 6. Mexican fiesta · 7…
Miss Anything?
Go back to the top of:
==>> Potluck Ideas
Go back to a specific section: