---
Homemade Party Platters You Can Make on ANY Budget –
From grazing platters to elegant charcuterie boards, below are LOTS of pictures of homemade party platter ideas you can make on a budget with a simple sheet pan or an elegant party tray.
From snacks, fruits and vegetables to cheap meat and cheese party platters, these finger food platters and easy party tray ideas are fun and easy to make for all holidays, birthdays, dinner parties – even if you're feeding a crowd on a budget.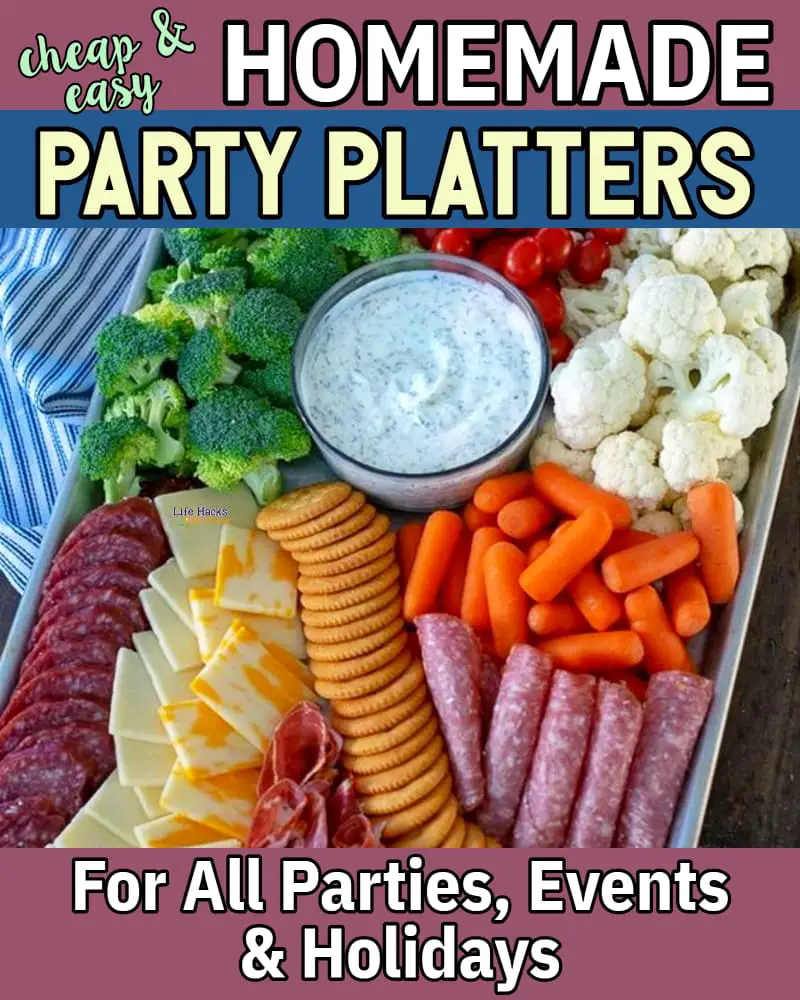 Welcome to Life Hacks for Moms - we hope you enjoy all our tips and tricks for busy moms! Please note that we use affiliate links and ads to generate income at no cost to you.
---
Rule number one when it comes to making a homemade party platter, is to remember THIS:
It's not how much you SPEND on food for your party, it's how the food is PRESENTED.
37 Party Food Trays Ideas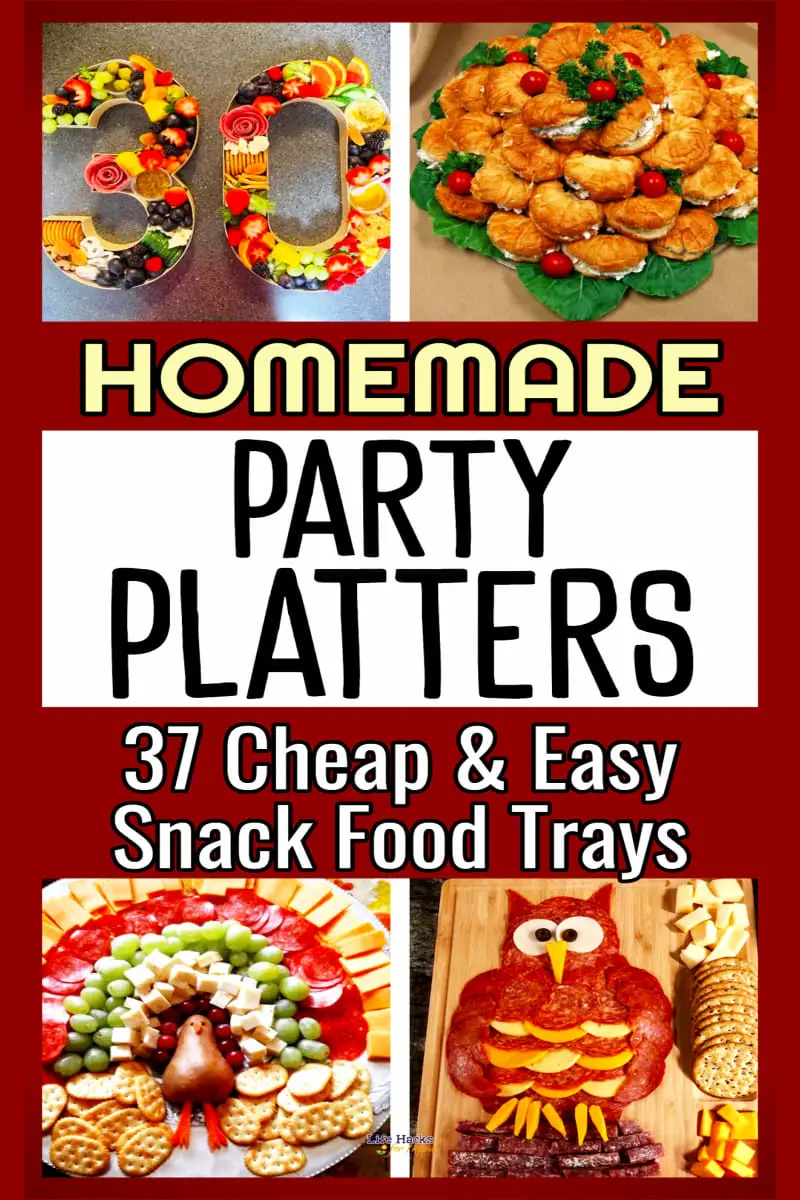 There are many STUNNING and elegant ways to make party platters and grazing tables for a party or event that, to me, look like they take a lot of time AND a lot of money.
Like these beautiful party platters made for a recent housewarming party in the charcuterie board party platter picture below: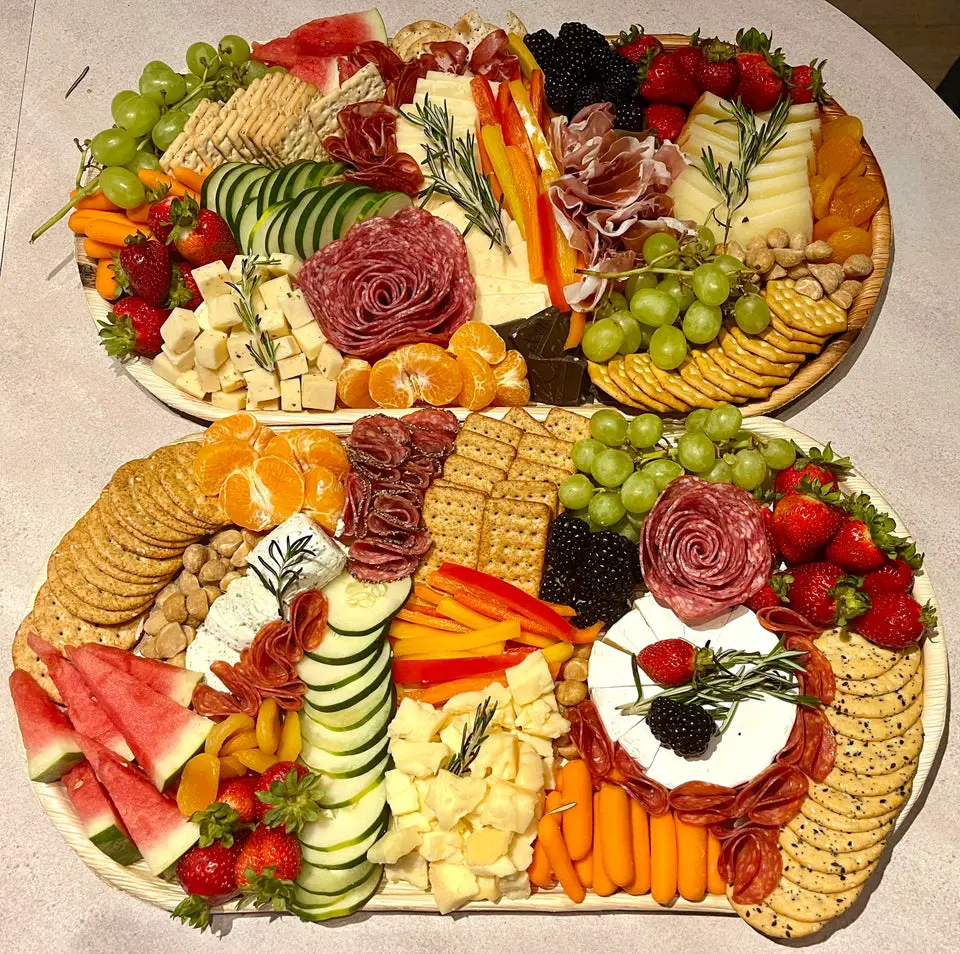 Or this beautiful and ELEGANT grazing table for Thanksgiving – isn't it a feast for your eyes?!?!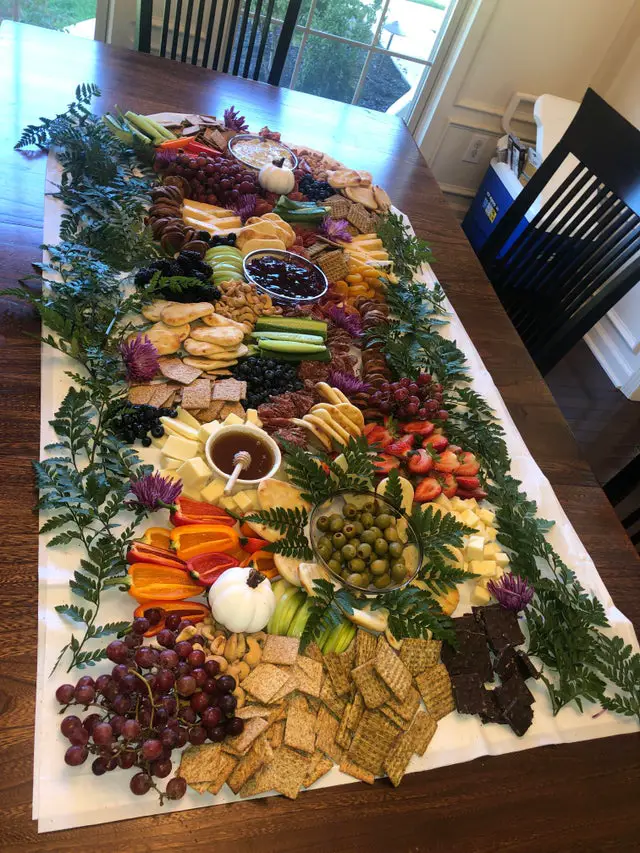 Now, I am NOT that creative – I just want some simple homemade party platter ideas that *I* can make on MY budget and talent level.
So, let's look at some easier, more realistic, ideas for a cheap homemade party platter for your party.
For example, if you make 2 homemade party platters and set out a 2-tiered tray of sweets, you have the perfect grazing snack area for your party guests like this idea in the picture below: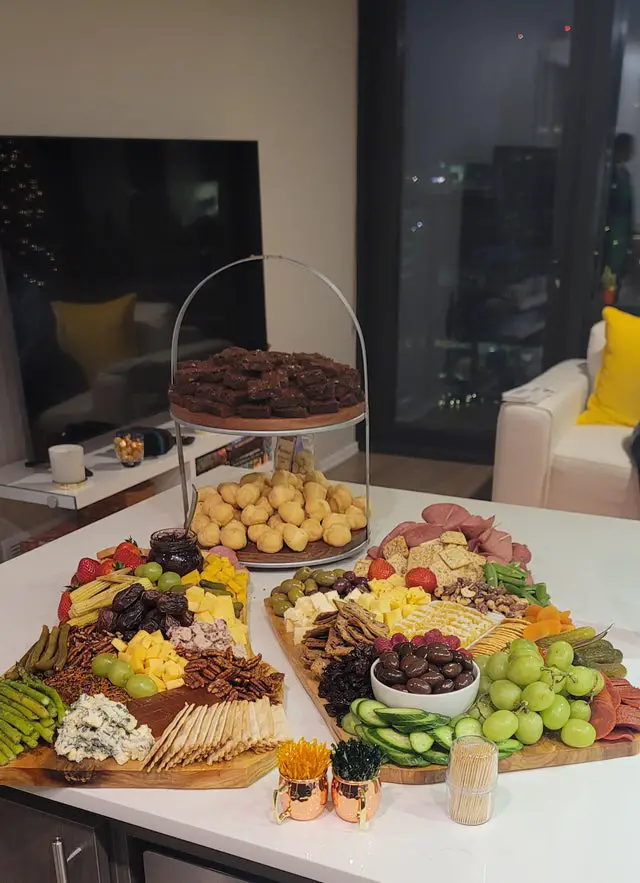 Or just make some chicken salad and put it in croissants for a cheap and hearty homemade party sandwich platter like this: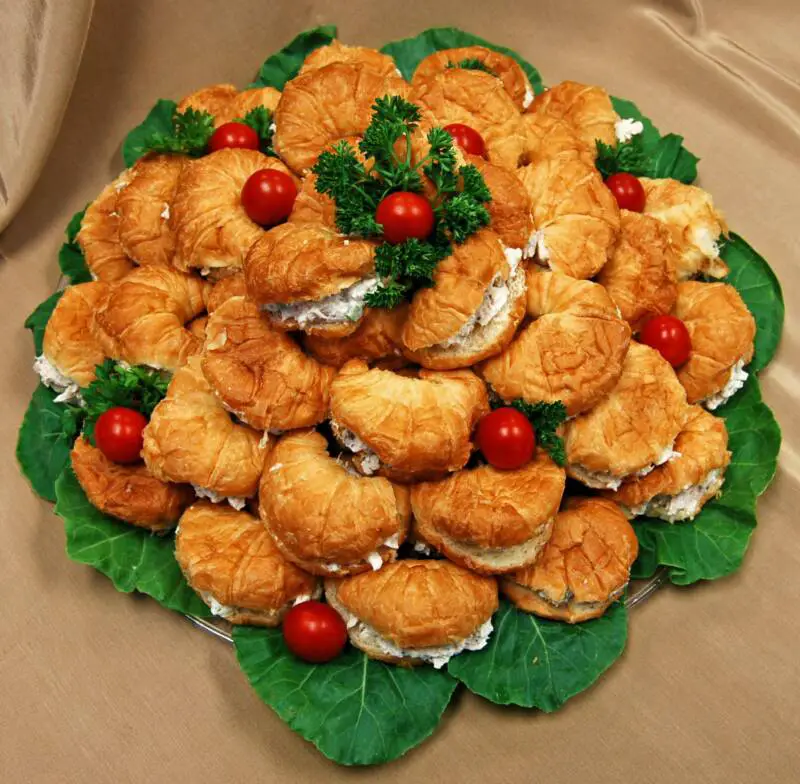 We recently made that sandwich food platter for a recent funeral buffet along with my famous Funeral Potatoes.
There was NOTHING left – heck, even *I* didn't get one of those yummy croissant finger sandwiches haha!
For a birthday party, you can serve your party finger food and snacks in number-shaped food platters like this idea for a friend's 30th birthday party: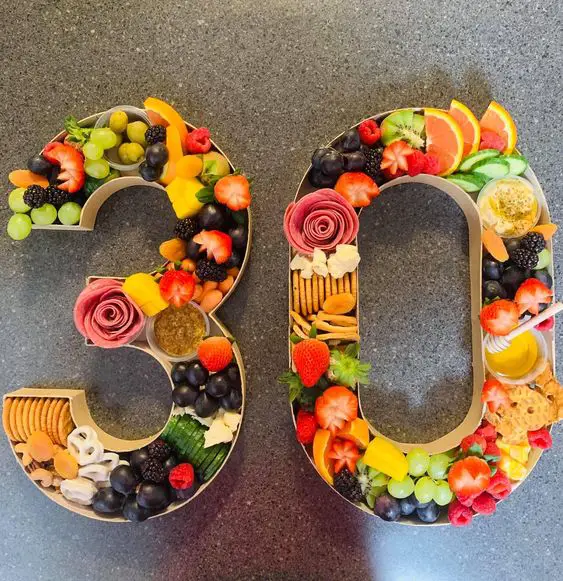 I think the number-shaped party platters like these are so creative when making a homemade snack tray for a birthday party, don't you?
 Number shaped fillable party trays✅ I Found It Here and letter shaped platters too✅ I Found It Here
If fancy homemade party platters are not quite your thing, just keep it simple!
Like this super cute Halloween fruit party platter: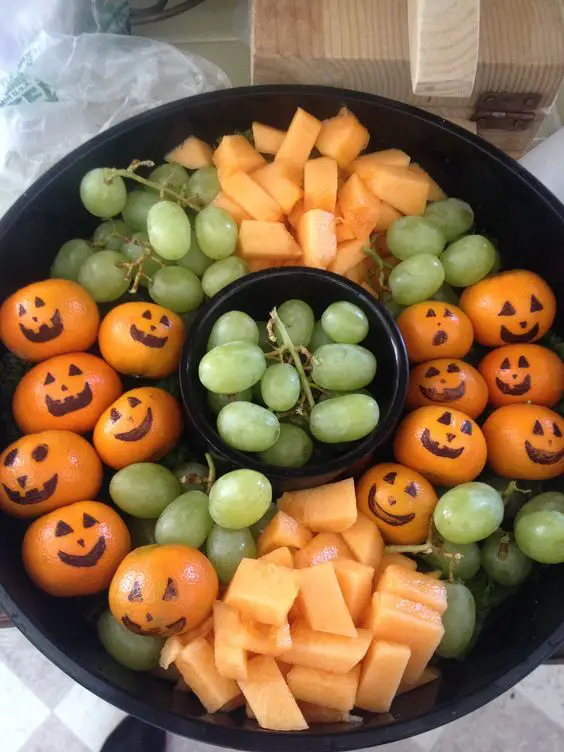 I have more Halloween snacks for kids here, if you're interested.
I love this adorable Thanksgiving turkey appetizer cheese and meat platter! Use black olives for the turkey's eyes and a pear for the turkey body like this: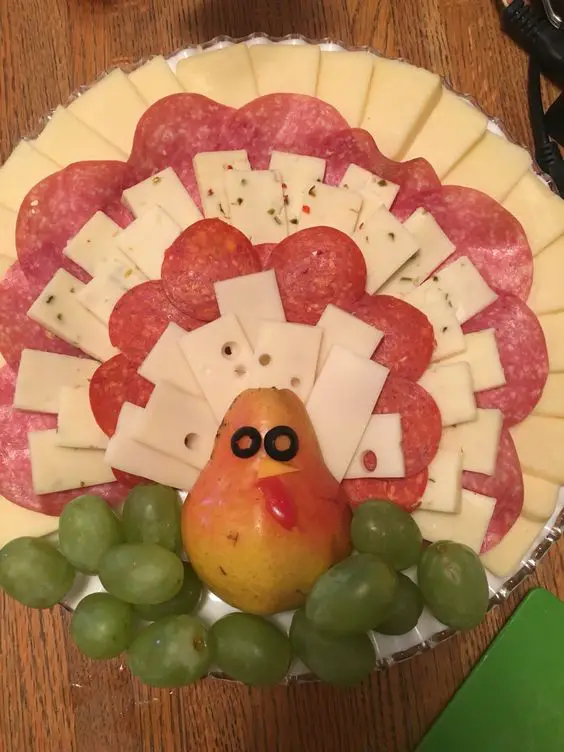 Here's another way to make a homemade party platter for Thanksgiving that also uses a half of a pear for the turkey – this one would be better for an inexpensive snack idea for a larger group.
Plus, adding crackers with the cheese, fruit and meat on the party platter just makes sense to me.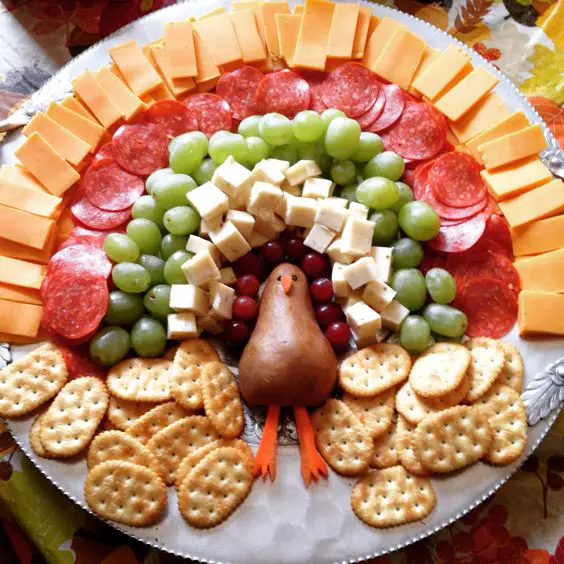 For a Christmas party platter, I just love this veggie Christmas tree vegetable platter.
I'll have to figure out how to stack the broccoli like that AND get it stay tho!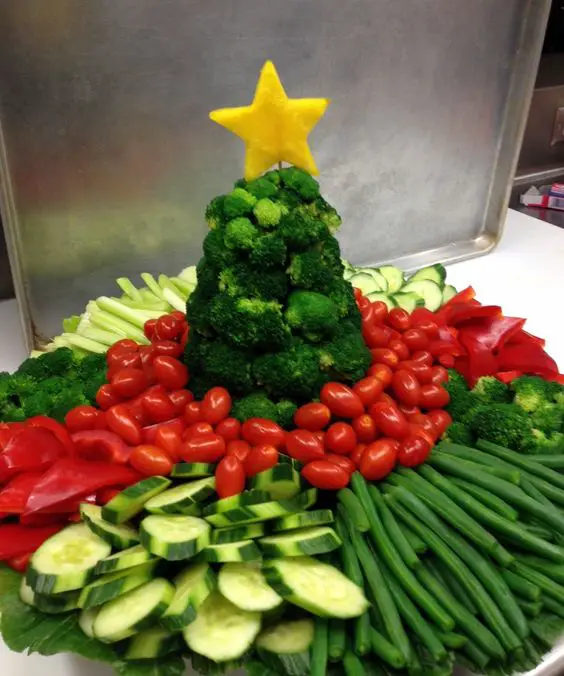 Or this festive snowman vegetable party platter for Christmas: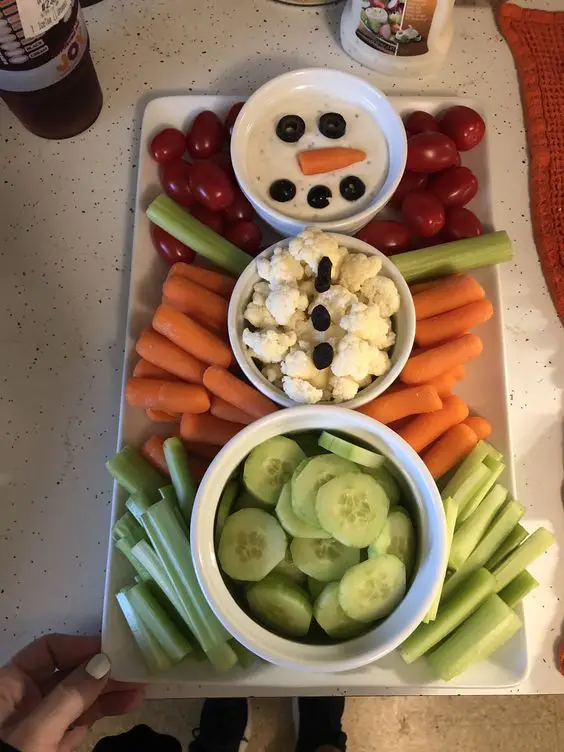 I LOVE this leprechaun party platter idea from my St Patrick's Day potluck ideas – isn't he cute!?!?
Or this super simple homemade party platter with vegetables arranged in the shape of a cross: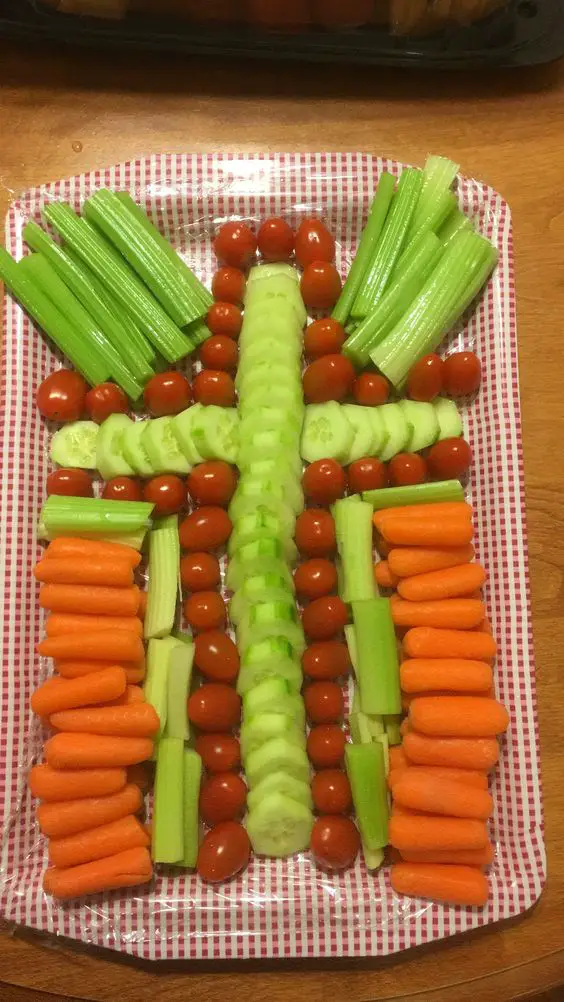 Wouldn't that party platter be perfect for an Easter potluck or ANY potluck at church?
Or how about this COLD party platter with fruit – what a gorgeous design, too!
I think that homemade fruit platter would be perfect for a cold breakfast appetizer for a large group brunch party, don't you?
I have LOTS more cold appetizer ideas here.
Now that it's football season (yay!), I've been looking at cheap homemade party platters for our weekend game day parties, tailgating, National Championship and yes, for our SuperBowl party.
I love this super simple football-themed party platter: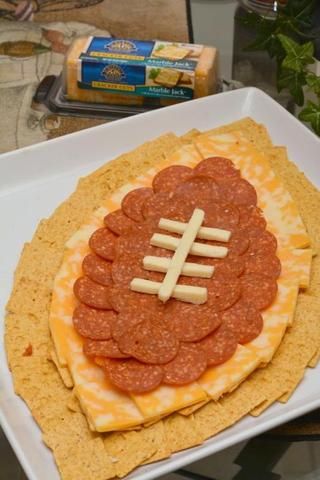 This homemade owl-shaped party snack platter below is too cute!
I'd actually feel BAD being the first party guest to pull a piece of pepperoni or cheese off that snack tray, wouldn't you?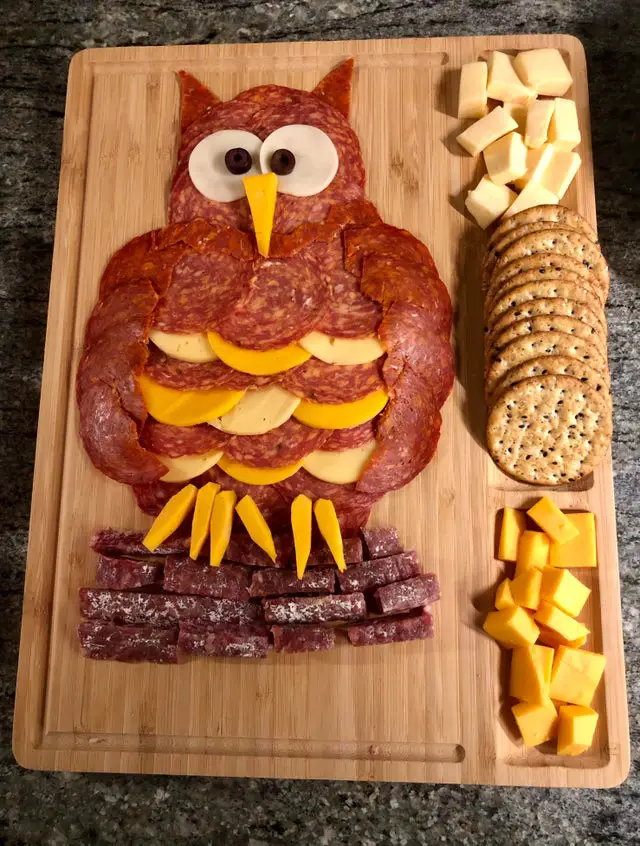 I have a party platter ideas very similar to this on my graduation party food ideas page.
Finally, how about this homemade party meat cheese platter idea for a small dinner party, a wine and cheese party OR for your book club: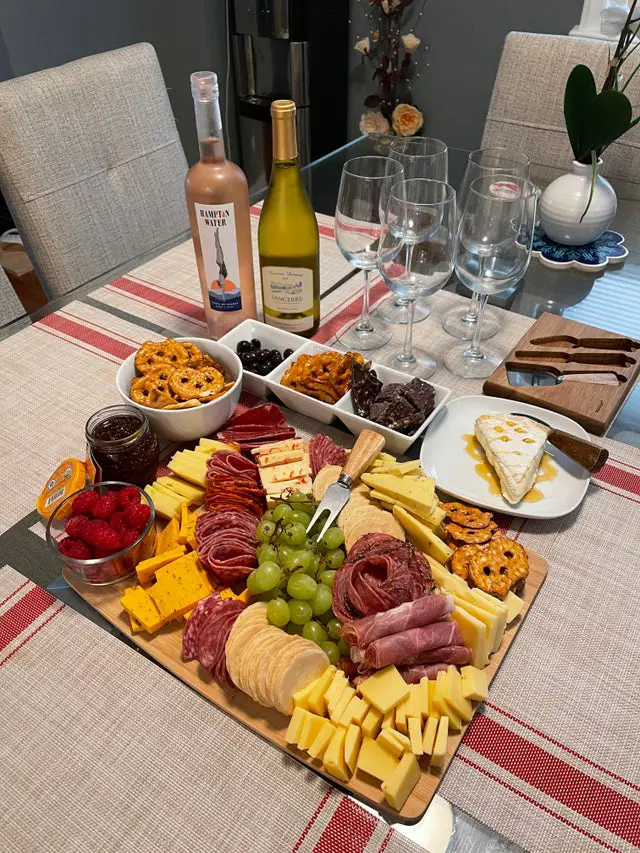 Homemade party platter boards set✅ I Found It Here and unique 3-tiered party snack trays✅ I Found It Here
Want to up your homemade party platter game?
Here's a quick video that shows you how to make 3 different types of charcuterie boards using a variety of meats, cheeses, and everything in between to make your flavor-packed party charcuterie board or platter complete.
The breakfast party food platter is GENIUS!
More Party Food Ideas: