---
Easter Brunch Potluck Ideas For Church – From Easter potluck desserts, ham recipes and sides to finger foods, casserole side dishes, fun and refreshing Easter recipes, make ahead crock pot recipes, NO BAKE church desserts and party trays to throw together last minute, you're sure to find the perfect Easter-themed brunch food idea to take to your church service potluck this year.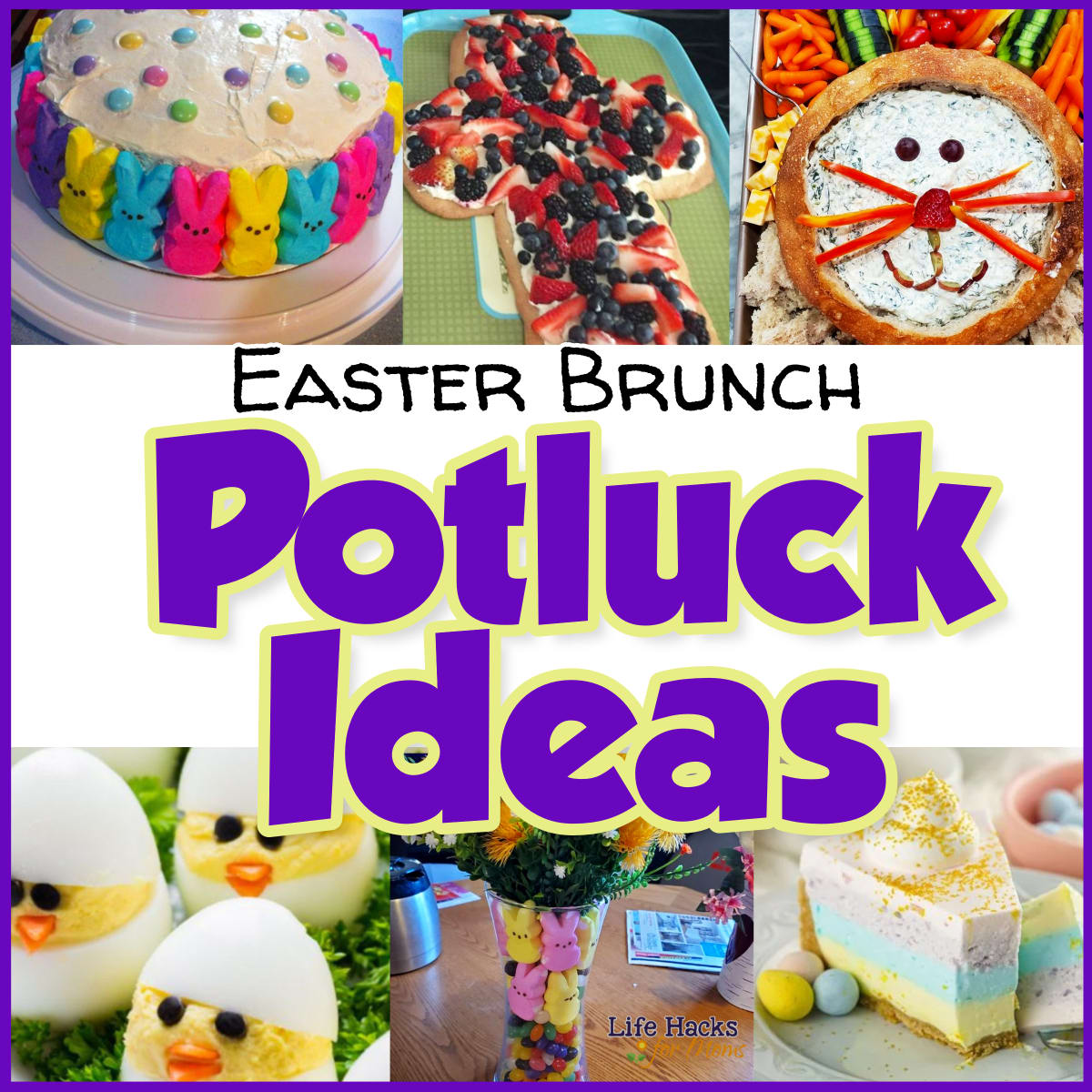 Welcome to Life Hacks for Moms - we hope you enjoy all our tips and tricks for busy moms! Please note that we use affiliate links and ads to generate income at no cost to you.
---
Easter Potluck Ideas for Church
The Easter potluck at my church is my most FAVORITE covered dish event we have each year.
The food is AMAZING and it's all presented so beautifully.
We have members and church service attendees bring casseroles and these no bake desserts and table centerpieces and SO much delicious food.
We also do a little fundraiser with Easter raffle baskets which is always very popular.
Below are my favorite Easter potluck ideas, recipes, side dishes, cold appetizers and finger foods, party trays, sweet treats, classic desserts and SO much more.
Hopefully one or two of my Easter potluck ideas below will help you figure out what to make, take or buy for your Church potluck supper or meal this Easter.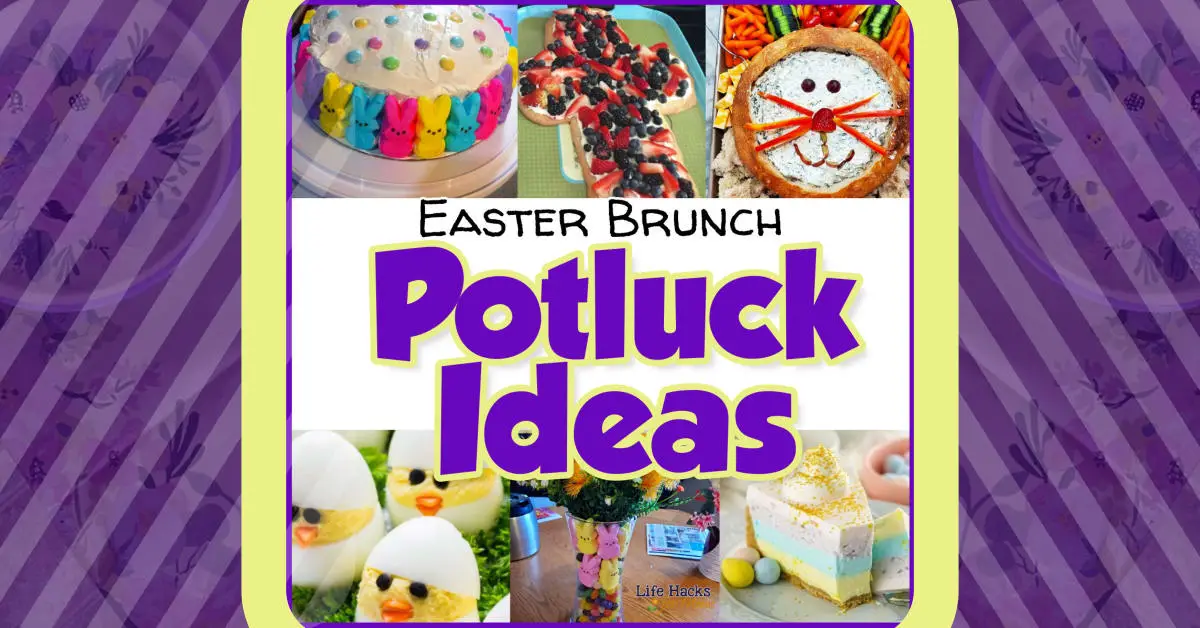 Easter Buffet Table Ideas
Whether it's a covered dish luncheon or a potluck-style brunch at church on Easter, I think the buffet table / food serving area needs some decorations and Easter-themed table ideas to tie it all together.
Here are two cute and easy ideas to dress up the over-all presentation of your brunch potluck at your church this year.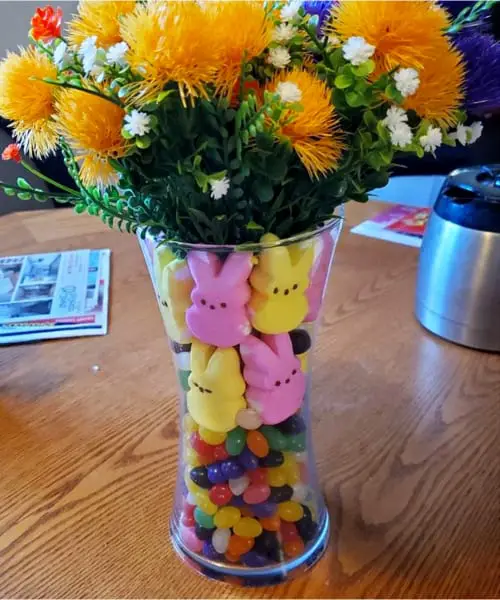 The potluck table centerpieces were made with a cheap glass vase filled with jelly beans on the bottom and then marshmallow peeps bunnies with some inexpensive fresh flowers.
The cheese and cracker plates were put on each eating table – super cute that the cheese ball is shaped like a carrot, right?!?!
Ideas For a Crowd
If you're cooking for a crowd at your church potluck this Easter, here are some large group breakfast ideas AND brunch cakes that will be definite crowd-pleasers!
Cold Potluck Food Ideas
If you're in charge of bringing some type of breakfast appetizer or finger food to your church potluck, here are some cold and NO COOK appetizer ideas that are not only super easy to make, they're all my personal favorites:
Easter Potluck Ham
Out of ALL these Easter brunch potluck ideas on this page, there are TWO things that MUST be at every church potluck:
Lines of Crock Pots
and…
HAM
And NO ONE makes a better ham in her slow cooker than the Pioneer Woman!
Get her recipe for crockpot ham OR oven-baked Easter ham:
Crock Pot Brunch Ideas
It's not a traditional Easter potluck at church if there aren't lines and lines of crock pots!
And it makes perfect sense!
Not only can you cook ANYTHING in your crockpot, but crock pot slow cooker potluck food travels well, too!
Plus, if you're having ham at your Easter potluck, you HAVE to have macaroni and cheese!
Here are some Easter brunch crockpot slow cooker recipes to try:
Healthy Potluck Platters
Below are two Easter platters I've made that are healthy food options to have at your potluck buffet area (ok, healthy-ish haha!)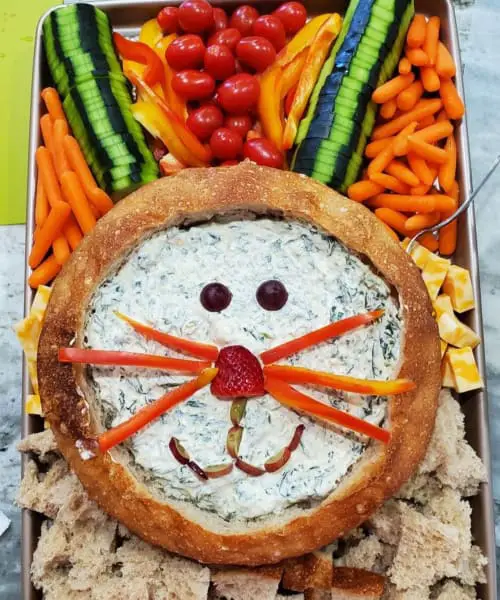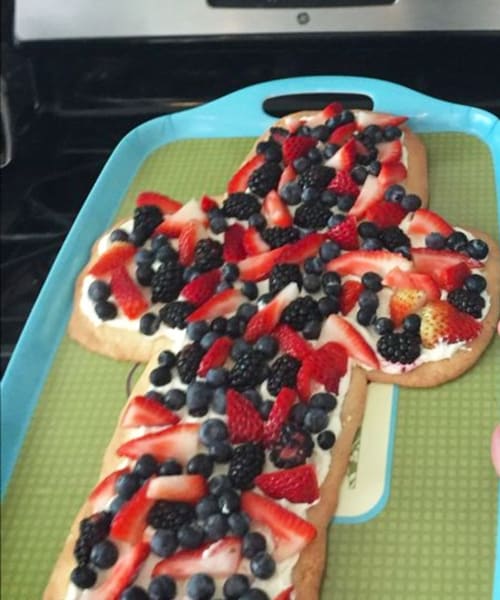 The Easter bunny fruit and vegetable tray was really easy to make (that's veggie dip in the bread bowl but you can put any type of dip you like).
The cross-shaped fruit platter has a refrigerated cookie dough crust on the bottom that I shaped like a cross, with some store bought fruit dip as the "icing" and slices of fresh fruit on top.
Easter Potluck Desserts
Since it's breakfast plus lunch (which equals BRUNCH), it's totally ok to bring something sweet.
Here are some desserts and sweet treats I've made for my Easter crowd at church – and everyone loved them!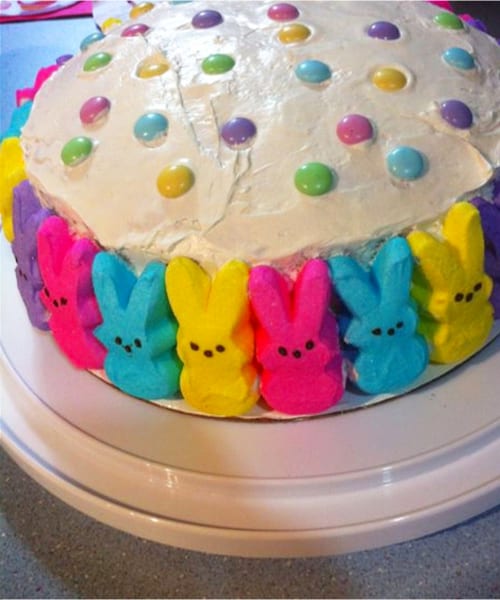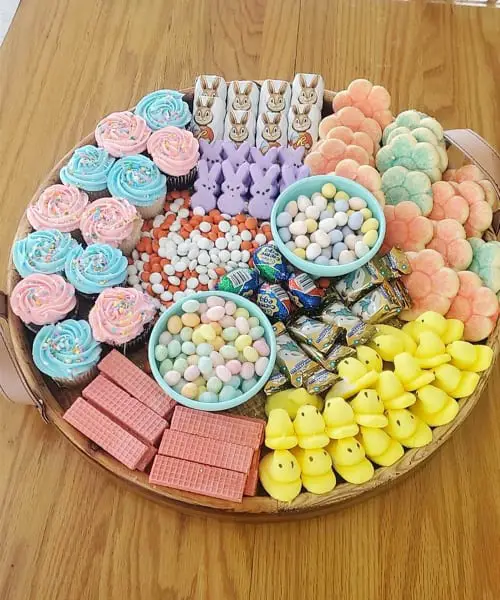 These NO BAKE desserts are my favorite – I make them for ALL the holidays (the lemon desserts are to-die-for!)
The Easter themed potluck cake was SO easy to make.
It's just a store-bought cake mix with white icing then I decorated it with Easter colored M&Ms and put marshmallow peep bunnies around the sides.
The kids at our church service LOVED it!
Here at some more ADORABLE Easter potluck desserts for church…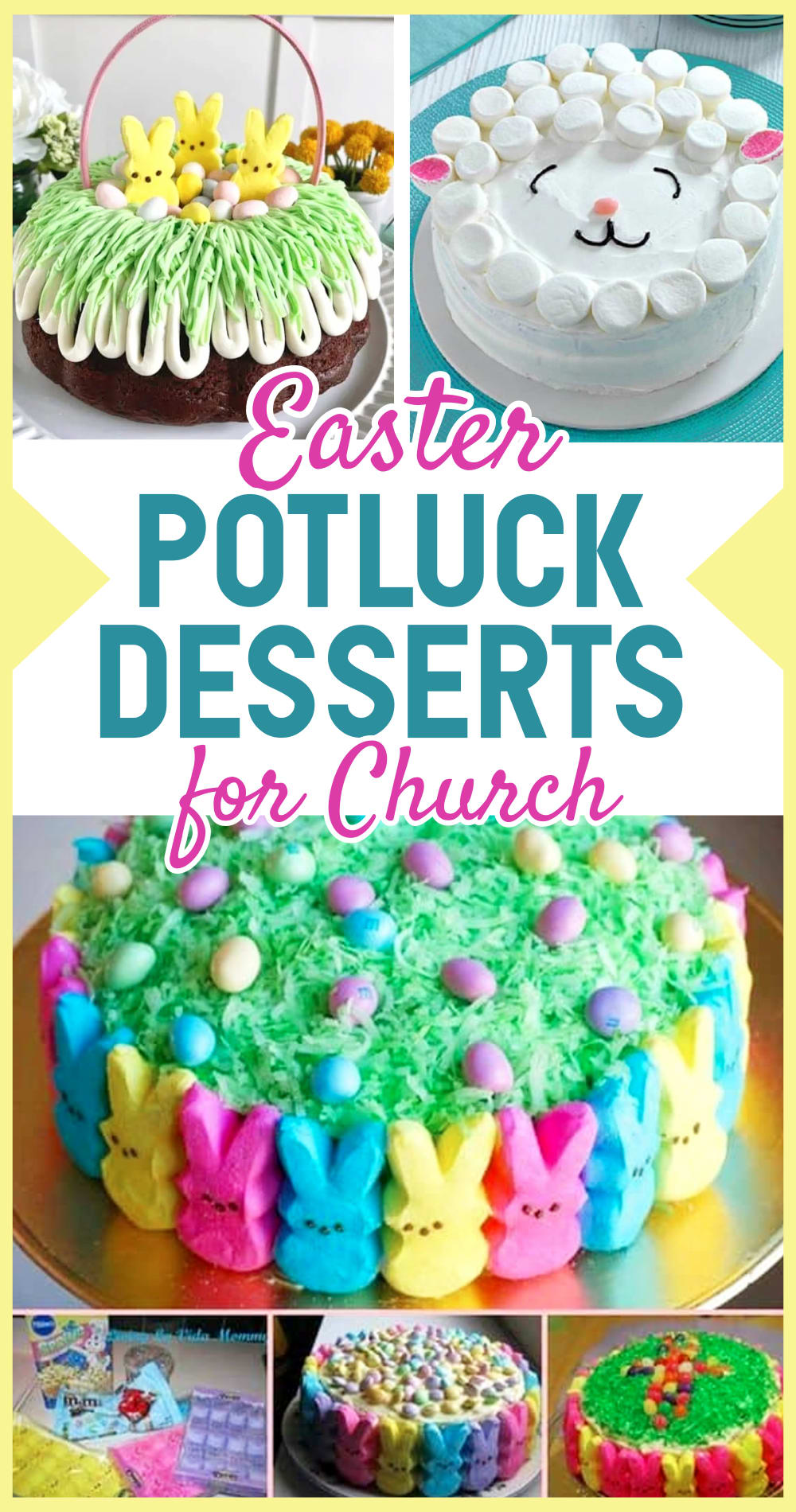 Are those desserts not THE cutest? That lamb cake with the marshmallows and all the peeps and bunnies – adorable.
I also really liked the cake with the jelley bean cross on it – very creative.
I didn't really find any true RECIPES for those cakes above – I found them on TwinsDish – but to me, they're pretty self-explanatory.
The Easter sweets snack tray someone brought was a real crowd-pleaser too!
For The Kids
We also had some members bring some SUPER cute Easter brunch food just for the kids: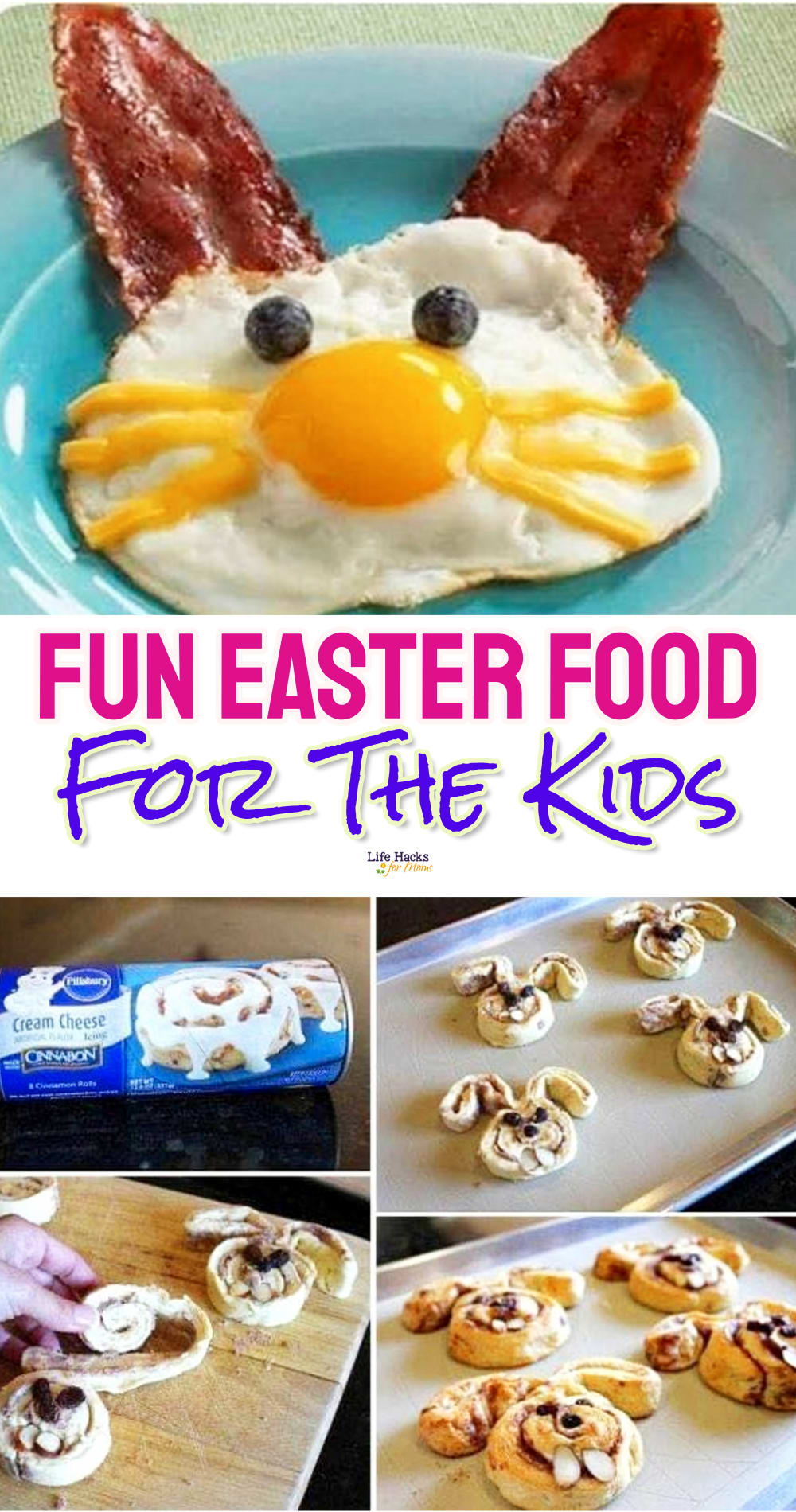 Super cute, right?
The Bunny Eggs recipe is here.
And the bunny cinnamon rolls is from Betty Crocker here.
Traditional Easter Desserts
If you're looking to make something more old-fashioned or "traditional"…
In my opinion, these are classic Easter desserts that deserve a comeback – they're all the potluck desserts from the 50's and 60's our grandmothers used to bring to a church potluck.
If you're like me, you can TASTE them by just looking at the pictures of these retro desserts – brings back SUCH great memories of Easter at church each year.
No Bake Easter Desserts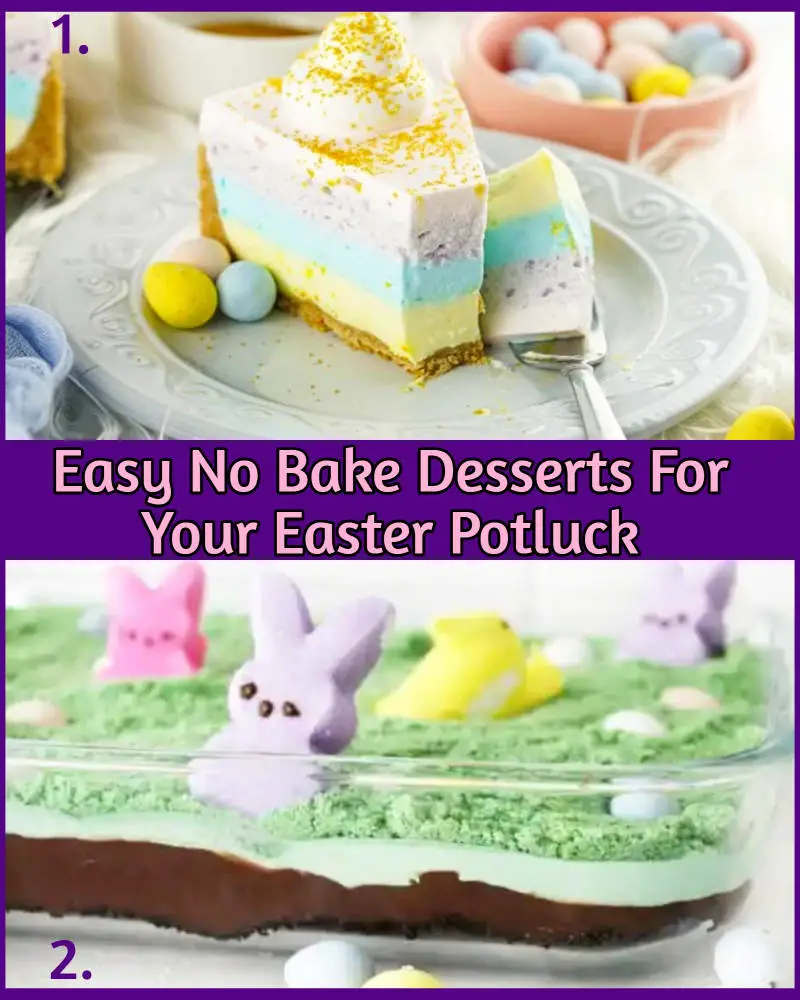 (1) The layered Easter potluck pie is a NO BAKE dessert that is not only very pretty, but it is delicious.
It's so aesthetic to me – almost too pretty to eat!
almost…lol!
(2) The No Bake Easter potluck "dirt cake" is a BIG favorite of the kids at church every year.
And *I* am a big fan too because it's a NO BAKE potluck dessert – I can even whip it together last minute if I need to.
Easter-Themed Sweet Treats
Below are some more really cute and creative Eater-themed sweet treats you can make and take to an Easter potluck (or just make them for your family luncheon at home).
All of those Easter desserts above were found on Juelz John – you can check there for links to the recipes.
Church Potluck Casseroles
When it comes to Easter church food, you KNOW the casserole dishes are coming out in full force!
Here are some easy potluck casseroles that are great side dish ideas for your church luncheon or covered dish gathering this year.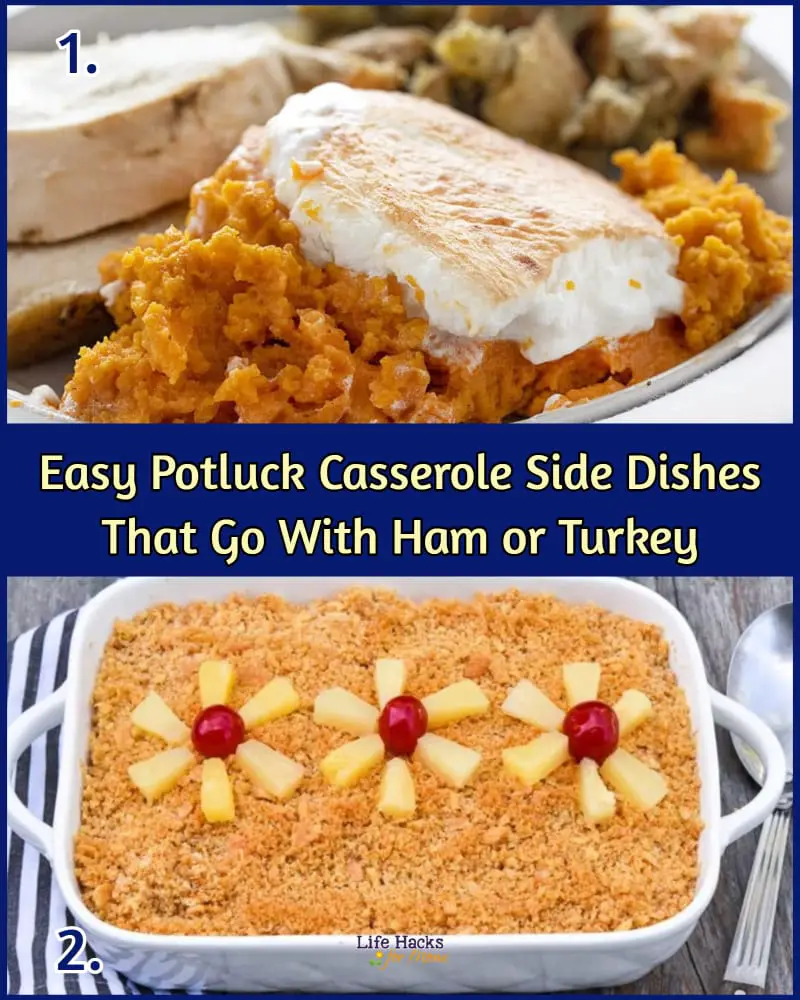 (1) That potluck casserole above is always a crowd favorite at our Easter potluck – it's SUPER easy to make…plus it goes really well with ham – and turkey!
(2) The pineapple potluck casserole goes REALLY well with ham and it's super good!
Easter Finger Foods
(1) Wondering what to BRING to an Easter potluck? These no bake appetizers are perfect to bring as well as the ideas on this page, but these loaded potato puffs in the picture are SO good and they are the perfect individual bite size finger food to take to church for your Easter potluck party.
(2) The Easter potluck deviled eggs are stinkin' ADORABLE, don't you agree?
I'm not sure I am patient enough to make them (and I certainly would NOT attempt to make them last-minute), but they sure are impressive!
More Easter Ideas
More Holiday Potluck Ideas
Miss Anything?
Go back to the top of:
==>> Easter Brunch Potluck Ideas For Church
Go back to a specific section: