---
26 Creative and Unique Themed Raffle Basket Ideas for Prizes, a Spring Fundraiser, Silent Auction, Charity or Summer Family Get-Together.
Below are some great ideas for Easter raffle baskets you can make or buy to auction off to raise money for your church, school, charity, neighborhood Easter egg hunt or even for work.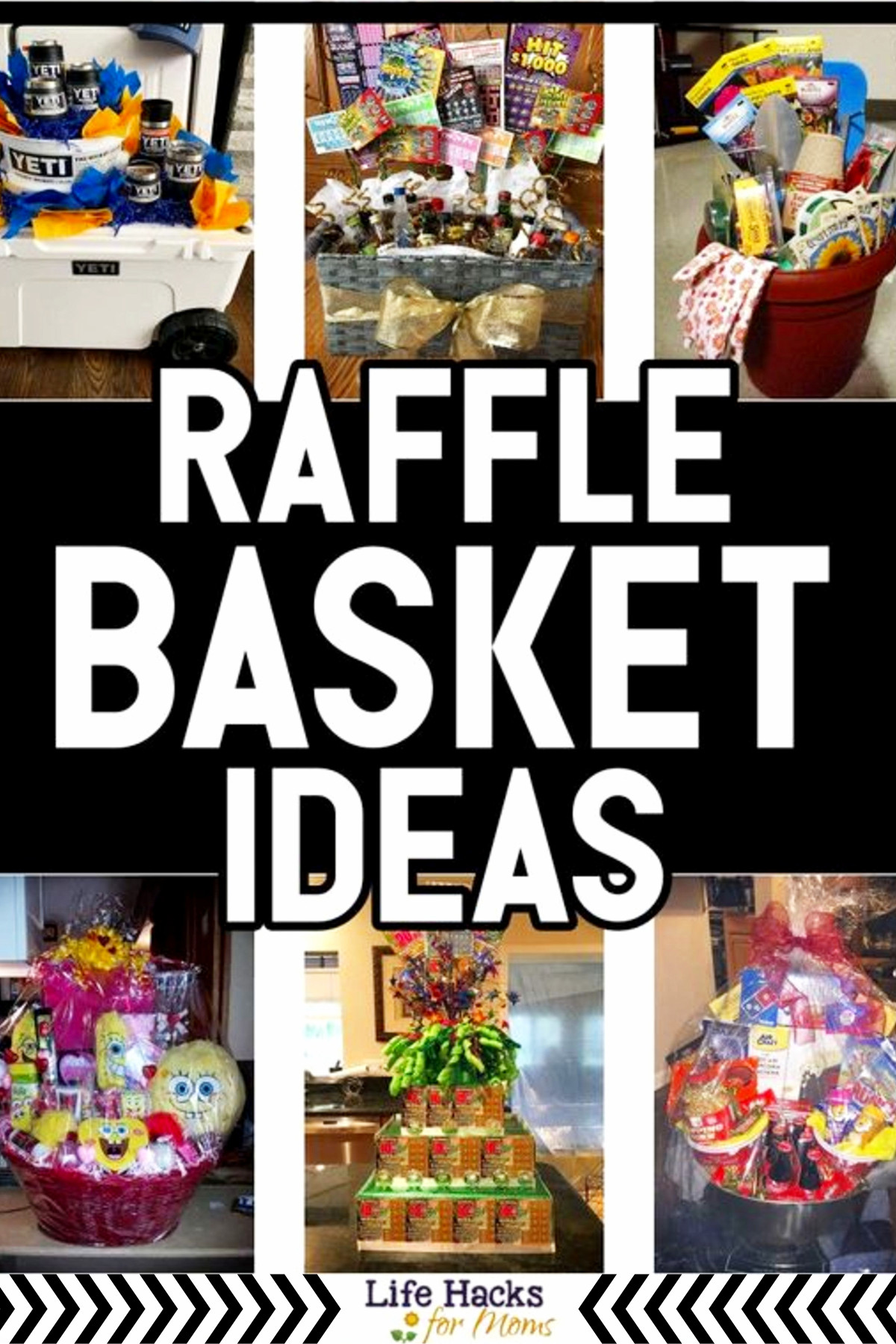 Welcome to Life Hacks for Moms - we hope you enjoy all our tips and tricks for busy moms! Please note that we use affiliate links and ads to generate income at no cost to you.
---
Now that Easter brunch is finished and the Easter egg hunt is completed, it's time to raffle off the Easter Raffle Baskets.
Hopefully, your raffle baskets are appealing to those in your group so your organization makes the most money possible.
Two things to keep in mind when planning raffle baskets for an Easter fundraiser:
1. Know Your Audience – don't make a raffle basket prize be full of things YOUR group does not want.
2. Raffle Baskets Do NOT Have To be IN Baskets – you Easter raffle basket can totally be in a hamper – see pictures below.
Get creative and be sure your raffle basket items are things wanted by those in your crowd.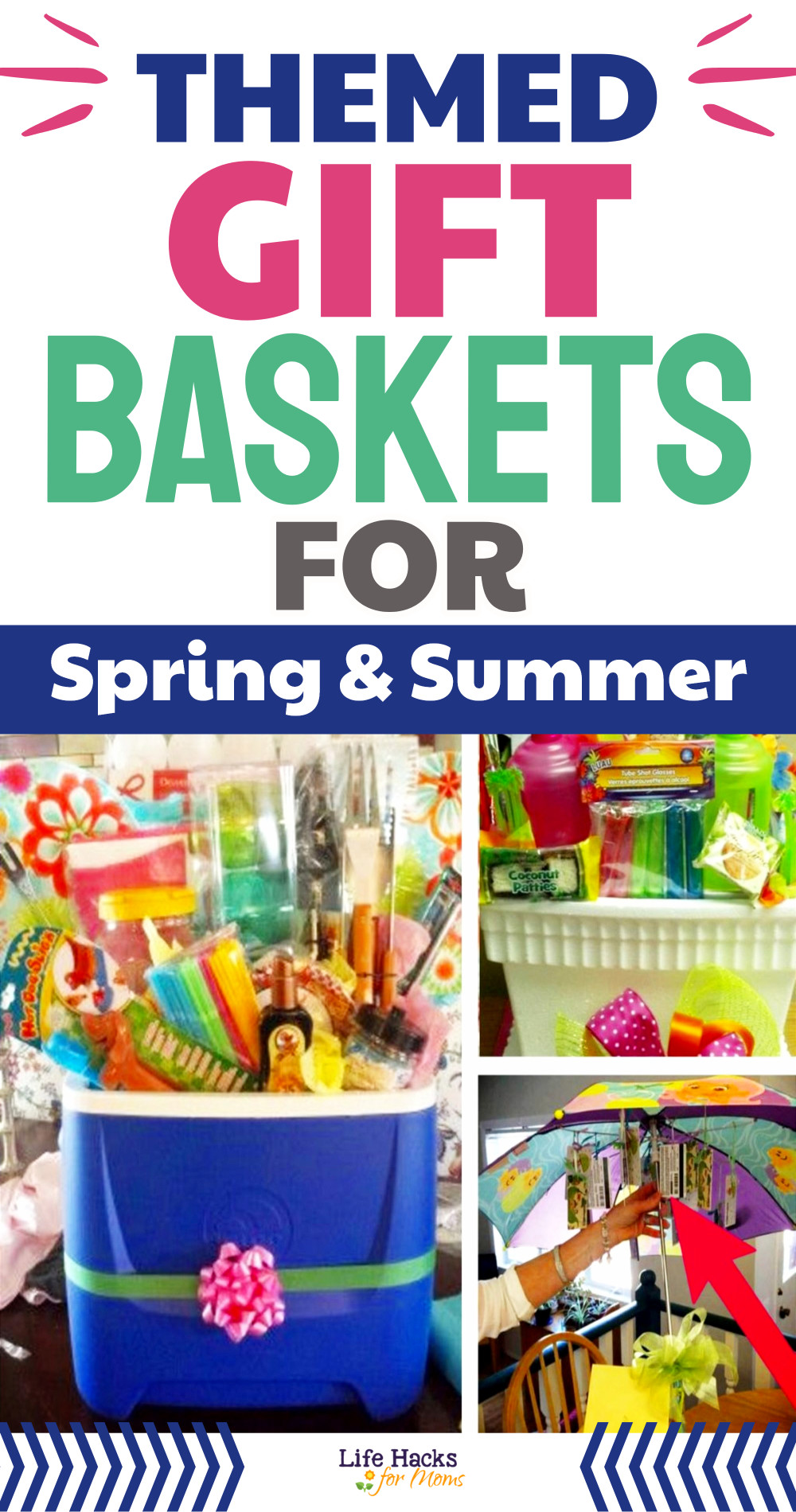 Here are some Easter Basket Raffle Ideas I think are truly unique and will appeal to adults, teens, tweens AND kids.
 1. Ultimate Easter Raffle Basket✅ See This 2. Sweet and Savory Basket✅ See This 3. Video Gamer Basket✅ See This 4. VIP Raffle Basket✅ See This 5. Raffle Basket For Her✅ See This 6. Mega Easter Snack Basket✅ See This 7. Spa Day Raffle Basket✅ See This 8. Picnic Theme Basket✅ See This 9. Raffle Basket For Men✅ See This 10. Movie Night Raffle Basket✅ See This 11. Game Night Raffle Basket✅ See This 12. Summer Themed Basket✅ See This 13. Date Night Raffle Basket✅ See This 14. Breakfast Goodies Basket✅ See This 15. King of the Grill Basket✅ See This 16. Jerky Lovers Raffle Basket✅ See This 17. Taste of Italy Basket✅ See This 18. Football Fanatic Basket✅ See This
19. Pool Time Raffle Basket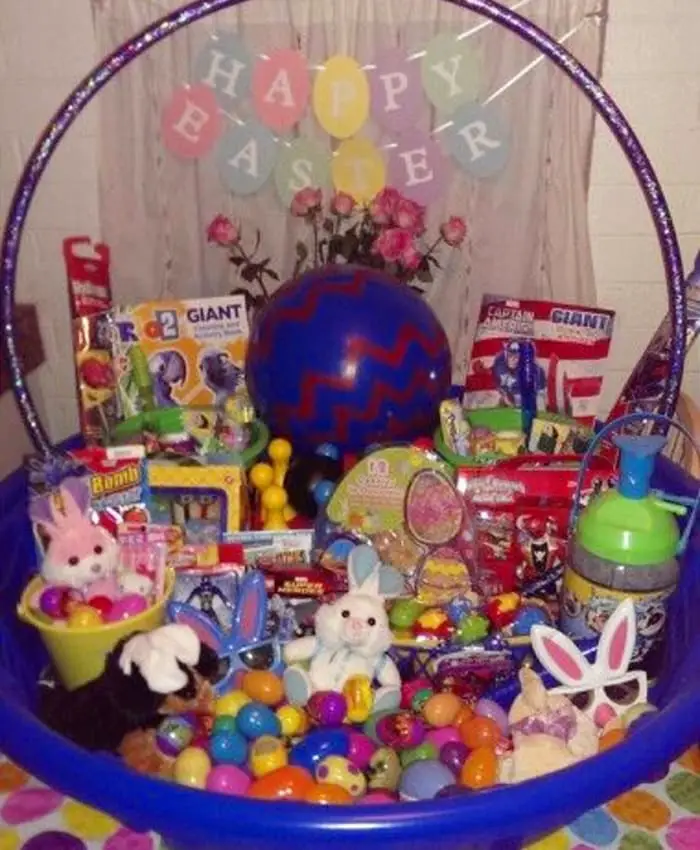 This DIY raffle basket was the grand prize raffle basket and it was really inexpensive to put together.
In fact, most of the raffle basket items were bought from Dollar Tree. The 'basket' is a kiddie pool and the basket 'handle' is a hula hoop.
Clever, right?
20. Gardening Theme Raffle Basket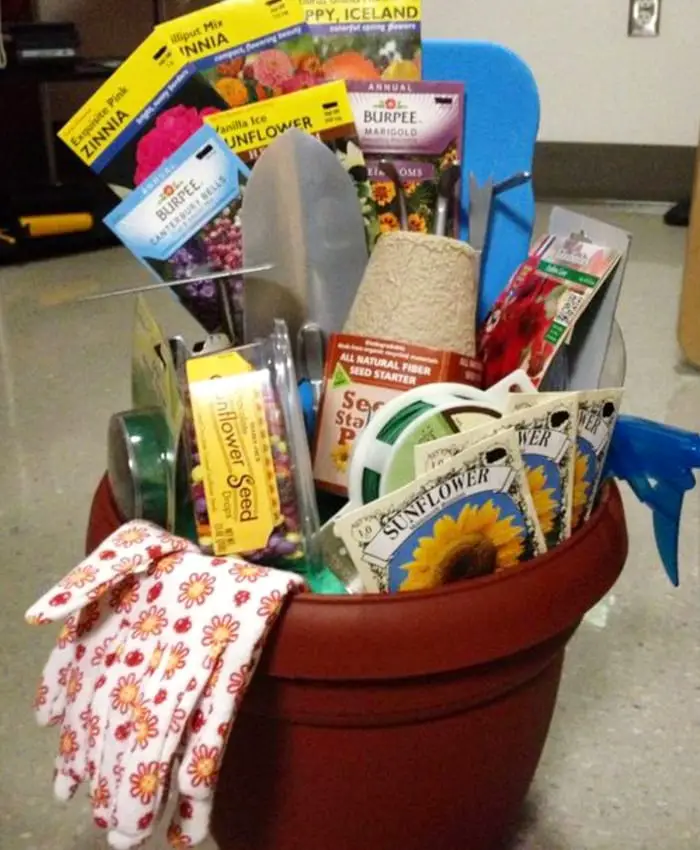 This gardening theme raffle basket is always VERY popular at our church potluck fundraiser each Easter.
21. Netflix Night Charity Basket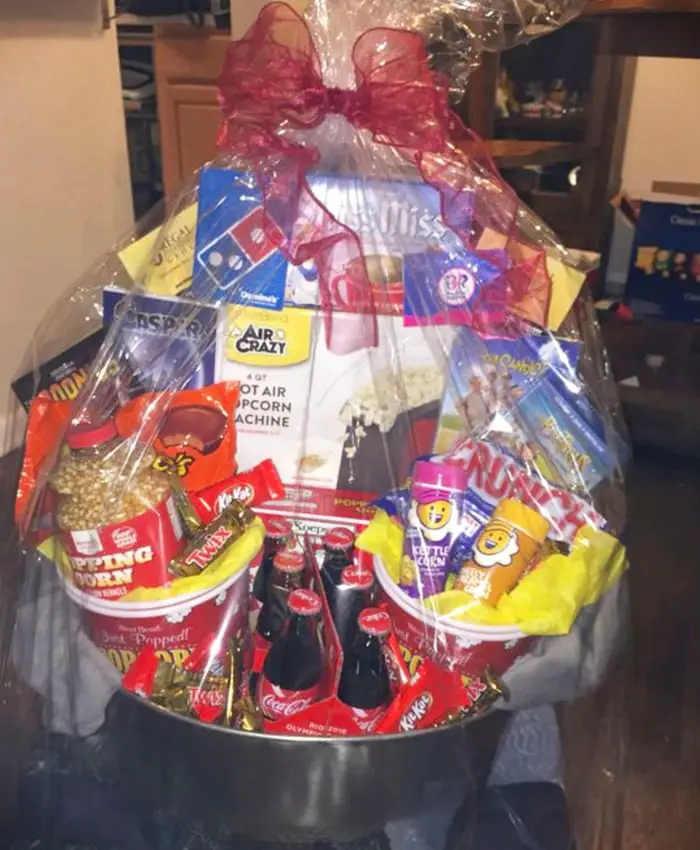 This Netflix Night charity basket was super popular and many people bought raffle tickets to try and win it.
22. Lucky You Gift Basket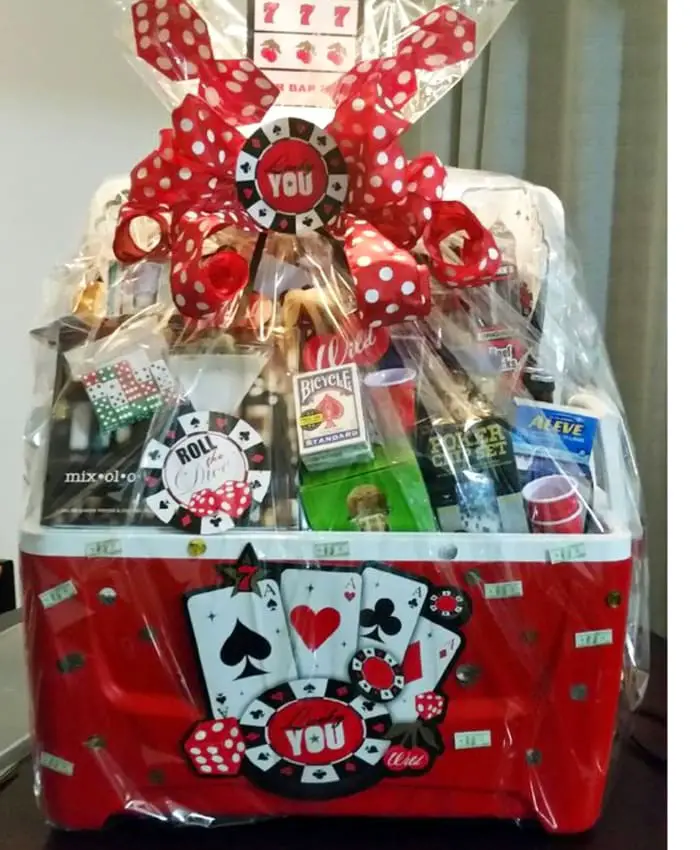 We did a block party fundraiser last Easter in our neighborhood for a local charity we work hard to support.
This Lucky You raffle basket was a BIG hit and sold LOTS of tickets to try and win it.
The winner grabbed that basket and ran with it straight to his man cave haha!
This next raffle basket made even MORE money…
23. Scratch Off Raffle Basket
This is the raffle basket that made the most money – my goodness, the adults basically FOUGHT over it lol!
And yes, those are scratch off tickets so not ideal for ALL fundraisers or silent auctions (as I said, KNOW your audience haha!)
24. SpongeBob Easter Basket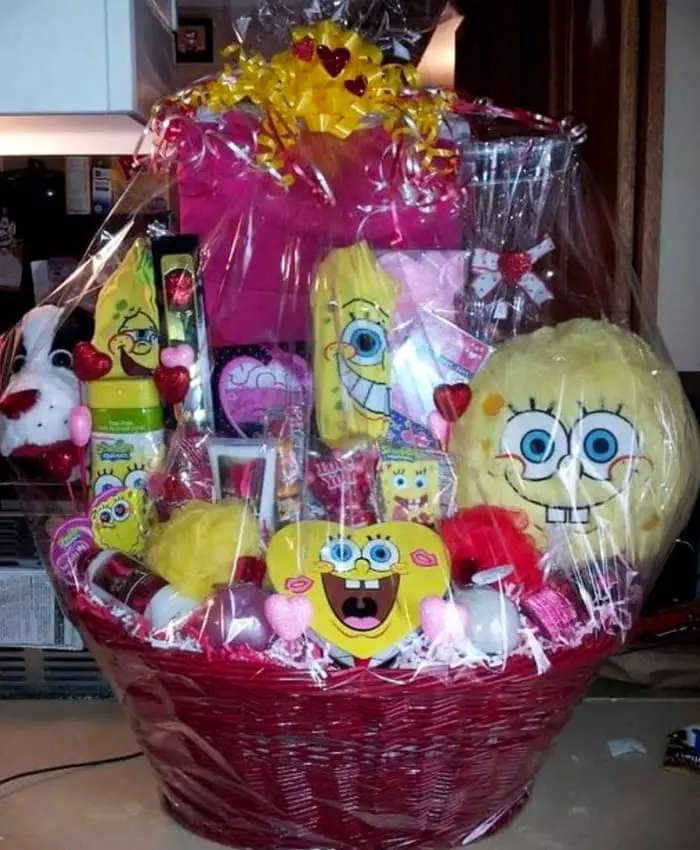 This DIY SpongeBob Easter basket was the grand prize for our Easter egg hunt one year. In hindsight, I should have made it a raffle basket because every, single kid in the crowd WANTED it.
25. Baseball Theme Raffle Basket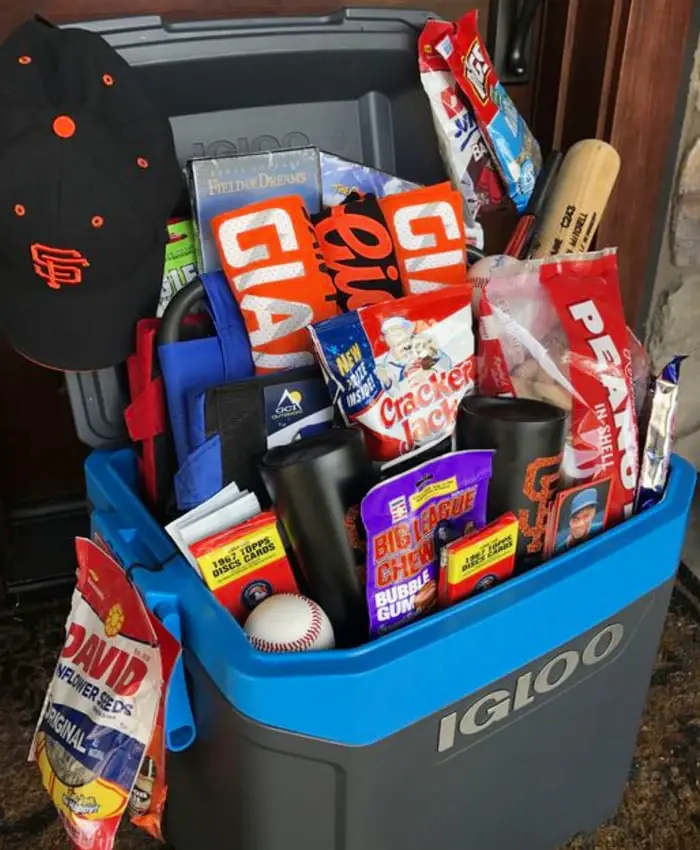 This baseball theme raffle basket went over really well too.
It's a cooler full of baseball related items – to really spice it up, add in items from the local favorite baseball team.
26. Beach Bum Auction Basket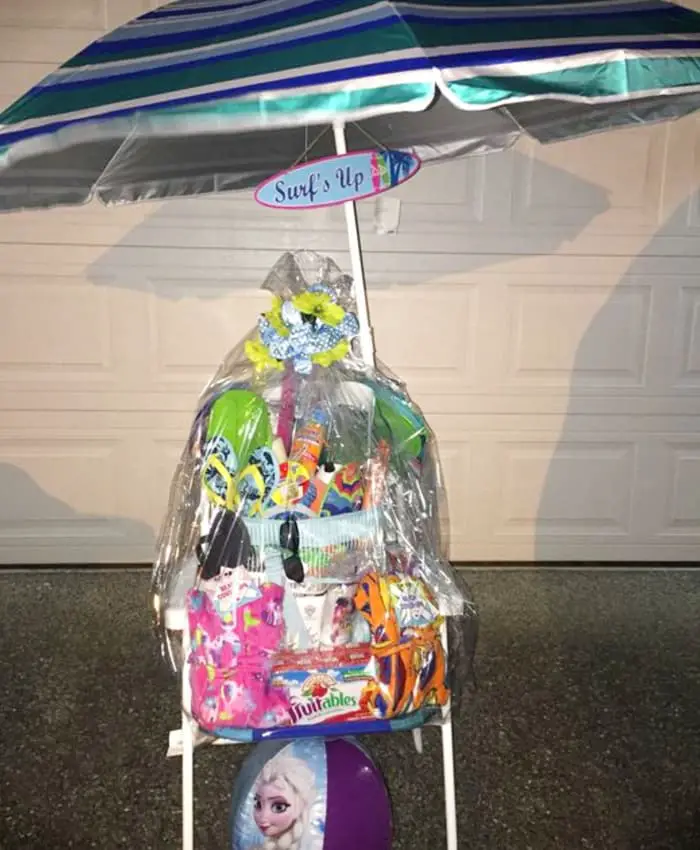 I just love this unique raffle basket idea – the 'basket' is a kid-sized beach chair with an umbrella and the seat is full of all kinds of fun beach toys, snacks and beach lover items.
Since we did that year's Easter get-together at the community pool (same place we do our graduation party for all the neighborhood grads each year) the water theme was perfect.
Sure would make a cute Easter basket for a little girl, wouldn't it?
Hopefully, you found at least one really good raffle basket idea for your fundraiser or auction this Easter.
More Gift Basket Ideas:
What To Read Next: