---
Best Food Ideas For a Neighborhood Block Party – From cheap store bought ideas to easy block party recipes – here's 13 ideas to bring… or to make. Dessert ideas down below too!
Below are my 13 "Go To" neighborhood block party finger foods and appetizers you can make ahead, throw together last minute or buy for cheap.
If you're looking for cheap and easy street party food ideas for your neighborhood crowd, you are in the right place… even if you're on a budget!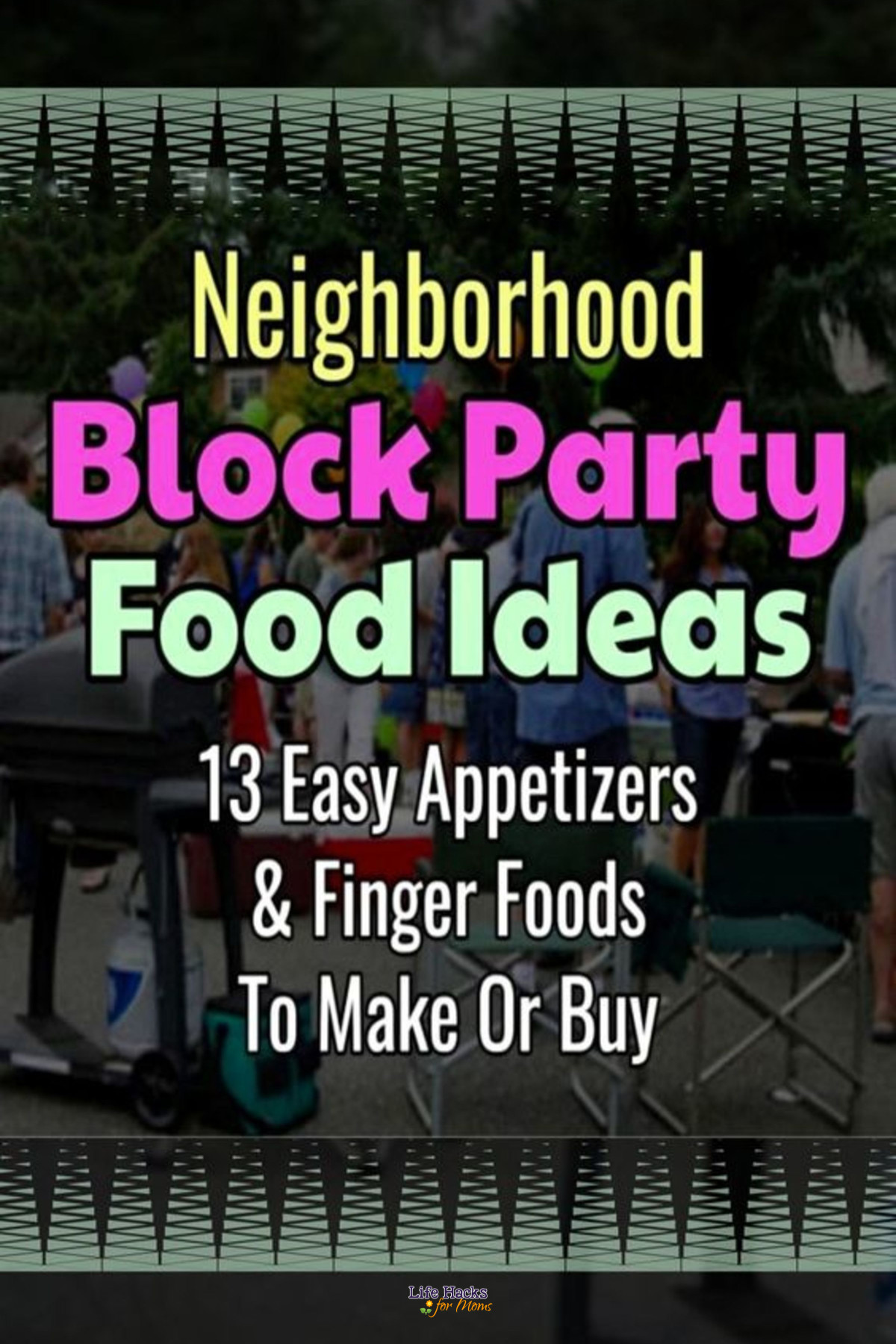 Welcome to Life Hacks for Moms - we hope you enjoy all our tips and tricks for busy moms! Please note that we use affiliate links and ads to generate income at no cost to you.
---
Every single easy appetizer below has been battle-tested by me and approved as officially the 13 best EASY appetizers to bring to a block party – from a potluck street party, a Halloween block party, a meet the neighbors driveway party, community Christmas party, 4th of July neighborhood BBQ party, Super Bowl party, or even a Fall block party, etc.
Heck, our neighborhood is having a barbecue street party for ALL the kids that are graduating in our subdivision – it's gonna be fun!
And yes, many of my GoTo block party appetizers and finger foods are store-bought appetizers too (but please don't tell anyone haha!)
If you make (or buy) any of the simple and cheap block party appetizers below, you WILL be the favorite person at that party (yes, they are SERIOUS crowd-pleasers! I never come home with any leftovers!)
Block Party Planning
From block party food to activities, there is a lot of planning that needs to happen when coordinating a neighborhood block party.
Before we jump into the best finger foods for a block party with your neighbors, here's a quick planning checklist that can help:
Now, let's take a look at my "go to" cheap appetizers to bring to our yearly neighborhood block party.
These are also the finger foods I plan for our Fall block party menu that we host in our driveway every Labor Day weekend.
They are all SUPER SIMPLE to make and/or CHEAP to BUY (these are my picks for the best store bought food ideas for a neighborhood block party, too).
✅ Finger Food Ideas
Here's the list of easy appetizers and finger foods you can buy or make that you'll find on this page (and yes, if I make it, I also share my recipe).
13 Cheap and Easy Block Party Finger Food Ideas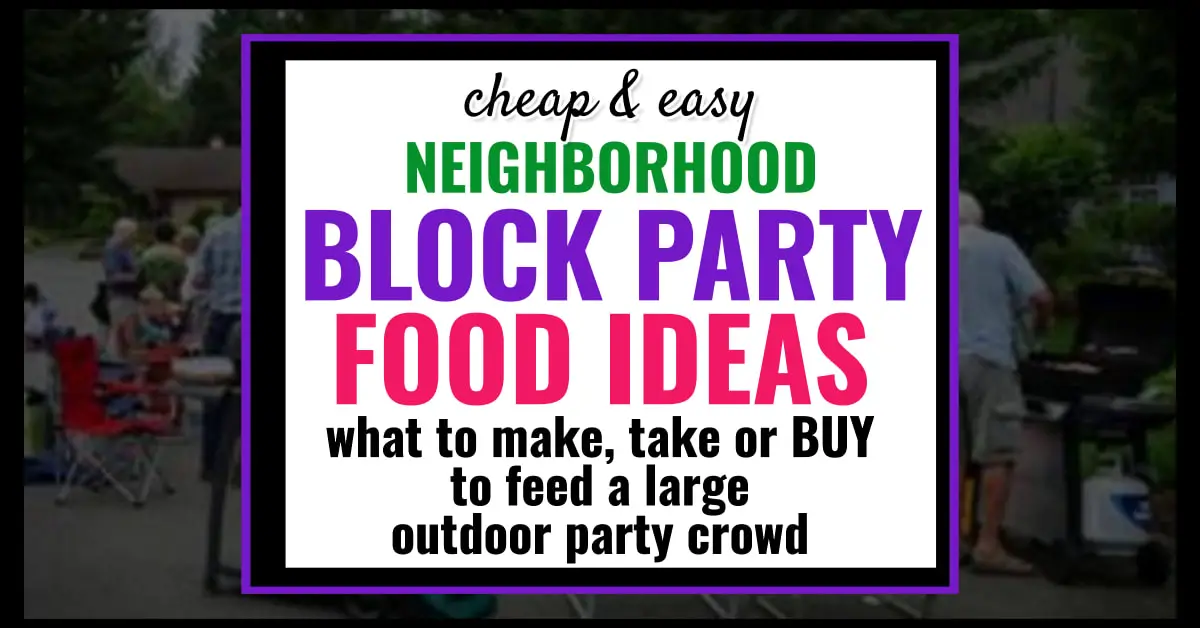 3-Ingredient Sausage Dip
Bacon Crackers
Buffalo Chicken Pinwheels
Block Party Pigs
4-Ingredient Dump Dip
Street Party Cowboy Cavier
2-Ingredient Sweet Chili Dip
Sausage Balls
Foot To Finger Sandwiches
5-Layer Taco Dip
Shrimp Cocktail
Chips and Dip
Crack Dip
Halloween Block Party Food
Our neighborhood has a block party every, single Halloween and it is SO much fun!
Every family brings a platter of finger foods, a side dish or snacks and we set it out buffet style.
I try to make spooky Halloween-themed finger foods, but not TOO scary or creepy.
Below are some Halloween block party food ideas we've made – some are super easy last minute Halloween appetizers too!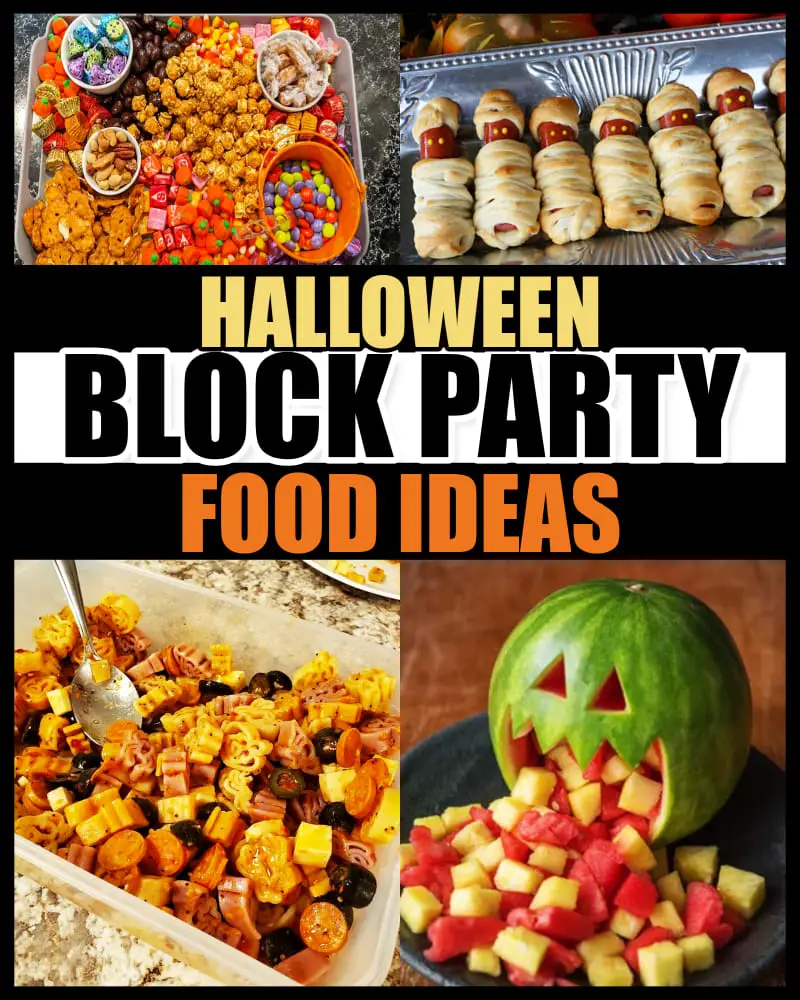 The snack tray was super easy to make – just a bunch of Halloween-themed treats and snacks.
The Spooky Mummy Dogs were a big hit with the kids (just hot dogs cut in half wrapped in Crescent rolls then baked with mustard dots for the eyes)
The pumpkin fruit tray was a little tricky to cut out but it's just like carving a pumpkin.
MY favorite – and must have been EVERYONE'S favorite because there were NO leftovers – is the Block Party Pasta Salad Halloween style!
SO simple to make – you can even make it last minute too for ANY Halloween party.
Just get some Halloween pasta like this:
 Halloween Block Party Pasta For a Large Group✅ I Found It Here Or This 2 Pack For a Smaller Party Crowd✅ I Found It Here
Cook it according to the package instructions and let cool.
While cooling, cube up some cheese.
When pasta is cool, add in the chunks of cheese and pepperoni slices.
Then mix it all together with THIS amazing dressing.
It is SO good!
I always have shaped pasta for ALL the Holidays, cheese, pepperoni and my secret sauce on hand so I can make that simple side dish for ANY occasion and I'm good to go!
Just look how cute some of the other pasta shapes are!
 For our Fall block party…✅ I Found It Here for our tailgating block parties…✅ I Found It Here for our Thanksgiving street party…✅ I Found It Here and for our neighborhood Christmas party✅ I Found It Here
Yep, that Halloween pasta salad side dish works for ALL potlucks and block parties!
Here's a close up picture – be sure to save it to Pinterest so you always have the recipe on hand.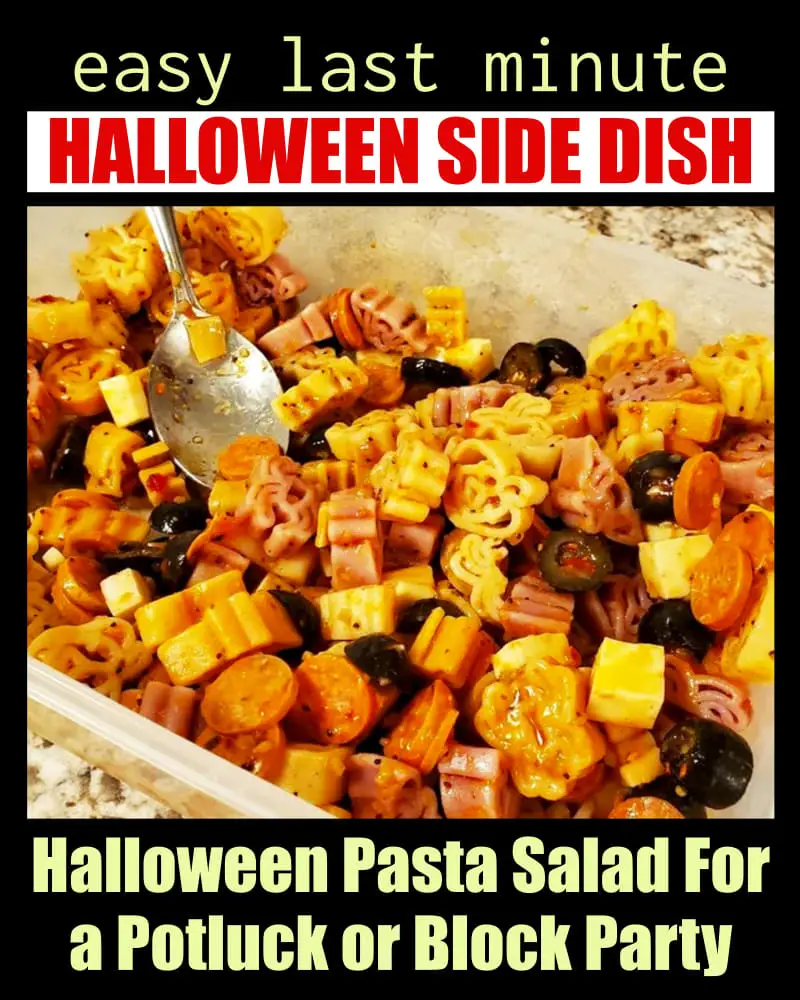 3-Ingredient Sausage Dip
One of my FAVORITE appetizers to take to a party and there's only 3 ingredients too!
Cook up a pound of sausage, put the cooked sausage in your crock pot and mix in a block of cream cheese and a jar of salsa . Serve with dip chips or Fritos.
So good, so easy and a serious crowd-pleaser… everyone LOVES it!
(don't have a jar of Salsa? Use a can of Rotel. Don't like cream cheese? Use a block of Velveeta. I've made all these variations and they are all very, very good.)
I make this easy appetizer for our block party each year and it goes FAST.
Thankfully it's super easy to throw in my slow cooker and make ahead of time – I can throw it all together to make it in 5 minutes!
Here's how I make it: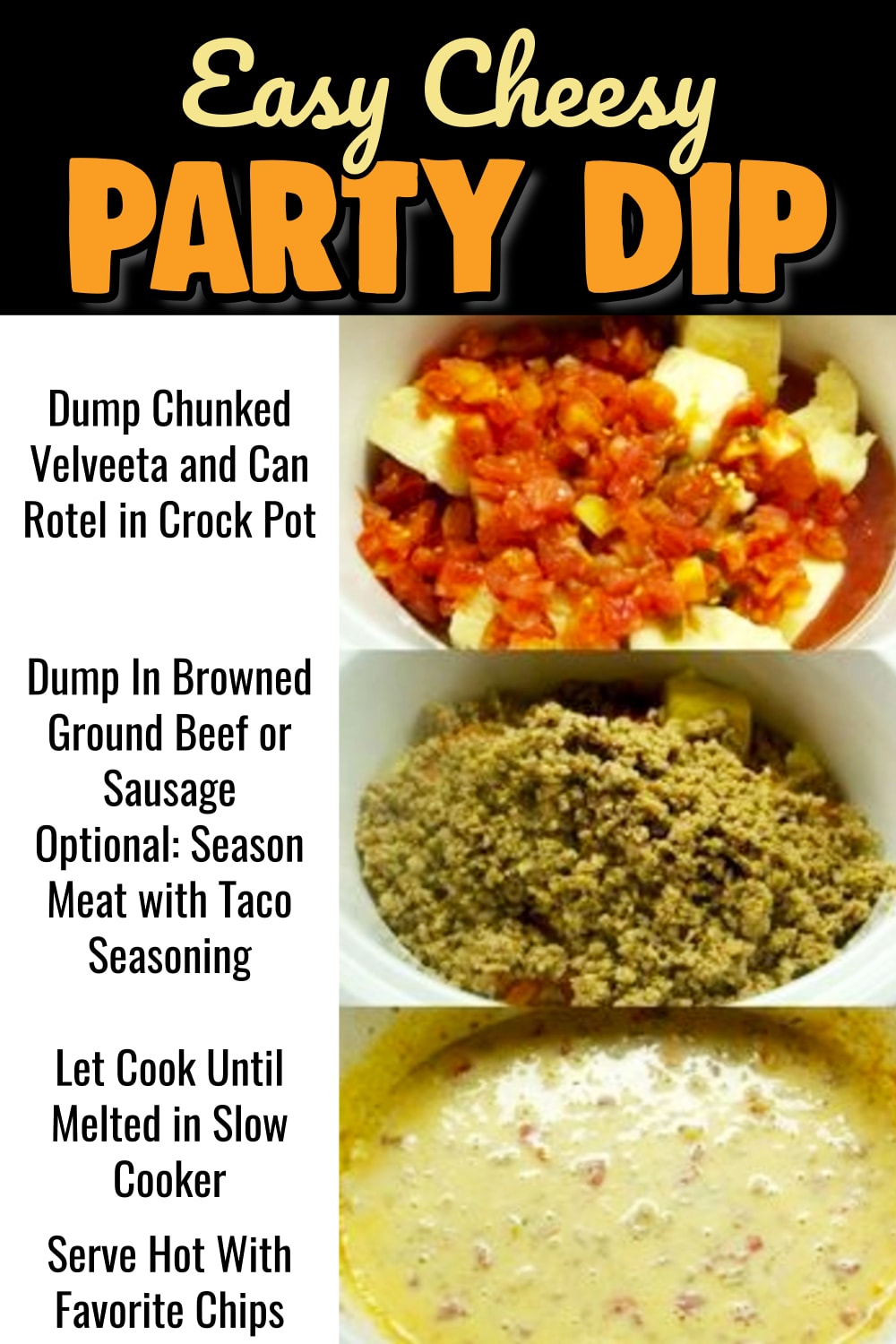 Love Simple 3-Ingredient Recipes?
Bacon Crackers
Take a club cracker, wrap it with a slice of bacon and place on a lined baking sheet.
Repeat until baking sheet is full then sprinkle all the bacon crackers with brown sugar and bake them – YUM!
A perfect sweet and salty snack – perfect with one of these block party punch recipes.
Buffalo Chicken Pinwheels
These are SO good – and they're a pretty appetizer to take too! They'll look like you spent a lot of time and money making them, but you'll know you didn't.
You CAN cook and shred the chicken yourself, but it's easier to buy canned chicken (and tastes just as good if not better).
Mix together a can of canned chicken breast, about a cup of shredded cheese (I use cheddar but you can use any flavor) and some hot sauce to your taste preference.
Spread the mixture of flour tortillas and roll them up. Chill, then slice.
Block Party Pigs
Yes, I renamed the common pigs in a blanket to Block Party Pigs (because that's what the neighborhood kids call them and ask me to bring!) What they don't know is that I buy my Pigs in a Blanket frozen and cook them at home or at the block party host's house.
Seriously, who has TIME to wrap all those pigs up in their blankets lol!
These always go over VERY well and are a perfect last minute appetizer idea to take (and they travel really well, too).
If I'm feeling extra fancy, I'll mix together ketchup with a little mustard to make as a dipping sauce.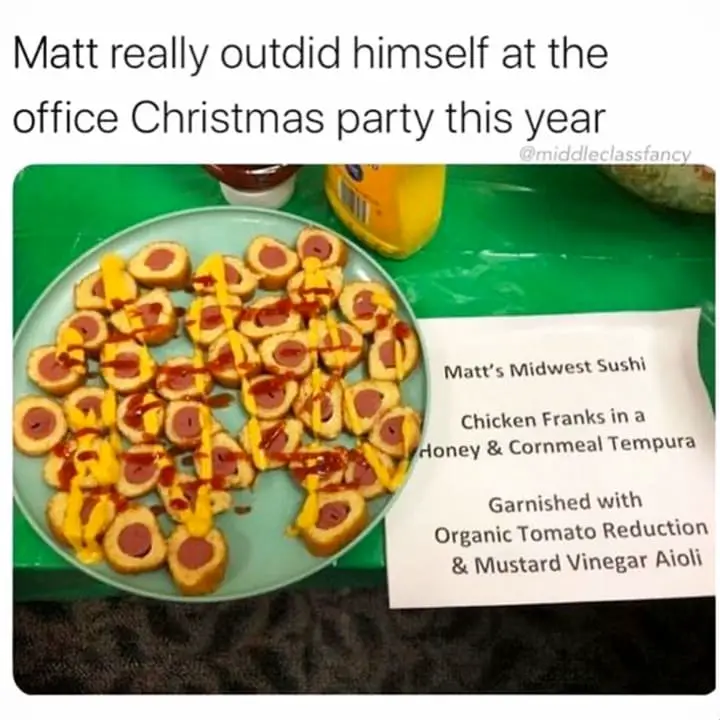 Buffalo Chicken Dip
Buffalo Chicken Dip is very easy to make – BUT… here's a shortcut.
Just BUY it.
If you go to the deli department at your grocery store you'll see pre-made Buffalo Chicken Dip.
This store-bought party appetizer dip is very good hot OR cold – and it's probably cheaper to buy it than to make it (and it's much easier too!)
But if you want to make Buffalo Chicken Dip to take to a party, there are 2 simple ways to make it.
4-Ingredient "Dump" Dip
Below is my recipe for my special 4-ingredient dump Buffalo Chicken Dip.
Note: if you want to make this easy party appetizer ahead of time with no baking, you can just dump all 4 ingredients in your crock pot slow cooker and let it cook that way. It's still very, very good.
But here's how I make it in the oven: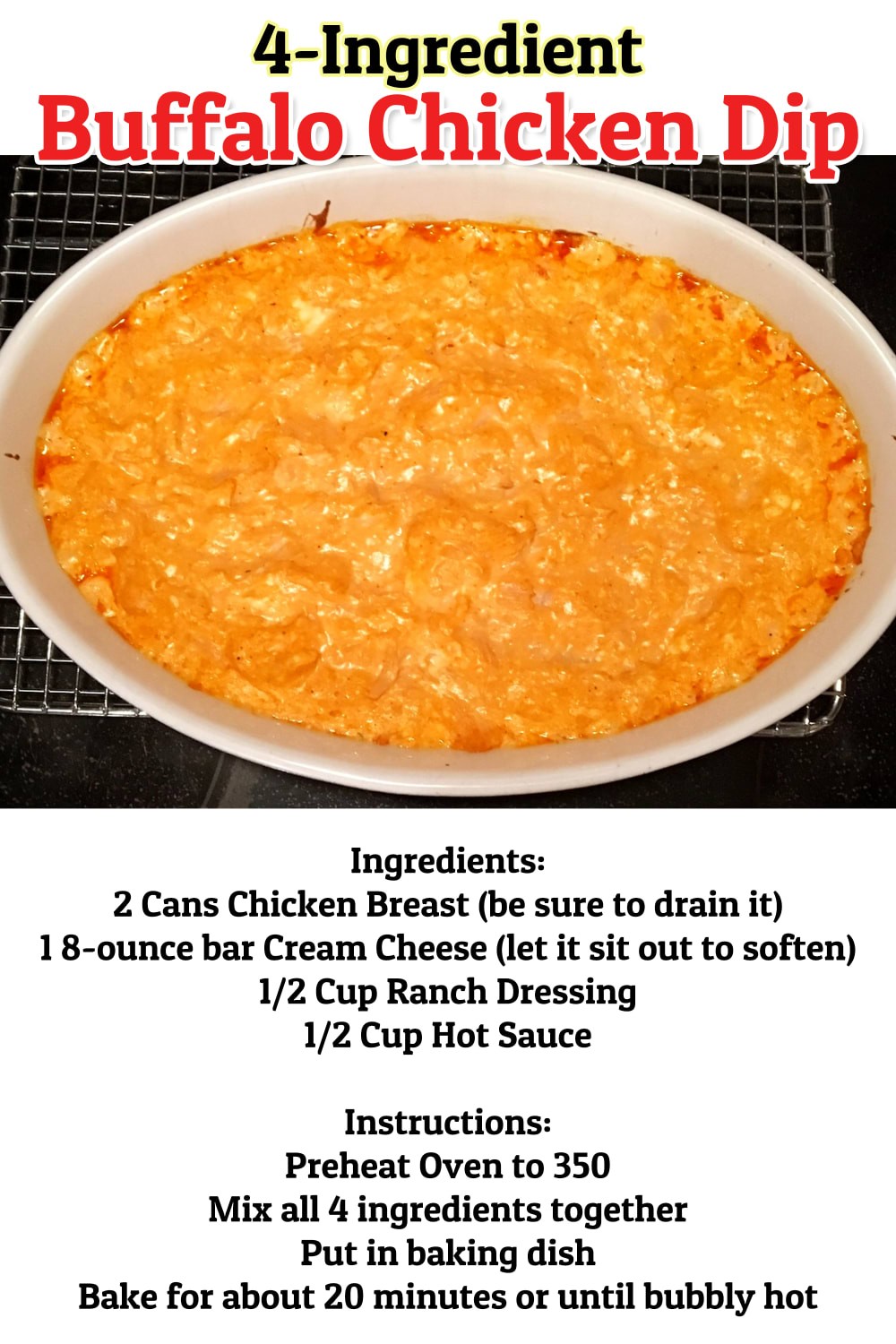 If you want to get extra fancy with it, put some shredded cheese on top.
Layered Buffalo Chicken Dip
Layer cream cheese at the bottom of your baking dish, followed by a layer of shredded chicken (yes, you can use canned chicken), drizzle Buffalo wing sauce over the chicken and cream cheese then top with shredded cheddar cheese.
Bake it at about 350 until it's bubbly and cheese on top is totally melted.
Street Party Cowboy Cavier
I make this Cowboy Cavier appetizer did ALL the time – especially for our Super Bowl party each year. I serve it with Pita chips or tortilla chips (or both if I'm feeling fancy).
2-Ingredient Sweet Chili Dip
This party appetizer is the easiest to bring to a party.
Seriously! It only has TWO ingredients!
And… no mixing, no baking, no cooking, no NOTHING.
Just grab a bar of cream cheese and put it on a serving plate then pour a bottle of sweet chili sauce over the top.
That's it!
Serve with Ritz crackers (or whatever crackers you like best).
Sausage Balls
I could make sausage balls all day long and it STILL would not be enough for our party crowd.
That's also IF I can even get them out of the house – my husband can eat them just as fast as I make them!
Especially since I've learned how to make low-carb sausage balls with this secret ingredient instead of Bisquick (and they are GOOD!)
Yes, they are delicious – and yes, there's only 3 ingredients to make them (a pound of sausage, a bag of shredded cheese and Bisquick), but they are a pain to make.
Here's the traditional Bisquick Sausage Ball recipe:
So, when I need a quick and easy appetizer to TAKE to a party or potluck, I buy frozen pre-made sausage balls (shhhhh… don't tell anyone! They can't tell the difference anyway lol!)
That saves ME a ton of time and everybody is happy.
But, if you like making your own sausage balls, you've got to try this variation: Instead of plain ol' Bisquick, use Red Lobster Cheddar Biscuit Mix instead – oh my, so very good!
(sidenote: I've received a lot of questions about how to make my low carb sausage balls.
Since I've made them a lot for both my hubby who's trying to lose some weight AND for my daughter-in-law who is diabetic, I've learned a few tips and tricks while perfecting my recipe.
The only real difference between a traditional sausage ball recipe and mine if this :
When making my low-carb sausage balls, use the same amount of this as you would Bisquick, and the same 2 other ingredients (sausage and grated cheese).
Also, be sure to turn the sausage balls often while baking. The cheese tends to settle at the bottom of the balls making it hard unless you rotate them often while baking.)
Foot To Finger Sandwiches
If you're really pressed for time and have to come up with a cheap last minute appetizer to buy for a potluck or party, just go grab a footlong sub from your favorite place and slice it up into smaller individual snack sandwiches – they are truly the easiest and a fan favorite finger food for ANY crowd.
Easy-peasy, done! And yes, everyone eats them and loves them.
5-Layer Taco Dip
This 5-Layer Taco Dip is an easy appetizer to take that you make quickly at home.
It travels well, looks fancy and is absolutely a crowd favorite at any get-together.
Get a casserole dish and layer these ingredients in this order (note: Layer 1 is the bottom):
Layer 1. A can of refried beans
Layer 2. 8 ounces sour cream and 8 ounces cream cheese mixed together
Layer 3. 1 pound cooked ground beef with taco seasoning
Layer 4. Small 8 ounce jar of taco sauce
Layer 5. A whole bunch of shredded cheese
Pop it in the over at 325 for about 25 minutes – serve with dip chips.
So easy and so good. In fact, when I bring it to a party, *I* can't stop eating it!
---
Shrimp Cocktail
When you think of fancy and elegant appetizers, you probably of think of Shrimp Cocktail, right?
But let me tell ya this – how I take this easy appetizer to a party is NOT fancy, but everyone loves it.
I simply go to the grocery store and buy those frozen Shrimp Cocktail Rings and take that with me.
They travel SO well, you don't have to worry about refrigerating it since it needs to defrost anyway AND the cocktail sauce comes with it.
Easy and DONE!
Chips and Dip
If you're really short on time AND short on money, and you need a cheap last minute appetizer to take with you to an office party or potluck, just take chips and dip.
You can buy a thing of Mexican cheese dip and bags of chips (just remember, you'll need access to microwave to heat the cheese dip).
Or grab a container or sour cream and a pack of dry Ranch seasoning. Mix the ranch in the sour cream (right in the container) and serve with any kind of cheap chips you can find.
EVERYONE eats chips and dip so NO, you will not look lazy or cheap for bringing them as an appetizer to any party.
Crack Dip
This party dip is called "Crack Dip" because it is SO addicting. I've also heard it called Million Dollar Dip.
Regardless of WHAT you call this party dip, it's super easy to make and EVERYONE loves it!
Here's how I make it:
Block Party Desserts
If you're looking for block party desserts to make and take to your neighborhood event, I have great dessert ideas too!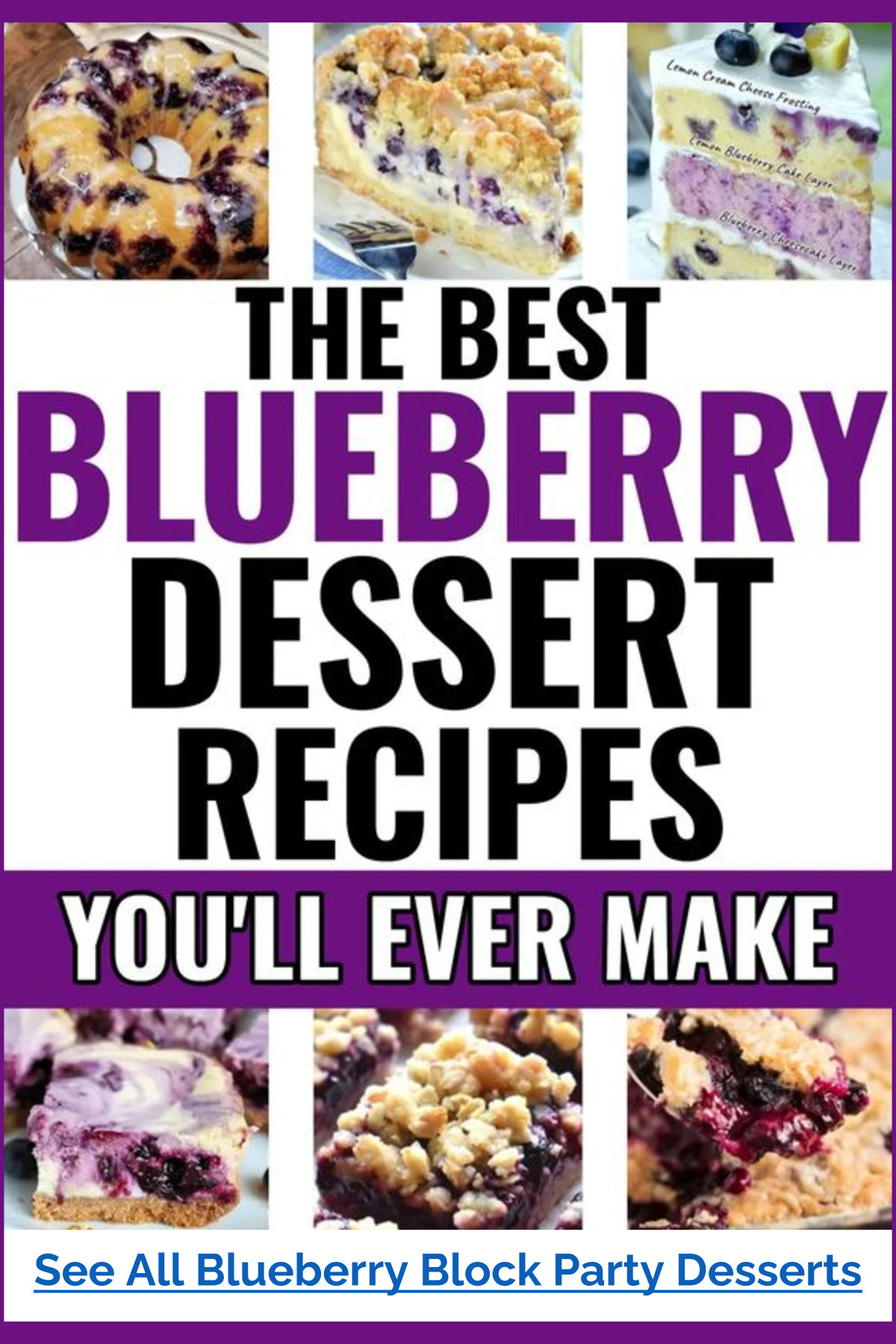 ANYTHING with blueberries makes for the perfect block party dessert this summer.
See all my blueberry dessert ideas here
.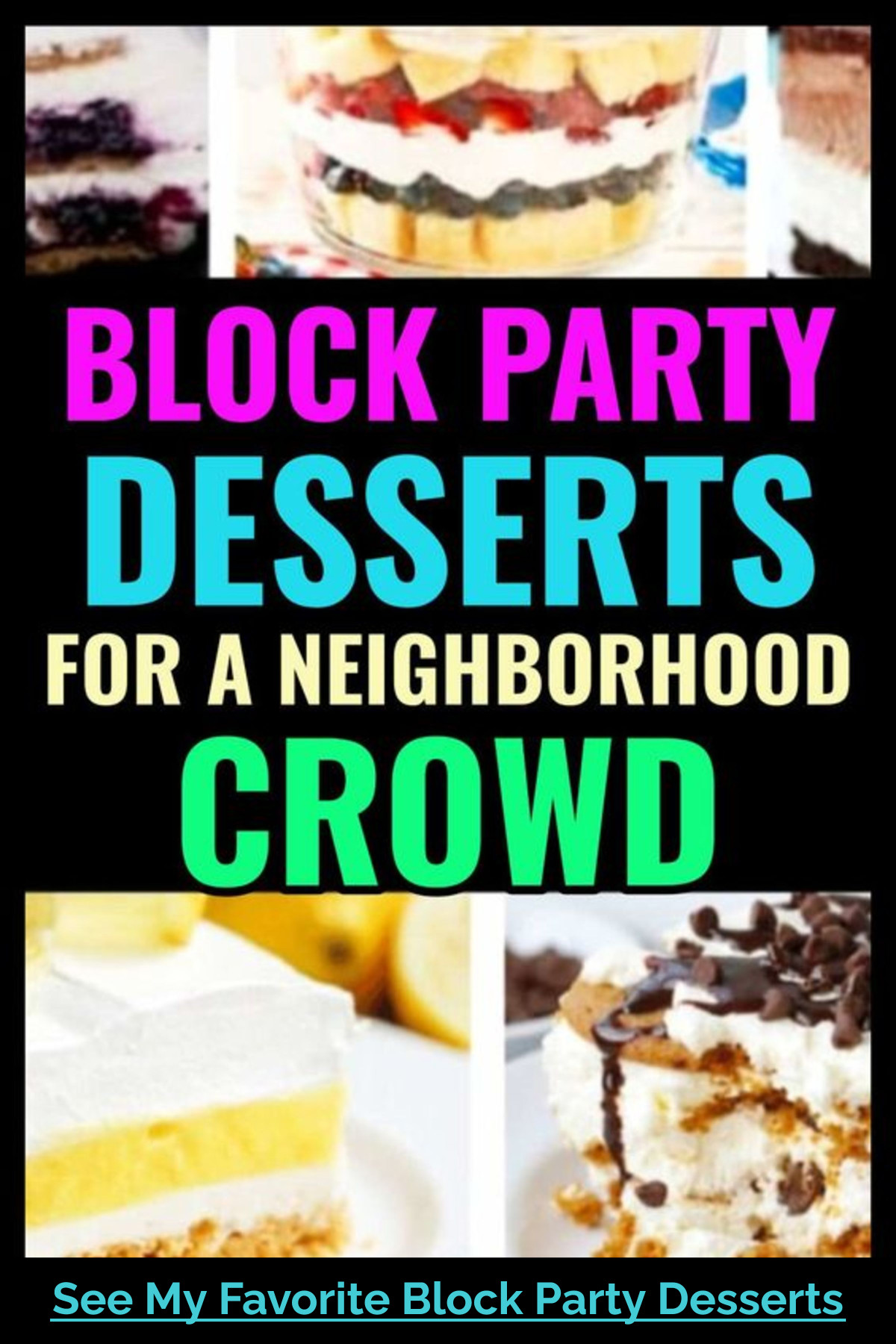 If you need a quick and EASY dessert to take to a block party,
these quick and easy desserts all have few ingredients
.
Neighborhood Block Party Accessories
Here's just a few things you'll need for your neighborhood block party:
 Block Party Cooler✅ See This Block Party Plates✅ See This DII Outdoor Tabletop Collection, Stain Resistant & Waterproof, 14×72, Barbeque✅ See This Royal Gourmet 8-Burner Gas Grill, 104,000 BTU Liquid Propane Grill, Independently Controlled Dual Systems, Outdoor Party or Backyard BBQ, Black✅ See This Deli Paper Sheets Sandwich Wrap Paper – 12×12✅ See This Inflatable Serving Bar Salad Ice Tray Food Drink Containers – BBQ Picnic Pool Party Supplies Buffet Luau Cooler,with a Drain Plug✅ See This What Can I Bring? Cookbook: Over 200 Great-Tasting, Easy-to-Tote Dishes for Parties, Picnics, Potlucks, Backyard Barbeques, Holiday Dinners, and Any Get-Together!✅ See This Printable BBQ Party Games Pack [Download]✅ See This Double Solo Disposable Cup Holder with Marker Slot Wood Mark Your Cup and Drink Up/Chalkboard with Chalk Marker-2 Sides Designs,Drink Dispenser Christmas Housewarming Wedding Party Decor Hostess Gifts✅ See This reyiza Outdoor Tent Cloth – 210D Oxford Cloth Party Tents with Window Garden Shelters Outside Wedding BBQ Events Tents Waterproof Rainproof Cloth for Party Garden Commercial (Blue)✅ See This Pack of 4 Plastic Red and White Checkered Tablecloths – 4 Pack – Picnic Table Covers✅ See This The Ultimate Guide to Appetizers Cookbook: 100+ Easy and Delicious Appetizers for Any Party and Any occasion✅ See This Decorlife Red Gingham Party Supplies Serves 24, BBQ Party Decorations for Picnic, Complete Pack Includes Tablecloth, Plates, Red Checkered Napkins, Cups, Flatware and Straws, 193 PCS✅ See This Ultimate Holiday Party Finger Food and Drink Recipes✅ See This
More Easy Party Appetizers
Party Punch Recipes For a Crowd – Super simple party punch recipes to make or take to any party, potluck, family reunion or get-together. If you're having a Christmas party, you GOTTA try the Grinch Punch recipe!
---
Cookout Party Food Ideas – Having a summer BBQ party, neighborhood block party or a cookout? Try these super creative and easy summer party appetizers and party food ideas.
Miss Anything?
Go back to the top of:
==>> Block Party Finger Food Ideas
Go back to a specific section:
More Easy Recipes:
✅ Easy chicken recipes for dinner with few ingredients
---
✅ Kid-Friendly Instant Pot Dump Recipes
---
✅ Breakfast ideas for family gathering or large group
---
✅ Easy soup recipes with few ingredients
---
✅ Easy bread recipes to make WITHOUT a bread maker
---
---