---
3-Ingredient NO BAKE Cookies –
Easy No BAKE Cookies with Only THREE Ingredients – Creative and simple No Bake cookies variations you've got to try!
From 3-ingredient chocolate chip cookies to healthy cookies you don't have to bake, these no bake cookie variations are super simple recipes you can make right now.
Let's take a look at some easy co cook – no bake cookie recipes with few ingredients (only THREE!)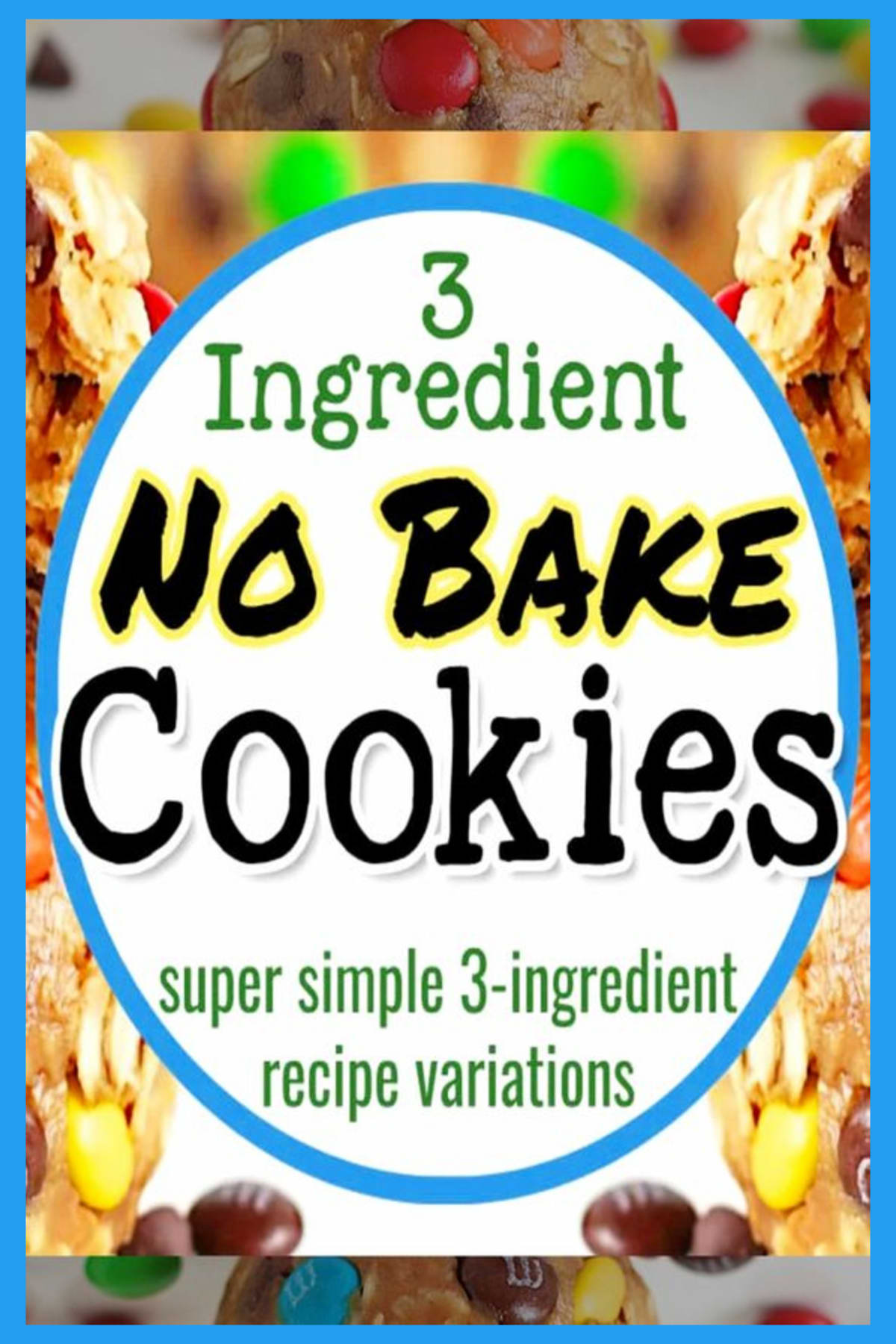 Welcome to Life Hacks for Moms - we hope you enjoy all our tips and tricks for busy moms! Please note that we use affiliate links and ads to generate income at no cost to you.
---
On this page you'll find:
No bake cookies without oatmeal,
no bakes without cocoa or milk,
3-ingredient cookie with or without peanut butter
and, of course, the classic 3-ingredient no bake cookie recipe that you can modify to make vegan, Keto or sugar free or whatever healthy style or sweet and fast No Bake cookies YOU want.
When it comes to 3 ingredient no bake desserts, COOKIES are the family favorite around here.
For example, this no bake cookie recipe below: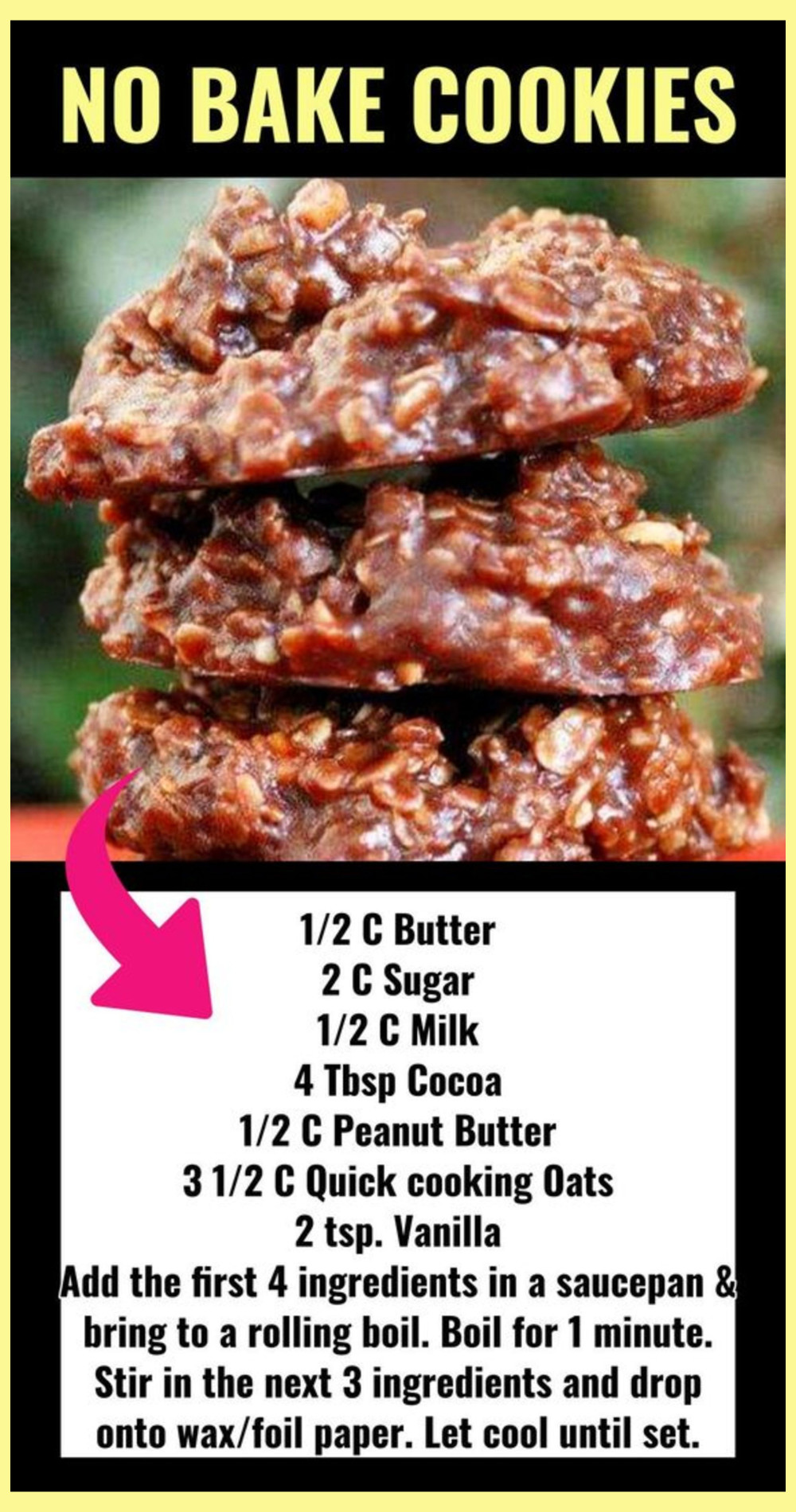 Now that recipe requires a few minutes of stove top cooking, but they're still No BAKE.
Naturally, I love making these super simple 3 ingredient no bake cookies, too – because… NO BAKING is required.
No bake cookies are one of my favorite quick sweet snacks I can make for the kids – or for ME – when I don't have TIME to bake.
(I'm ALL about making mom life easier!)
3-Ingredient No Bake Cookies
Alrighty, let me share my favorite EASY No Bake cookie recipes that have only 3 ingredients.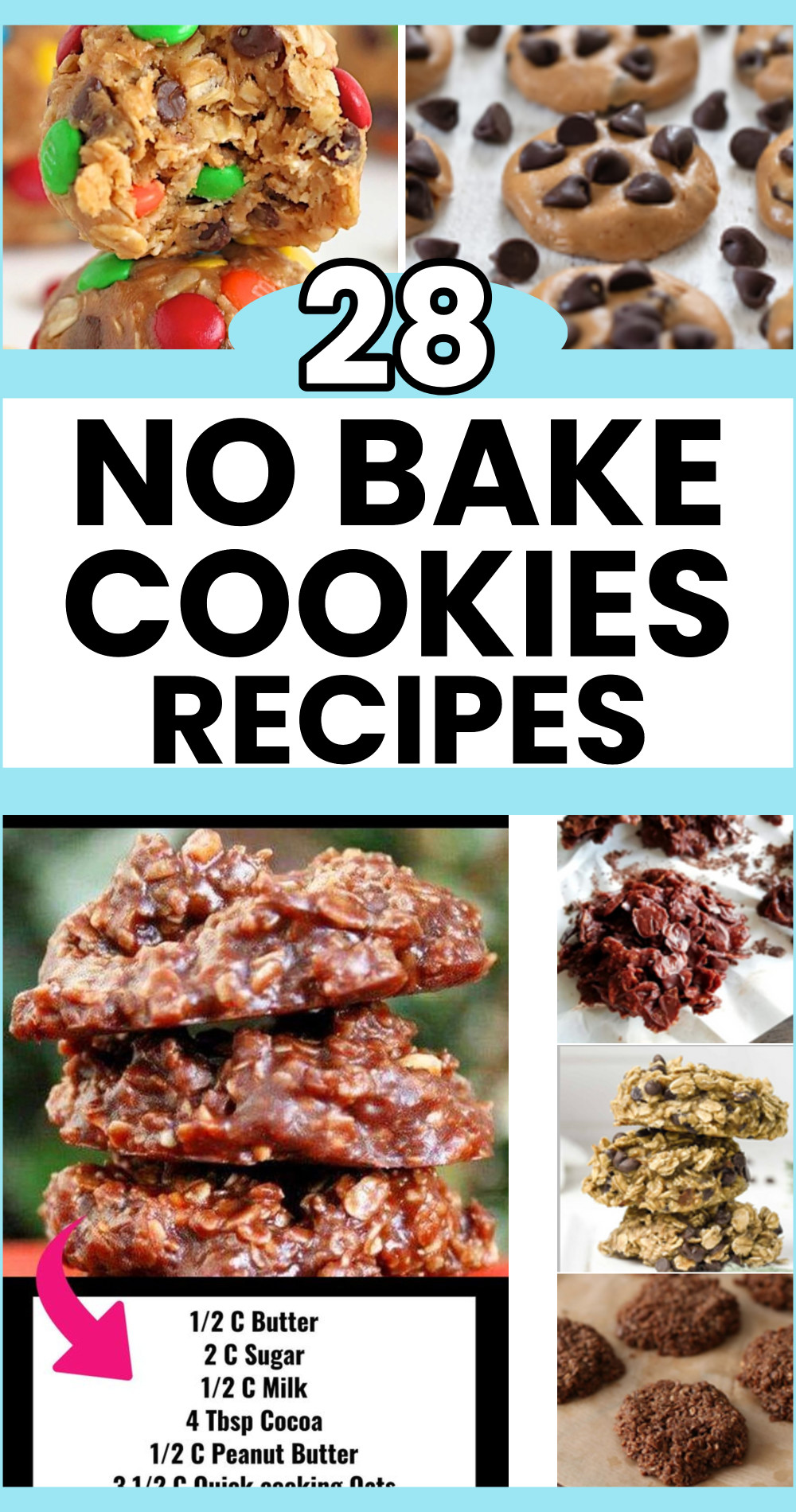 3-Ingredient No Bake Cookie Recipes on this Page:
3-Ingredient oatmeal cookies (no banana)
3-Ingredient no bake cookies without peanut butter
3-Ingredient no bake chocolate cookies
No bake oatmeal cookies (healthy)
3-Ingredient no bake cookies without oatmeal
No bake peanut butter oatmeal cookies
3-Ingredient peanut butter oatmeal cookies
4-Ingredient no bake cookies
2-Ingredient no bake cookies
3-Ingredient no bake oatmeal banana cookies
I've got a fantastic no bake oatmeal cookie, a 3-ingredient chocolate cookie recipe that is also no bake but those cookies are WITHOUT oatmeal and WITHOUT peanut butter.
It's rare to find a no bake cookie recipe that does not have peanut butter and/or oats as one the ingredients since the classic no bake cookie uses those ingredients, but I've found some really good ones that are definitely worth trying.
Classic 3-Ingredient No Bake Cookies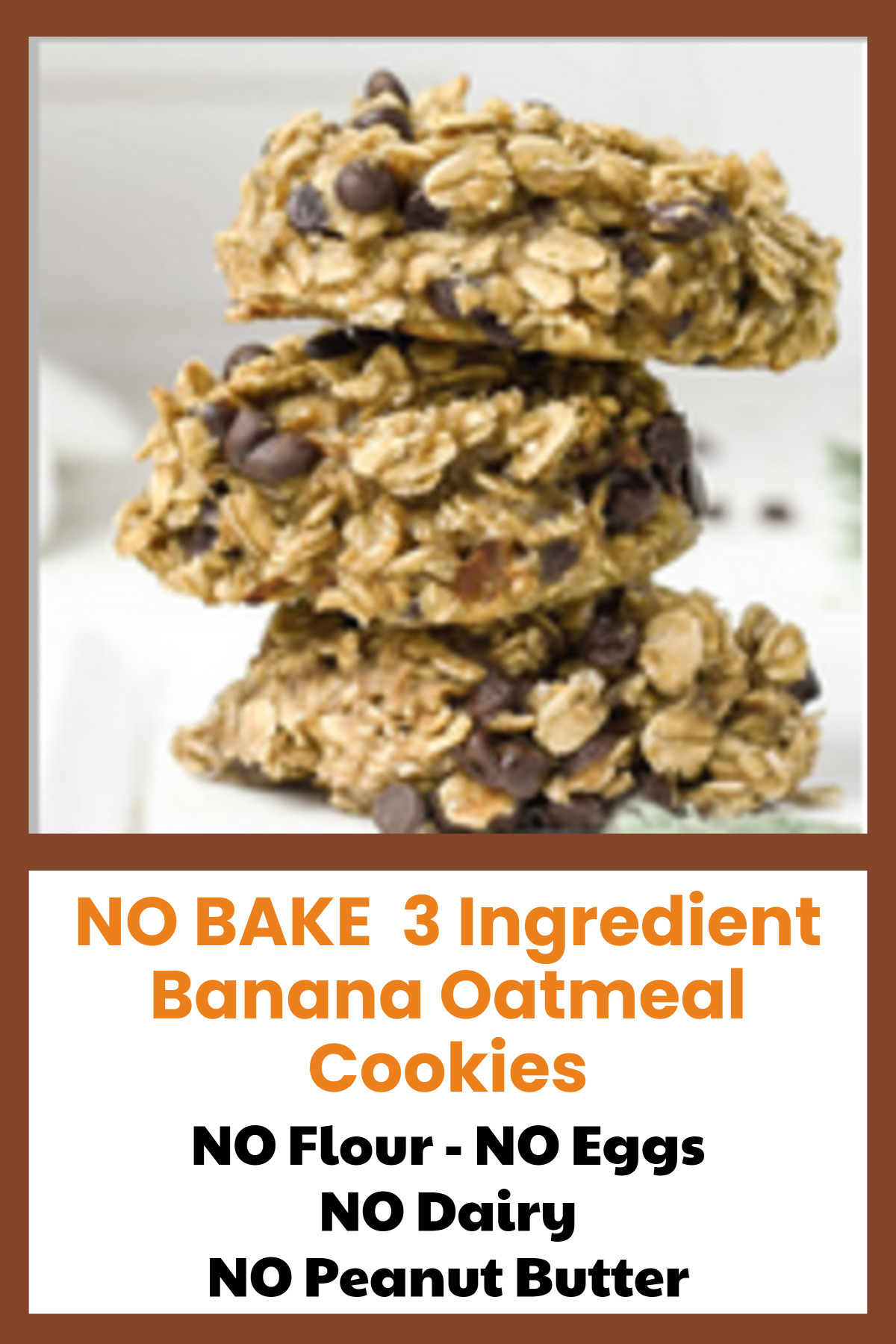 This three-ingredient oatmeal banana cookie recipe below is my personal favorite and they're pretty healthy too if you choose a healthy style of chocolate chips like her recipe calls for.
To make these easy 3-Ingredient No Bake Cookies you will need:
2 cups old fashioned oatmeal
3 ripe bananas
1/3 cup mini chocolate chips
These banana oatmeal cookies have no flour, no eggs, no dairy and no peanut butter – just the 3 simple ingredients above.
☑ Can I make No Bake cookies without oatmeal?

Yes, you can make no bake cookies without oatmeal. A great substitute for oatmeal is corn flakes (see recipe below) or you can make no bake cookies without any grains or oats at all.
3-Ingredient Peanut Butter Cookies
I know this page is supposed to be only about NO bake cookies, but this 3-ingredient peanut butter cookie is too good to not share with you.
Only 3 simple ingredients: peanut butter, sugar and an egg and then you bake them for a few minutes at 350.
Not quite as awesome as no baking at all, but SUPER simple to make… and they are SO good!
Totally worth pinning to Pinterest to be sure you have this recipe.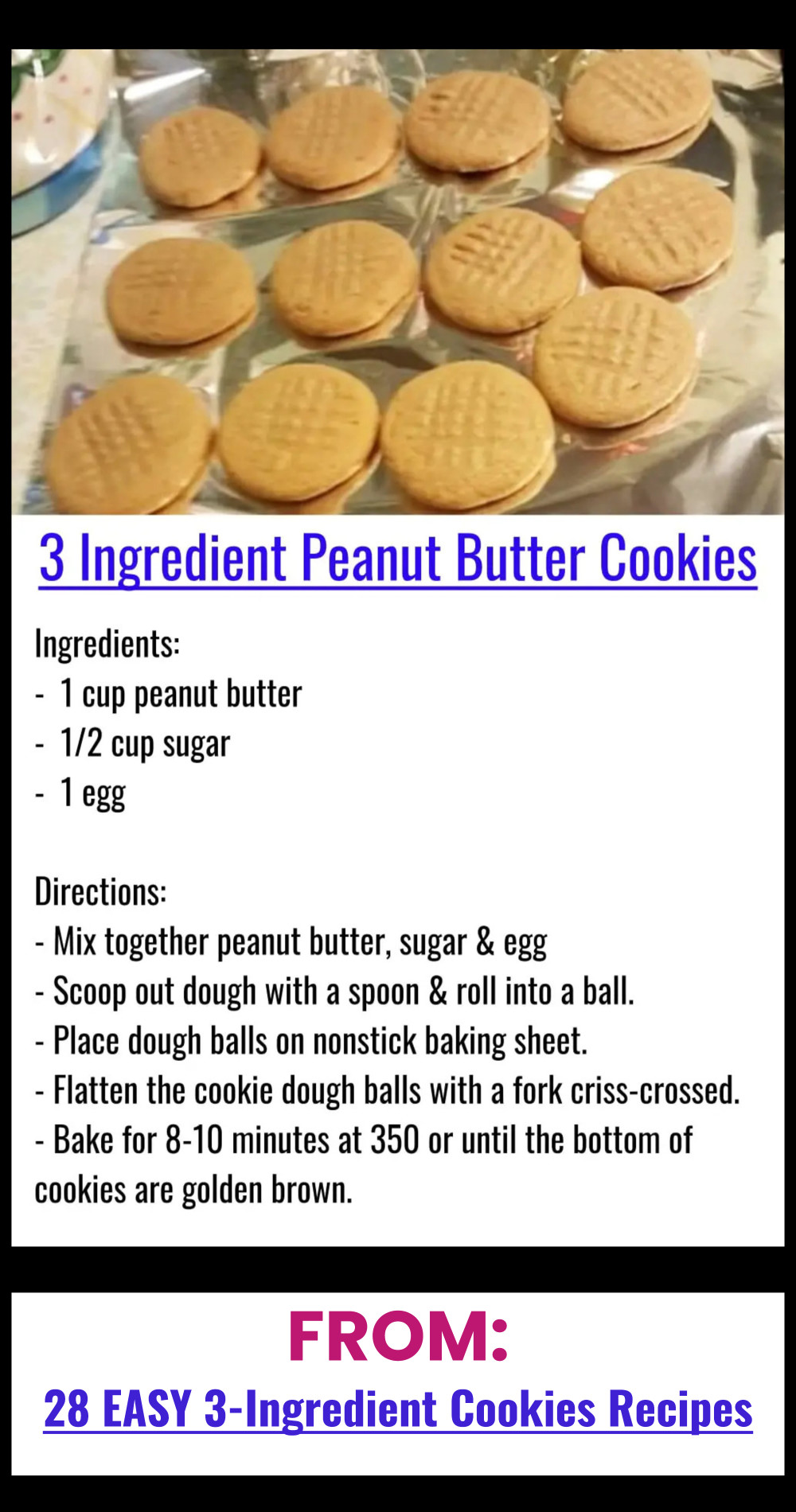 No Bake Chocolate Cookies
Most 3 ingredient no bake chocolate cookie recipes use oatmeal and/or peanut butter, but not this recipe below.
My favorite no bake chocolate cookies are made WITHOUT oatmeal and WITHOUT peanut butter… and you won't believe what she uses instead.
The only 3 ingredients for these no bake cookies WITHOUT oatmeal are:
Hershey's chocolate chips
butter

and…

CORNFLAKES!
Yes, cornflakes breakfast cereal.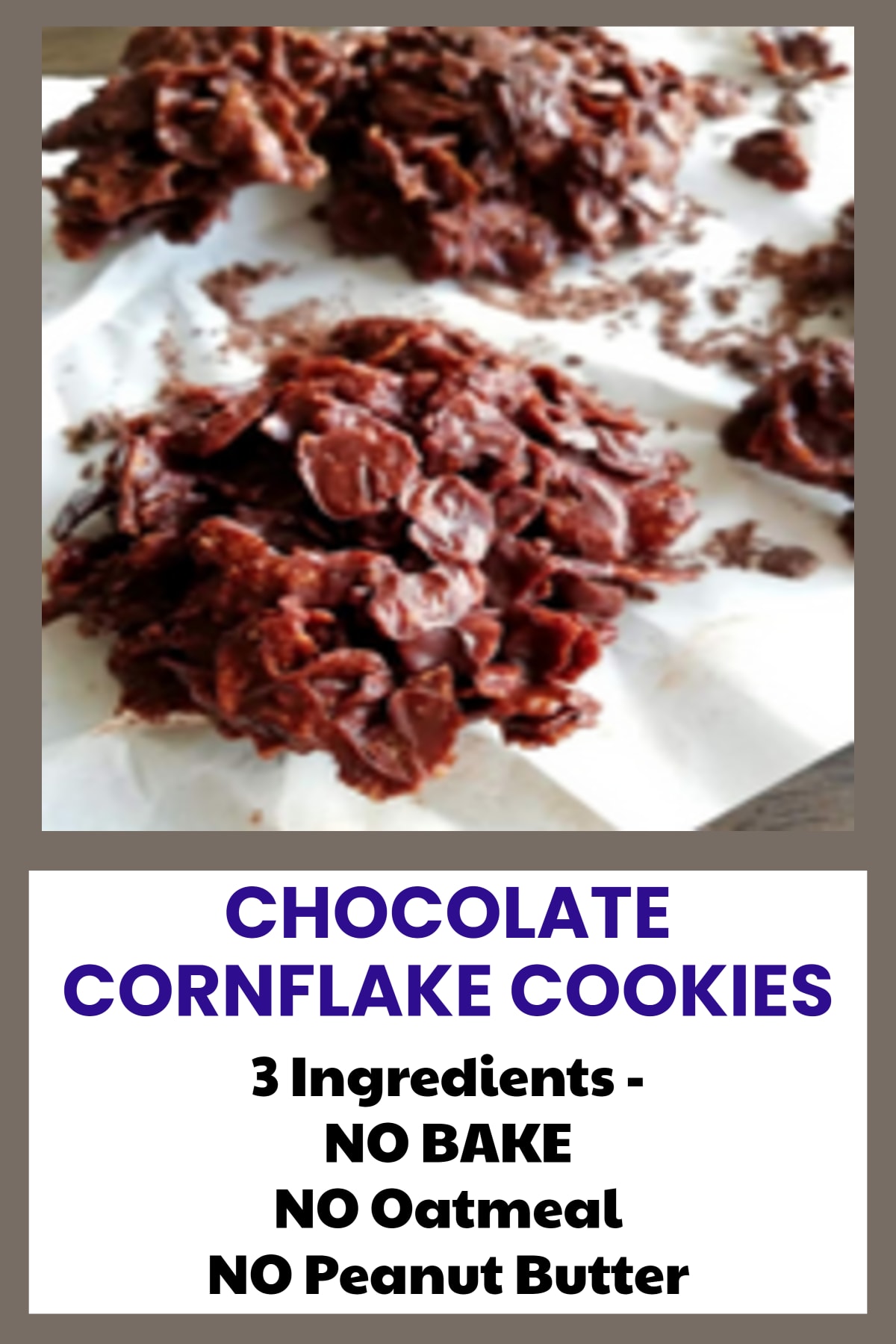 My kids LOVE these no bake cookies – and I really do too.
I also make a multiple batches of these 3 ingredient cookies and my famous Dump Cakes over Christmas and the holidays – everybody wants them!
Trust me, they are DELICIOUS!
They are just about famous at my neighborhood party!
 3-Ingredient Slow Cooker RecipesShow Me This The Best 3-Ingredient CookbookShow Me This
☑ Why do my No Bake cookies NOT get hard?

If your no bake cookies are not getting hard and are still gooey it is because you did not let them chill and set long enough. Put your cookies back in the refrigerator for another hour. If your cookies are still not set with the consistency of a baked cookie it's because you did not heat and mix your ingredients, and ingredient amounts, properly. If your no bake cookie recipe calls for boiling the 3 ingredients, do not count boiling time until the mixture has come to a full boil and then time for 1-2 minutes.
No Bake Chocolate Chip Cookies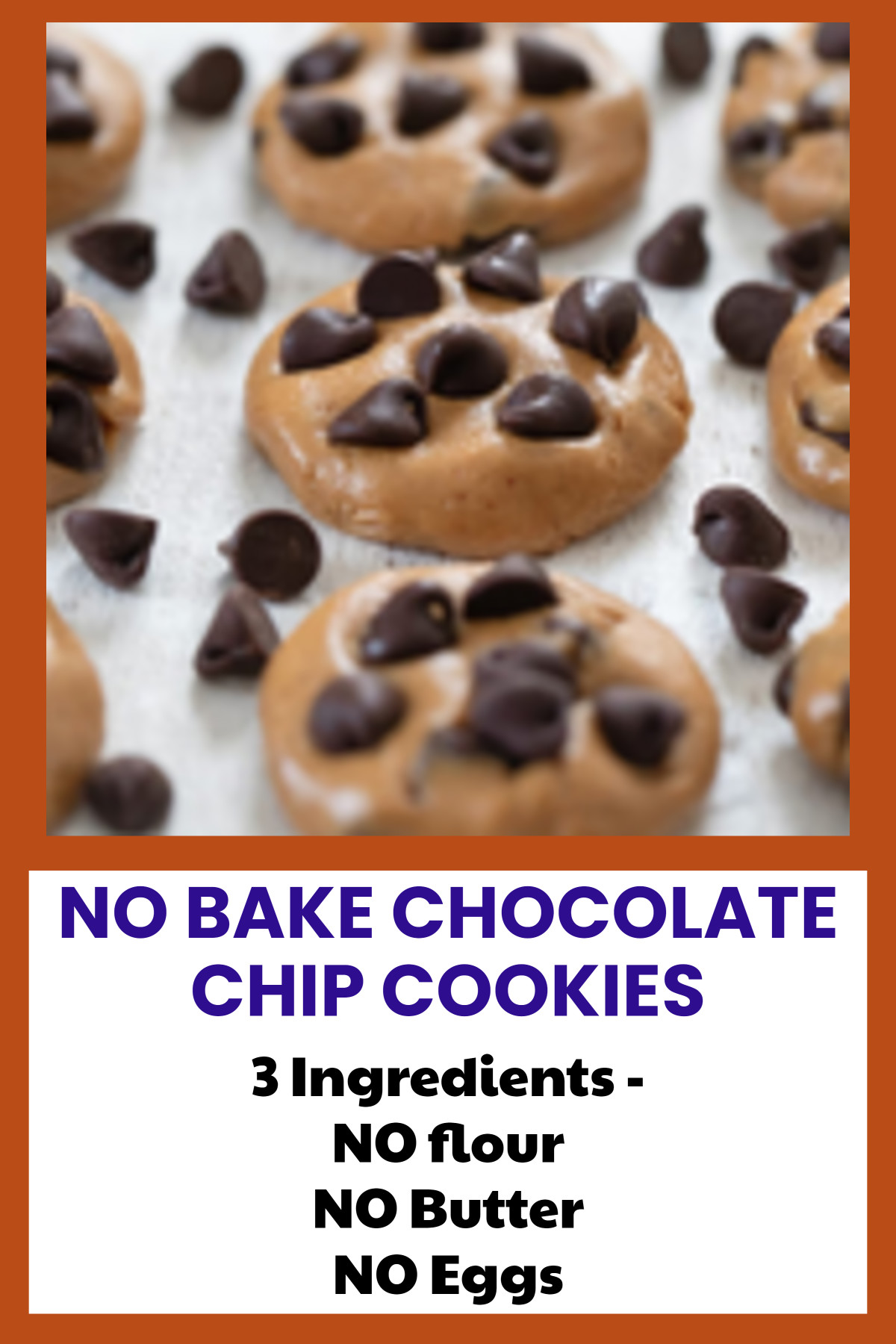 You simply canNOT talk about the best no bake cookies without a recipe for 3 ingredient no bake chocolate chip cookies, right?
This no bake chocolate chip cookie recipe below is my personal favorite.
The only three ingredients you'll need are peanut butter, maple syrup and chocolate chips.
You can also use almond butter or cashew butter depending on your preference or dietary requirements.
☑ How long does it take for No Bakes to harden?

Leave your no bake cookies formed on the sheet pan to set for about 40 minutes and then put them in the refrigerator to harden for 20 minutes.
Original Version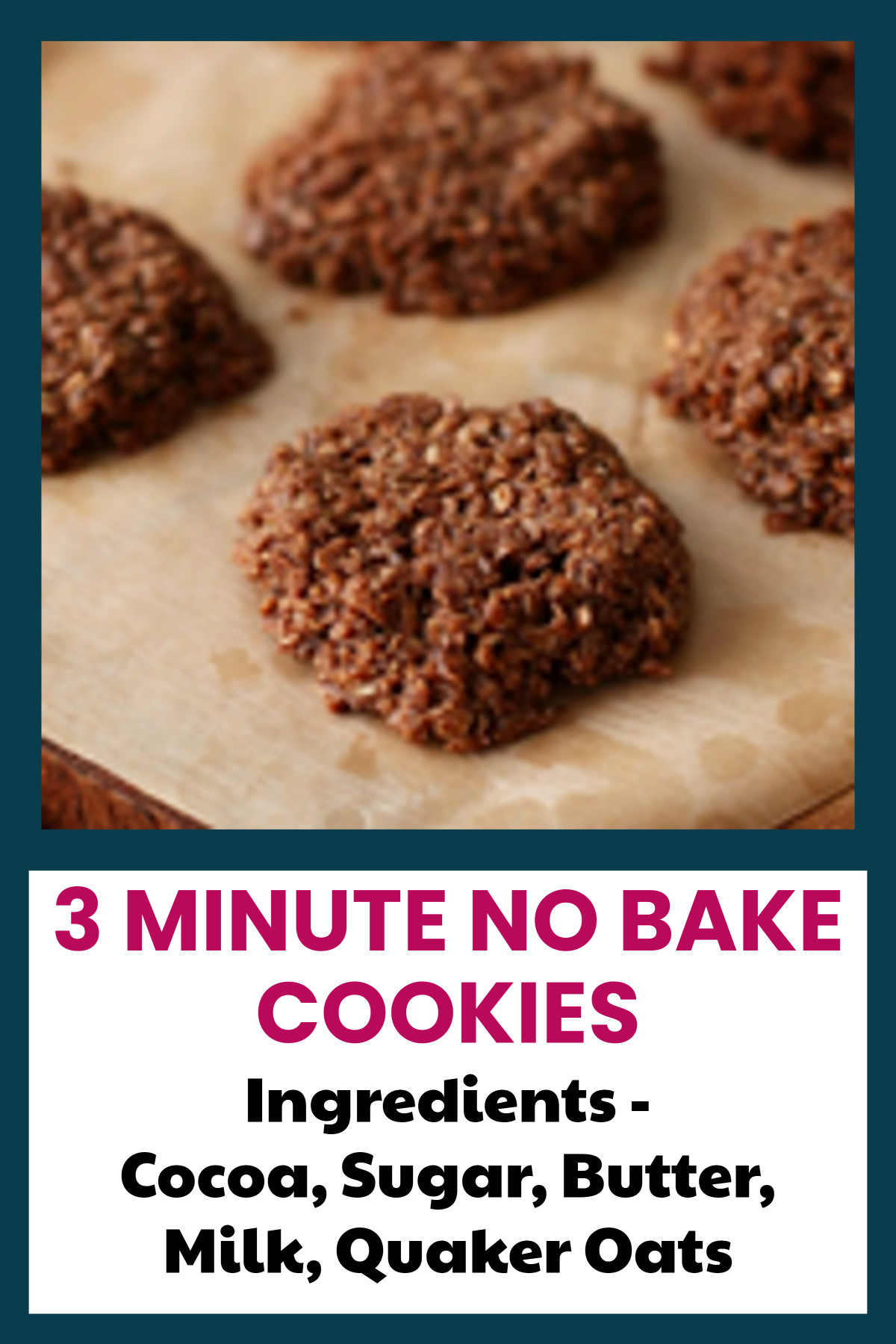 The original cookie recipe came from Quaker Oats – BUT – that classic recipe has FIVE ingredients.
To make this original version you will need:
2 Cups Sugar
1 Stick Butter
1/2 Cup Milk
1/3 Cup Cocoa
3 Cups Old Fashioned Quaker Oats
Here's the full recipe with a full tutorial:
WITHOUT Peanut Butter
I found this list of recipes below that has multiple no bake cookies without peanut butter as one of the 3 ingredients – they all look really good, too!
WITHOUT Oatmeal
It's tough to find a no bake cookie recipe WITHOUT oatmeal or oats in the ingredients, but they do exist haha!
Other than my no bake chocolate cookie recipe above, here are more no bake cookie recipes that do NOT have oats as an ingredient.
☑ Can I freeze No Bake cookies?

Yes, you can freeze No Bake cookies. For best results, place your formed no bake cookies on a tray, plate or container where the cookies do not touch each other (you can layer with wax paper or parchment paper) and put in the freezer. After 2-3 hours, your No Bakes will be frozen and can be put in baggies or sealed containers where the cookies CAN touch.
No Bake M&M Cookie Balls
I've saved the very best No Bake cookie recipe for last.
Why?
First off, they are SO good!
Not only do the grown ups AND kids love them, but I make them for my work party each year (and there are NEVER any left!)
Secondly, these no bake cookies have more than 3 ingredients, and this page is about THREE ingredient no bake cookies, but I have to share this recipe variation because they're so good AND so easy to make.
Just LOOK at these No Bakes – don't you want to eat them right now!??!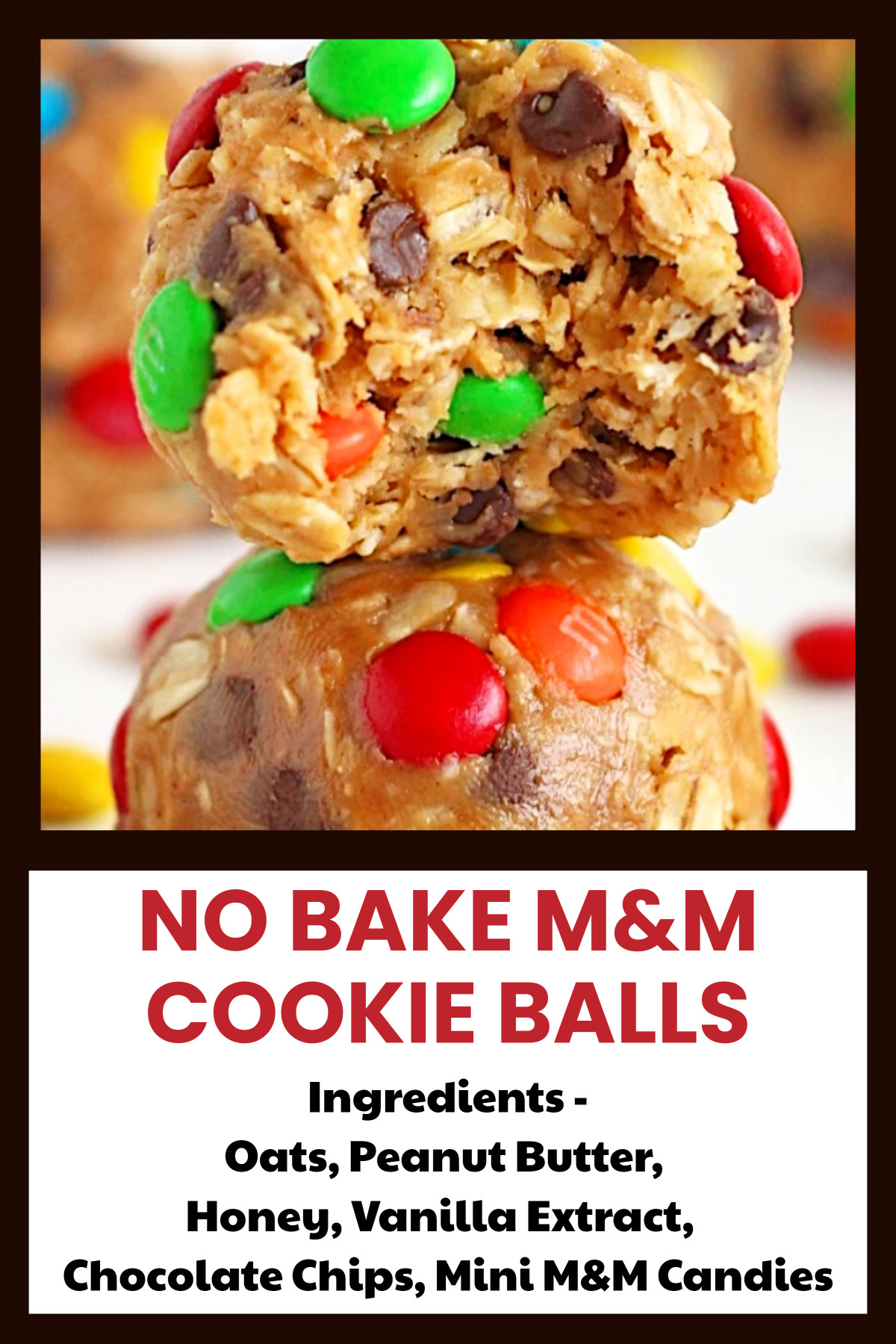 The ingredients are:
Oats
Peanut Butter
Honey
Vanilla Extract
Mini Chocolate Chips
Mini M&M Candies
Oh, yes, they are a sweet treat and not necessarily "healthy" either – but they're not THAT unhealthy either.
Just put all the ingredients into a bowl and mix it all together.
Roll the No Bake cookie dough into balls and put on a lined baking sheet – then harden them in the refrigerator for about 45 minutes.
That's it!
You can print the recipe here.
No Bake Oreo Cookies
These no bake cookies aren't really a way to MAKE Oreo cookies, but the recipe uses Oreo cookies.
He calls them 3 Ingredient No Bake Oreo Truffles – but whatever you call them, they are flat out delicious.
His recipe calls for Oreo cookies, cream cheese and white chocolate.
You have GOT to try them!
More 3-Ingredient Cookie Recipes
If you're ok with popping some super simple cookies into the oven, here are 3 more easy 3-ingredient cookie recipes that DO require baking.
Even though I mainly have NO BAKE cookies on this page, these three ingredients cookies are definitely worth sharing – they are SO GOOD.
3-Ingredient Food Ideas
If you love simple 3-ingredient recipes and no bake desserts as much as I do, check out these other no bake desserts, 3 ingredient fudge, easy potluck finger food / appetizers and more that all only have three simple ingredients in the recipes and/or require no baking.
 Best Ever Three & Four Ingredient Cookbook: 400 Fuss-Free And Fast Recipes – Breakfasts, Appetizers, Lunches, Suppers And Desserts Using Only Four Ingredients Or LessShow Me This AS EASY AS ABC!: Three Ingredient Dessert CookbookShow Me This Fantastic 3-Ingredient Recipes: Quick and Easy Family Meals for Super MomsShow Me This Ketogenic Diet Box Set 5 Books in 1: Vol. 1: Ketogenic Diet for Beginners; Vol. 2: Slow Cooker Recipes; Vol. 3: 5 Ingredient Recipes; Vol. 4: 30-Minute Meals;: Vol. 5: Ketogenic Dessert RecipesShow Me This Cooking 1-2-3: 500 Fabulous Three-Ingredient Recipes (1-2-3 Cookbook)Show Me This Copycat Recipes Box Set 3 Books in 1: Making Restaurants' Most Popular Recipes at HomeShow Me This
Miss Anything?
Pin For Later?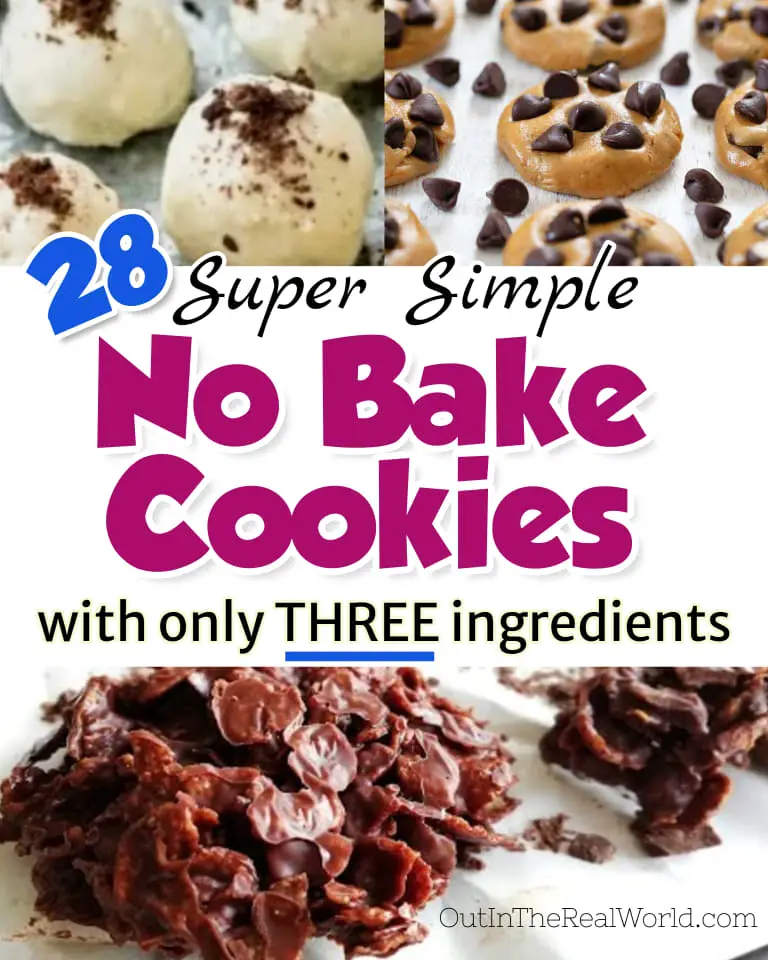 What To Read Next: