---
Here's a new frosting recipe I've added to my favorite recipes recipe file… chocolate chip cookie dough frosting! This is my family's FAVORITE cupcake icing EVER. How can you possibly go wrong with cookie dough AND chocolate chips, right? Right! I even have an alternative gluten-free recipe down below for this chocolate chip cookie dough recipe too!
I've found a few chocolate chip cookie dough icing recipes online, but this one below tastes the best (many others I've tried taste too pasty and "flour-y", if that makes sense). This one is just right – not TOO sweet but plenty sweet enough and does NOT have that "too much flour" taste and texture to it.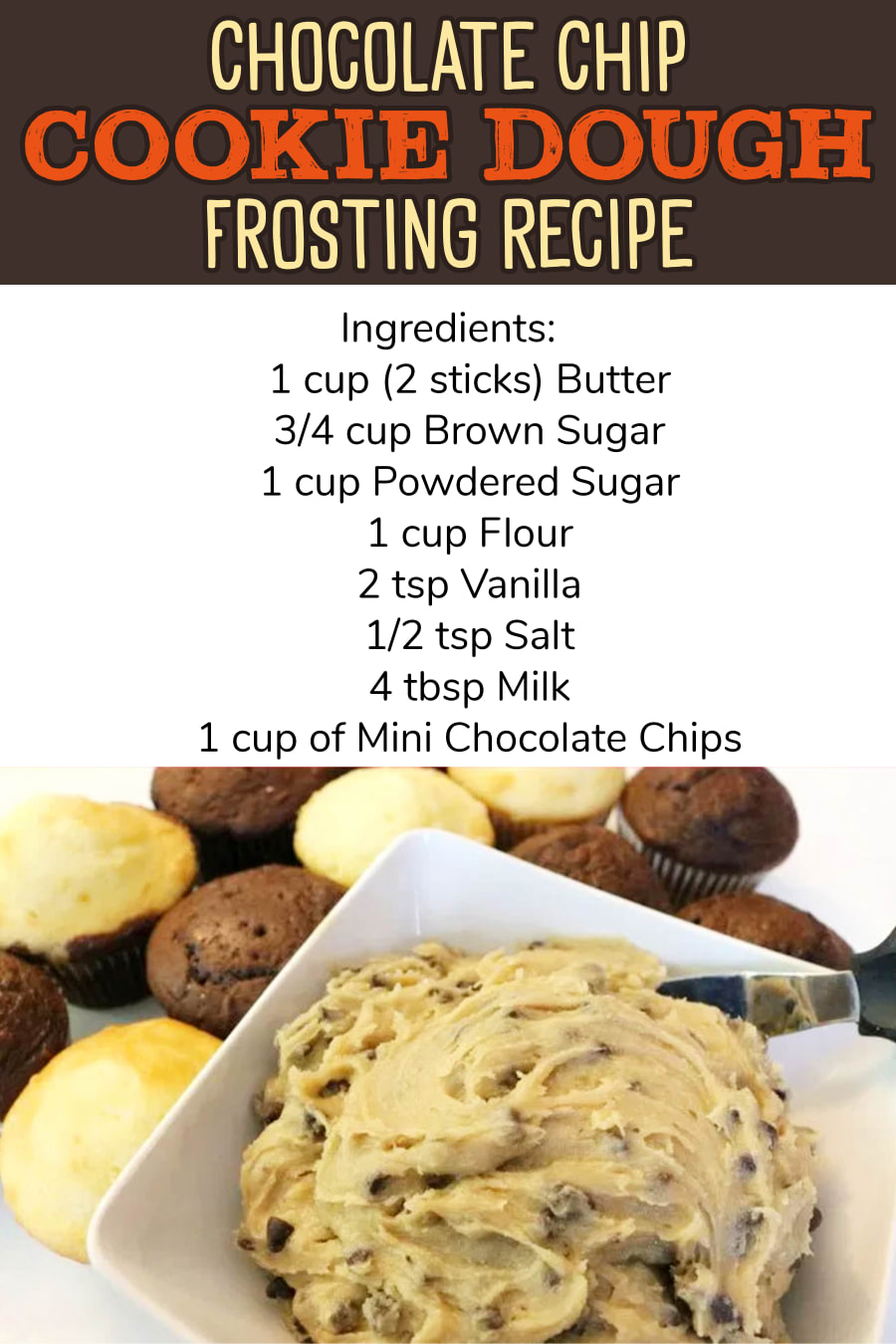 Welcome to Life Hacks for Moms - we hope you enjoy all our tips and tricks for busy moms! Please note that we use affiliate links and ads to generate income at no cost to you.
---
Before I share the recipe, let me give you a few tricks I've learned about this frosting recipe that might help you.
1. Be very careful when adding the milk!
While you can add up to 1/4 cup of milk, I highly recommend adding the milk one tablespoon at a time to you don't risk the icing getting to watery.
I've found that about 2 tablespoons of milk is usually plenty when I make it.
2. If you plan to ice a cake with this homemade frosting recipe, keep in mind that the chocolate chips will tear your cake up as you ice it.
I tried freezing my cake layers first and that kinda helped, but I had much better results NOT putting the chocolate chips in the frosting mix, icing the cake and THEN sprinkling the chocolate chips on the cake.
If you just plan to use this chocolate chip frosting between the layers of your cake or as cupcake frosting, don't worry about it and just go for it.
3. This frosting recipe is not JUST for icing cakes and cupcakes!
I'll make a bowl of this, chill it and then set it out as a sweet treat fingerfood with some graham crackers or sugar cookies. The crowd goes WILD when I do this!
4. If you want this frosting to have more of a cookie dough texture, use less powdered sugar and more regular white sugar.
5. If you want/need to make this frosting dairy-free, you can use almond milk instead (and it still tastes great).
6. A fun twist on this chocolate chip cookie dough frosting recipe is to make the frosting, put in the fridge to chill it well, and then take little scoops and form them into balls you eat like candy or like fudge. Oh yum!!!
7. Since the frosting recipe has milk in it, it's a really good idea to refrigerate anything you ice with it. Always best to be on the safe side.
8. If you're icing cupcakes, one batch of this frosting is enough to frost 18 cupcakes easily. If you're making more cupcakes than that, either use your frosting sparingly or make 2 batches.
I recommend making 2 batches because, let's be honest, you're GOING to eat some along the way!
Ok, here's the recipe for you to print:
Need to make your chocolate chip cookie dough frosting gluten-free?
Here ya go!
---
---
More Sweet Treats and Dessert Recipes You'll Love: