---
Easy Chicken Recipes For Dinner with FEW Ingredients – Try These Quick & Easy Chicken Recipes For Dinner TONIGHT-
Need some simple, quick and downright EASY chicken recipes ideas to make tonight?
I have found quite a few delicious and downright simple chicken recipes with very few ingredients below that are perfect if you're needing some chicken breast inspiration.
Whether you're cooking for 2 or for a crowd, want to bake your chicken in the oven, want a chicken sheet pan dinner idea, or want to cook your chicken in your air fryer – you are sure to find some delicious, quick and easy chicken dinner recipes in our chicken dishes list below.
Welcome to Life Hacks for Moms - we hope you enjoy all our tips and tricks for busy moms! Please note that we use affiliate links and ads to generate income at no cost to you.
---
Easy Chicken Recipes For Dinner
Whether you're cooking dinner for two or more, these top-rated easy chicken breast recipes below have very few ingredients (all recipes found on this page below).
12 Quick and Easy Chicken Recipes For Dinner:
Quick and Easy 4-Ingredient Parmesan Chicken
4-Ingredient Chicken Bake
3-Ingredient Brown Sugar Chicken
2-Ingredient Instant Pot Italian Chicken
Easy No Peek Chicken Dinner
Lemon Pepper Chicken Breasts
Teriyaki Chicken Breast Foil Packs
2-Ingredient Slow Cooker Chicken Recipe
Baked Boneless Chicken Breast Recipe
Honey Garlic Chicken Breast
Chicken Rice and Broccoli Recipe
Easy Chicken Casserole Recipe
These are simple easy recipes anyone can make (some are chicken breast recipes for your air fryer others are cooked in the oven).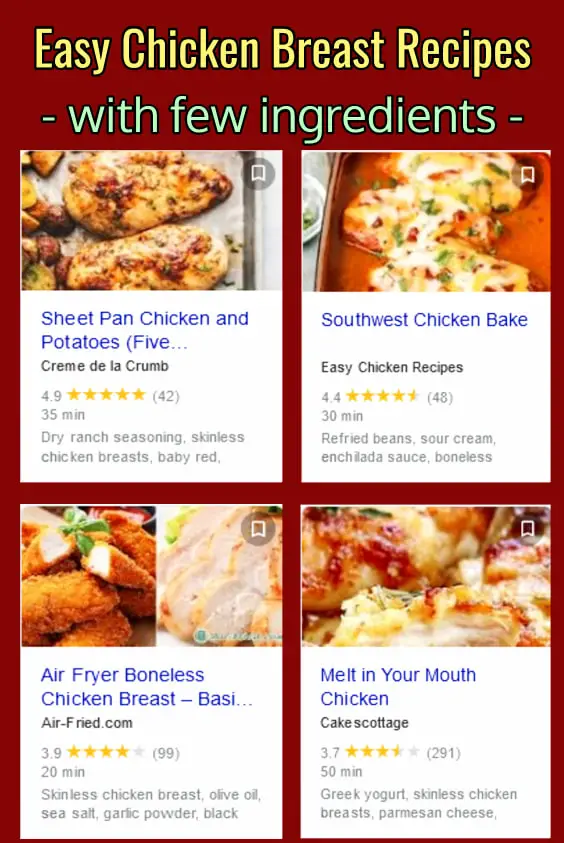 ✅ Few Ingredients Recipes
Here's the 4 chicken breast recipes from the image above – there are MANY more chicken recipess with few ingredients down below.
---
Sheet Pan Chicken and Potatoes
---
---
Air Fryer Boneless Chicken Breasts
---
Melt In Your Mouth Chicken Breasts
---
Chicken Dinner Ideas
In the list of recipes below, you will find super simple chicken dinner ideas and recipes that all have few ingredients and are fast to make – perfect for busy day dinner ideas (and yes, even the picky eaters will love them too!
4-Ingredient Parmesan Chicken Breasts
This next easy chicken breast recipe is my own – and I REALLY need to take pictures of it (and I will soon).
The beautiful part of this simple chicken dinner recipe is that I use FROZEN chicken breasts.
Actually, I make this 4-ingredient chicken recipe with frozen chicken breast tenderloins (they're smaller and cook faster, but you can use full-sized frozen chicken breasts if you prefer – just adjust your cooking time to be sure your chicken breasts are cooked thoroughly).
Ingredients:
All you need to make my yummy 4-Ingredient Parmesan Chicken is:
Frozen Chicken Breast Tenderloins
Mayonnaise
Seasoned Meat Tenderizer
Grated Parmesan Cheese
Yep, that's IT!
You probably have those four ingredients in your kitchen right now, don't ya?
---
Easy Few Ingredient Parm Chicken Recipe:
Here's how to make my quick and cheap 4-Ingredient Parmesan Chicken for dinner –
---

Preheat your oven to 350 degrees

---

Line a baking sheet with parchment paper


Trust me on this – it gets messy and you don't want to clean an unlined pan

---

Place your frozen chicken breast tenderloins on the lined baking sheet

as many chicken breast pieces that fit or as many as you want

---

Liberally sprinkle seasoned meat tenderizer over the chicken

I don't have an exact measurement for this, but just sprinkle away – can't do it wrong

---

Take a spatula and coat chicken breasts with mayo

I probably use about one cup of mayo for a full baking sheet of chicken breasts, but don't worry about amount – just coat the tops of the chicken. Be sure to put the mayo in a separate bowl – don't be dipping your spatula back in the mayo container after touching the chicken with it!

---

Sprinkle grated Parmesan cheese all over the chicken breasts

I use one of those 2 cup bags of grated Parmesan

---

Put the baking sheet in the oven

---

Cook for about 35-45 minutes – all depends on your oven

---
When it's done, you CAN sprinkle the jar type of dry Parmesan on top for an extra kick, but not necessary.
Sometimes, during the last 10 minutes or so of cooking, I'll sprinkle some grated mozzarella cheese on top if I have it.
This chicken breast recipe is SOOOO stinkin' good – and so simple.
I also use this same concept for those thin, boneless pork chops – YUM! (but I do NOT use frozen pork chops – I make sure they are fresh or defrosted first)
Here's a variation of my recipe that also includes garlic (we're not big garlic eaters around here).
But, this is how my 4-ingredient parmesan chicken looks when it's done:
Wait… MAYO cooked on CHICKEN BREASTS?!?!!?
Everyone asks me that…lol!
Yes, MAYO cooked on chicken breasts!
The mayo makes the baked chicken SO moist and adds such a nice flavor – it does NOT taste like mayo when it's cooked in.
Remember, mayo is an oil – it makes the chicken – and the pork chops – so moist, tender and YUMMY!
Quick and EASY Chicken Recipes for Dinner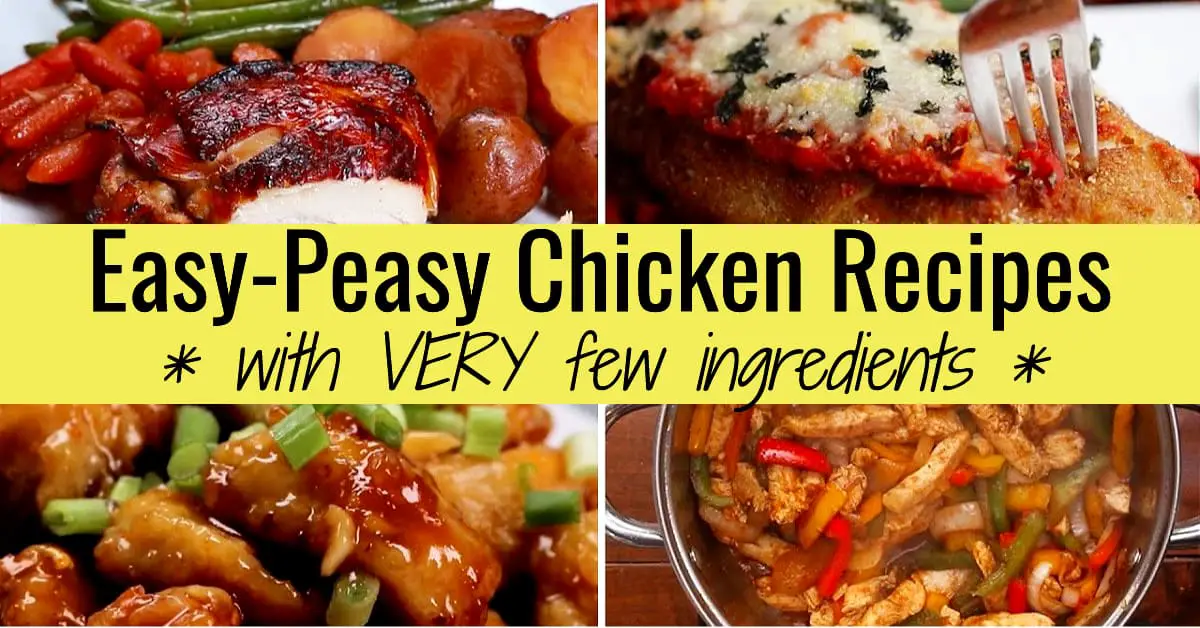 Whether you're cooking for two or making dinner for the whole family, these quick and easy chicken recipes are perfect ideas for dinner tonight!
Like these other easy dinner recipes with few ingredients, these below are only chicken recipes.
Easy Chicken Recipes For Two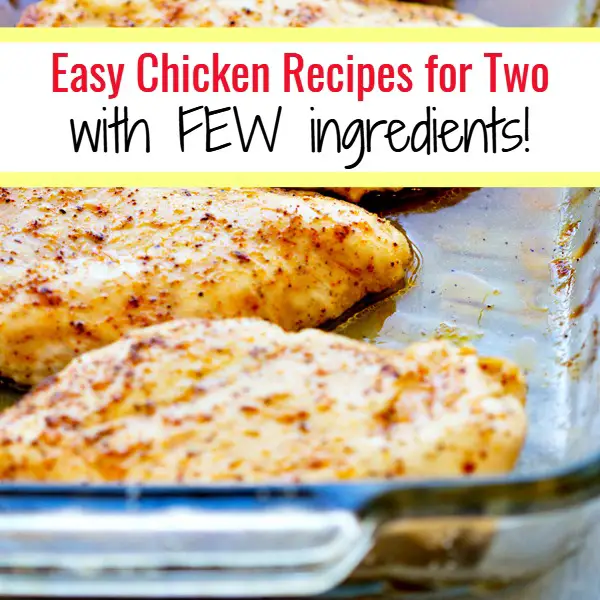 If you want some simple things to make with chicken or are cooking dinner for two on a budget, here's some easy chicken dinner recipes that are perfect portions for 2 people.
No Peek Chicken
This super simple chicken dinner recipe is perfect for 2 people!
Just a few simple ingredients, takes about 10 minutes to throw together, then just pop it in the oven.
Delicious!
Lemon Pepper Chicken Breasts
Another quick and easy chicken breast recipe that only has a few ingredients that you can put together in about 5 minutes.
Teriyaki Chicken Breast Foil Packs
You wanna talk an EASY chicken dinner recipe idea for two – you gotta try these teriyaki chicken breast and vegetable foil packs.
You just pop your chicken and any vegetables you want into a piece of aluminum foil, season it, wrap the foil up and pop it in the oven.
Easy-peasy and SO good!
Easy Instant Pot Chicken Recipes
If you love cooking with an Instant Pot (like I do!), you will love all these easy Instant Pot chicken recipes.
4-Ingredient Chicken Bake
This 4-Ingredient Chicken Bake recipe looks amazing! To top it all off, it's BACON RANCH – yummy!
---
3-Ingredient Brown Sugar Chicken
This 3 ingredient baked chicken will become your go-to favorite easy dinner recipe!
All you need is chicken, brown sugar and a pack of dry Italian seasoning!
2-Ingredient Slow Cooker Chicken Recipe
If easy chicken recipes with few ingredients is your goal – how about this TWO ingredient crock pot chicken recipe?
Yep, just TWO ingredients! Chicken breasts and Italian dressing.
Just put the chicken and Italian dressing in your slow cooker around lunch time and dinner will be ready when YOU are ready.
2-Ingredient Instant Pot Italian Chicken
That same slow cooker recipe above can also be cooked in your Instant Pot.
That makes this chicken breast recipe not only easy but FAST when you need dinner in a hurry!
Baked Boneless Chicken Breast Recipe
These baked boneless chicken breasts are SO good and super easy to make!
"Learn how to make the most flavorful, tender and juicy baked chicken breasts – no more dry chicken! With a five minute prep time and just 20 minutes in the oven, you'll have this dinner on the table in less than 30 minutes."
Honey Garlic Chicken Breast
I LOVE honey garlic chicken and this easy chicken recipe only has 5 ingredients!
"sticky and easy honey garlic chicken made fast and simple, with the most amazing 5-ingredient honey garlic sauce that is so good you'll want to use it on everything!"
Chicken Rice and Broccoli Recipe
This is a YUMMY and very easy chicken recipe that is perfect when cooking for two (and you'll have some leftovers for dinner tomorrow night, to take for lunch the next day, etc)
"This is a delicious twist to broccoli, rice, and cheese casserole, and is VERY easy to make. You can also cut this in half. I use the 1 can cream of mushroom soup when I make half. You can also leave out the onion. It just gives it a little added flavor, but is still very good without it."
Easy Chicken Casserole Recipe
Out of all the easy chicken casserole recipes with few ingredients, this one is my favorite!
If you like chicken and cheese and DORITOs, you will love this easy chicken recipe with few ingredients.
More Easy Dinner Ideas
Miss Anything?
Go back to the top of: ==>> Easy Chicken Recipes For Dinner with Few Ingredients
Go back to a specific section: