---
Cooking for Two on a Tight Budget – Quick, cheap and YUMMY dinner and meal recipes for two – lots of creative dinners and meals for 2 people who are cooking on a VERY tight budget.
From creative budget friendly meals for two to quick and easy dinners on a budget, below are the yummiest weeknight dinners for two people we have tried.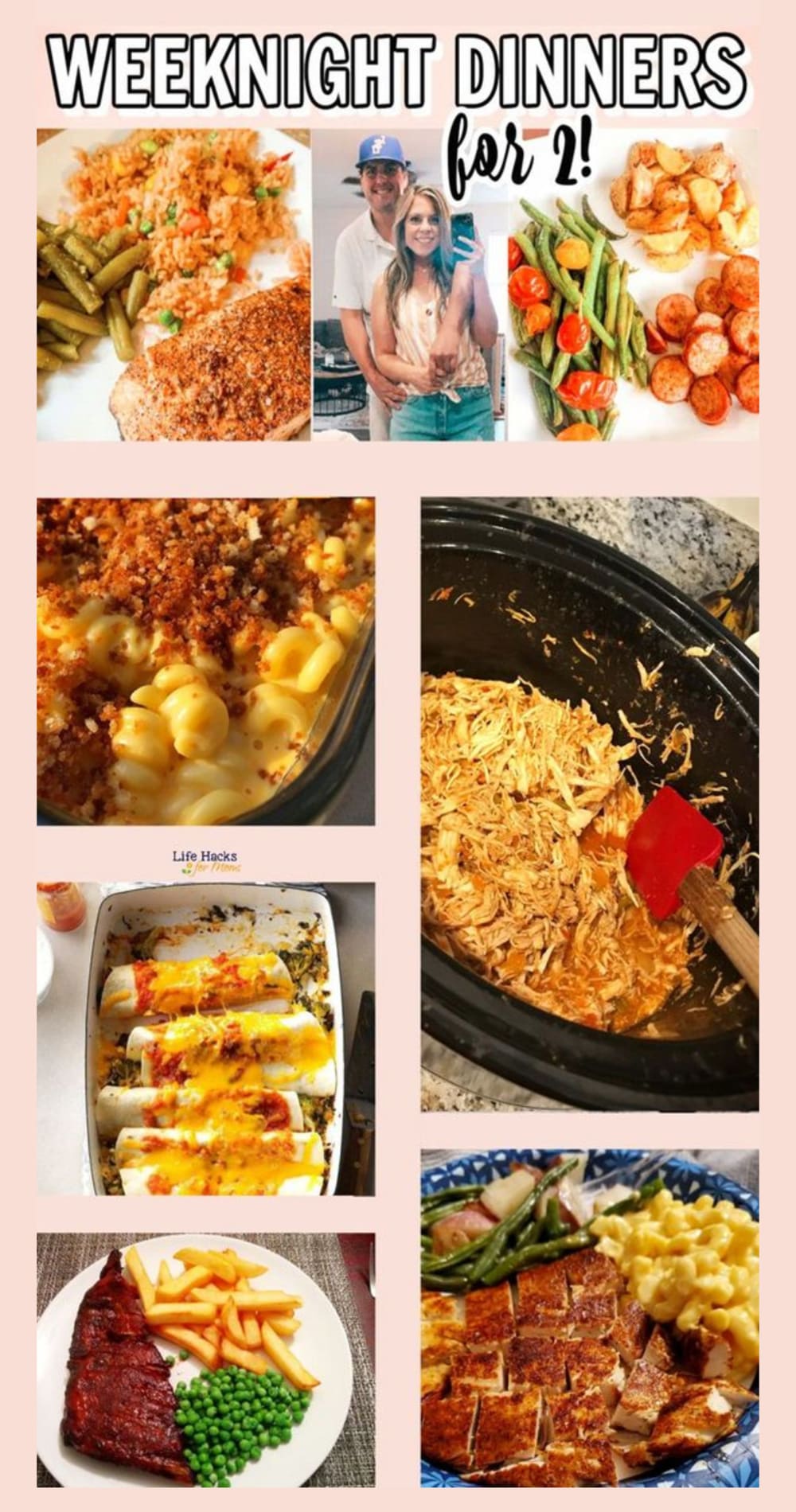 Welcome to Life Hacks for Moms - we hope you enjoy all our tips and tricks for busy moms! Please note that we use affiliate links and ads to generate income at no cost to you.
---
Quick Easy Dinner Recipes For Two
When you're cooking for 2 on a budget, these is NOTHING better than a quick &easy dinner recipe that never fails AND is cheap to make.
This One Pan Chicken and Veggies is our favorite: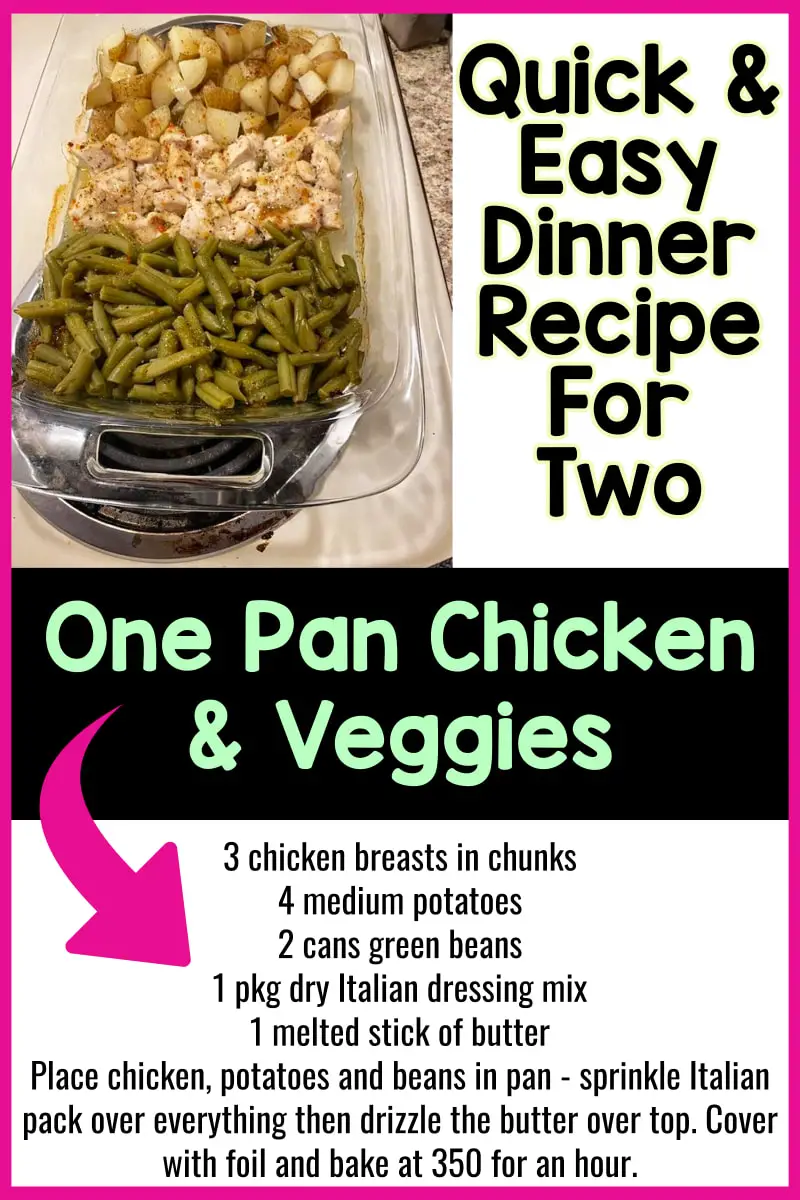 Just cube up a couple chicken breasts and dump them in a pyrex glass baking dish, add some cubed potatoes and canned green beans on either side, sprinkle it all with dry Ranch dressing mix and bake at 350 for about an hour.
Can dinner get ANY easier than that?
Super Quick Dinner Ideas
Need quick and easy dinner ideas? Here are two great resources for planning your evening meals for two
 Quick and Easy Recipes for Two✅ See This 30-Minute Meals For Two✅ See This
Cheap Dinner Ideas for Two
Cassie from TheKitchenCommunity has this list of creative dinner ideas for two – and they all look YUMMY!
Here's a sample of some super cheap and creative dinner recipes for two:
1. $5 Dinner For Two –See Video Below
2. No-Peek Chicken (recipe below)
3. Chicken Piccata
4. Pasta With Meatballs And Tomato Sauce
5. Garlic Butter Rice
6. Alfredo Pasta Sauce
7. Garlic and Parmesan Roasted Vegetables
8. Scalloped Potatoes
9. Lemon Pepper Chicken
10. Cheeseburger Meatloaf
11. Marry Me Chicken
12. Tuscan Chicken
13. Caprese Grilled Filet Mignon
My personal favorite is the No Peek Chicken dinner recipe – it is SO good and really cheap to make as well.
Doesn't it look YUMMY?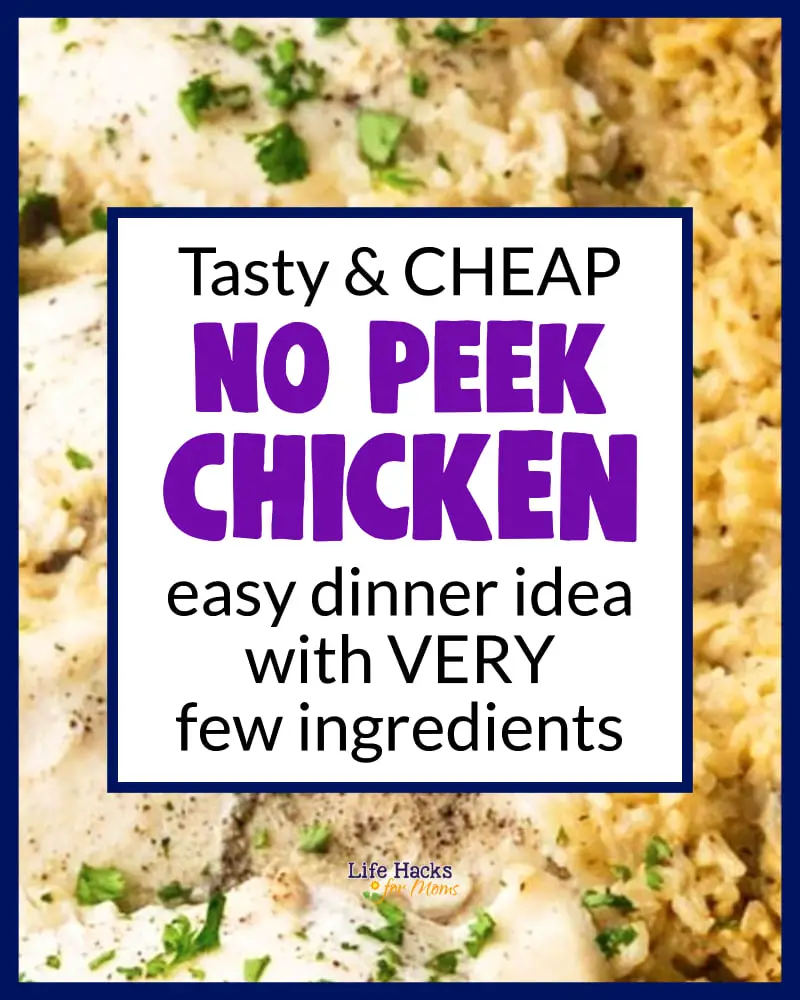 My husband REALLY likes it – and he is a VERY picky eater!
Easy Meals For Two on a Budget
How about dinner for two UNDER $5?
YES! You can make a cheap and EASY dinner for just the 2 of you for less than 5 dollars – and it's really good!
20 Easy Dinners Under $20 – Looking for some dinner ideas for your nightly meals but don't want to break the bank? We've got you covered! Here's a variety of fantastic dinner ideas for less than $20. read more
My favorite is their Four Cheese Zoodle Spaghetti – it's simply DELICIOUS… and it's ready in only 20 minutes!
Shrimp Dinner For Two
If you want a REALLY easy, cheap and DELICIOUS dinner for two people, you have GOT to try this Sheet Pan Shrimp recipe.
The full (super simple) recipe is on the image below and YES, it WILL be the best shrimp you've ever had!
(and it's all made on one cookie sheet pan in the oven.
Be sure to Pin It to save it for later!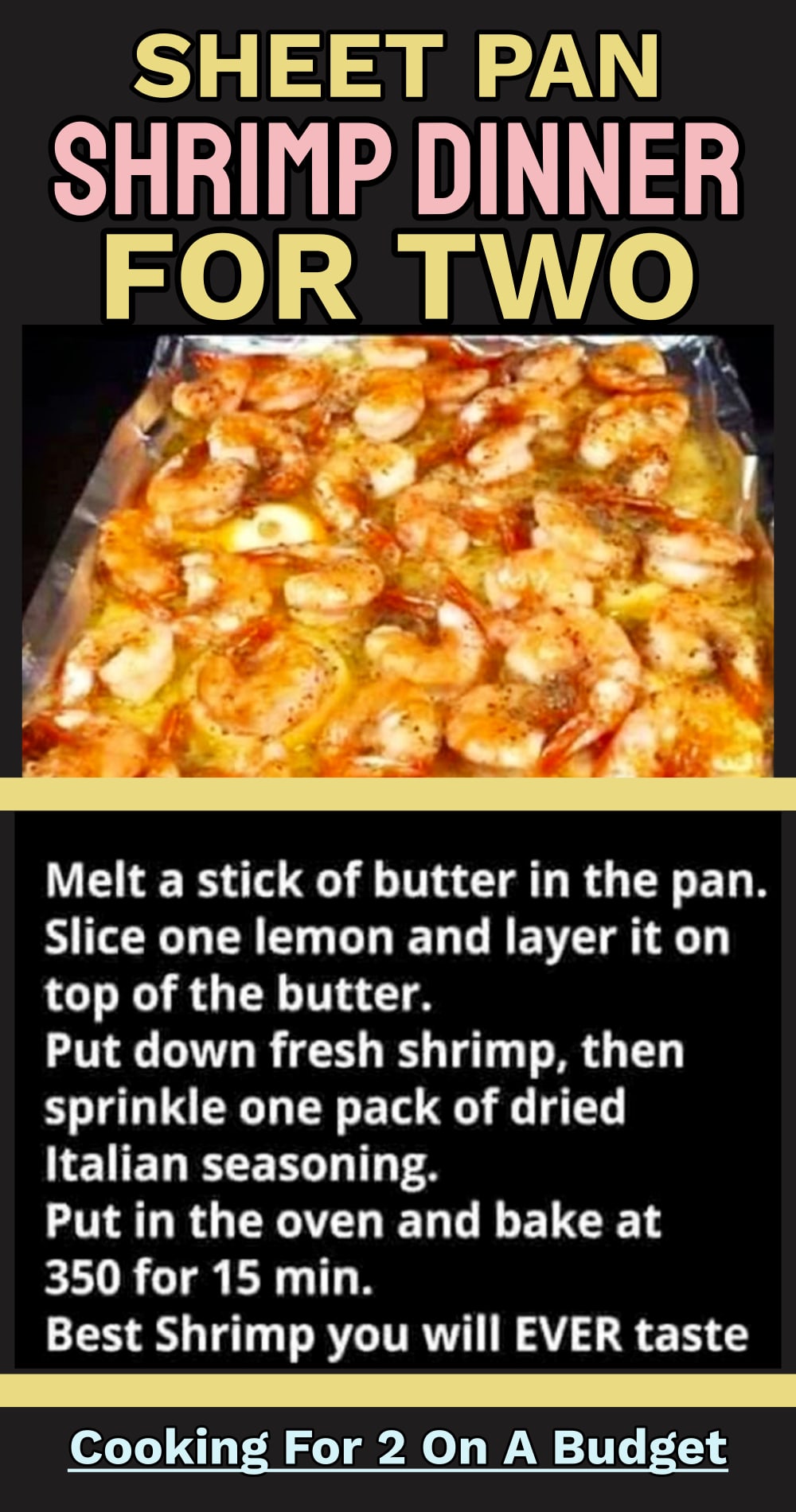 Weekly Dinner Menu For Two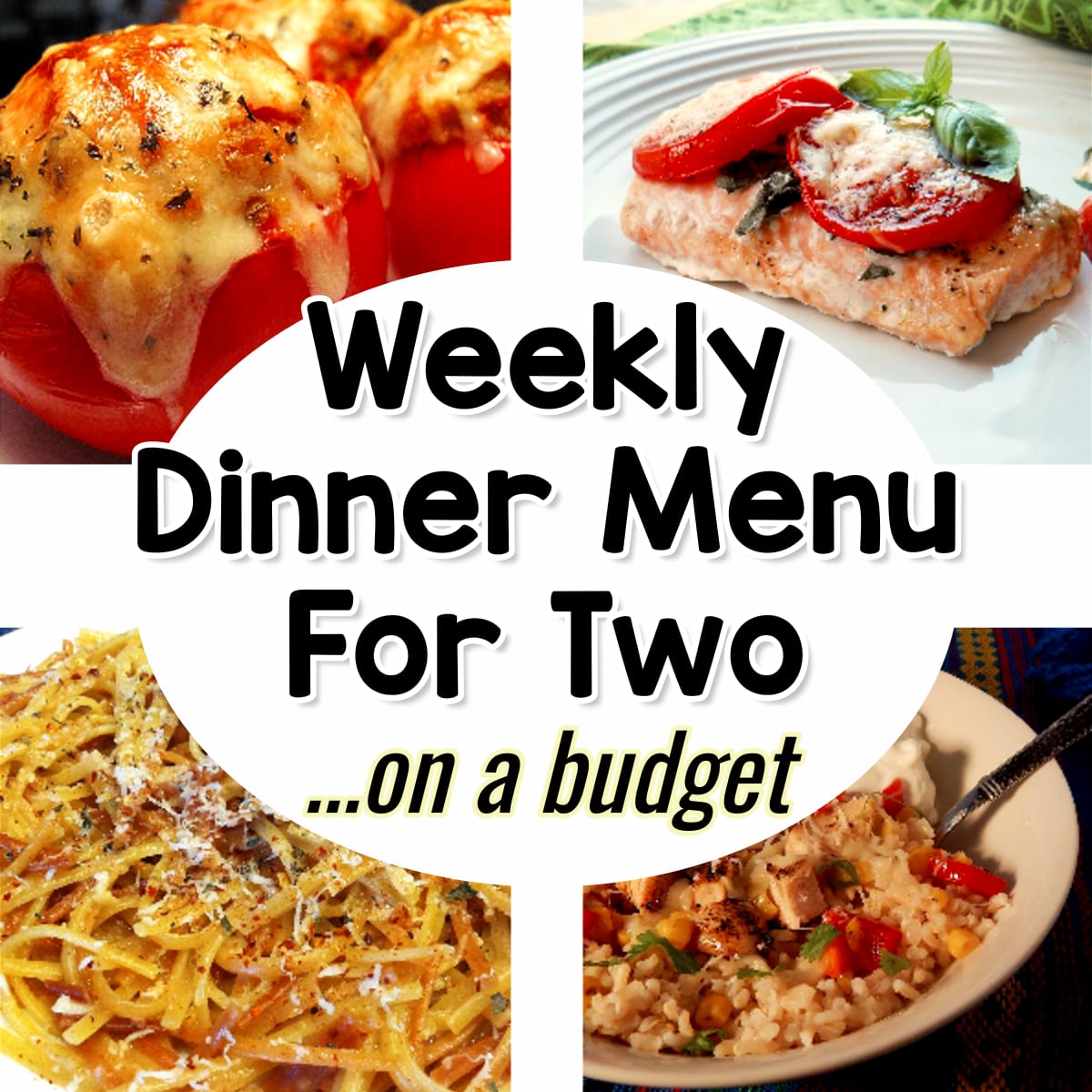 Weekly Budget Dinner Menu for Two Ready in 30 Minutes or Less – A Month of Budget Meals for Two Ready in 30 Minutes or Less ; 1 · Week 1: Simple Lemon Herb Chicken… read more
You can get the weekly menus AND the shopping list as a printable PDF here.
HEALTHY Dinner Recipes for Two
Quick and easy HEALTHY dinner recipes for two.
When you're cooking for two on a tight budget, eating healthy can get pretty expensive.
Here are tons of recipes for HEALTHY weeknight dinners for two that are all very, VERY good.
 Healthy Dinner Recipes for Two✅ See This Heart Healthy Cookbook for Two✅ See This
Vegetarian Dinner Ideas for Two
 Vegetarian Cooking for Two: 80 Perfectly Portioned Recipes for Healthy Eating✅ See This The 5-Ingredient Vegetarian Cookbook: 75 Effortless Recipes for Two✅ See This
Romantic Dinner Ideas For Two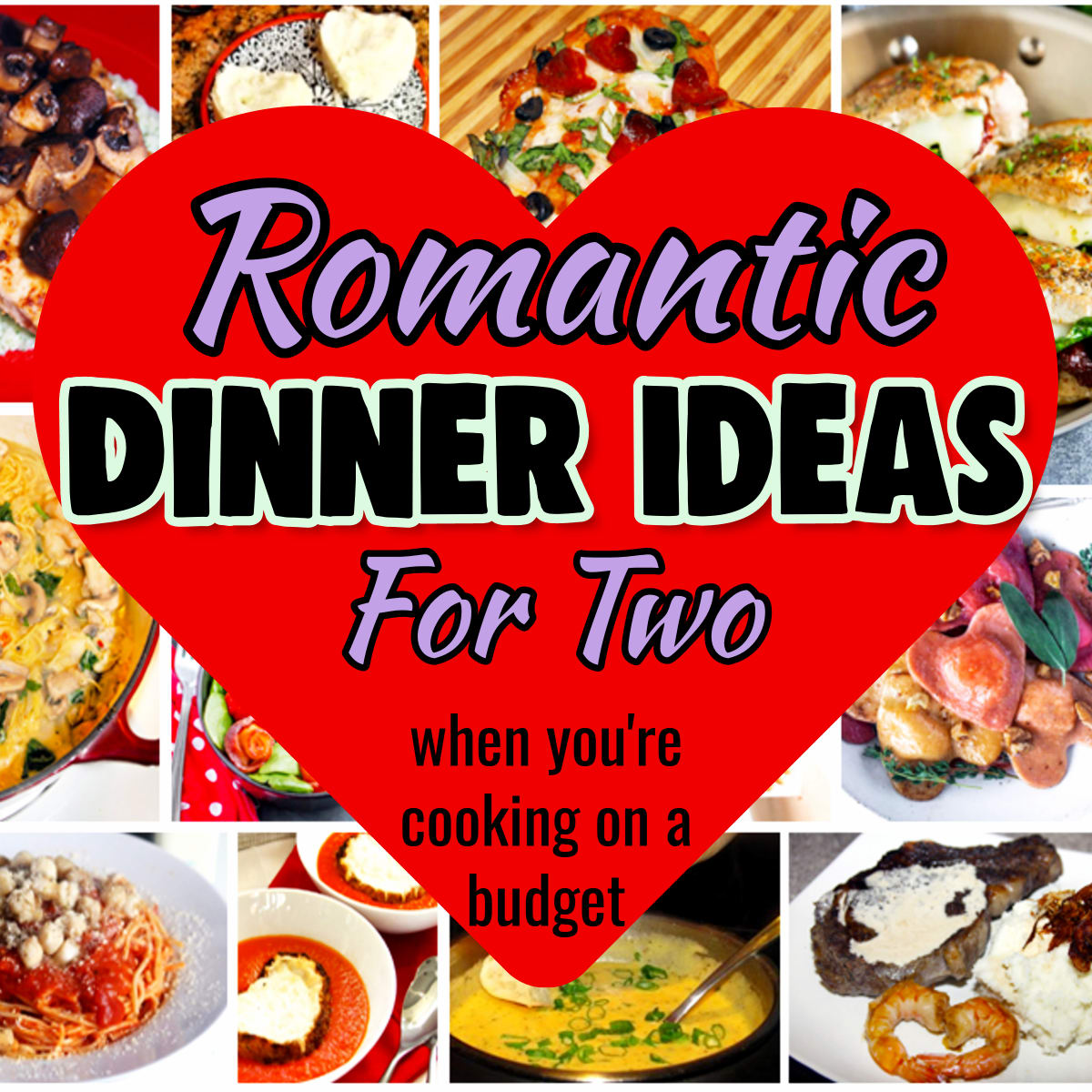 65 Yummy Romantic Dinners For Two – having a date night at home to save money and need some easy and YUMMY romantic dinner ideas to cook? Check out these 65 different ideas.
With Frozen Vegetables
From one pot dinner ideas to sheet pan meals, all these easy recipes are simple and pretty darn cheap to make… and all use frozen vegetables that you probably have in your freezer right now.
Sheet Pan BBQ Meatloaf Dinner
From prep to done in 45 minutes · Serves 2 · Make an entire dinner for two at one time with this fast and easy Sheet Pan BBQ Meatloaf Dinner.
Ingredients:
1/2 lb Ground beef
12 oz Frozen Broccoli
1/8 tsp Garlic powder
1 Sweet potato
1 Large Egg
3 tbsp BBQ sauce
1/4 tsp Paprika
1/2 tsp Seasoning salt
2 tbsp Olive oil
2 tbsp Bread crumbs
One Pot Ham Pasta
Dinner for Two in 15 minutes – I'm all about having an arsenal of super simple dinners that can be whipped up in one pot! This Creamy Ham & Pea Pasta is one of our favorite dinners at the moment. It's made from just a few very simple ingredients that I always seem to have on hand.
Ingredients:
Cooked Cubed Ham
Pasta Noodles
Frozen Peas
Cream Cheese
Garlic
Salt & Pepper
Chicken Noodle Casserole
This Chicken Noodle Casserole is an easy dinner idea for two! Perfect for budget meal planning and it makes a great freezer meal!
Ingredients:
Rotini
Chicken
Italian Seasoning
Garlic Salt
Pepper
Olive Oil
Cream of Mushroom OR Cream of Chicken Soup
Sour Cream
Milk
Frozen Broccoli
Cheese
Fried Onions
Beef and Broccoli Stir Fry
Beef and broccoli stir fry for two–all made in one pan. Just add rice or noodles and serve this easy skillet beef dinner for two!
Ingredients:
Skirt Steak or Flank Steak
Frozen Broccoli
Soy Sauce
Corn Starch
Chicken Broth
Garlic
Ginger
Honey
Vegetable OR Canola Oil
Cooked Rice
Pork Chop Sheet Pan Dinner
Ready in 30 minutes · Gluten free · Serves 2-4 · This Easy Pork Chop Sheet Pan Dinner is the perfect weeknight meal idea for busy moms – just a few simple ingredients and you've got a whole meal on one pan!
Ingredients:
4 Boneless Pork Chops
Frozen Carrots
Frozen Green Beans
Parsley
4 Potatoes
Garlic Powder
Brown Sugar
Paprika
Olive Oil
Salt & Pepper to Taste
Chicken Fried Rice
Chicken Fried Rice is one of our go-to EASY 30-minute meals for just the two of us. Fried Rice is perfect for meal prep and a genius way to use leftovers – It's actually even better with leftover rice.
Ingredients:
Chicken
Salt
Pepper
Olive Oil
4 Large Eggs
Cooked Rice
Soy Sauce
Sesame Oil
Frozen Mixed Vegetables
More Easy Dinner Ideas For 2