Ready to redecorate your small laundry room in rustic farmhouse style? Below are tips, tricks and PICTURES for your small farmhouse laundry room remodel that are budget-friendly AND renter-friendly. Storage ideas, shelving ideas and yes, farmhouse decorating ideas for YOUR small laundry room too!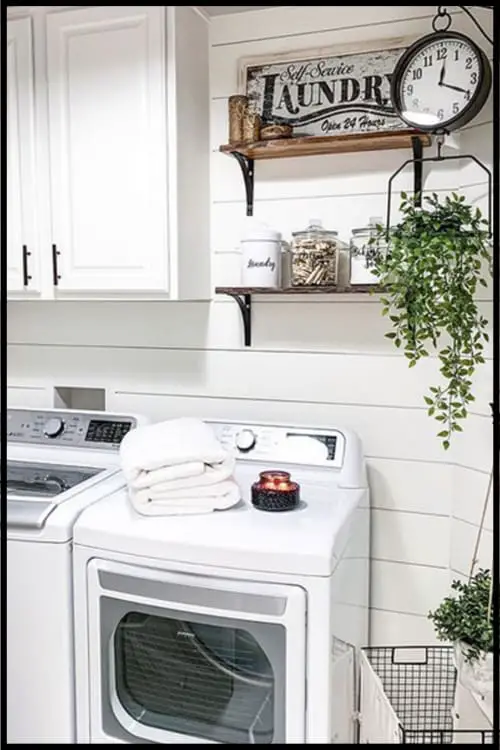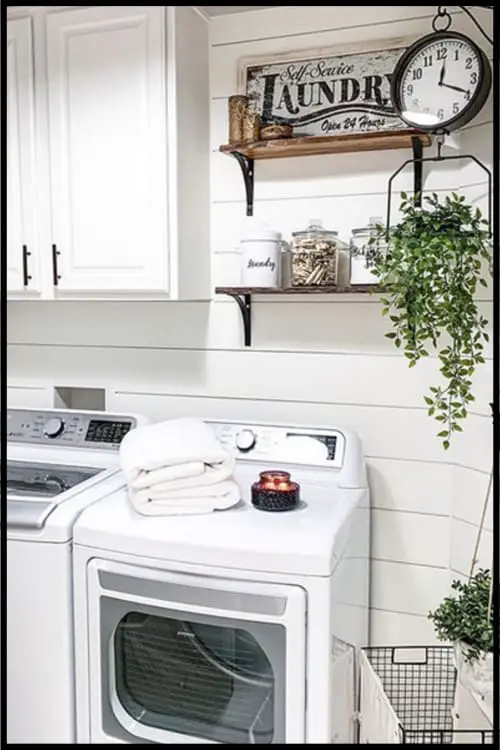 Before you start redecorating your laundry room, take a good look at the space you have available to work with.
Maybe you have an actual laundry ROOM or you just have a small laundry closet off the kitchen or in the basement. Make note of anything that could limit your options based on space available.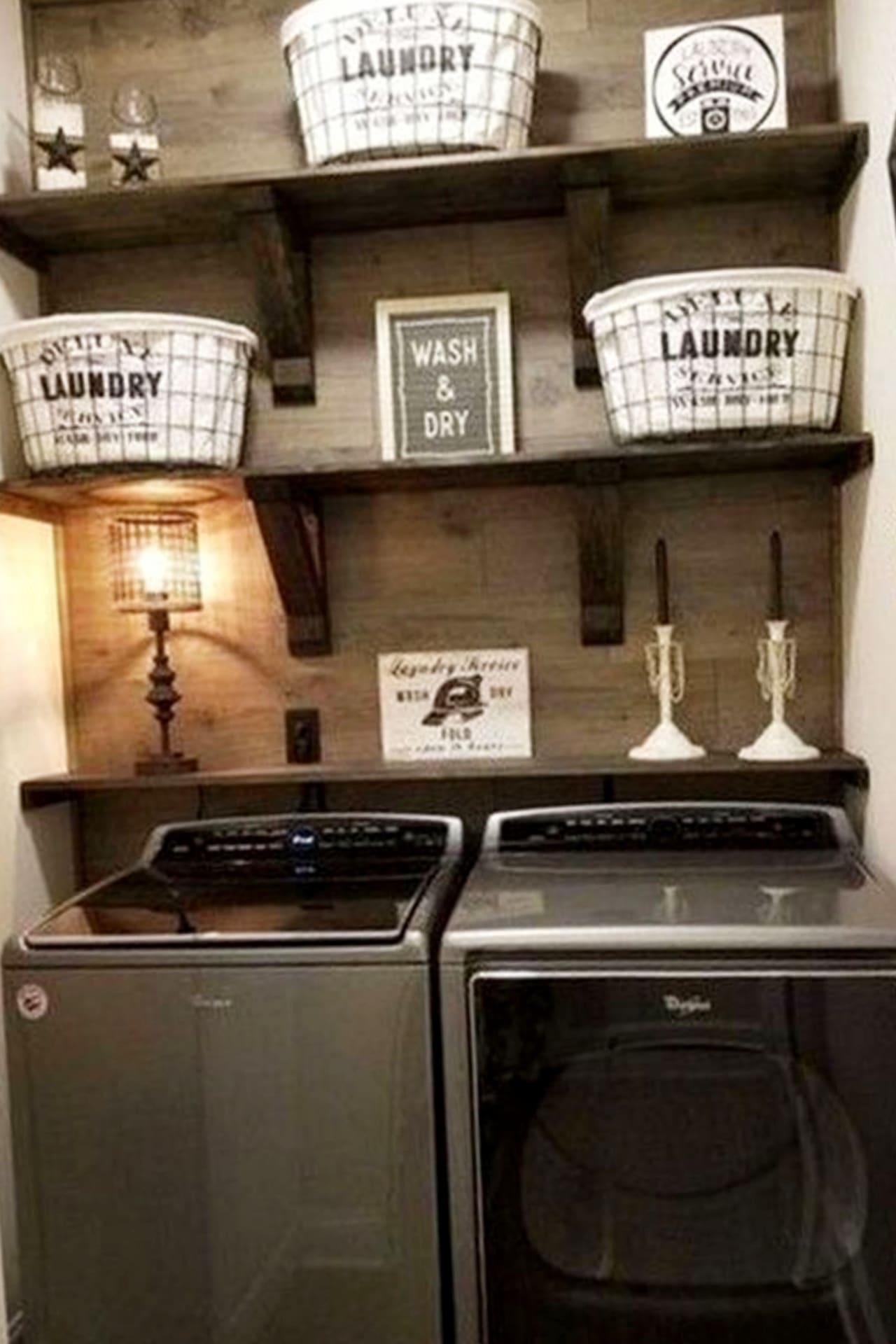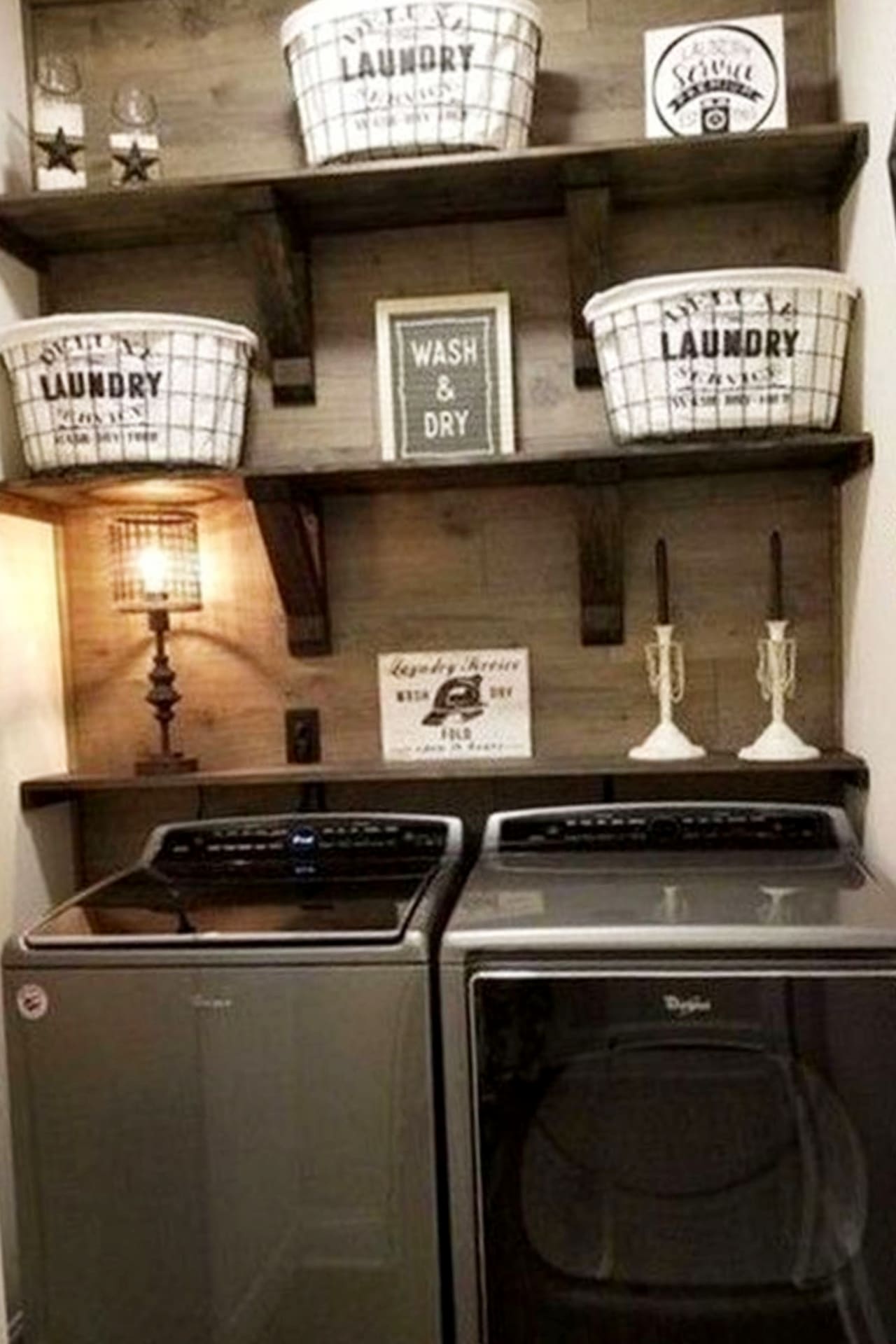 ✅ Working with a small laundry space in your garage?
Check out these garage laundry nook ideas:
Clever, creative and unique ideas for a small laundry nook in any area of your home. From converting an area of your garage into a laundry nook, to having a laundry nook in your basement, kitchen, bedroom, or bathroom – there are lots of ways to fit a laundry nook into your home.
If you don't have shelves or cabinets above / behind your washer and dryer, and you WANT them, take measurements to see what space you have to work with.
Personally, having cabinets over my washer and dryer has been WONDERFUL for extra storage space for not only detergent and laundry stuff, but also to store beach towels, other cleaning supplies, etc.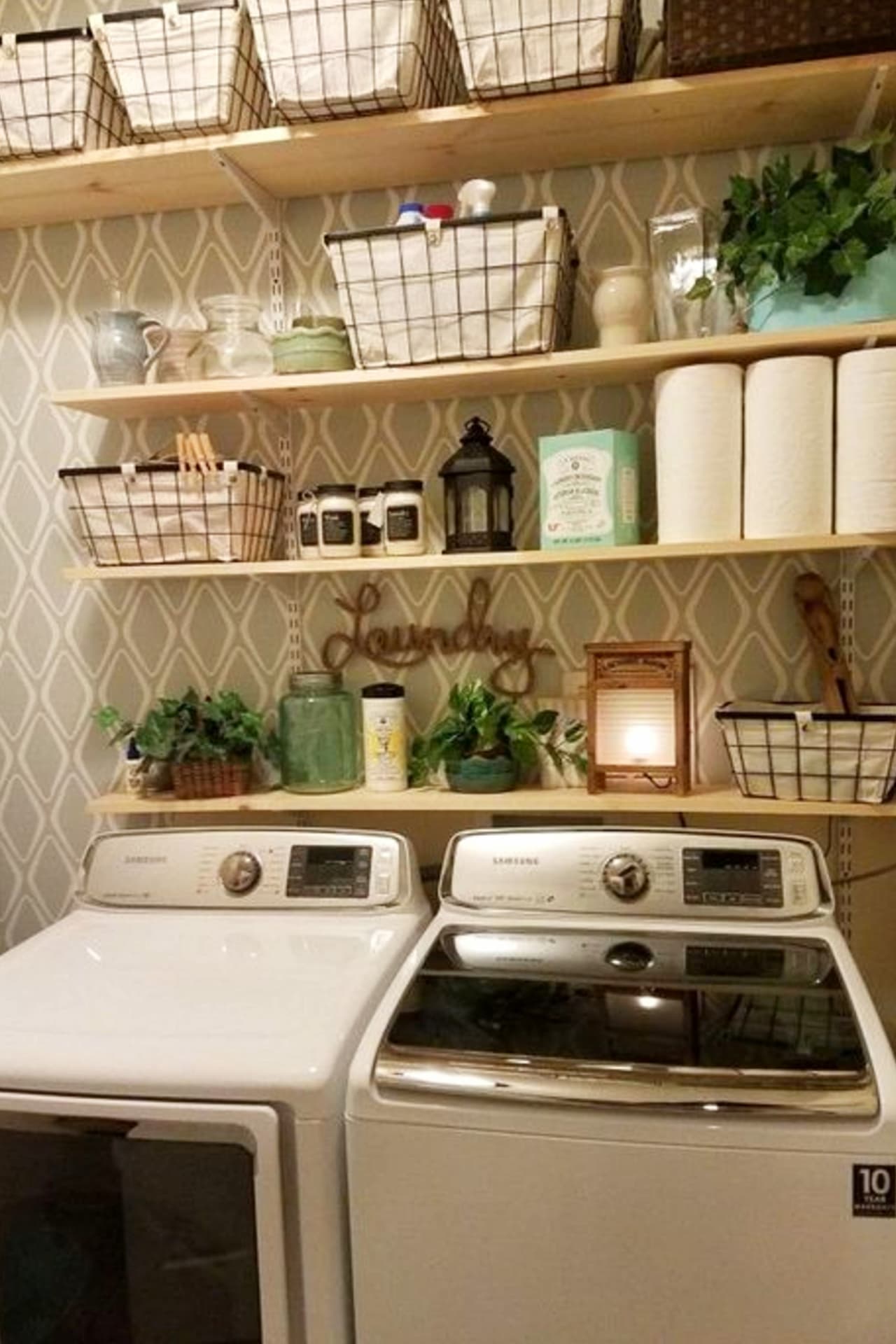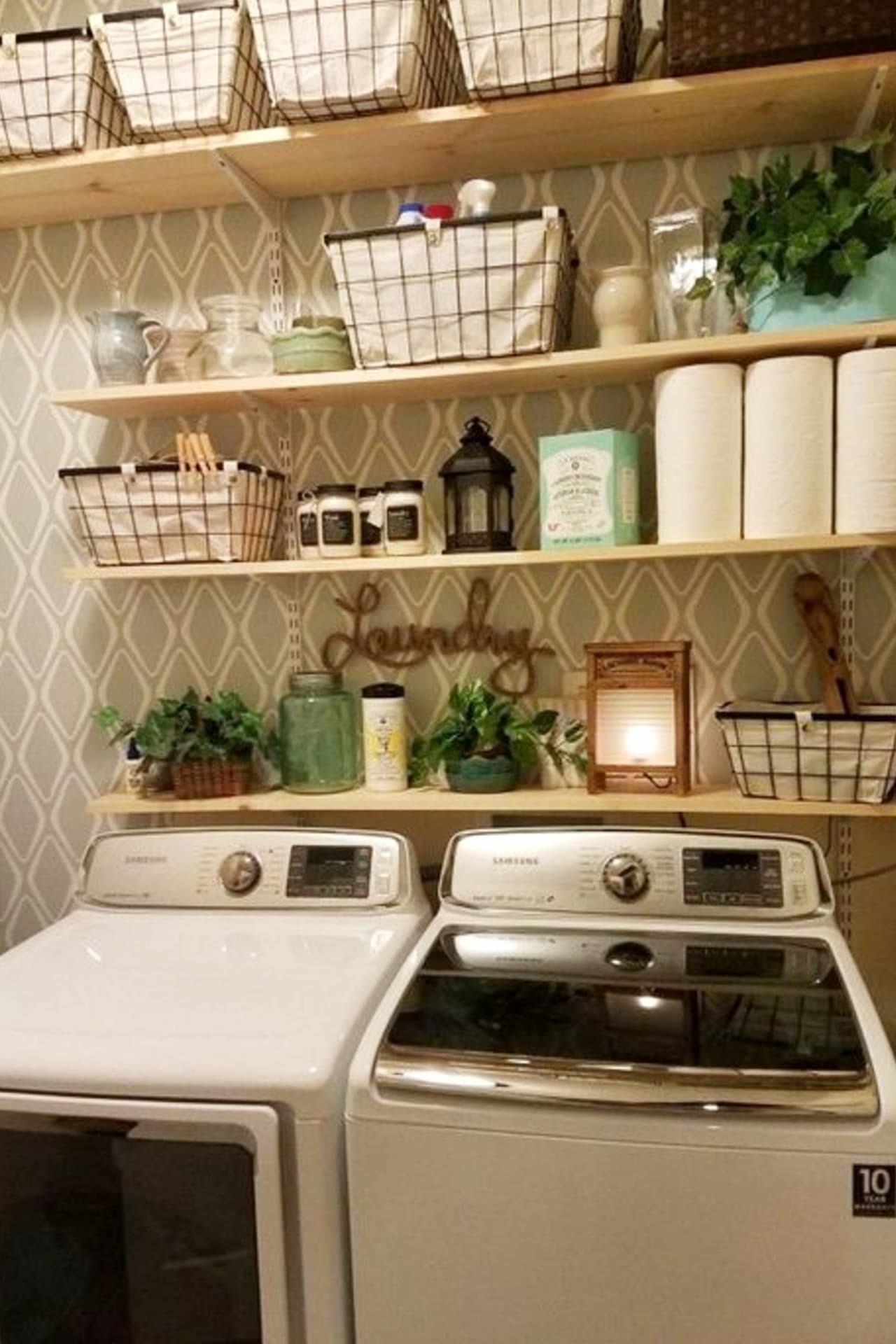 Organizing a small laundry room can be challenging with such limited storage space – here's more useful laundry room organization ideas:
Clever Ways To Organize a Tiny Laundry Room * Small laundry rooms sure can be a challenge to organize and KEEP organized, don't you agree? If you have a tiny laundry room, you will love all the clever ideas for organizing a small laundry room in the pictures below. …
Now, if you're lucky enough to have an actual laundry ROOM you have many more options – even if it's a tiny laundry room. Having a door and walls to decorate and work with makes redecorating a lot more fun.
If there's room, provide a counter or even a small table for folding your laundry. If there's isn't space in your laundry room for additional counter space, look into getting some sort of counter board that sits over your washer and dryer (and long as it won't interfere with your use OF the washer and dryer, of course).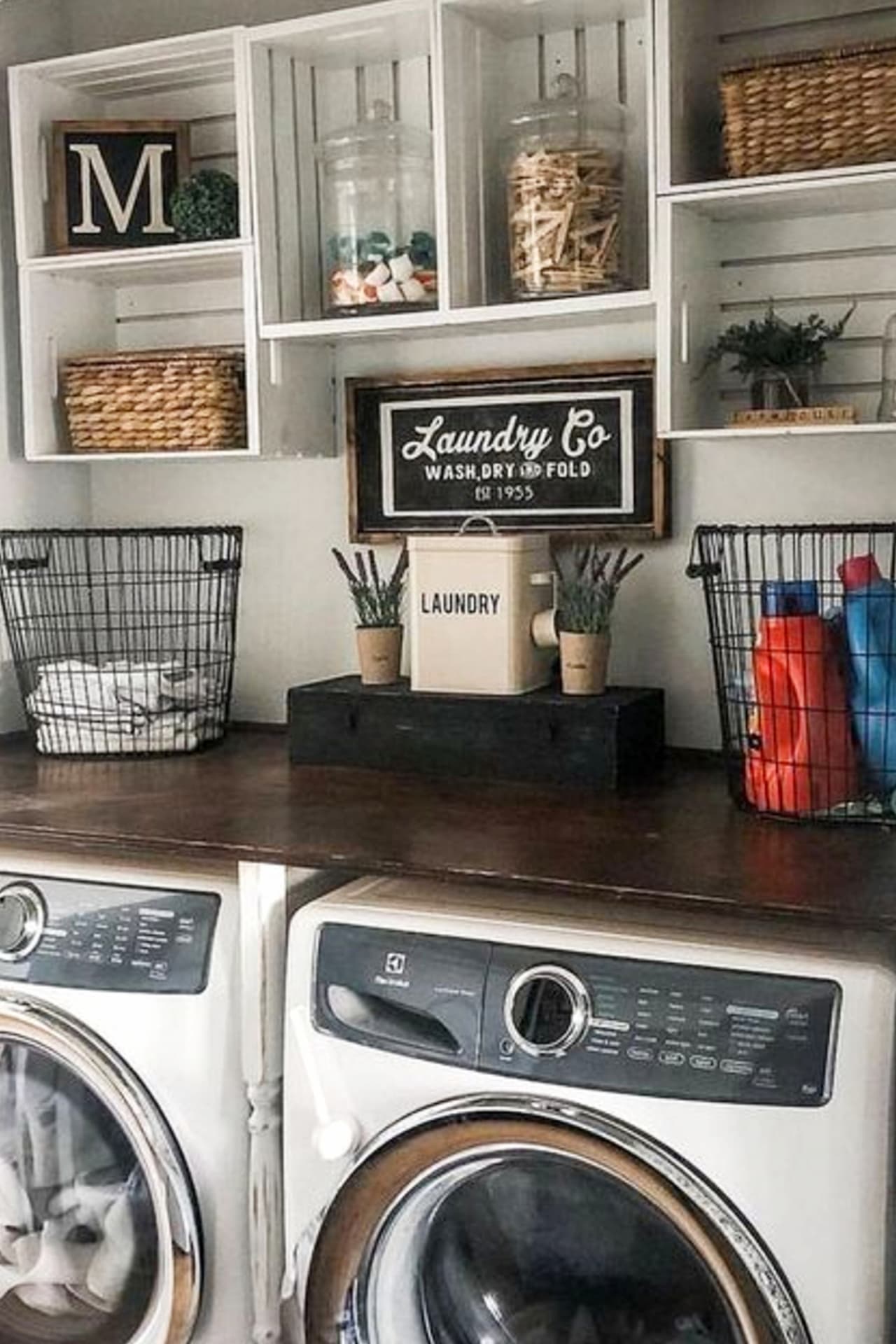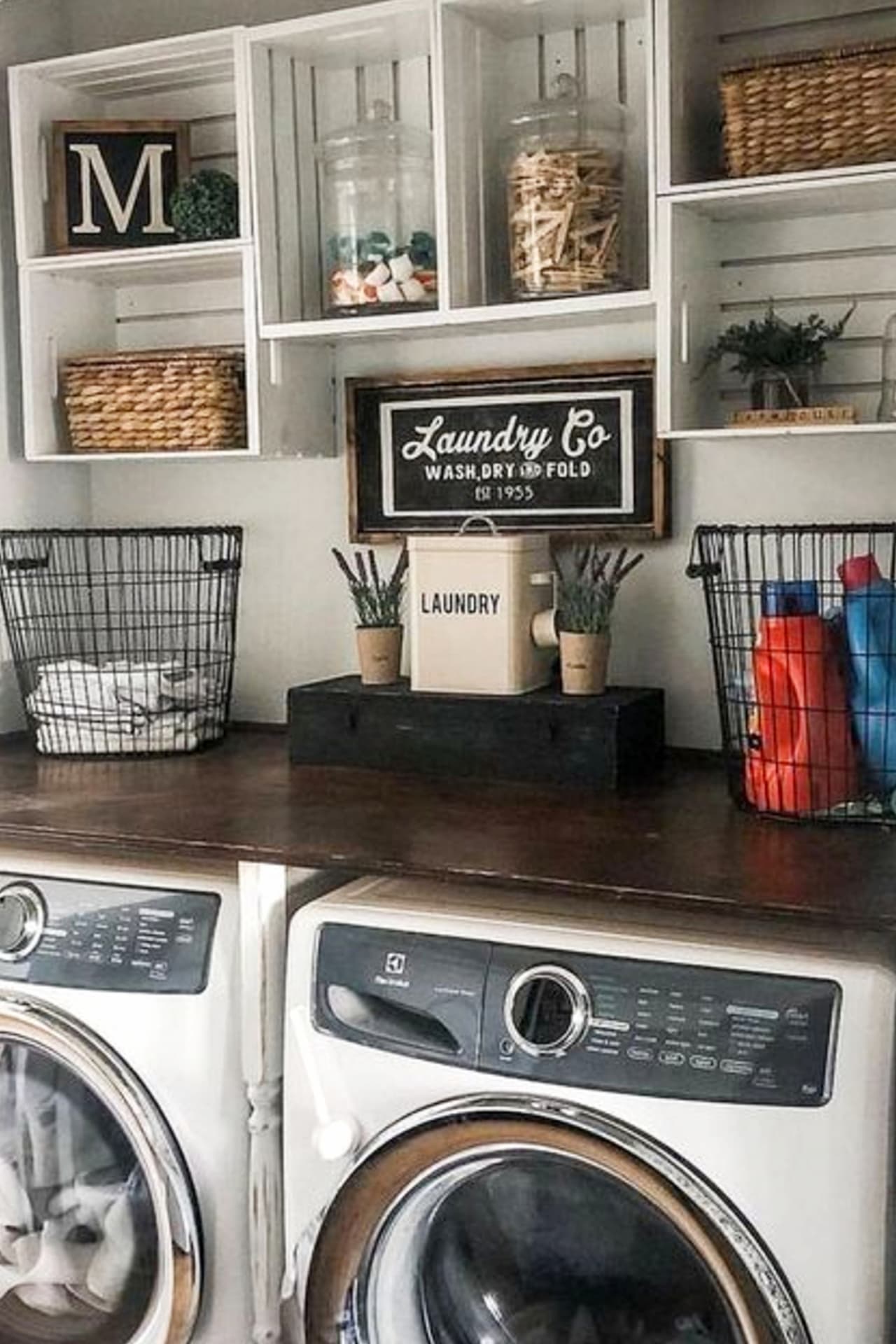 Creative DIY Furniture Made With Old Crates * If you love DIY projects as much as I do, you're gonna love these DIY ideas for old crates!
The right paint color can give your laundry room not only a fresh new look, but also make it appear bigger.
Farmhouse style laundry room paint colors tend to be on the more neutral side. For example, the brighter colors in these neutral farmhouse living room paint colors.
Just keep in mind, the darker the wall paint color, the SMALLER your laundry room will feel.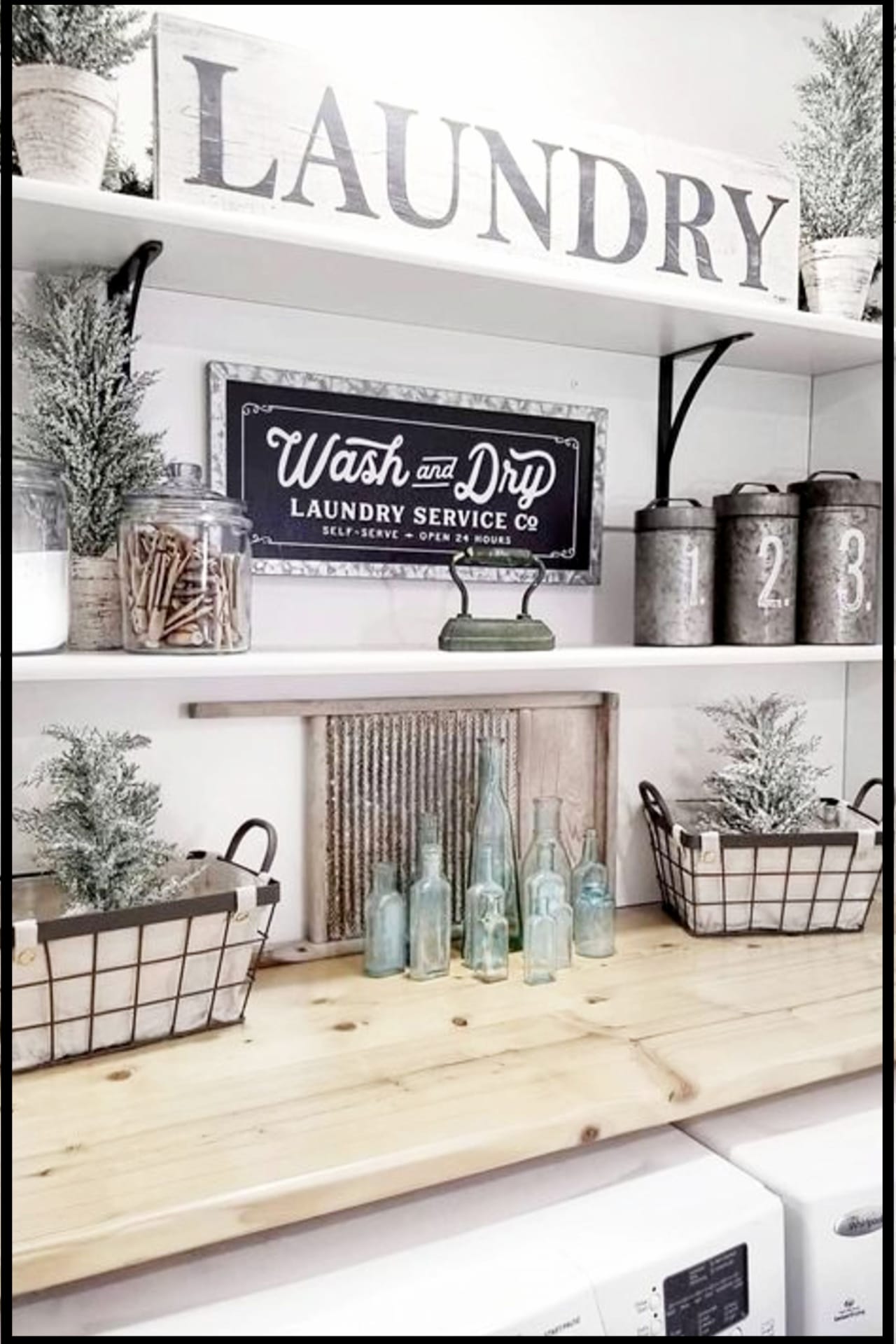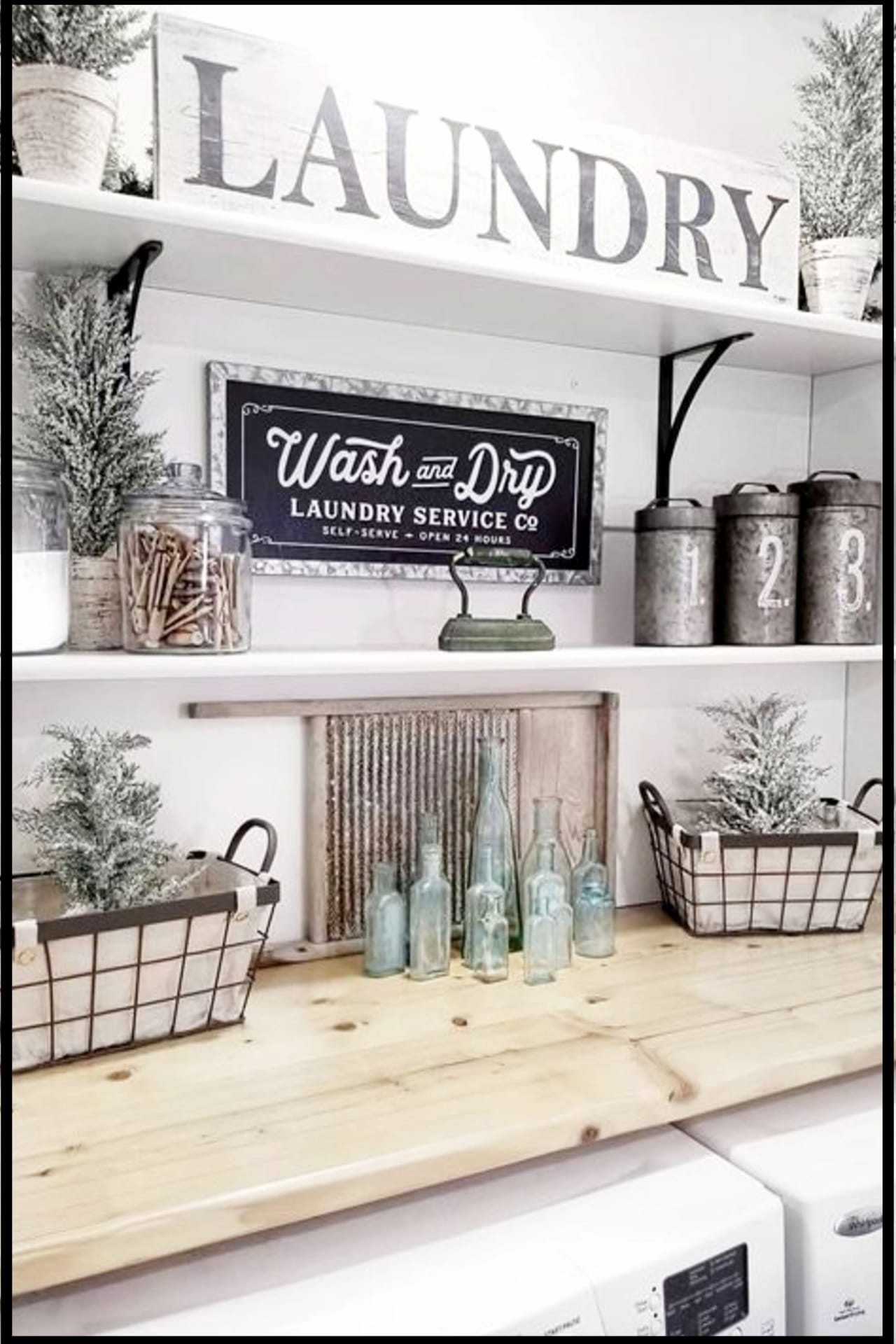 ---
---
A simple and cheap way to give your small laundry room a rustic farmhouse feel is with throw rugs on the floor. Laundry room rugs can not only add splashes of color that tie in with your farmhouse theme, but can also add comfort to an area where you might need to stand for extended periods of time.
Personally, I would never add actual CARPET to my laundry room, but I love having throw rugs and 'runner' rugs in front of my washer and dryer.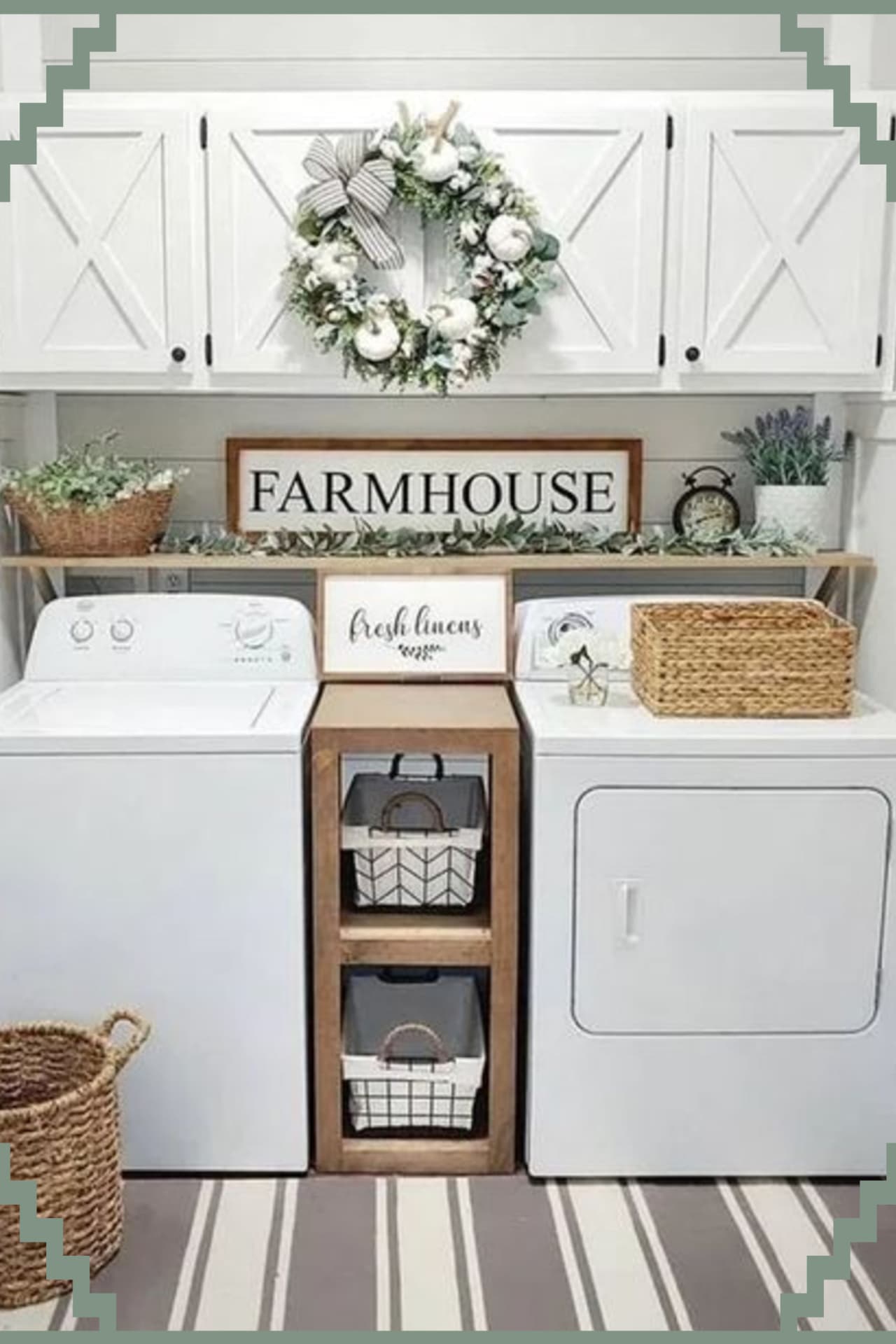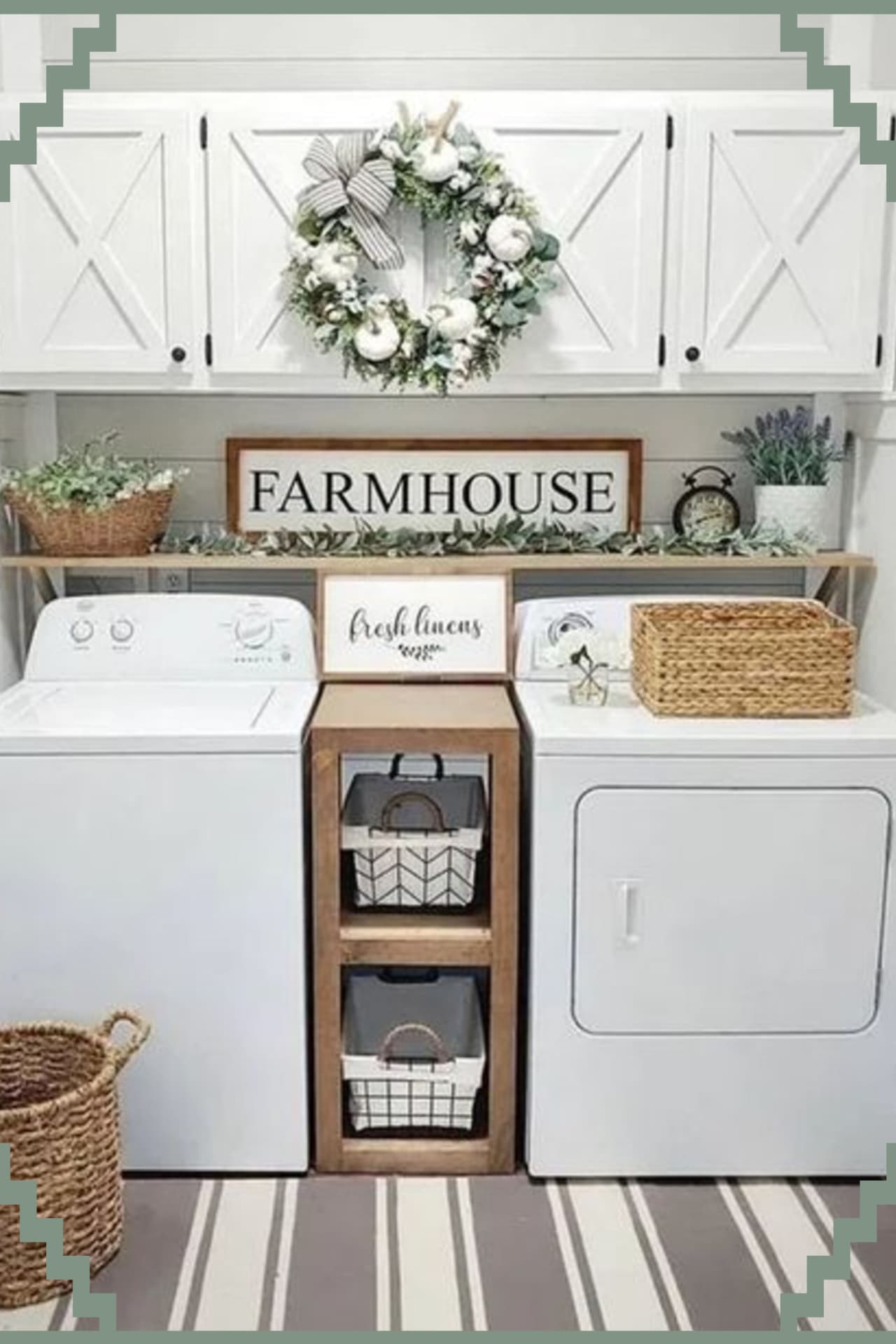 Farmhouse laundry room signs are also a fun and cheap way to decorate your farmhouse-style laundry room.
I've seen some really cute farmhouse laundry room signs here that all seem to be very affordable.
(note: if you're renting your house or apartment, be sure to use command hooks so you don't put nail holes in the wall and risk your security deposit)
---
If your small laundry room has an actual window, well, consider yourself lucky. Most small laundry rooms do NOT have a window so look into farmhouse style light fixtures to brighten the space and tie it in with your decorating theme.
Farmhouse style baskets like these are useful, super pretty AND an inexpensive ways to get those farmhouse touches in those small spaces in your laundry room.
More Small Laundry Room Ideas:
Small Laundry Room Ideas (on a BUDGET) – Laundry room organization and small laundry room ideas. These laundry room makeover pictures are amazing before and after laundry area makeovers. Use floating shelves and over laundry room shelving to make more space in a tiny laundry room closet, laundry area, utility closet or laundry nook.