---
DIY Rustic Farmhouse Laundry Room Ideas – Farmhouse Style Small Laundry Room Makeover Ideas To Remodel, Renovate or Redecorate Your Tiny Boring Laundry Room into a Functional Rustic Country Cottage or Modern Farmhouse Style Laundry Area… on a Budget –
Ready to redecorate your small laundry room in rustic or contemporary farmhouse style? Whether it's a simple update or a total makeover, you're gonna love all the ideas below for a farmhouse-style laundry room!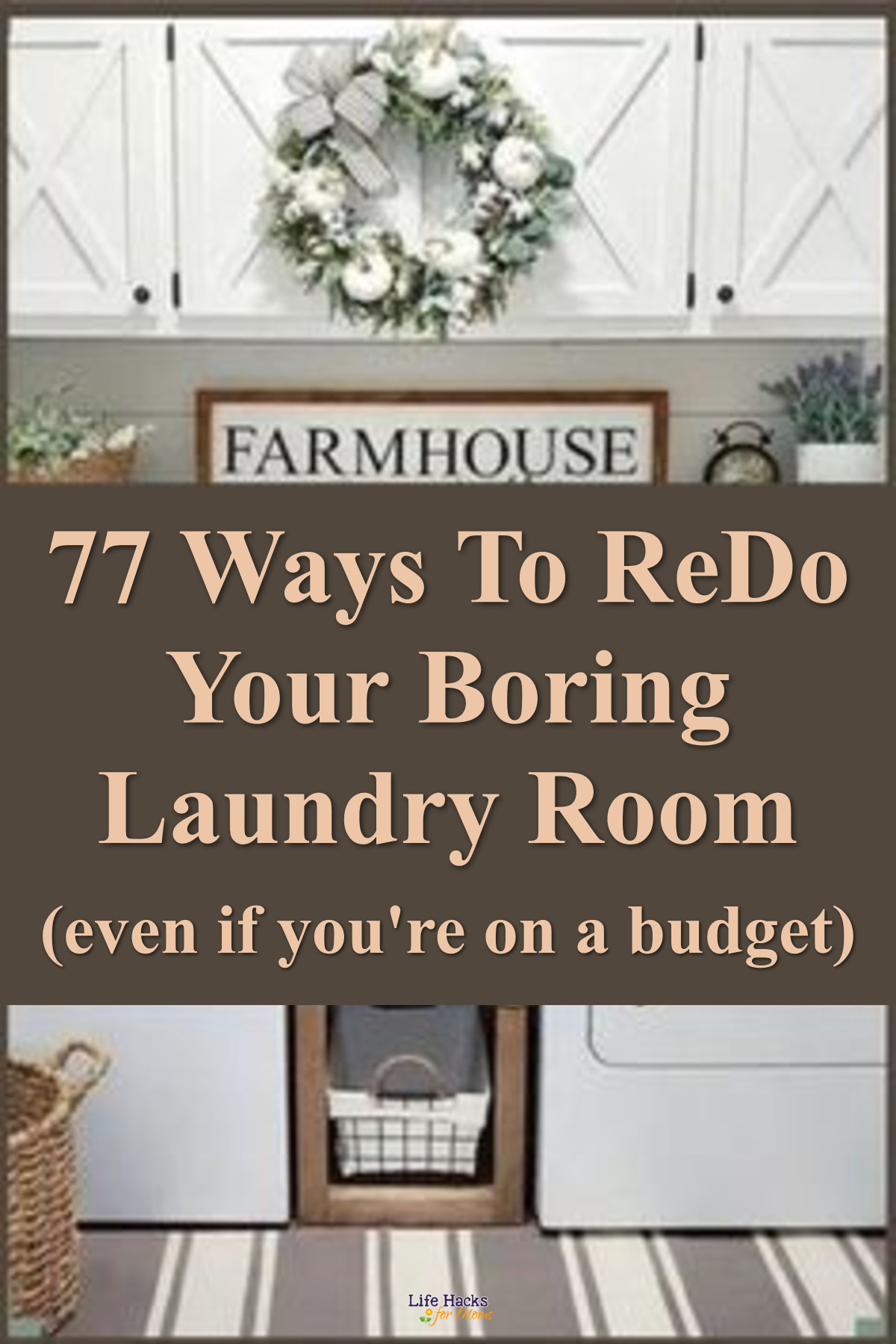 Welcome to Life Hacks for Moms - we hope you enjoy all our tips and tricks for busy moms! Please note that we use affiliate links and ads to generate income at no cost to you.
---
Below are tips, tricks and PICTURES for your small farmhouse laundry room remodel that are budget-friendly AND renter-friendly.
Storage ideas, lighting, paint colors, counters, shelving ideas and yes, modern farmhouse decorating ideas for YOUR small rustic laundry room too!
DIY Small Laundry Room Ideas
I just love any size laundry room that is decorated in farmhouse style, don't you?
I don't care if it's modern farmhouse or rustic farmhouse, to me it's just gorgeous!
And the white ship lap sure can make a small laundry area look bigger and cleaner!
If you're read to do a DIY makeover and redecorate YOUR small laundry room in farmhouse style, take a look at all these "Pinterest Perfect" small laundry room pictures and ideas below.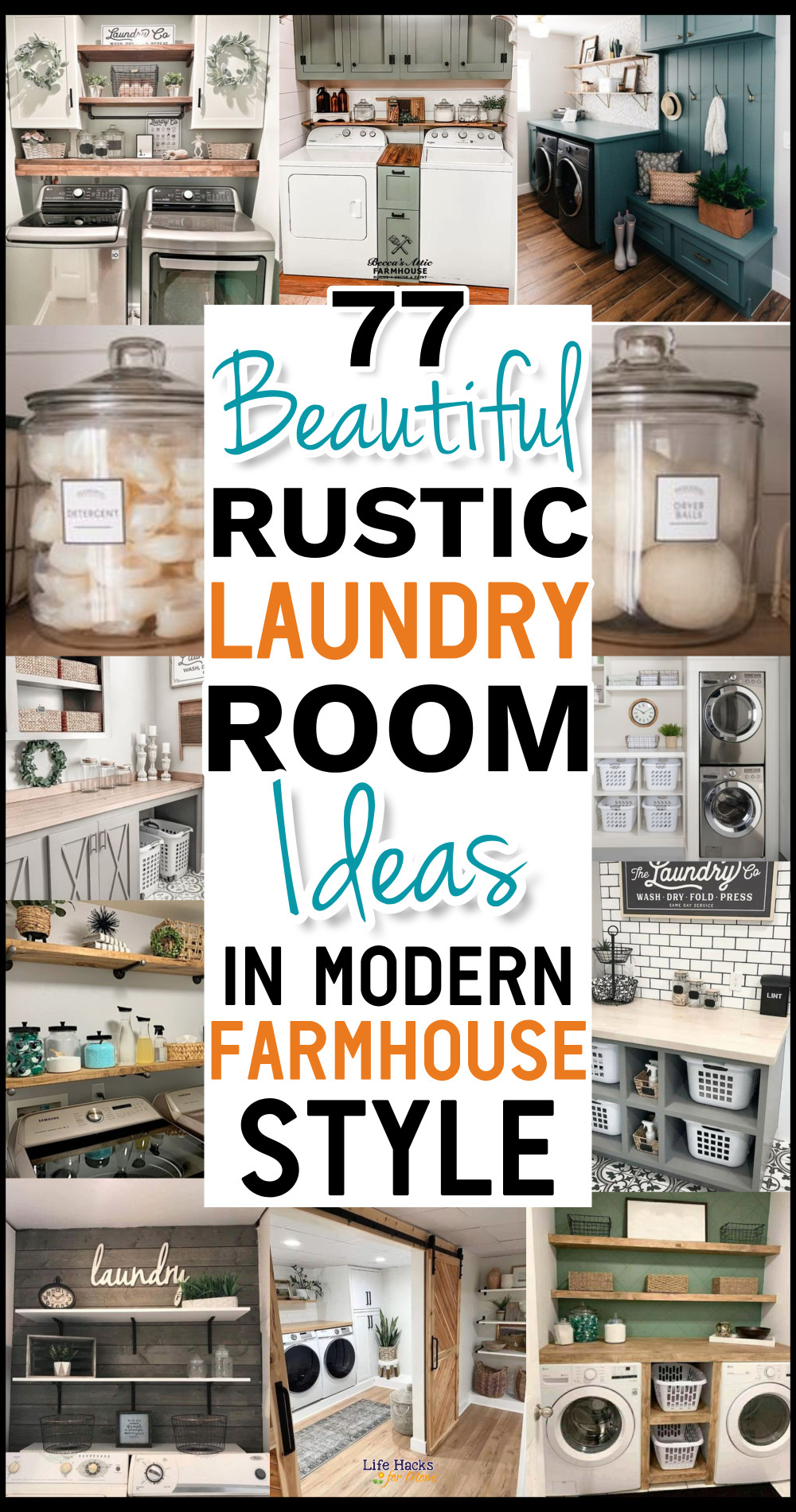 Decorating Tips
Before you start redecorating your small laundry room, take a good look at the space you have available to work with.
Maybe you have an actual laundry ROOM or you just have a small laundry closet off the kitchen or in the basement. Make note of anything that could limit your options based on space available.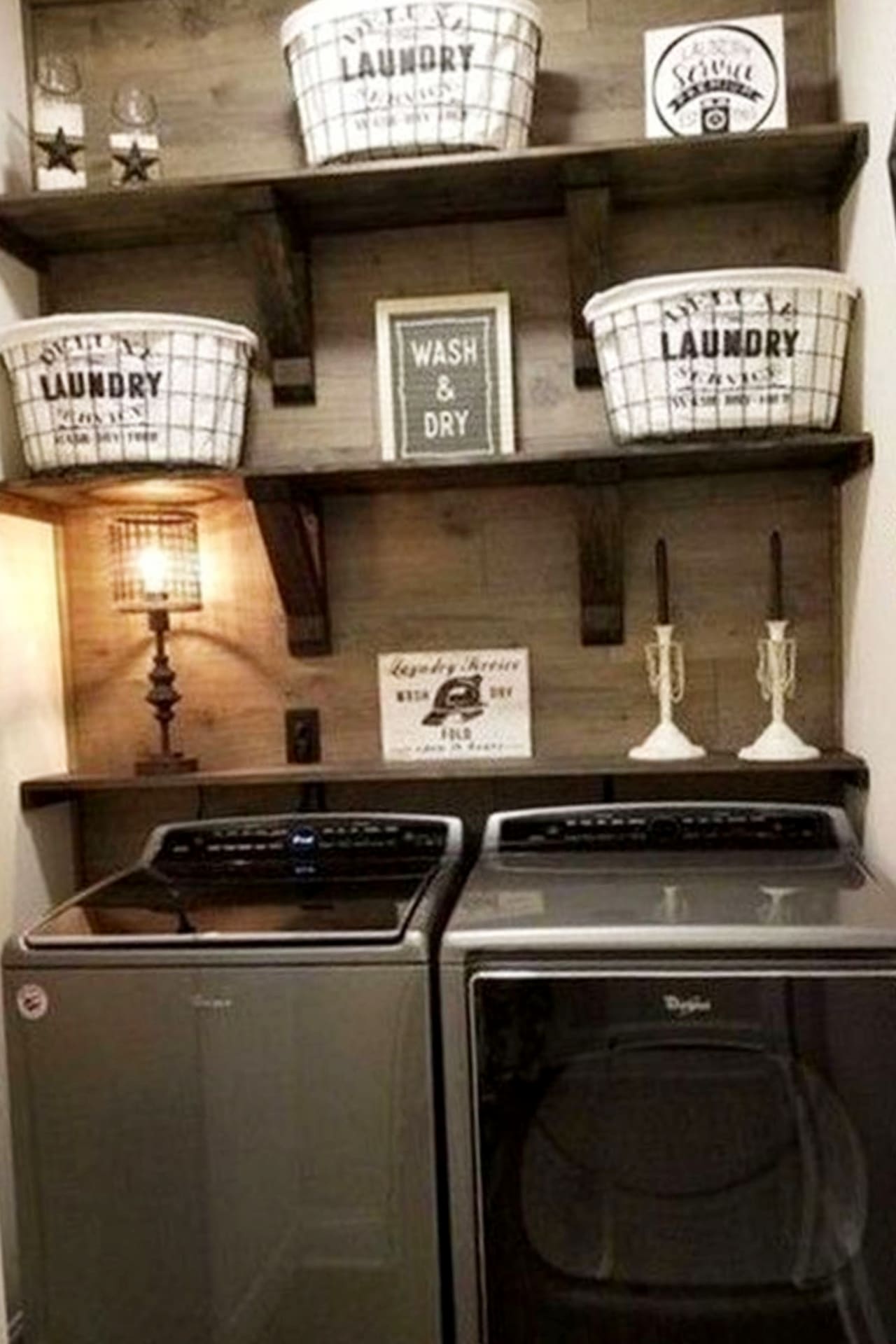 Shelving
If you don't have shelves or cabinets above / behind your washer and dryer, and you WANT them, take measurements to see what space you have to work with.
Personally, having cabinets over my washer and dryer has been WONDERFUL for extra storage space for not only detergent and laundry stuff, but also to store beach towels, other cleaning supplies, etc.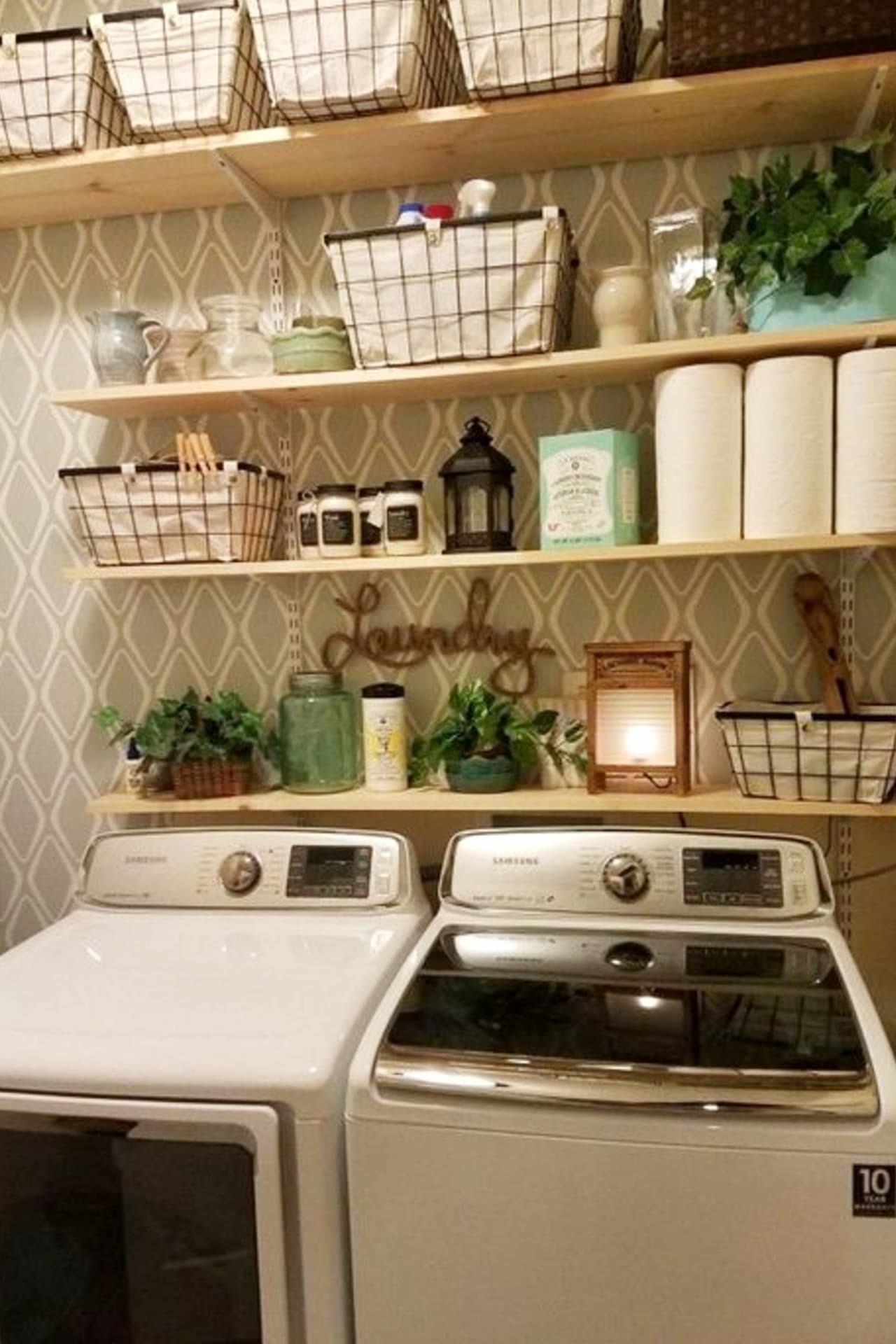 Laundry Room Layout
The way you set up your laundry room can make or break whether your laundry area is functional and organized or just a layout that doesn't really help you day-to-day.
Organizing a small laundry room can be an extra challenging with such limited storage space – here's more useful laundry room organization ideas that I found really helpful.
If you're planning a DREAM laundry room, check out THESE simply stunning laundry room decorating and layout ideas: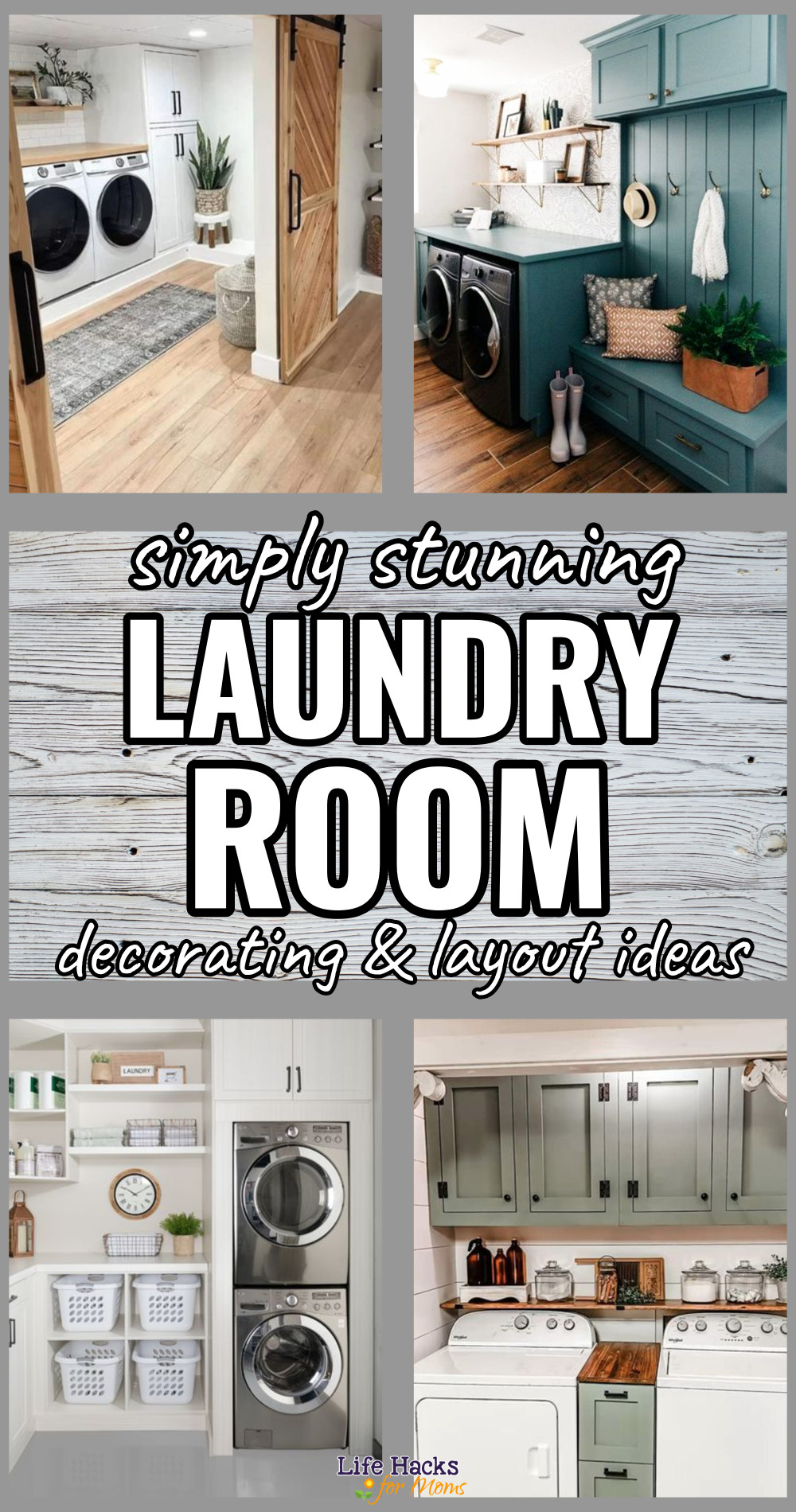 1 – Laundry Room Redesign Ideas – found on Pinterest here.
2 – Mudroom Makeover on a Budget – I've been Pinning away the mud rooms/laundry rooms of my dreams. They all feel fresh and fun (nothing like our current mud room). I love the storage solutions, the fun tile and the use of wood shelves… continue reading
3 – Laundry Room Storage Solutions – found on Inspired Closets here.
4 – Country Laundry Closet Makeover – found on Pinterest here.
Laundry Room Doors
Now, if you're lucky enough to have an actual laundry ROOM you have many more options – even if it's a tiny laundry room.
Having a door and walls to decorate and work with makes redecorating a lot more fun.
Here are some gorgeous laundry room door ideas for a farmhouse style laundry area.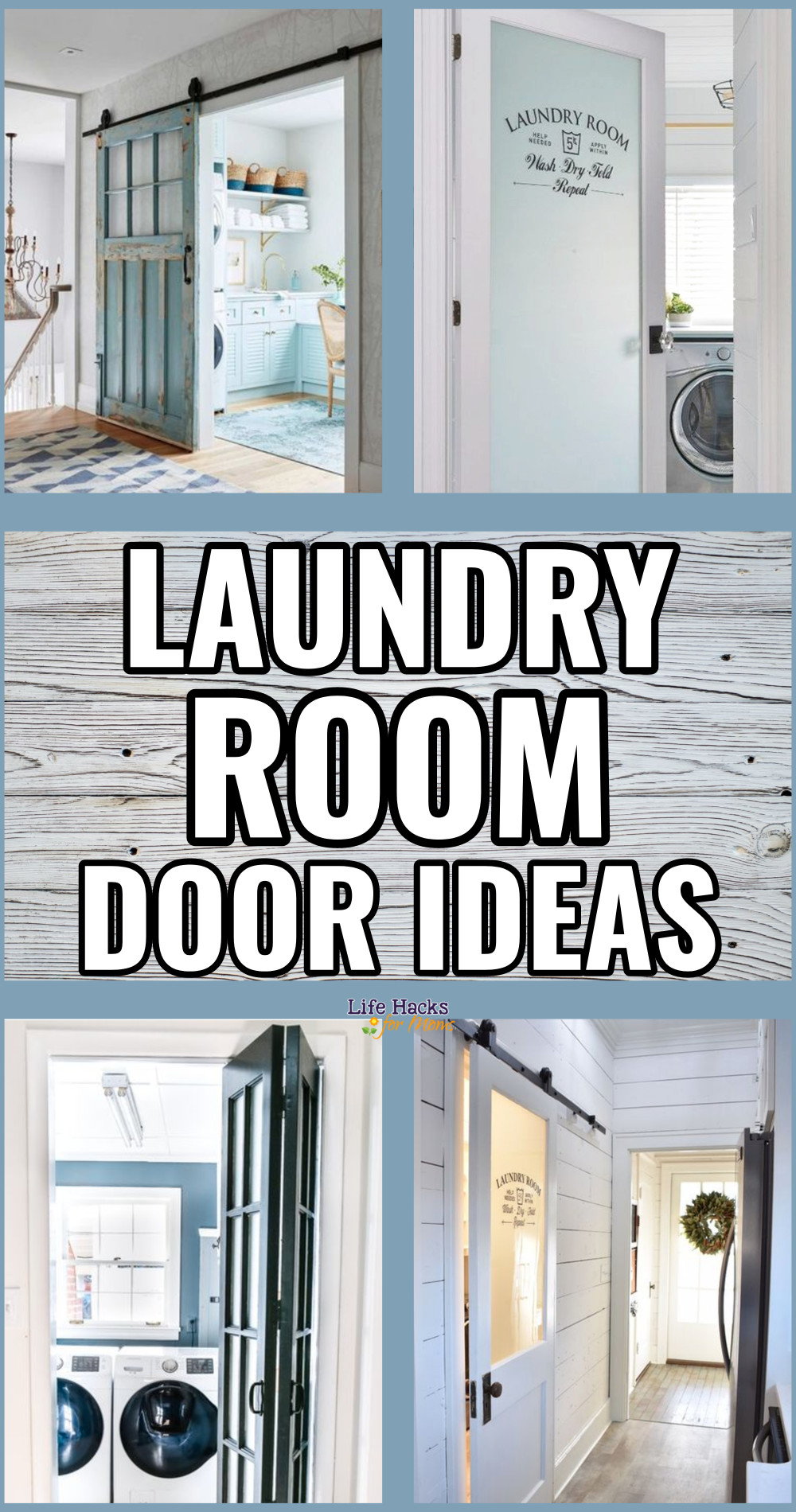 1 – Fun and Creative Laundry Room Doors – I have dreams of a mini laundry room makeover. Mine's a smaller space, but some fun wallpaper would definitely make it more fun. But my big dream for the space is a new door! So I gathered some great inspiration to share with you today… continue reading
2 – 39 Clever Laundry Room Ideas That Are Practical and Space-Efficient – Over 30 different creative laundry room ideas, designs and hacks to help make your laundry adventures a little more pleasant and functional… continue reading
3 – Laundry Room Updates: French Bifold Door – A rickity laundry room bifold door gets a beautiful and functional update with a French bifold door with frosted glass for hiding messes in a stylish way… continue reading
4 – Beautiful Homes of Instagram: Farmhouse Cottage – almost a year ago, I wrapped up a MAJOR restoration project of my 1926 Louisiana cottage… continue reading
Speaking of laundry room doors – have you considered a
sliding barn doors
to really complete that farmhouse look?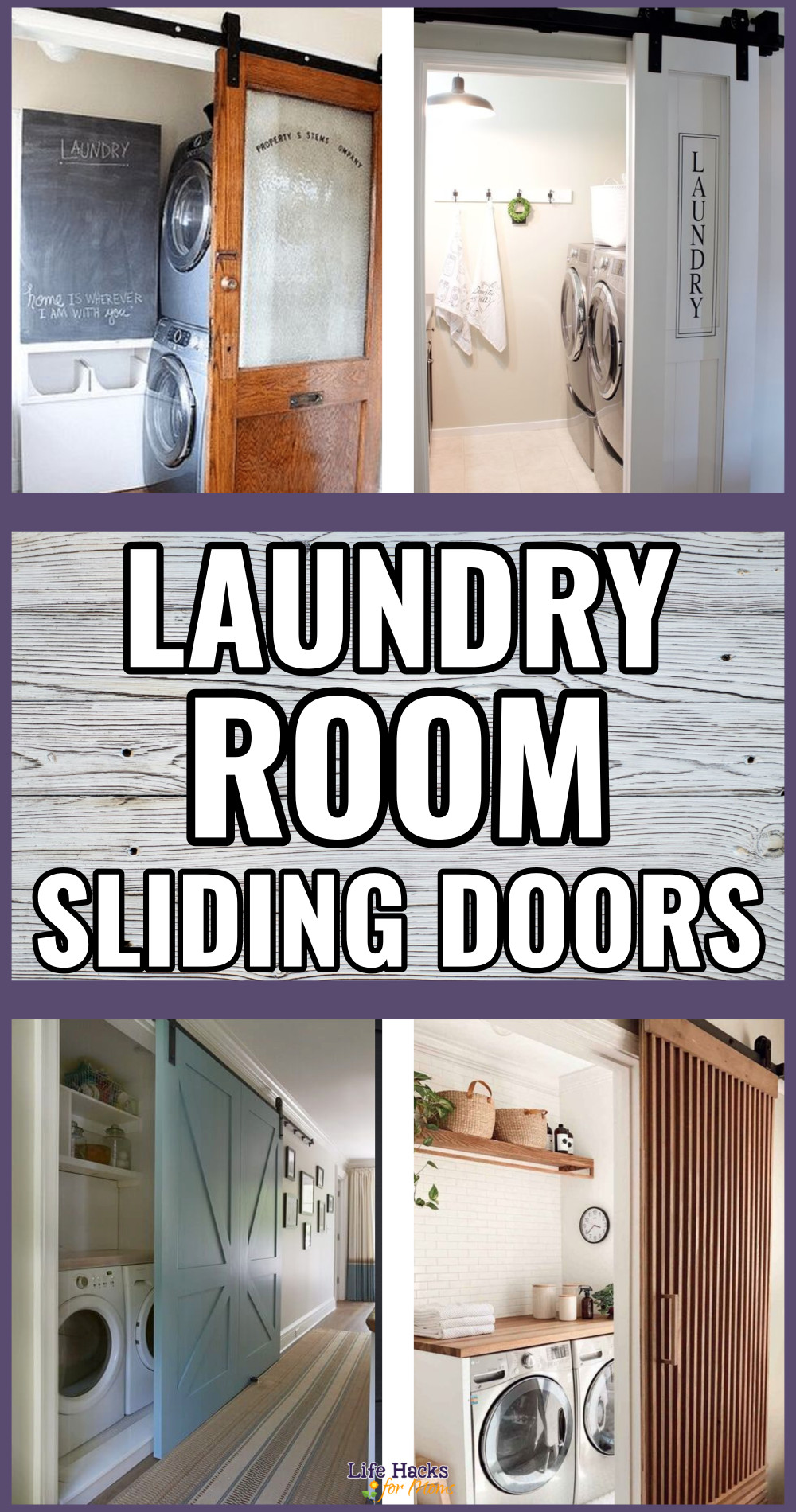 1 -✅ Small Laundry Room Ideas & Photos Of Low-Budget DIY Makeovers – Small Laundry Room Makeovers – 57 Low Budget Ideas To Spruce Up Your Tiny Laundry Room on a Budget – Creative and cheap DIY small laundry room ideas to update your small, outdated laundry room.
2 – Laundry Room Barn Door – Our laundry room barn door project is complete! See how to transfer a small space with lack of storage to a modern farmhouse laundry room… continue reading
3 – 30 Sliding Barn Door Designs and Ideas for the Home – Love a rustic look? Get inspired by these 30 sliding barn door designs and ideas for the home, along with some awesome tutorials… continue reading
4 – Design A Laundry Room – Your laundry room has to be one of the hardest working rooms in your home. Check out these brilliant laundry room design ideas… continue reading
Farmhouse Laundry Counters
If there's room in your washer/dryer area, provide a counter or even a small table for folding your laundry.
If there's isn't space in your laundry room for additional counter space, look into getting some sort of counter board that sits over your washer and dryer (and long as it won't interfere with your use OF the washer and dryer, of course).
Something like this: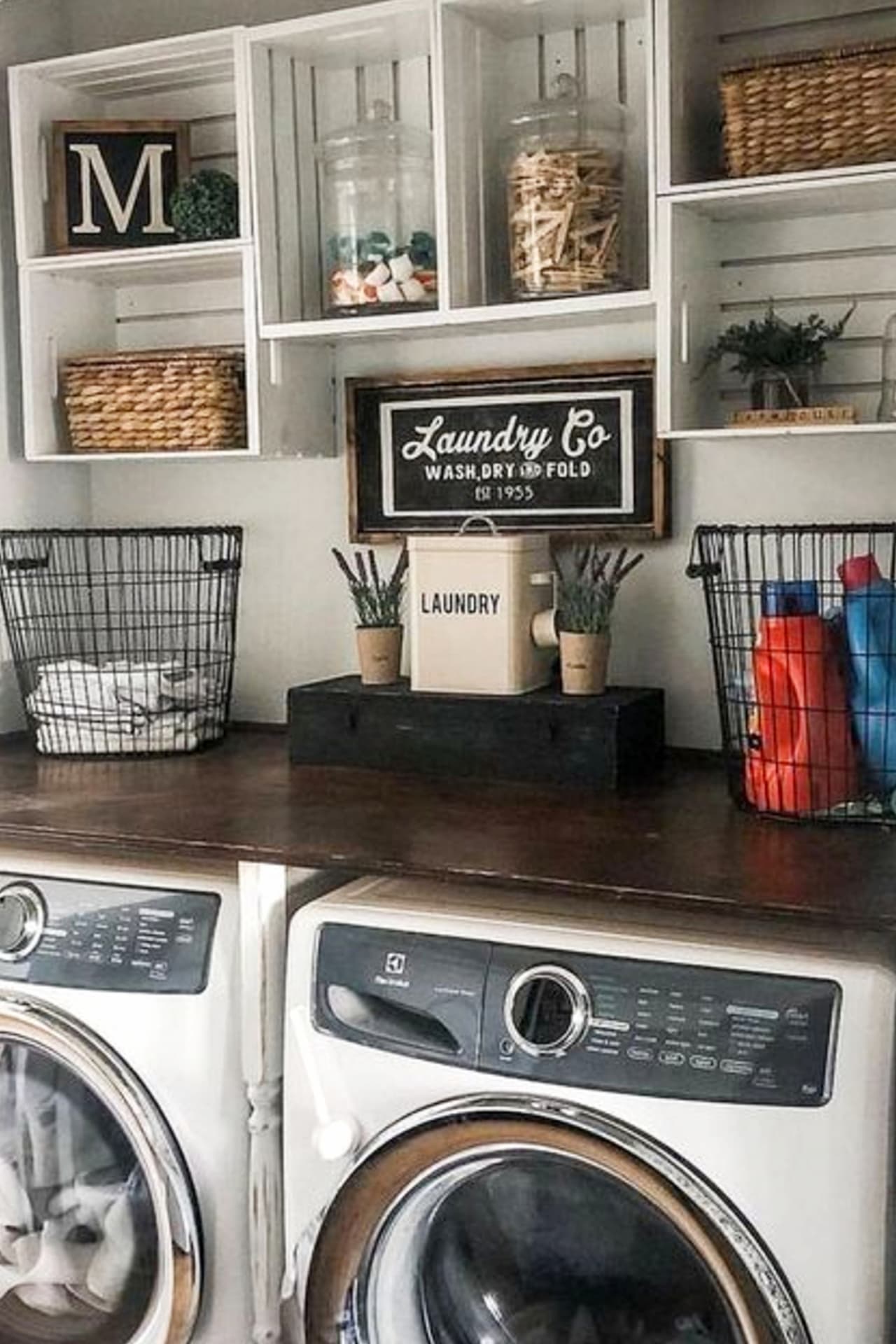 Laundry Room Countertops
Below are some really helpful resources for choosing countertops for your laundry room – and tutorials that will show you how to DIY your own laundry countertop.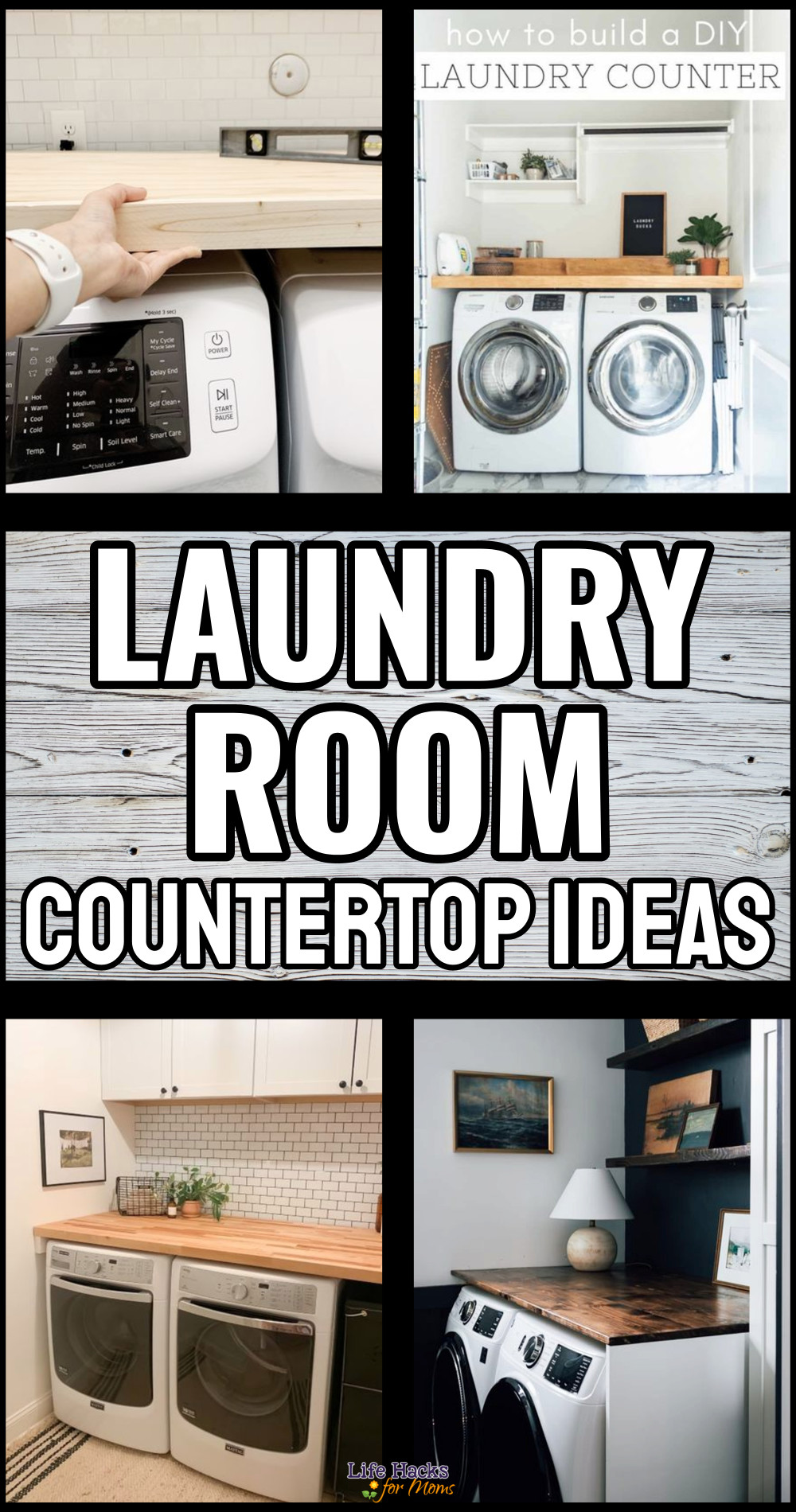 1 – DIY Faux Butcher Block Countertop – I built a faux butcher block countertop for my laundry room to upgrade the builder grade space. This tutorial shows you the process step by step… continue reading
2 – How To Build a DIY Laundry Counter – An easy tutorial for how to build a simple, wooden DIY laundry room counter with a ledge to add storage and function to your laundry room… continue reading
3 – Laundry Room Refresh DIY Projects – How to do a laundry room refresh on a budget with these easy updates. Beware, you may actually want to do laundry after this refresh… continue reading
4 – Affordable DIY Laundry Room Countertop – DIY Laundry Room Countertop – Step by Step. How to install a wood countertop over your washer and dryer – for less than $50… continue reading
Farmhouse Laundry Room Paint Colors
The right farmhouse paint color can give your laundry room not only a fresh new look, but can also make it appear bigger.
You can even paint the cabinets in your laundry room (if you have them) – this page below has the most popular cabinet paint colors this year and tips for painting your cabinets.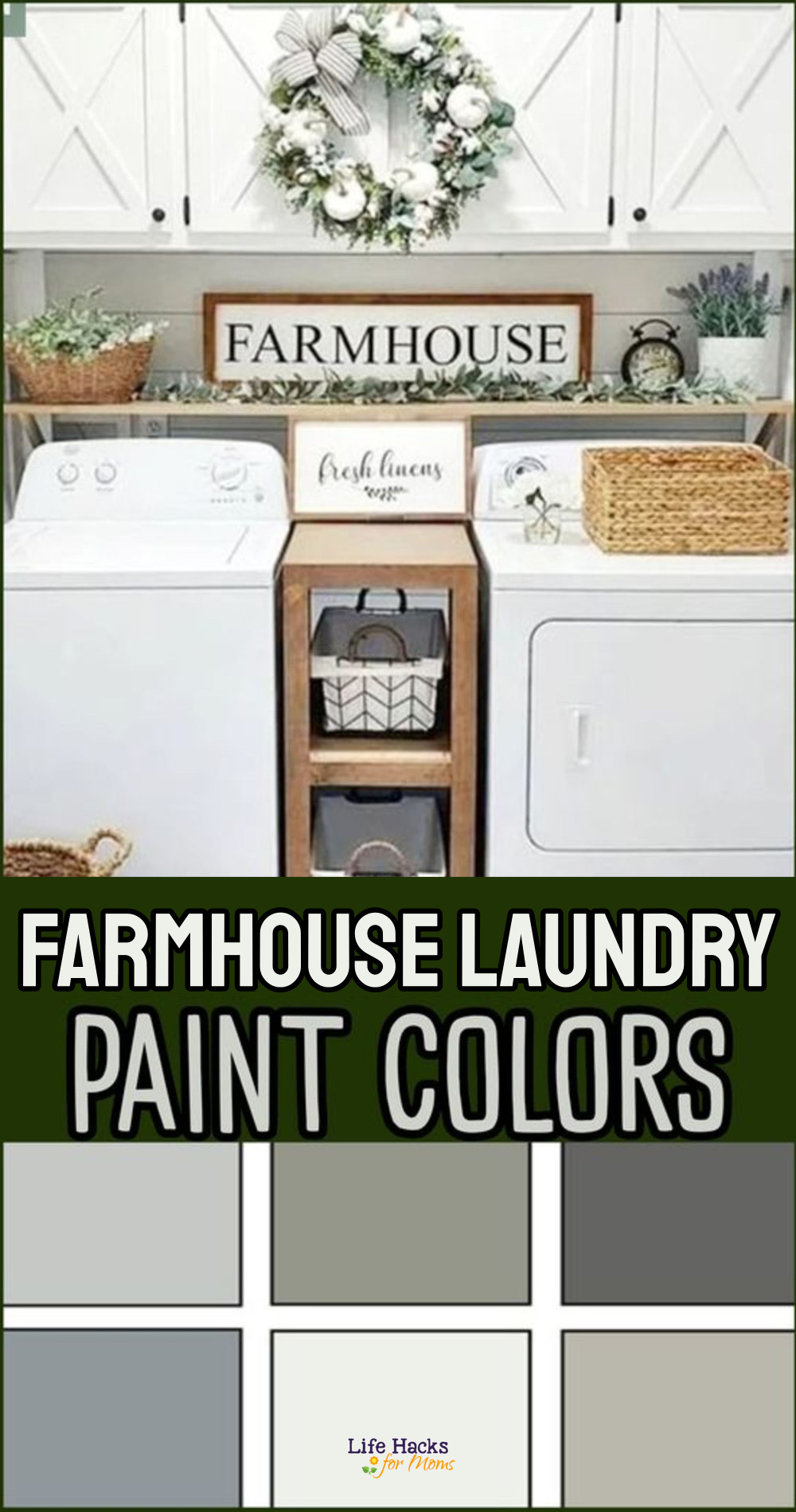 Farmhouse style laundry room paint colors tend to be on the more neutral side.
For example, the brighter colors in these neutral farmhouse living room paint colors.
Just keep in mind, the darker the wall paint color, the SMALLER your laundry room will feel.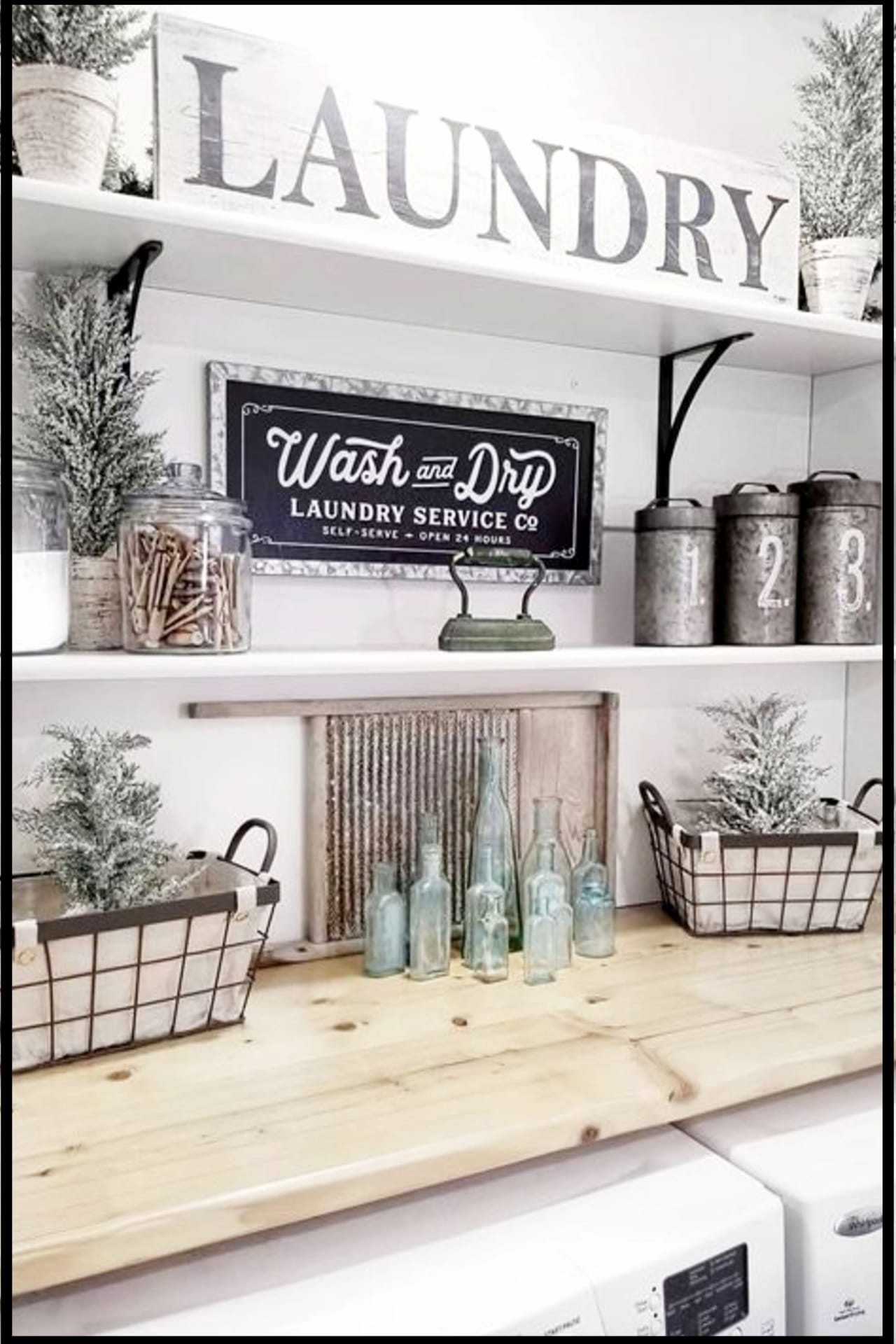 Rustic Laundry Decor Ideas
Here are some simple and cheap ways to give your small laundry room a rustic makeover on a budget:
Use a rustic design throw rug
Add rustic farmhouse laundry signs
Add a rustic-style shelf between your washer and dryer
Add shiplap accents to your wall
Paint your cabinets white (or add white cabinets)
Add baskets and other farmhouse style decor items
Put a country farmhouse wreath on your cabinet, wall or door
Mix in faux greenery
If all those ideas were put together into my PERFECT rustic farmhouse laundry room, it would look like this: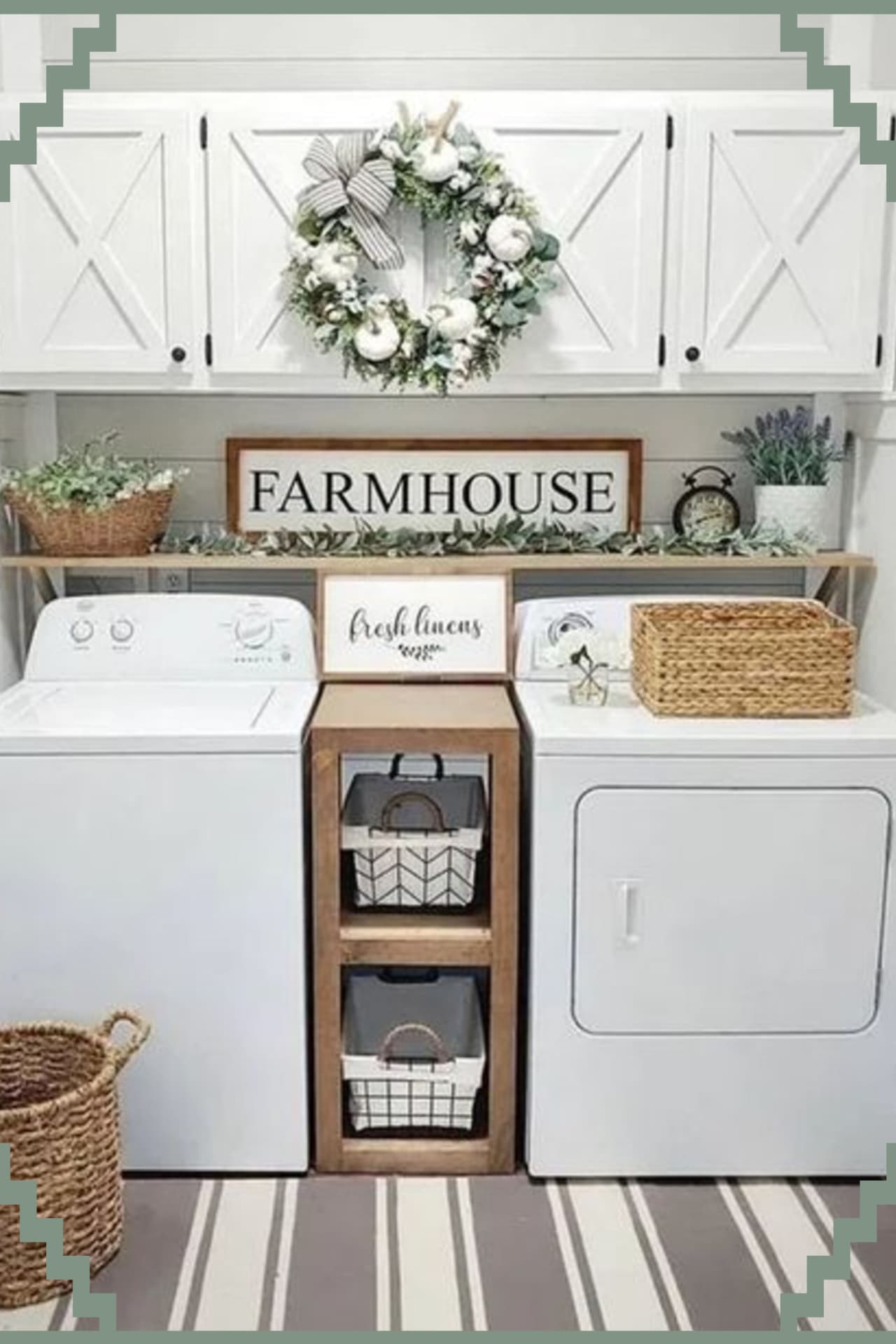 Farmhouse Laundry Room SignShow Me This Farmhouse Laundry Room WreathShow Me This Turn This Shelf Sideways Between Washer & DryerShow Me This Use an Indoor Outdoor Area Rug Like ThisShow Me This
Laundry room rugs can not only add splashes of color that tie in with your farmhouse theme, but can also add comfort to an area where you might need to stand for extended periods of time.
Personally, I would never add actual CARPET to my laundry room, but I love having throw rugs and 'runner' rugs in front of my washer and dryer – and I find it best to choose the indoor/outdoor types of rugs since there is extra moisture in laundry rooms.
Farmhouse Laundry Signs
Farmhouse laundry room signs are also a fun and cheap way to decorate your farmhouse-style laundry room.
I've seen some really cute farmhouse laundry room signs here that all seem to be very affordable.
 Farmhouse Laundry Room Sign with Rustic Wood FrameShow Me This Wash, Dry, Fold, Repeat Laundry Room SignsShow Me This Hanging Farmhouse Basket For Lost SocksShow Me This Rustic Farmhouse Script Wall SignShow Me This
(note: if you're renting your house or apartment, be sure to use command hooks so you don't put nail holes in the wall and risk your security deposit)
Farmhouse Laundry Lighting
If your small laundry room has an actual window, well, consider yourself lucky.
Most small laundry rooms do NOT have a window so look into farmhouse style light fixtures to brighten the space and tie it in with your decorating theme.
Below are some great resources to find the perfect lighting for your farmhouse-style laundry room: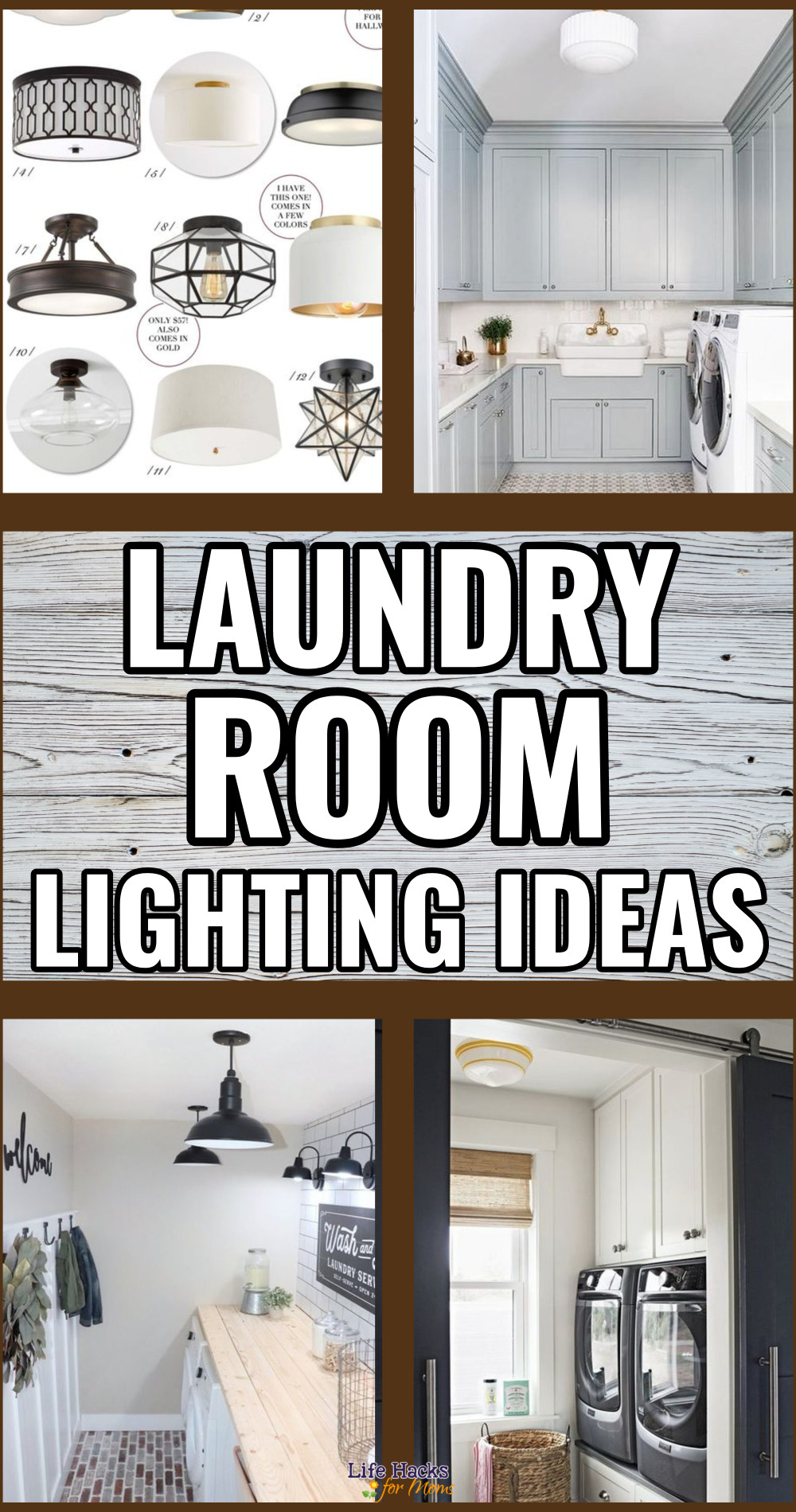 1 – Inexpensive Flush Mount Lighting Under $100 – Cheap Flush Mount Lighting Under $100! If you're on the hunt for cheap flush mount lighting under $100, check out these 12 favorites that aren't boring and still make a… continue reading
2 – 13 Affordable Designer Style Lights Under $100 from Walmart – Life is too short for builder grade flush mounted lights. Check out 13 affordable designer style lights under $100! Can you believe these gorgeous ceiling mounted… continue reading
3 – Farmhouse Laundry Room Light – Ceiling Steel Pendant – found on Etsy here.
4 – Amazon Finds : For the Laundry Room – I'm sharing two complete laundry room designs using only Amazon products in my latest 'Amazon Finds' post… continue reading
More Farmhouse Laundry Room Ideas:
Farmhouse style baskets like these are useful, super pretty AND an inexpensive ways to get those farmhouse touches in those small spaces in your laundry room.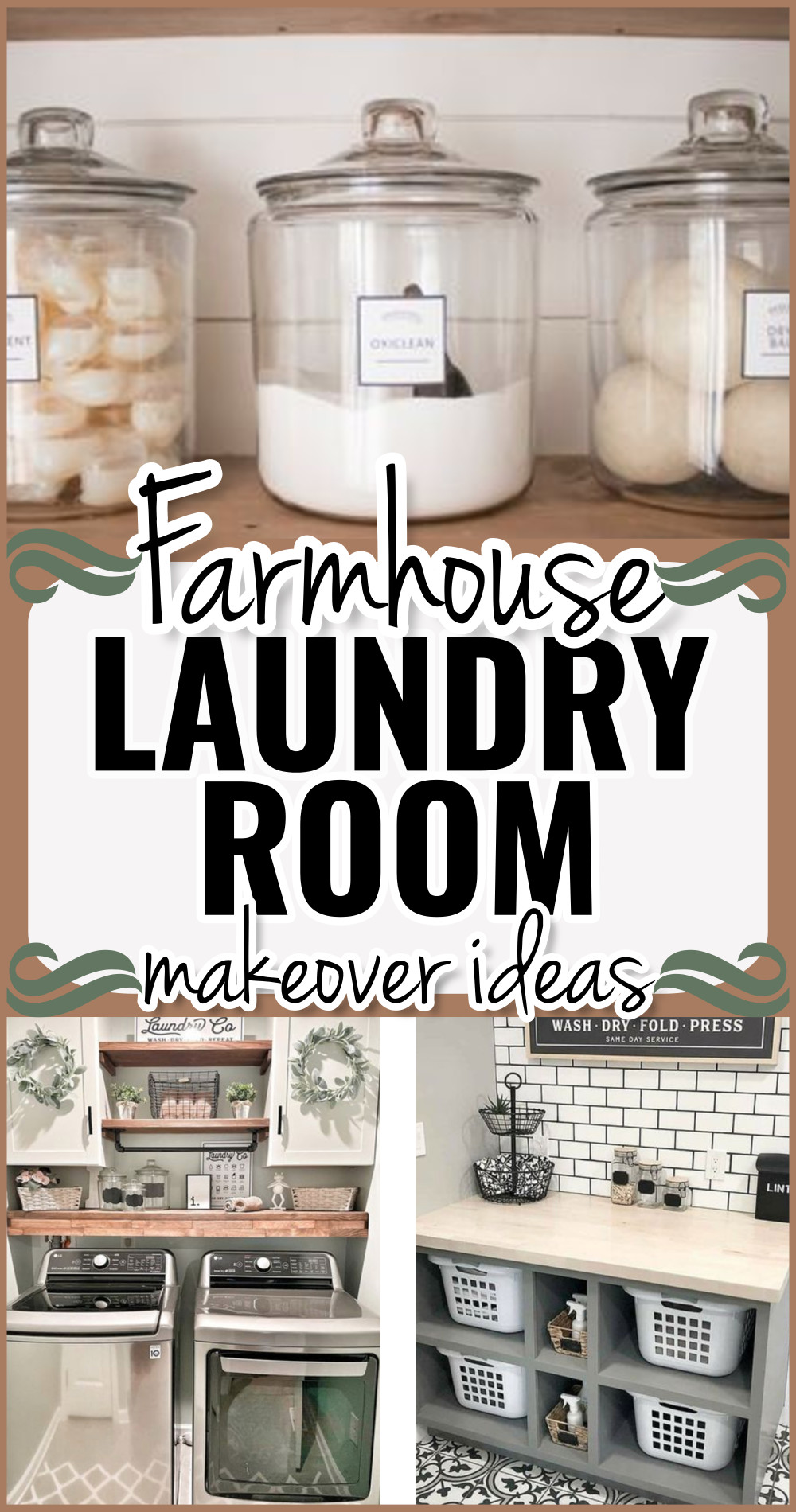 Top Picture: Pretty Organization in the Laundry Room
Bottom Left Picture: Laundry Room Rugs on Etsy
Bottom Right Picture: Laundry Room Ideas to Boss Your Dirty Washing
More Farmhouse Decorating Ideas:
---
Miss Anything?
Go back to the top of: ==>> Rustic Laundry Room Ideas
Go back to a specific section: