---
Laundry Storage Ideas For Rented Apartments and Small Rental Houses That WON'T Risk your Security Deposit.
If you're trying to figure out how to store laundry in a small apartment WITHOUT risking your security deposit, take a look at these clever ideas below.
I found solutions and PICTURES of inexpensive tiny bathroom storage ideas, cheap renter-friendly shelving, laundry basket storage ideas and more apartment storage hacks that are absolutely GENIUS for renters.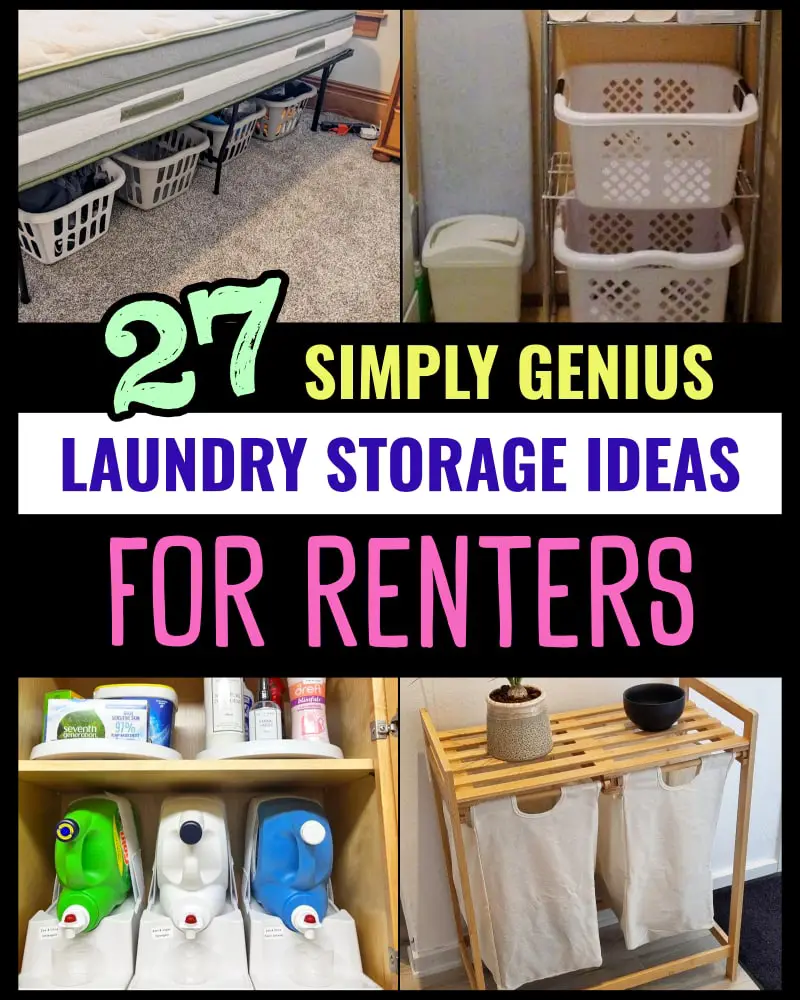 Welcome to Life Hacks for Moms - we hope you enjoy all our tips and tricks for busy moms! Please note that we use affiliate links and ads to generate income at no cost to you.
---
Laundry Storage SOLUTIONS For Renters
Living in a small rented apartment, condo, or tiny rental house has a LOT of challenges – the biggest one being: STORAGE SPACE!
We talked yesterday about what to DO if you do NOT have a linen closet –
So TODAY we're going to talk about storage solutions for renting that are renter-friendly AND budget-friendly to create more storage space in your small living areas.
Best SIMPLE Solution
When you have a BIG problem…
the best solution is usually the most SIMPLE solution.
When it comes to laundry storage in a small rental, this is also true.
For example, this SIMPLE laundry storage solution for renters in the picture below (YES, your laundry is HIDDEN!)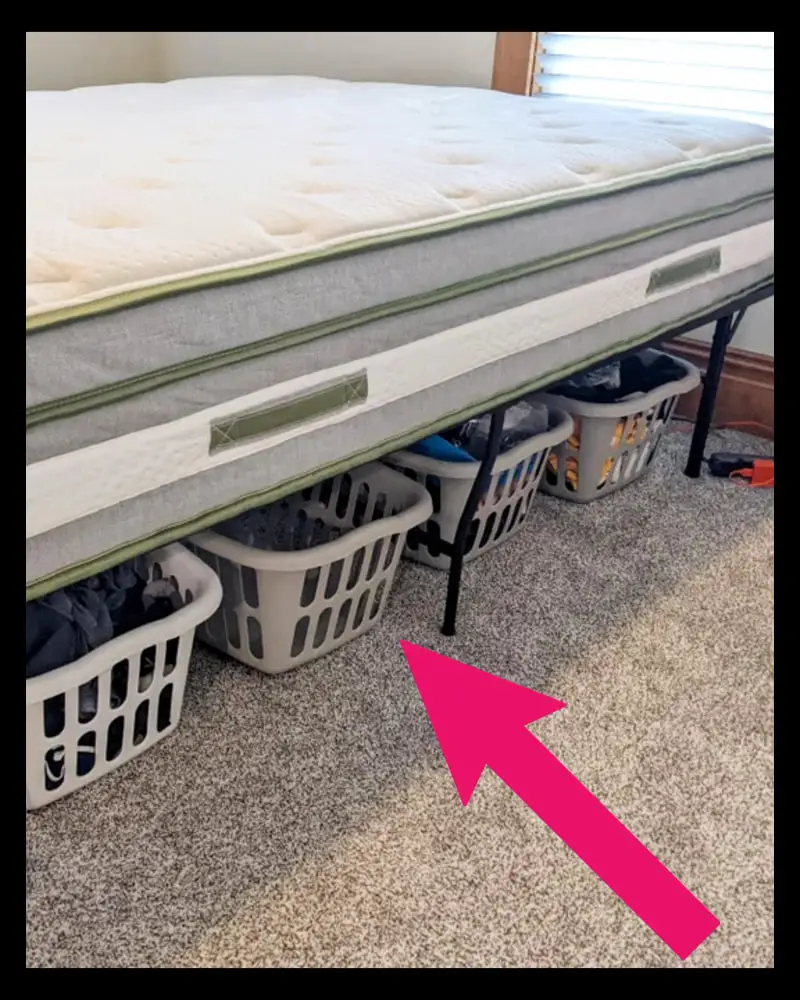 Just use a few cheap bed risers and store your hampers UNDER your bed.
GENIUS!
✅ Here's a BONUS Tip:
Get collapsible laundry baskets like these…
That way, when you're baskets are empty you can store multiple baskets flat on top of each other!
 Make Your Bed Higher With These✅ I Found It Here Use COLLAPSIBLE Laundry Baskets✅ I Found It Here
Laundry Cabinet Storage Hack
When it comes to my favorite inventions of all time, it has to be this laundry storage cabinet hack in the picture below!
Just LOOK at it!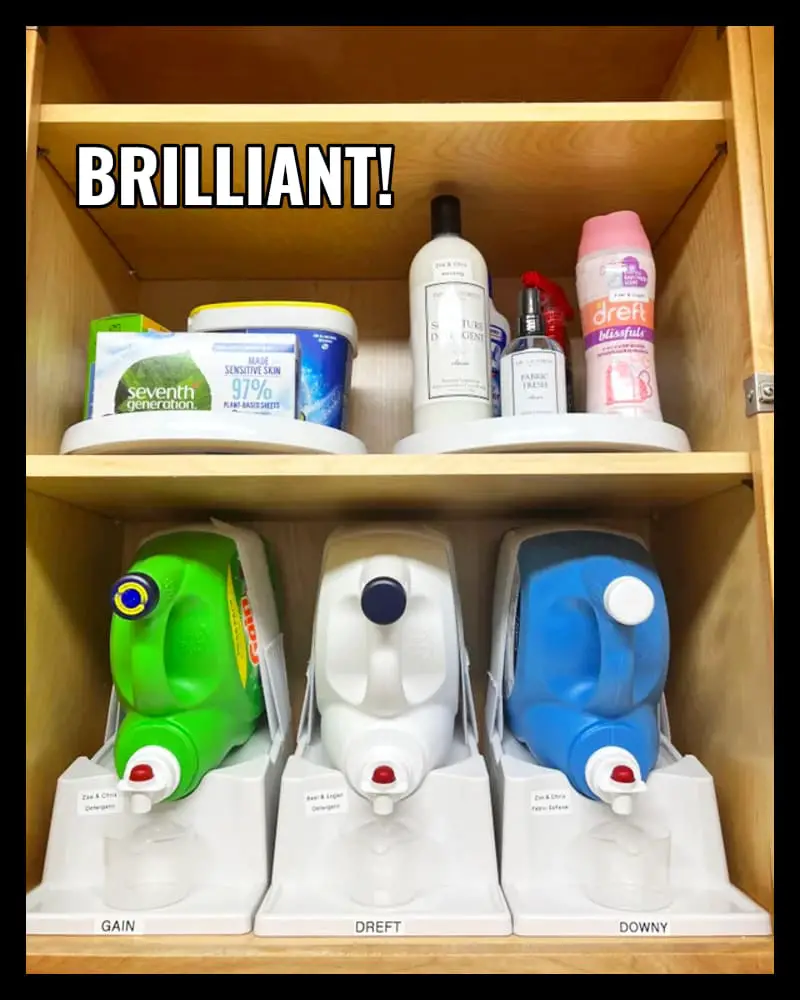 If you have a small cabinet in your rental house or apartment laundry room, you MUST do this!
It's a total game changer AND maximizes the space you DO have!
 Best Invention EVER!✅ I Found It Here My 2nd Favorite Thing✅ I Found It Here
Remember: It's not about how MUCH storage space you have – it IS about how you USE the space you DO have!
Brilliant Hamper Storage Idea
This is a genius idea for hamper storage in a small rental!
If you're like me, I have more dirty laundry baskets than I have space to put them!
If you're allowed to hang things according to your lease or rental agreement, I would TOTALLY do this!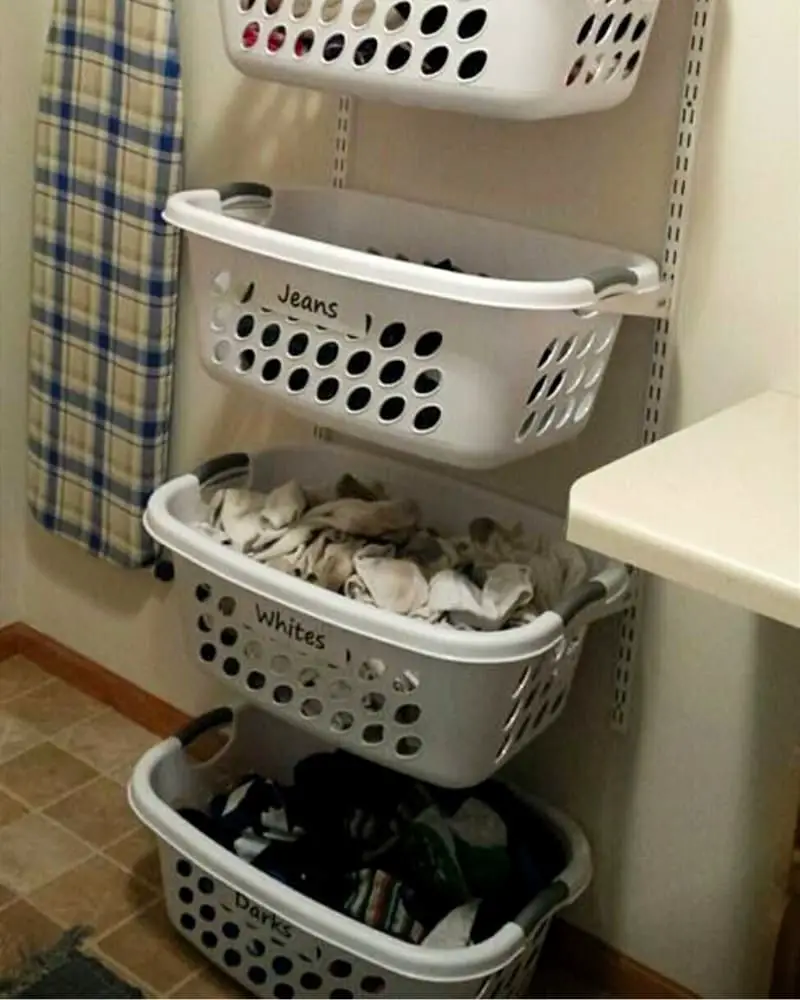 Now, if you are NOT allowed to hang things on the wall, here is a more renter-friendly laundry storage solution: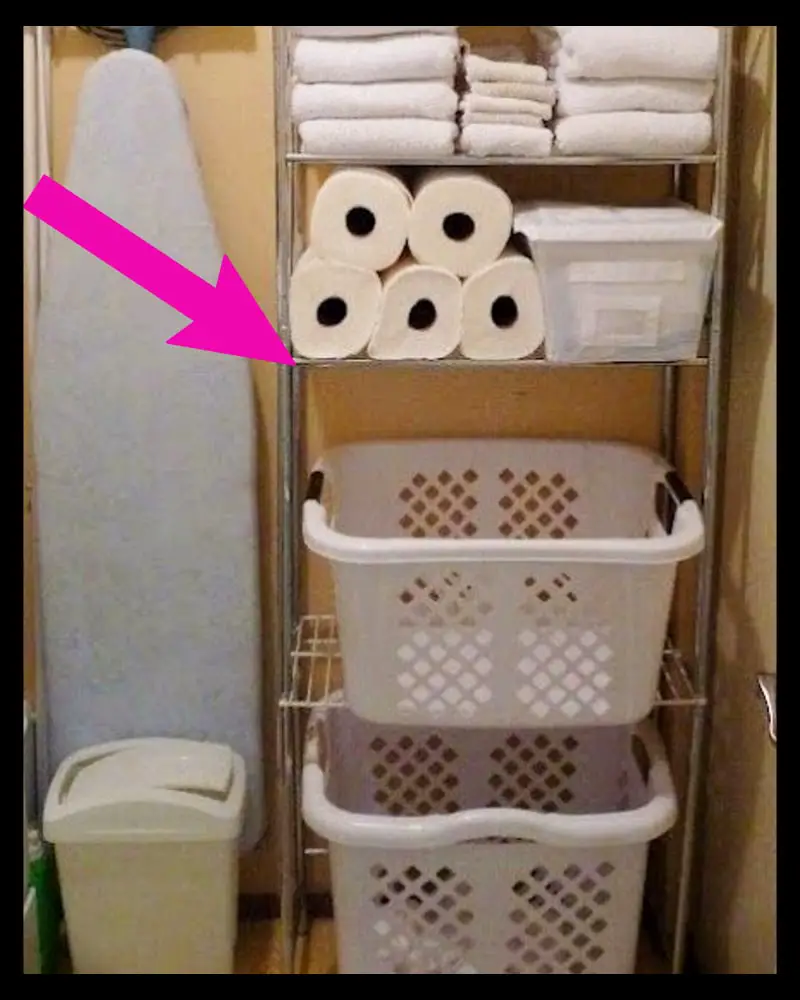 Or, if you are a renter blessed with even MORE wall space, you could do it like this: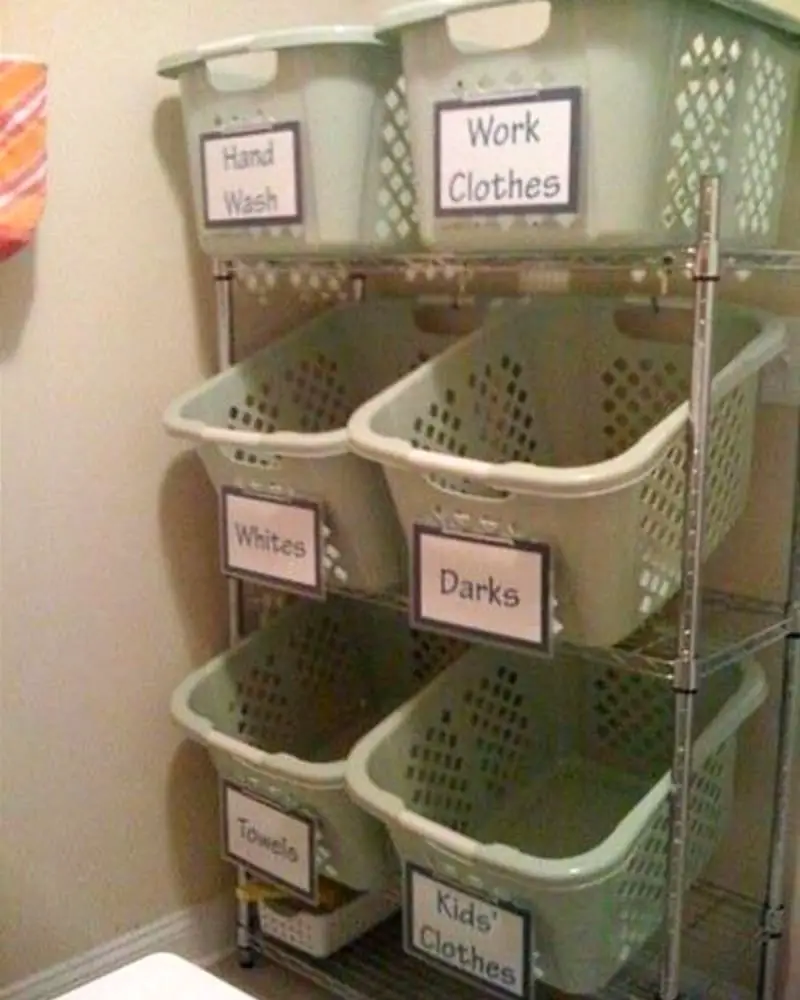 I would LOVE a laundry storage system like this in the picture below – heck, I'd use it as my clean laundry dresser and just KEEP all my clean laundry in those baskets in my bedroom!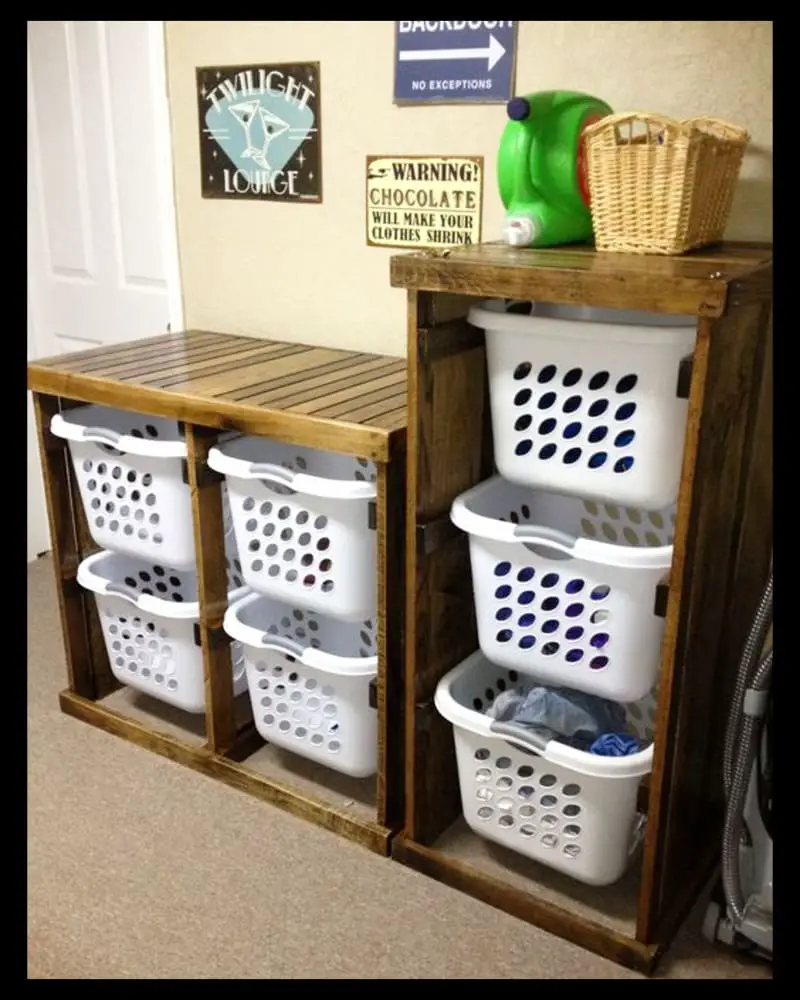 BUT – I know I'm not crafty enough to make that…plus, I don't think my rental has enough wall space available.
Double Your Storage Space Like This
This is probably the most budget-friendly and GENIUS idea for laundry storage in a small rental.
We renters all have ONE big problem – too much STUFF and not enough SPACE.
Here is a way to store and HIDE your laundry in your bedroom: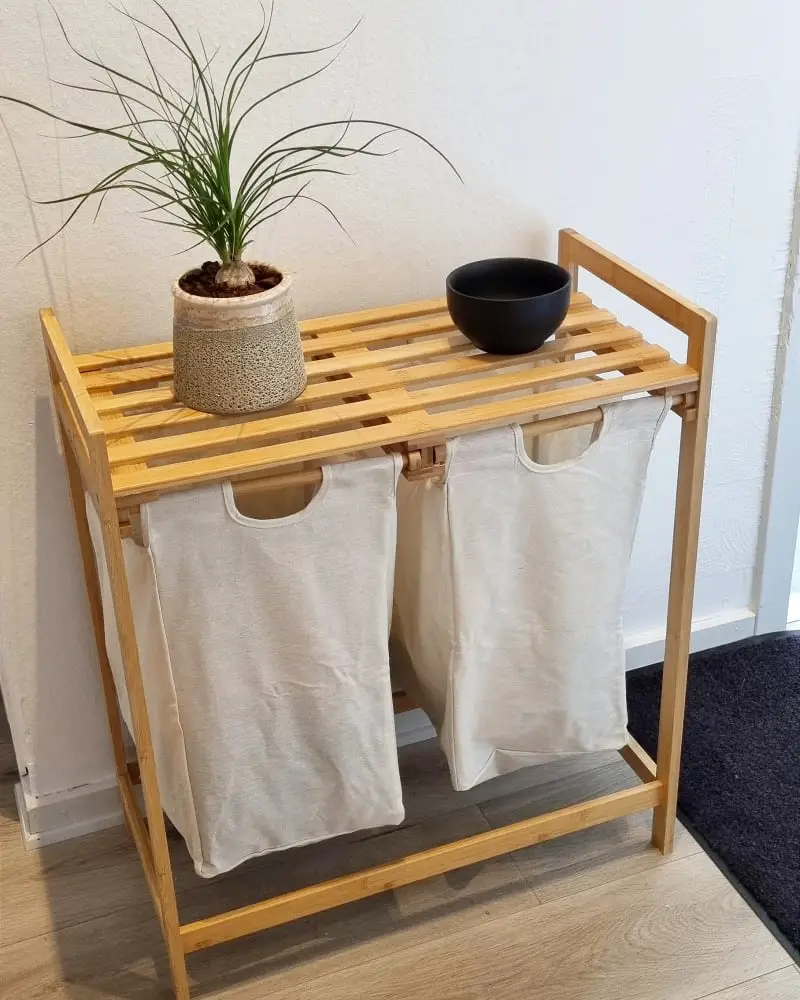 Yep, your laundry is hidden in plain site when you use this storage idea… PLUS, you now have a nightstand or extra table for additional storage!
 2 Hampers Underneath…✅ I Found It Here Or one BIG hamper table✅ I Found It Here
Go UNDER It
We already saw a BRILLIANT laundry storage hack for under your bed, so how about another hack that stores things in otherwise unused spaces.
Like… UNDER your washer and dryer!
Granted, that solution is not for everyone.
First off, you need to have a FRONT loader washer and dryer AND you need help to get that storage space UNDER them.
More Renter-Friendly Storage Ideas
Miss Anything?
Go back to the top of: ==>> Laundry Storage Ideas For Renters
Go back to a specific storage idea:
Popular This Week:
– Quick Decluttering Hacks I Wish I Know SOONER
---
– Leprechaun Trap Ideas That WORK
---
– NO BAKE Potluck Dessert Ideas
More Ideas: