---
12 Easy No Bake Potluck Desserts You Don't Have To Cook This Mother's Day –
From make ahead desserts to last minute no bake desserts for Mother's Day, these ideas below are perfect cheap desserts for a large group, family reunion or for any Mother's Day potluck or party crowd. There's lemon desserts for Mother's Day, decadent chocolate dessert ideas and COLD desserts, too.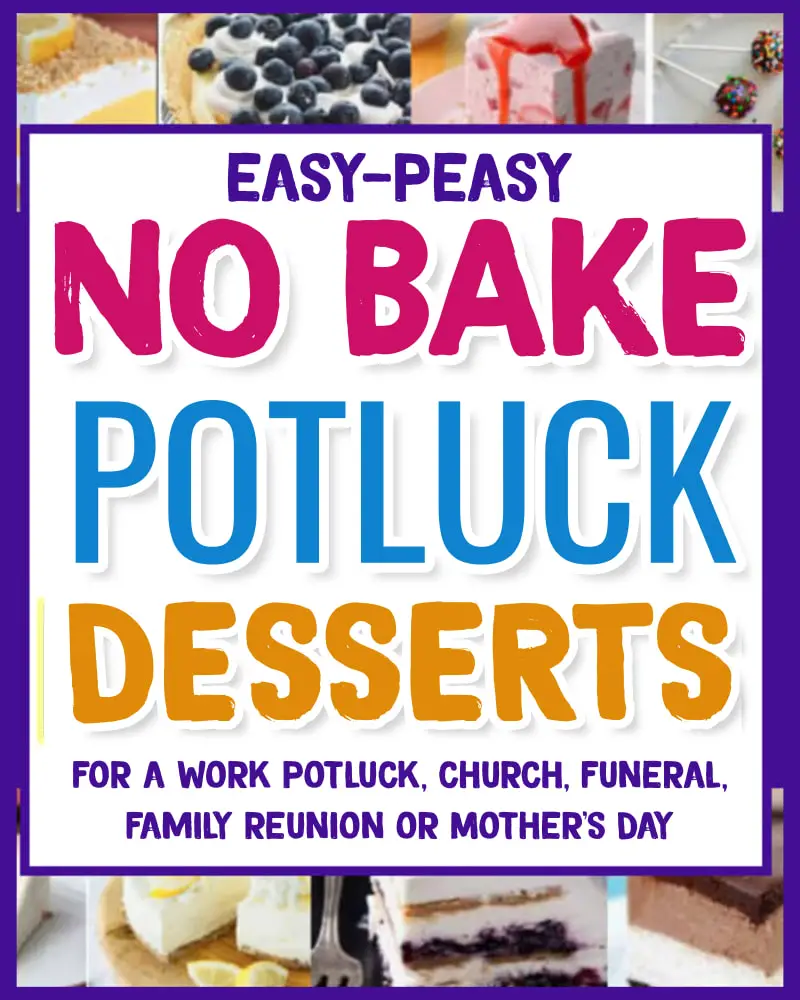 Welcome to Life Hacks for Moms - we hope you enjoy all our tips and tricks for busy moms! Please note that we use affiliate links and ads to generate income at no cost to you.
---
No-Bake Potluck Desserts
When it comes to easy and last minute desserts for a potluck on Mother's Day, I usually make one of these super simple dump cakes – it gets NO easier than that!
When I want to make an impressive dessert for our Mother's Day Potluck Dessert Table at church, the choice is simple…
I ALWAYS make one of my grandmother's famous potluck dessert recipes.
When it comes to figuring out the food menu when you're trying to feed a lot of people cheaply, these inexpensive dessert recipes below are a real god-send.
I'm ALWAYS making something for work, church, funeral food, family reunions, Christmas, birthdays, Thanksgiving, baby showers and bridal showers, St Patricks Day, luncheons etc etc ETC… and of course, our Easter Potluck at Church.
We also cook for a LARGE group at our church suppers every Wednesday night so it's a LOT of food to make.
I pretty much always bring a dessert – figuring out good main dish ideas for a potluck is a big job – and I'm not ALL that into cooking big batch food lol!
I'm ALSO in charge of bring dessert to our family reunion this same month, so these no bake desserts are PERFECT for our family reunion crowd!
But this year, I don't have time for all that so I collected this list of Mother's Day desserts you do NOT have to COOK.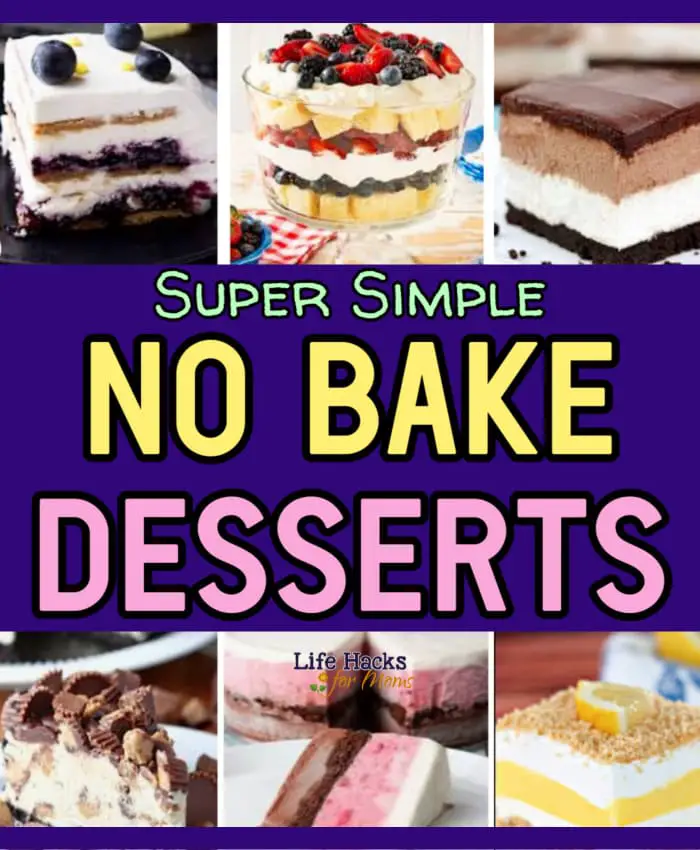 I'm all about NO BAKE recipes – best of all, these are the perfect make ahead dessert ideas for Mother's Day so I'm NOT scrambling around last minute trying to prepare sweat treats and desserts for my Mother's Day crowd.
When you look at my last minute potluck ideas for work, you will see that I am VERY good at creating party food out of thin air…lol!
I like things SIMPLE and QUICK…. and yes, delicious, too!
Like my FAMOUS large batch dessert that everyone calls my "Heavenly Chocolate Pan Stuff" (yes, that's the official name haha!)
Just mix up the pudding with the milk, layer with the graham crackers, then with the Cool Whip then smear chocolate frosting all over the top.
You WILL want to pin this for later – it's so easy and great to make last minute OR ahead of time.
This is what my "Heavenly Chocolate Pan Stuff" looks like and the ingredients: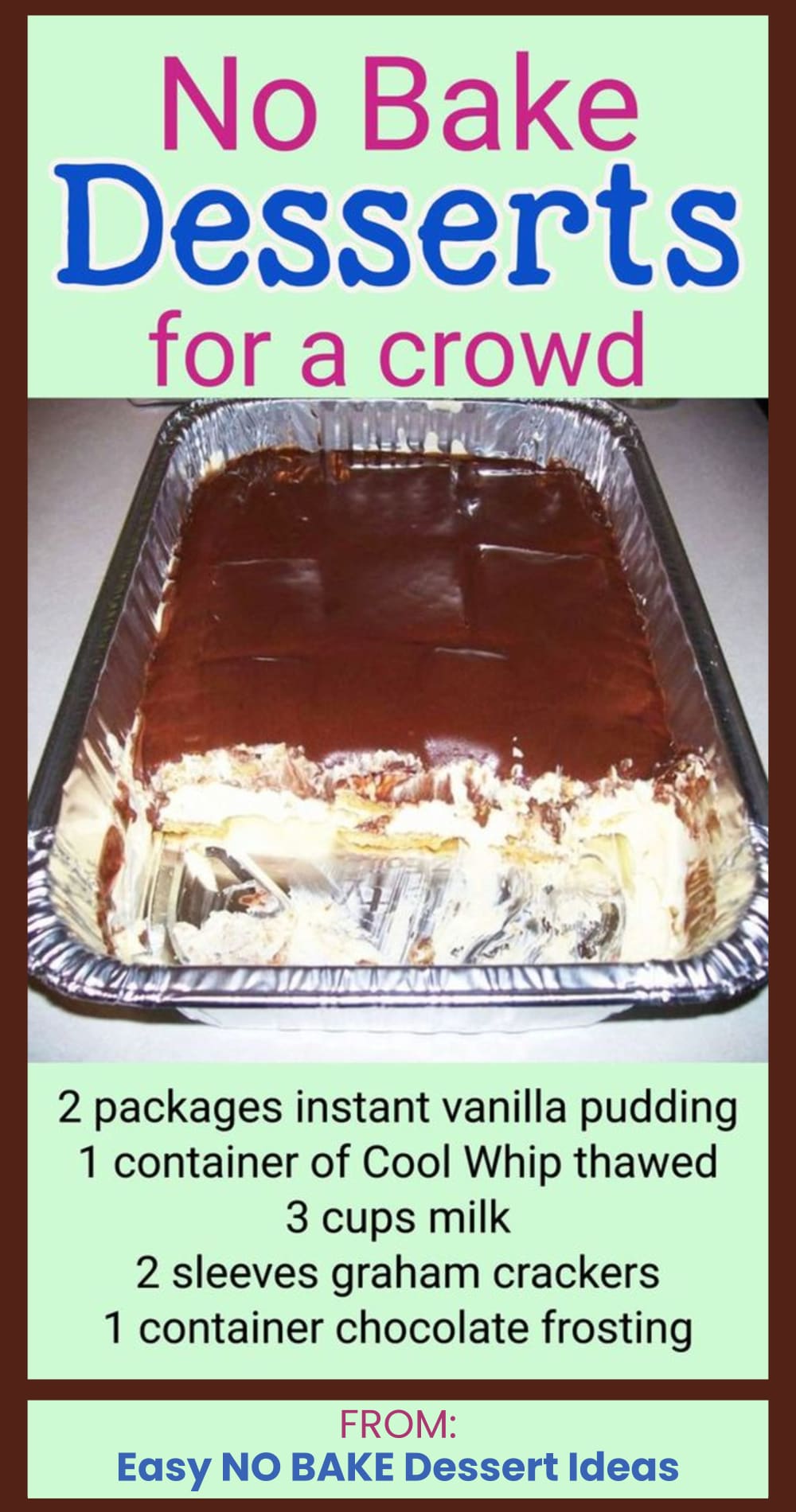 No Bake Cheesecake
When it comes to DELICIOUS no bake desserts for potlucks, parties, Holidays, etc, nothing is better than this Chocolate Peanut Butter No Bake Cheesecake recipe below.
I'm tellin' ya – it's so good, it's almost sinful (those my small group church group sure gobbles it up – sinful or not haha!)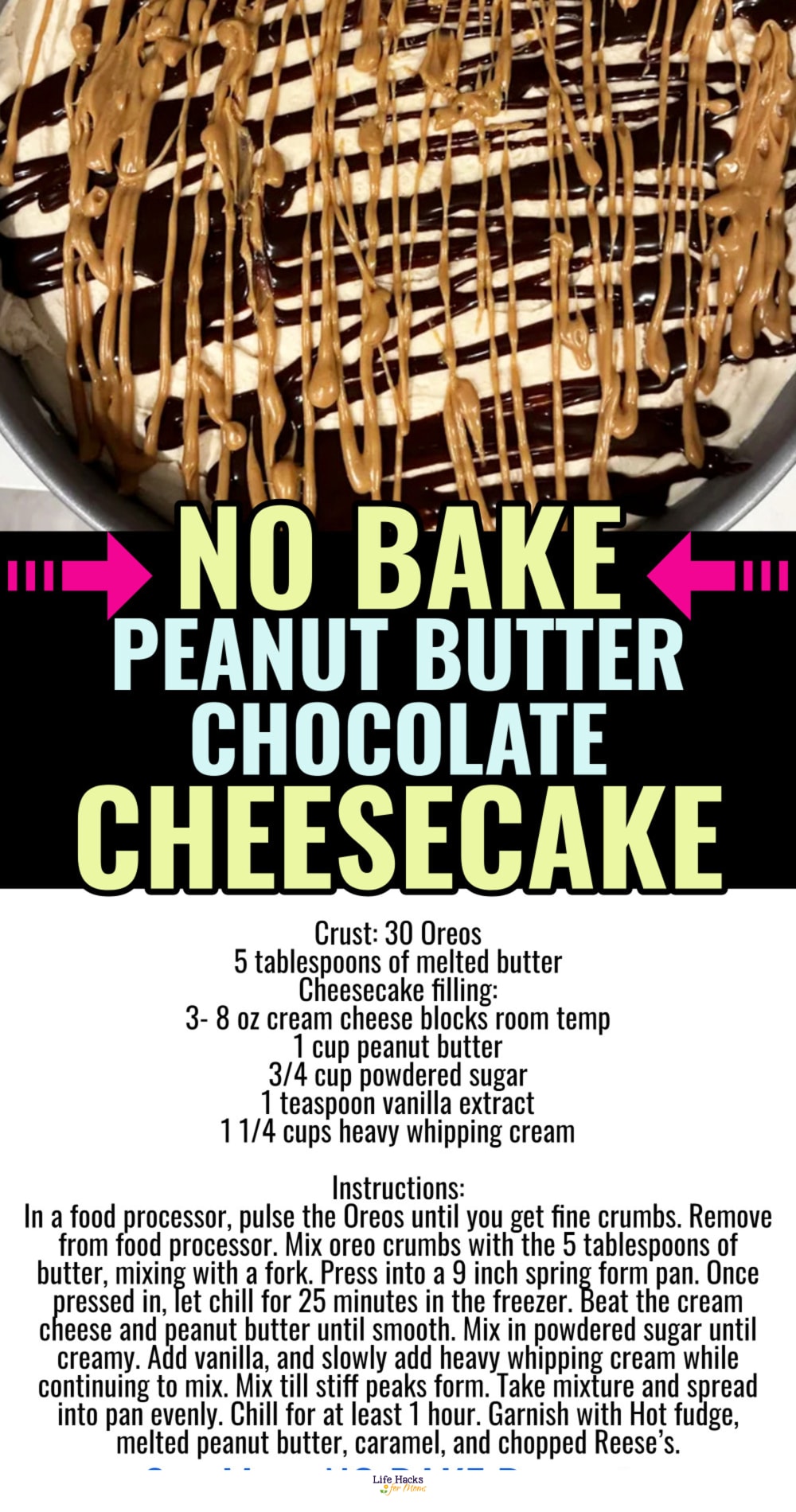 The crust is made out of 30 Oreos and some butter.
The filling contains 3 blocks of cream cheese, 1 cup of peanut butter, powdered sugar, vanilla extract and heavy whipping cream.
Easy enough to make too! Once the cheesecake is chilled in the fridge, top it off with hot fudge, or melted peanut butter, caramel or chopped up Reese's peanut butter cups… or ALL of that.
Fair warning though… once you make that no bake cheesecake above and ANYONE tastes it – you WILL be requested to make for EVERY occasion!
Lemon Desserts
These lemon desserts for Mother's Day below are all NO bake desserts you do NOT have to cook – you print the recipes below the picture.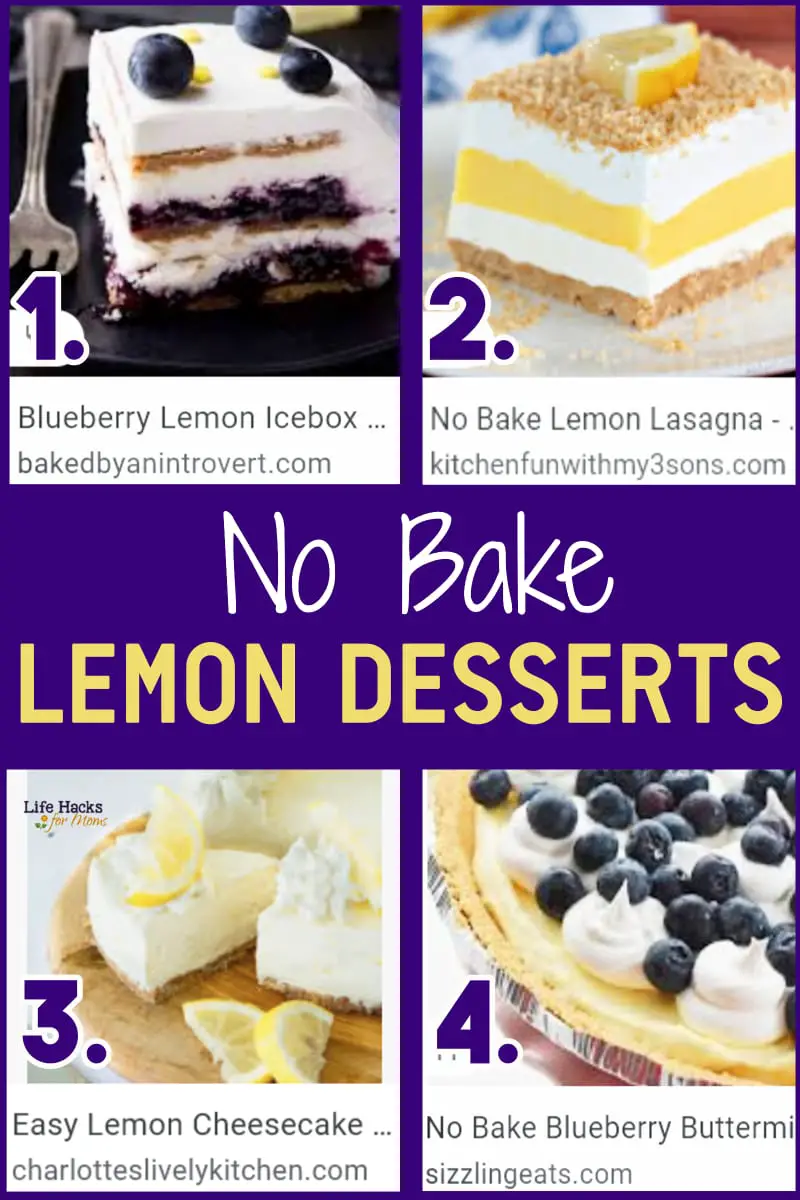 No Bake Lemon Desserts in the Picture Above:
| | |
| --- | --- |
| 1. Blueberry Lemon Icebox Cake | – Easy no bake lemon dessert with few ingredients – my mom's favorite! |
| 2. No Bake Lemon Lasagna | – Super simple dessert with a secret store-bought ingredient – see below. |
| 3. No Bake Lemon Cheesecake | – A unique twist on a crowd-pleaser no bake lemon dessert. |
| 4. No Bake Lemon Blueberry Pie | – Easy no bake cold pie with only 5 ingredients. |
Where to find the recipes:
Blueberry Lemon Icebox Cake –

This no bake lemon dessert for Mother's Day is perfect for ANY occasion and is so easy to make. Layers of blueberries between lemon whipped cream and graham crackers – just yum! Takes about 20 minutes to make – see the recipe.

No Bake Lemon Lasagna Dessert –

This no bake lemon lasagna dessert has a secret ingredient… Golden OREO cookies. It also uses instant pudding to make this no bake lemon dessert extra easy to make – print the recipe.

No Bake Lemon Cheesecake –

This no bake lemon cheesecake recipe uses an ingredient I had to look up because I had never heard of it before.

Do you know what digestive biscuits are?

I sure didn't until I read about them here.

Interesting – the name sure isn't appealing, but now that I see what they are, they sound good!

Those biscuits are used as the crust for this no bake cheesecake – print the recipe.

No Bake Lemon Blueberry Pie –

I LOVE this no bake lemon blueberry pie – only 5 ingredients, too! You will see that her recipe calls for vanilla instant pudding, but I use lemon instant pudding and it is SOOOOOO good! Mix the 4 ingredients together, pour into the crust and pop in the refrigerator for a few hours – print the recipe.
Chocolate Desserts
All the moms LOVE chocolate, that's what these No Bake chocolate desserts so popular every Mother's Day.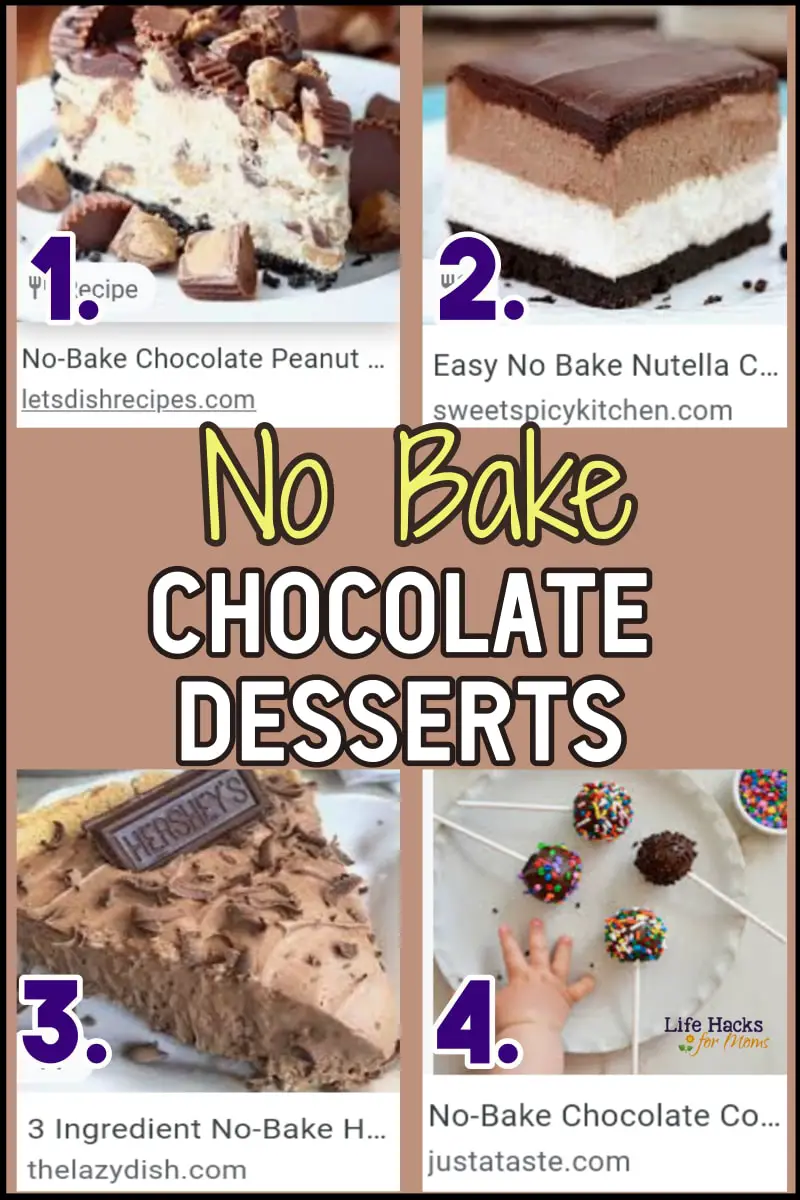 No Bake Chocolate Peanut Butter Cup Pie –

Using a OREO cookies as the crust, this no bake chocolate peanut butter cup pie is a dream dessert for THIS mom – print the recipe.

No Bake Nutella Chocolate Cheesecake Bars –

I'm personally not a fan of Nutella but my kids love it. And I have to admit, these no bake Nutella cheesecake bars look darn good…and it's really pretty too. Only takes about 20 minutes to prepare it then simply pop it in the refrigerator – print the recipe.

3-Ingredient No Bake Hershey's Pie –

This is a decadent and rich no bake chocolate dessert recipe for Mother's Day that you do not have to cook AND it only has THREE simple ingredients. It is melt-in-your-mouth, thank your lucky stars GOOD – print the recipe.

No Bake Cake Pops –

These No Bake Chocolate Cake Pops are a fun and easy Mother's Day dessert idea that only has 5 ingredients. The best part, to me, is that the kids LOVE to decorate them and give them to all the moms at our Mother's Day family gathering each year – print the recipe.
Cold Desserts
From fruit desserts to frozen desserts, these cheap and easy COLD desserts for Mother's Day all look SO good – there's a dairy free no bake dessert option too.
If you're a fan of my easy COLD breakfast appetizers, you'll LOVE these cold Mother's Day dessert ideas, too!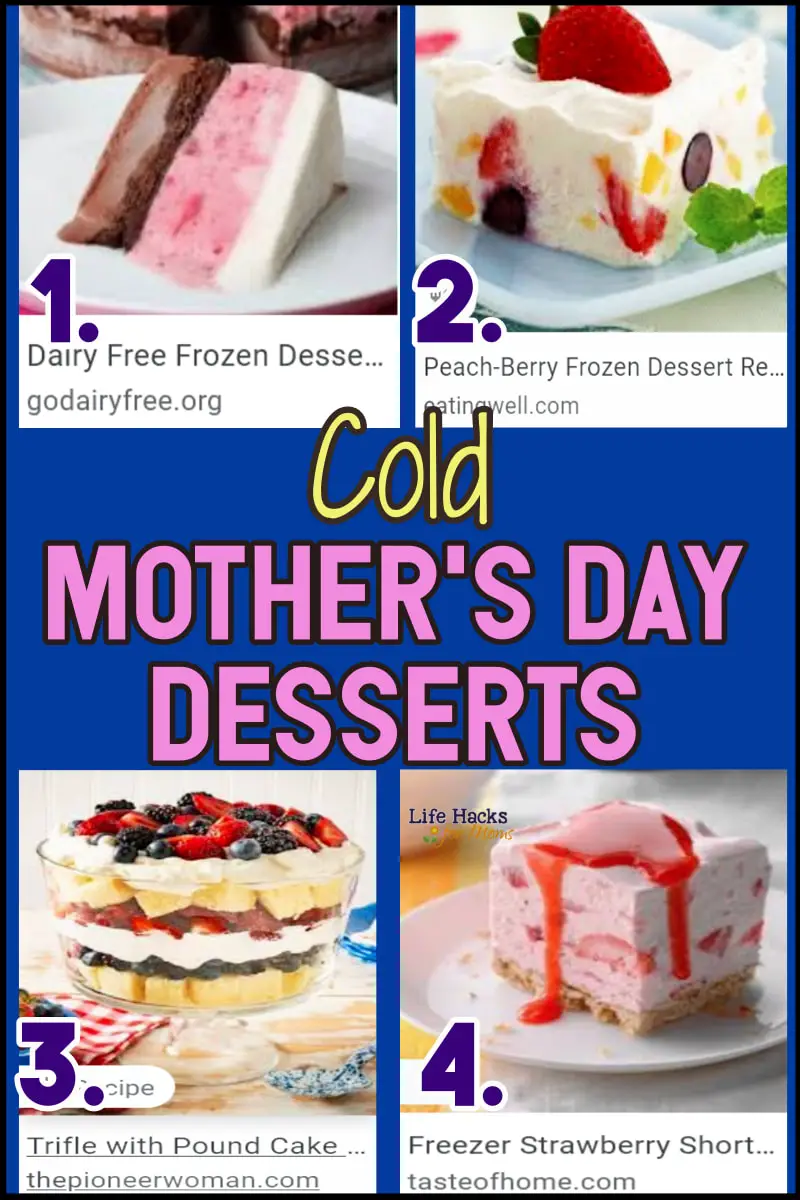 Dairy-Free Chocolate Cherry Brownie Ice Cream Cake –

Yes, the name of this dairy-free no bake Mother's Day dessert is certainly a mouthful – I guess a better, shorter name for it would be Dairy Free Black Forest Ice Cream Cake, but that's not nearly as descriptive as it needs to be – this is one DELICIOUS Mother's Day dessert for ANY crowd – they won't care if it's dairy-free or not! I didn't see a way to print the recipe so you'll need to visit the recipe page here.

Peach-Berry No Bake Cold Dessert –

Not only is this Peach-Berry No Bake dessert super pretty to look at, you can also make this Mother's Day dessert ahead of time (it can stay in the freezer for a week) – print the recipe here.

Pound Cake and Fruit No Bake Mother's Day Trifle –

Leave it to The Pioneer Woman to come up with a stunning and aesthetic No Bake Mother's Day dessert that tastes even better than it looks.

I make this every year for our 4th of July party AND for our neighborhood block party – it is a crowd-pleaser, that's for sure!

And, if you have all the ingredients on hand, you can easily put this Mother's Day dessert together last minute – visit the recipe page here.

No Bake Strawberry Shortcake Freezer Dessert –

Just like my Grandmother's potluck desserts, this no bake COLD Mother's Day dessert recipe uses a more vintage / retro ingredient as the crust… pretzels!

The frozen strawberry shortcake part has strawberries, whipped topping, cream cheese and…. non-alcoholic strawberry daiquiri mix – unique, right? Pretty clever – print the recipe here
More Easy Dessert Ideas:
– the BEST Blueberry Desserts EVER
---
– Easy and ELEGANT Thanksgiving Dessert Ideas
---
– Top 10 Christmas Desserts for a Crowd
---
– Easy Sweet Snacks To Make in 5 Minutes
---
✅ See ALL Recipes and Party Food Ideas
---
Miss Anything?
Go back to the top of:
==>> Easy No Bake Potluck Desserts
Go back to a specific section: