---
Simple Halloween Treats for School or a Classroom Halloween Party –
How about some fast and easy Halloween treat ideas that are very kid-friendly? These could even be kid made crafts (ie, YOU don't have to make them, mom!)
These DIY Halloween snacks and goodie bags are perfect for kids at a school Halloween party, the ball team kids, a Halloween party at home, her ballet class friends, Preschool, Pre-K, Kindergarten or for any group of kids you want to make and give a cute Halloween treat, snack or treat bag to.
Let me show you the super cute and EASY ideas I found…I can't wait to share them with my mom friends on Facebook!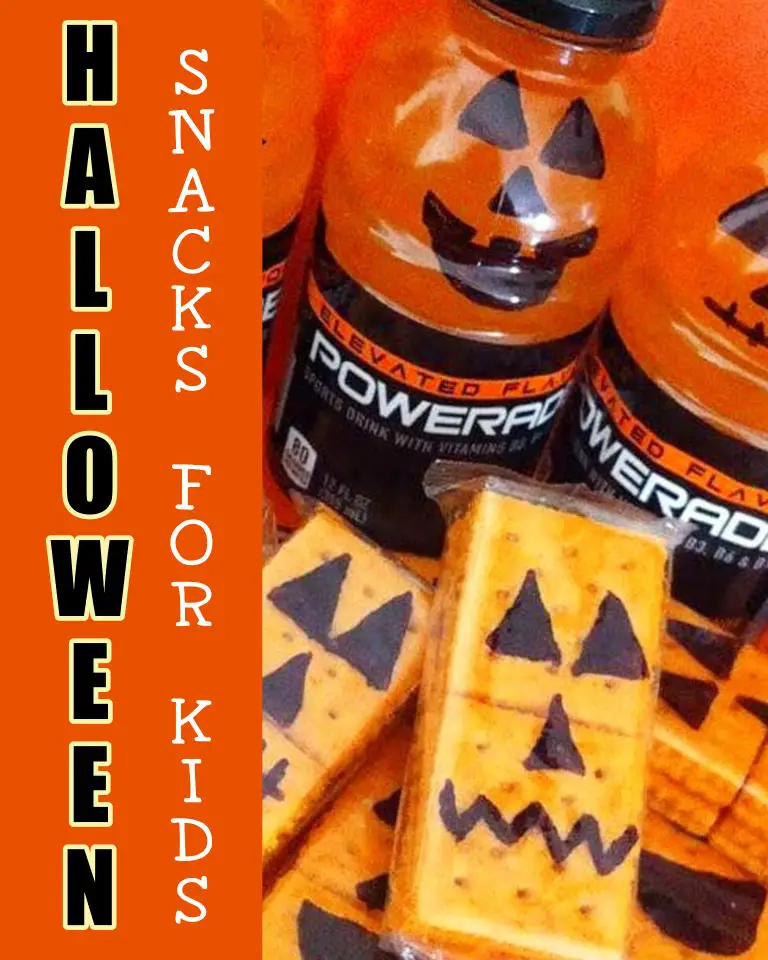 Welcome to Life Hacks for Moms - we hope you enjoy all our tips and tricks for busy moms! Please note that we use affiliate links and ads to generate income at no cost to you.
---
Easy Halloween Treats & Snacks For Kids
Congrats, Mom – you're in charge of the classroom Halloween treats for your child's school class this year.
Hopefully, you found out this fun fact early and are not trying to make Halloween snacks and treat bags for the kids last minute (don't ya just hate when that happens? haha! I can't count how many times I was making a last-minute run to WalMart, CVS or Aldi for classroom party stuff! Heck, one year I made a mad dash thru Dunkin Donuts – busy mom life is NO joke!)
There are lots of easy snacks and treat ideas for the classroom Halloween party below – and yes, there are many ideas you can put together last minute.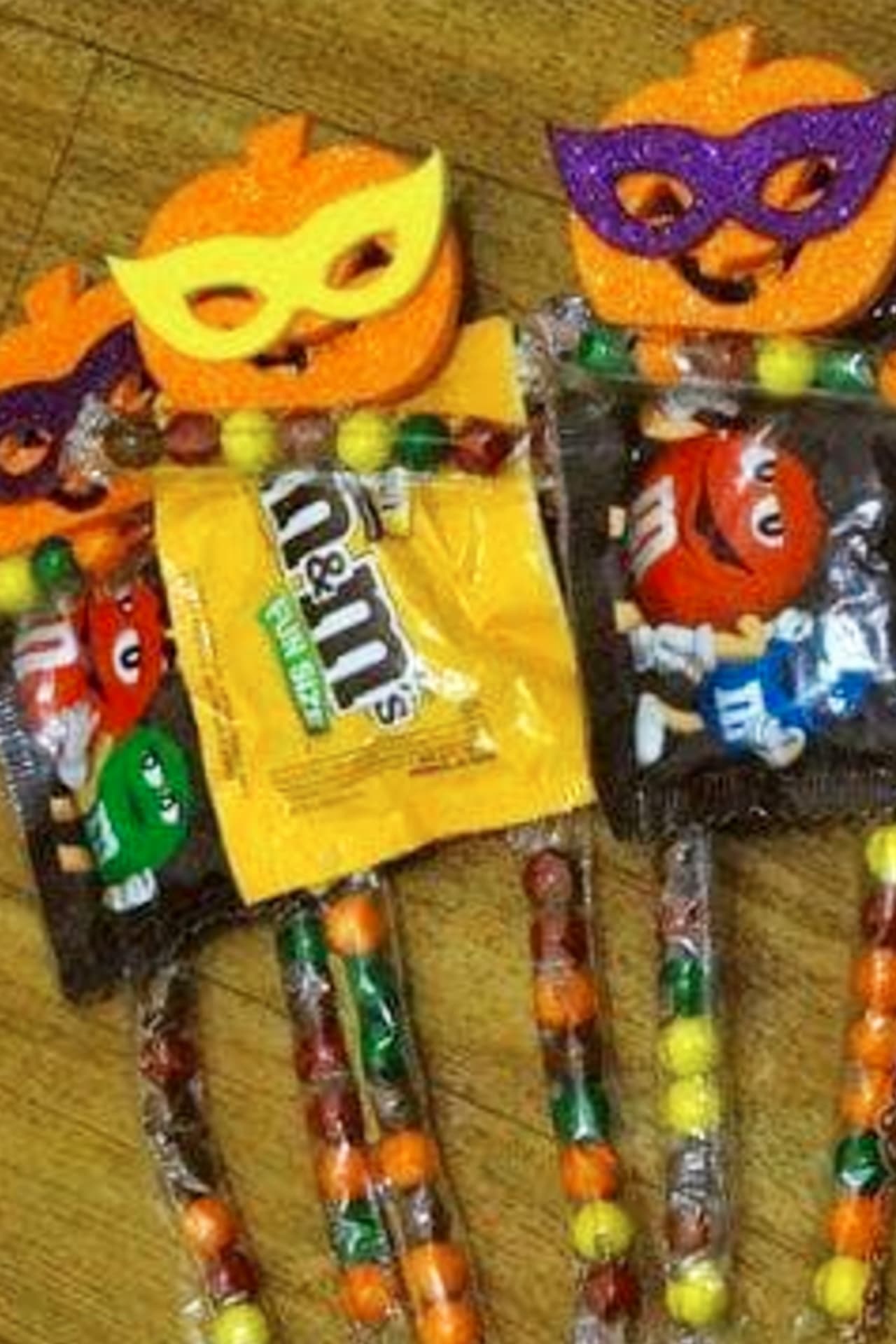 This is a super cute idea, but I don't think this would be a "last minute" Halloween treat idea I'd be able to just throw together.
But these little M&M bag Halloween people are super cute!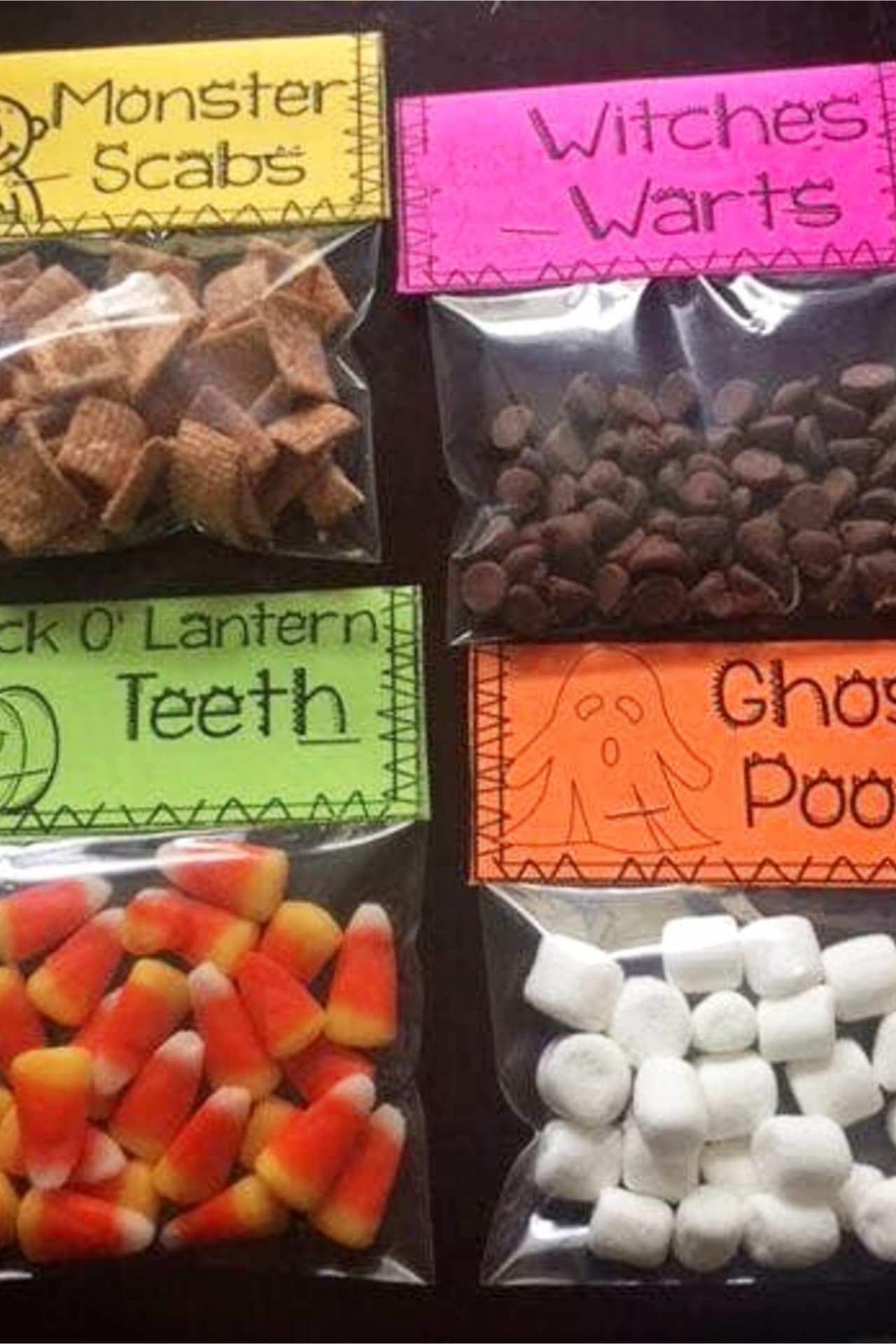 All kids LOVE Halloween treat bags – these are some cute ideas for when you need kid-friendly Halloween treats for LOTS of kids.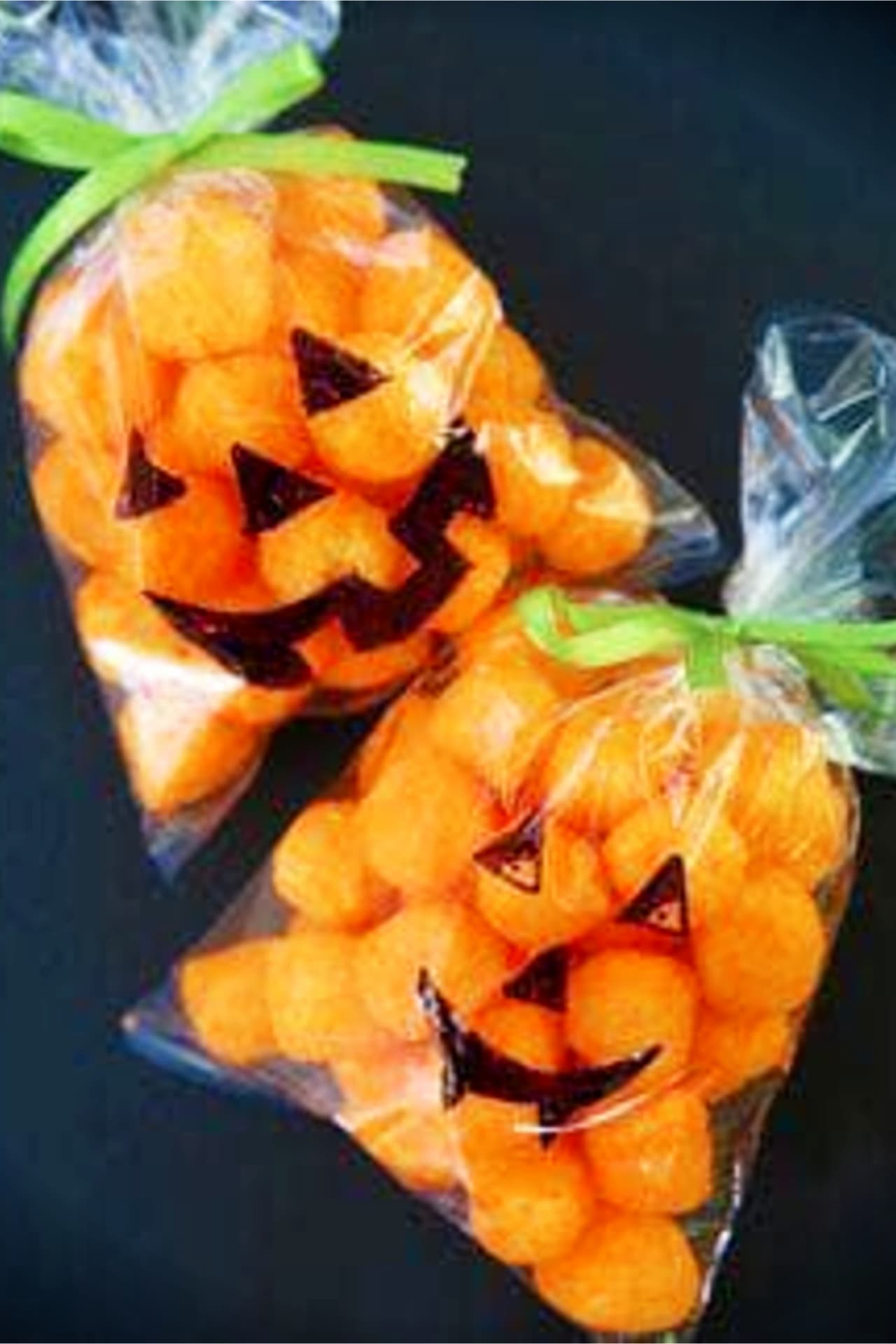 Now these Halloween treat bags are more my speed when it comes to last minute, fast and EASY Halloween treat ideas for the kids.
And they're really cute, don't you think?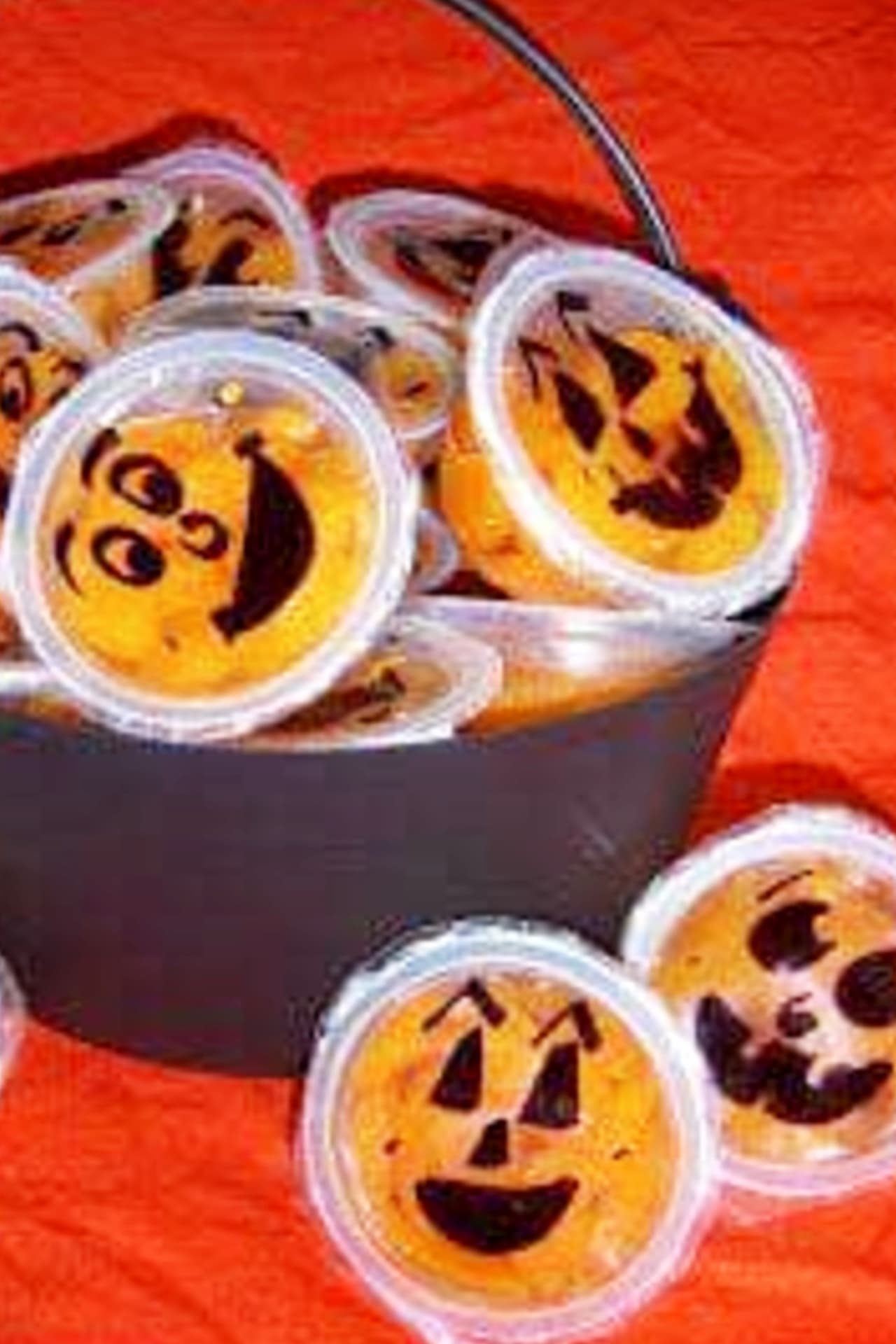 Now this idea is not only a fast and easy ideas for Halloween party treats, but it's also a remotely healthy Halloween snack for the kids.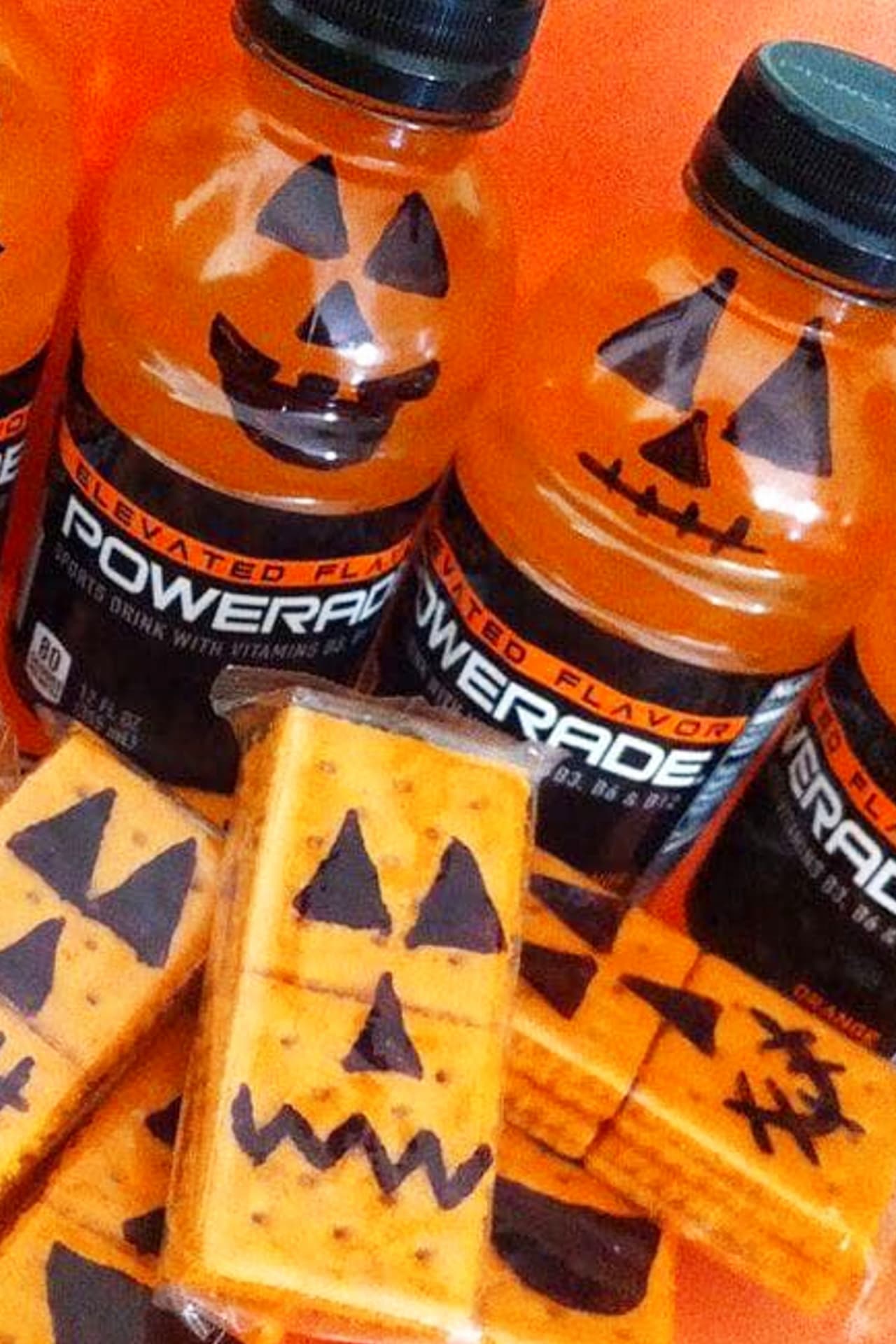 This is a Halloween snack idea I've done many years in a row for the when it was my turn to bring snacks for the kids on the ball teams, in her ballet class, on his football team… and yes, for the cheerleaders too.
To me, it's the perfect Halloween snack idea for kids on sports teams, karate, etc and it's REALLY fast and easy to make!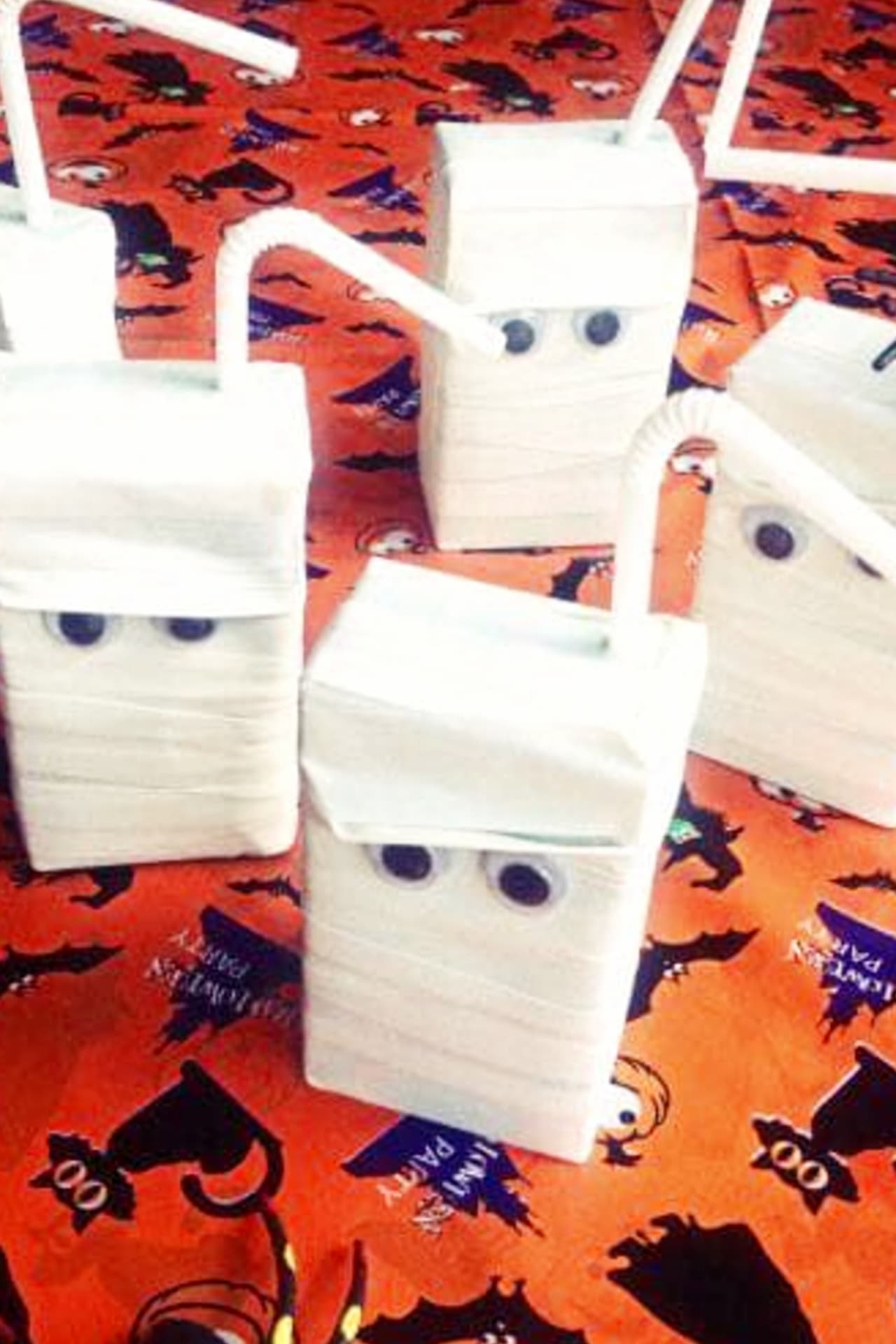 These Halloween "mummy" juice boxes are super cute for a classroom Halloween party. Easy to make, but a bit tedious – however they were a BIG hit at all the Halloween school parties!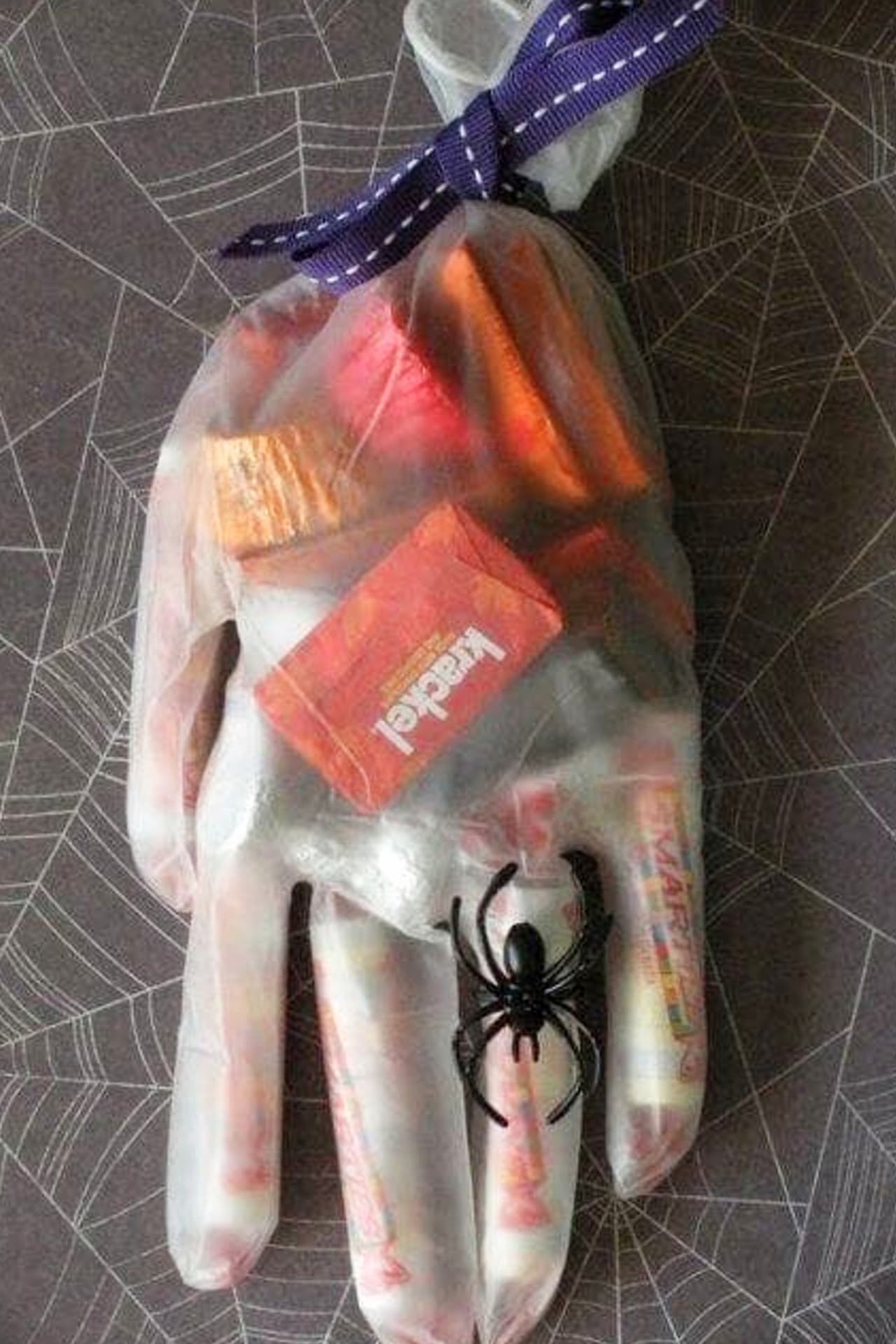 One of the moms made these fun and easy Halloween treat bags for his T-Ball team last year and the kids LOVED them!
Best of all, the other moms were really impressed too – she's so "Pinteresting" ha ha!
They're really fast and easy to make, too.
Just get plastic food server gloves like these and fill them with Halloween treats.
Tie with some ribbon and put a plastic spider rings like these on one finger.
Done… and super cute!
Here's a quick video that shows how to make some super cute Halloween treat bags (she made them for her daughter's Kindergarten Halloween party)
So what if you don't want to put candy in the kid's treat bags?
Here are some candy alternative ideas for your child's Halloween party treat bags with things that are not food related but are a fun little Halloween surprise that could take the place of treats for the classroom, party, or even trick-or-treaters.
 60 Piece Halloween Treat Bags with StickersShow Me This 80 Piece Halloween Party Bags With TreatsShow Me This
I've put together a collection mini-bags as simple as Halloween stickers, holiday shaped crayons and drawings pads, or a little Halloween craft. These are all things anyone can make – and yes, you can probably buy them already put together.
My favorite is a Halloween coloring bag.
It could include a cute little bag with a couple fun Halloween notepads and crayons all packed together in a simple little bag.
Another simple favorite that anyone can do is a sticker bags!
 Halloween Party Goodie BagsShow Me This Pre-Filled Halloween Treat BagsShow Me This
What kid doesn't love stickers! A cute bag filled with a collection of Halloween stickers is sure to make any little one just as happy as any sweet treat (or pretty close lol!)
If you feel like getting a little more creative you could put together a little craft. Maybe a pumpkin shape that needs decorating or a mask that needs coloring.
Ghost Goodie Bags
This is a SUPER cute and easy homemade Halloween goody treat bags for school kids – isn't the marshmallow ghost adorable!??!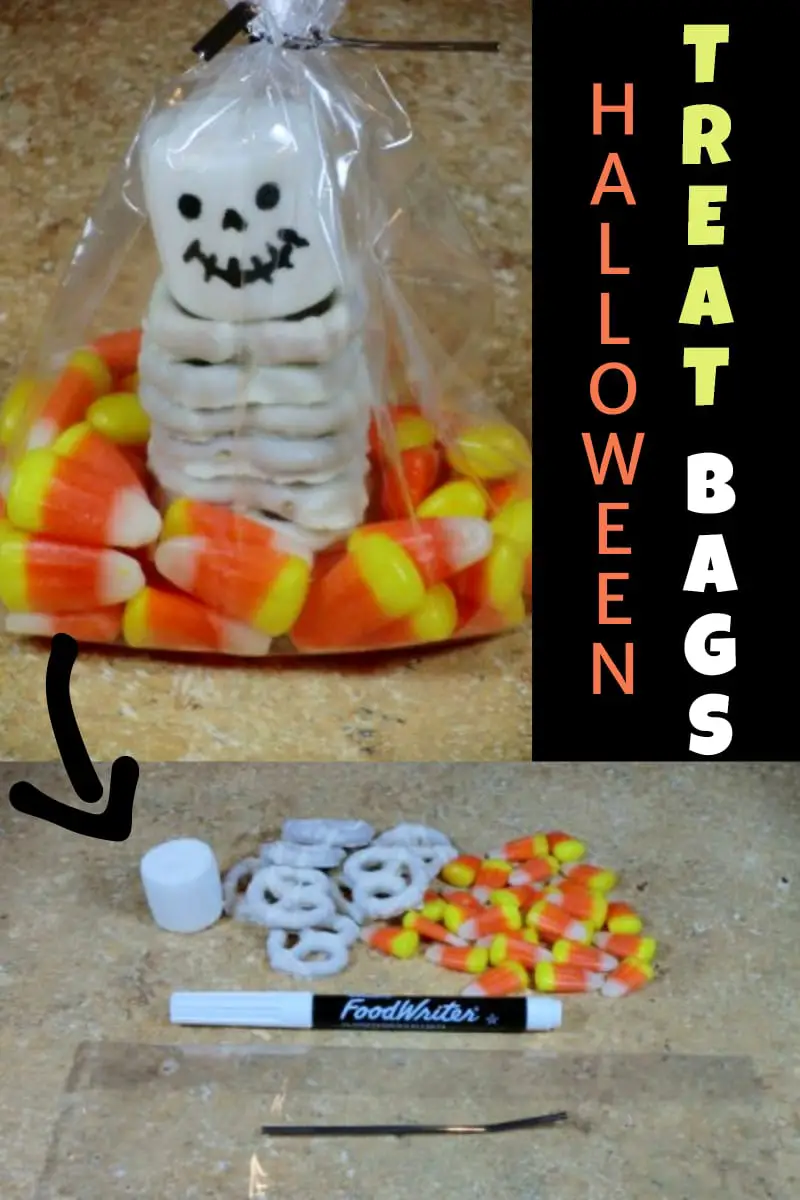 Each Ghost Goody Bag Contains:
1 large marshmallow
6 white yogurt covered pretzels
Halloween candy (candy corn, M&Ms, etc.)
clear treat bags with ties
Here's how to make them:
Open the goody bag, put some candy corn (or any type of Halloween-themed candy) at the bottom, stack the 6 pretezels, put the marshmallow ghost face on top and close the goody bag up – done!
HEALTHY Halloween Snacks for Kids
If you're trying to go the "healthy" route for Halloween snacks, here are some ideas:
Juice Boxes that are 100% Juice
Organic Fruit Treats
Crackers
Pretzels
Cheese Snacks
Granola Bars
Microwave Popcorn
100 Calories Snack Bags
Yogurt Covered Pretzels
Trail Mix
Gluten-Free Cookies
Fruit Cups
Just keep in mind that many kids have peanut allergies, dairy intolerance, gluten sensitivity and even tree nut allergies.
Need Halloween Decorating Ideas?
These handmade Halloween decorating ideas are SO cute:
More Halloween Ideas