---
Easy Potluck Main Dishes Ideas You Can Make Ahead Or Last Minute For a Crowd – So you're hosting a potluck or you need to BRING a main dish to a winter Holiday Potluck at Christmas, a Fall potluck at Thanksgiving, a Spring Potluck at Easter, a covered dish luncheon at work or church dinner when you have to bring a dish to share – what should you make or take?
Let's talk about main dishes you can make and take to a covered-dish potluck that are EASY to make, travel well and everyone loves.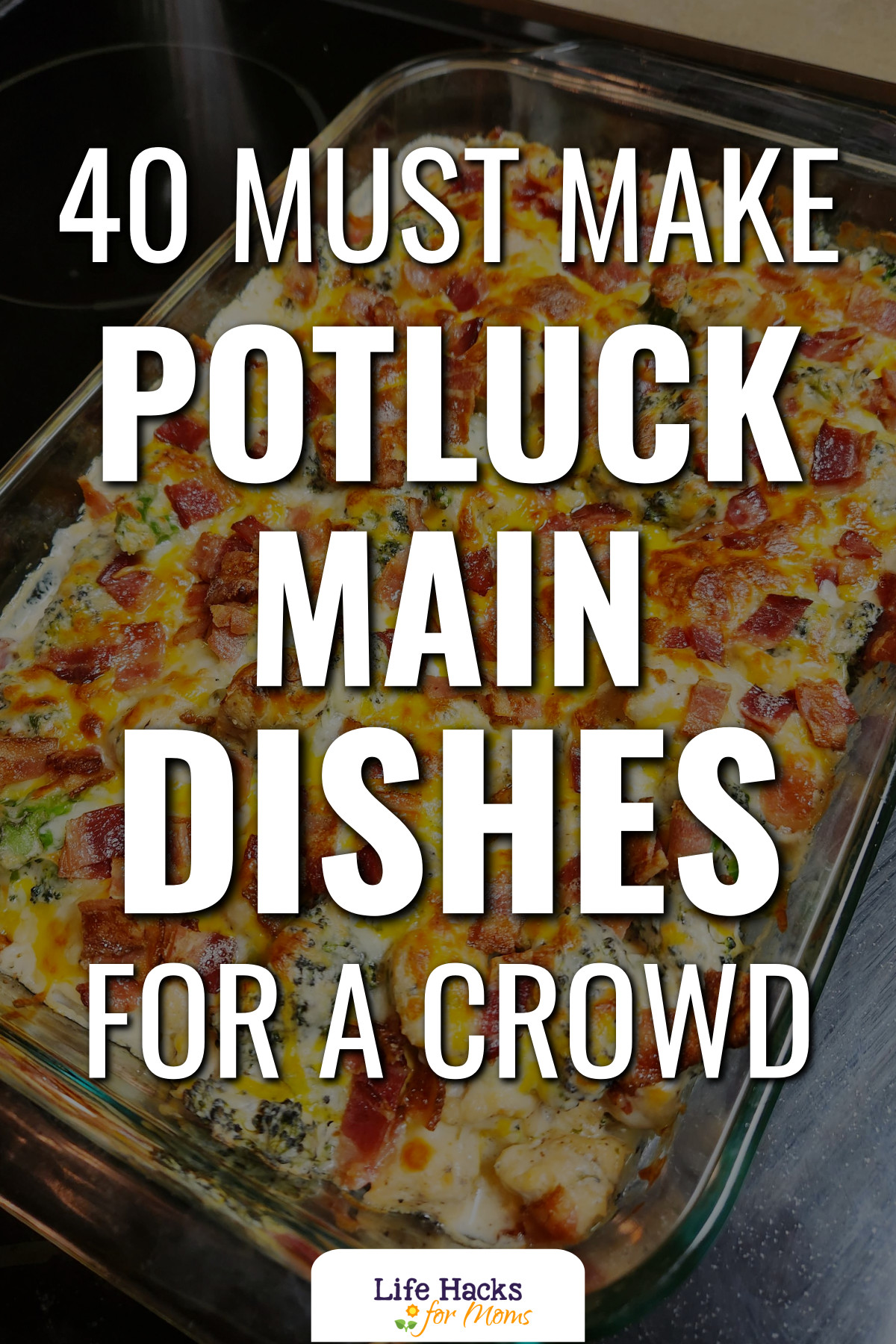 Welcome to Life Hacks for Moms - we hope you enjoy all our tips and tricks for busy moms! Please note that we use affiliate links and ads to generate income at no cost to you.
---
I'm all about cheap and easy party food.
Honestly, I'm totally happy NOT having to cook or bake anything (which is why I love my super simple 3-ingredient no bake cookies), but 'tis the season to cook, right?
I'm not thinking I can get away with this potluck "main dish" – but I sure think it's cute!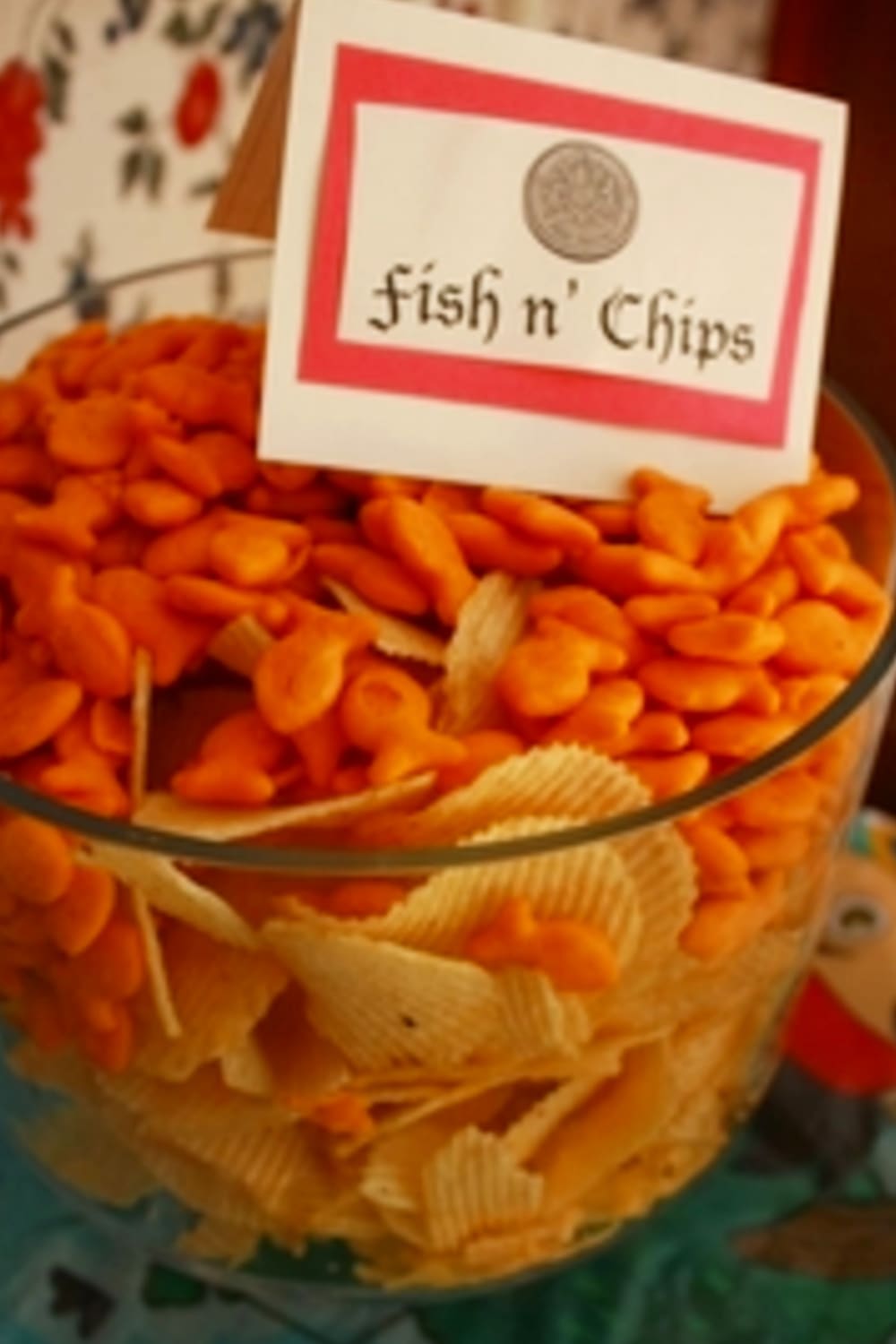 Even though I've been overwhelmed with too much stuff to do, the fact remains –
It's totally potluck season and I'm gonna have to cook.
You too?
When I'm at a loss for main dish ideas to make, this chicken bacon ranch broccoli potluck casserole in the picture recipe below is my go to back up plan.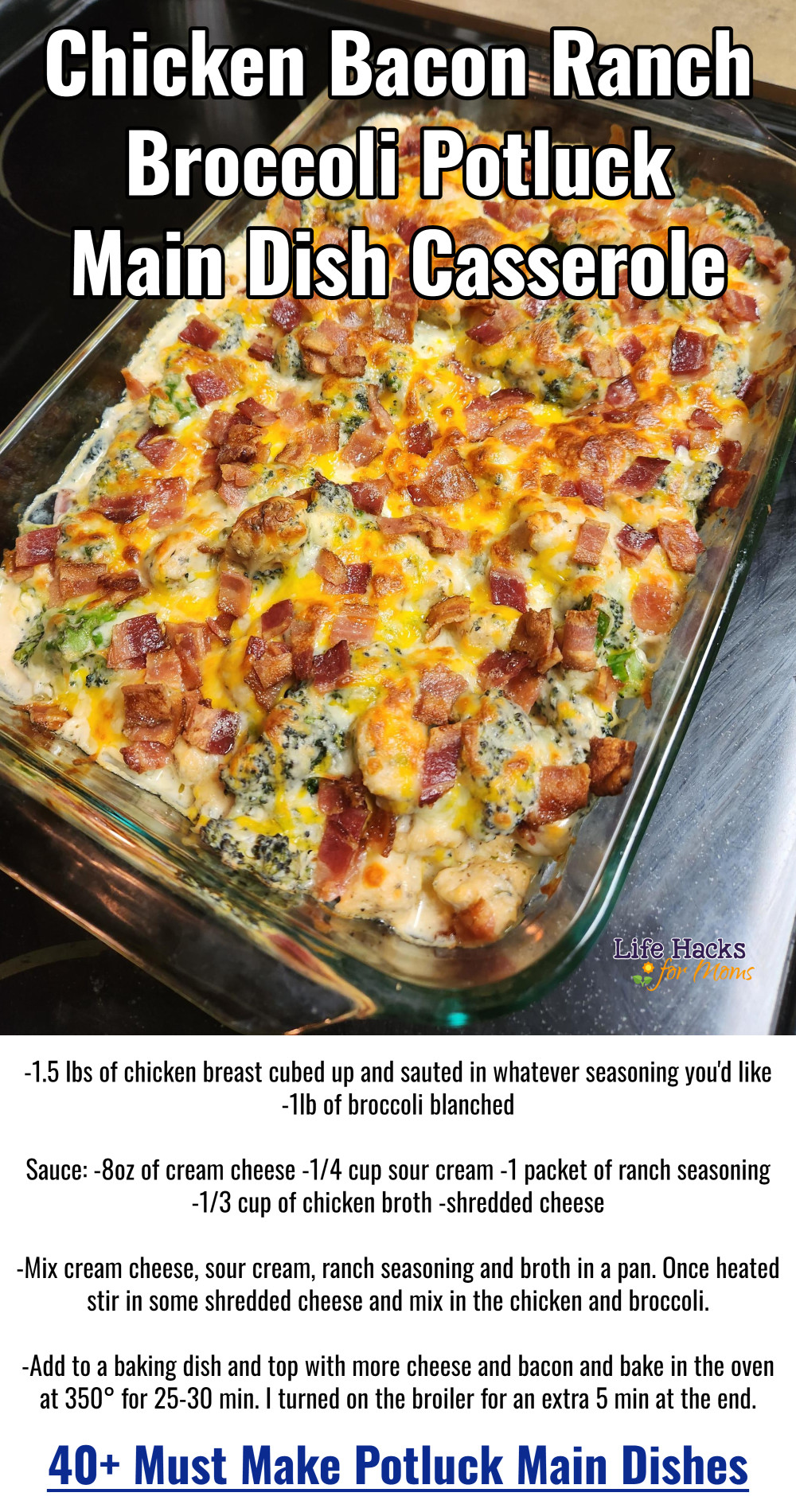 It is SO easy to make, too! And… if you don't care for broccoli, you can easily leave it out and it's still super yummy!
Here's how to make this Chicken Bacon Ranch Potluck Casserole:
– 1.5 lbs of chicken breast cubed up and sauteed in whatever seasoning you'd like
– 1lb of broccoli blanched
Sauce:
– 8oz of cream cheese
– 1/4 cup sour cream
– 1 packet of ranch seasoning
– 1/3 cup of chicken broth
– shredded cheese
-Mix cream cheese, sour cream, ranch seasoning and broth in a pan. Once heated stir in some shredded cheese and mix in the chicken and broccoli.
-Add to a baking dish and top with more cheese and bacon and bake in the over at 350° for 25-30 minutes then turn on the broiler for an extra 5 min at the end.
Here's some more cheap and quick potluck ideas you might like…
---
---
---
---
---
Potluck Main Dish Ideas
When it comes to main dishes for ANY potluck, casseroles are your friend.
I know sliders and all those individual serving potluck main dishes are nice, but trying to figure out how MANY individual servings you need can be a real problem.
My advice for potluck main dishes?
Bring a casserole – you're never wrong making and taking a simple casserole to a covered dish potluck.
Here are some easy potluck casseroles to make that are cheap, easy and crowd-pleasers.
 Fix-It and Enjoy-It Potluck Heaven: 543 Stove-Top and Oven Dishes That Everyone Loves✅ See This Insulated Casserole Carrier, Thermal Container, Keeps Food Hot or Cold for Lunch, Potluck, Picnics✅ See This
Recipes To Feed A Crowd
Below is a BIG list of potluck main dish recipes that will feed a crowd at any bring-a-dish style party or gathering.
Recipes in the picture above:
(1) – Baked Pasta Ground Beef Casseroles For Your Potluck
---
(2) – 40+ Must Make Cold Dishes For Potluck Parties
---
(3) – Crockpot Sandwiches For A Crowd
---
(4) – 28 Easy Mini Sandwiches and Sliders For Parties
---
(5) – 40 Must Make Potluck Dishes
---
(6) – Church Supper Recipes To Feed A Large Crowd
---
Cheeseburger Potluck Casserole
This potluck main dish is one of my personal recipes – and I kinda invented it by mistake.
I defrosted some ground beef one night to make chili only to realize I didn't have everything I needed to MAKE chili.
So I invented this casserole.
And it's GOOD.
It was SO good that I made it again… and again… and then…
One Christmas I was in charge of bringing a main dish to our office party potluck and I literally had NO TIME to think of something fancy to make OR to go grocery shopping – so I decided to make my Cheeseburger Casserole.
Nothing like trying to figure out what food to take to a potluck at the last minute, right? Ugh!
I always have ground beef, egg noodles, cheese, ketchup and mustard so that's what I decided to make.
Guess what?
Everyone LOVED it.
And now, I am in charge of bringing that Cheeseburger casserole main dish to EVERY potluck lol!
Thankfully, it's crazy easy to make.
Grab a bag of egg noodles and get them boiling to cook.
In another pan, brown a pound of ground beef.
When the ground beef is almost done, dump in about a cup of ketchup and about a 1/4 cup of mustard.
Mix it all in and let it cook together a bit.
When your egg noodles are done, drain them.
Now, dump the ground beef mixture into the noodles and mix it all together.
Dump all that into a casserole dish, top with grated cheese and bake at 350 for about 30 minutes (until bubbly and cheese is melted).
That's all there is to it.
Ground beef
Cooked Egg Noodles
Ketchup
Mustard
Grated Cheese
If you want to dress it up to make it LOOK fancy, you can throw some chopped green onion over the top like in the picture.
I'll do that when I'm bringing it to a potluck, but I don't do it when cooking it at home.
We don't eat green onions…lol!
 Potluck Casserole Pan Set✅ See This 50-Pack Potluck Dinner Plates✅ See This
Grandma's Church Potluck Casserole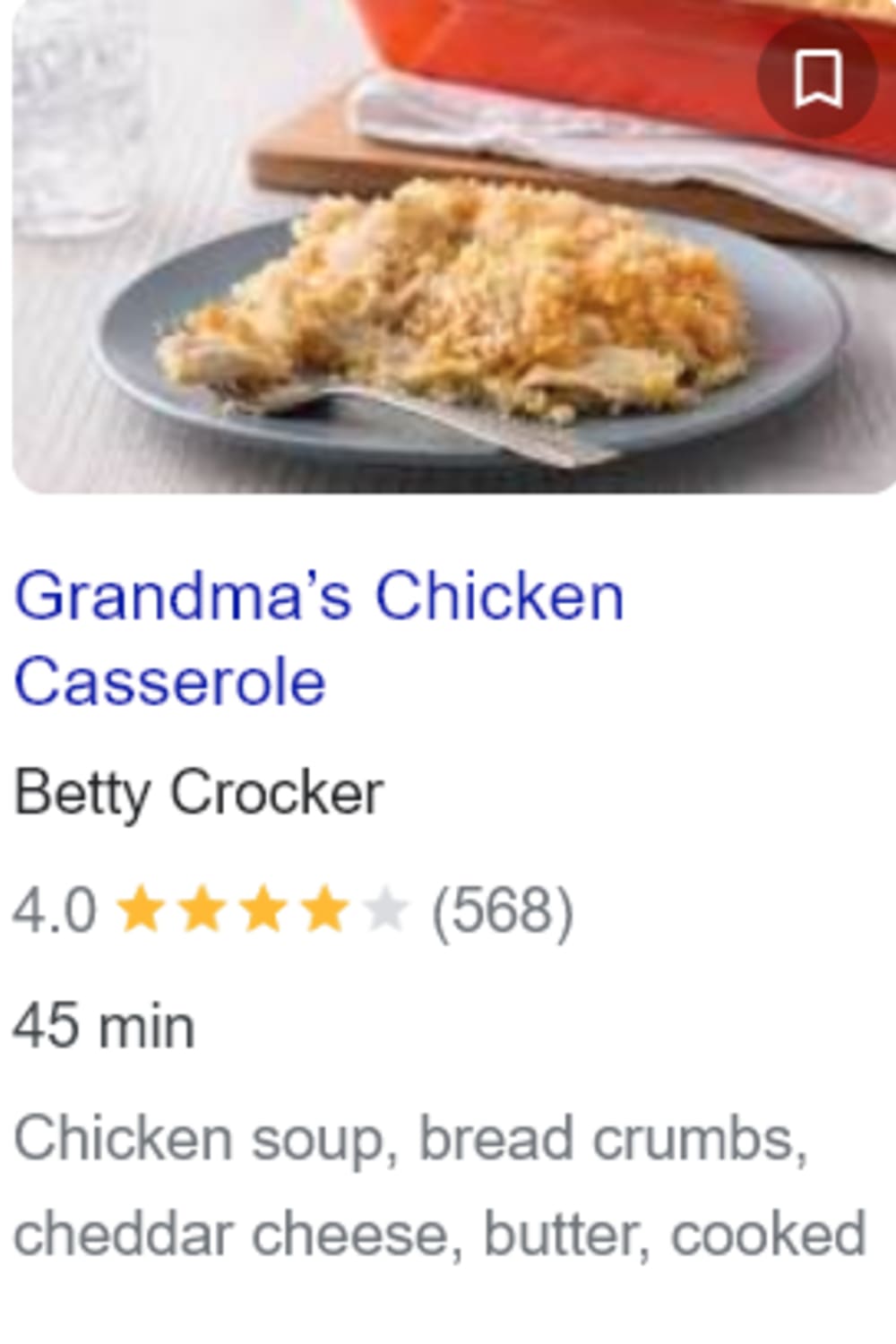 This potluck main dish from Betty Crocker has only 5 ingredients and is easy to throw together last minute.
And, to top it all off – it is delicious!
In fact, it's one of my favorite easy chicken recipes for dinner with few ingredients!
The ingredients of this chicken potluck casserole are:
Chicken
Cream of Chicken Soup
Cheese
Bread Crumbs
Melted Butter
As for instructions to make it… very simple!
It's a layering type of casserole.
Just put the chicken at the bottom of your casserole dish.
Spread the cream of chicken soup over the top.
Sprinkle the cheese on top.
Then mix the bread crumbs with the melted butter and put that bread crumb mixture on top of your casserole.
Pop in the oven at 350 for about 30-40 minutes and you're done!
Potluck main dishes do NOT get easier than that.
Yep, that's it!
Now, the casserole can be a little "bland" so feel free to dress it up by adding broccoli, or add some extra seasonings, etc.
But as is, this potluck casserole is always a hit.
Potluck Chicken Parmesan Casserole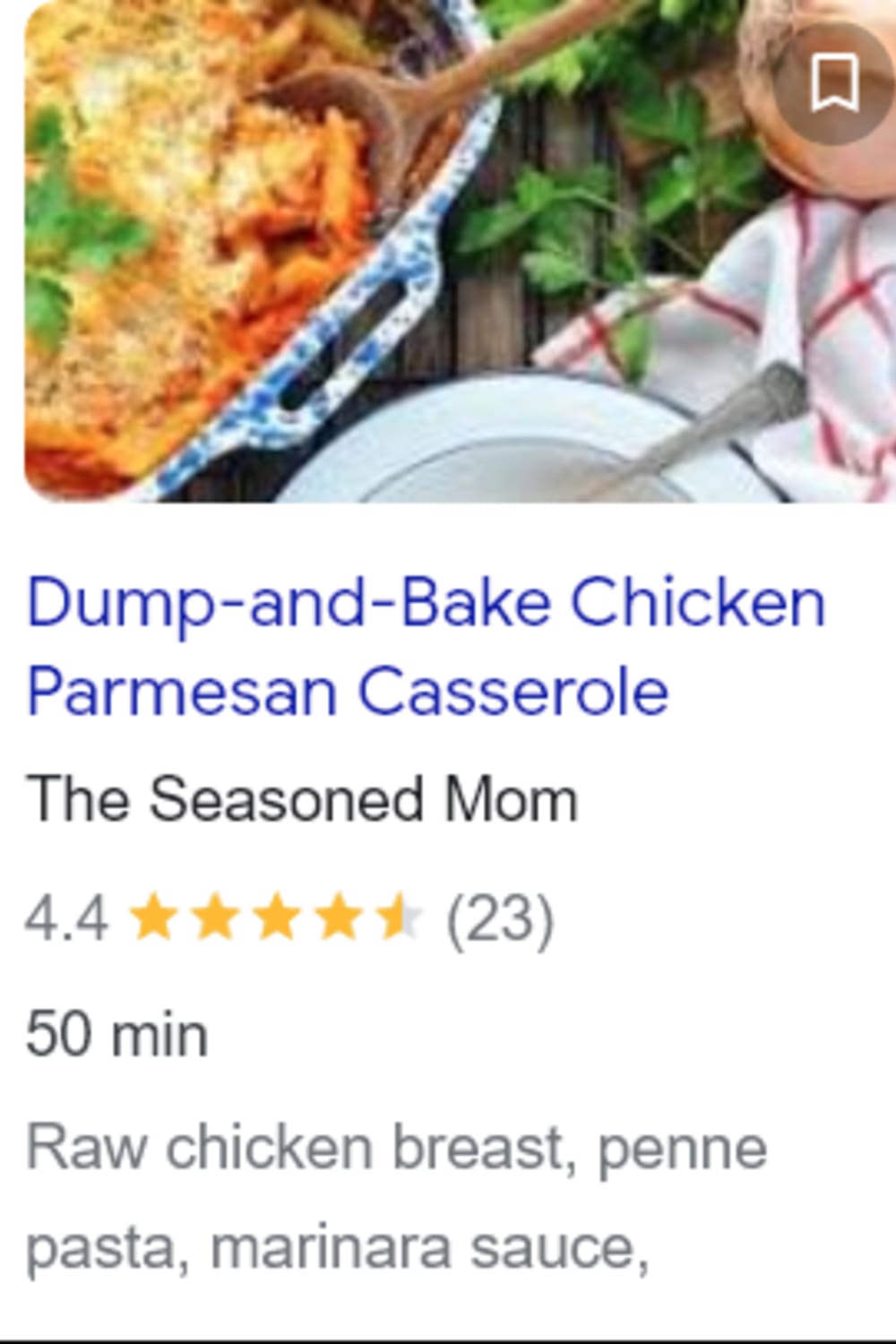 If there is one thing I am a HUGE fan of, it's Dump and Go recipes – and this Chicken Parmesan casserole is right up my alley.
No need to pre-cook the chicken…
You don't have to cook the noodles first…
You just mix it all together, pop in the oven and it's DONE in about 45 minutes.
Now THAT is a potluck dish you can make ahead OR last minute.
Just a note:
This one pan Chicken Parmesan casserole will look VERY watery when you first mix it together – and that's totally ok.
Since you do not have to boil your pasta noodles first, the uncooked pasta will need that liquid to get done in the oven.
It's very good, and every potluck crowd LOVES it.
Covered Dish Taco Casserole
If there's one thing to be true about party food – every party crowd LOVES tacos!
And this Potluck Taco Casserole will be a fan favorite whether you make it as a potluck main dish or as an easy weeknight dinner (my picky eaters LOVE it).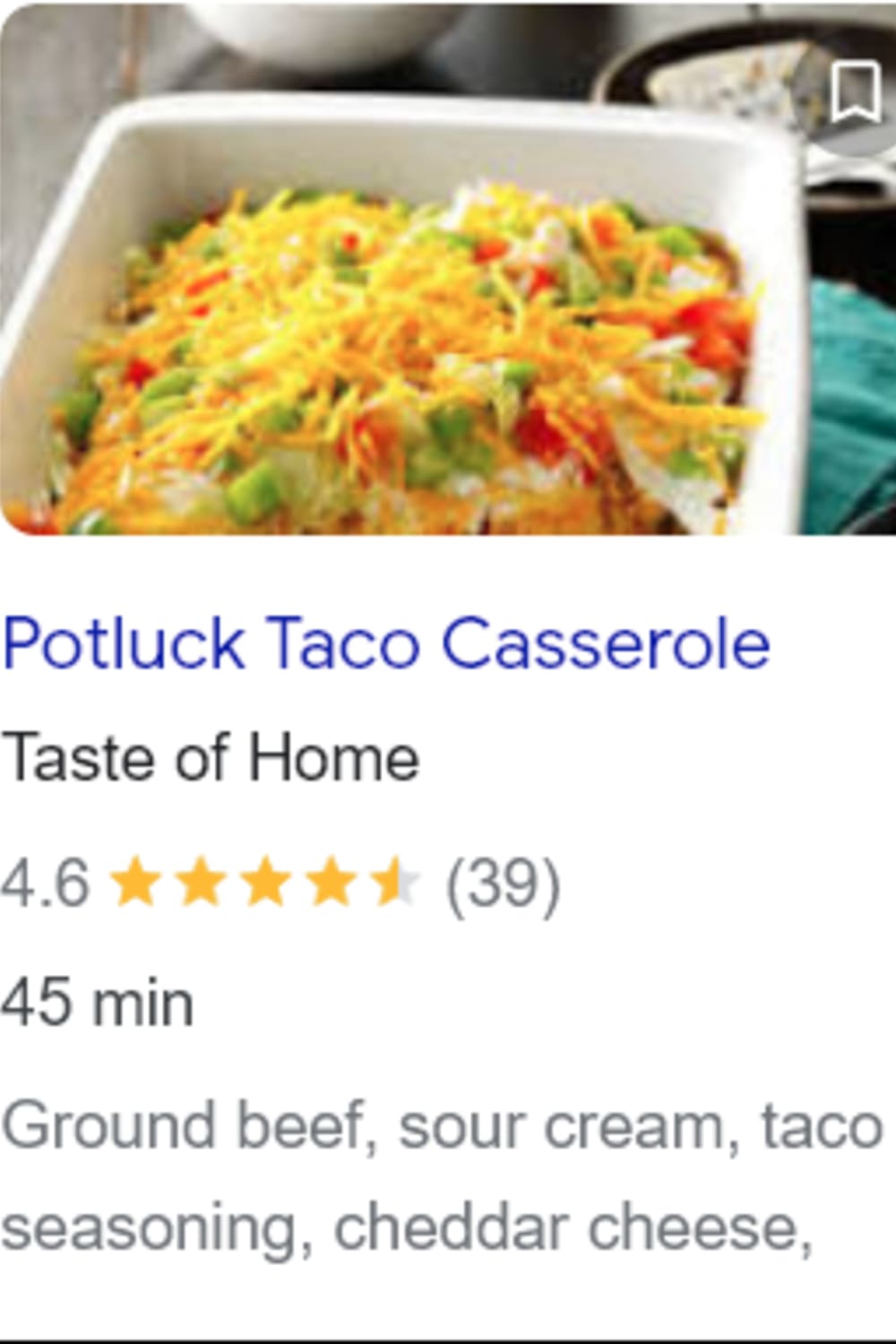 Now, this covered dish potluck main dish has more ingredients and more steps than the other potluck recipes above…
BUT, what I really like about this casserole is that you can make it ahead of time and FREEZE it.
Then, when you need a potluck dish to bring last minute, you've got one!
Here's a video showing how to make this potluck main dish casserole:
 Church Potluck Dinner Recipes✅ See This Crock-Pot Casserole Slow Cooker✅ See This
---
---
---
---
---
Miss Anything?
Go back to the top of: ==>> Easy Potluck Main Dishes Ideas
Go back to a specific section: