---
Linen Storage Ideas for Small Spaces and Tiny Bathrooms –
Creative Alternatives and Solutions for NO Linen Closet Storage Space (pictures and tips).
Ah, the linen closet. Such a useful space to store all your towels, linens, sheets, comforters and STUFF.
But…
What if you don't HAVE a linen closet in your bathroom or ANYWHERE in your house?

WHERE do you store your linens and stuff?
Turns out, NOT having a linen closet is not the end of the world haha!
There are lots of creative ways to store comforters, towels and bed linens in small spaces WITHOUT a closet or when you do have a TINY linen closet yet have too much stuff-not enough space to store all your linens.
Let's take a look at some no linen closet storage ideas for small spaces in your bathroom, hallway, etc.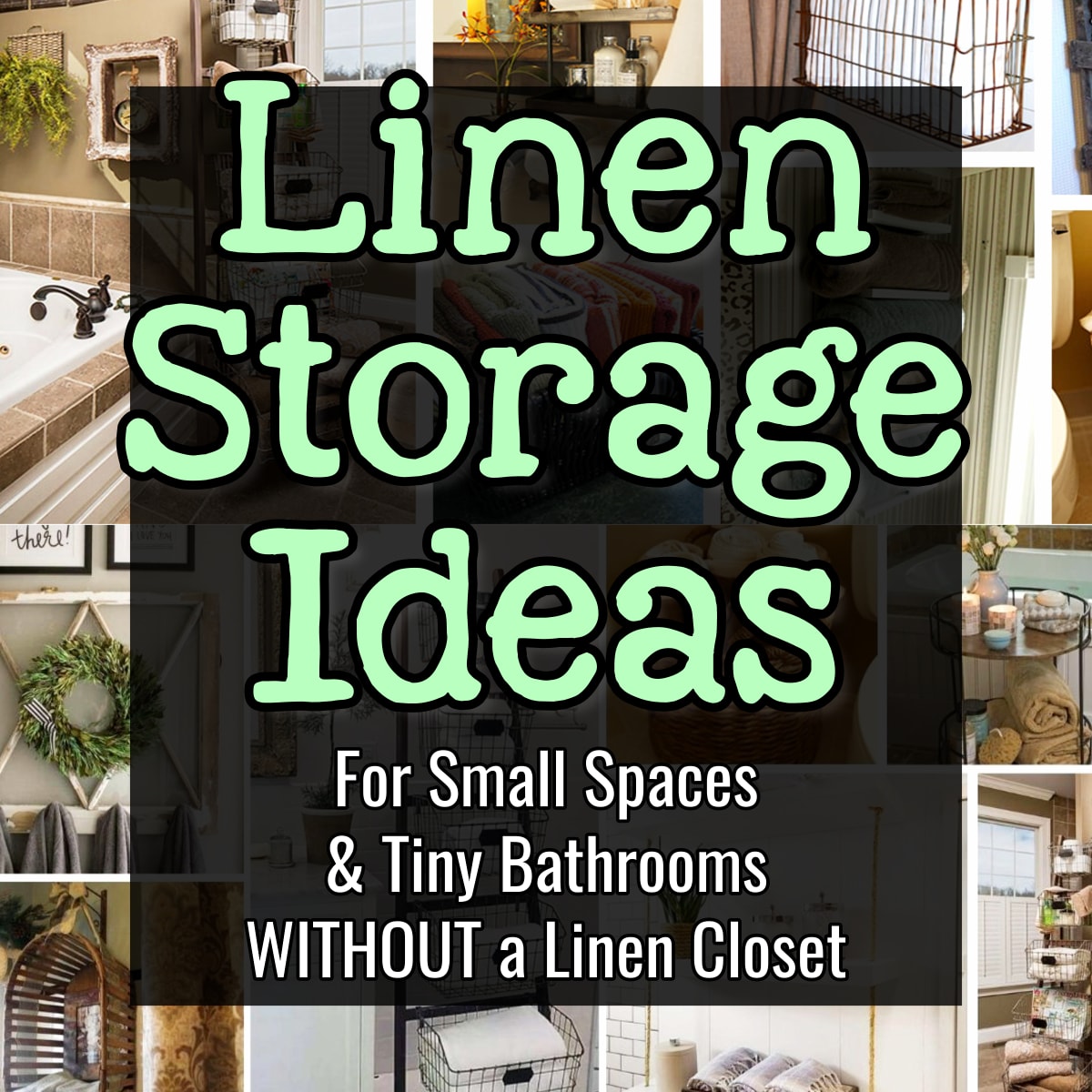 Welcome to Life Hacks for Moms - we hope you enjoy all our tips and tricks for busy moms! Please note that we use affiliate links and ads to generate income at no cost to you.
---
No Linen Closet
Here are 17 creative no linen closet alternatives and hacks that work really well in your apartment or house without a linen closet or with a tiny linen closet but you need more storage space.
17 Linen Storage Ideas for Small Spaces Without a Closet:
Use baskets for organizing and storing towels.
Try the IKEA linen storage idea below
Use a free-standing hamper in your bathroom
Use the 'dead space' over a door like this:

Put floating shelves on a wall around your garden tub
Store comforters in a storage bench at the foot of your bed like this:

 Cushioned storage bench for comforters✅ See This Rustic storage bench with padded seat✅ See This

 

Roll towels and store under sink
Repurpose a spare bedroom closet or coat closet
Store towels with a leaning shelf like this:

Install another row of shelves up high in your master bedroom closet
Get a linen storage cabinet like one of these:

 Small Linen Storage Cabinets for Towels✅ See This Storage Cabinets For Comforters, Blankets and Linens✅ See This Open Shelf Linen Storage Cabinets✅ See This Bathroom Corner Linen & Towel Storage Cabinets✅ See This

 

Store linens in unused drawers in your guest bedroom
Put a cabinet in your laundry room
Use linen storage containers, bags and cubes

 Linen Storage Bags and Cubes✅ See This Underbed Linen Storage Organizers✅ See This

 

Use the back of your doors
Convert the dead space under the stairs into storage space
Use the space over your toilet

 Over The Toilet Storage Shelves✅ See This Over The Toilet Storage Cabinets✅ See This

 
✅ Storage Solutions
Here are some storage ideas for small spaces that can help:
New House With No Linen Closet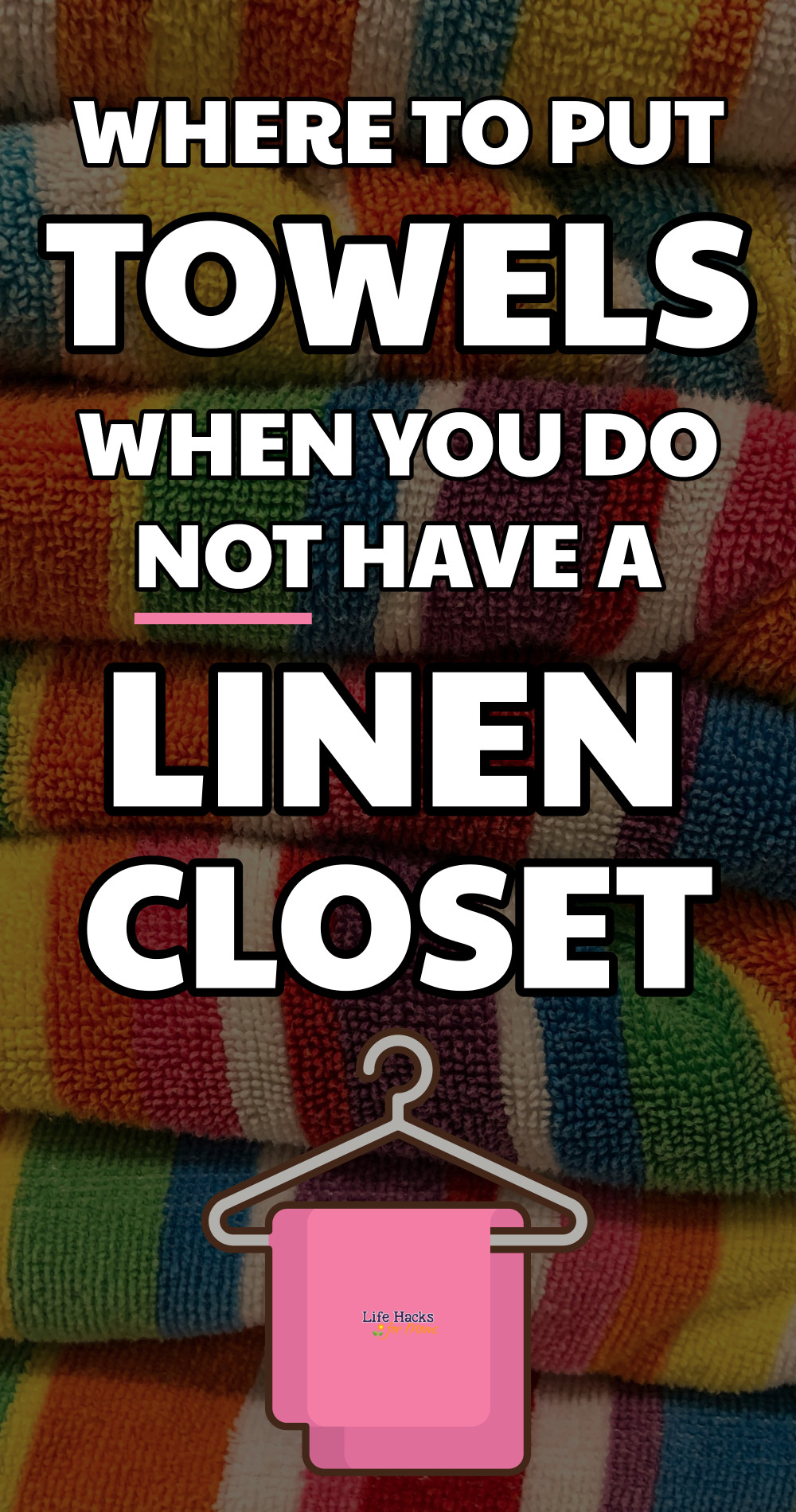 Helen's new house had NO linen closet (ugh!) – here is her linen closet alternative from IKEA.
Helen said,
Here is my solution for an open linen storage concept. I have no linen closet in my new home. I knew that with downsizing there would be challenges with regards to storage.
Ikea Linen Storage Ideas
Since Helen had no linen closet in her master bathroom, she realized she had to come up with a creative towel and linen storage solution that would work in the available small space in her bathroom.
Take a look as Helen shows you her no linen closet solution from Ikea:
https://www.youtube.com/watch?v=6LmZWgGzEHg
If she wanted even more space to store towels, I think she could create some DIY bathroom shelves over the bathtub – she'd have lots more storage in that small space, don't you agree?
After seeing Helen's solution to her new house with no linen closet it makes me wonder: Are linen closets necessary?
I think Helen just showed us that NO, linen closets are not totally necessary (though they sure are convenient!)
More Storage Ideas for Small Spaces
Storage Ideas for Small Spaces on a Budget – Clever ideas for organizing small spaces cheap
---
Small Bathroom Storage Ideas For Renters – 47 small bathroom storage ideas to maximize space in a tiny bathroom.
---
Cheap DIY Storage Ideas for Small Spaces – Storage ideas for small bedrooms and lots of creative small room storage ideas
---
No Pantry Solutions – How to organize a small kitchen without a pantry
---
Miss Anything?
Go back to the top of: ==>> Linen Storage Ideas
Go back to a specific linen storage idea: