---
Photo Wall Ideas With Shelves – Ideas For Picture Ledge and Shelf Arrangements on Your Walls – Have a blank wall in your living room, bedroom, foyer, bathroom, hallway or anywhere in your home that you'd like to create a photo wall or a gallery wall with shelves? Take a look at these picture and shelf arrangements on walls ideas below – plus some tips to create your gallery style wall with pictures and shelves.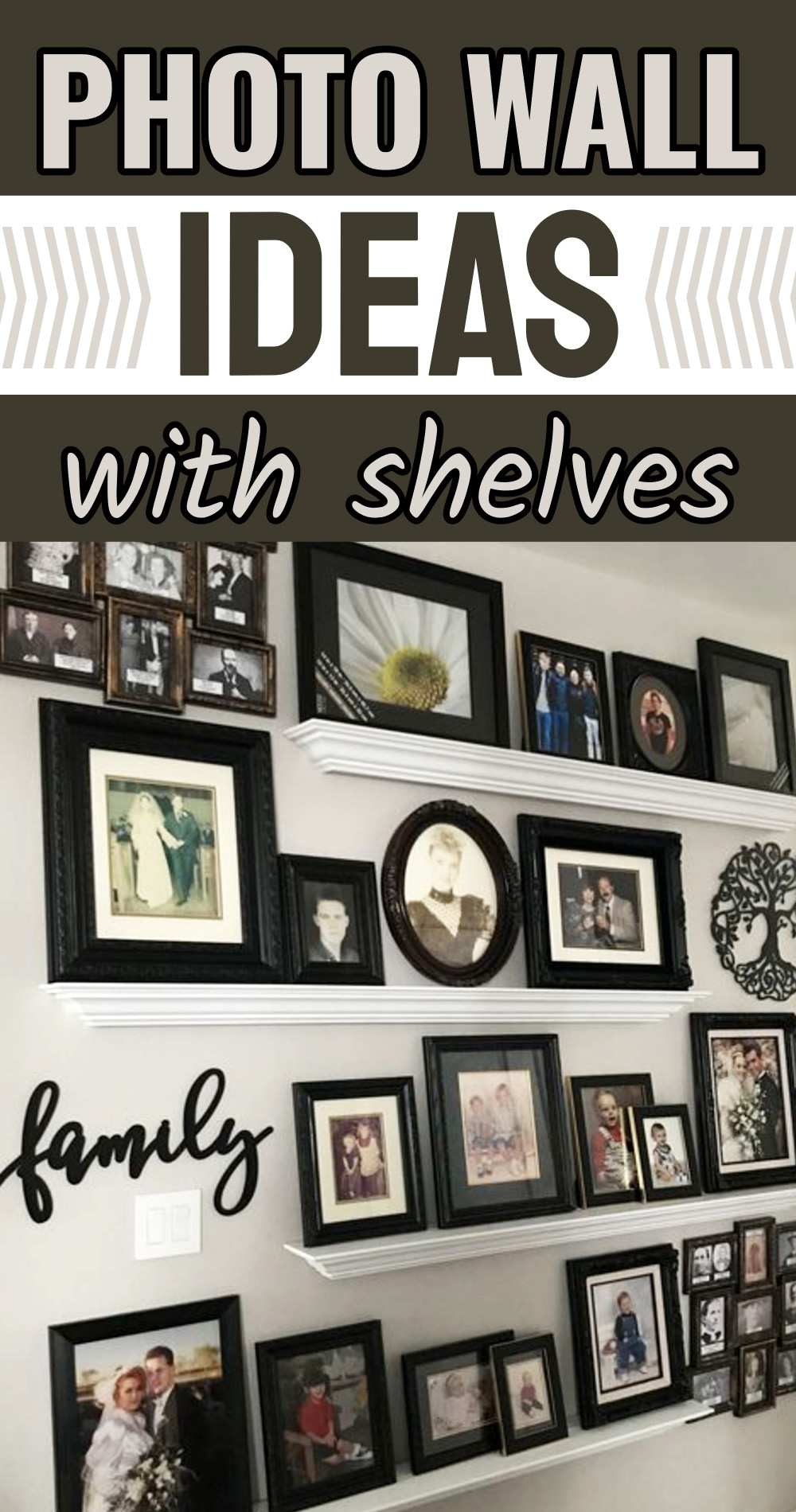 Welcome to Life Hacks for Moms - we hope you enjoy all our tips and tricks for busy moms! Please note that we use affiliate links and ads to generate income at no cost to you.
---
Wall Picture Shelf Arrangements
Hanging photos and shelves on your walls is a great way to add a personal touch to your home and enhance the decor in any room.
Whether it's photos of your family or your favorite artwork, it's a great way to showcase your personality and your personal aesthetic through simple decorating.
Let's talk about HOW to hang shelf arrangements on your walls and look at some pictures of creative and unique shelf and picture layouts.
How To Arrange Pictures on Walls With Shelves
Let's walk through the step by step process of how to arrange pictures on your walls with shelves for a STUNNING accent wall.
You wall shelves can be deeper or they can be narrow thin "ledge" types of shelves that are only designed to set photo frames on while the wider shelves can hold other decor items and nick knacks.
On a narrow hallway wall you'd be better off using ledge shelves so your photo display doesn't stick out to far.
But on a wall over, say the dresser in your bedroom, the shelves can be bigger and deeper to hold more than just pictures.
Here are some layout ideas:
7 Steps To a Perfect Picture Shelf Wall
1. Measure Your Wall Space
Before you choose your pictures or buy your shelves, measure the wall space you're working with.
3 picture shelves is usually ideal – measure your blank wall width and divide by 4 – that's how long your shelves should be to truly accent the room AND to allow space between the shelves.
You want to be sure your picture and shelf arrangement suits the wall space.
If you have a HUGE blank wall, 2 or 3 little picture shelves could look odd and out of place.
On the other hand, a small blank wall could look cluttered with big bulky wall shelves.
What KIND of shelves?
 This 3-pack of floating shelves is perfect for pictures…✅ I Found It Here another option is this long picture ledge shelf…✅ I Found It Here
2. Choose Your Pictures
Start collecting the photos and pictures you want to arrange on your wall. Start to think about the scale and the arrangement you prefer. How many pictures and shelves do you want to hang?
Will you display the pictures in same-sized frames, a mixture of different sizes or no frames at all?
 3 Photo Hinged Picture Frames✅ I Found It Here Rustic wood shelftop picture frames✅ I Found It Here
Mix and match your photo frames for a more eclectic look to give your picture shelf arrangement personality and depth.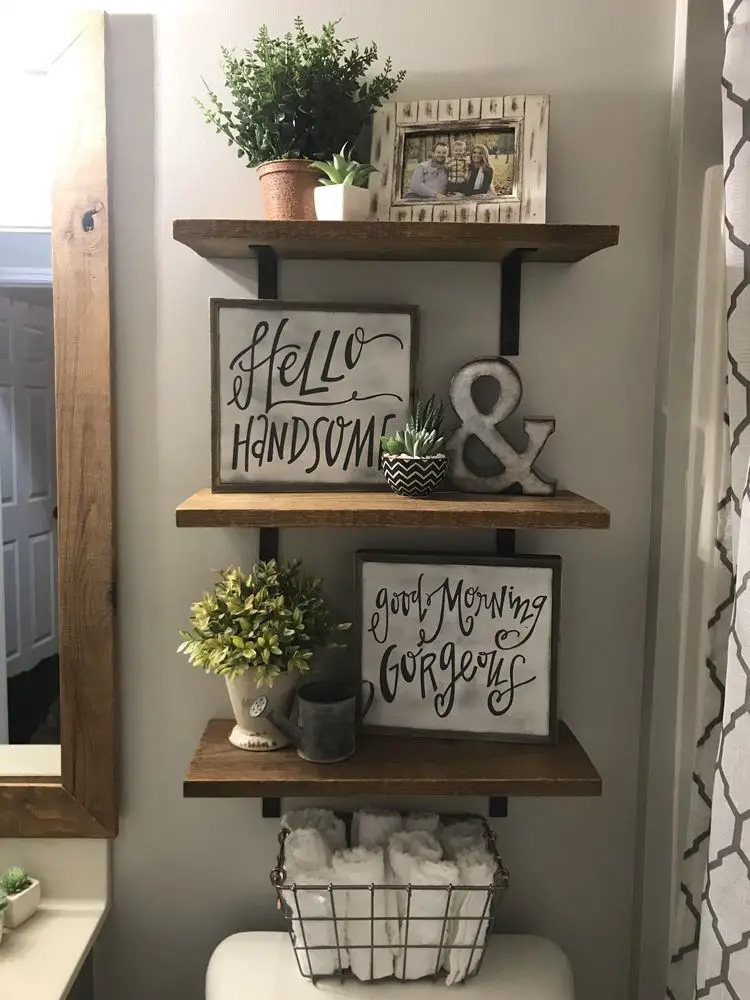 3. Pick Your Wall Shelf
Once you're set on the pictures you want to display, it's time to pick out your shelves. Your picture shelf should enhance the photo wall, not overpower it and should add to the overall aesthetic of your room. You can also play with multiple shelves arranged at different levels and heights.
I've found great wall shelves AND picture frames for good prices at both TJ Maxx and at Marshall's.
Many people have asked me – Is TJ Maxx or Marshalls better for home decor?
Here are MY thoughts based on my home decor shopping at both stores over many years in my area (I'm outside Atlanta, GA).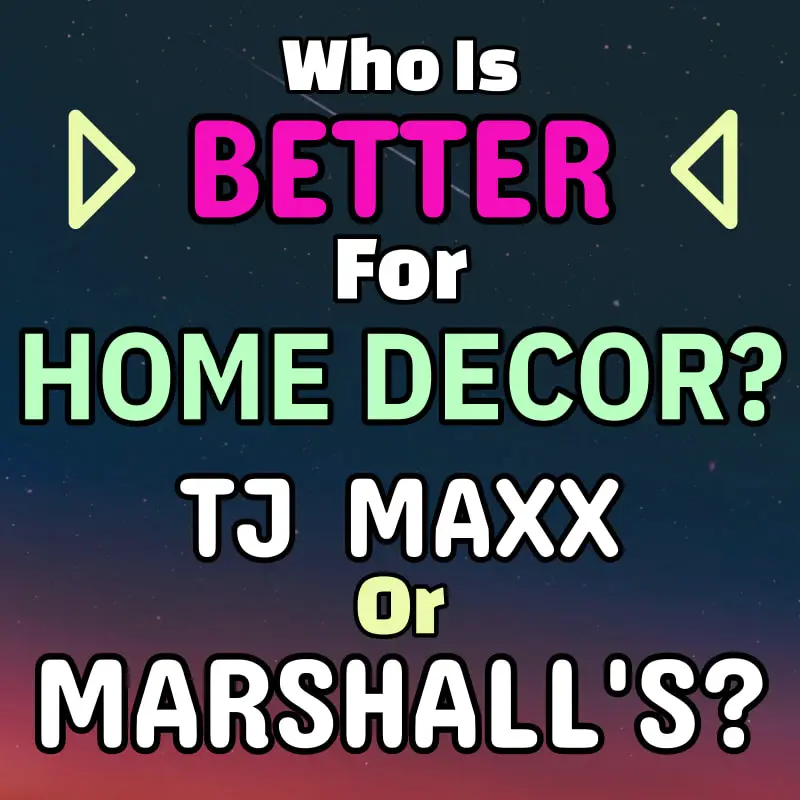 Marshall's tends to be better for home decor than TJ Maxx.
TJ Maxx has a heavier focus on apparel, clothing, purses, etc but you can find some good home decor bargains if you're willing to dig through and look.
Marshall's has a much better selection of home decor items at affordable prices.
Tip: Shop Marshall's on Monday mornings – that's when they restock and put new home decor items on the floor after their very busy weekends.
If you can't shop on Monday mornings, try and go on Fridays when they restock everything in preparation for the weekend (1).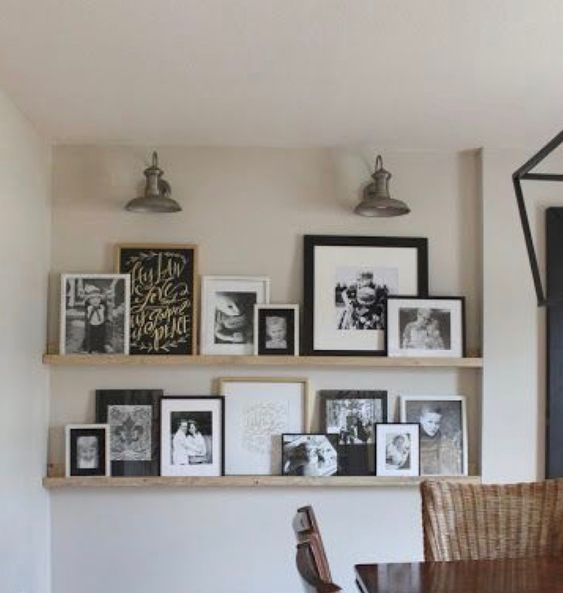 4. Choose Your Arrangement
Once you've decided on your pictures, group them together by theme or in a style that suits you. For photos, you can group them by family or memories, or another theme that means to you. For artwork, group them by color, preferably one that suits the tone of the room you're going to display them in.
Decide if you're going with even or odd number of frames and pictures. Generally, even numbers work great for frames of the same size, while odd numbers work for random arrangements or sizes.
Personally, I really like 3 frames on a floating shelf on the wall.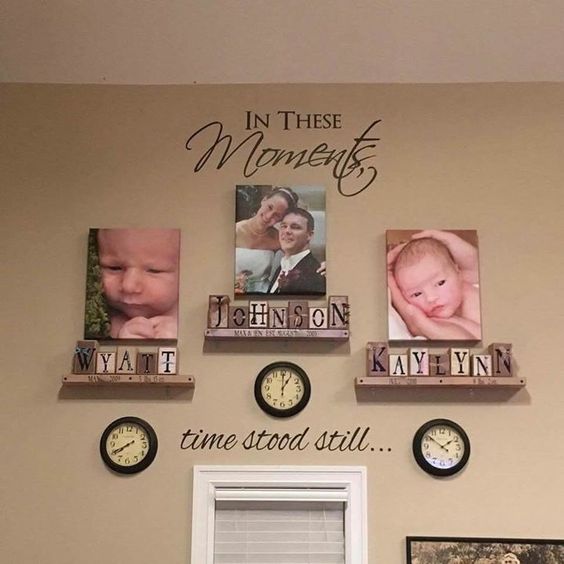 5. Test Your Layout
Double check your wall space available to make sure your entire wall display will fit.
One trick is to lay all your shelves and pictures on the floor in the layout you're planning so you can see if you need to add/remove pictures, move items around and to get a general feel of what everything will look like together.
Always be SURE your picture shelf arrangement is going to work BEFORE hanging everything!
I like to lay everything out on the floor to get a good visual of how it will look before I start hanging my shelf arrangement ON the wall.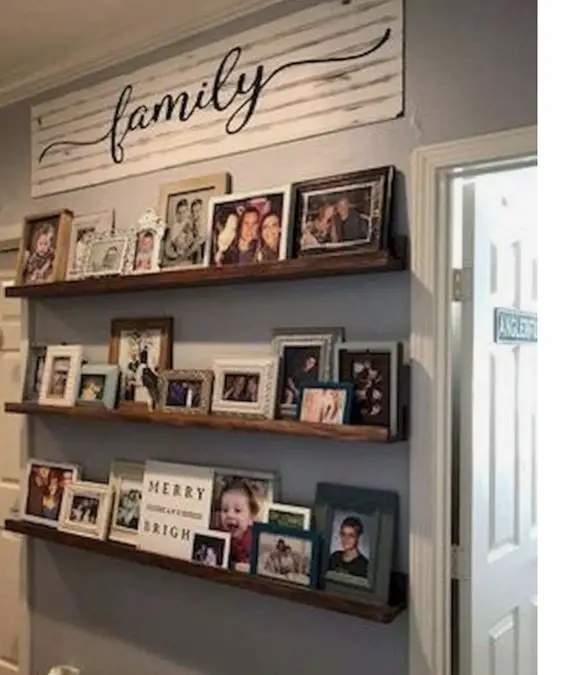 6. Hang Your Shelves
Now it's time to measure and mark your walls for hanging the shelf arrangements.
I use some painters tape to mark where each shelf will go and to be sure it's level.
If you need to hang shelves on your wall without drilling or without nails (if you're renting an apartment or house, you're probably not ALLOWED to damage your walls) – here are some shelves for your picture arrangements that are great ideas for renters.
 These wall shelves are renter-friendly and won't damage your walls…✅ I Found It Here and this set of 3 floating shelves require NO drilling and NO nails✅ I Found It Here
7. Arrange Your Pictures
Once your shelf (or shelves) are up, stand back and be sure you're happy with it. If you are, arrange your pictures on your shelves – maybe even add a plant or other aesthetic knick-knacks.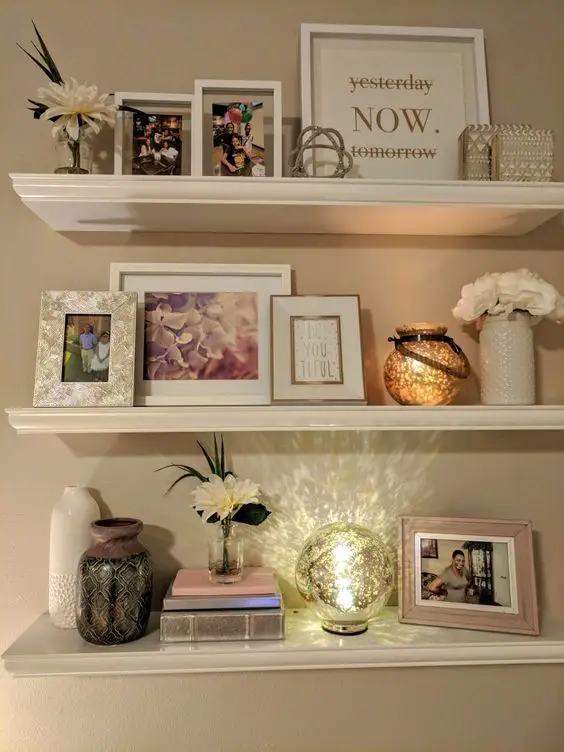 Another great ideas in to hang your shelves and pictures on wall with LIGHTS – string lights, fairy lights or accent LED lights look great!
Now – stand back an enjoy your beautiful wall display!
Picture Arrangements and Frame Layout Ideas
Need some layout ideas and picture arrangements for hanging pictures on your walls?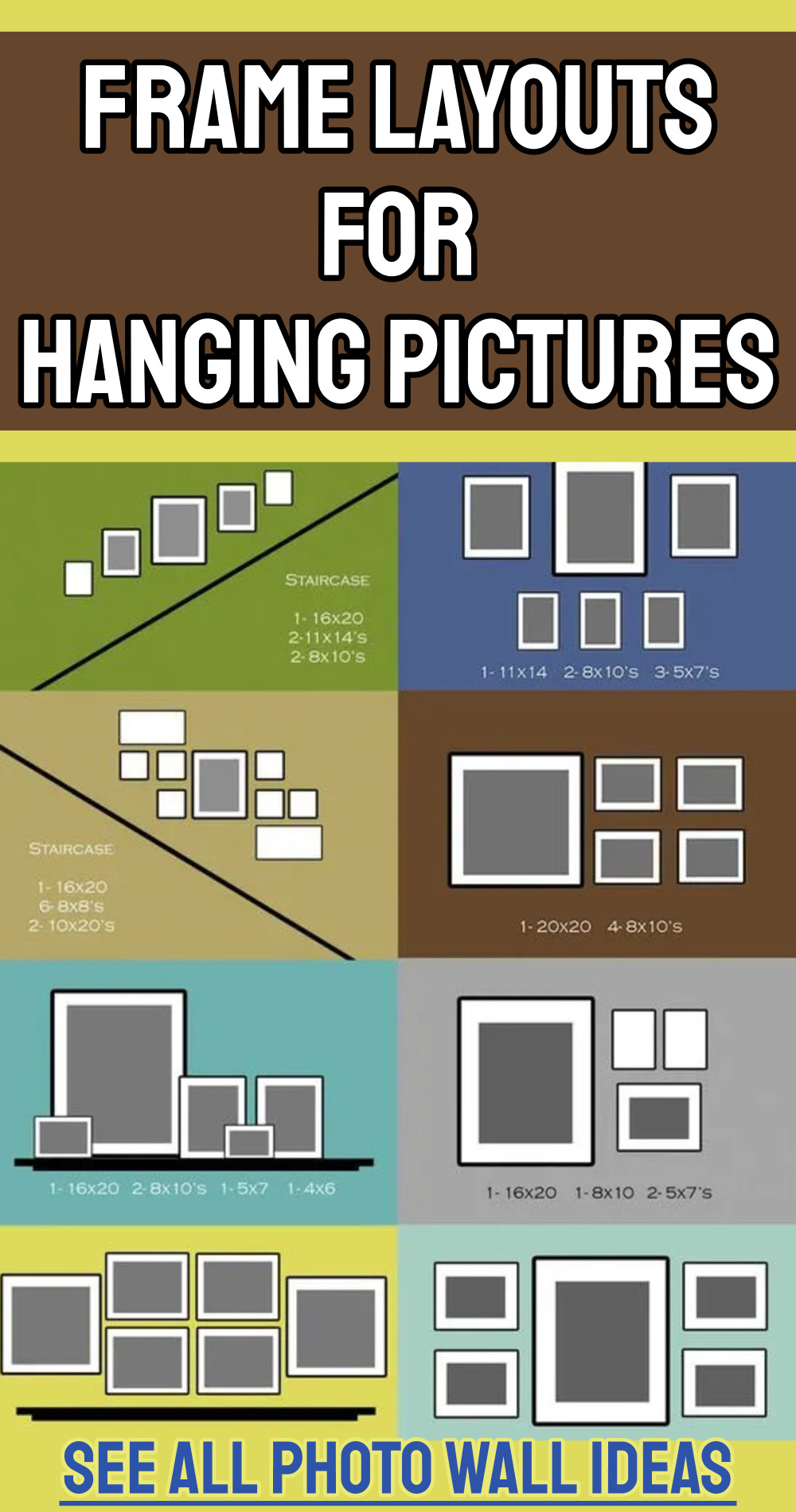 There are a TON more frame arrangement ideas here.
DIY Picture Wall Shelves
If you're more of a Do It Yourself type of person, here are some beautiful DIY picture wall shelves you can MAKE instead of buy.
Miss Anything?
Go back to the top of: ==>> Picture and Shelf Arrangements on Walls
Go back to a specific picture shelf idea or arrangement tip: