If your white Hey Dudes shoes are nasty, dirty and every color BUT white, here's a quick and easy way to clean them that really works and makes them look new again. This cleaning tip also works to get stains out of white Vans, Keds and other white canvas sneakers and cloth shoes.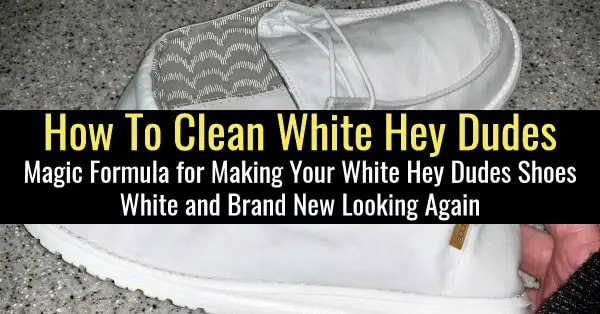 I'm the first to admit that Hey Dudes are the most amazing shoes.
SO comfortable!
If you have never had a pair on your feet, I highly recommend getting at least one pair.
(they make Hey Dudes for men, but also for women and kids).
But, as all moms know, white shoes NEVER stay white… especially when they're on kid's feet… or men's feet.
For some reason, both my husband AND my son just HAD to have white Hey Dudes shoes.
Yes, WHITE.
They both spent the day at the lake with friends and my goodness, BOTH of their white Hey Dudes came back NASTY.
We're talking Georgia red clay stains, blood (not sure WHY? maybe from fishing? some things I don't ask lol!).
It also looked like my son spilled some sort of blue punch or something all over his Hey Dudes.
I truly thought they were ruined for good.
But, I decided to try something before we tossed them…. and it worked SO well for getting their white Hey Dudes WHITE again.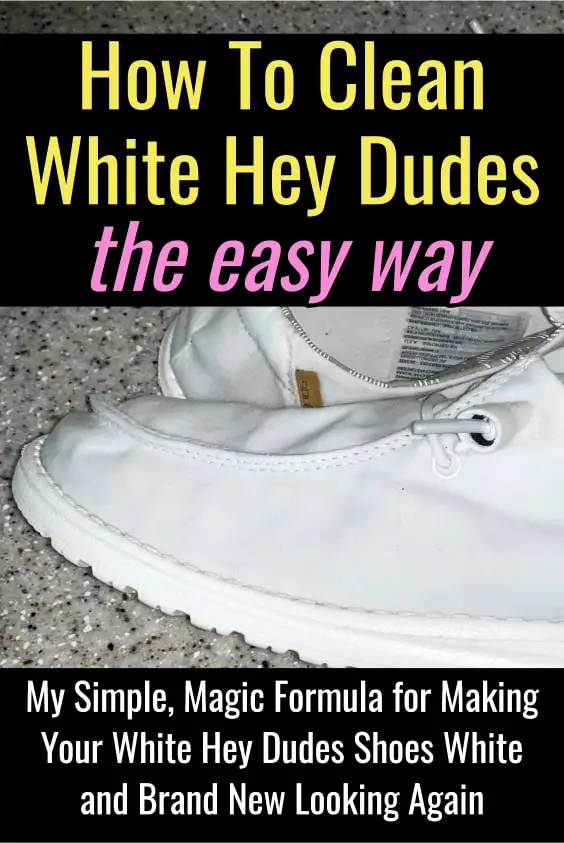 How To Wash White Hey Dudes
Here are the 6 quick steps to wash your white Hey Dudes, or other canvas shoes, to get the stains out and make them bright white and look new again.
1. Remove the Insoles
Take the insoles of your Hey Dudes out and spray them down with this spray cleaner.
Let them sit on the counter for about an hour or two.
2. Rinse Out Your Insoles
Rinse your Hey Dudes insoles in hot water and scrub gently all over with a toothbrush if necessary.
Let air dry.
3. Make This Magic Cleaning Solution
Run half a sink full of hot water and put half a cup of this magical laundry whitener in there.
Mix it well!!
4. Soak for 2 Hours
Put your Hey Dudes shoes face down in the hot water mixture and put something heavy on top so they will stay saturated.
Soak for at least 2 hours.
5. Put In Washing Machine
Don't rinse the magic cleaning solution out of your white Hey Dudes.
Toss the wet shoes into your washing machine and wash them alone on a cold cycle.
No need to add any other detergents.
Wash on your cold water / cold rinse cycle.
6. Air Dry
When your Hey Dudes are done in the washing machine, take them out.
Take a moment to straighten them back to form and let them air dry (do NOT put them in the dryer).
Yep, that's all there is to it.
Your white Hey Dudes or other canvas shoes will look BRIGHT white, stain free and brand new again.
Easy, right?
---
How To Clean White Vans
Now, the cleaning method above totally works for white Vans, but here's another option to get your Vans white and brand new looking again:
How To Clean White Converse or Toms Shoes
Again, the magic white shoe cleaning solution above totally works for washing white Converse or white Tom's shoes, but you can also try this simple method to clean them, too:
How To Remove Yellow Stains From White Shoes
If your white tennis shoes, sneaks, canvas shoes, etc have started to yellow on the soles, here is an easy way to remove that yellow stain and make them white again:
Hope these tips have helped you as much as they've helped me!
I'll never NOT have these 2 magic cleaners in my house…
HIGHLY recommended!
 This cleans EVERYTHING – not just whites

 This is the 'magic' that makes white shoes WHITE again

---
How To Get That Sour SMELL Out Of Laundry – the EASY Way (My Secret Sour Laundry Remedy)
Miss Anything?
Decluttering Club: Why You Should ONLY Declutter With Bags NOT Boxes (and more Decluttering MISTAKES)