---
2 Quick & Cheap Solutions To Remove Mildew Smell From Clothes –
Yuck – your clothes smell SOUR or like nasty MILDEW – now what? How do you get mildew smell out of clothes QUICKLY and remove those odors OUT of your clothes, towels and soured laundry?
If it's your washing machine that stinks, read this.
If your clothes are soured and smell like mildew, keep reading for the quick easy fix.
If you forgot your laundry in the washing machine, here's how to fix the smell.
If your clothes are soured and stink like mildew, there's a solution below.
Thankfully, it's really easy to remove a musty, mildew sour smell from your clothes.
Below are the 2 easiest ways to get rid of that smell from your clean clothes and towels… and then what to use if the 2 easy ways do not work.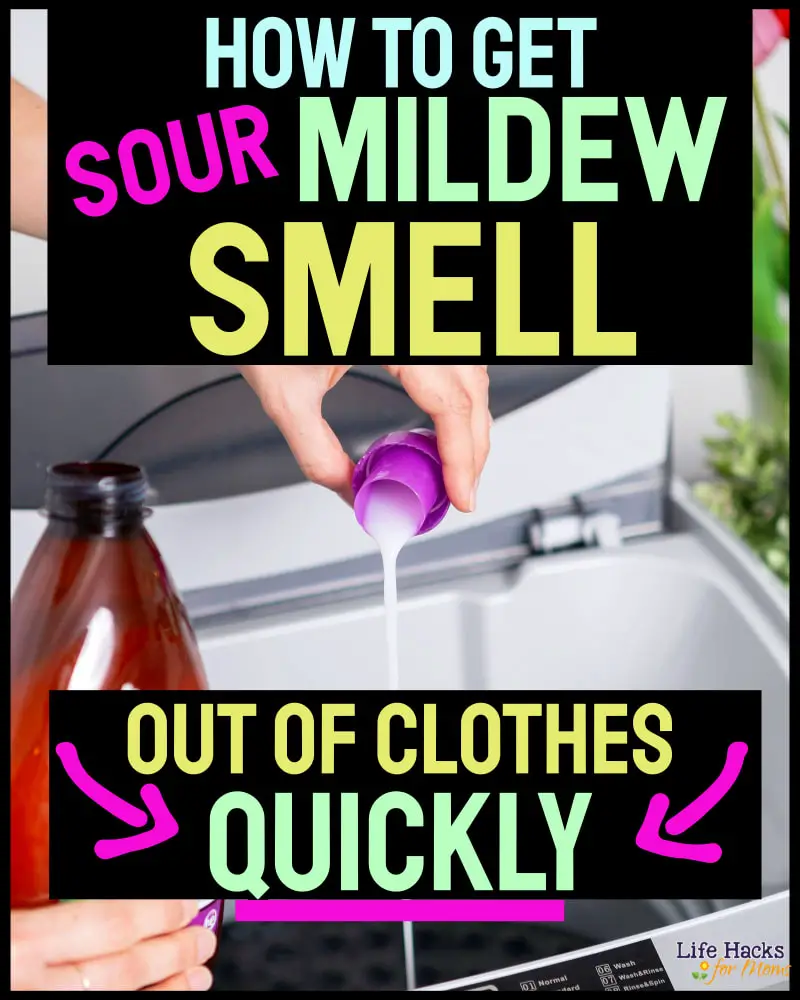 Welcome to Life Hacks for Moms - we hope you enjoy all our tips and tricks for busy moms! Please note that we use affiliate links and ads to generate income at no cost to you.
---
Mildew Smell Removal
I recently received this text from my grown daughter asking…
how do u get mildew smell out of clothes?
Here's what I told her – it's how I've been getting a mildew smell out of clothes for years and years.
There are 2 options that you can try at home to get that mildew sour smell out of clothes quickly.
They both work for towels, sheets – pretty much any laundry you can throw in your washing machine.
Washing Machine Smells Too?
Speaking of your washing machine…
It's VERY possible that your clothes smell like mildew because your washing machine stinks.
Here's how to fix a stinky washing machine so your clothes so NOT smell like mildew in the future:
Clothes Smell Sour?
If your clean clothes smell sour and have a mildew odor, here are 2 ways to get rid of the stinky musty smell from clothing and towels.
The 2 best options to try right away are:
– Vinegar, and
– Borax
Vinegar For Smelly Clothes?
If you want to try and use vinegar to remove the smell from your clothes, here's how to do it:
YES, it works-IF you do it like THIS.
I've used that soured laundry remedy many times and it really does work to get that sour musty mildew smell OUT of clothes so they smell fresh again.
In fact, I use vinegar in my washing machine quite often – especially when I'm washing towels.
Towels seem to build up odor and lose their absorbancy over time – running a cup of vinegar through your normal wash cycle makes a BIG difference.
And NO – your towels, clothes etc will NOT smell like vinegar.
It's pretty impressive… you should try it whether your clothes stink or not.
Borax For Smelly Towels
The other method I use to remove a mildew smell from my clothes is good old-fashioned Borax.
Yep, the same washing powder your grandmother probably used.
Using Borax in your laundry to remove smells from towels is called 'towel stripping' – and it works really well.
Never heard of Borax?
It looks like this:
 Borax Detergent BoosterShow Me This Borax & Baking Soda KitShow Me This
Borax is fantastic for neutralizing odors.
Heck, Borax is amazing for cleaning LOTS of things in your house – both inside and outside.
I have tips, tricks and uses for cleaning with Borax below.
To use Borax for eliminating mildew smells from your clothes you can just add the Borax as directed to your laundry load in your washing machine and then wash as normal.
Once that washing machine cycle is finished, IMMEDIATELY check to see if the mildew smell is OUT of your clothes.
Do NOT let your clothes dry at all – you don't want that odor to set in!
---
If the smell is still present in those "clean" wet clothes, you'll need to soak them in Borax for awhile.
If it's just one or two items of clothing that still have that smell, you can mix 1 cup of Borax to 1 quart of water in a bucket or something and let those clothes soak.
Then, rewash them in your washing machine.
Now, if it's a whole LOAD of freshly washed clothes that still smell, fill up your bathtub with the same Borax/water ration and let those smelly clothes soak in there for awhile.
Then, when the smell is gone, wring those clothes out and run them through another cycle in your washing machine.
Again, be SURE that all the mildew odor is gone BEFORE you put those clothes in the dryer – you don't want any smell to get set in by drying them.
side note: also be sure to completely dry your clothes and towels in the dryer.
Towels and clothes that are not completely dry WILL gather mold and mildew.
More Mildew Smell Remover Options
If after you try the vinegar trick and you try both Borax tricks, and your clothes STILL smell like mildew, it might time to try a super-duper commercial laundry mildew odor remover solutions.
Here are 4 products you can add to your load of laundry that are pretty amazing at getting rid of all kinds of laundry odors (mildew, sour smells, smoke, sweat smells, pee. work and food smells, etc)
 Skout's Honor: Professional Strength Laundry Booster – Stain and Odor Removal Additive – 3x Concentrated Solution For Laundry UseShow Me This Zero Odor – Laundry Odor Eliminator – Permanently Eliminate laundry Odor – Patented Molecular Technology Best For Clothes, Towels & Linens, Shoes, Bags, Etc. – Smell Great Again, 16ozShow Me This OUT ProWash Workwear Odor Eliminator, Laundry Detergent for Work Clothes and Uniforms, Active Wear, Towels, Pets, and Stains caused by Sweat, Food, Smoke, and Pets, 22 OunceShow Me This FunkAway Laundry Detergent Booster, 32 oz | Max Strength Odor Eliminator | Stain Remover | 40 Loads | HEShow Me This
8 Moldy Laundry Remedies
Here are 8 more ways to get mildew – and the SMELL of mildew – out of your clothes.
---
Borax Cleaning Tips & Tricks
If you're wondering what ELSE Borax is good for, get prepared to be blown away.
Borax is AWESOME!
More Cleaning Tips & Tricks
Miss Anything?