---
Easy Soup Recipes – These homemade soup recipes are my picks for the BEST dump 'n go make ahead soups that all freeze well too. These are all easy soup recipes with few ingredients – from freezeable homemade vegetable soup to large batch chicken noodle soup to feel better, these are variations of old-fashioned soup recipes your family will love. They're also great for beginners – anyone can make these simple soups!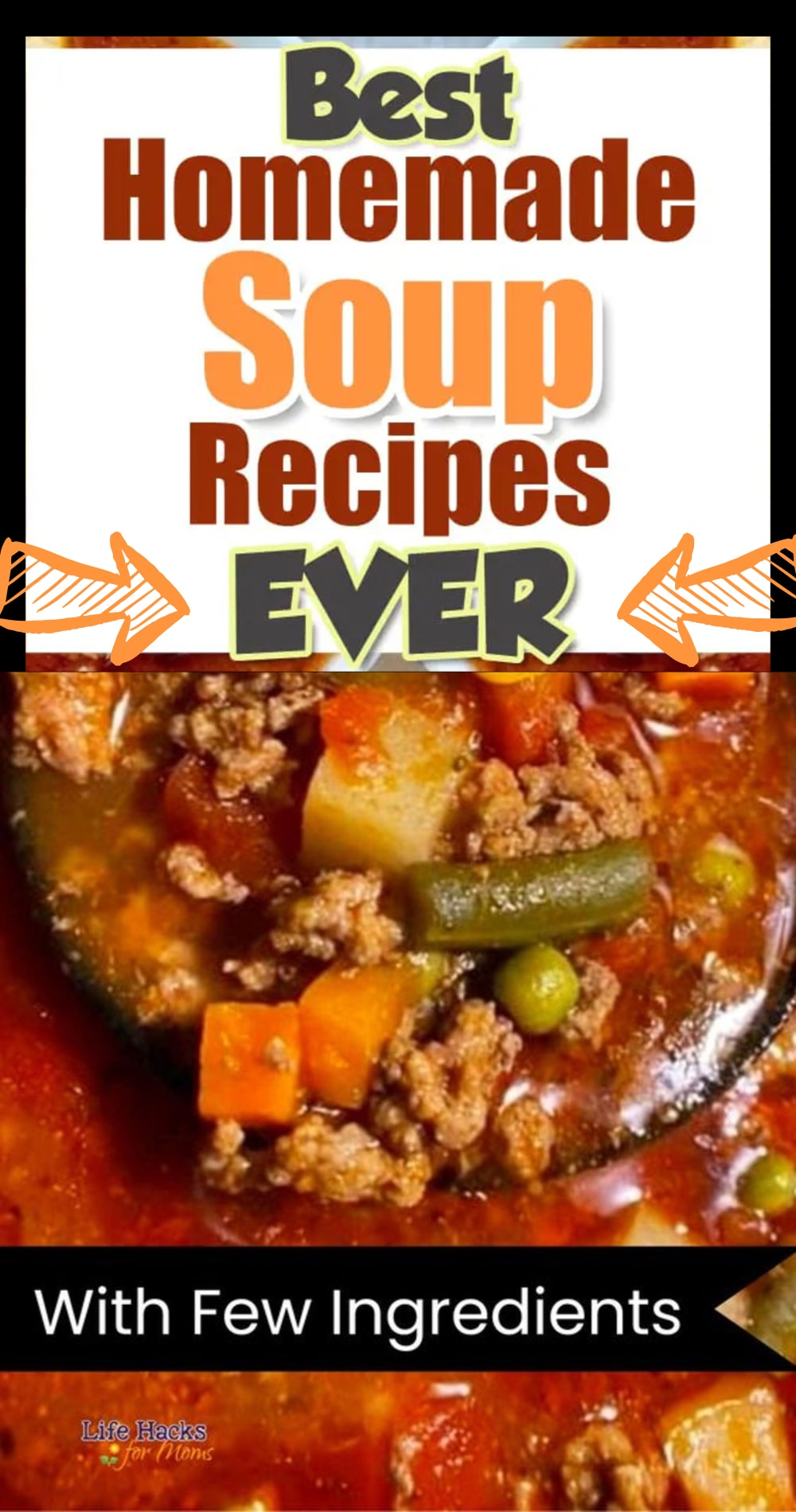 Welcome to Life Hacks for Moms - we hope you enjoy all our tips and tricks for busy moms! Please note that we use affiliate links and ads to generate income at no cost to you.
---
Perfect for cold winter night dinners or those days when you're feeling under the weather and need some comfort food. Nothing makes you feel more warm and cozy than a steaming hot bowl of homemade soup. Best of all, these are soup recipes with ingredients I have. Nothing is easier than pantry soup recipes!
Simple Freezable Soups With Few Ingredients
I got tired of finding "easy" soup recipes that did NOT offer the ingredients and procedure to make them. That's why I made this page with MY favorite EASY freezable soup recipes WITH all the ingredients and the procedure to actually make them.
In my opinion, and my family's opinion, these are the best homemade soup recipes ever and bonus points because they all freeze well. Just dump the ingredients in your crockpot or a pot on the stove, eat some now and then freeze a batch for later!
You know I love make ahead food recipes – like my make ahead and freeze appetizers… so easy!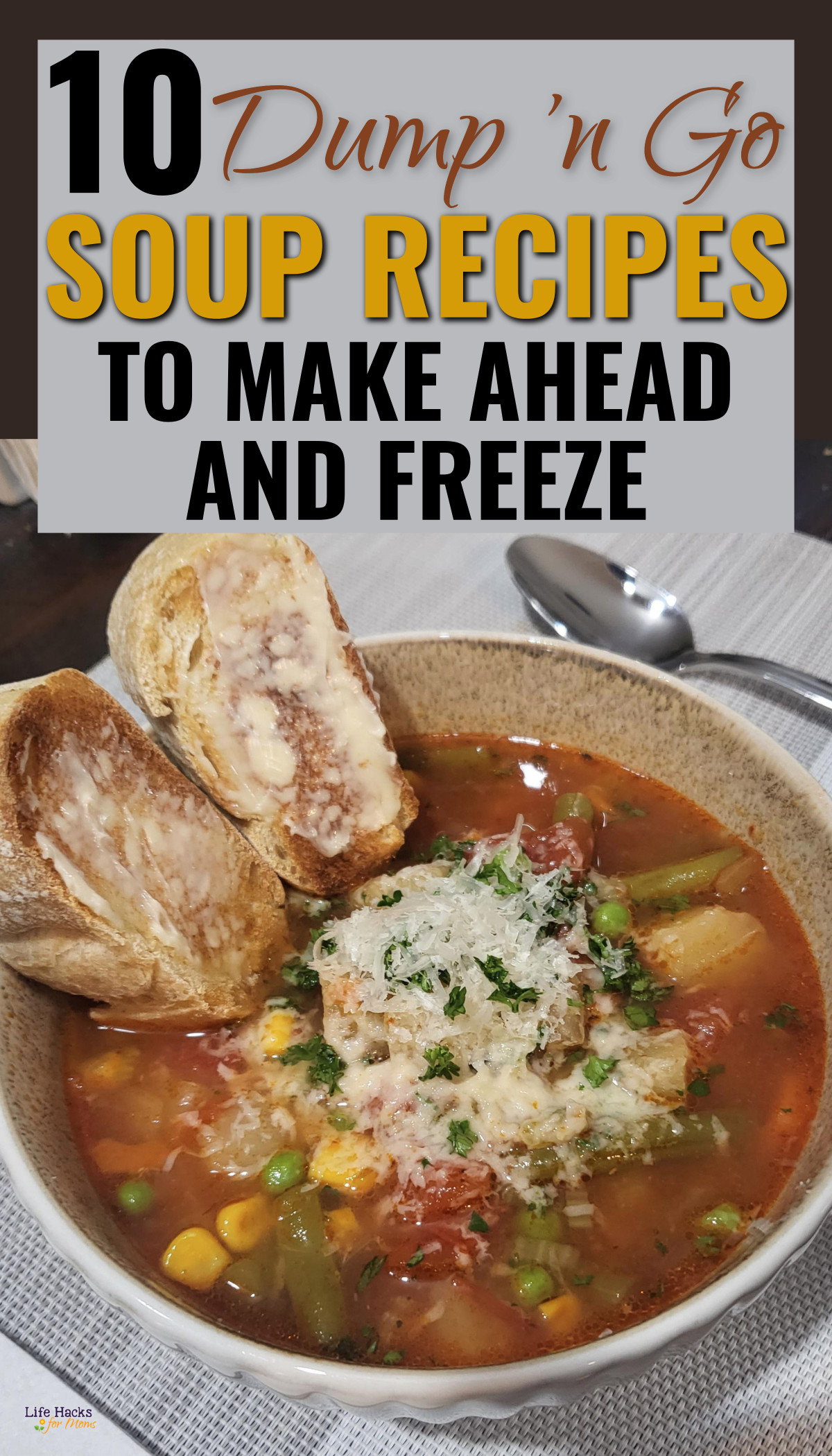 Here's the super simple soup recipes with few ingredients found on this page…
Easy Soup Recipes With Few Ingredients On This Page:
3-Ingredient Potato Soup
Super Simple Vegetable Soup
Homemade Chicken Noodle Soup
Best Ever Potato Soup
Rotisserie Chicken Pantry Soup
Firehouse Taco Soup
Dump n' Go Vegetable Soup
Easy Homemade Tomato Soup
5-Ingredient Soup Recipes
4-Ingredient Soup Recipes
I'm all about simple easy recipes for beginners – and these soup recipes ARE what I'd want if I were a beginner learning to cook soup.
I don't believe we've gone through a winter or a cold season without making each of these homemade soups at LEAST twice – we all love them… soup is the ultimate comfort food, right?
 Bob's Red Mill Vegetable Soup MixShow Me This Taste of Home: 380 Soup RecipesShow Me This Simple Kitchen Soups Variety PackShow Me This
3-Ingredient Potato Soup
Let's start with the EASIEST homemade soup recipe EVER. Perfect for beginners or when you're under the weather and don't have the energy to cook.
If you like "Dump and Go" recipes with few ingredients, this quick and easy soup is for you!
With just 3 simple ingredients dumped in a pot you'll make the most delicious homemade potato soup in 6 beginner-friendly steps.
When you're sick or it's freezing outside, this simple soup recipe will hit the spot.
As a bonus, this easy potato soup recipe does not use MILK.
Almost all potato soup recipes use milk and if you have lactose issues, like I do, that makes those soup recipes a Hard NO.
Plus, if you have a fever, milk products are not the best option – or maybe that's an Old Wives Tale? Regardless if it's Fact or not, I avoid milk products when I have a fever.
How To Make 3-Ingredient Potato Soup: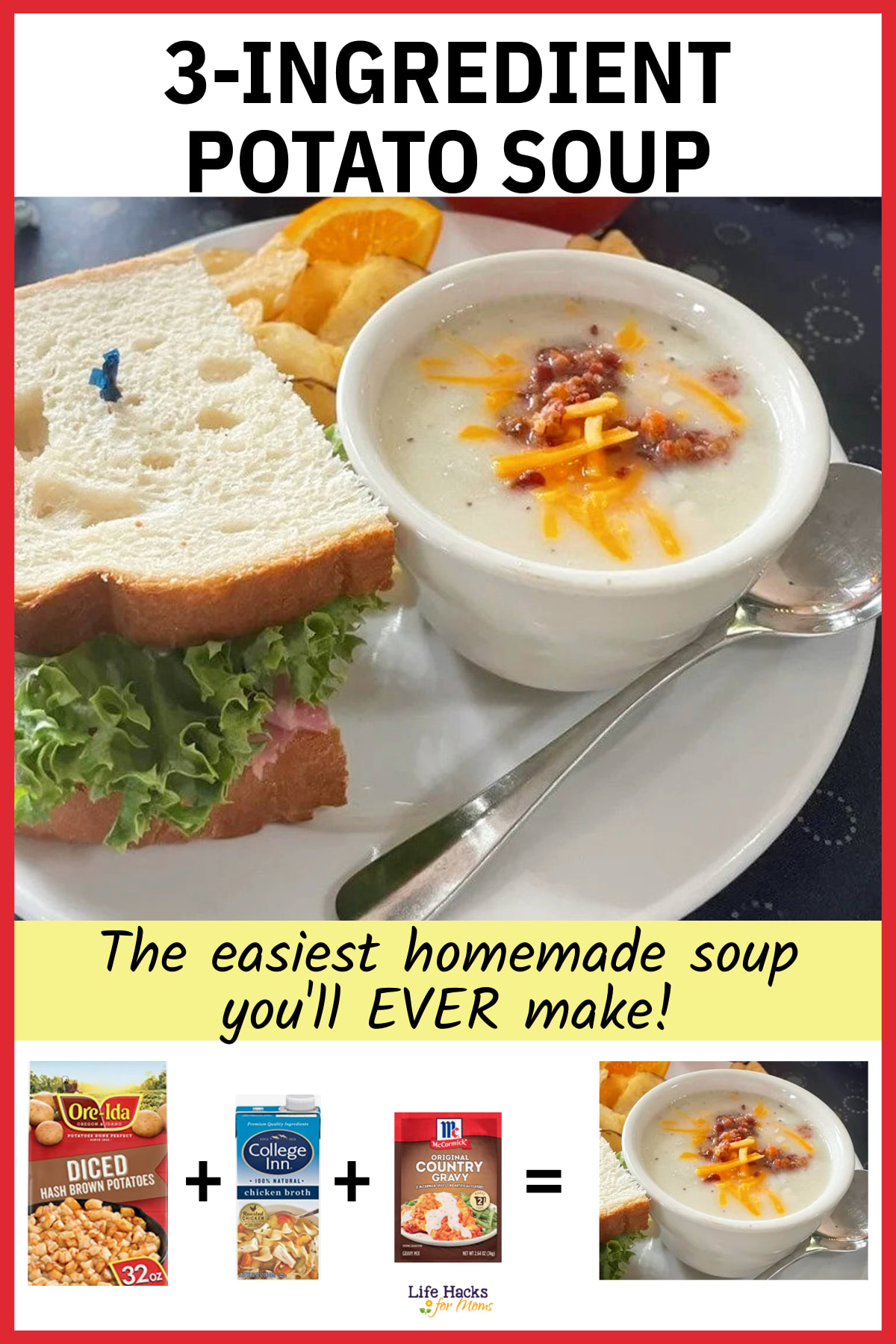 RECIPE
Ingredients:
1 32-ounce container chicken broth
1 32-ounce bag frozen hash brown potatoes
1 pack Country Gravy mix
Note: it MUST be COUNTRY gravy mix like in the picture above – NOT sausage gravy mix.
Instructions:
Dump potatoes, chicken broth and gravy pack in a pot
Slowly bring to a boil stirring occasionally
Once boiling, reduce to a simmer
Simmer for 30 minutes
Remove from heat
Let stand to thicken about 20 minutes
Done!
Optional: Top with grated cheese, bacon bits, one of my 3-ingredient bread recipes – or whatever YOU want.
So good and hearty – it really hits the spot when you don't feel well or as a simple hot meal on a cold day.
Old-Fashioned Vegetable Soup
This is my grandma's old fashioned homemade vegetable soup recipe (Grandma's recipes are THE best, aren't they?)
She always made her homemade vegetable soup in this BIG Dutch oven type of soup pot, but you can also throw the browned beef and other ingredients in your slow cooker and let it simmer all day or cook on high for a few hours.
This homemade vegetable soup plus her cornbread was my FAVORITE thing to eat at her house.
I'm SO glad I have her recipe!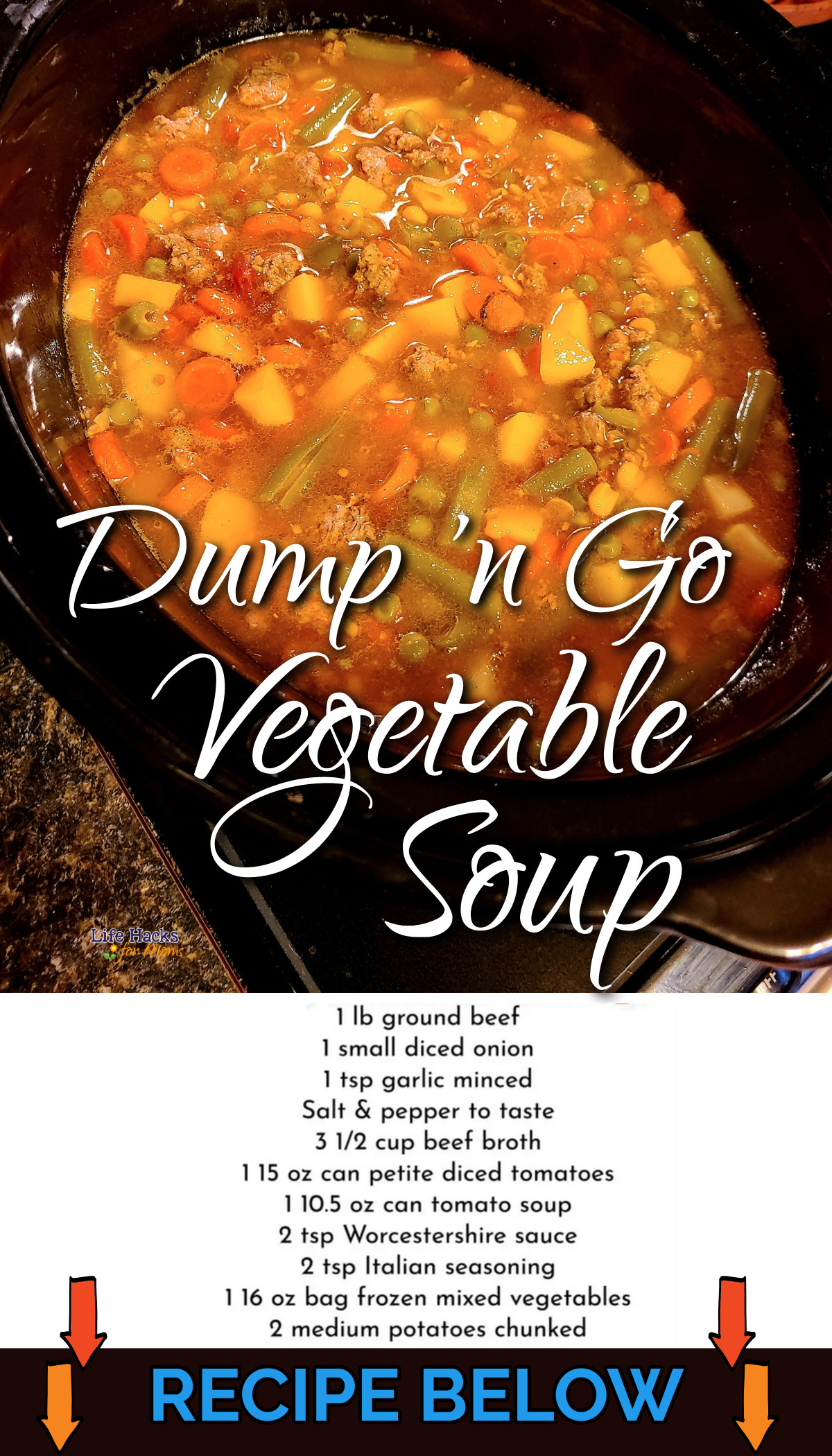 RECIPE
Ingredients:
1 lb ground beef
1 small diced onion
1 tsp garlic minced
Salt & pepper to taste
3 1/2 cup beef broth
1 15 oz can petite diced tomatoes
1 10.5 oz can tomato soup
2 tsp Worcestershire sauce
2 tsp Italian seasoning
1 16 oz bag frozen mixed vegetables
2 medium potatoes chunked
Procedure:
In a large soup pot or Dutch oven
Brown ground beef, garlic and onion
Mix in beef broth, tomato soup, canned tomatoes, Worcestershire sauce, Italian seasoning, bag of vegetables and potatoes.
Bring to boil.
Reduce heat and simmer until potatoes are tender.
Creamy Noodle Chicken Soup
This creamy noodle chicken soup in made in your crock pot slow cooker – it may not look that good, but trust me – it is DELICIOUS!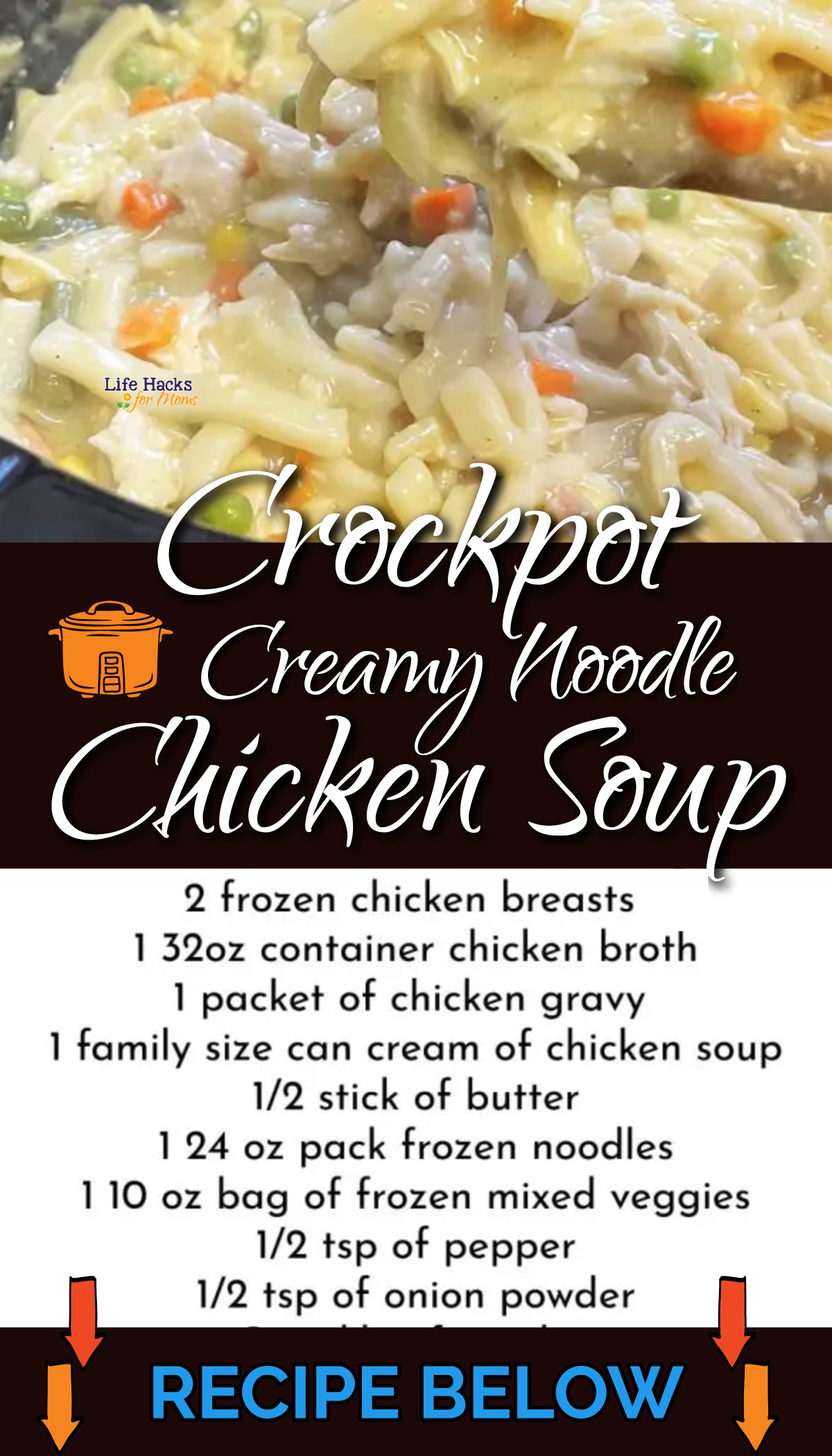 RECIPE
Ingredients:
2 frozen chicken breasts
1 32oz container chicken broth
1 packet of chicken gravy
1 family size can cream of chicken soup
1/2 stick of butter
1 24 oz pack frozen noodles
1 10 oz bag of frozen mixed veggies
1/2 tsp of pepper
1/2 tsp of onion powder
Sprinkle of parsley
Instructions:
Put frozen chicken, soup, broth, gravy and spices in your crockpot and mix.
Cook on high for 5hrs.
Shred chicken in the crockpot with a fork.
Add in frozen noodles and veggies.
Cook on High for 1 hour or until noodles are done.
Loaded Potato Soup
This is my Aunt Dot's famous loaded potato soup recipe.
And yes, it IS famous!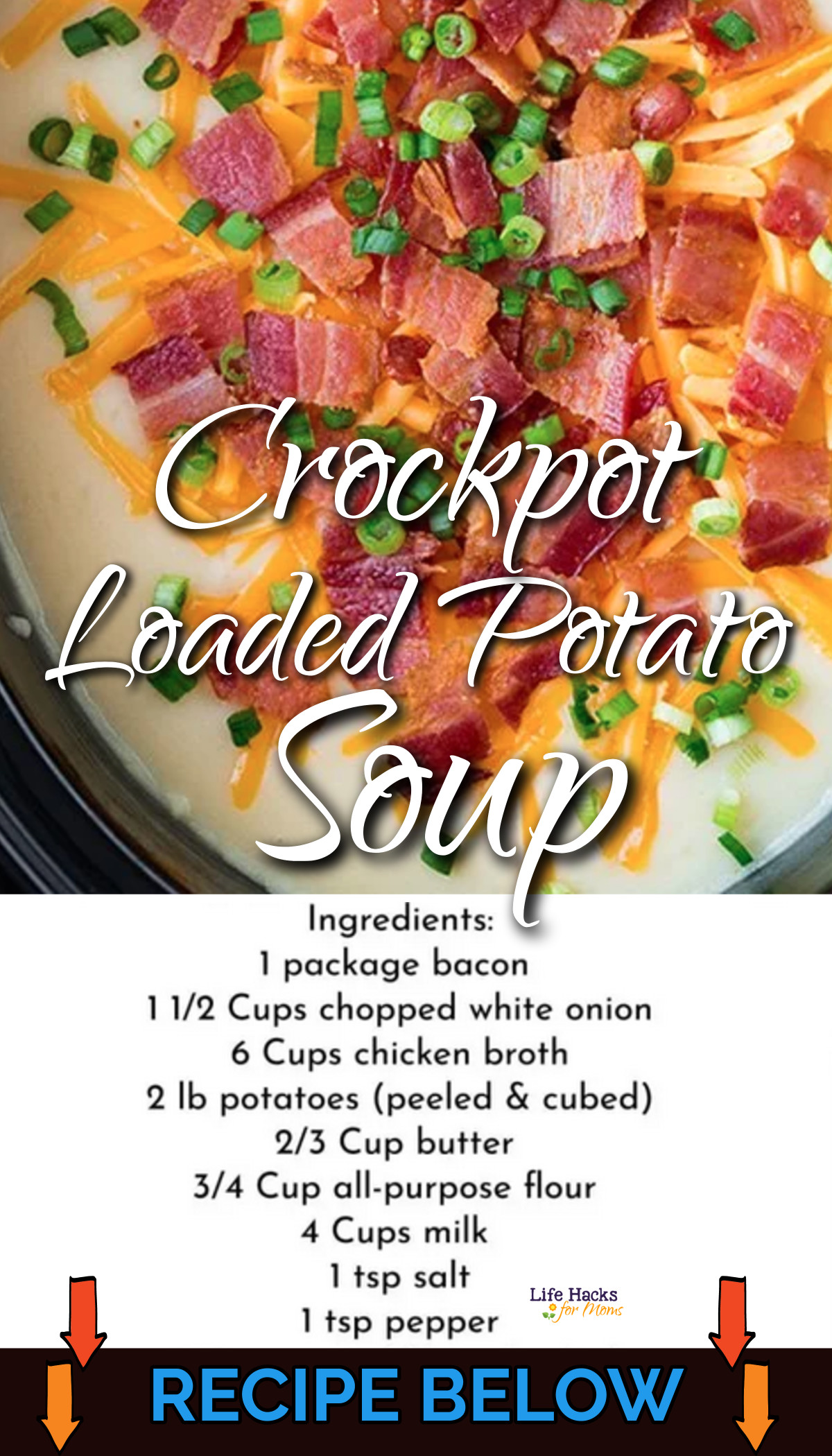 RECIPE
Ingredients:
1 package bacon
1 1/2 Cups chopped white onion
6 Cups chicken broth
2 lb potatoes (peeled & cubed)
2/3 Cup butter
3/4 Cup all-purpose flour
4 Cups milk
1 tsp salt
1 tsp pepper
1 Cup cooked ham chunked
1 8oz container of sour cream
2 1/2 Cups shredded cheddar cheese
3/4 cup sliced green onions
Procedure:
Cook bacon in a skillet, drain and crumble.
Cook white onion in same skillet until tender.
In large pot or Dutch oven, mix onion, broth and potatoes.
Heat to boiling; reduce heat.
Cook 10 minutes or until potatoes are very tender.
Melt butter over low heat in skillet.
Stir in flour and whisk until smooth – Cook and stir 1 minute.
Gradually stir in half (2 cups) of the milk.
Pour milk mixture into large pot potato mixture.
Add remaining 2 cups milk – salt and pepper to taste.
Cook over medium heat, stirring constantly with whisk, until mixture is thickened and bubbly.
Stir in ham, half of the bacon, the sour cream, 2 cups of the cheese and 1/2 cup of the green onions.
Cook until thoroughly heated and cheese is melted.
Use remaining bacon, cheese and the green onions for toppings.
Rotisserie Chicken Noodle Soup
I used to make this homemade chicken noodle soup with leftover chicken, but now I find it MUCH better (and easier) to make it with store-bought rotisserie chicken.
The rotisserie chicken just adds a little something extra to it – plus, the soup is ready to eat VERY quickly.
Feel free to use leftover chicken or boil some fresh chicken breasts it you prefer, but I recommend trying this chicken noodle soup recipe with rotisserie chicken at least once.
Here's the chicken soup ingredients and procedure (it's super simple!)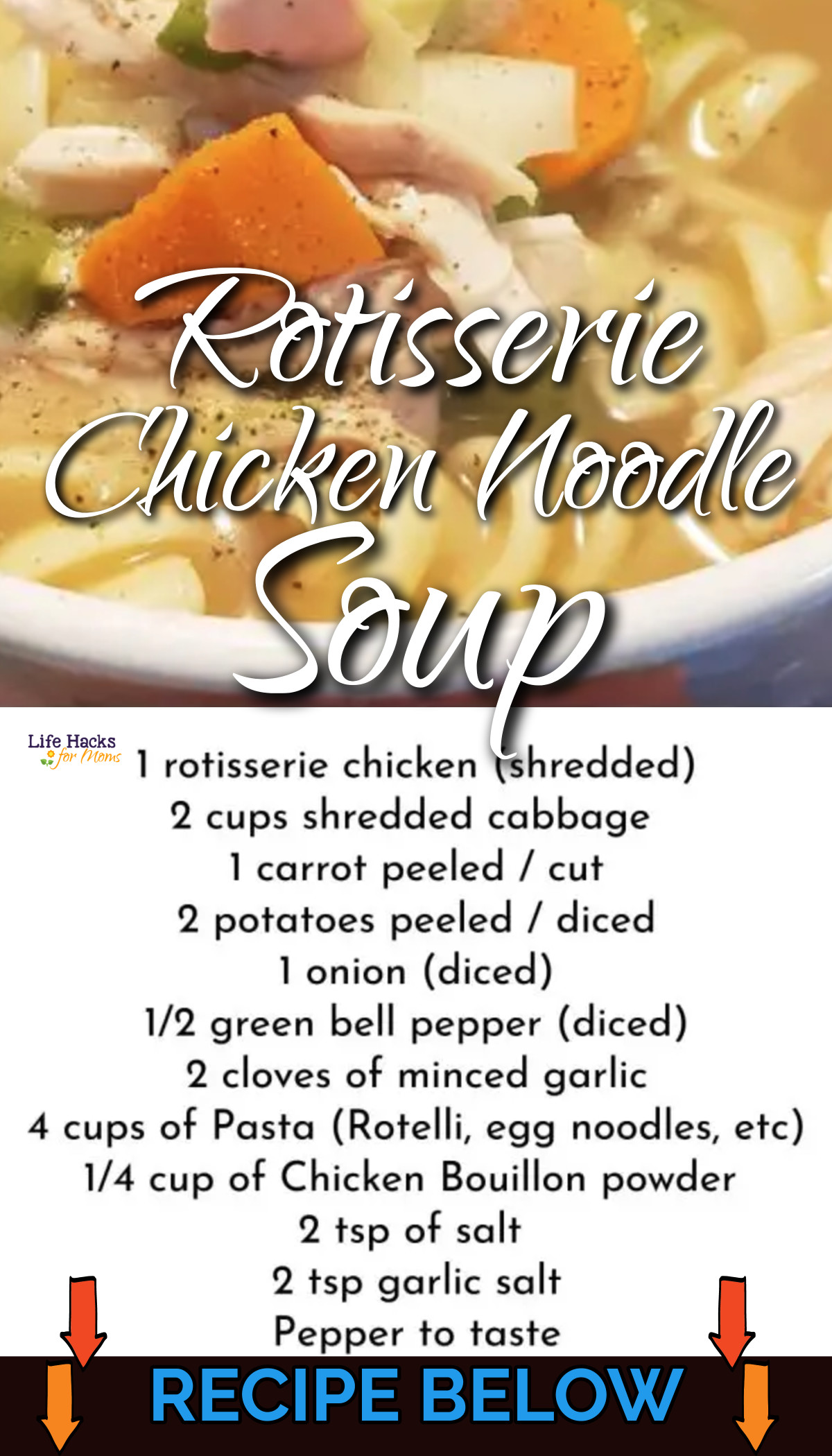 RECIPE
Chicken Soup Ingredients:
1 rotisserie chicken (shredded)
2 cups shredded cabbage
1 carrot peeled / cut
2 potatoes peeled / diced
1 onion (diced)
1/2 green bell pepper (diced)
2 cloves of minced garlic
4 cups of Pasta (Rotelli, egg noodles, etc – your choice)
1/4 cup of Chicken Bouillon powder
2 tsp of salt
2 tsp garlic salt
Pepper to taste
Chicken Soup Procedure:
Bring 8 cups of water to an almost boil
Add Chicken Bouillon powder, salt, garlic salt, pepper
Let broth simmer for about 2 minutes
Add all the vegetables, uncooked noodles and shredded chicken to the pot.

(note: if you prefer to cook the noodles separately to prevent a "starchy" texture to your soup, wait until after next step to add them)

Cook until the potatoes and carrots are soft.

(If you cooked your noodles separately, now add the cooked noodles to the pot.)

Let soup continue to boil for about 5 minutes.
Serve hot.
You might also like: EASY Instant Pot Chicken Recipes
Firehouse Taco Soup
I wish I could remember which family member gave me this Firehouse Taco Soup recipe, but I appreciate them for it.
While it's not a true homemade soup because it uses ready made seasoning packs and canned veggies, it might as well be the best soup EVER.
It's SO simple to make, too!
Just brown your ground beef and dump everything in your crock pot.
Don't you just LOVE "dump and go" recipes?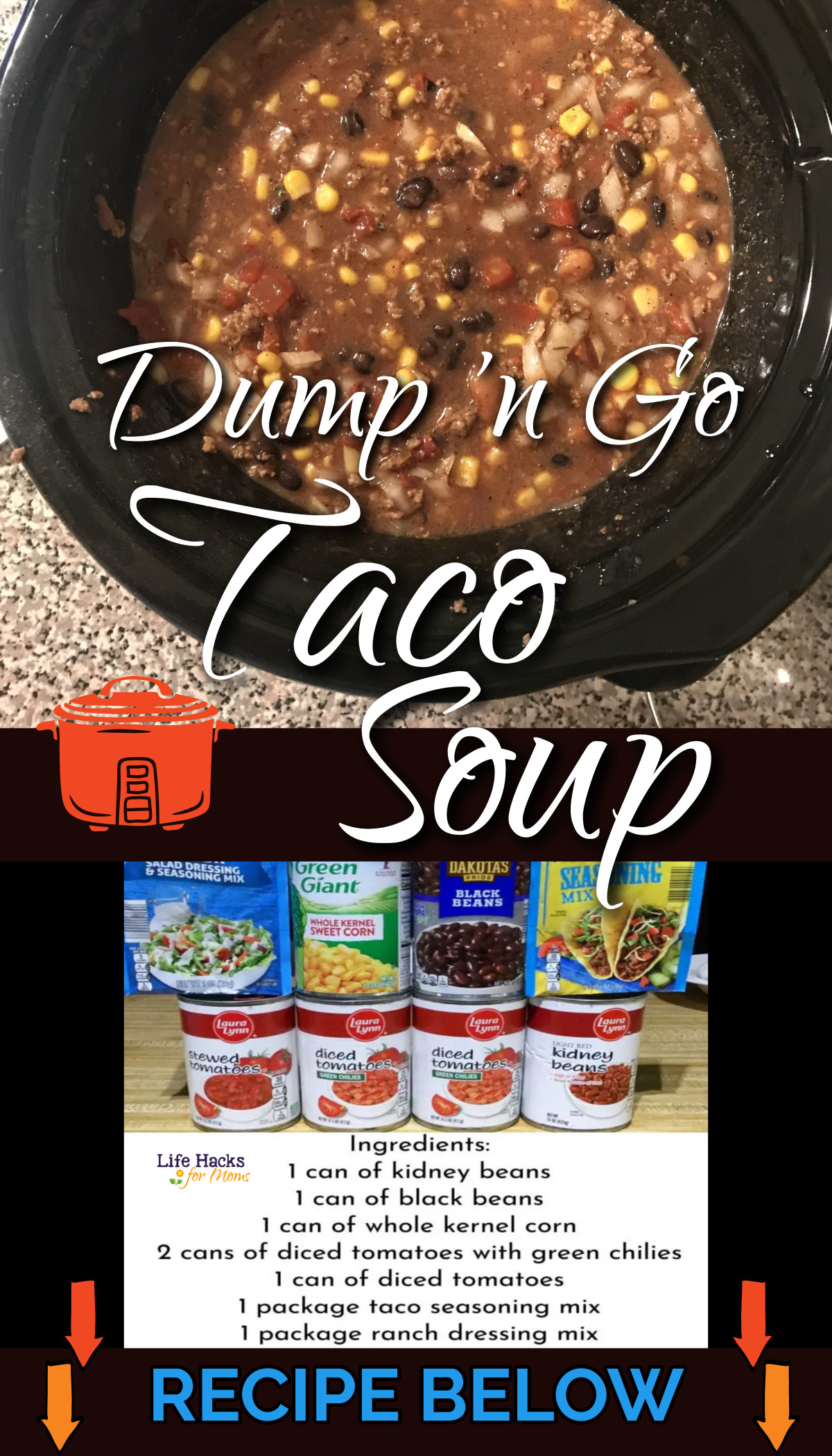 RECIPE
Ingredients:
1 can of kidney beans
1 can of black beans
1 can of whole kernel corn
2 cans of diced tomatoes with green chilies
1 can of diced tomatoes
1 package taco seasoning mix
1 package of ranch dressing mix
Procedure:
Brown ground beef and drain – put in crock pot
Add all other ingredients to crock pot (do NOT drain canned ingredients)
Cook on high for 2 hours (or low for 4 hours)

The longer it cooks, the better, BUT this taco soup is ready to eat as soon as it's hot.

Top with shredded cheddar cheese, sour cream, chips, etc.
(note: you can also just cook this in a pot on your stove – totally up to you)
Dump n' Go Vegetable Soup
When it comes to the EASIEST beef vegetable soup to make at home, this Dump n' Go freezable vegetable soup is the most simple soup you can make ahead and freeze.
I love to freeze the leftovers in individual-sized freezer and microwave-safe containers for a quick hot meal to reheat on those cold busy days.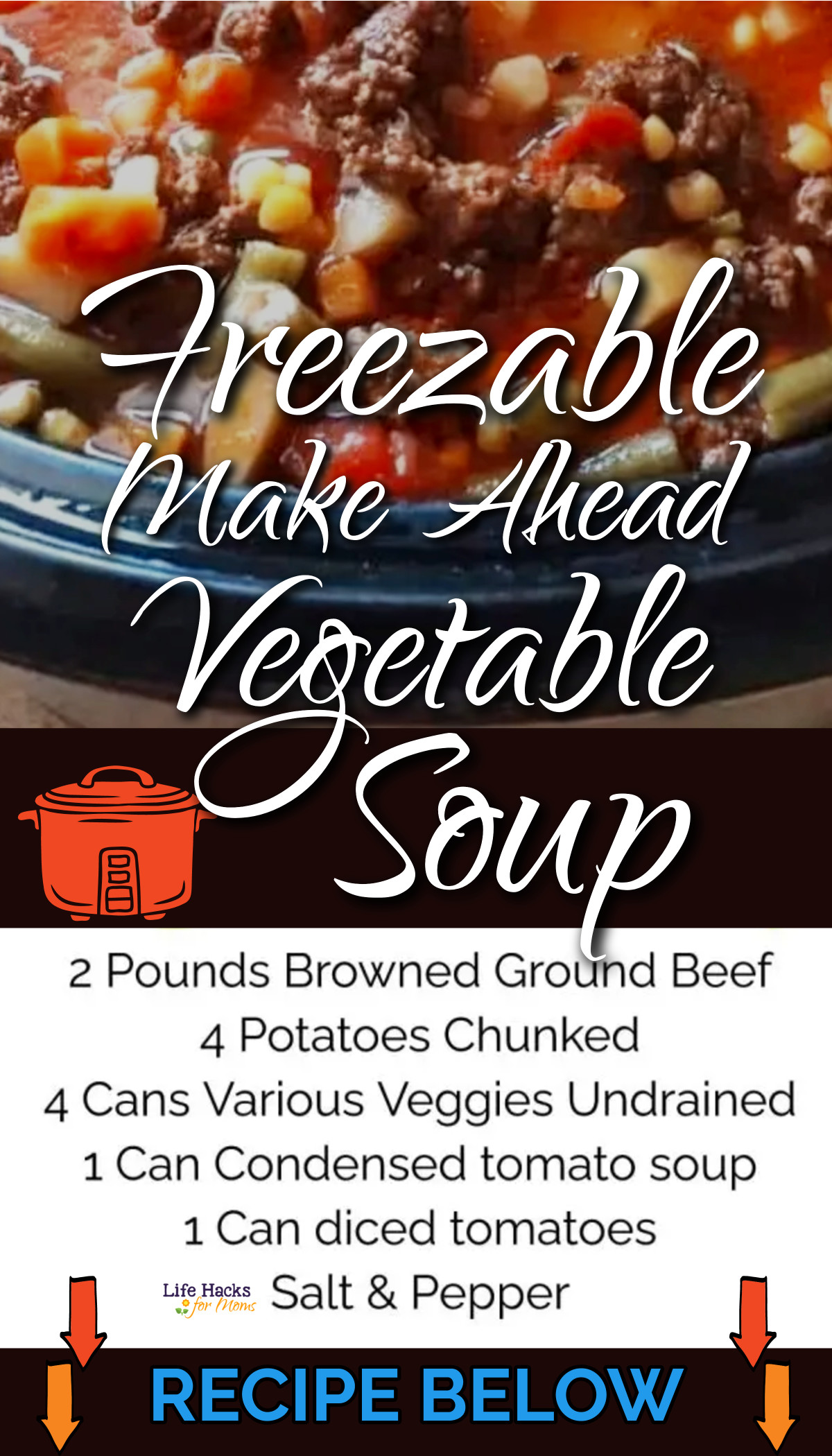 RECIPE
The ingredients and procedure are super simple: Just brown 2 pounds of ground beef, then throw the ground beef, the tomato soup & diced tomatoes into a crock pot. Then open 4 cans of whatever kinds of vegetables YOU like and dump them into the slow cooker too (do NOT drain the canned vegetables, just dump it all in there!)
Then, cook in your slow cooker for about 4 hours on low – or however long YOU need.
Here's a secret though that my grandmother taught me to take the "bite" out of the tomato-y taste… toss in a tablespoon or two of sugar when you're dumping all the ingredients into your slow cooker.
I know it sounds weird, but it makes a BIG difference!
Homemade Tomato Soup
Name a food combo that is more comforting than homemade tomato soup with a toasty cheesy grilled cheese sandwich – yum!
Here's how to make homemade tomato soup that will knock your socks off – it's SO good!
 Bob's Red Mill Vegetable Soup MixShow Me This Taste of Home: 380 Soup RecipesShow Me This Simple Kitchen Soups Variety PackShow Me This
5-Ingredient Soup Recipes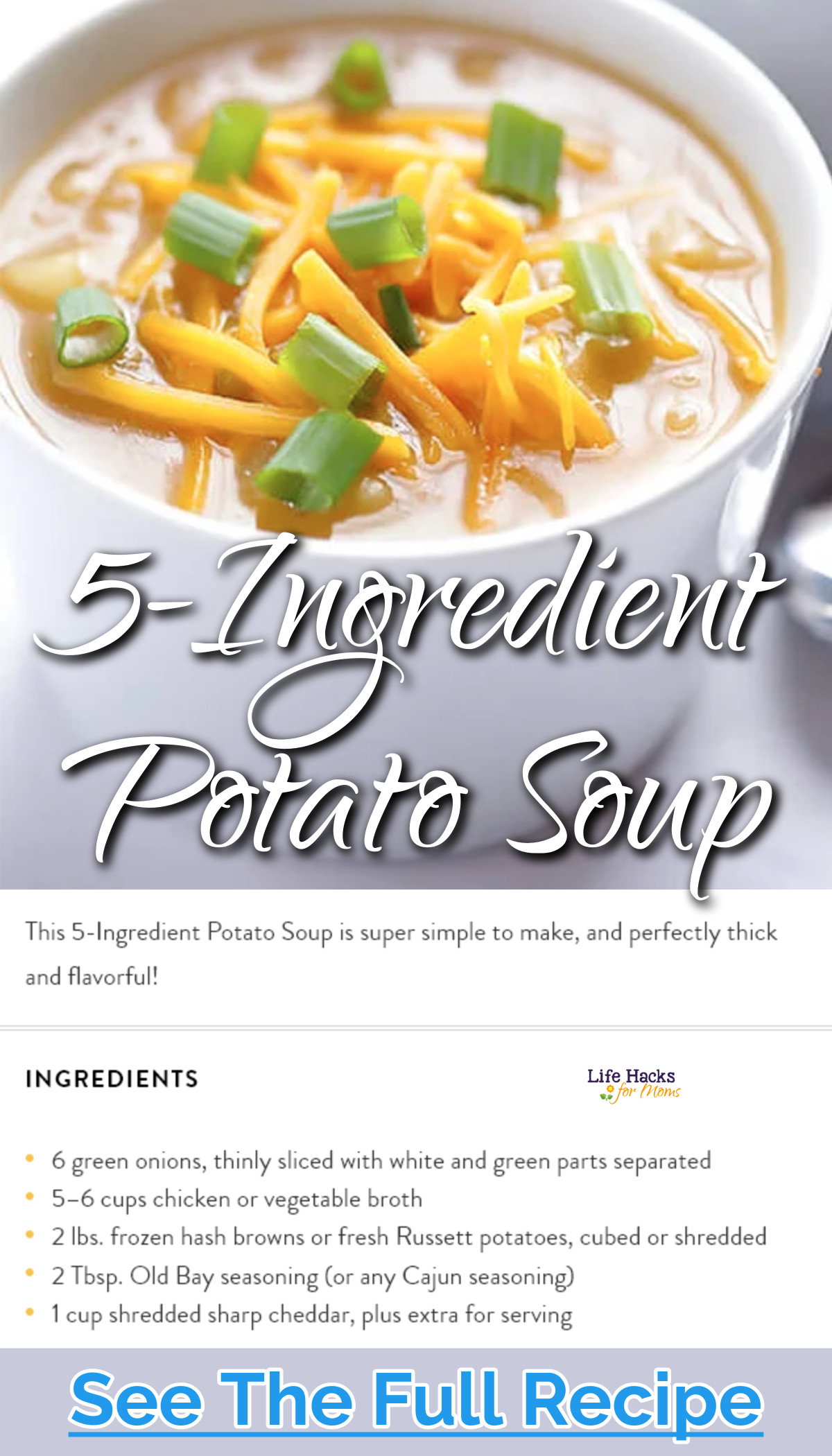 When it comes to easy soup recipes with few ingredients, this 5 ingredient potato soup is my favorite.
As for ingredients, this potato soup recipe calls for FROZEN hashbrowns, some seasonings, and cheddar cheese – yum!
And this easy soup recipe procedure is super simple too!
4-Ingredient Soup Recipes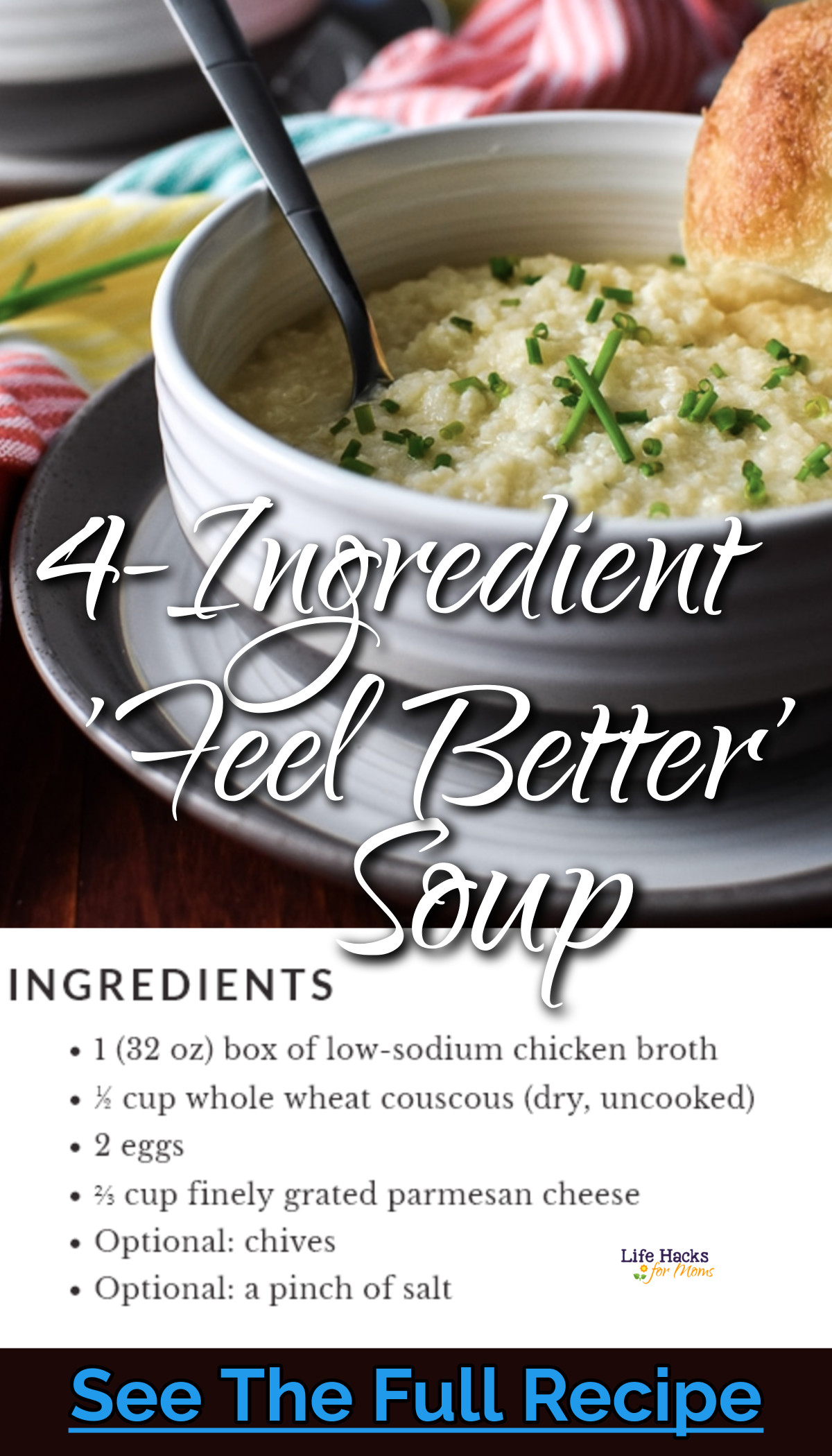 This 4 ingredient soup is called "Feel Better Soup", and just like my 21 Day Fix desserts, this is also for those eating that same way.
This is a super simple 5 ingredient soup recipe for your Instant Pot (but you can adjust for your crock pot slow cooker or stove top as needed).
And… you can throw it together in only 10 minutes.
Best of all, this super simple soup recipe WILL make you feel better.
Miss Anything?
Go back to the top of: ==>> Easy Soup Recipes
Go back to a specific soup recipe:
---