---
Easy Bread Recipes with Few Ingredients – My Favorite Easy Homemade Bread Recipes with few ingredients and NO Bread Machine Needed – including the EASIEST banana bread recipe you will EVER make (and it's SUPER moist too!)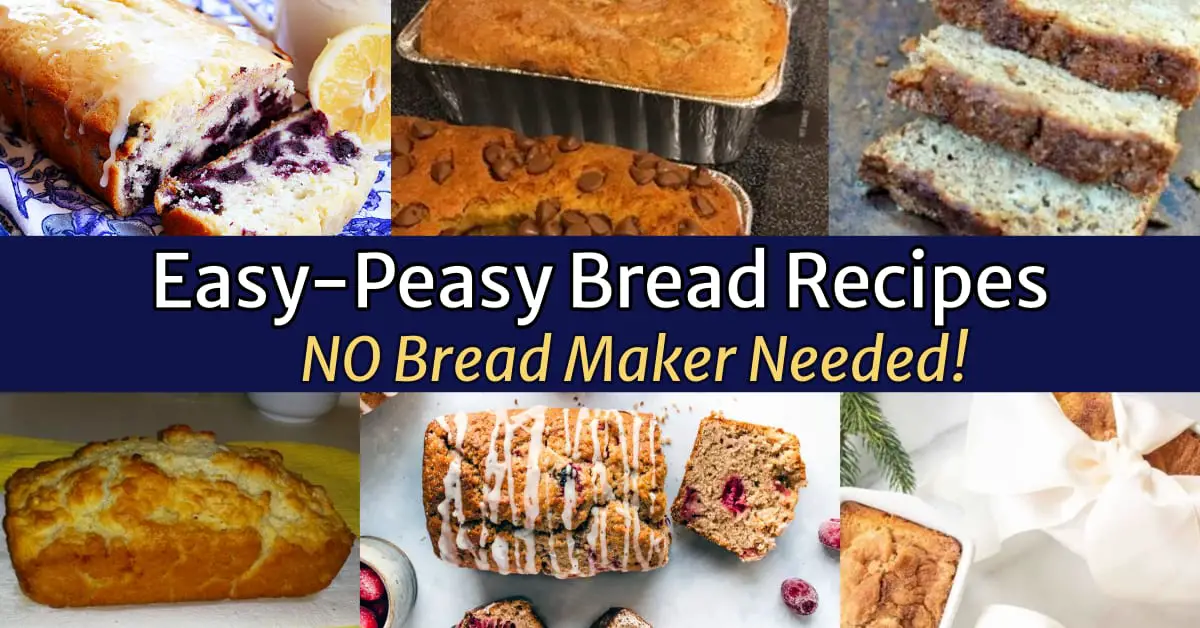 Welcome to Life Hacks for Moms - we hope you enjoy all our tips and tricks for busy moms! Please note that we use affiliate links and ads to generate income at no cost to you.
---
Ready to make bread at home but WITHOUT a bread maker AND with VERY few ingredients? These unique and SIMPLE bread recipes below are my favorite recipes to make bread without a bread machine, without kneading and many with no yeast.
Super simple, few ingredients and LOTS of different types of bread recipes from breakfast breads and printable bread recipes to Christmas breads to give as gifts to your neighbors, friends and family.
Easy Bread Recipes
I've tried a LOT of bread recipes in my years, but these 8 uniquely different bread recipes below are my all-time favorites.
All these homemade bread recipes variations below:
do NOT require a bread maker or bread machine,
have few ingredients,
do NOT use YEAST,
Do NOT require kneading,
are perfect bread recipe types for beginners,
are easy to make,
and are absolutely DELICIOUS!
3-Ingredient Bread, NO YEAST
This is the EASIEST 3-ingredient bread, NO YEAST and NO KNEADING required!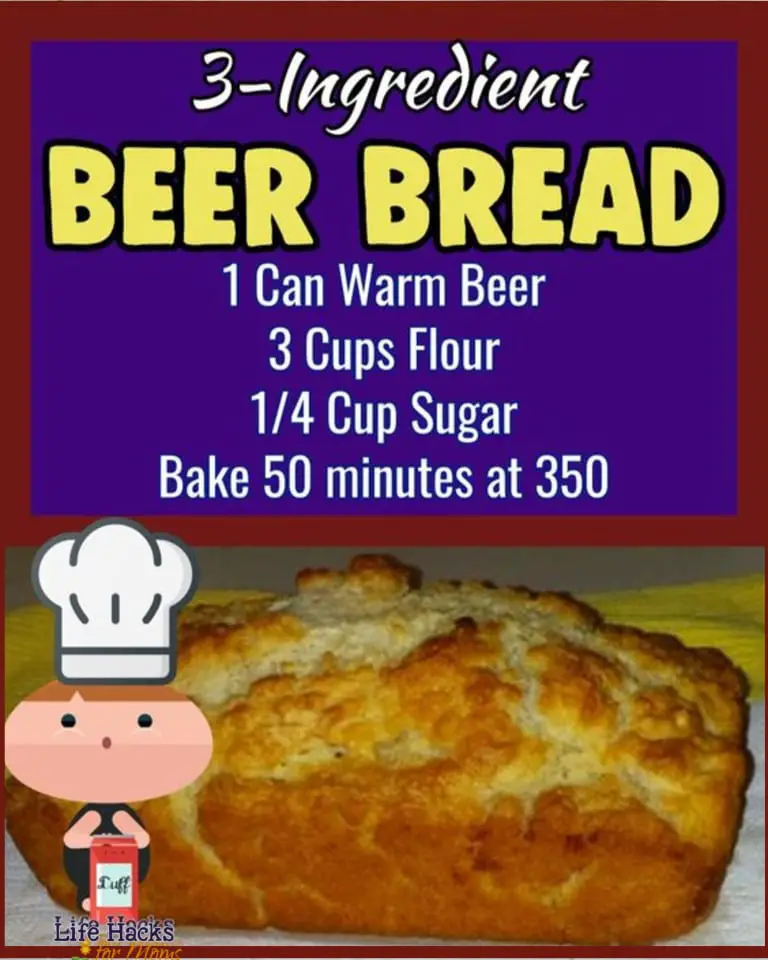 Crazy that those 3 simple ingredients make homemade bread, but they do!
That homemade bread recipe above does NOT need yeast to rise because you use a can of warm beer to make the bread rise without yeast.
And NO, this bread does NOT taste like beer at all!
In fact, I made this bread every year for our reunion that we hold in our church foyer – so, if I take it THERE, you can trust that it's a-ok!
I promise you, this will be the easiest bread you'll ever make and it is SO good!
Especially with some homemade soup when it's warm out of the oven.
Everyone loves it!
My co-workers begged me to make a few loaves of this for my St Patrick's Day potluck at work this year – it's super easy, so why not?
Banana Bread
IMPORTANT UPDATE: Many readers are ending up here from Pinterest about my 3-Ingredient banana bread recipe (all details for that bread recipe are below).
BUT – it's been brought to my attention that some kind of coding glitch shows the WRONG ingredients on that pin.
These are the CORRECT ingredients: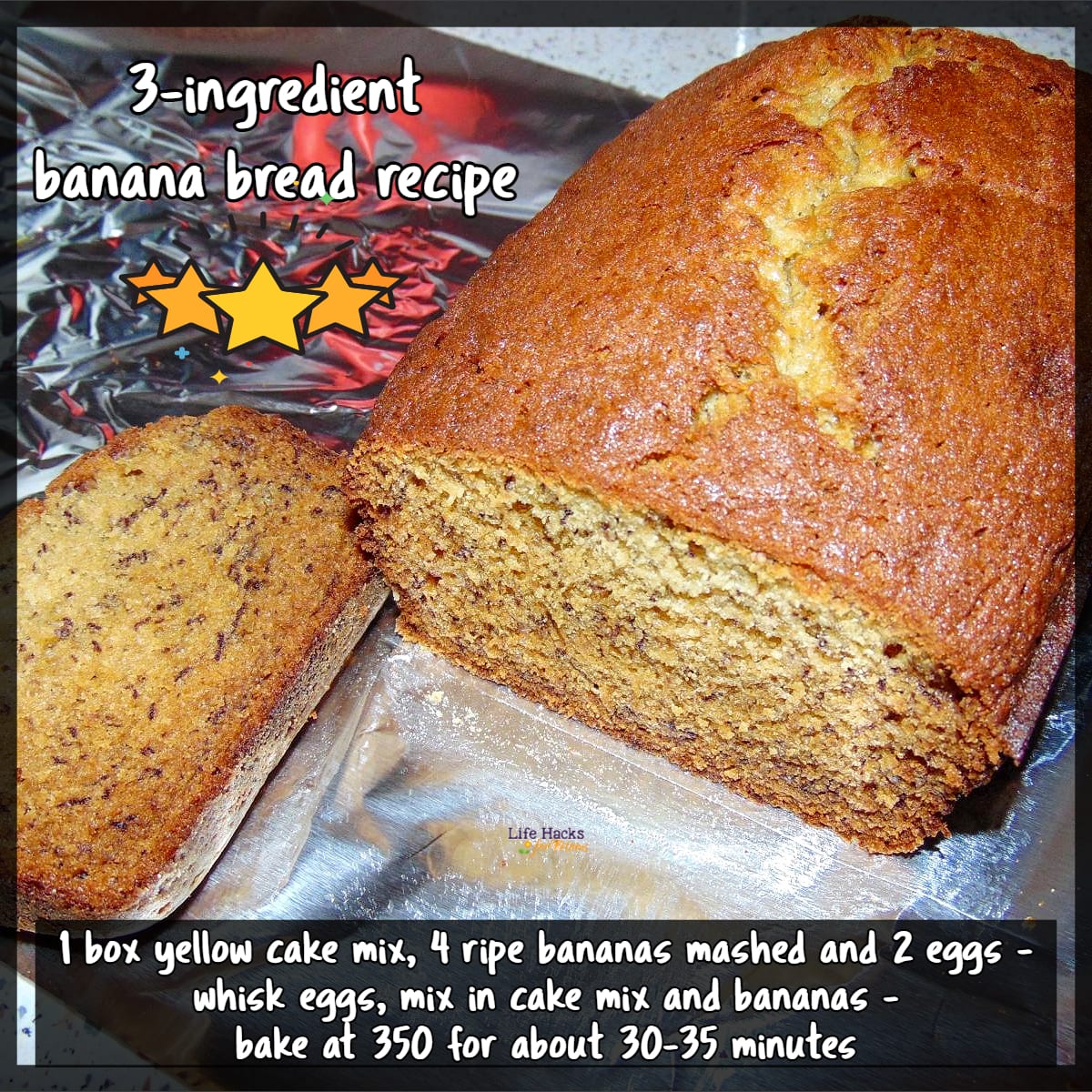 Ingredients:
1 Box Yellow Cake Mix
4 Ripe Banana Mashed
2 Eggs
4-Ingredient Homemade Bread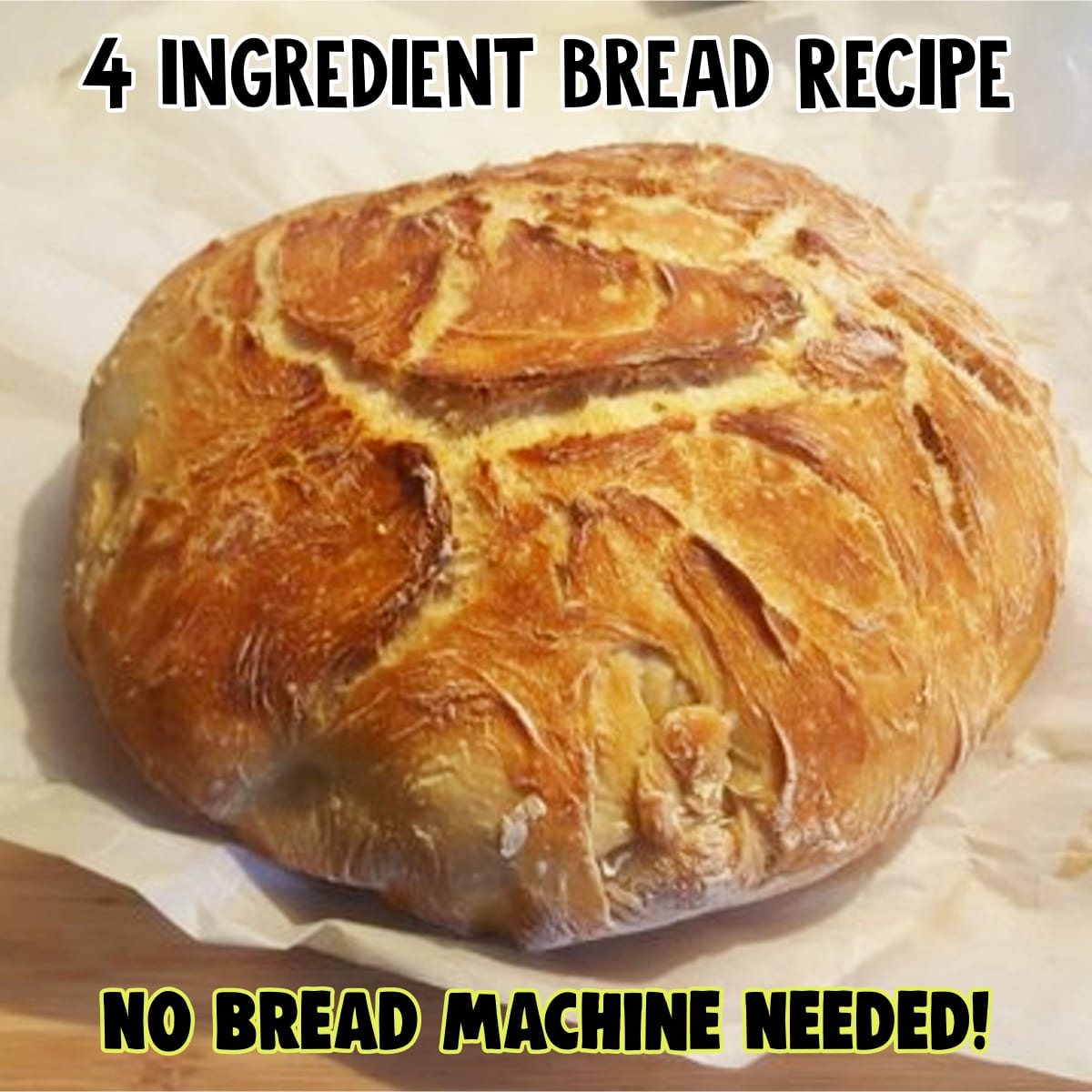 This super simple 4-ingredient bread recipe is not only super simple to make, it also is the easiest way to make bread WITHOUT a bread maker.
Many have told me it tastes just like Panera bread, but to me, it takes just like my Grandmother's homemade bread!
I make this bread all the time to go with my easy homemade soup recipes – yum!
Ingredients
3 Cups flour
1 tsp salt
1/4 tsp activated yeast
1 1/2 Cups hot water (NOT boiling)
Instructions
Preheat oven to 450 degrees
Mix all ingredients together in a big bowl with a big spoon (note: mixture will be VERY sticky)
Cover bowl with plastic wrap and let sit for 4 hours
Dump mixture onto floured surface and sprinkle bread mixture with flour
Shape bread mixture – do NOT knead, just shape it
Sprinkle loaf with flour so outsides are no longer sticky
Place loaf on a lined, or sprayed, pan
Bake for about 1 hour (depending on your oven)
Note: for best results, cook in a large pot, like this Dutch oven. Bake with the lid ON for about 30 minutes, then remove the lid to bake for the remaining time.
Here's the full bread recipe for you to pin to Pinterest: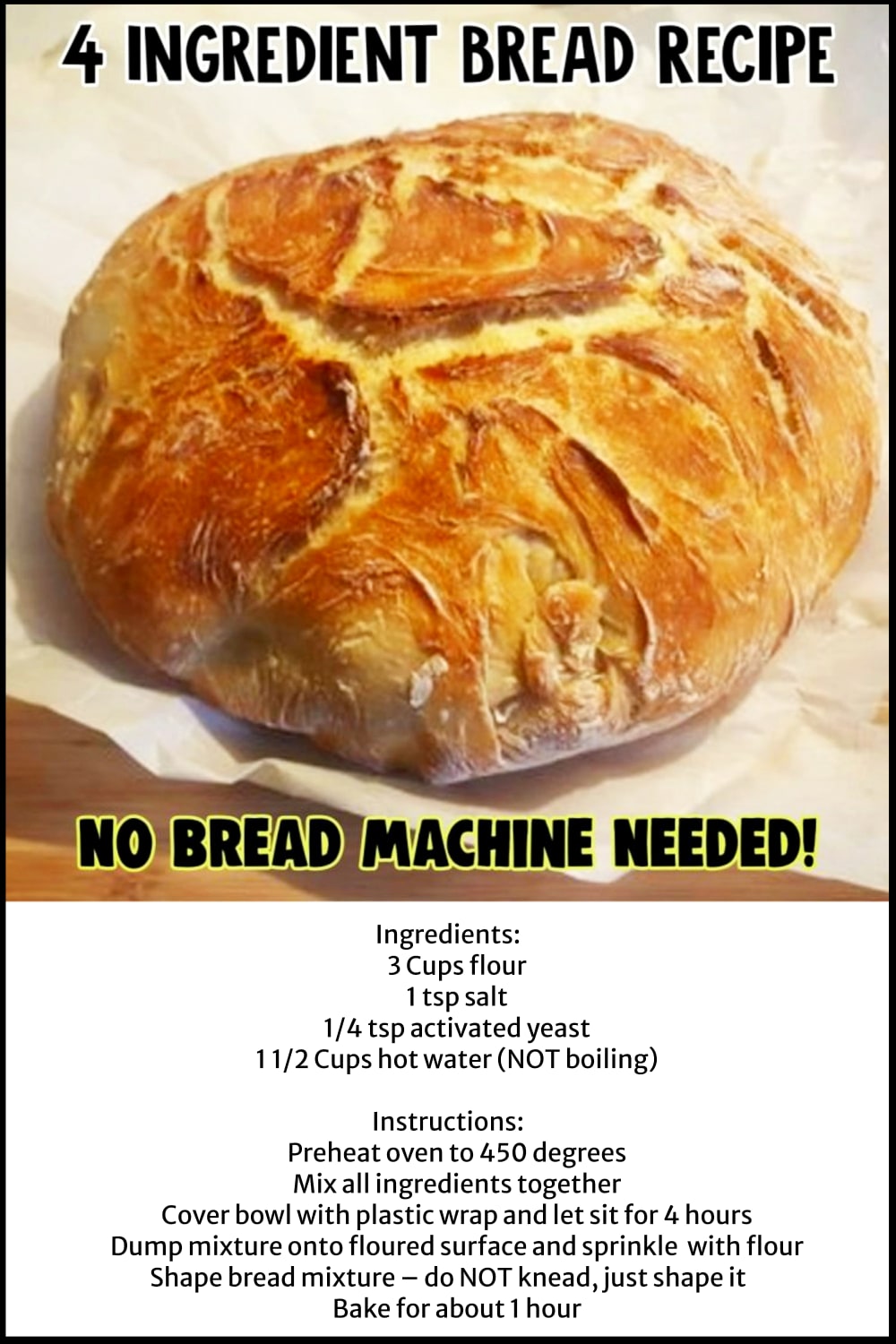 3-Ingredient Banana Bread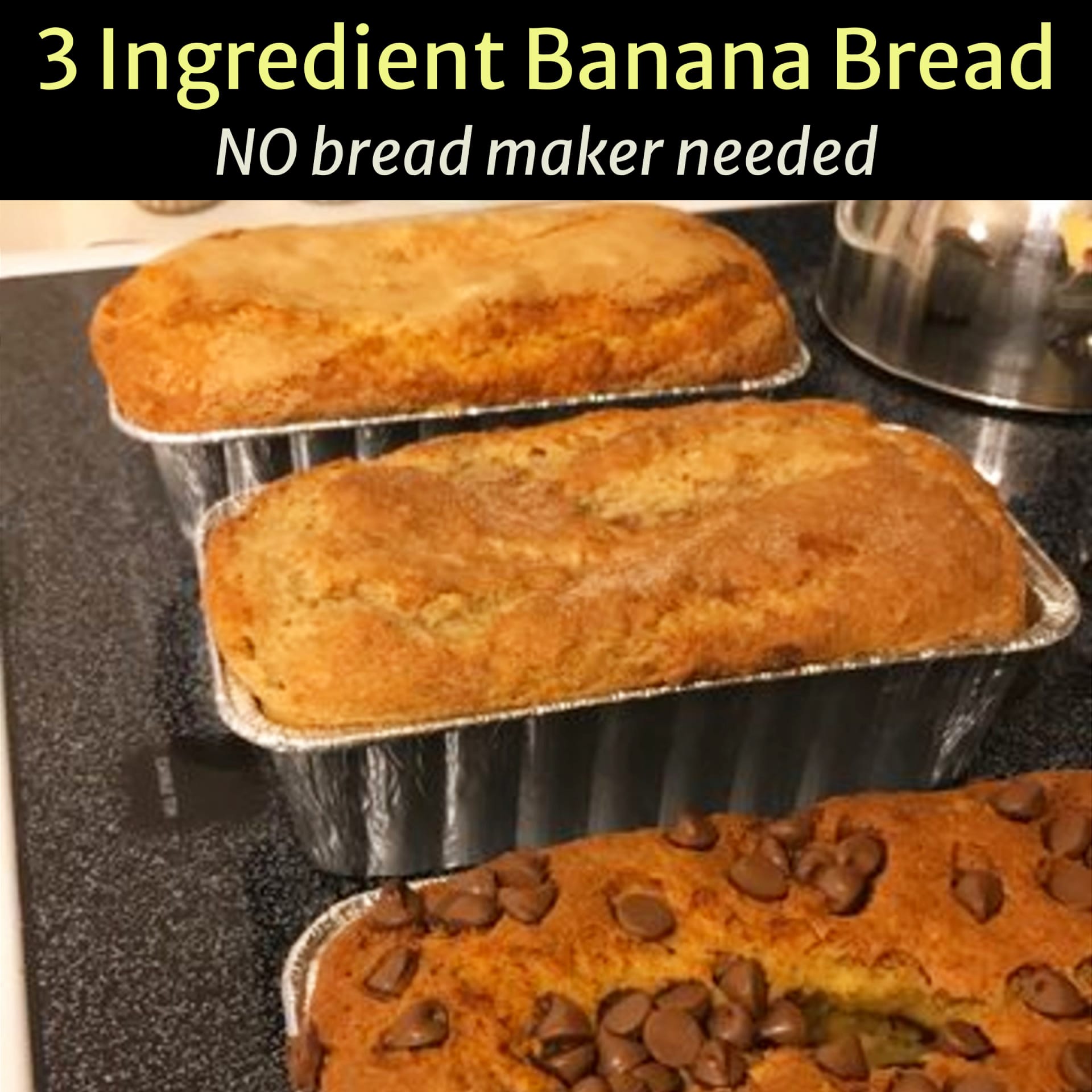 These super simple 3 ingredient banana bread recipes are not only easy to make, they also do NOT require a bread maker or bread machine.
This bread is almost as easy as my favorite 3-ingredient NO BAKE cookies!
There are 2 ways to make this 3 ingredient banana bread – one WITHOUT cake mix as one of the 3 ingredients and one WITH cake mix – your choice.
Neither recipe has butter or oil either.
For best results use really ripe bananas so they're soft and super sweet.
Also feel free to top your banana bread with cinnamon and sugar, chocolate chips or whatever you want.
Did you know… you can make banana bread in your air fryer?
✅ 3 Ingredient Banana Bread WITHOUT Cake Mix:
Ingredients:
4 Mashed Bananas
3/4 Cups Milk
1 1/2 Cups Self Rising Flour
Instructions:
Preheat oven to 350
Line (or grease) loaf pan
Mix milk and mashed bananas in a large bowl
Mix in flour
Pour batter into loaf pan
Bake for 30 minutes (or until knife or toothpick comes out clean)
Let cool before slicing
✅ 3 Ingredient Banana Bread WITH Cake Mix: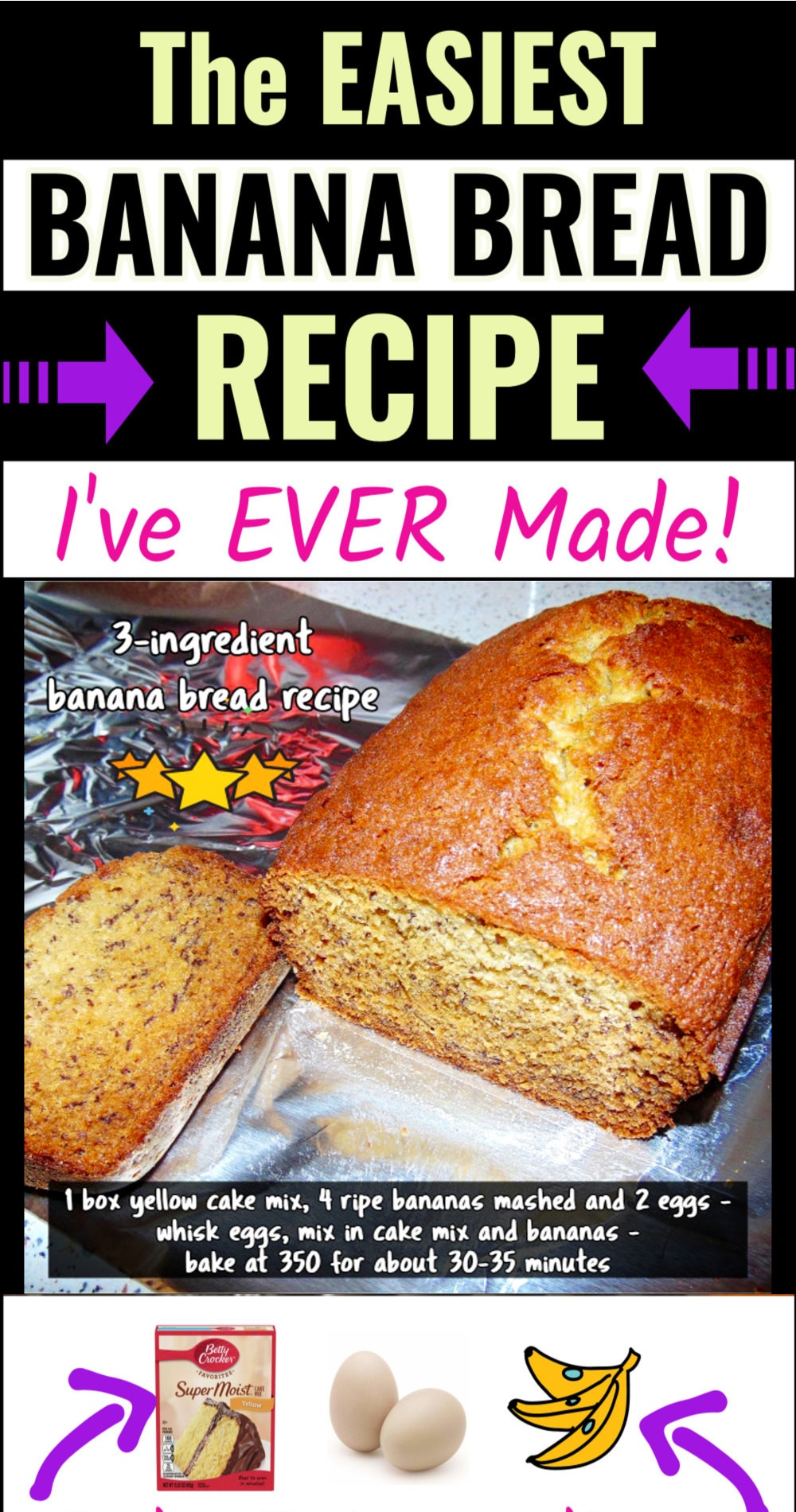 Absolutely the EASIEST banana bread recipe I've ever made – super moist too!
Ingredients:
4 Mashed Bananas
1 Box Yellow Cake Mix
2 Large Eggs
Instructions:
Preheat oven to 350
Gently whisk eggs in large mixing bowl
Mix in bananas and cake mix
Spray 1 large (or 2 small) loaf pans
Fill pan(s) with bread batter
Bake for 35 minutes (might take longer for one large loaf pan)
Here's both banana bread recipe variations for you to pin to Pinterest: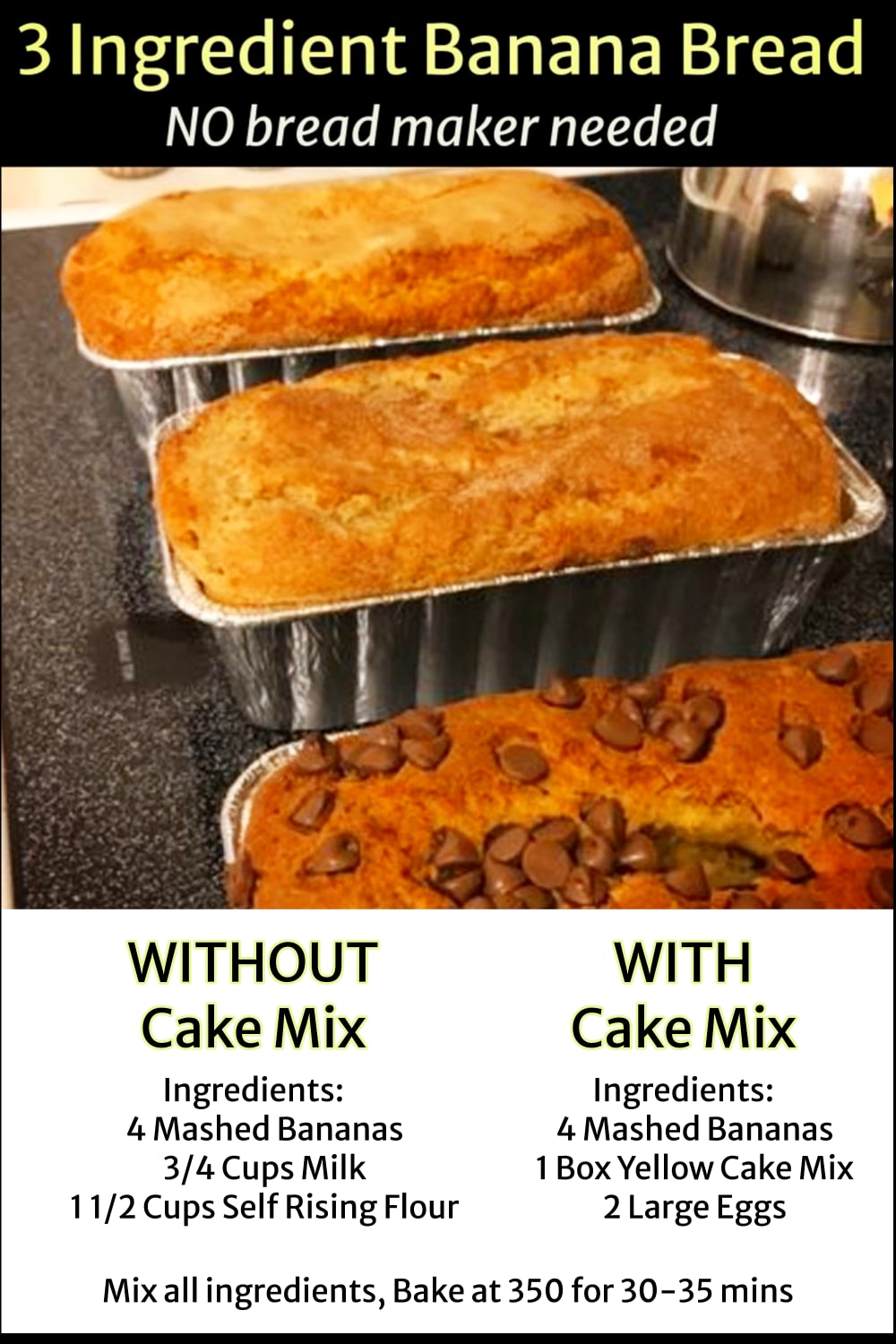 6-Ingredient Beer Bread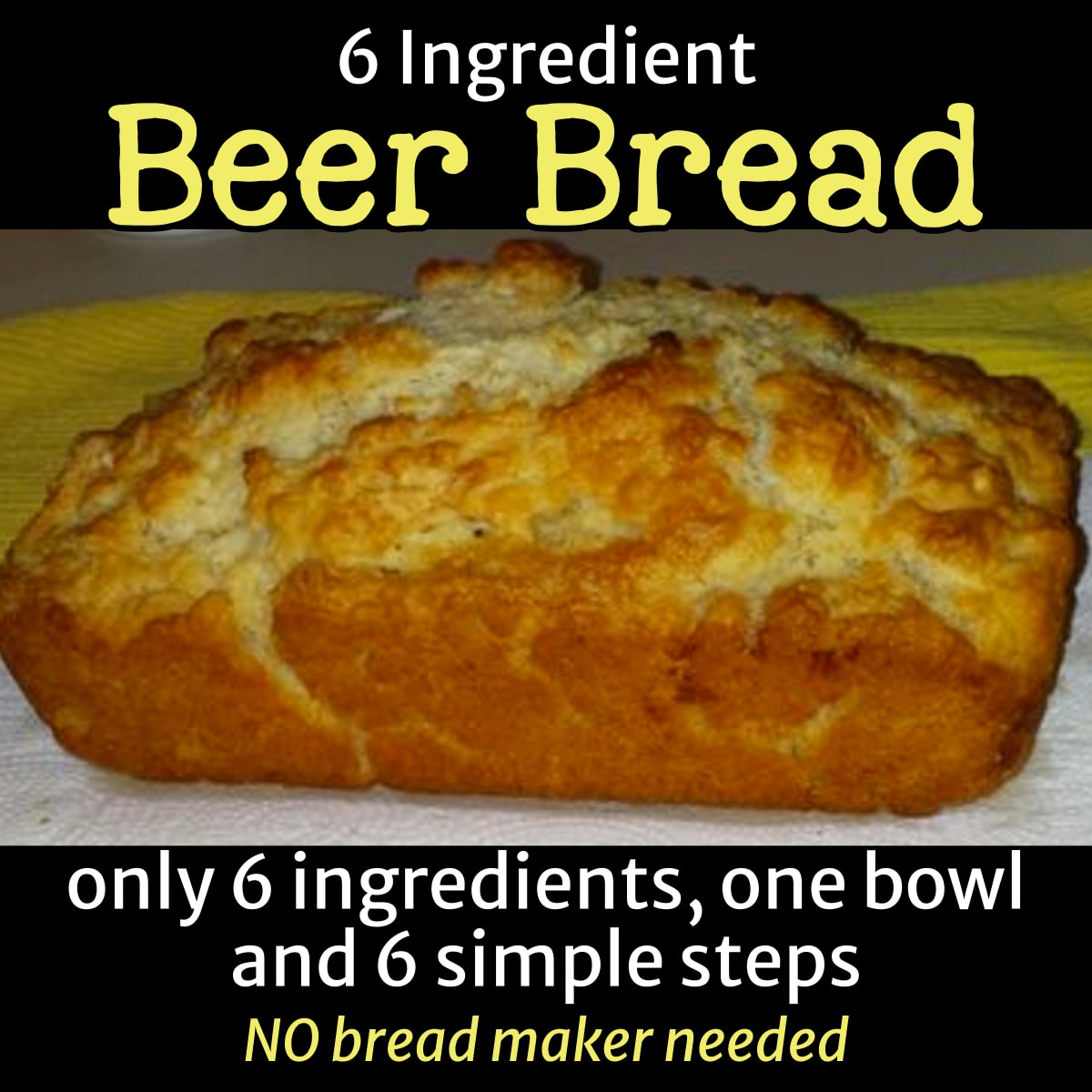 This unique beer bread recipe is not only delicious, but it is SO easy to make.
only SIX ingredients
NO bread maker needed
ONE bowl
six steps
and use any kind of beer you want!
Ingredients:
3 Cups Sifted Flour
3 tsp Baking Powder
1 tsp Salt
1/4 Cup Sugar
1 1/2 Cups Room Temperature Beer
1/4 Cup Melted Butter
Instructions:
Preheat oven to 350
Mix all dry ingredients
Mix in beer
Pour bread batter into greased loaf pan
Pour melted butter over loaf batter
Bake 50 minutes or until golden brown
✅ Tips:
Do NOT open the oven to check while cooking – this will cause the bread loaf to "fall" and go flat
Once out of the oven, let beer bread cool in the loaf pan until all remaining liquid is absorbed, then take loaf out of pan to cool the rest of the way (I put it on a paper towel)
Let bread cool completely before slicing or else it will be too "gooey" when you slice it.
Here's the full beer bread recipe for you to pin to Pinterest: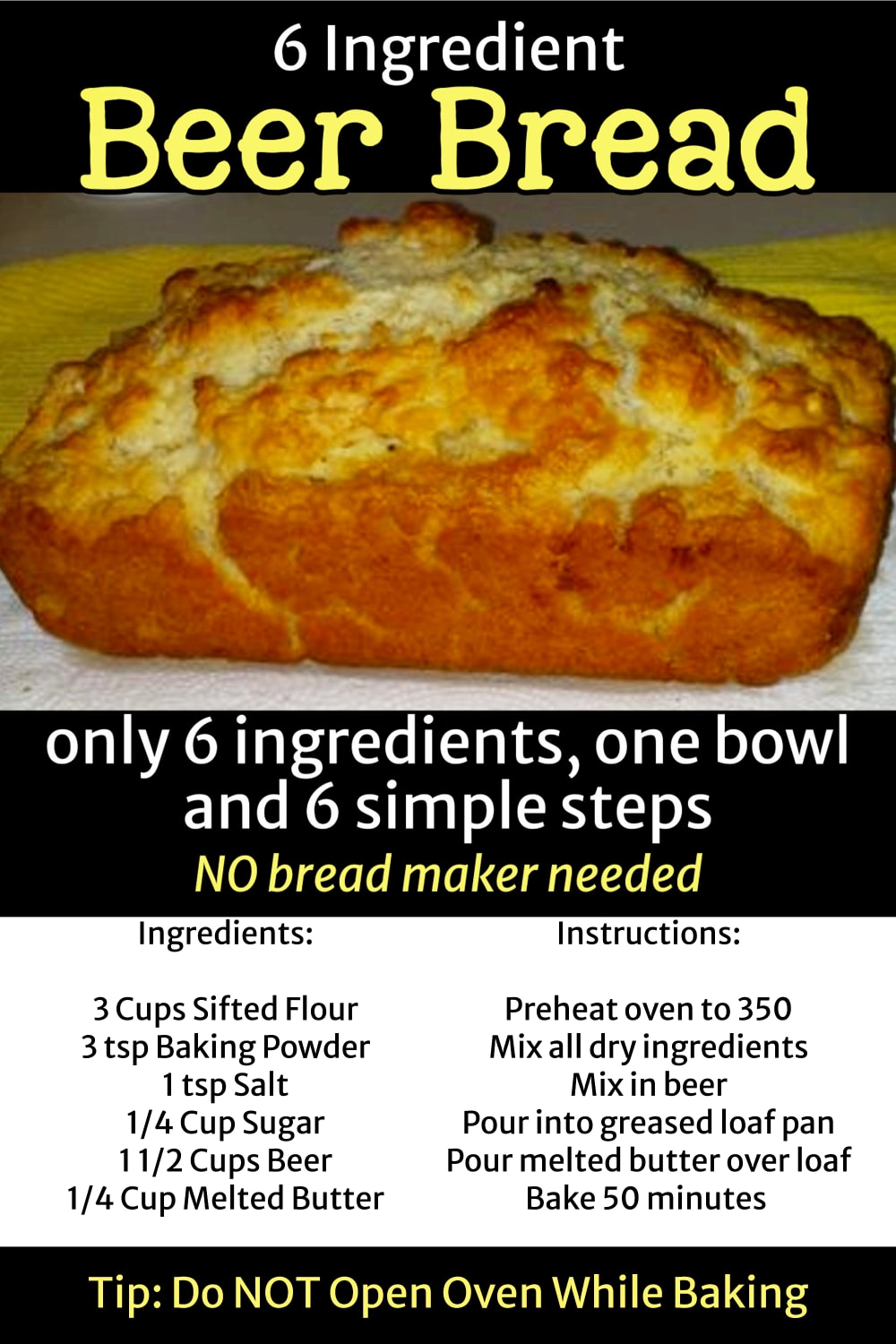 Beer Bread MixShow Me This Beer Bread RecipesShow Me This Beer Bread VariationsShow Me This
Unique Christmas Breads For Gifts
Do you make homemade bread to give as Christmas gifts?
I sure do!
I love to make a bunch of loaves early in the season and freeze them so I always have a loaf of homemade bread to give as a hostess gift etc.
Here are my favorite EASY Christmas bread recipes for gifts.
5-Minute Cinnamon Bread
This easy cinnamon bread recipe is so easy to make – and this different type of bread recipe does NOT use yeast.
You do NOT need a bread maker or a bread machine either.
You just mix all the dry ingredients in one bowl, whisk together the wet ingredients in another bowl, then combine it all together.
Only takes about 5 minutes – And let me tell you this…
Your house will smell AMAZING when this bread is baking in your oven!
Christmas Cranberry Mini Bread
Nothing says Christmas like fresh cranberries, right?
These mini cranberry bread loaves are another of my favorite bread recipes for Christmas gifts.
One Minute Banana Bread
My absolute FAVORITE bread to make for Christmas gift giving is this one minute banana bread.
Yep, ONE MINUTE.
She mixes everything in the blender, pours in a line loaf pan, and bakes it in the oven.
So simple and it is very, VERY good!
 Bread Recipes For BeginnersShow Me This Christmas Gift Bread BoxesShow Me This Baking for the HolidaysShow Me This
Cinnamon Applesauce Bread
If you love apple bread, you will LOVE this unique variation of apple bread!
She calls it Cinnamon Applesauce Bread – and it is SO yummy!
I love cinnamon – you should try my homemade cinnamon toast waffle recipe!
This bread recipe takes about 15 minutes to mix everything together and then you bake it for an hour.
My tiny kitchen smells heavenly when it's baking!
And NO bread maker or bread machine needed!
Blueberry Breakfast Bread
When it comes to easy, unique and DELICIOUS breakfast recipes, this blueberry breakfast bread recipe below is my favorite.
We make it every year for our Christmas brunch.
You can use fresh or frozen blueberries too!
Printable Bread Recipe PDFs
If you're looking for some printable PDF bread recipes, below are my favorite unique bread recipe variations that I have printed out.
Each printable bread recipe below links directly to the pdf and opens in a new tab.
---
---
---
How To Make No Yeast Bread PDF
---
Miss Anything?
Go back to the top of: ==>> Easy Bread Recipes with Few Ingredients
Go back to a specific section: