---
Super simple homemade cinnamon toast waffle recipe that tastes BETTER than Eggo cinnamon waffles!
I used to be so intimidated about making homemade waffles for breakfast but turns out, it's REALLY easy.
In fact, I think it's almost as easy as popping an Eggo into the toaster.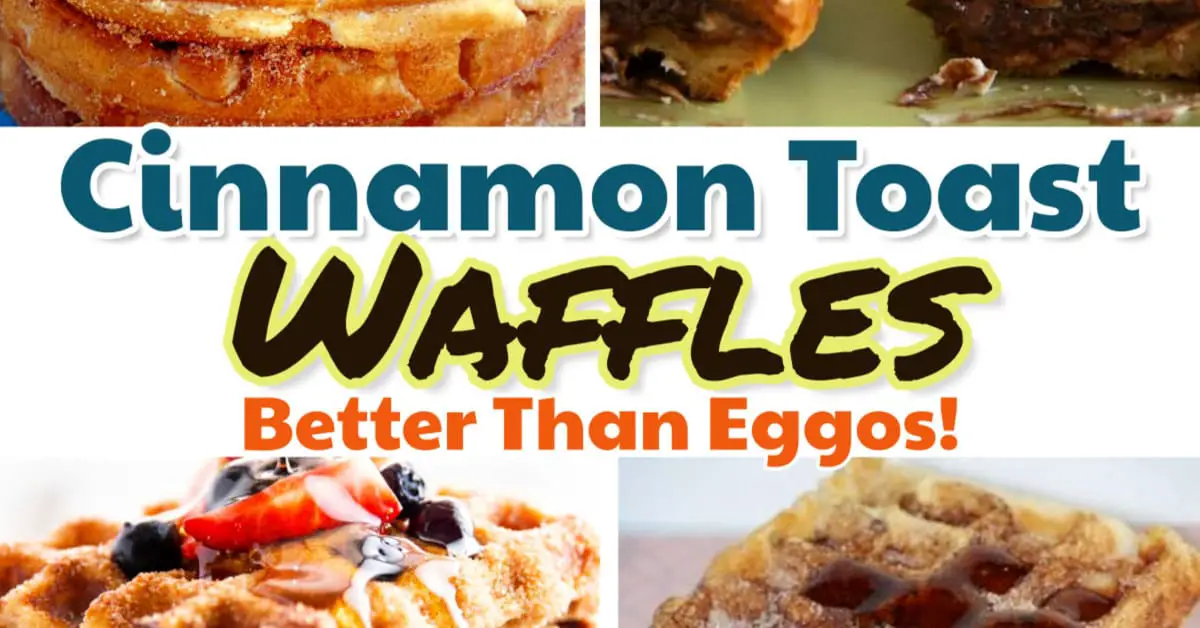 Welcome to Life Hacks for Moms - we hope you enjoy all our tips and tricks for busy moms! Please note that we use affiliate links and ads to generate income at no cost to you.
---
Cinnamon Toast Waffles
Cooking breakfast for my crowd has always been a thing.
If you're a busy mom, like I am, you know that breakfast is usually a hurried event and many times eaten on the GO (thank goodness for no bake breakfast cookies, right!).
Once a week, usually as a special breakfast on weekends, I like to actually MAKE something (as opposed to popping something in the toaster or cereal).
BUT, my fussy eaters are pretty particular about ANY breakfast food that doesn't have a cute cartoon character on the box.
Then, I made these cinnamon toast waffles and my goodness, they are SO delicious!
The best part is that my picky eaters like my homemade cinnamon toast waffles BETTER than the frozen Eggo waffles…
and so do I!
I've even taken my waffle iron into my husband's work before when he has his annual breakfast party at work and let me tell ya, they all LOVE me for making these waffles!
There is a secret to making these cinnamon toast waffles even better – I'll share that secret below under the video.
If you're wondering what to add to your waffle batter that will really upgrade the flavor, this cinnamon toast waffle recipe is exactly what you're gonna love.
✅ Note: my recipe uses Bisquick but now I use this waffle mix and the waffles turn out even better.
Feel free to use any baking mix, pancake mix or waffle mix that you prefer.
 My Waffle Mix✅ See This My Waffle Iron✅ See This
Recipe
To make cinnamon toast waffles you will need:
Ingredients
2 Cups Bisquick
1 Egg
1 1/3 Cup Milk
1/3 Cup Vegetable Oil
Cinnamon
Sugar
Pancake Syrup
Simply mix together the Bisquick, egg, milk and vegetable oil to make your waffle batter then pour batter onto preheated waffle iron.
✅ I use this waffle iron – it makes the BEST waffles every single time.
Video Tutorial
Here's how to make this easy homemade cinnamon toast waffles recipe – it's so simple!
TIP: Sprinkle your cinnamon sugar mixture on top of the waffle batter BEFORE closing the waffle iron lid. This cooks that yummy cinnamon toast into a crunch sweet topping that is SO good that you won't even need syrup!
Cinnamon Toast Crunch Waffles
Do your kids LOVE Cinnamon Toast Crunch cereal as much as mine do?
Here's a fun cinnamon toast waffles recipe variation to try.
Instead of sprinkling cinnamon and sugar on top of the waffle batter, use this Cinnamon Toast Crunch cereal "cinnadust" mix – the kids LOVE it!
 Use This Waffle Mix✅ See This Use This Waffle Iron✅ See This Cinnamon Toast Crunch Cinnadust✅ See This
Variations
Here are some variations of my Cinnamon Toast Waffle recipe above.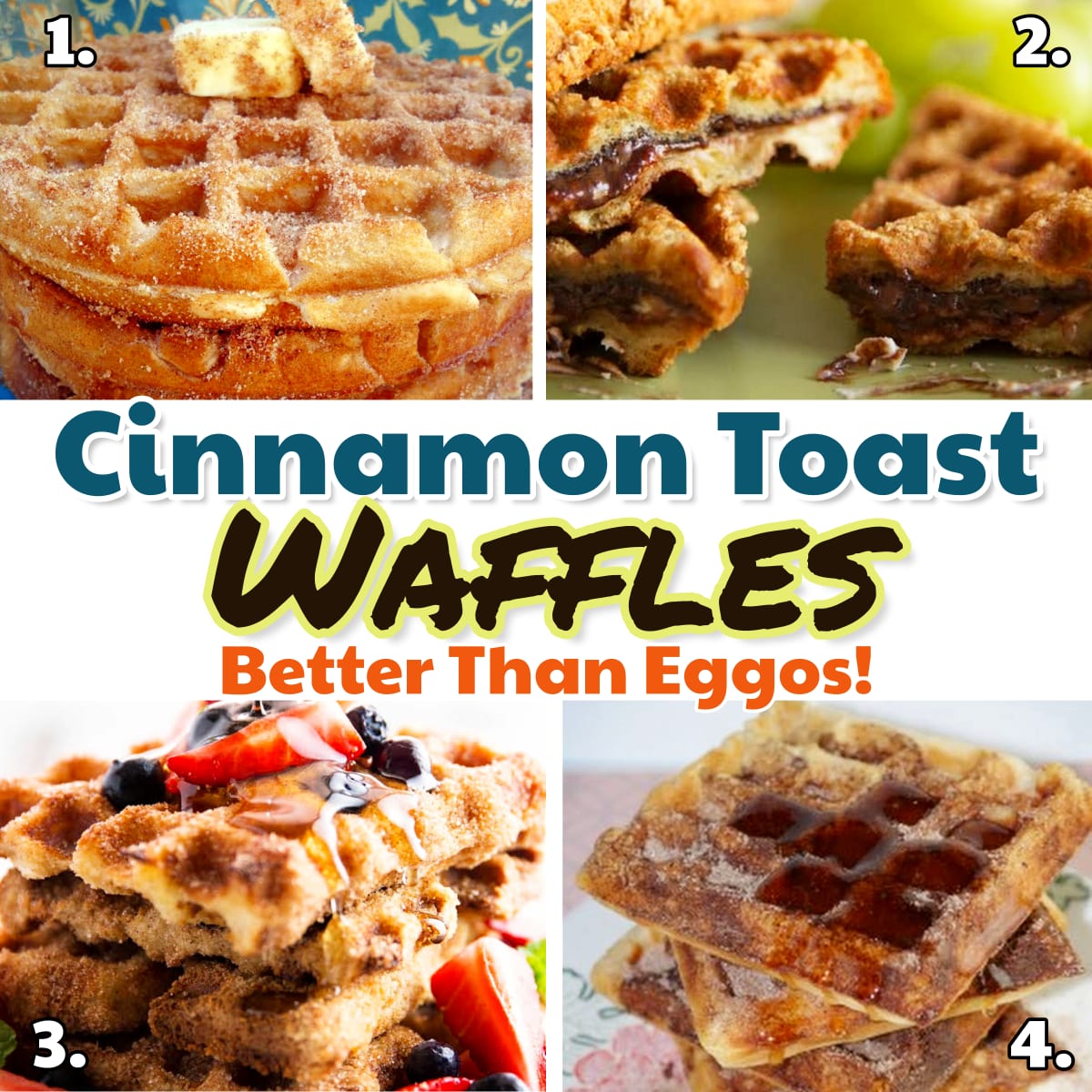 1. Churro Waffles Recipe – These waffles are insanely delicious! I've made cinnamon sugar waffles for breakfast before, but never with melted butter. Brilliant! My family is a churro-obsessed bunch, so this is a definite crowd-pleaser! Get The Recipe
2. Cinnamon Toast Waffle Sandwiches – French toast, cream cheese, and chocolate hazelnut spread in a coating of Cinnamon Toast Crunch cereal. It comes off the waffle iron ready to eat like a sandwich. Print the Recipe
3. Cinnamon French Toast Waffle Sticks – These Cinnamon Sugar French Toast Waffle Sticks are a quick and easy breakfast recipe. The waffles are made by dipping slices of bread into an egg mixture and then cooking them in your waffle iron. For the ultimate treat, coat them in cinnamon sugar while they're still hot. Print the Recipe
4. Cinnamon Toast Waffles From Scratch – Don't want to using a baking mix, pancake mix or waffle mix? Here's how to make cinnamon toast waffles from scratch. Print the Recipe
 Mini Waffle Makes✅ See This Heart-Shaped Waffle Maker✅ See This Stuffed Waffle Makers✅ See This