Christmas Decorations To Make Yourself – Lots of fun and easy Christmas decorations to make and sell or to cheaply decorate your home for the Holidays this year. You'll find unique ideas for Christmas wreaths you can make, inexpensive Christmas tree decorations, homemade outdoor Christmas decorations, easy Holiday door decorations, mason jar Christmas decorations to give as gifts and so much more. Enjoy!
---
---
Inexpensive DIY Christmas Decorations
When it comes to making cheap and easy Christmas decorations, these are our favorite ideas for inexpensive DIY Christmas decorations you can make yourself. Great ideas for decorating outside and inside your home this holiday AND for giving as gifts. Ideas for the kids too!
Deco Mesh Snowman Wreath
This is one of or favorites when making Christmas decorations for outside!
This easy and creative deco mesh snowman wreath is such a cute homemade decoration for your front door on your porch outside or even hung inside your home. It's also ideas for Christmas decorations to make and sell at craft shows, flea markets etc. People LOVE them!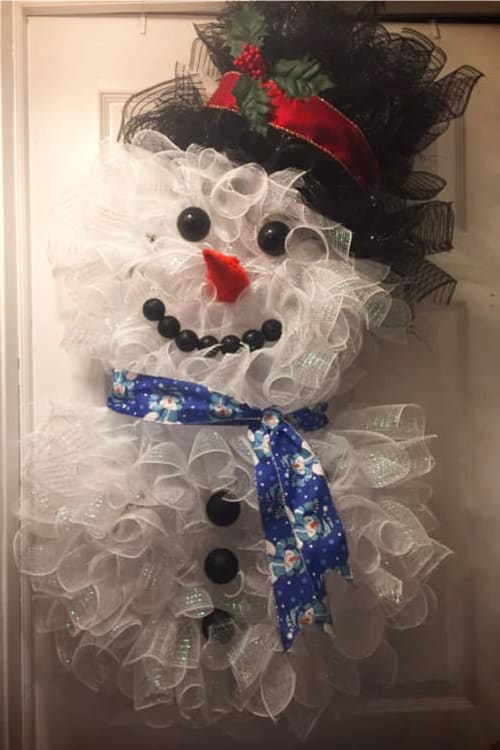 Snowman Wreath Video Tutorial
Here's a short and easy instructional video that shows how to make that adorable DIY deco mesh snowman wreath for YOUR front door:
2014 Snowman wreath tutorial using poly mesh and pencil wreaths. Written tutorial and supplies at http://www.trendytree.com/blog/snowman-wreath-tutorial/ At Trendy Tree we have hundreds of styles of Deco Poly Mesh, Work Wreaths, Ribbons – all sorts of wreath making supplies along with thousands of seasonal decorations. Updated alternative supplies listed for this wreath.
Easy Christmas Decorations To Make
Let's take a look at a bunch more creative and easy Christmas decorations you can make yourself to decorate YOUR home in festive Holiday decor this Christmas.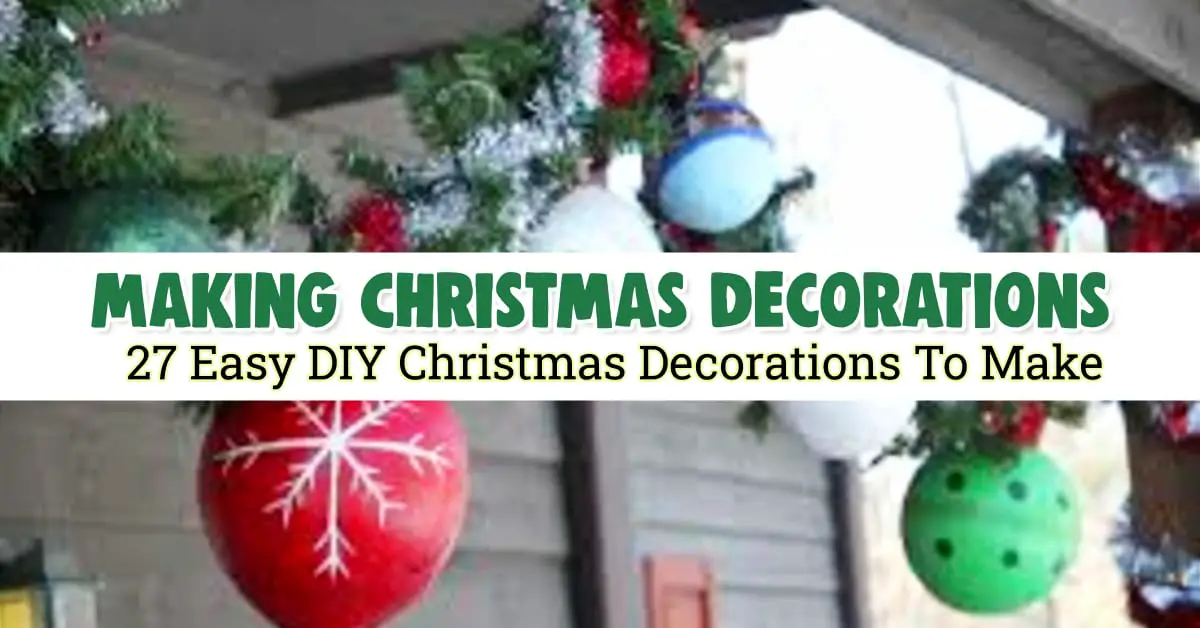 Making Grinch Decorations
Take a look at these super cute (and EASY) handmade Grinch Christmas ornaments, decorations and craft projects for kids to make. My kids love ANYTHING "Grinch" at Christmas – so all our Christmas craft projects are Grinch crafts, Grinch decorations – and yes, Grinch Christmas ornaments, too!
DIY Farmhouse Christmas Decorations
Rustic farmhouse decor is always popular with Christmas being no exception. These farmhouse style Christmas decorating ideas and Christmas crafts are sure to bring a warm country feel to your home this Holiday season. 'Tis the season! How about some GORGEOUS DIY farmhouse Christmas decor ideas? That's what we've a …
If you're ready to decorate your home for Christmas in cozy farmhouse decor, you found the perfect page for ideas! Below are some of my favorite country-style Christmas decorating ideas for every area of your home – inside and out. These DIY farmhouse Christmas decor ideas are not only gorgeous, they're great for decorating on a budget!
Handmade Christmas Ornaments
Easy-Peasy DIY Christmas Ornaments for Holiday Decoration or Thoughtful Handmade Gifts – Feeling crafty? Take a look at these stunning and EASY Christmas ornaments you can make to decorate your tree or to give as thoughtful handmade gifts to your friends and family. They are also fun DIY classroom ornaments too for the older kids to make.
Cute Fingerprint Snowman Ornaments For Toddlers and Preschoolers To Make For Gifts or as a Keepsake Decoration For Your Christmas Tree * Want to make handprint Christmas ornaments with your kids? They're so cute – especially the fingerprint snowman ornaments – and make GREAT gifts for the Grandparents, aunts, uncles, etc…
DIY Decorations For Gifts
DIY Mason Jar Gifts and Cute Mason Jar Ideas For Christmas Presents – Let's take a look at some cute and easy Mason Jar Christmas Gift ideas – These are simple DIY ideas to make as homemade holiday gifts for teachers, neighbors, friends, co-workers, employees, or anyone you want to show your appreciation to this Christmas.
Christmas Decorations for Kids
Best Christmas Crafts For Toddlers (age 2-3), Preschool, Kindergarten And Kids Of All Ages To Make In The Classroom, At Home Or In Sunday School – Let's look at some fun and easy Christmas craft projects using candy and edible items, paper plate crafts, candy canes, elf, reindeer, quick construction …
Christmas Trends This Holiday Season Every holiday has it's own trends and new ideas and here we are, another Christmas season is here and we can't wait to share what's trending. From decorating the Christmas tree to trending colors this Christmas, we've found it all – and it's beautiful!
Easy Last-Minute Elf on a Shelf Ideas for Kids * Uh-Oh! Did you forget about your Elf on the Shelf? Need some quick ideas… or some really creative or funny ideas? Take a look at these silly Elf on the Shelf last minute ideas for tonight (or in the mornings!).