---
Unique Christmas Tree Decorating Ideas For EVERY Holiday all year long –
Does anyone keep their Christmas tree up year round? You bet they do!
Take a look at these pictures of unique monthly-themed Christmas tree ideas for OTHER holidays, special occasions and celebrations.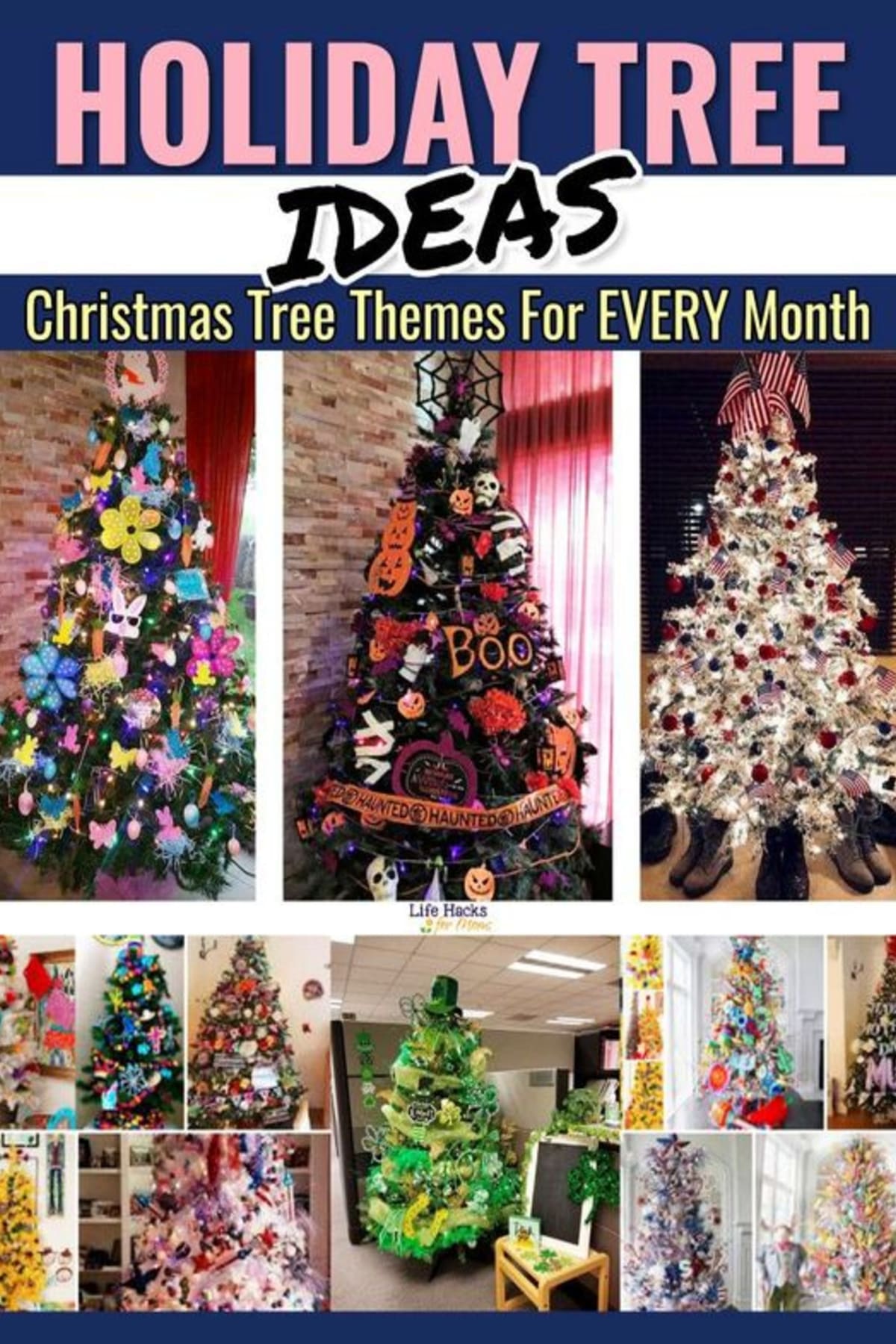 Welcome to Life Hacks for Moms - we hope you enjoy all our tips and tricks for busy moms! Please note that we use affiliate links and ads to generate income at no cost to you.
---
Year Round Holiday Tree Ideas
Simply GORGEOUS and unique monthly-themed ideas for your Christmas tree! I sure envy super creative people, but they definitely inspire me to up my DIY game and decorate my own all year round tree!
Just wait until you see these alternative ideas for your fake Christmas tree decorated for ALL seasons and reasons – I'm sure you'll find TONS of monthly inspiration to decorate yours each and every month and leave your tree up all year long.
If you're wondering what to DO with old artificial Christmas trees, why not turn it into a YEAR ROUND holiday tree to decorate indoors?
Yep, I'm talking YEAR ROUND holiday tree decorations and decorating ideas for…
Fall,
Halloween,
Easter,
Valentine's Day,
St Patrick's Day…
even for birthdays or as a creative party decoration too!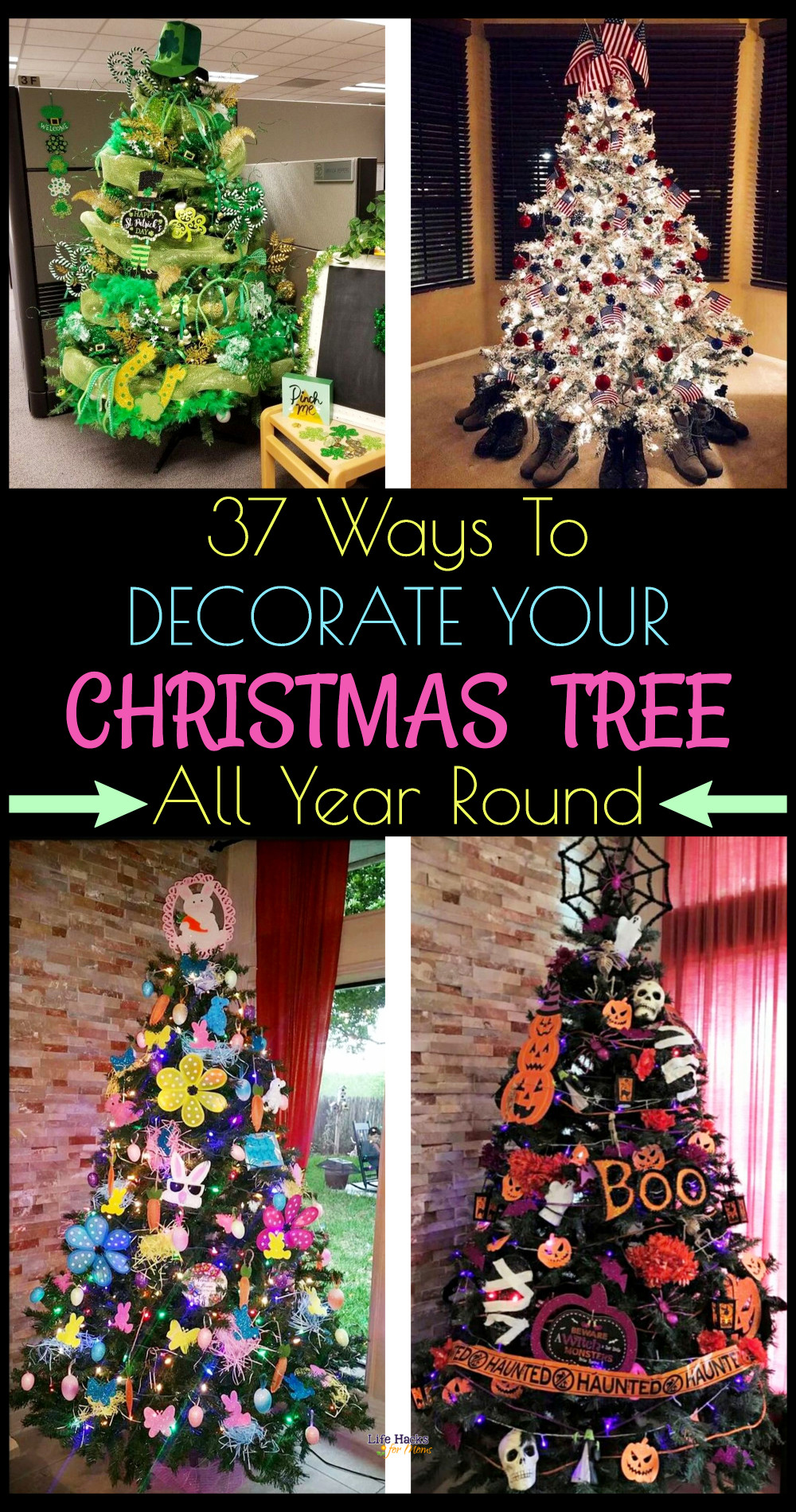 If you decorate your Christmas tree for a holiday each month, you never have to take your tree down –
Instead, enjoy your Christmas tree ALL YEAR LONG!
Below are 37 unique Christmas tree decorating ideas for OTHER holidays…. ie, NOT Christmas decorating ideas…. for a MONTHLY themed Christmas tree.
Monthly Christmas Tree Ideas
How fun it would be to keep your Christmas tree up all year long and change out the decoration theme for monthly holidays, birthdays and other special occasions!
I recently went to a Color Party and the hostess had brought out her Christmas tree an decorated it with the Color Party colors (it was a Mardis Gras theme) – it was so cute and UNIQUE.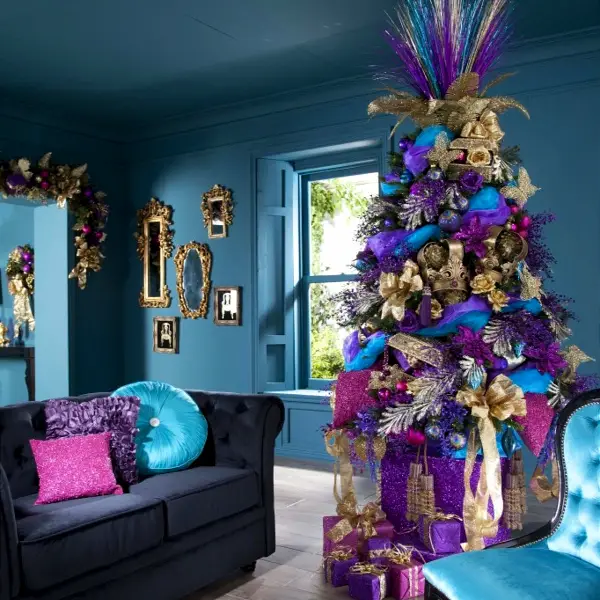 I never would have thought of that!
I've never considered a year round indoor Christmas tree that I decorate for Holiday all year long, but I LOVE the idea!
✅ PICTURES
Let's take a look at PICTURES of monthly Christmas tree decorating ideas to enjoy your Christmas tree all year round.
From Fall Christmas tree ideas to unique seasonal trees decoration ideas – even ideas for a baby shower party!
Halloween Holiday Tree Idea
You can keep that artificial Christmas tree out all year long – or just start decorating it in the Fall.
Here's a cute tree decorating idea for Halloween: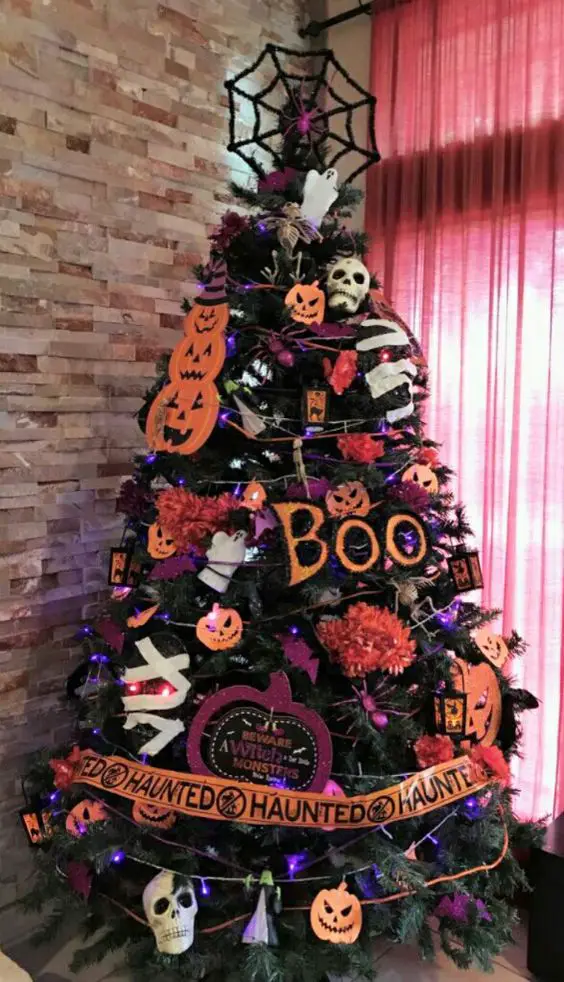 Or this WHITE artificial Christmas tree decorated for Halloween: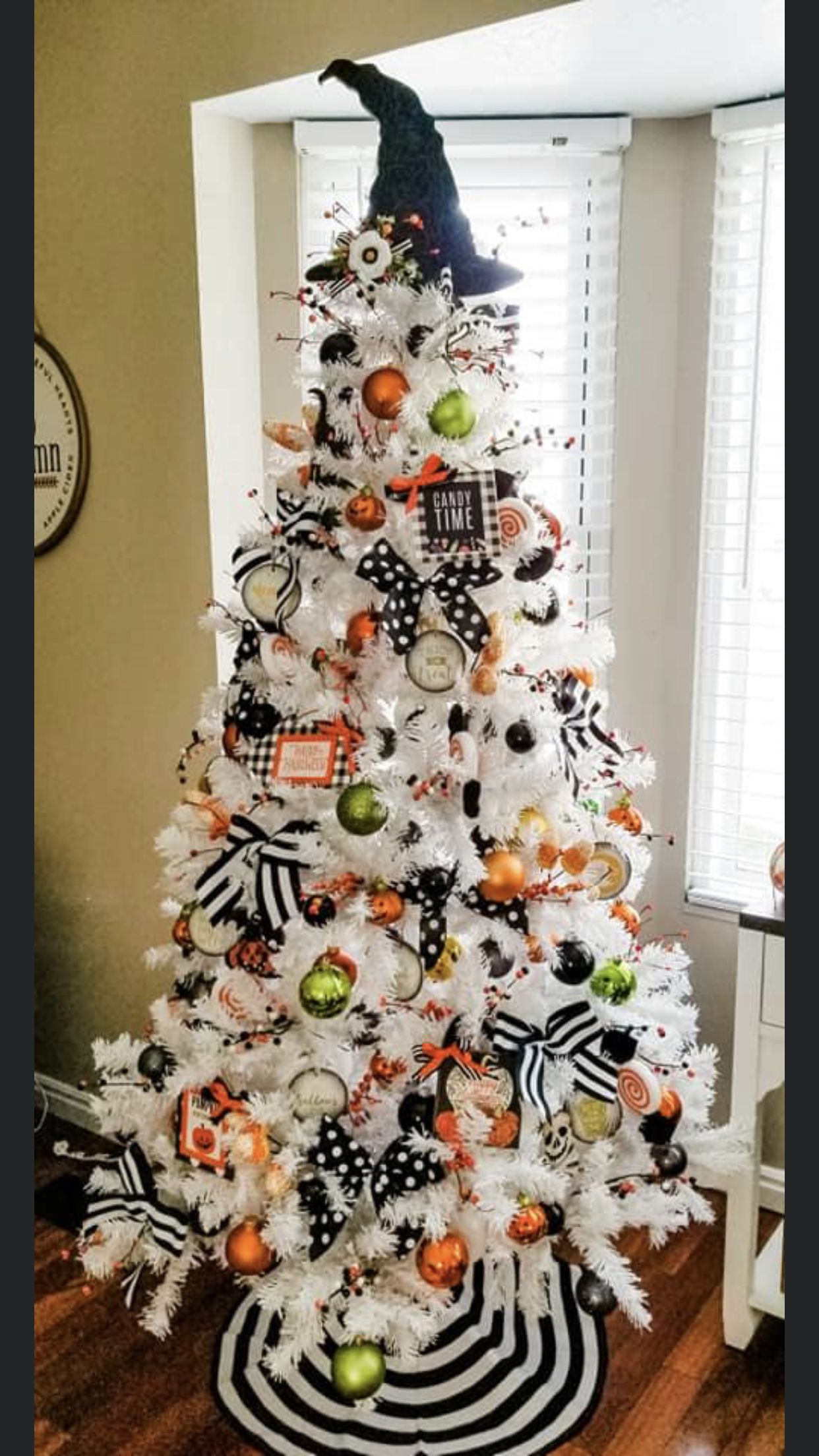 Fall Themed Mini Christmas Tree
Sunflowers are my favorite – and Fall means FOOTBALL – so naturally I love this mini artificial Christmas tree decorated for Fall with sunflowers and football ideas!
Thanksgiving Holiday Tree
Welcome the Fall season with this super cute Thanksgiving holiday tree – LOVE the buffalo plaid accents!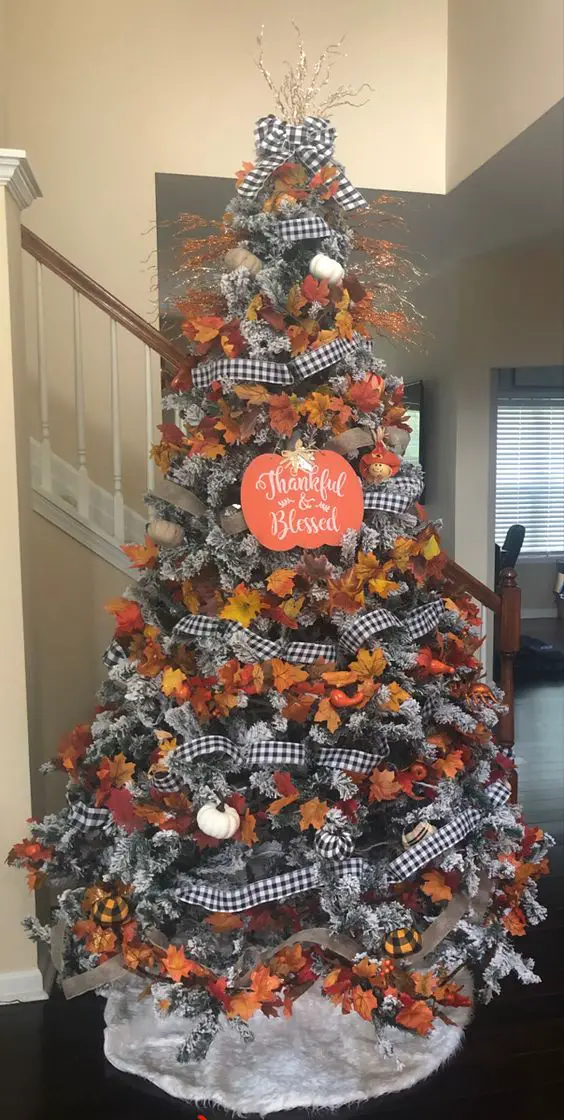 Valentine's Day Tree Ideas
I just love this ideas for keeping the Christmas tree out all year long – it's a Valentine's Day holiday tree… so cute!
New Years Tree Idea
If you're one of those people who take their Christmas tree down BEFORE New Year's Day, why not leave your tree UP and re-decorate it for your New Year's Eve party?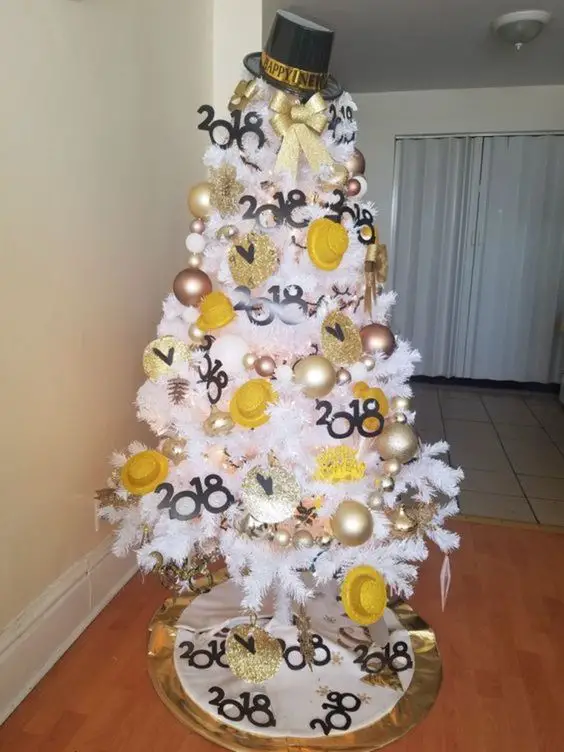 St Patrick's Day Tree
How about this super cute Christmas tree decorated for St Patrick's day at work?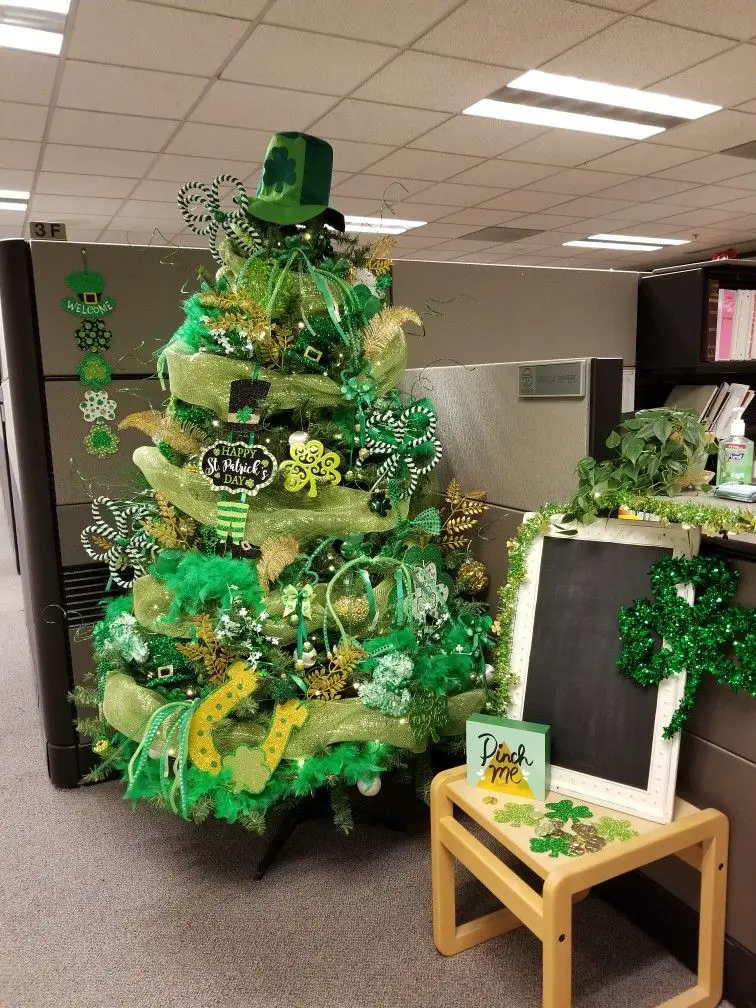 Spring Themed Christmas Tree
How about this Spring-themed Christmas tree decorating idea – love the umbrella tree topper!
What a cute way to get your home decor ready for April showers and Spring flowers!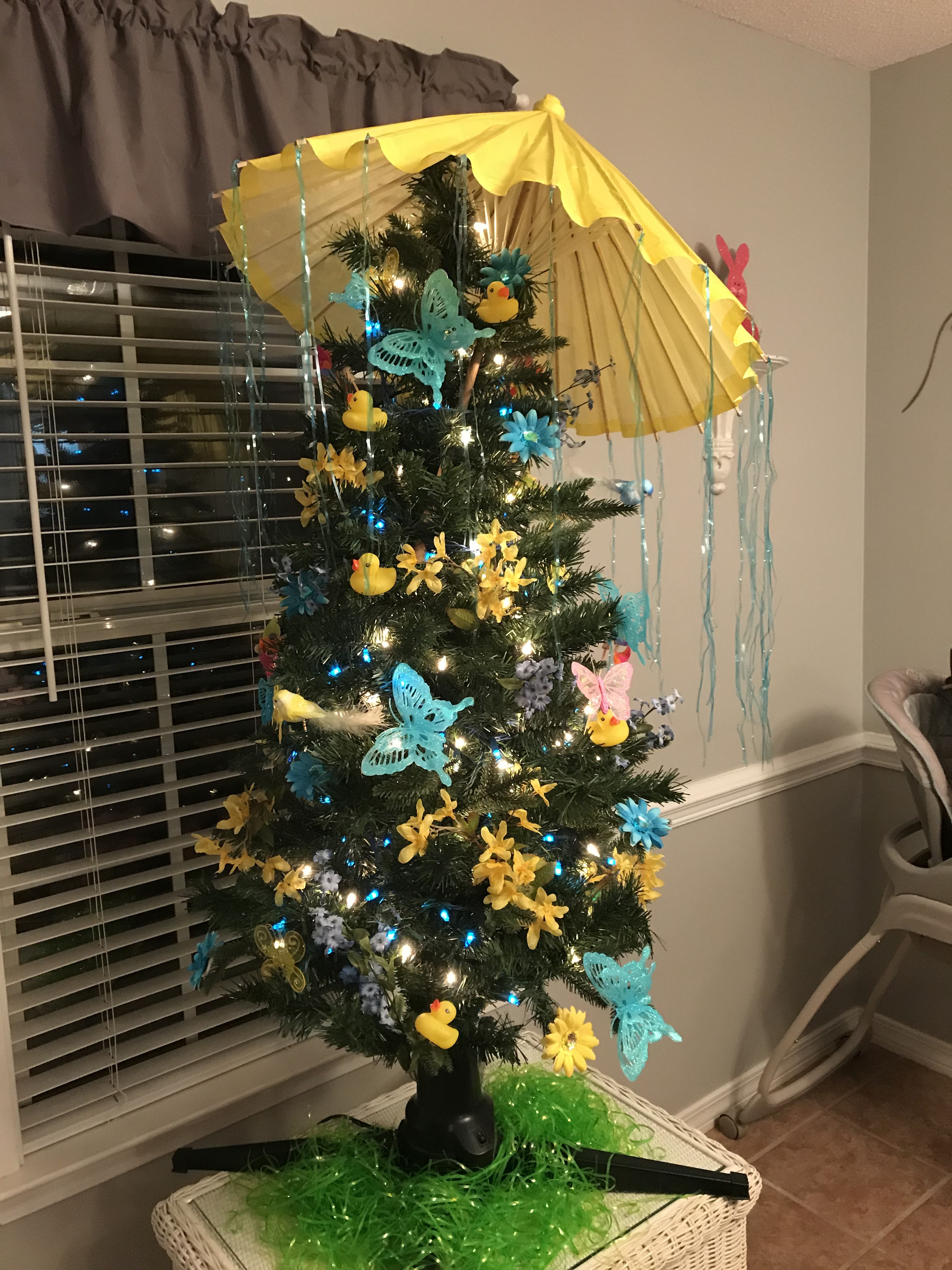 Easter Holiday Tree Ideas
I am in LOVE with this simple, unique and CREATIVE Easter Holiday tree idea – what a great way to enjoy a fake white Christmas tree EVERY month!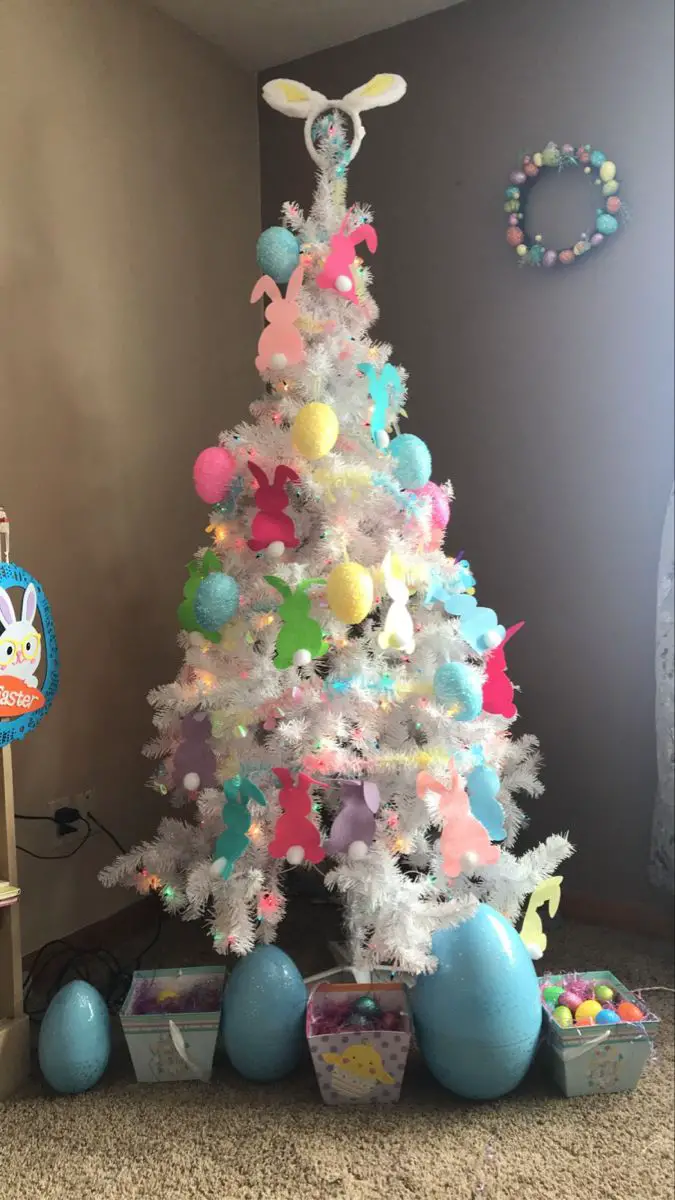 Or how about this adorable Christmas tree decorated for Easter?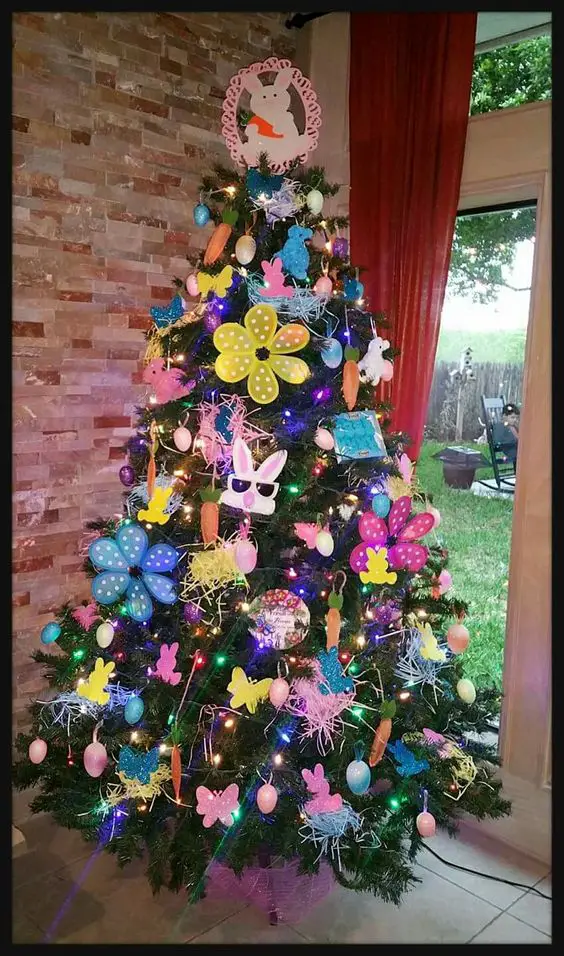 Or how about an Easter Bunny tree like this…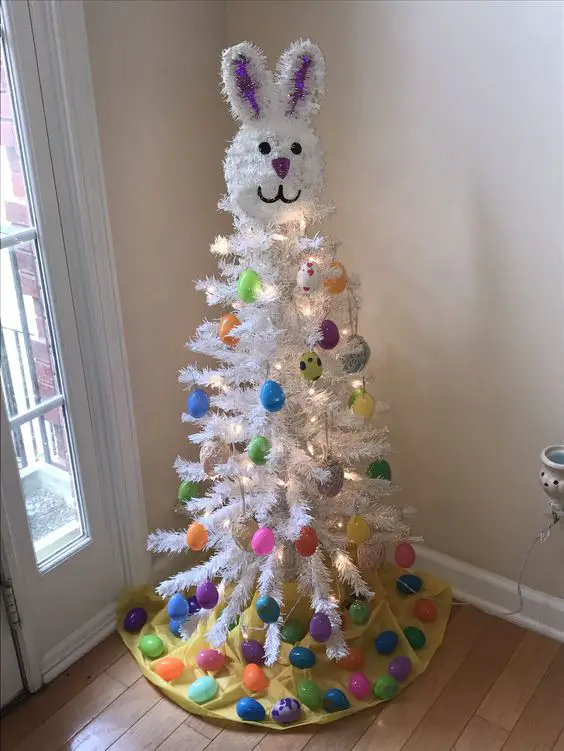 Graduation Party Tree Idea
Have someone graduation this year?
Why not decorate your Christmas tree in a graduation-theme like this: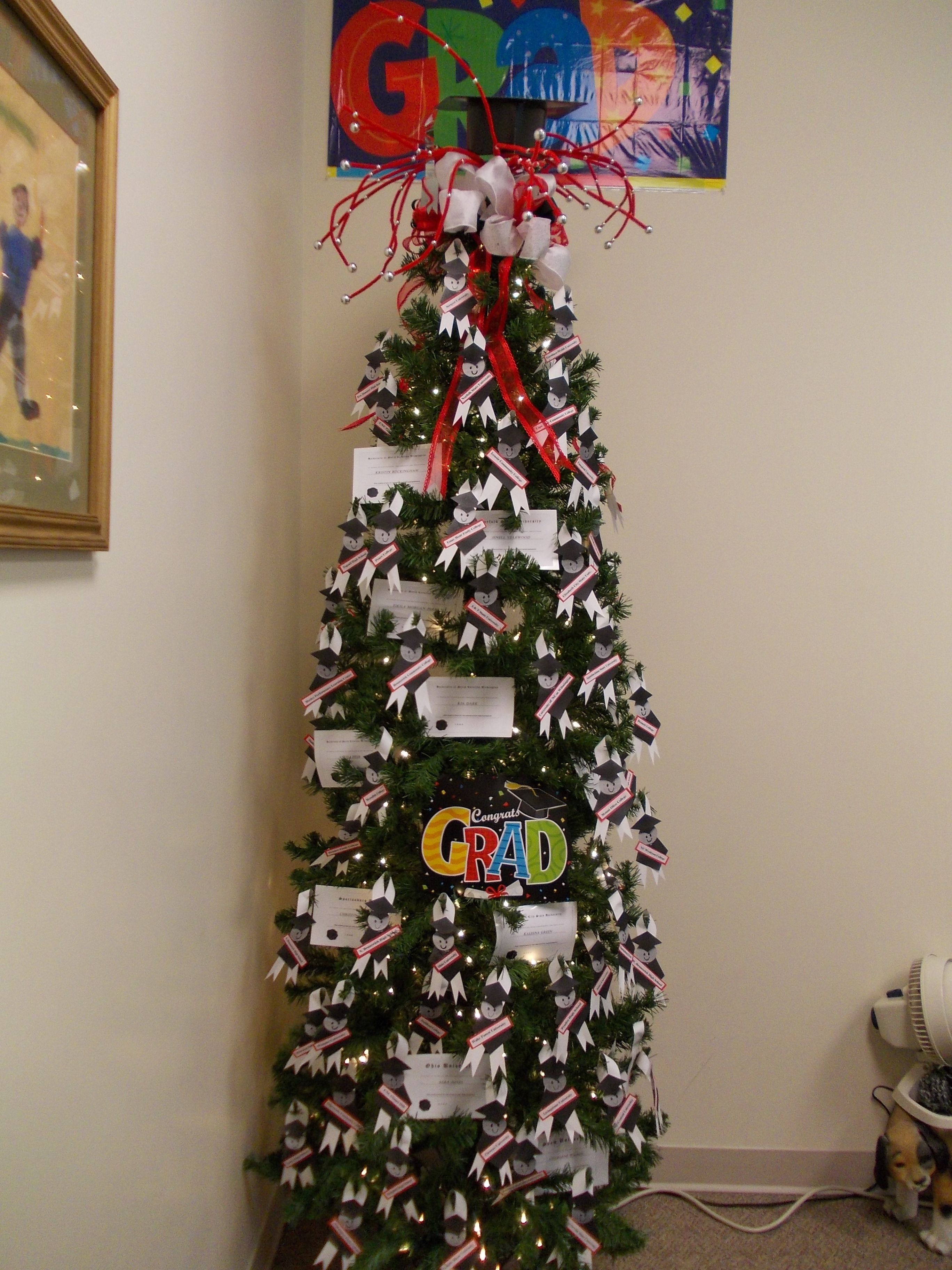 Mother's Day Holiday Tree
What BETTER reason to decorate and celebrate than MOTHER'S DAY?!!?
Why not decorate your fake white Christmas tree in May like this for Mother's Day this year?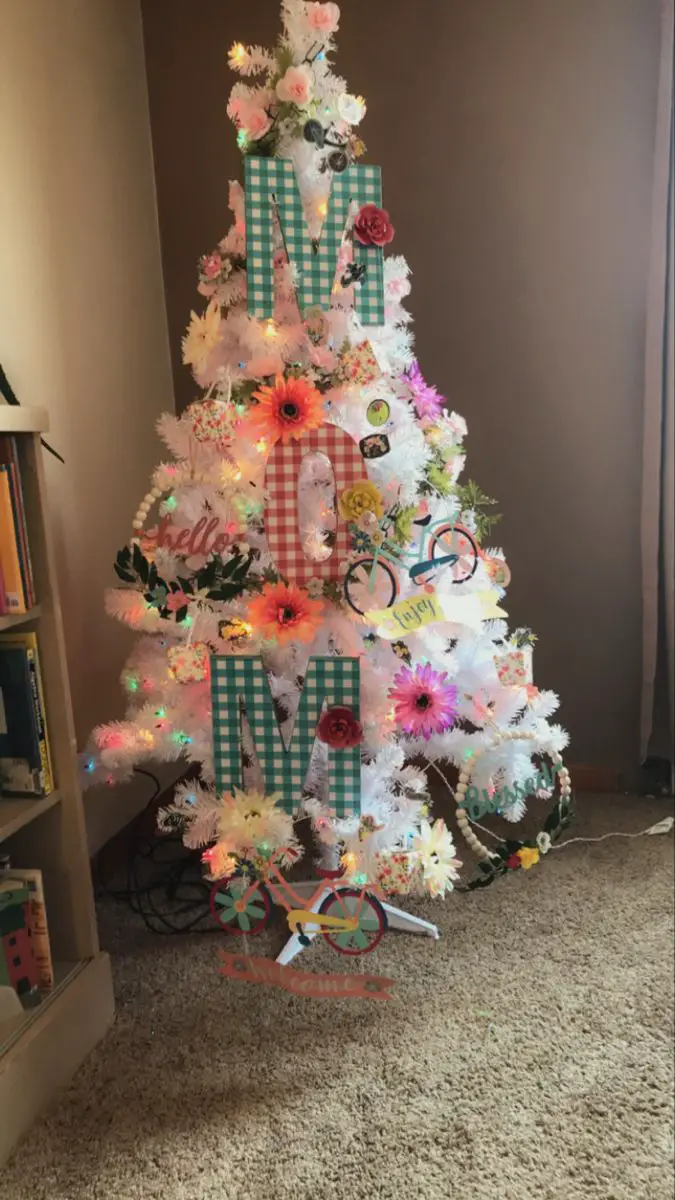 Or how about this cute small Mother's Day tree?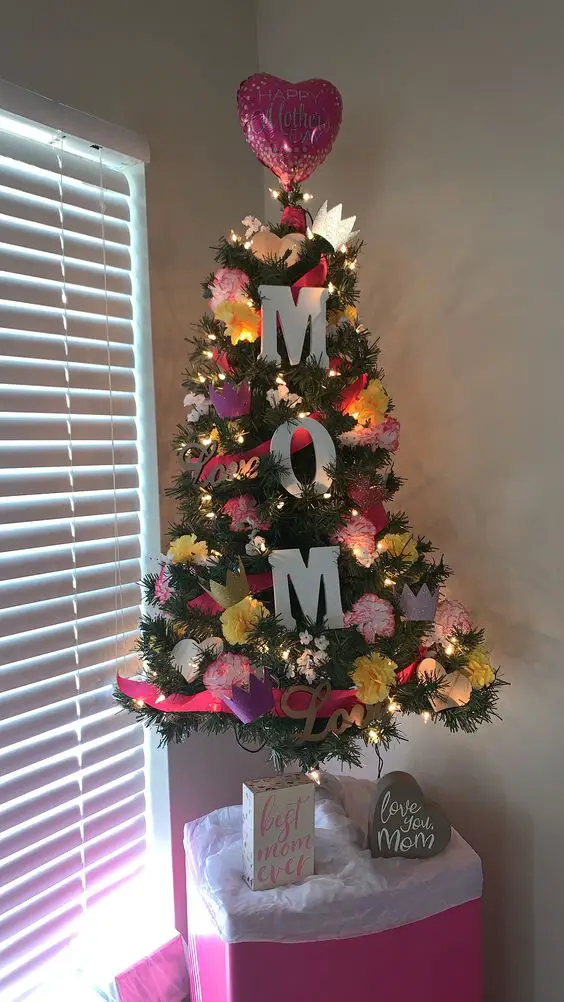 Baby Shower Christmas Tree
This is such a cute and useful decorating idea for a bay shower… and fake Christmas tree all decorated in pink or blue to put the baby shower gifts under… I LOVE it!
Here's an idea for a girl baby shower: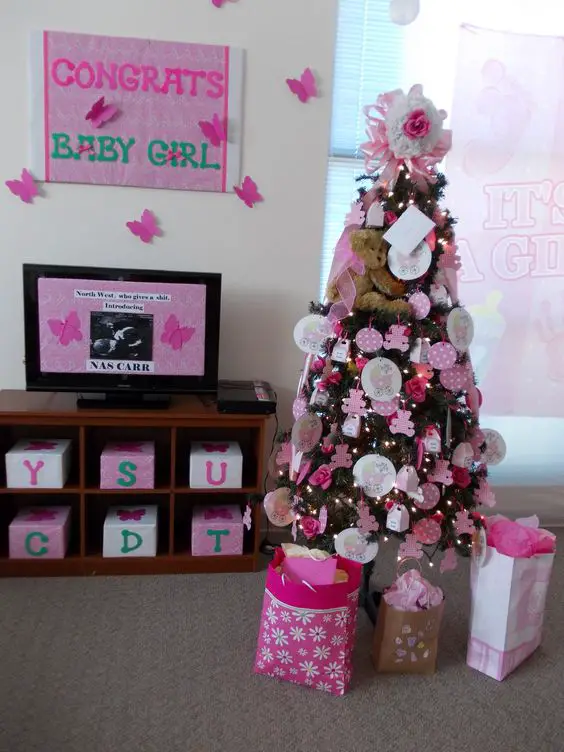 or this cute blue and rubber ducky themed Christmas tree: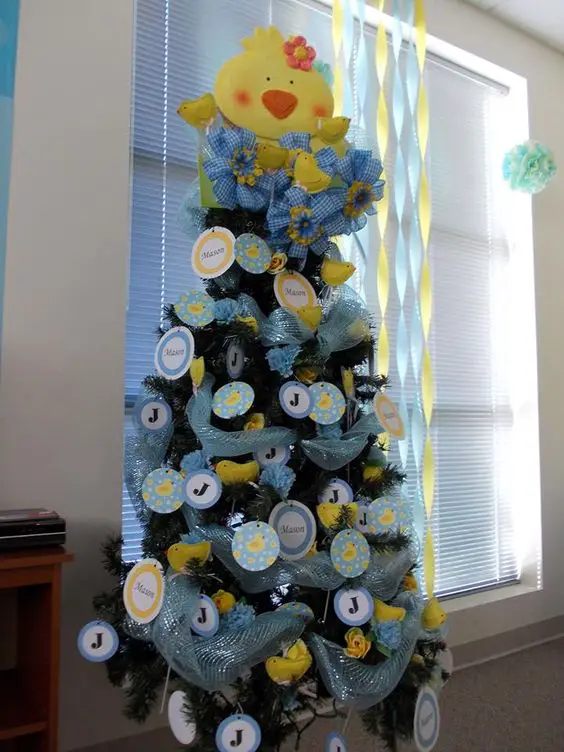 4th of July Holiday Tree
I think this 4th of July holiday tree is such a classy and SPECIAL way to keep your Christmas tree out all year round…
Isn't it STUNNING?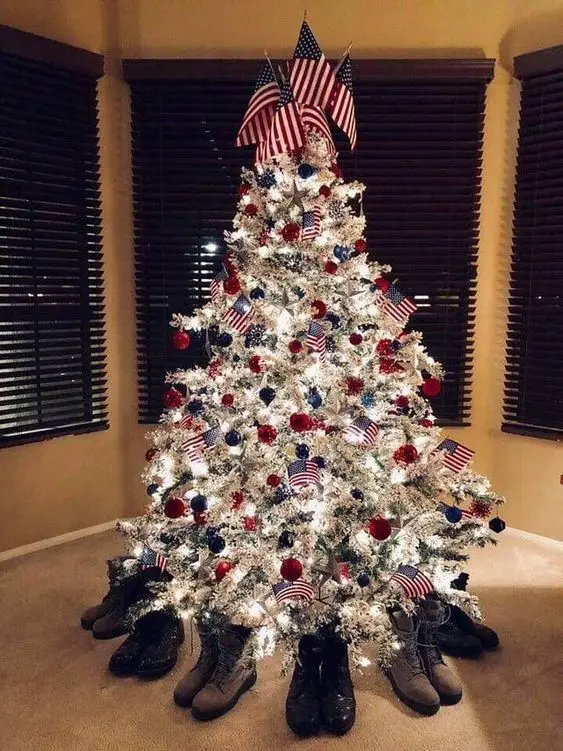 Summer Christmas Tree Idea
The picture below is such a FUN and unique way to decorate your fake tree in the summer.
I think it would be so cute for work or for decorating the classroom this Spring to get the kids excited about summer!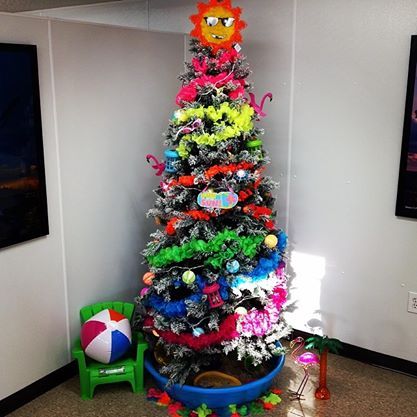 Birthday Tree Ideas
Birthdays are my favorite Holiday to break out my artificial Christmas tree and decorate!
Here are some SUPER cute Birthday-themed Christmas tree decorating ideas that I love.
For a recent 55th birthday party: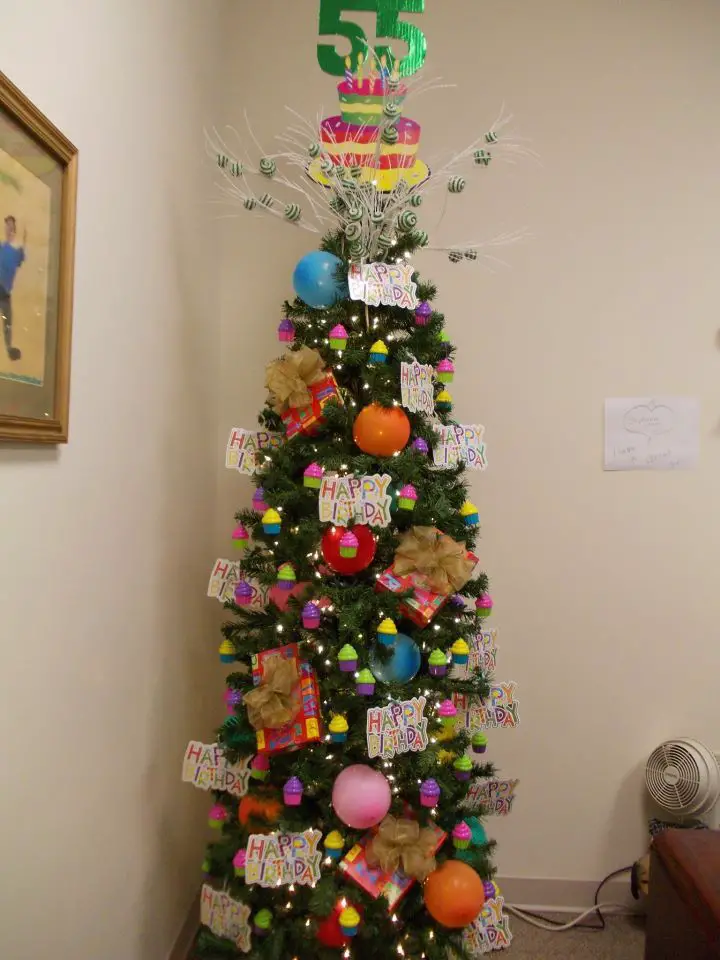 Or this ideas for a Sweet 16 birthday or 16th birthday…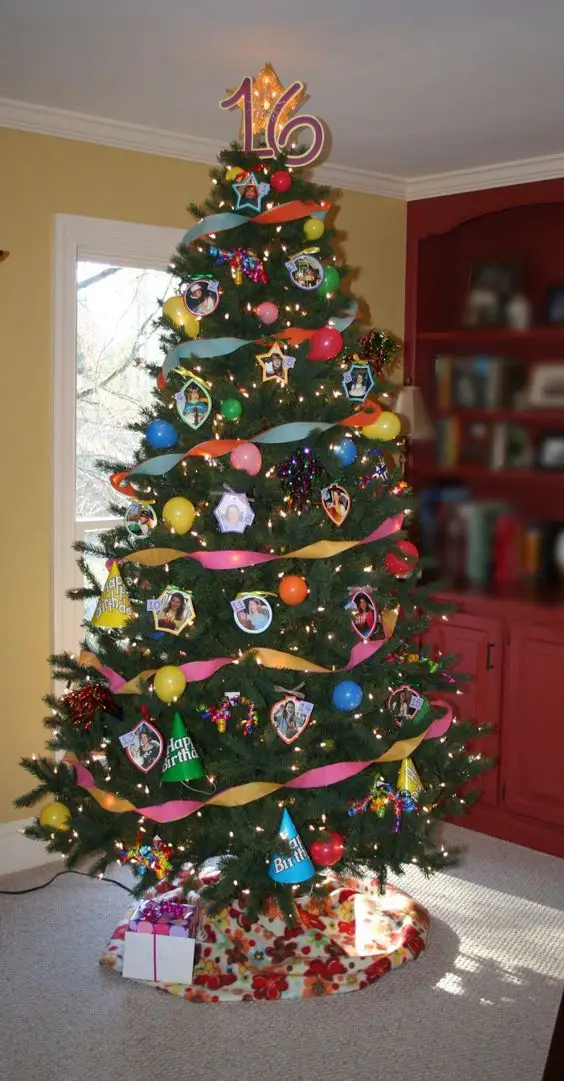 What To Read Next:
Miss Anything?
Go back to the top of:
==>> Unique Christmas Tree Decorating Ideas
Go back to a specific Holiday Tree idea:
More Fun Party Ideas