---
Quick and easy hairstyle ideas for those lazy days when you need easy cute hairstyles for school, for work or just because you're running late and don't even have 5 minutes to fix your hair.
Make sure you watch the quick TikTok hairstyle video below for a really cute, and FAST, way to style your hair when you're in a hurry.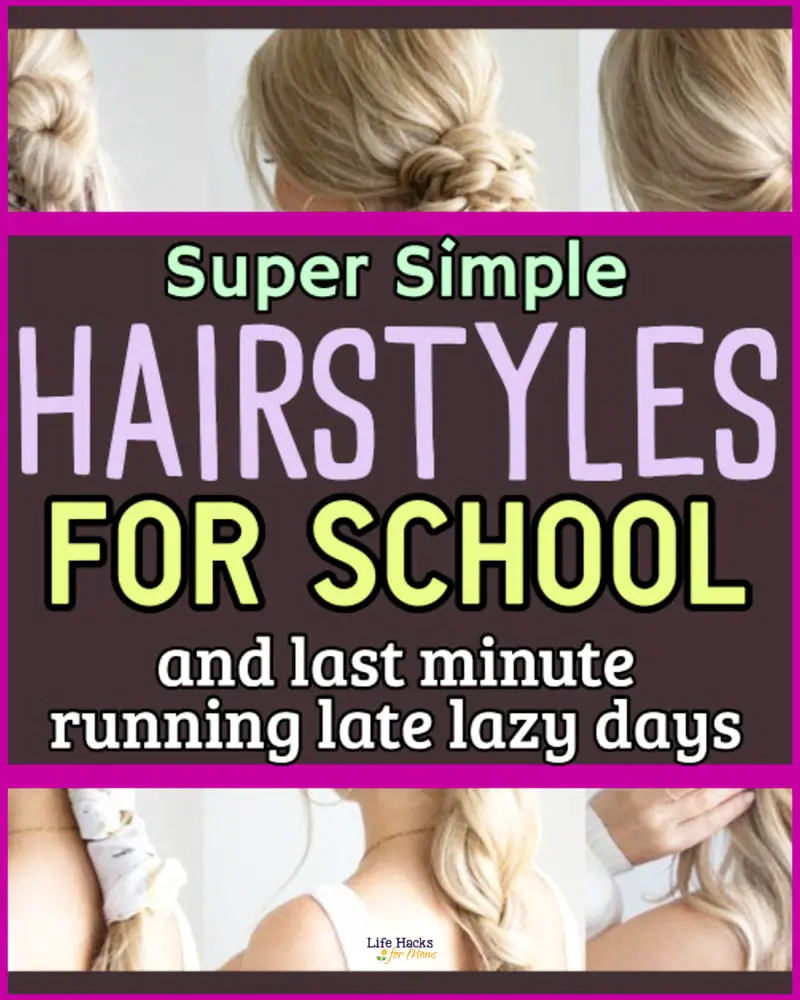 Welcome to Life Hacks for Moms - we hope you enjoy all our tips and tricks for busy moms! Please note that we use affiliate links and ads to generate income at no cost to you.
---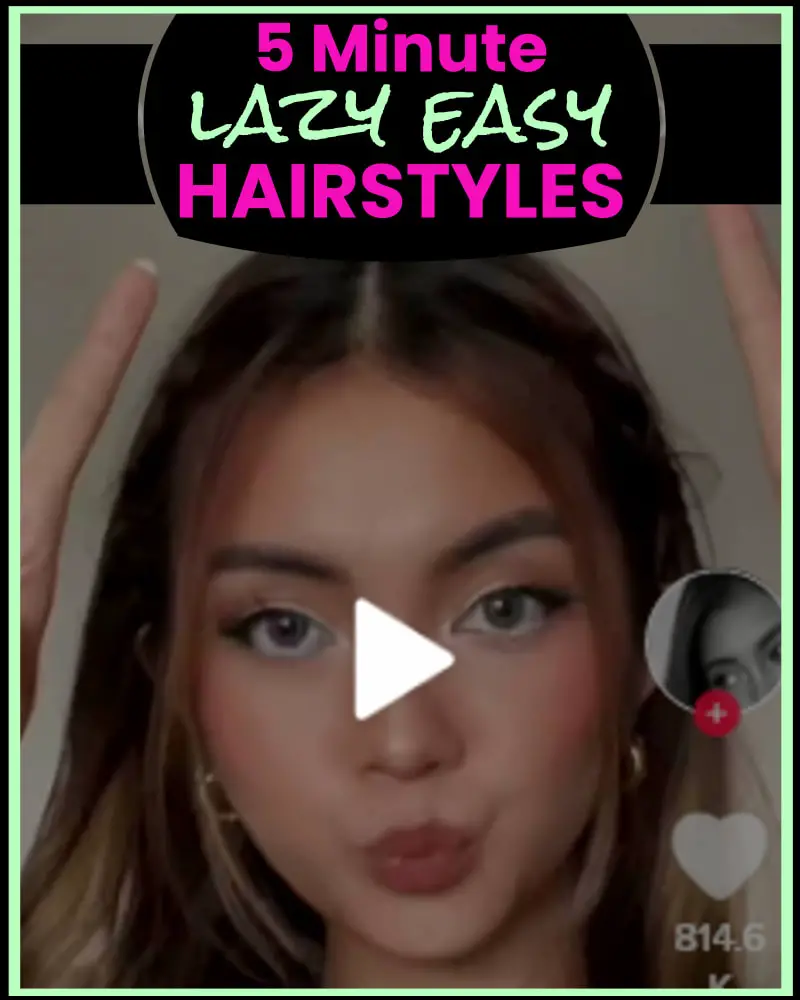 Lazy EASY Hairstyles
When it comes to styling my hair, I'm pretty darn lazy about it. If it's not EASY, I probably won't even try it.
If there is one thing we ladies do NOT have enough of – it would be TIME.
I don't know about YOU, but I am NOT the girl who gets up extra early to spend 30 minutes or more on my hair.
I'd rather sleep lol!
 Easy Braided Hairstyle Tutorials✅ I Found It Here Quick Everyday Hairstyles Handbook✅ I Found It Here
Thing is, if I wear my hair in a top of my head messy bun one more time, my family will probably disown me.
I'd love to say my messy bun looks all cute – but truth be – it looks like a rat's nest on top of my head haha!
I have a sneaky feeling I'm not the ONLY busy mom that feels that way…
and I'm NOT the ONLY busy woman who can't wait to see the easy lazy hairstyles I've found.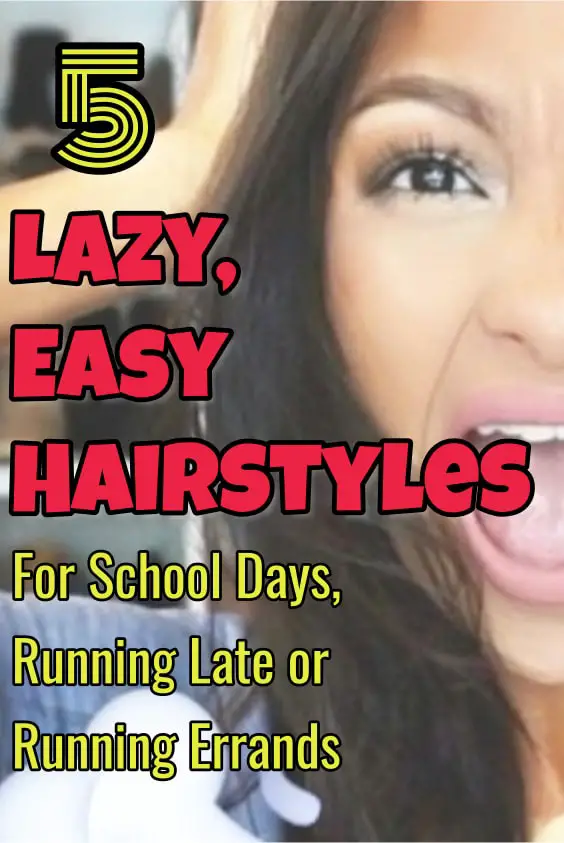 5-Minute Hairstyles
I have been searching like a crazy woman for some quick and easy 5-minute EASY hairstyles for school and for busy moms who have ZERO talent styling their hair.
I wanted the hairstyle ideas to:
– NOT involve heat of any kind
– NOT involve any kind of special hair styling skills (cause, girl, I ain't got that!)
– Be SUPER easy, in reality, to do
– Take NO MORE than one minute or so to do
– and ideally, I should be able to do these lazy day hairstyles without a mirror.
Yes, that IS asking a lot.
But guess what?
I found some super simple, super QUICK lazy easy hairstyles for school days, running late or running errands (and yep, they do really well for Zoom meetings or online school etc).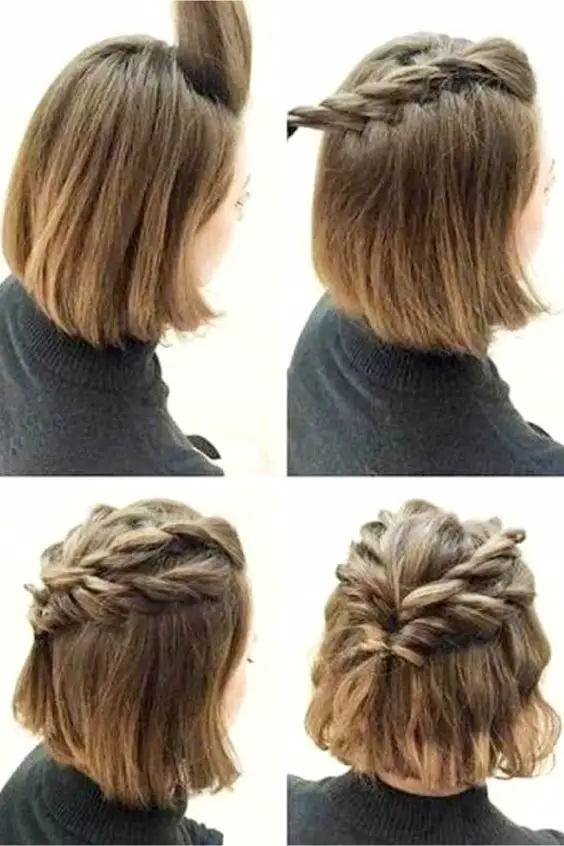 Quick School Hairstyle Idea
Like this EASY lazy hairstyle idea in the TikTok video below:
That's the kind of super simple hairstyle ideas I'm looking for… and then I found the video tutorial below – it's AWESOME!
Simple Cute Hair Ideas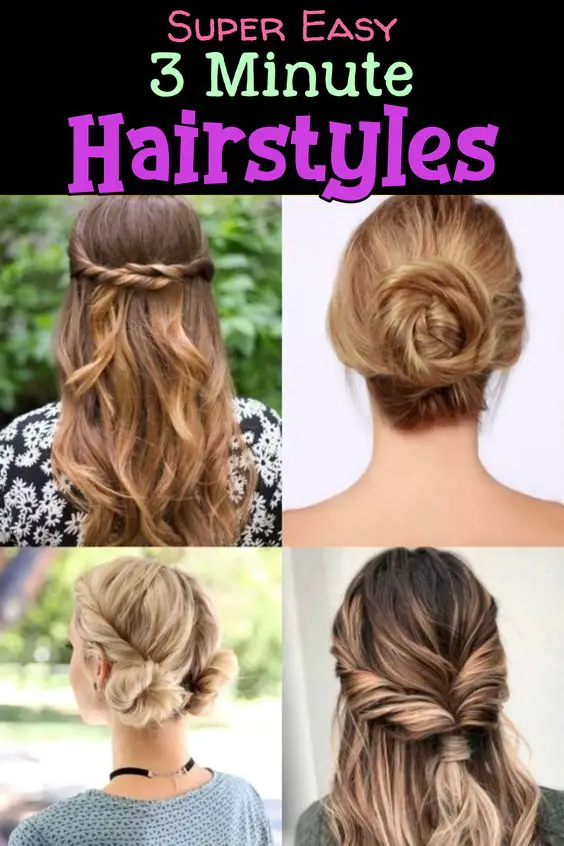 None of the cute hairstyles below require heat or any fancy gizmos other than an elastic or a bobby pin or two.
Now THAT'S what I'm talking about!
Just watch below and she will walk you through each of the multiple ideas for quick lazy girl ways you can style your hair when you simply do not have TIME to mess with your hair.
Don't you just LOVE those quick and easy hairstyle ideas?
Me too!
Here's another quick and easy hairstyle idea that puts a nice touch on my otherwise messy bun.
The step by step in the picture below makes it look easy enough!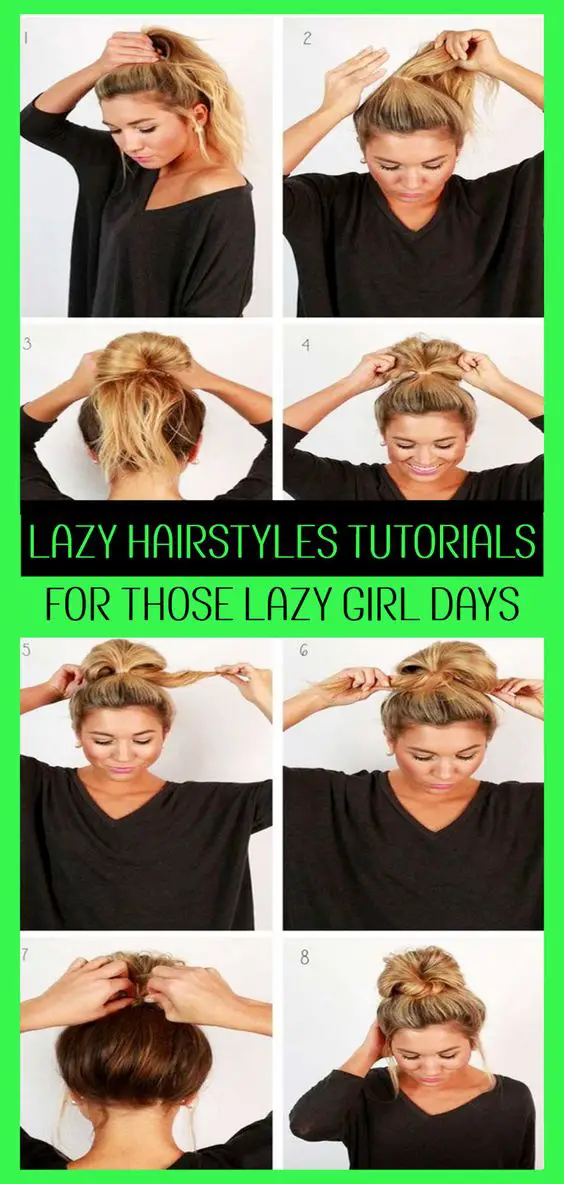 Running Late? Do This
Let me give you a little tip for styling your hair when you're running late… and this tip was a total game-changer for me!
Dry shampoo is your friend.
No wait…
Dry shampoo is your BEST friend.
On days when I'm really feeling lazy and don't feel like washing my hair (usually it's because I'm running late haha!), I can use my dry shampoo and then style my hair like in the picture below.
It makes a beautiful "poofy" ponytail that has body and bounce!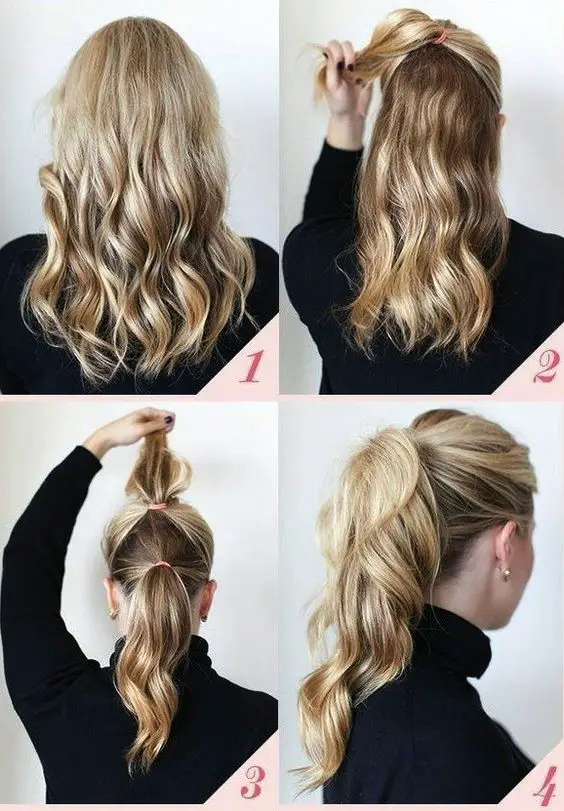 I use this kind of dry shampoo
and yes, I buy the 6-pack because I LOVE it.
Thankfully, it's pretty darn cheap too – especially when you buy the 6 pack like I do.
Here's some dry shampoo tips I've learned the hard way.
1 – Is your hair flat on top but not really dirty enough to warrant a "mom bun"?
Spray some dry shampoo at the roots of your crown, then break out the ol' round brush and hairdryer to give it some lift.
You will be amazed at how well that works!
 If you're on a budget, use this dry shampoo…✅ I Found It Here if you want the best dry shampoo that smells GREAT – get this kind!✅ I Found It Here
2 – Spray some dry shampoo at your roots BEFORE you go to bed and sleep with it in your hair.
In the morning, flip your head over and brush the dry shampoo through and out of your hair.
Just trust me on this one – it works so well… it's pretty amazing.
3 – Don't point the nozzle of the dry shampoo super close to your hair.
Remember, dry shampoo is pretty much a powder so spraying it that close can possibly give your hair the white, powdery look (but you can always brush it out).
4 – This tip is for all the ladies with fine hair (like ME!)
Whenever I wash and blow dry my hair, it has NO real body or texture to it.
In reality, it's just TOO clean.
Dry shampoo to the rescue.
Yes, spray it on totally clean hair.
Brush it through…
and you will suddenly have volume and texture to your hair.
This specific dry shampoo is the best thing since sliced bread and the snooze button lol!
Plus, since my hair is fine and colored (and yes, ok, it's thinning too), dry shampoo makes it so I have to wash my hair LESS – which helps MY hair tremendously!
Best of all, my hair never FEELS dirty, never LOOKS dirty… and never SMELLS dirty (in fact, it smells AMAZING!)
It's worth it's weight in gold!
Miss Anything?
Go back to the top of:
==>> 5 Minute Lazy Easy Hairstyles
Go back to a specific section: