---
Easy Lemon Desserts With Cake Mix – below are my favorite 15 lemon desserts, cakes, cookies, dessert bars, sweet treats and bundt cakes that all use store-bought boxed cake mix.
I am a HUGE fan of doctored boxed cake mix desserts – using a box of store-bought cake mix is SO much easier than making desserts from scratch.
The only thing I like even better than desserts made from cake mix and my NO BAKE desserts.
When I'm cooking for a crowd, no bake and boxed cake mix desserts are my go-to – especially when I'm making something sweet last minute OR making mini desserts ahead of time for a large group.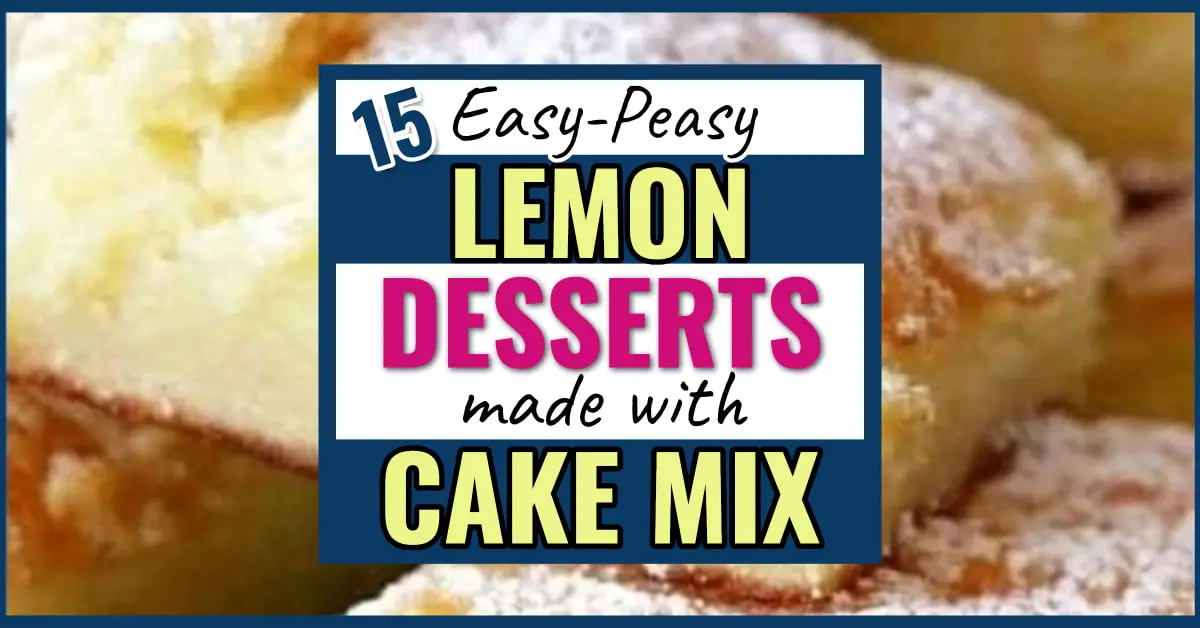 Welcome to Life Hacks for Moms - we hope you enjoy all our tips and tricks for busy moms! Please note that we use affiliate links and ads to generate income at no cost to you.
---
Lemon Cake Mix Dessert Recipes
Below are MY favorite easy LEMON cake mix dessert recipes that are absolute crowd-pleasers – from dump cakes and poke cakes, to cookies and dessert bars – these dessert recipes below are all super easy with basic ingredients you probably already have on hand.
I love lemon ANYTHING – heck, even my kitchen is LEMON with buffalo check haha!
Decorating with lemons is one thing – today, we're BAKING lemon desserts using cake mix!
Here's the lemon dessert recipes using box mix I have below: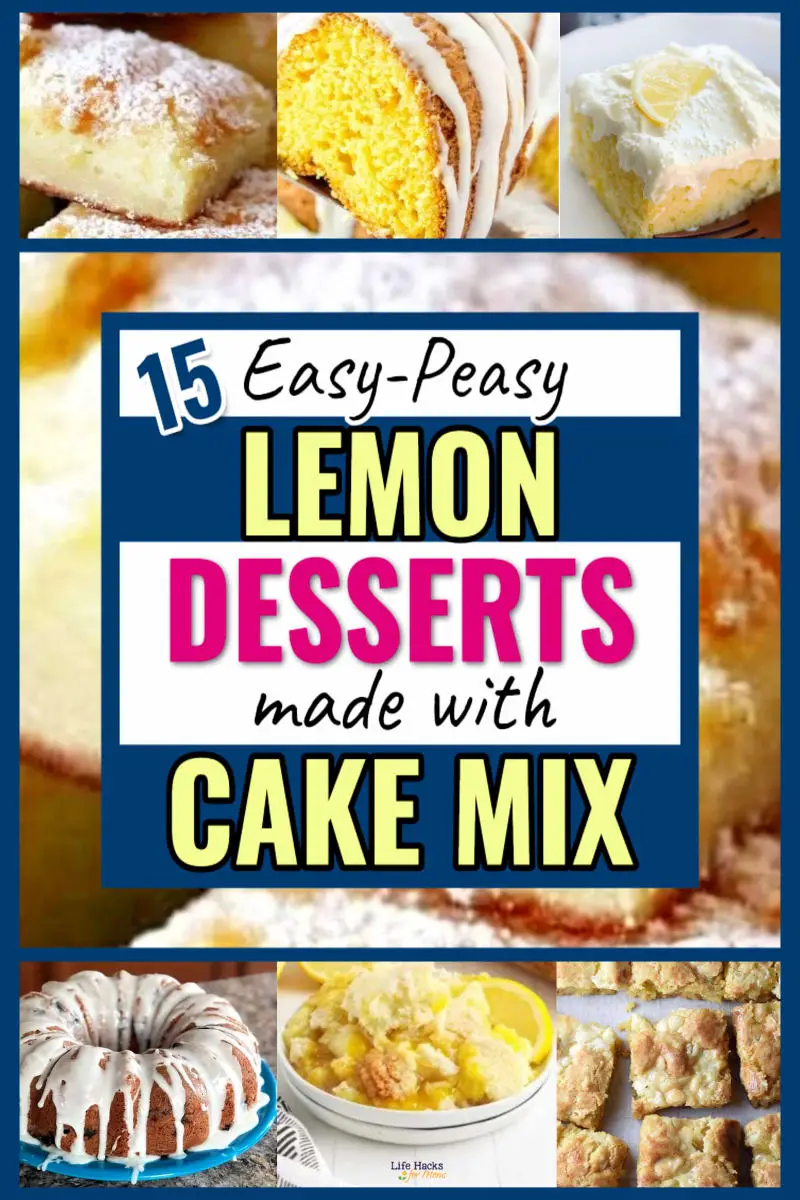 3-Ingredient Lemon Bars
Lemon Cake Mix Brownies
Pillsbury Lemon Cake Mix Pound Cake
Lemon Cake Mix Recipes With Pudding
Magic Lemon Cake Using Cake Mix
Lemon Dream Cake
Lemon Cake Mix Cookies
Gooey Lemon Bars
Lemon Cake Mix Dump Cake
Lemon Cake Mix Poke Cake
Lemon Blueberry Bundt Cake
Lemon 7-Up Bundt Cake
Lemon Cake Using WHITE Cake Mix-NO PUDDING
3-Ingredient Lemon Bars
These quick and easy dessert bars only have 3 simple ingredients and can be made in large batches. That makes these lemon dessert bars perfect for a large group at a family reunion, as potluck desserts for work, for a funeral dessert table, Mother's Day, Easter, Christmas or any party crowd.
I even make these as individual single-sized desserts for our large group church dinners.
The only 3-ingredients are:
1 can lemon pie filling
1 box Angel Food cake mix
Powdered sugar
Yep, that's it!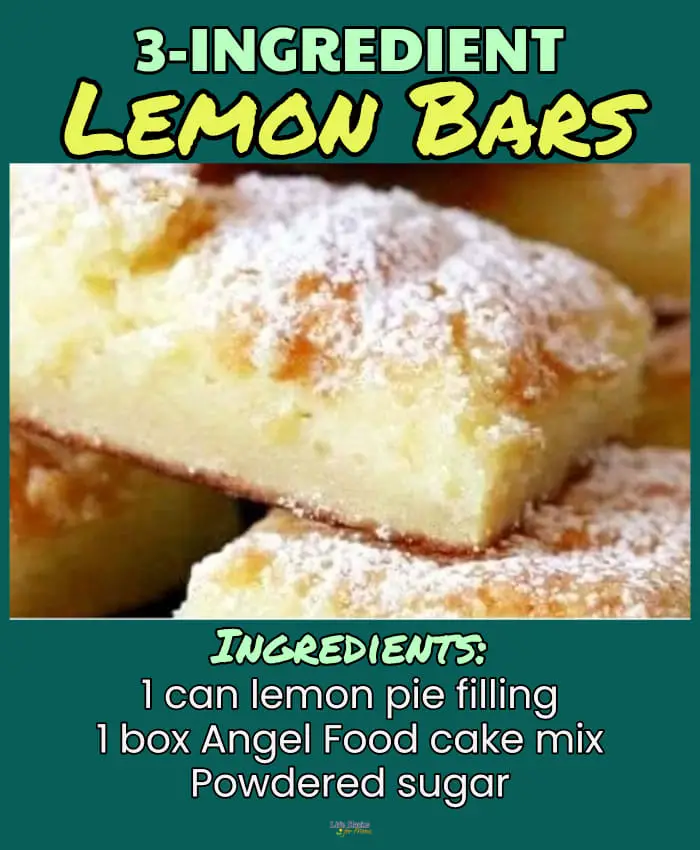 Lemon Dream Cake
I found this Lemon Dream Cake recipes on this page of easy funeral desserts.
Not only is this dessert made with a box of lemon cake mix, it also uses instant lemon pudding and Cool Whip whipped topping for the icing – and it is GOOD.
I was in charge of block party food this year and made these cake mix lemon cake and it was GONE in MINUTES (probably should have made 2 or 3 so *I* could have some too haha!)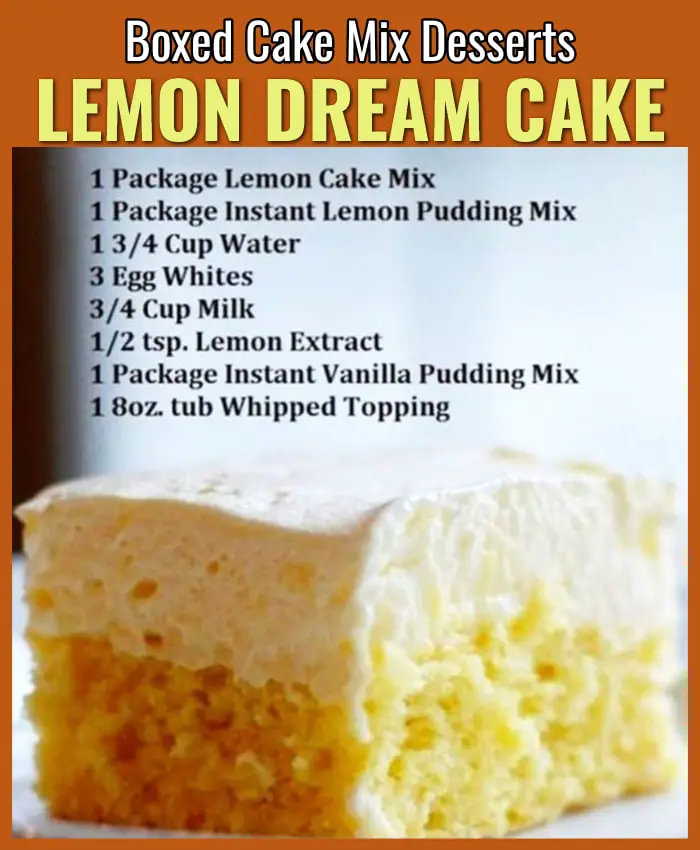 Lemon Cake Mix Cookies
I LOVE these lemon cookies – they're made with boxed cake mix and they have such a sweet and yummy frosting too!
Each recipe batch takes less than 20 minutes to make and makes about 2 dozen cookies.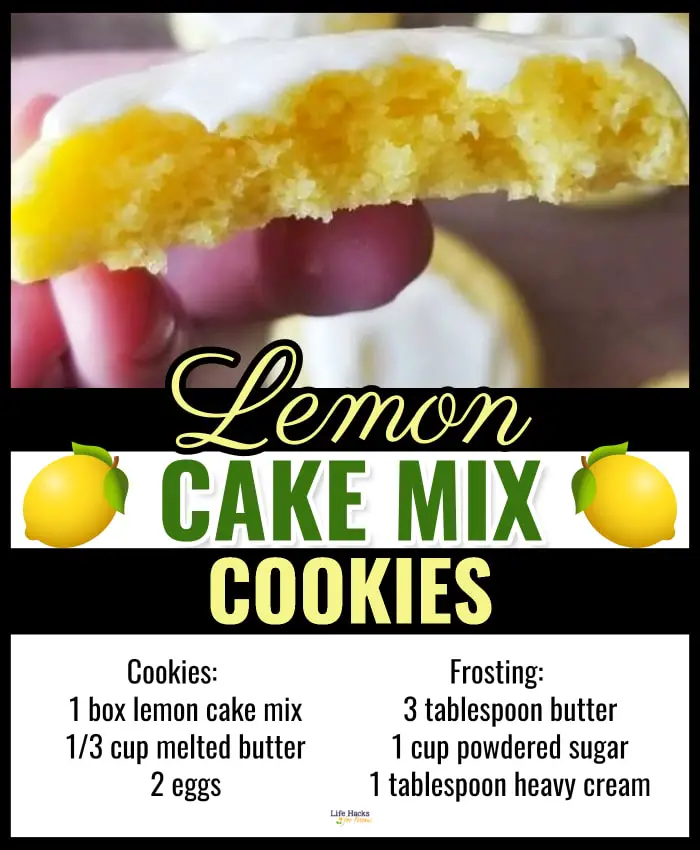 Tips:
– Use a small scoop to make it easier and keep cookies all the same size.
– Spray the scooper with cooking spray so the dough does not stick.
– Do NOT overcook – these lemon cookies are meant to be soft and cake-like. Take them out of oven when each cookie top does not look wet anymore.
✅ Love EASY Cookie Recipes?
Gooey Lemon Bars
If soft, chewy, ooey-gooey yummy lemon desserts are your thing, you will LOVE these easy-peasy lemon cake mix gooey bars.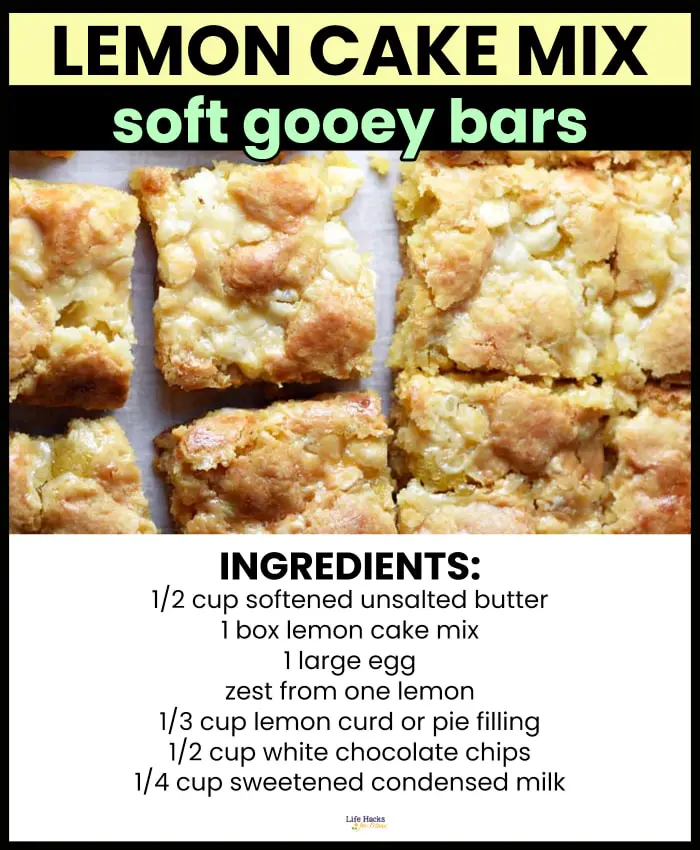 Cake Mix Lemon Dessert Bars Ingredients:
1/2 cup softened unsalted butter
1 box lemon cake mix
1 large egg
lemon zest
1/3 cup lemon curd or pie filling
1/2 cup white chocolate chips
1/4 cup sweetened condensed milk
What IS "Lemon Curd"?
Lemon curd is homemade lemon pie filling. Lemon curd contains fresh lemons, egg yolks, butter, salt and sugar.
Do I HAVE to use lemon curd?
NO – just substitute lemon curd for store-bought lemon pie filling – tastes just the same and is MUCH easier – especially when I'm making the lemon cake mix recipe last minute.
Lemon Cake Mix Dump Cake
I make this lemon dump cake with a box of lemon cake mix because I like my lemon desserts very lemon-y, but if you want to ease up the lemon flavor (or NOT make a special trip to the store), you can use white cake mix or yellow cake mix instead.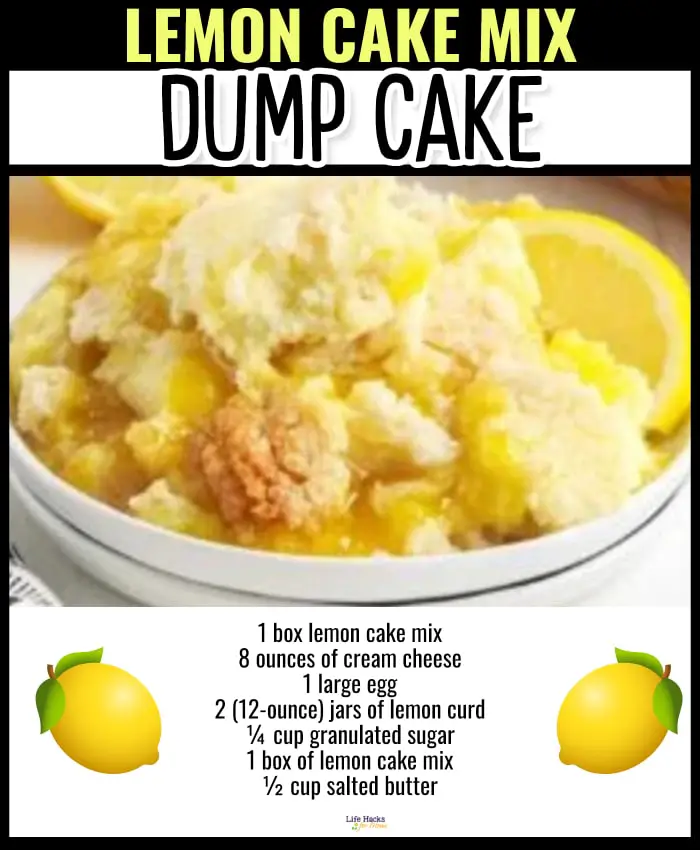 Lemon Cake Mix Dump Cake Ingredients:
1 box lemon cake mix
8 ounces of cream cheese
1 large egg
2 (12-ounce) jars of lemon curd
1/4 cup granulated sugar
1 box of lemon cake mix
1/2 cup salted butter
✅ Love EASY One Pan Desserts?
Lemon Cake Mix Poke Cake
I LOVE this lemon poke cake recipe – the whipped topping is so light and fluffy.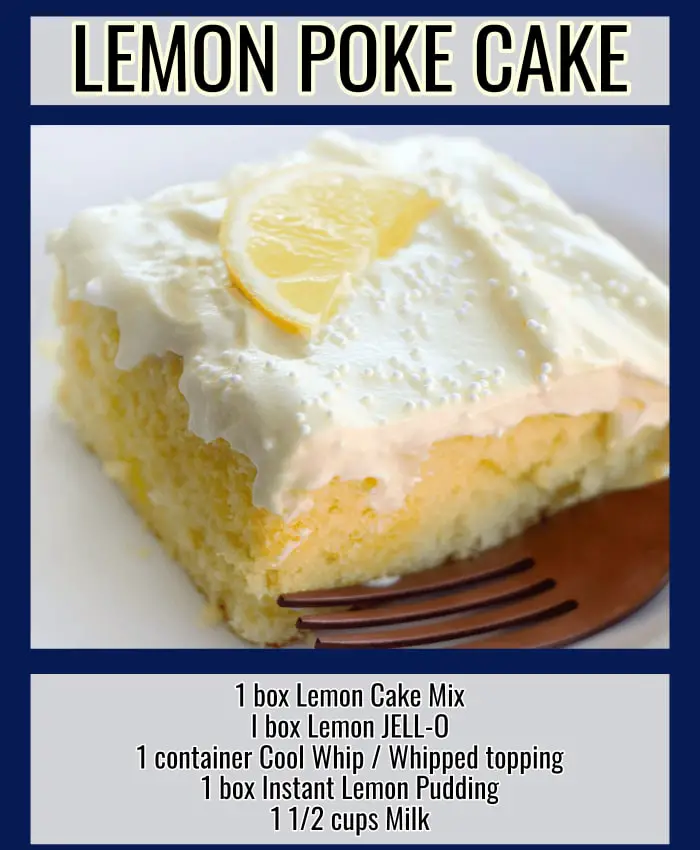 Here's how to make it:
Just make the lemon cake in a 9×13 dish as per the directions on the cake mix box, let it cool, then take a wooden spoon and use the handle part to poke holes all in the cake. Then you pour the Jello mix over the cake getting it into all those poked holes.
After it's been refrigerated for a few hours, whisk together the remaining ingredients to make that yummy fluffy lemon frosting.
Lemon Cake Mix Poke Cake Ingredients:
1 box Lemon Cake Mix
1 box Lemon Instant Jello
1 container Cool Whip / Whipped topping
1 box Instant Lemon Pudding
1 1/2 cups Milk

or see the full blog post here.

Lemon Blueberry Bundt Cake

Not only is this lemon blueberry bundt cake made with boxed lemon cake mix, it's also a super easy dessert or brunch cake to make.

It super moist and full of lemon-blueberry flavor – my potluck crowd LOVES it (and so do I!)

boxed cake mix recipes, lemon bundt cake recipe, lemon blueberry cake from box cake mix , lemon blueberry bundt cake with boxed cake mix, bundt cake mix

Lemon Blueberry Cake Ingredients:

8oz cream cheese
1/2 cup oil
1 box lemon cake mix
1 box vanilla pudding
2 eggs
2 egg whites
2 teaspoons vanilla extract
Lemon zest
2 Tablespoons lemon juice
1 cup blueberries

Lemon Blueberry Cake Frosting Ingredients:

1 cup powdered sugar
1 tablespoon butter
1 teaspoon vanilla
1 Tablespoon lemon juice
1 Tablespoon water

or see the full blog post here.

What Is "Lemon Zest" or "Zest of a Lemon"?

Lemon Zest is the peel of a lemon (ie, the outside rind of a lemon) and is also sometimes called flavedo. To make lemon zest or get the zest of a lemon, wash the lemon and use a fine grater to grate off some outer layer peel of the lemon and use in the dessert recipe as directed.

Love blueberry recipes?

See ALL Easy and UNIQUE Blueberry Dessert Recipes Here

Easy Lemon Brownies with Cake Mix – Folks rave over these moist, dense, lemon brownies made from a cake mix and drizzled with a fresh lemon juice glaze. Easy and delicious! Here's how to make lemon cake mix brownies – print the recipe

Pillsbury Lemon Cake Mix Recipes – how to make Pillsbury's Lemon Pound cake from scratch or using cake mix – print the recipe

Lemon Cake Mix Recipes With Pudding – Easy Betty Crocker Lemon Pudding cake made with lemon cake mix and lemon instant pudding – print the recipe

Lemon Cake Using WHITE Cake Mix-NO PUDDING – How to make doctored lemon poke cake WITHOUT pudding – print the recipe

Magic Lemon Pudding Cake

Here's what you need and how to make Magic Lemon Pudding Cake using cake mix:

Lemon Magic Cake Ingredients:

1 Box Lemon Supreme Cake Mix
3 Eggs
1/3 Cup Vegetable Oil
1 Cup Water
2 Boxes Jell-O Lemon Pudding Mix
4 Cups Cold Milk

How To Make Magic Lemon Cake:

Prepare Cake Mix as instructed on back of cake mix box.
Place Cake Mixture in a 350 Degree preheated oven for time found on the box and toothpick comes out clean.
Allow cake to cool.
Poke holes in the lemon cake.
Prepare Lemon Pudding mix per box instructions
Spread lemon pudding mix to top of lemon cake.
Refrigerate to allow for pudding to seep into the cake and to set

Lemon 7-Up Cake

What do you get when you combine boxed cake mix with 7-Up or Sprite?

A delicious and EASY lemon dessert that ANY crowd will devour – only YOU will know how easy it was to make!

And let me tell you something – I could DRINK the lemon glaze on tops of this lemon bundt cake… it's THAT good!

Lemon 7-Up Cake Ingredients:

1 box cake mix
Lemon instant pudding
3/4 cup 7-Up or Sprite
4 eggs
3/4 cup vegetable oil
2 cups confectioners sugar
1 tablespoon lemon juice
1-2 tablespoons milk

How TO Make Boxed Lemon Cake Taste Better –

Many readers have asked me how to make boxed lemon cake taste better. Here are ways to jazz up your store-bought lemon cake mix and make it taste homemade:

– for a moister boxed lemon cake, add one extra egg than the box calls for.

– use buttermilk instead of regular milk.

– use 7-Up or Sprite instead of water.

– replace water with lemon juice (or another citrus juice… lemonade works too).

– add a small box of instant lemon pudding for more flavor.

What To Read Next:

Miss Anything?

Go back to the top of: ==>> Easy Lemon Desserts With Cake Mix

Go back to a specific cake mix lemon dessert recipe: