---
Upcycled Furniture Ideas – My Favorite Repurposed Furniture Makeover Projects Before and After Pictures – There's nothing more satisfying than a creative DIY furniture makeover turning it from trash into treasure!
Below are my some easy upcycling ideas for beginners to repurpose furniture, like dressers without drawers, who are feeling crafty and do not want to throw away something that can still be useful.
Seriously, why BUY upcycled furniture online or from a flea market when you can do it yourself?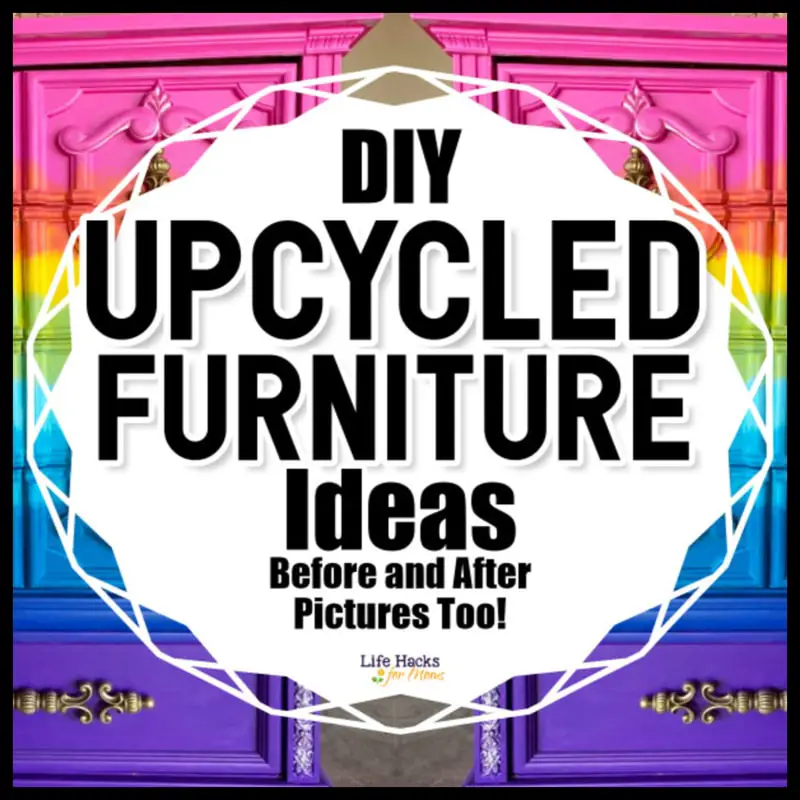 Welcome to Life Hacks for Moms - we hope you enjoy all our tips and tricks for busy moms! Please note that we use affiliate links and ads to generate income at no cost to you.
---
Repurposed Furniture Ideas
Do you love DIY furniture makeover ideas as much as I do?
(and yes, they are one of my favorite DIY projects!)
Repurposed furniture is more personal and fun than standard furniture anyone can buy anywhere.
When you repurpose and paint an old broken or about-to-be-trashed item, you turn it into a one of a kind furniture piece that only YOU have.
I get so many compliments on the beautiful and aesthetic furniture makeovers I've done… let me show you a few of my favorites that are on my DIY-radar and some funky painted furniture ideas I've found.
✅ Pictures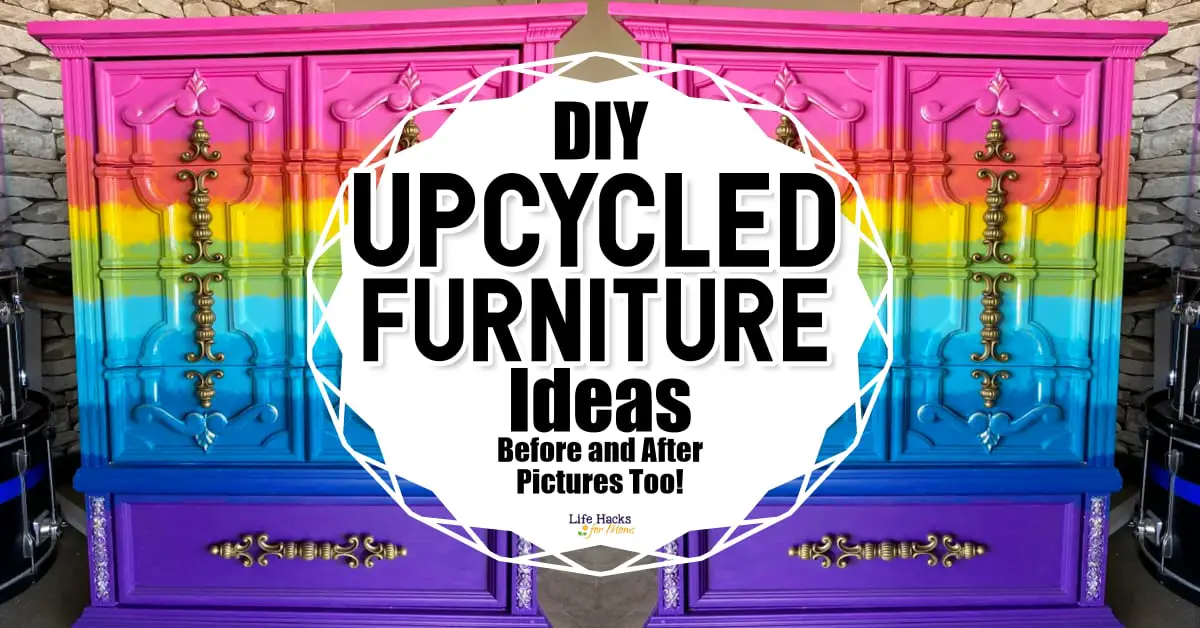 I know you're here for the before and after pictures of upcycled furniture, so let's jump in and I'll show you my favorite creative ideas.
If you're into upcycling and repurposing, I think you'll love these ideas too!
For example: this repurposed TV cabinet hutch that was upcycled and transformed into a craft & sewing desk in the picture below – what a brilliant idea especially if you don't HAVE a dedicated craft room!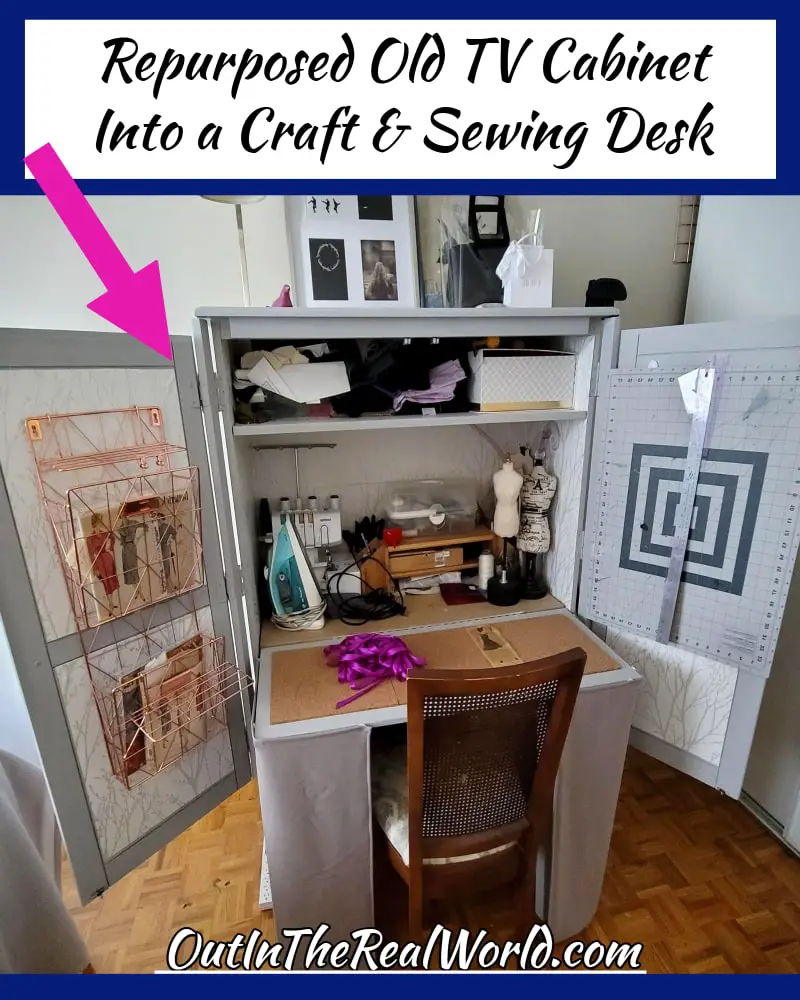 You might also like:
1. Dresser Without Drawers
Let's start with some ideas for old dressers without drawers.
If you have an old broken dresser that is missing drawers or the drawers are broken, you can totally upcycle it into something beautiful and useful.
Or – into something unusual!
For example, this old dresser missing drawers was converted into a Guinea Pig cage house – SO CUTE!
And really clever, too!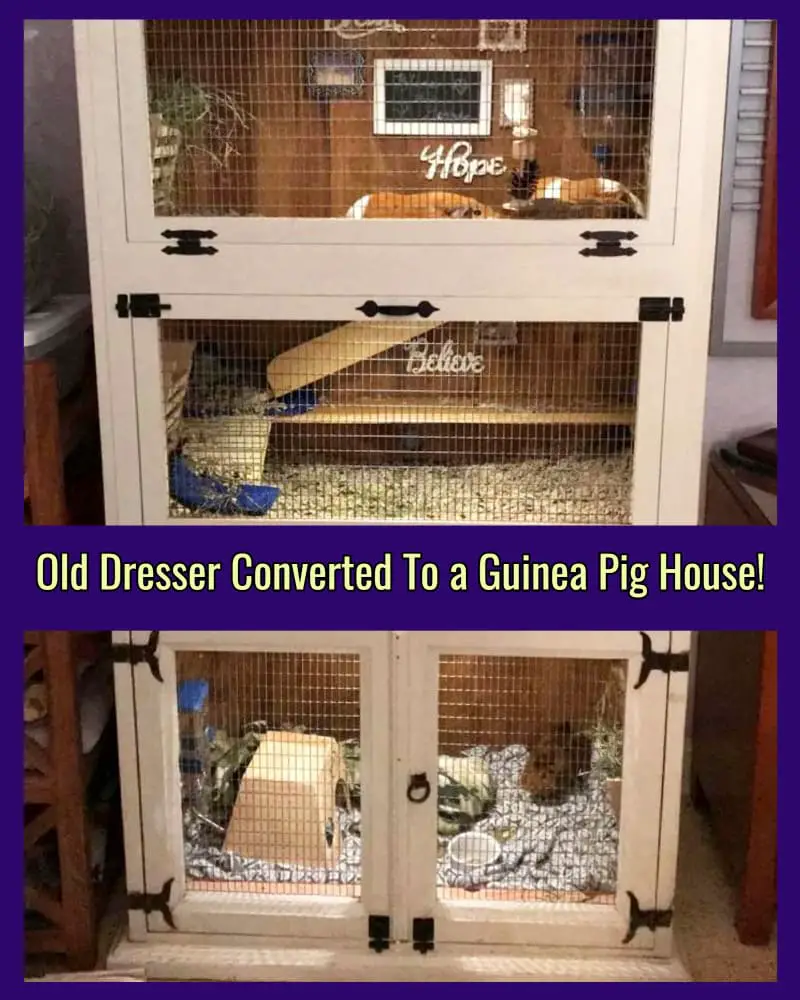 Let's look at more ideas…
I love this old dresser in the before and after picture below.
The pine dresser was missing some drawers completely and was looking really rough.
They totally removed the top drawer area, painted it and did some mod podge decoupage DIY craftiness on the inside.
Added a rod and now that old broken dresser is now repurposed into a beautiful and unique wardrobe that would look so cute in a baby nursery or bedroom or as stand alone linen storage, don't you think?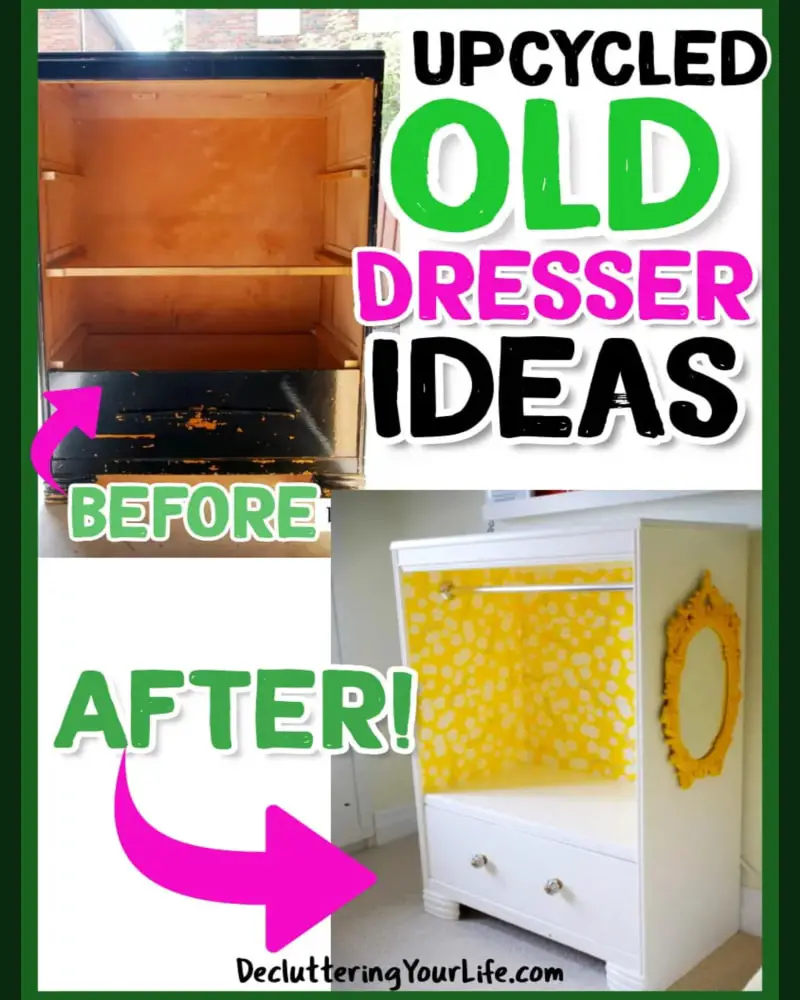 2. Painted Furniture Makeover
It makes my heart happy to see old discarded furniture turned into something aesthetic for your room WITHOUT spending anything, or spending very little money.
My niece is no longer in her small dorm room and instead, recently moved into her first college apartment.
Naturally, she is BROKE (weren't we ALL at that age haha!)
As they say, "Necessity is the mother of invention" so she got creative and came up with this funky painted furniture idea in the picture below.
She found an old cabinet that someone was giving away to she grabbed it and painted it (I think she used chalk paint but not sure).
To me, her brightly painted furniture project turned out stunning – she is SO creative!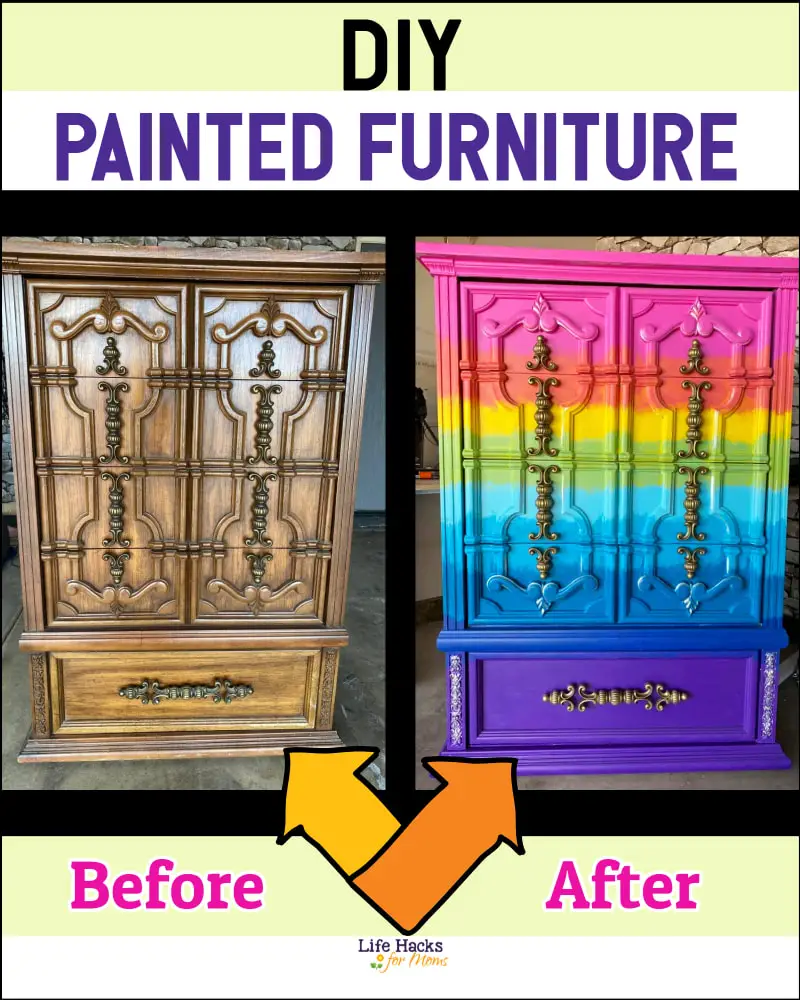 I'd love to do a similar do it yourself project but with a shorter old dresser and turn it into a coffee bar in my kitchen – fun! Has a bohemian feel to it! I'll have to look around Pinterest for upcycled furniture that is more what I'm thinking.
3. Old China Cabinet Idea
This upcycled old china cabinet below is such a cool idea for your laundry room.
They took the top of the old cabinet, painted it and repurposed it into storage shelves / cabinets over their washer and dryer.
Genius DIY idea!
My sister would say that china cabinet makeover is SO 'shabby chic', but I think it's more rustic or farmhouse – you?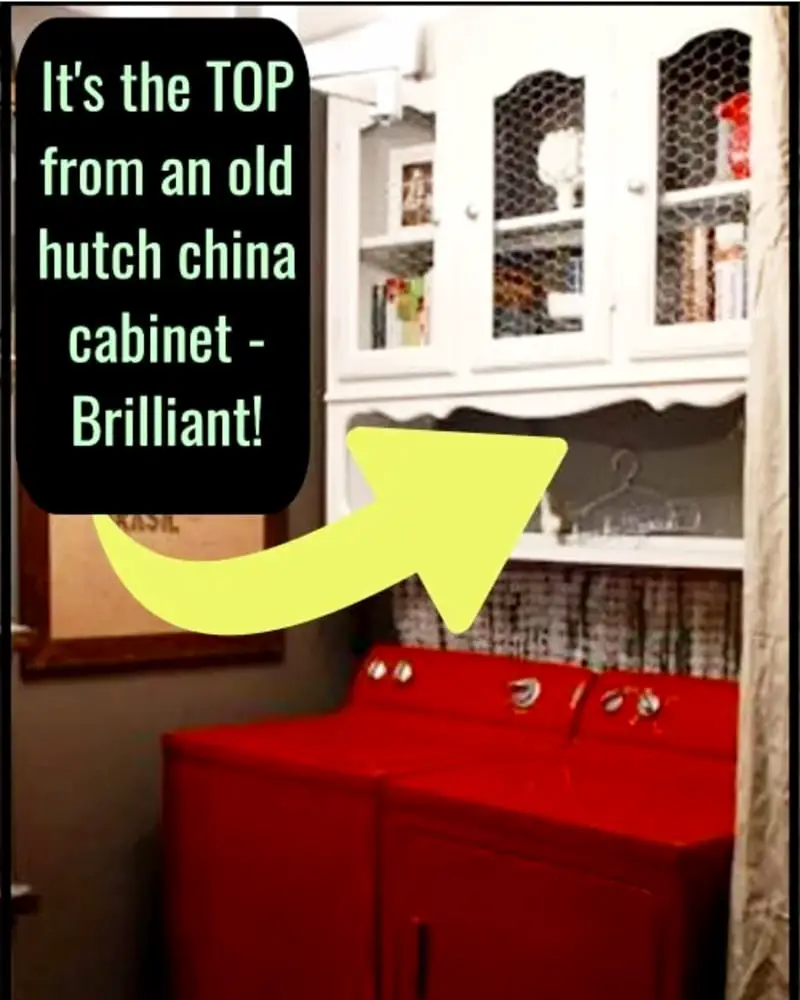 4. Creative Upcycling Project
I love CREATIVE upcycling ideas and while this next idea didn't START as furniture, it sure was repurposed into a beautiful shelf.
Just look at this before and after picture (and YES, they upcycled old crutches into cool decor!)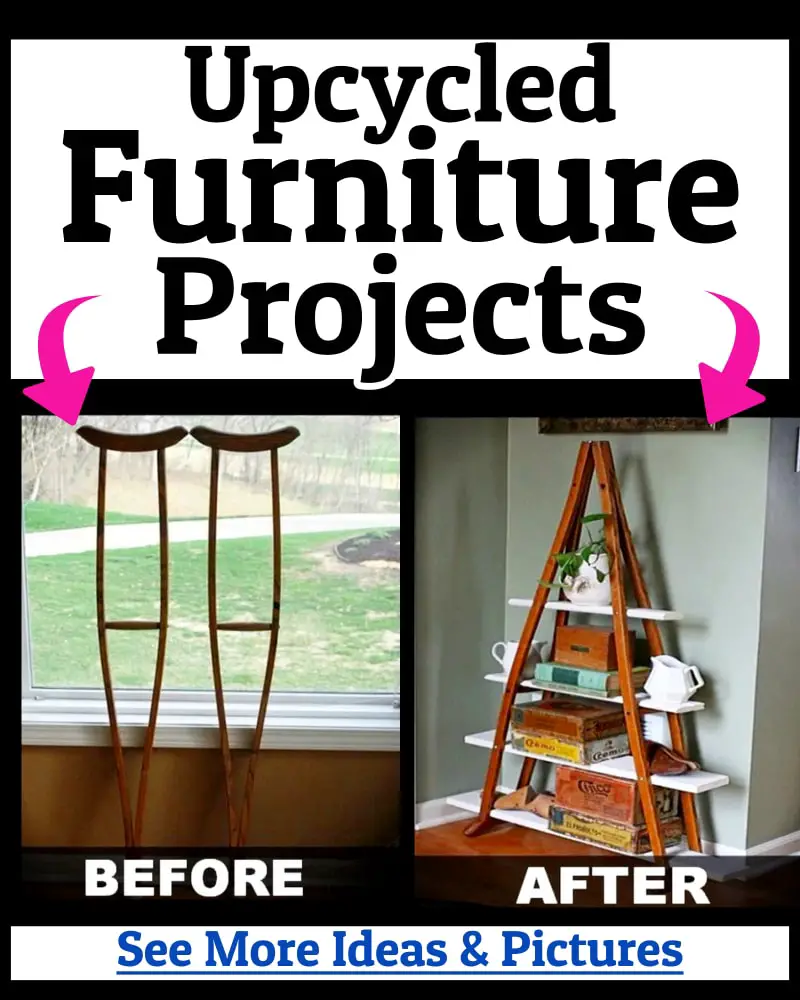 5. Refurbished Cabinets
These refurbished painted cabinets below is a creative way to use those old cheap pressed board wood TV entertainments centers we've all had at one time (before flat TVs were a thing, right?)
What a cute idea for a toddler girl bedroom!
More DIY Projects
You might also like:
Miss Anything?
Go back to the top of:
==>> DIY Upcycled Furniture Ideas
Go back to a specific section: