---
New Uses For Old Towels and Sheets – Do you have old sheets and towels that are torn, ripped, stained or just plain worn out? Need some clever ideas of what to DO with those old sheets and towels instead of just throwing them away?
Hint: do NOT throw them away! Instead, take a look at these 15 ways to upcycle your old bed sheets and old towels.
From old fitted sheets to flat sheets, there are many useful things you can do with those old sheets instead of disposing of them in the trash can.
Let's take a look at 15 NEW uses for old bed sheets and those worn out yucky bath towels.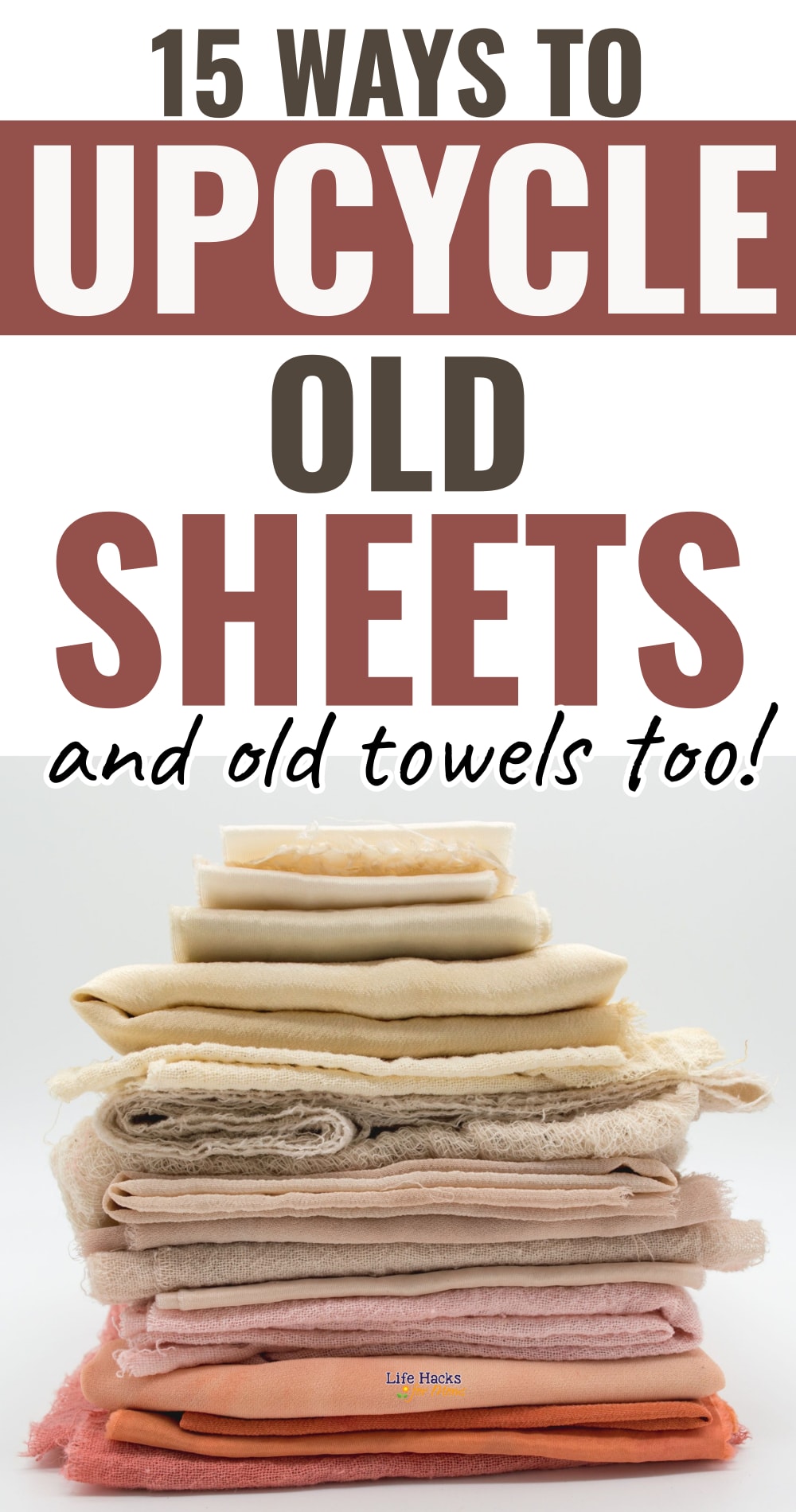 Welcome to Life Hacks for Moms - we hope you enjoy all our tips and tricks for busy moms! Please note that we use affiliate links and ads to generate income at no cost to you.
---
Ideas For Old Sheets
It all started as I was working on my linen storage and realized I had a ton of old sheet sets, fitted sheets, pillow cases, grungy old towels etc that we don't use anymore.
What to DO with them?
Even though I'm working hard to get rid of stuff, I sure don't want to throw them in the trash – that's a waste, in my opinion.
Where to Donate Old Sheets?
First thing I thought of was donating them so I looked for where to donate sheets and towels in the area near me and found some good ideas for donation centers, shelters and charities to donate my old sheets to.
The most common local places to donate old sheets are:
Goodwill
Salvation Army
Local Thrift Stores
Women's Shelters
Potter House
AmVets
Homeless Shelters
Local Church
Animal Shelters
I really like the idea of donating old bedding, sheets, etc to my local animal shelter!
Can You Recycle Old Sheets?
When I look around for where I can recycle old sheets near me, I saw that my local compactor site will take them. There's a drop box for donations to a local women and children's charity that says they accept old sheets, blankets, pillow cases, comforters, etc.
After doing that research, I decided to think of ways that *I* can recycle my old sheets into useful items for around MY house.
I guess that would be considered UPcycling my old sheets as opposed to REcycling?
Actually, I think it would be considered ways to REPURPOSE old sheets – that makes more sense to me!
I dunno – I'm not all too clear on that "go green" lingo lol!
How To Repurpose Old Sheets
So here I am with a pile of old sheets – what can I MAKE out of them?
Here are some clever OTHER uses for your old sheets that are pretty darn clever!
I don't know about you, but I did NOT know you can make a RUG out of old sheets – just wait until you see it below!
16 Clever Things To Do With Old Sheets:
1. Protect Your Plants
You can use old sheets to protect your outdoor plants when colder weather comes in. Simply cover your delicate plants with an old sheet to keep them safe from frost while still getting air circulation.
2. Make Reusable Paper Towels
Cut up your really old sheets into rags for cleaning, dusting etc. This could save a lot of money by not having to buy paper towels so often!
3. Use As Craft Table Covers
My kids do a LOT of fun crafts around here! Using old fitted sheets that I don't care about to protect my tables from their arts and crafts mishaps is simply brilliant!
4. Use as Covers For Your Car Seats
Want a cheap and easy way to protect the seats in your car? Use your old sheets!
I don't know about YOUR kids, but mine can make a terrible mess in the car. Using an old flat sheet could really help protect them.
It's also a good idea to always have an old sheet handy in the truck of your car – you never know when you might need it.
5. Make a Braided Rug
Now THIS is a very creative use old old sheets – rip your old sheets into strips and them braid those strips into a throw rug or bath mat like this: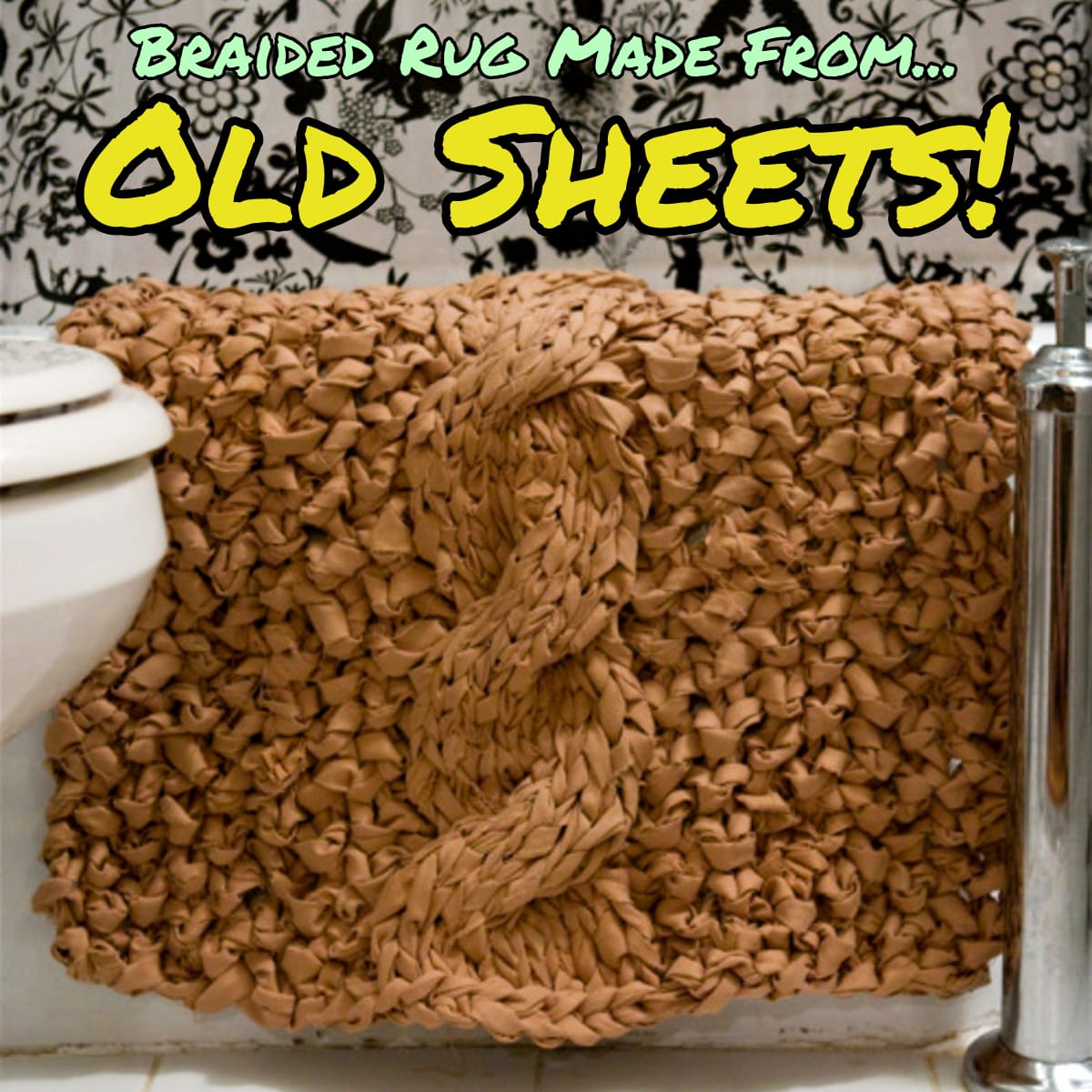 It's really pretty, isn't it?
Here's how she made the one in the picture.
And here's a step by step video tutorial:
6. Make a Heating Pad
Now this idea for my old sheets was not something I thought I could do – did YOU know you make a DIY heating pad with old sheets?
MedicalNewsToday says you can do it with old socks too.
How to make a homemade heating pad from old sheets:
Cut your sheets into square pieces
Put 2 pieces of cut up sheet together
Sew 3 sides closed
Fill with uncooked rice or dry beans
Sew the last side closed
Done!
Then, when you want to use your DIY heating pad, just pop it in the microwave for a minute or 2.
Brilliant!
7. Make a Rag Wreath
Not this idea for what to do with my old sheets is the perfect DIY project for ME.
Why?
Because it's a NO SEW home decorating project (I can't sew for sh*t lol!)
Pretty much all you do it tear your old sheets into small strips and then tie the strips of sheets one-by-one around a metal wreath frame.
They turn out really cute too!
Here's how to make a rag wreath from old sheets:
8. Turn Old Sheets Into a Dog Toy
You can braid your old sheets into a dog chew toy or tug of war toy – I know my uncles dog would LOVE that!
9. Turn Old Sheets Into a Play TeePee
Oh my kids would LOVE this idea for our old sheets!
Take your old sheets and make a teepee fort for them to play in!
This is how Aniko made one for her kids – just look how cute it is!
10. Repurpose Old Sheets Into a Laundry Bag
I think this idea for old sheets is pretty clever, but I DID mention my sewing skills, right? ha!
Here's how Susan made them – and here's what hers looks like:
11. Turn an Old Flat Sheet Into a Play Tent
Here's another idea for my old flat sheets that I'm sure my kids would LOVE for me to do.
Just buy a cheap hula-hoop and drape your old flat sheets around it to make a hanging fort tent for outside.
12. Turn Old Sheets Into New Pillow Cases
If your old sheets are still in good shape EXCEPT for a small stain, rip or hole in one area, turn your old sheets into extra pillow cases.
13. Make a Grocery Bag Holder
You know ALL those plastic grocery bags you have? Why not get a little crafty and turn your old sheet into a plastic grocery bag holder?
14. Make a Dog Bed From Old Sheets
Yep, here's another idea for old sheets that my Uncle's dog will love me for!
You can turn your old sheets into a dog bed or cat bed with some simple sewing and some stuffing (or an old pillow or old comforter).
15. Turn Old Flat Sheets Into Picnic Table Cover
We have a pretty good-sized screen porch on the back of our house and I have a table inside it.
Using my half way decent old sheets as a "I don't care WHAT you spill on it" table cover is a great idea.
Works for picnic tables too.
16. Make a Hammock From Old Sheets
I love this idea so much that I added it as a bonus idea for your old sheets! How fun a DIY hammock would be in our backyard.
Here's how to make one:
Miss Anything?
Go back to the top of: ==>> What To Do With Old Sheets
Go back to a specific section: