---
Small Apartment Organization Hacks – Borderline GENIUS ways to get SERIOUSLY organized with NO storage space in your small apartment or tiny house – even if you're on a budget!
From small apartment kitchen storage solutions to tiny closet storage hacks, below are really creative, unique and CLEVER ways to organize a small apartment or small house when you have NO storage space to work with.
If you're struggling trying to figure out HOW to organize a small space with LOTS of STUFF, these cheap organization hacks will be PERFECT for you – especially if you're on a budget!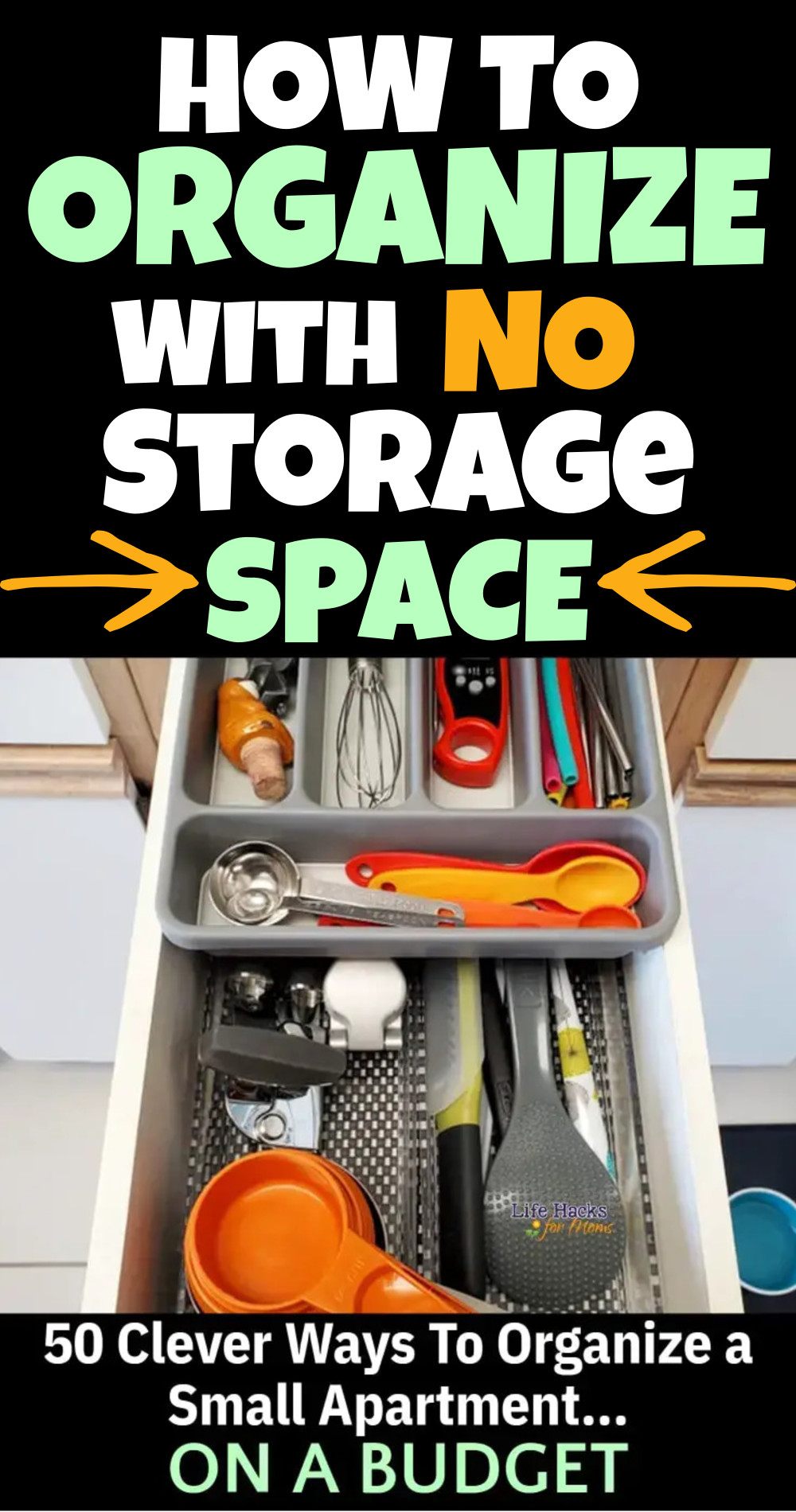 Welcome to Life Hacks for Moms - we hope you enjoy all our tips and tricks for busy moms! Please note that we use affiliate links and ads to generate income at no cost to you.
---
Apartment and Small House Storage Hacks
Organizing a small house or tiny apartment on a budget can be a real challenge – especially of you have too much STUFF-not enough SPACE to put it all (like in a studio apartment).
So what do you DO when your tiny apartment or house has NO storage?
How do you organize your STUFF with NO storage space AND you're on a budget!?!??
If you can't declutter EVERYTHING, you're gonna have to get creative with the space you DO have available to maximize those current spaces in an organized way.
Below are pictures of 50 VERY clever ways to organize a small apartment or small house with NO storage space to work with.
Many of these ideas are simple DIY organization hacks – for example, the small bedroom idea in the picture below.
Others might not be possible for YOU based on your lease or rental agreement (if you rent) – but they are all creative ways to maximize the space you DO have.
1. Lean Into Space Saving Storage Like This: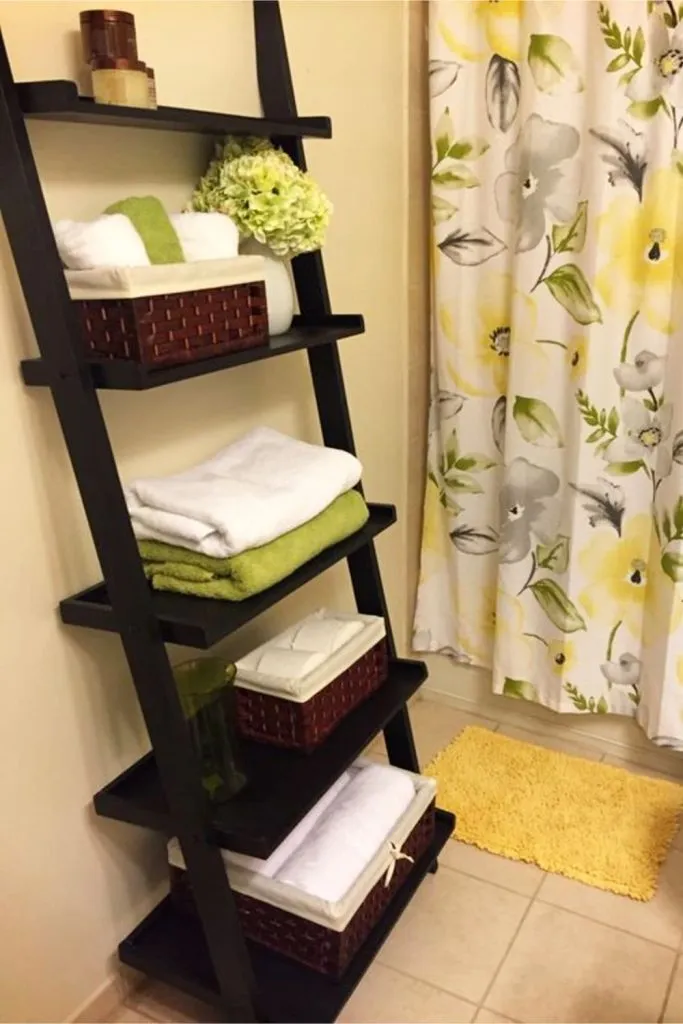 ✅ I found the shelf here
This clever space-saving bathroom organization shelf is functional AND beautiful!
Spotted on: Linen storage ideas for small spaces
2. Use Dual Purpose Organizers Like This: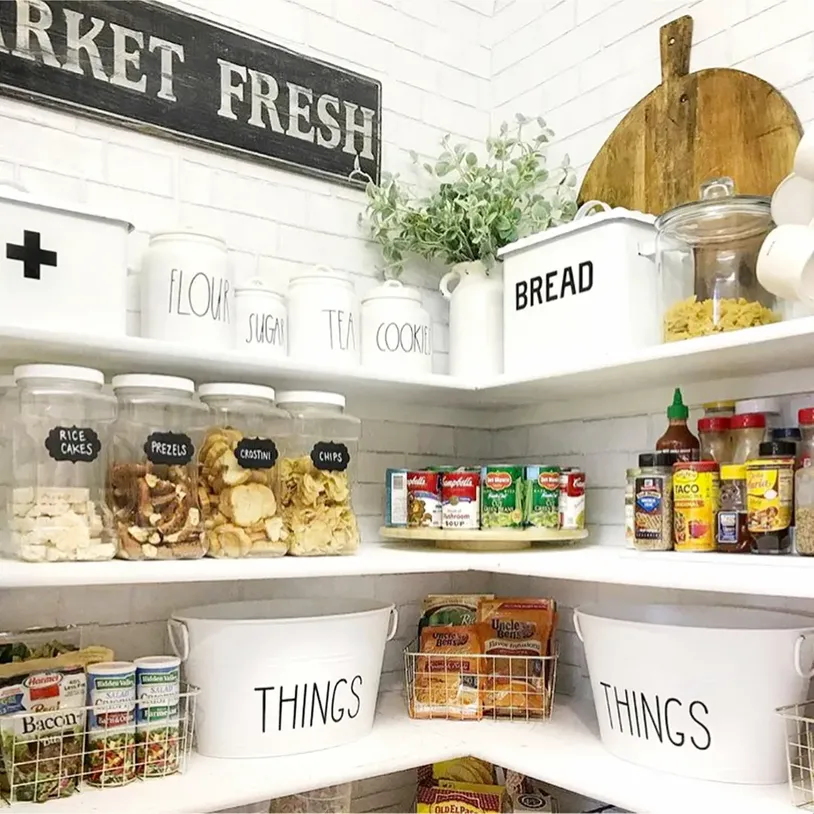 Choose aesthetic organization containers to create more storage space AND make it art of your apartment decor.
Spotted on: Small Kitchen Pantry Organization Ideas
3. Use Baskets For Kitchen Organizers Like This: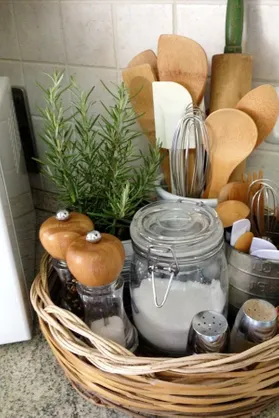 Organizing with baskets can help reduce all the clutter and STUFF on your apartment kitchen counters – bonus: they LOOK good too!
Spotted on: Organizing with baskets – 50 clever ideas
4. Try This Clever Idea For Your Bedroom:
Some really pretty storage baskets can help your stay more organized in a tiny apartment bedroom – and WOW, aren't they gorgeous too?!?!
Spotted on: blush pink bedroom ideas
5. Need More Storage? Look UP and Do This: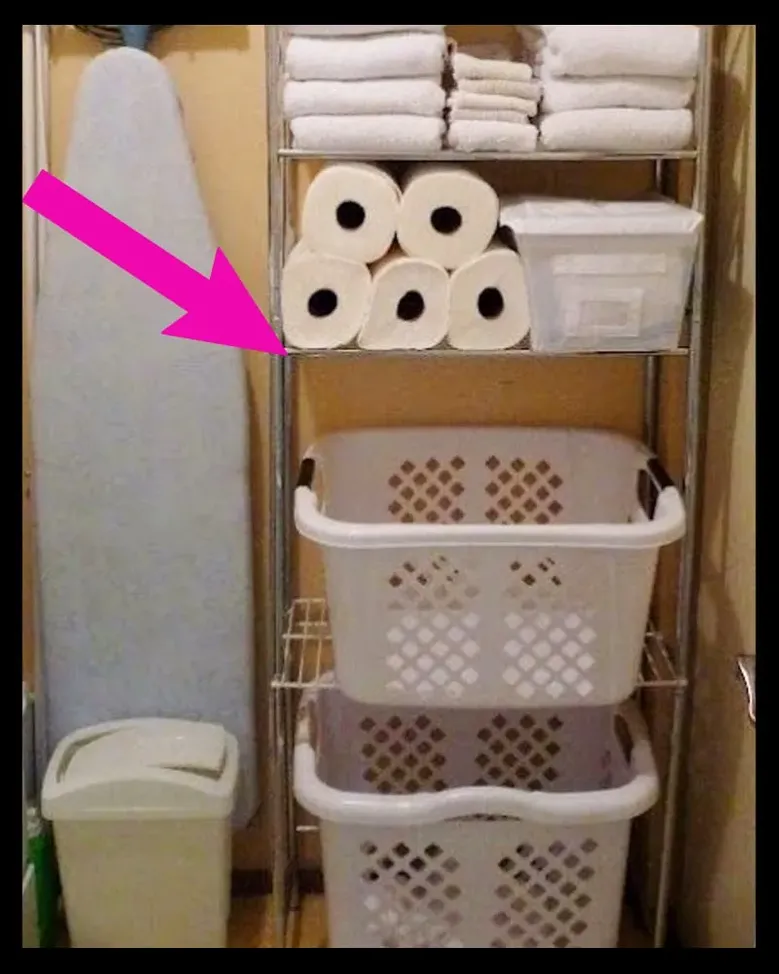 If you need more space for your stuff in your small apartment – look for any empty wall space – then, get some cheap shelves like in the picture above.
Spotted on: Laundry storage hacks for renters
6. Squeeze a Little More Storage In Your Kitchen Like This: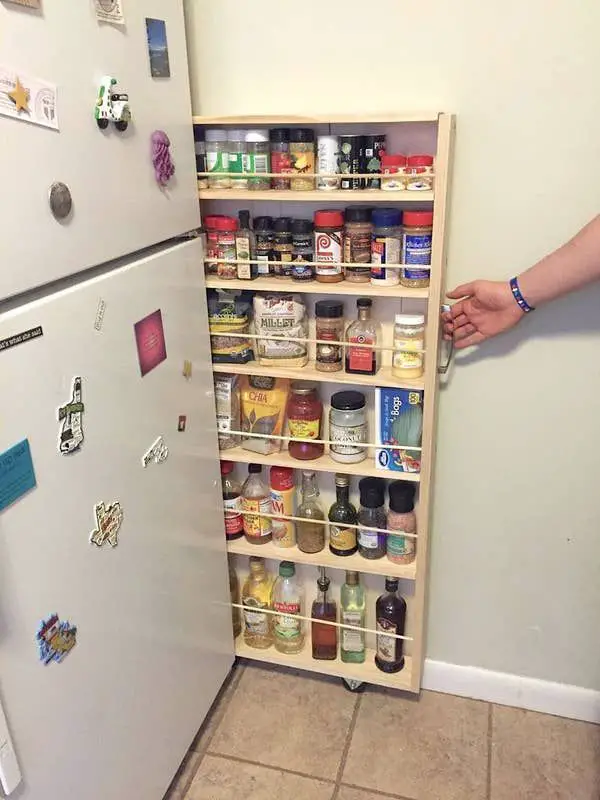 Slide out organizer found here
Even a VERY tiny apartment kitchen has some nook or cranny that can be used for more precious storage space.
This is a GENIUS idea I spotted on Buzzfeed for that unused space next to your refrigerator – just use a slide out organizer like this to INSTANTLY have more storage space in your kitchen.
7. Create a Kitchen Corner Multi-Purpose Area Like This: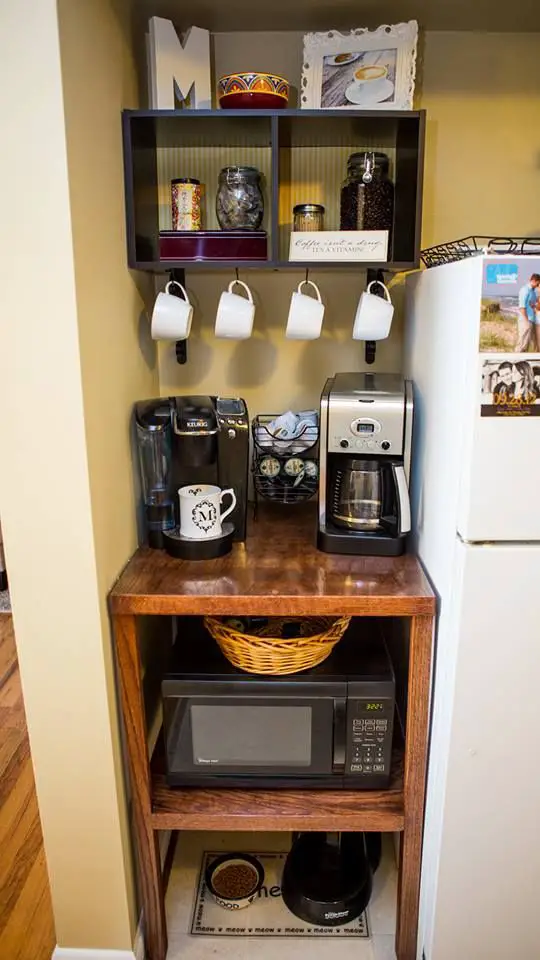 Any small corner in a tiny kitchen offers the opportunity to serve MANY purposes – like this corner coffee bar set up in the picture above.
Not only is it a coffee station, it is also a microwave cart AND a pet feeding area underneath.  Genius!
 My kitchen is white so this shelf would look better✅ I Found It Here But I LOVE this storage shelf – so many uses!✅ I Found It Here
8. Do This UNDER Your Kitchen Sink: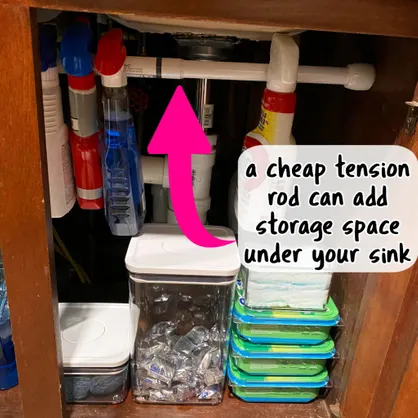 A cheap Dollar Store tension rod to the rescue to get more space in that tiny cabinet under your kitchen sink.
Spotted on: how to organize small apartment kitchens.
9. Use The Same Storage Hack In Your Bathroom Like This: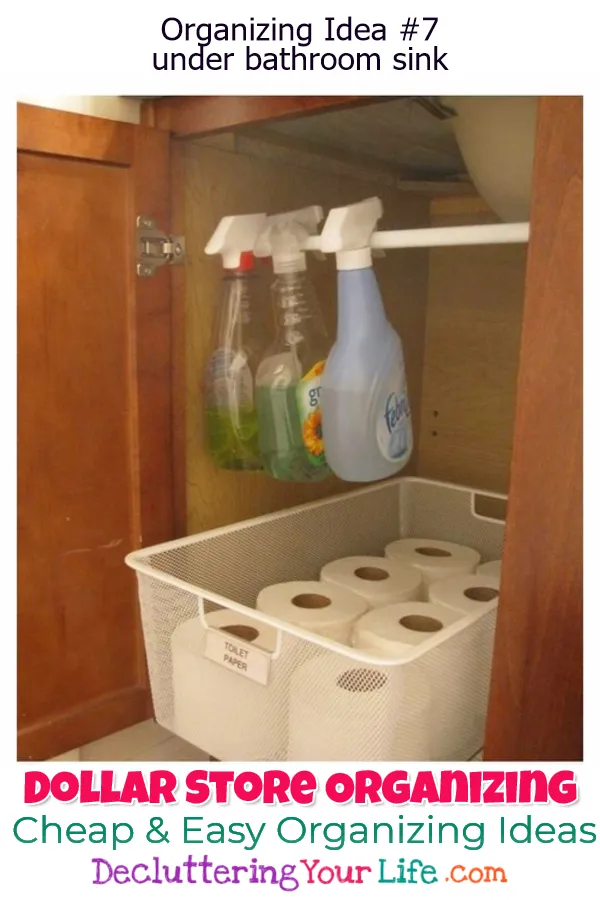 Be sure to get a 2-pack of those cheap tension rods because you can do the same thing under your BATHROOM sink too!
Spotted on: Bathroom Organization Ideas On A Budget 
10. Use INSIDE Your Cabinet Doors Like This: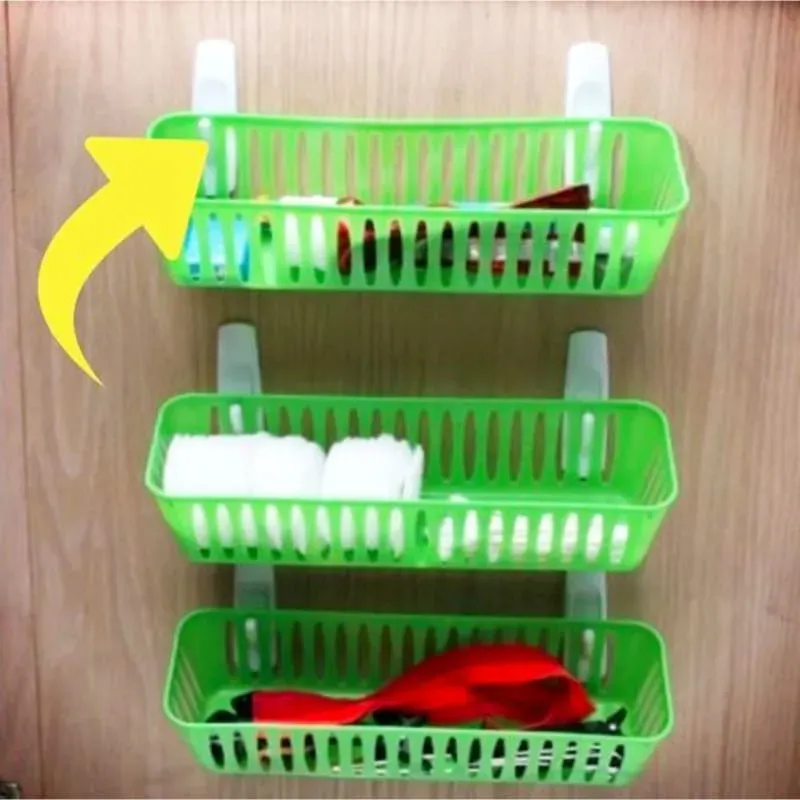 While you're picking up your cheap storage solutions at your local Dollar Store, get some cheap plastic baskets and stick on "Command" hooks.
Hook the baskets INSIDE a cabinet door for more storage space.
Spotted on: DIY bathroom storage ideas to maximize storage space on a budget
11. Try This Small Kitchen Storage Hack: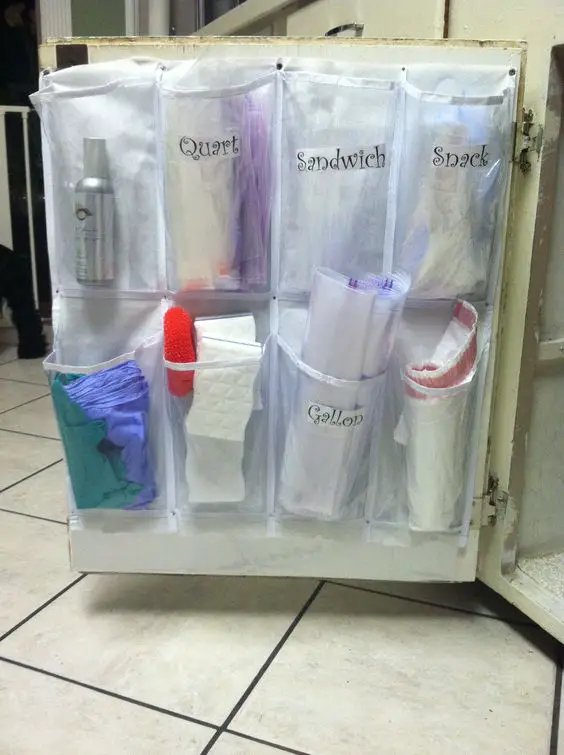 This genius idea spotted on this pin is a brilliant way to store and organize your baggies and Ziplocs and trash bags – just a cheap over the door shoe organizer cut in half and attached inside a kitchen cabinet door.
It's a great way to free up cabinet space, don't you agree?
12. Double Up Drawer Space Like This: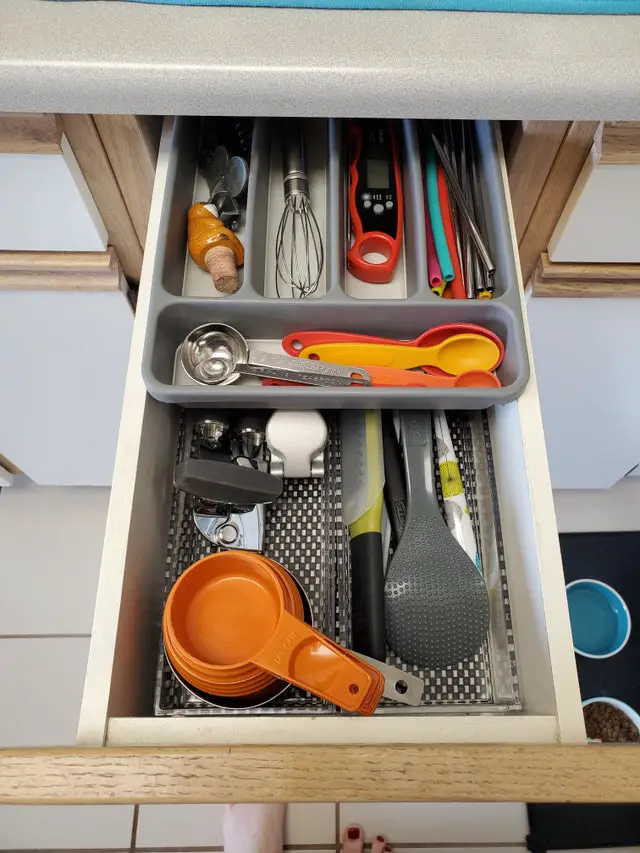 I found the drawer organizer here
Apartment kitchen drawers are few AND tiny – this is a genius idea for doubling the space in your kitchen drawers to get super organized.
13. Use Your Wall Space Like This: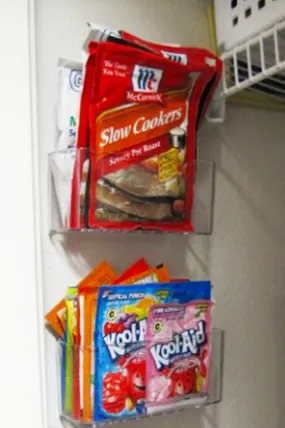 You know ALL those packets of seasoning and Kool-Aid mix, etc that clog up your kitchen drawers?
Why not grab some more cheap organizers from a Dollar Store and hanging them all on the wall?
Spotted on: Mom Hacks for Organizing Life on a Budget
14. Create a Wall Closet Like This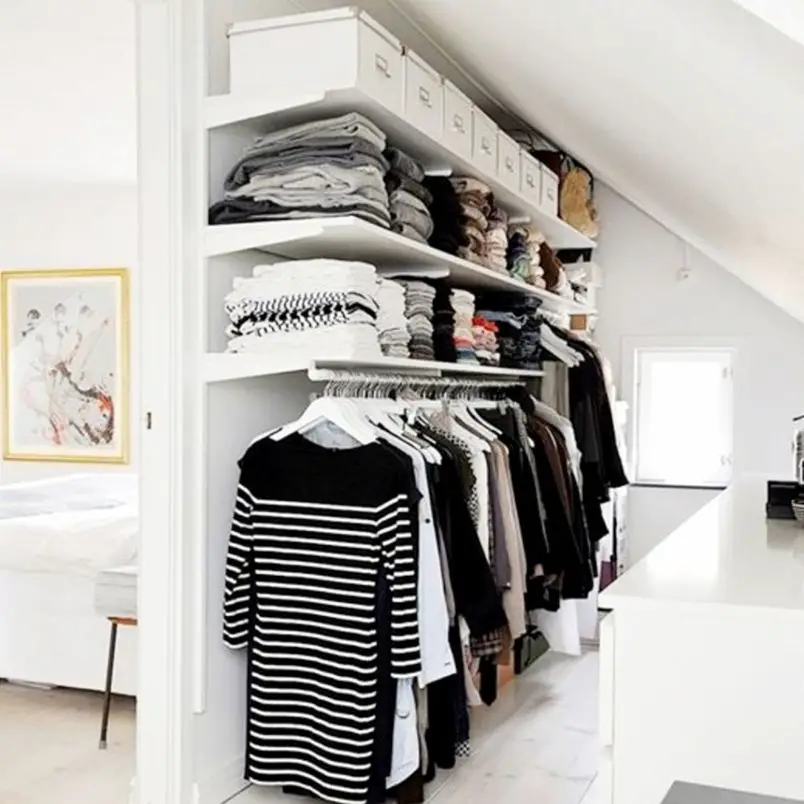 Not enough closet space in your little apartment?
You're not alone!
Don't be afraid to break the "rules" – put your closet on the wall!
Spotted on: Creative DIY Storage Solutions for Small Apartments
15. Organize AND Display Your STUFF Like This: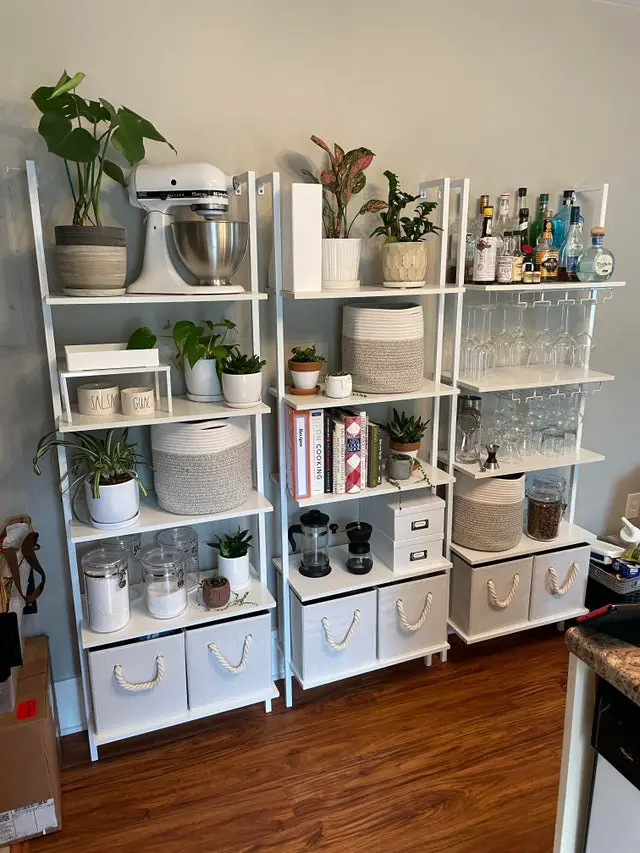 ✅ I found those wall shelves here
If your apartment or house has a very small kitchen, get creative with storage and organization solutions. Don't HIDE it – display it on shelves with these storage baskets like in the picture above!.
16. Get More Space In Your Medicine Cabinet Like This: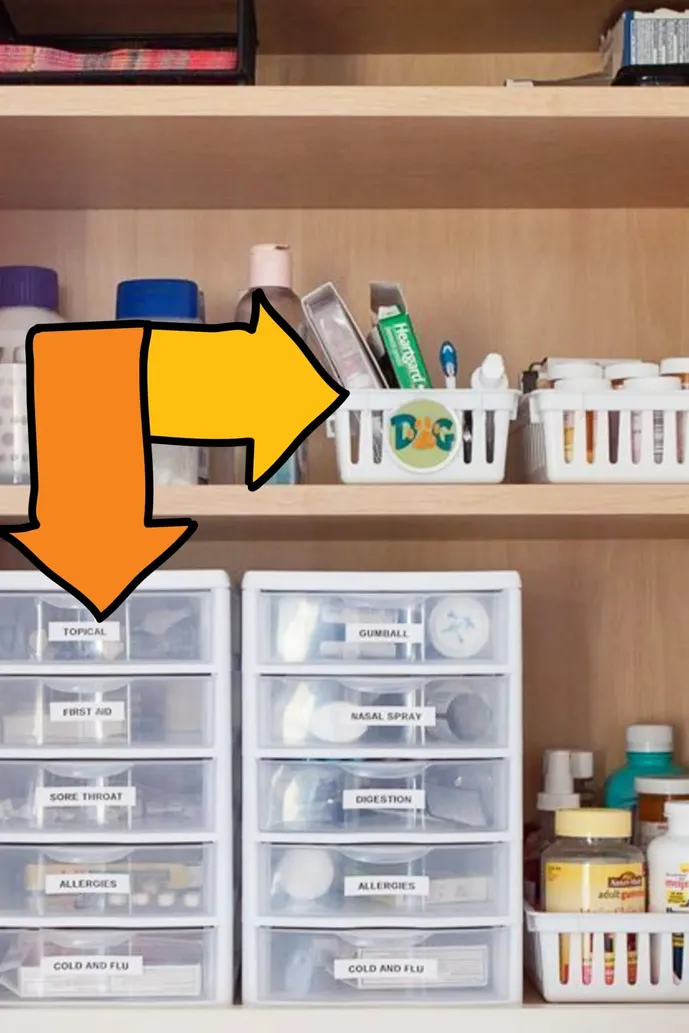 If your medicine cabinet is a cluttered mess, try this idea for getting it organized AND making space to store even MORE stuff.
Spotted on: Creative storage solutions for small spaces
17. Organize Your Water Bottles Like This: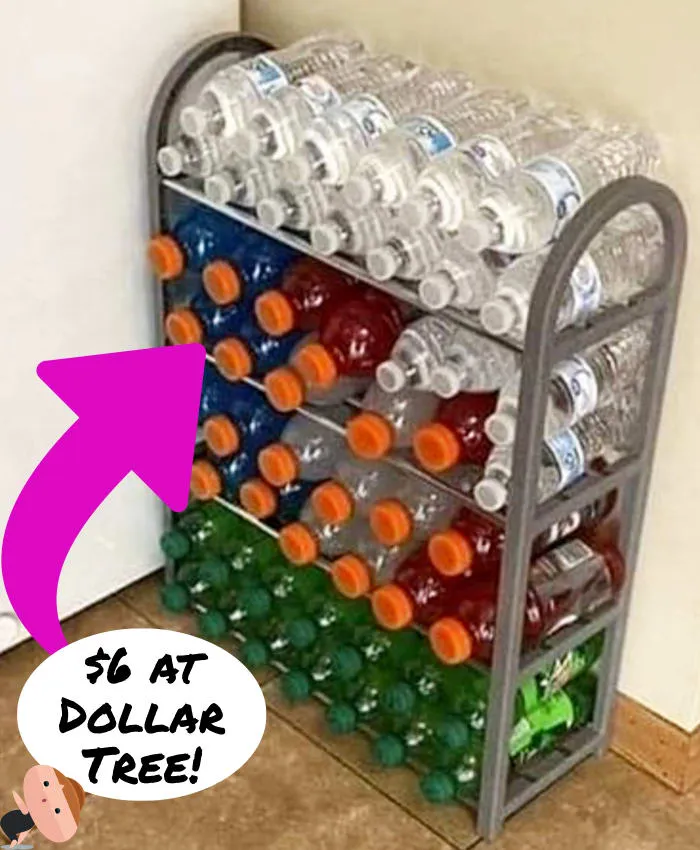 I use this EXPANDABLE water bottle storage shelf – it's AWESOME!
Get all those bottles OFF the floor and try this very clever DIY water bottle storage solution.
Amazing how helpful cheap stuff from Dollar Tree can be!
Spotted on: How to organize a small house with NO storage space
33 More Organization Ideas For a Small Spaces
Miss Anything?
Go back to the top of: ==>> 50 Clever Ways To Organize A Small Apartment
Go back to a specific section:
What To Read Next: