---
Unique Baby Shower Gift Basket Ideas – Cute and Creative Homemade Baby Gift Baskets To Make For The Mom To Be –
What moms REALLY want for baby shower gifts are these cute and UNIQUE baby shower basket ideas!
Let me show you how to put together a baby shower gift basket and how to make a baby shower gift basket at home on a budget.
These baby shower basket essentials are the best baby shower gift for mom who has everything or the mom to be who NEEDS everything.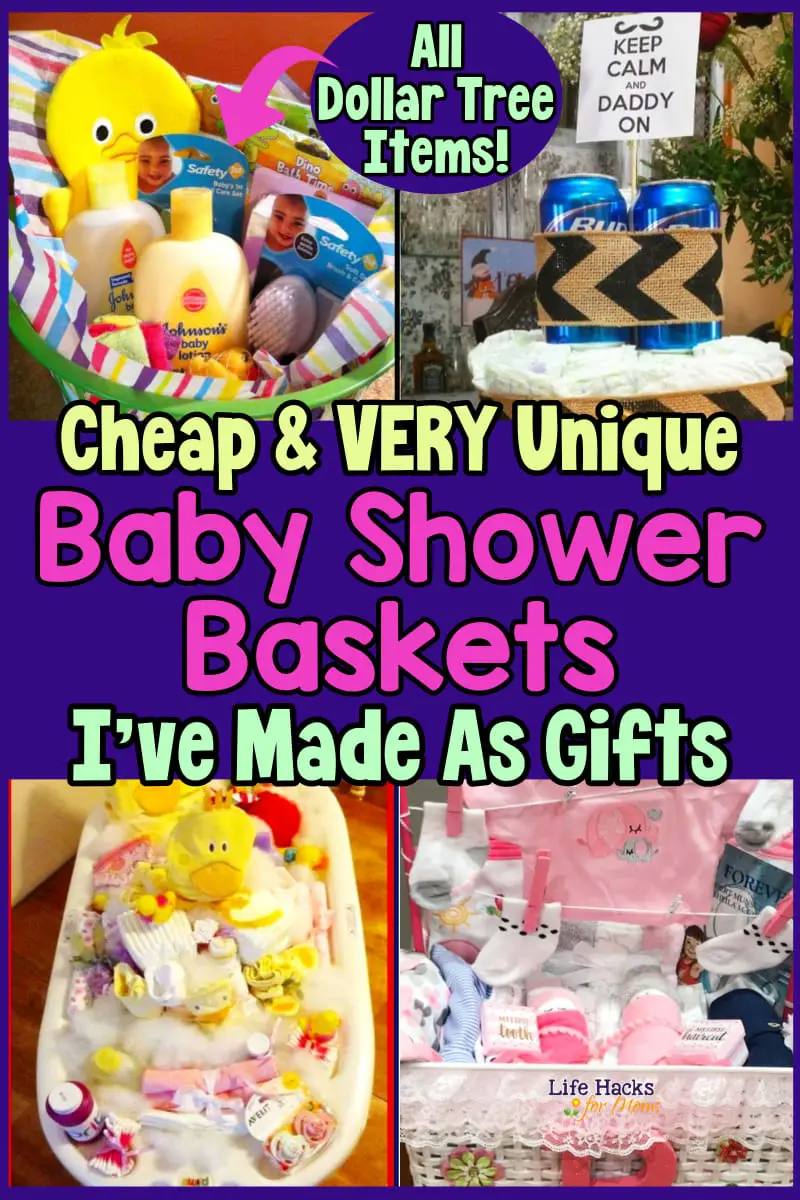 Welcome to Life Hacks for Moms - we hope you enjoy all our tips and tricks for busy moms! Please note that we use affiliate links and ads to generate income at no cost to you.
---
DIY Baby Shower Basket
This homemade baby gift basket idea is PERFECT if you're on a budget, but still want a really unique DIY gift for the new mom.
In fact, you can buy all these baby shower gift basket essentials from your local Dollar Store!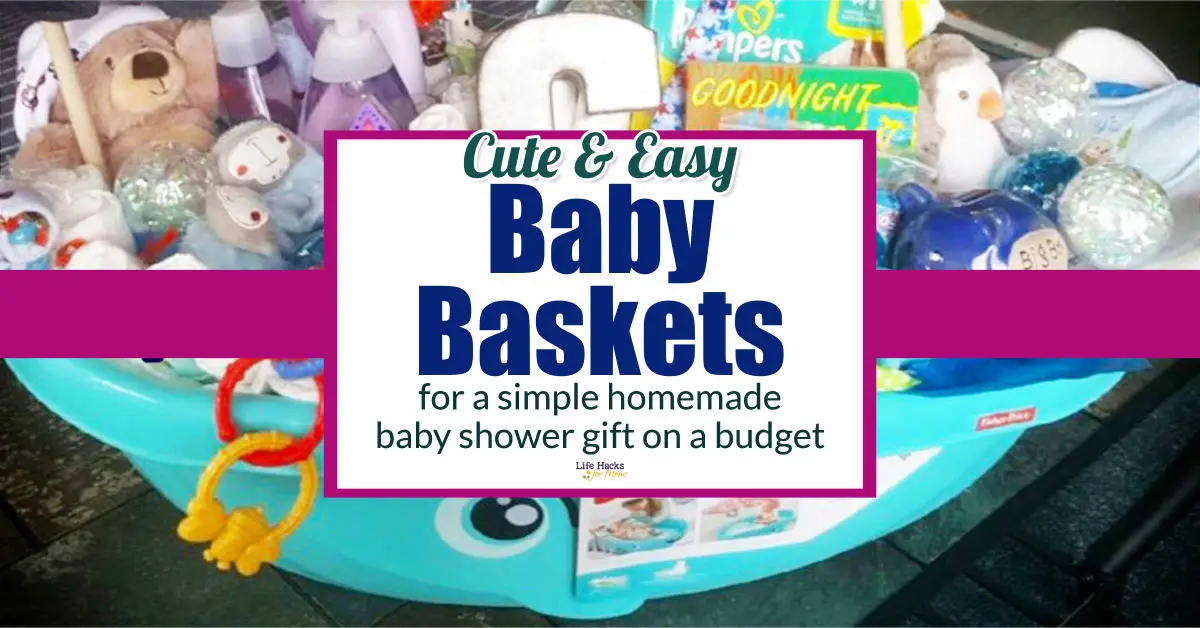 Tip: Add something for the new mom and dad in the baby basket too – things like gift certificates to InstaCart to get groceries delivered or DoorDash to have FOOD delivered are really, REALLY appreciated!
Wondering what to put in this affordable yet CREATIVE baby gift basket?
Here's how to put it together:
Get a baby bathtub (see pictures), hamper or basket and then arrange the items below in it-to save money, get these things at Dollar Tree:
Baby Bath Wash
Baby Lotion
Newborn Brush and Comb
Rubber Ducky
Baby Washcloths
Rubber Ducky Hand Mitt
Bathtime Toys
Q-Tips
Nasal Aspirator
Baby Bath Towels
Bath Water Thermometer
Baby Bath Toys
Pack of Newborn Diapers
Diaper Rash Cream
Grab all those items from your local Dollar Tree, Dollar General or any dollar store as well as a small laundry basket and put everything in.
Here's how the baby basket gift looks once it's all put together: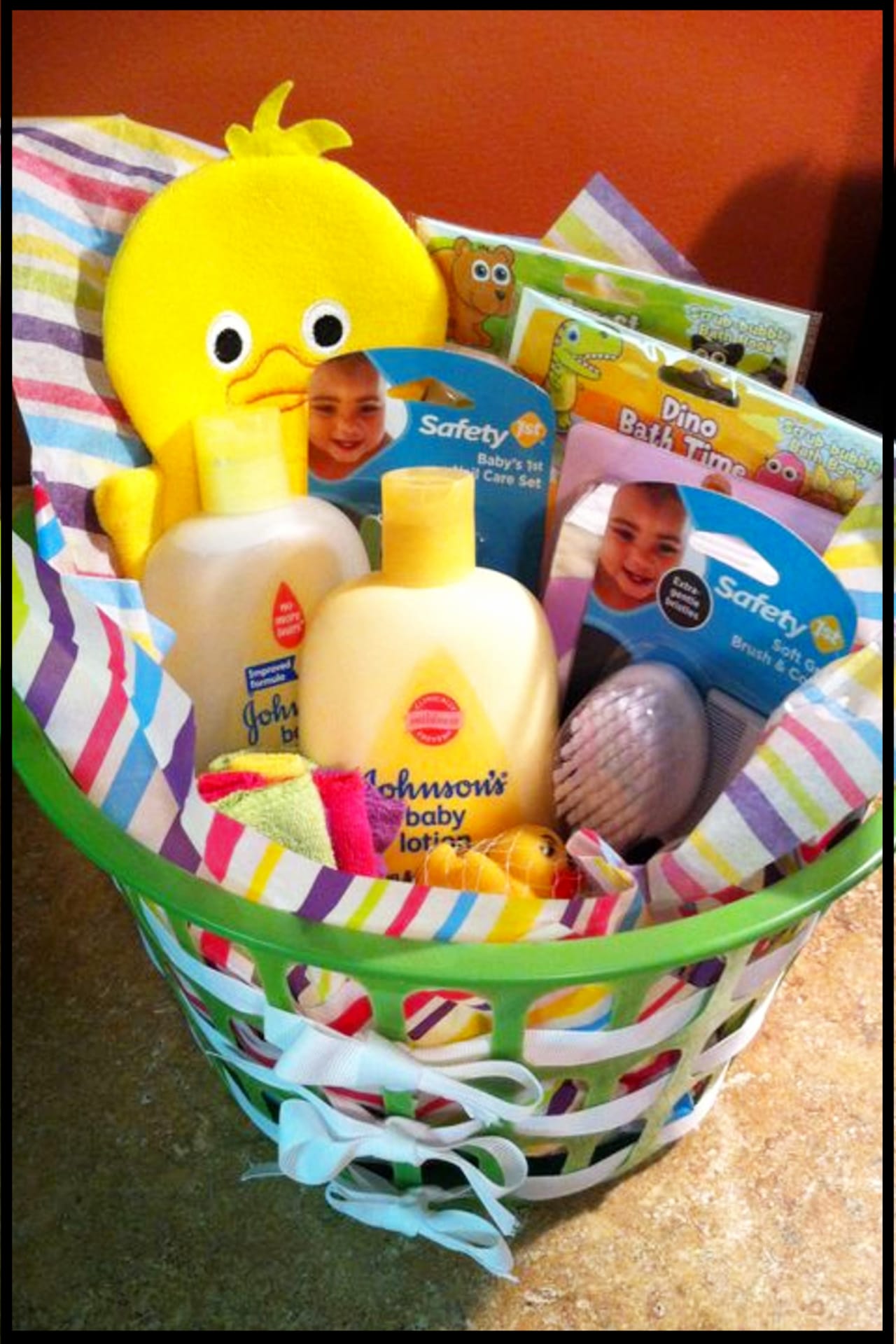 Now this next baby shower gift basket is REALLY cute, but it will cost you a little more to put it together.
Unique Baby Shower Basket Ideas
This baby shower gift basket idea is a unique twist on the normal baby bathtub gift basket idea.
I love the whole "rub-a-dub-dub" baby gift theme this gift basket has!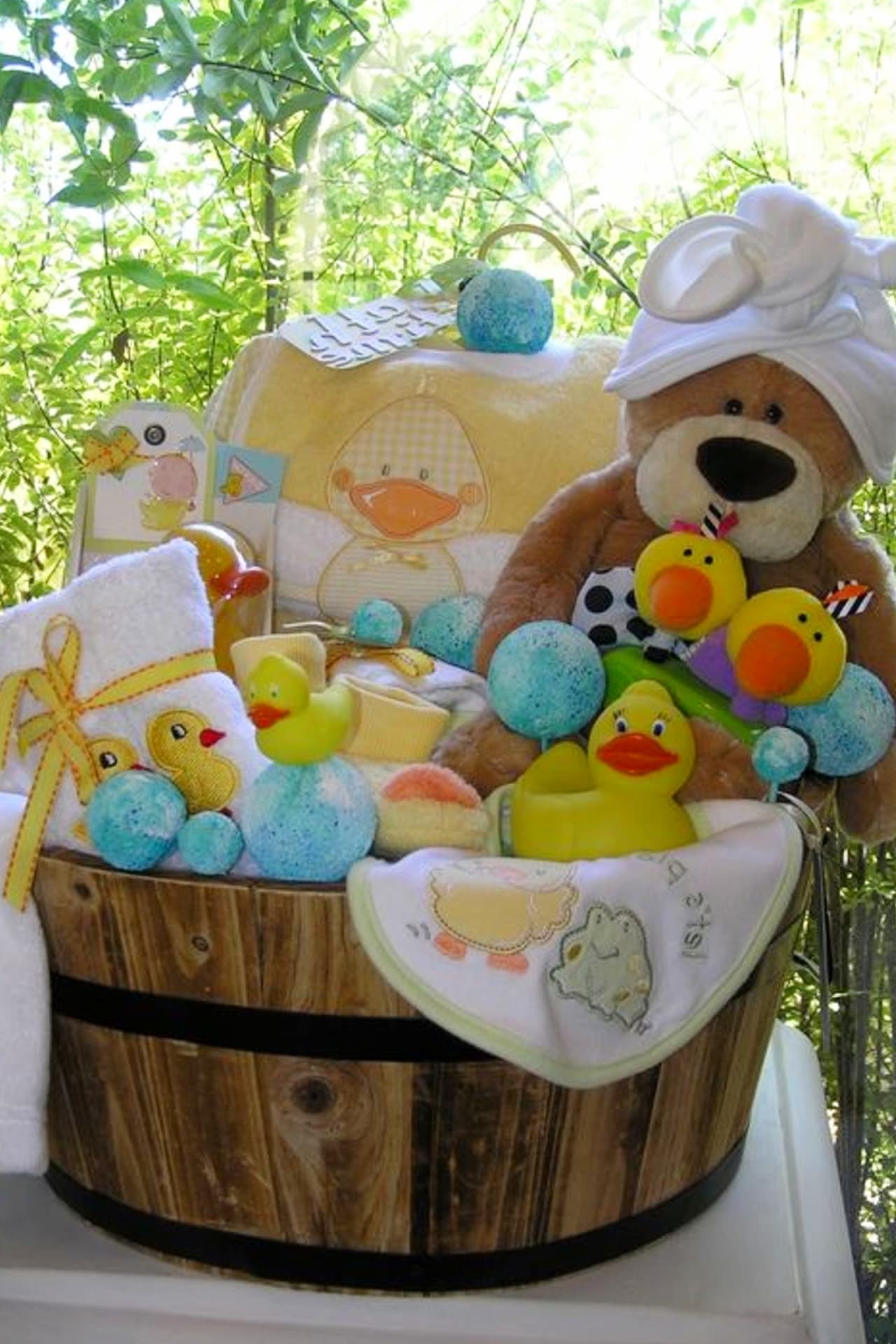 Bathtub Gift Baskets
Nothing is cuter (and more USEFUL) than a baby shower gift basket put together in a baby bathtub.
I found it on this page FULL of DIY baby shower gifts – such cute ideas if you need to make a cheap baby shower gift!
Just get a baby bathtub and turn it into a baby shower gift basket!
✅ TIP:
If you get a baby bathtub like this, you don't have to buy as much to fill it up!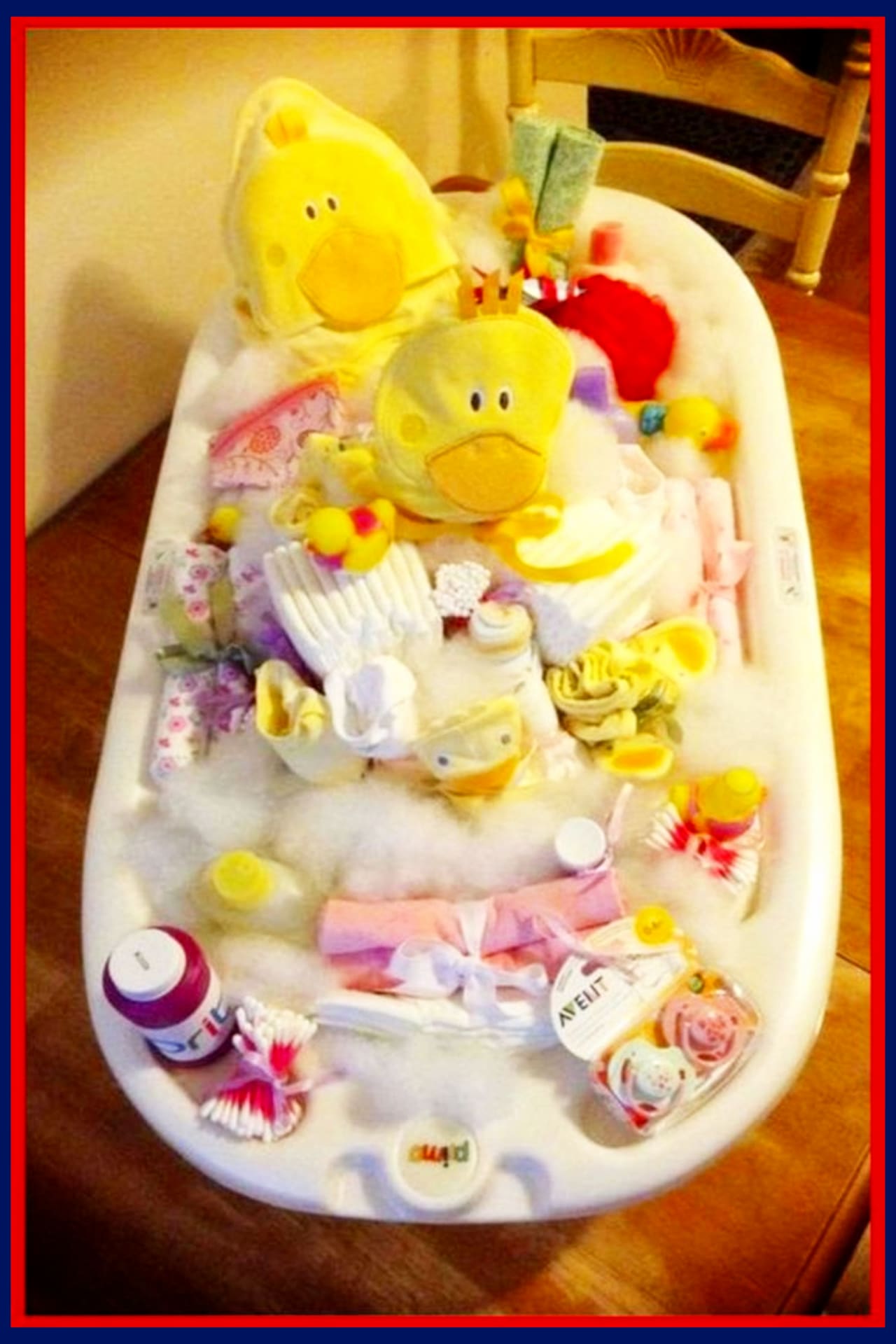 ---
✅ See more cheap DIY baby shower gifts here
---
For Boys
This next idea is such a cute DIY baby shower gift basket idea for a baby boy! My neighbor's baby boy is due in July and this is what I made her.
I love the 'Be Strong and Courageous' sign in the basket, don't you?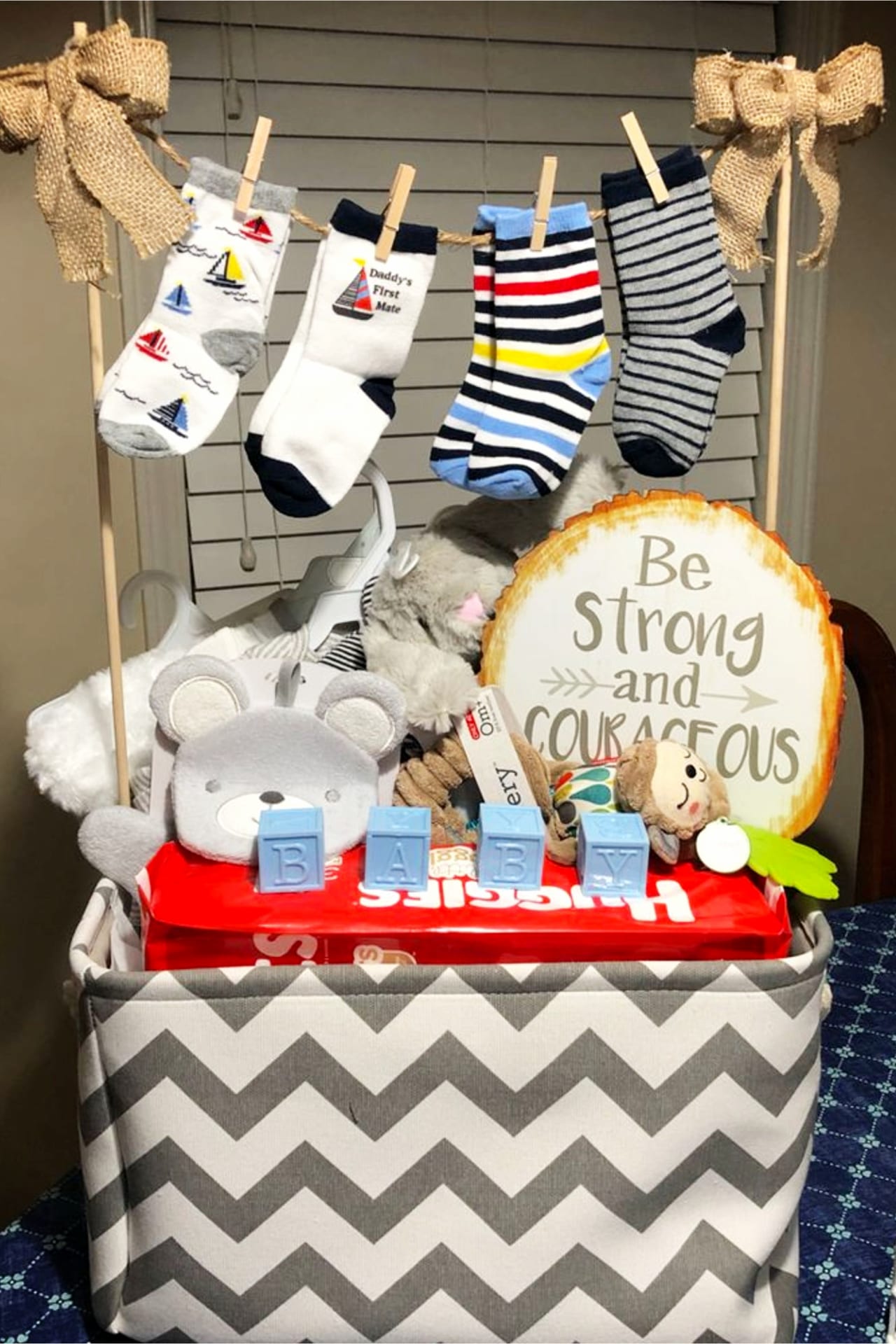 For Girls
If you need an idea for a baby girl gift basket, I really love this DIY gift basket idea below!
Pink, Pink, PINK everywhere…
and it includes my favorite book: Love You Forever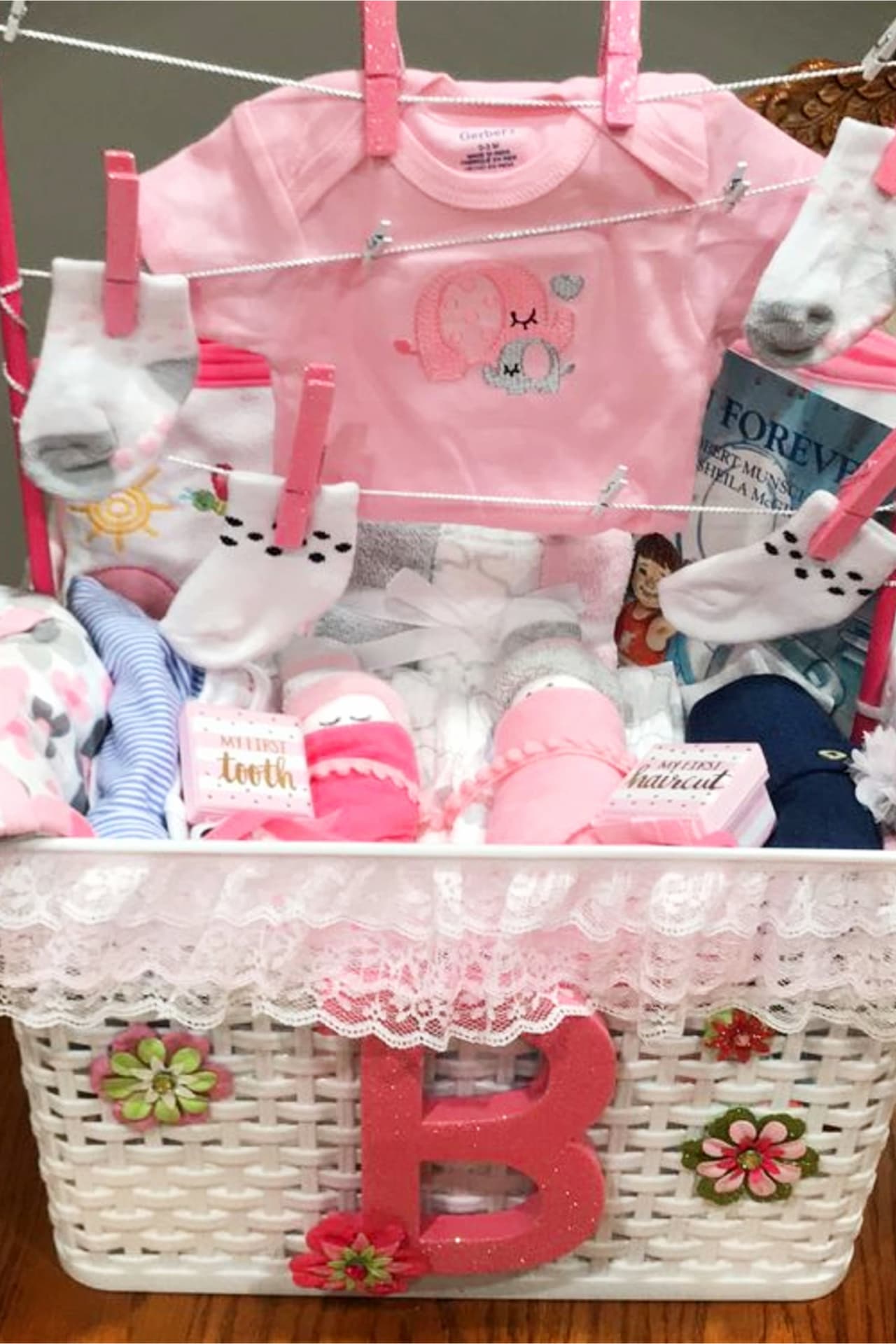 Dollar Tree Ideas
You can make a REALLY cute baby shower gift basket using cheap baby items from your local Dollar Tree or Dollar Store.
This tutorial video below shows you how to make them (for a boy and for a girl)
Gift Baskets For Dad
Oh wait!
We can't forget the Dad-To-Be now, can we?
How about this funny gift for the daddy to be?
If you want a cheap and easy gift basket ideas to make for a new dad, this would probably be VERY appreciated – and, everyone at the coed baby shower (couples baby shower) or gender reveal party will think you are SO creative!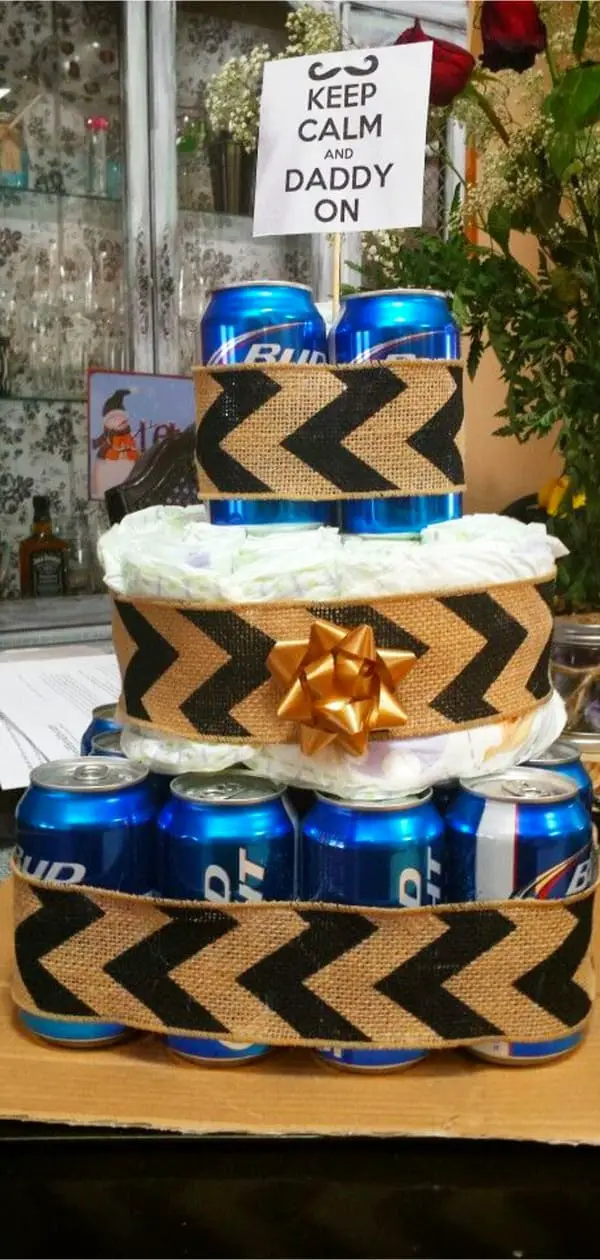 Going to a COUPLES baby shower?
Here's some ideas:
 Couples Baby Shower Ideas✅ See This
More Baby Shower Gift Ideas:
Miss Anything?
Go back to the top of:
Go back to a specific section:
More Gift Basket Ideas
You Might Also Like…
 Baby Shower Cupcake Ideas✅ See This Party Finger Foods on a Budget✅ See This Chore Chart Ideas✅ See This COLD Party Finger Foods✅ See This Coffee Station Ideas✅ See This Raffle Basket Ideas✅ See This