---
Let's skip the basket and create a gift IN a cast iron skillet or cast iron pan – fun, right? And wouldn't it make a great housewarming gift or wedding present?
Let's look at some clever cast iron skillet gift baskets you can make no matter what your budget is.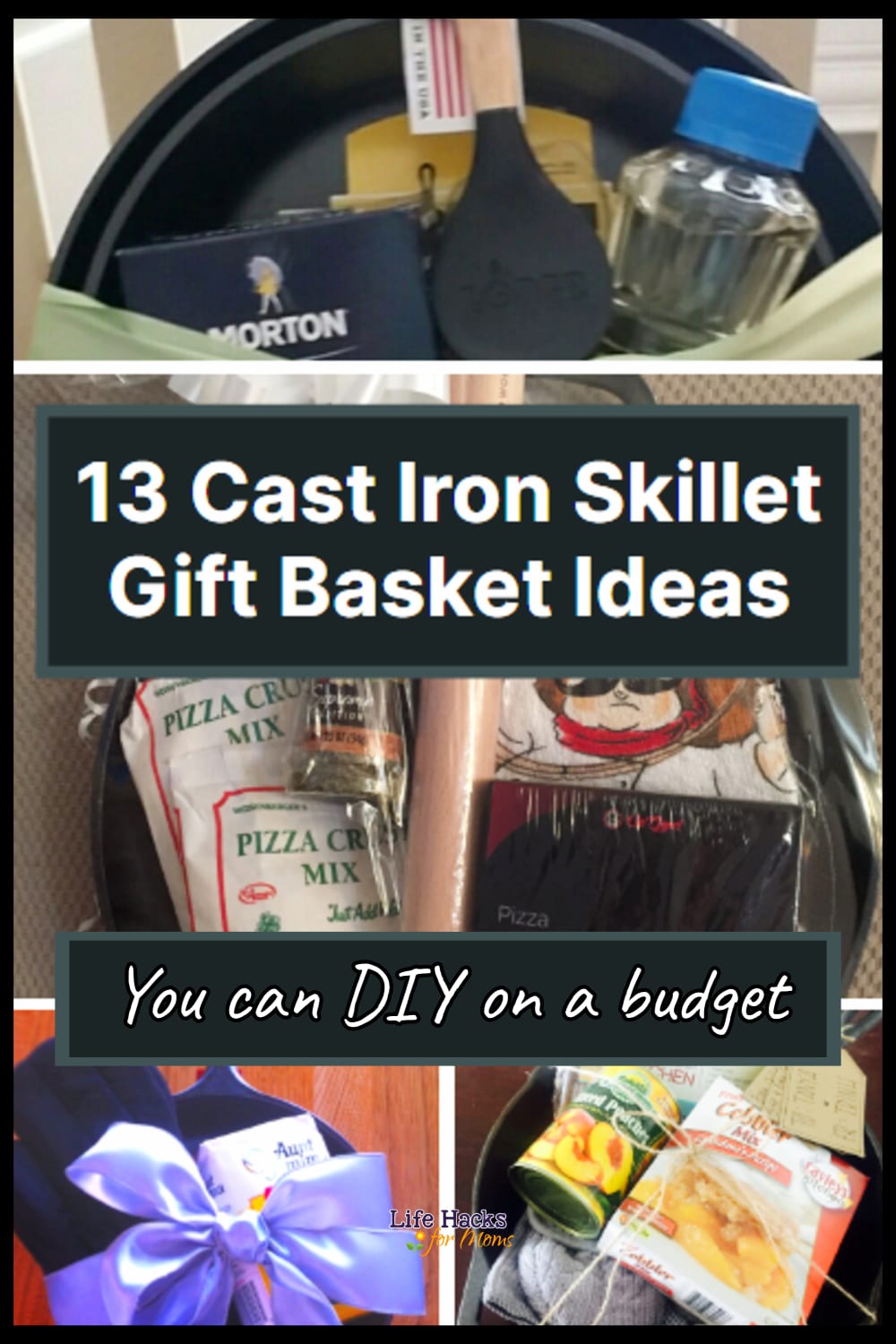 Welcome to Life Hacks for Moms - we hope you enjoy all our tips and tricks for busy moms! Please note that we use affiliate links and ads to generate income at no cost to you.
---
Unique Ideas for the Perfect Cast Iron Skillet Gift Basket –
Homemade gift baskets are one of the most personal and AFFORDABLE gifts you can give – best of all, EVERYONE loves receiving a gift basket! These unique gift basket ideas also make the perfect "Congratulations on your new home!" housewarming basket (I give them ALL the time lol!)
If you're looking for ideas to make a gift basket with a cast iron skillet, take a look below at my favorite homemade cast iron skill gift basket ideas YOU can make for that someone special-even if you're on a budget.
Cast Iron Skillet Gift Baskets
I've come across some cute cast iron gift sets at Kohls and Wayfair, but I really wanted to MAKE a unique (and inexpensive) gift basket using a cast iron skillet as the gift "basket".
Turned out to be pretty easy – found a lot of the skillet gift basket items at Aldi, Publix and Kroger which saved me a ton of money making these homemade housewarming, bridal shower and wedding gifts (yes, EVERYONE wants one! We're from the South so cast iron is VERY important and when you use cast iron as part of the themed gift basket, we all lose our minds… it's the BEST wedding gift ever!)
It's not hard to figure out how to wrap a cast iron skillet because you're using the skillet at the basket. Just place the basket items and leave as is, or get some clear cellophane and wrap around the entire skillet and close it with a pretty bow – done!
I'm telling you, cast iron skillet gift ideas are THE best – especially for DIY housewarming gifts!
Tip: don't think they'd want cast iron? Use a frying pan instead or a dutch oven – it's cheaper and might be what they'd rather receive. Creative kitchen gift baskets do not require a cast iron skillet – it might just be a Southern thing lol!
Cast iron skillets are a staple in many kitchens all over the world – especially here in the South.
In fact, cast iron has been used for cooking since the 1800s!
These skillets are easy to use, last FOREVER if taken care of and can produce an even cooking surface for frying and for baking. They can also be used to make things like frittatas, omelettes, and pancakes.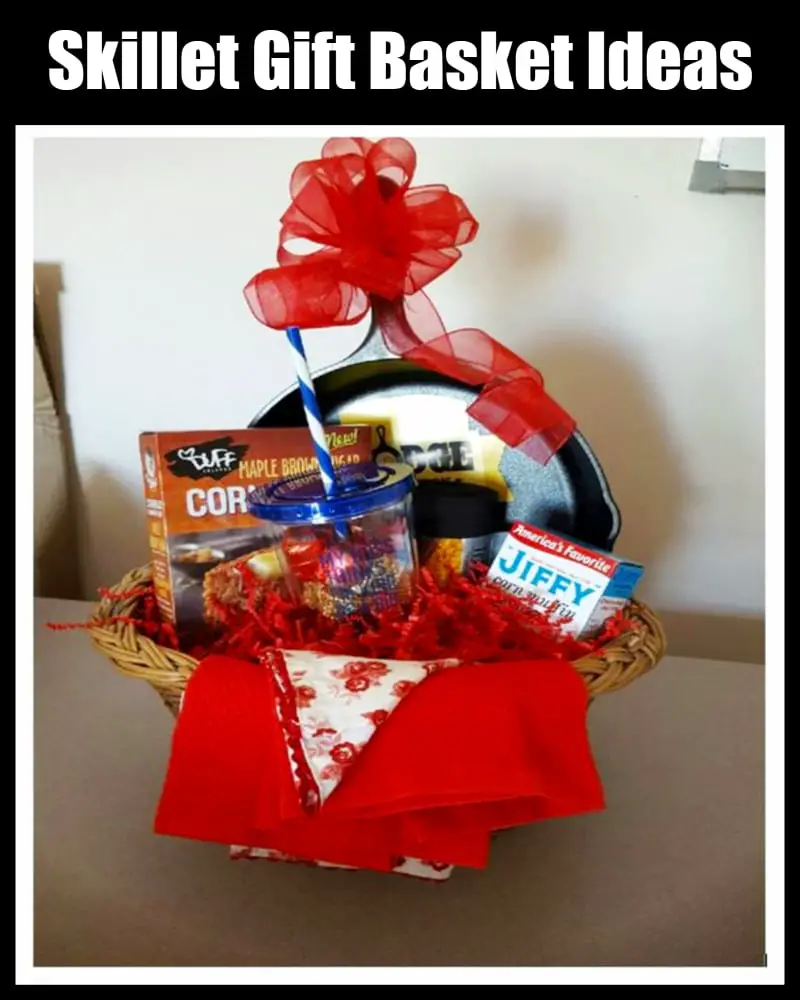 Making a gift basket for a friend or family member that includes a cast skillet is a WONDERFUL gift idea that will be greatly appreciated.
Below are some of my favorite DIY cast iron skillet gift basket ideas you can make even if you're on a tight budget.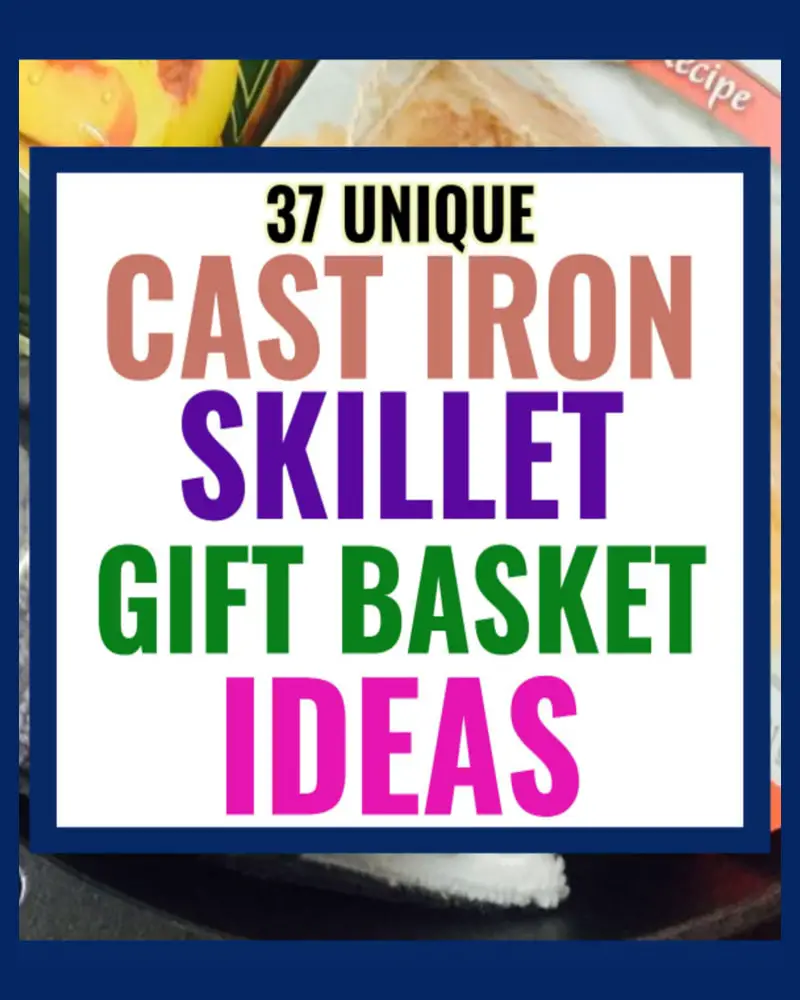 Cornbread Cast Iron Skillet Gift Basket
I'm Southern so my cast iron skillet is used mainly to make cornbread.
And I make cornbread ALL the time (but it's most requested when I make my cornbread dressing recipe for Thanksgiving).
When I got married (the first time, cough, cough), I was gifted what I consider the PERFECT cast iron skillet gift basket – it included all the ingredients and the utensils needed to make cornbread PLUS her secret recipe all wrapped up in a pre-seasoned cast iron skillet.
It was one of my all-time favorite gifts – and I still use it to this day.
Yep, it lasted longer than the first husband lol!
I also now pass along that tradition of this version of a cast iron pan gift basket – I make them and give them to any friends or family that are newly married, as a housewarming gift, for Mother's Day, Christmas, as bridal showers gifts and hostess gifts.
Peach Cobbler Iron Pan Gift Basket
Another gift basket idea is to include all the ingredients for making homemade peach cobbler in a cast iron skillet – SEE PICTURES.
Things like cans of peaches, sugar, the baking mix, etc – if you have your own favorite recipe to make peach cobbler, include that as well.
What IS Peach Cobbler?
Peach cobbler is a classic Southern dessert that can be made in the oven or on top of the stove. Its main ingredients are usually peaches and crust, which are mixed with cinnamon, sugar and butter to create a sweet filling that is topped with a biscuit-type dough.
It is SO good!
Skillet Cookie Gift Pan Idea
If you've never tried a skillet cookie recipe cooked in a cast iron pan, you are missing out on one of the yummiest creations in the world!
I've been making skillet cookies since I was a little kid.
I'm not sure if it was because my grandmother wanted to keep me occupied in the kitchen or if she just didn't want any more dirty dishes than necessary, but she would always let me help her with her favorite skillet cookie recipe which was one of my grandmother's favorite recipes she made that we ALL loved!
I've done the same with my kids – and now, my grandkids.
Making skillet cookies has provided for wonderful and irreplaceable memories for ALL of us through the years. Giving a gift basket with skillet cookie ingredients in it is a great way to help those you love start their own memories and traditions to pass down.
Now, let's talk about the care of cast iron skillets…
If you're gifting someone a cast iron skillet, whether it's pre-seasoned or not, make sure you share with them HOW to TAKE CARE of it.
 The BEST Cast Iron Cookbook✅ Get More Info Cheap Cast Iron Skillet Gift Set✅ Get More Info
How To Clean a Cast Iron Skillet
Many folks swear that your should scrub the skillet with hot water using a stiff brush to scrub away any clumps of food and grease –
I say, and generations before me have said, that yes, you want to clean the skillet but not ALL the greasy coating – that's the seasoning!
Cast iron is NOT like stainless steel cookware at all.
 Cast Iron Cleaning Set✅ Get More Info Best Cast Iron Gift Set✅ Get More Info
For example, if I make cornbread, will lightly remove any stuck on food (which is rare because I take great care of my cast iron skillets) then I simple rinse it out.
I know that when I make cornbread the next time, that the skillet will preheat in a VERY hot oven before any food gets put in it – which sterilizes it.
Whatever you do, do NOT put your cast iron skillet in the dishwasher – ever!
The seasoning part will be destroyed and you'll have to season the skillet all over again.
The true beauty of cooking in cast iron skillets is that the more you cook in it, the better the food cooked in it will taste over time.
How To Season A Cast Iron Skillet
If you're new to the world of cast iron cookware, in this quick video below, Martha Stewart will show you how to season and take care of your cast iron pots and pans.
 Cast Iron Skillet Seasoning & Soap Set✅ Get More Info Best PRE-Seasoned Cast Iron Skillets✅ Get More Info
I sure hope one of the DIY cast iron skillet gift basket ideas above gave YOU some inspiration of what to put in your gift basket for that someone special.
Be sure to pin this page to Pinterest to save these ideas for later.
Thanks for stopping by!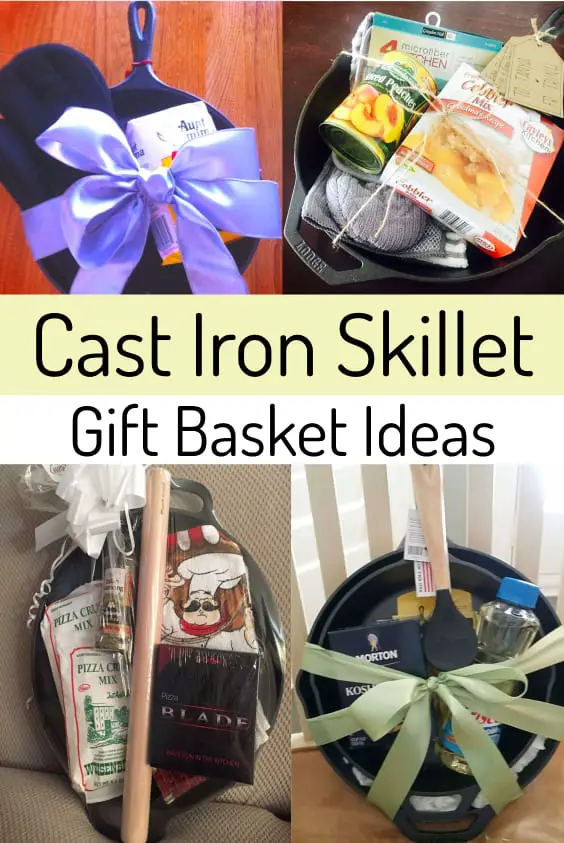 This post originally appeared on Jen's Clever DIY Ideas. See it there: Cast Iron Skillet Gift Basket Ideas For Any Budget