---
Matching Gifts – the PERFECT Gift Ideas for Couples – Buying matching gifts with your significant other can seem cheesy and corny, but nobody can deny it's really fun.
So why not coordinate outfits, ornaments, shoes, or even mugs with your loved one if it makes you happy? 
OR, buy a matching gift for the couple YOU love (because trust me, it will make THEM happy too!)
Let's take a look at 8 super unique gift ideas for couples that want to MATCH.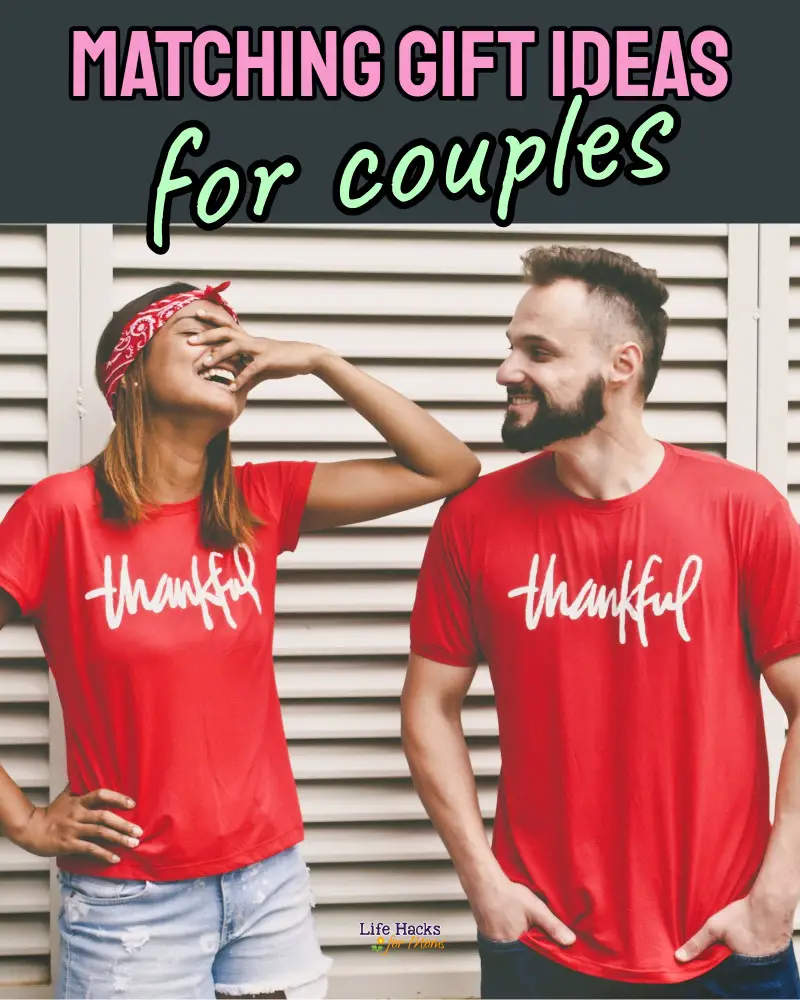 Welcome to Life Hacks for Moms - we hope you enjoy all our tips and tricks for busy moms! Please note that we use affiliate links and ads to generate income at no cost to you.
---
Be it Valentine's day or your Anniversary; there are several matching gifts that couples can buy and go all-out in their public display of affection.
You could also consider buying a coordinated or matching couple's gifts for your friends or parents.
Here are some swoon-worthy matching gift ideas for couples that would remain memorable for years to come.
Magnetic couple bracelets
If you're joined at the hip, why not be joined by the wrists as well (Literally, this time)?
Magnetic bracelets get attached to each other when they are brought close.
You can choose from various colors and even stick to the traditional red and blue colors if you want. 
 Matching Couples Bracelet Set-Magnetic✅ I Found It Here Pinky Promise Matching Bracelets For Couples✅ I Found It Here
With the magnets on your wrist, you and your loved one would feel connected even if you two are miles apart from each other.
It would certainly make for a beautiful gift to give your significant other on Valentine's day or your anniversary. 
Matching custom t-shirts
How about a matching t-shirt with a customized design on it?
You could have a personal quote or even your own pictures designed on it.
Sure it sounds a bit cheesy, but who cares?
You can design clothing for yourself at Printful and gift that to your someone special – or to your favorite couple (newlyweds LOVE that stuff!) 
You can also design matching t-shirts for your BFF or parents if their anniversary is right around the corner.
Another option is getting standard couple matching t-shirts with "together" written on one t-shirt and "forever" written on the other, or maybe "King" written on one and "Queen" written on the other.
There are countless options to choose from!
Promise rings
Promise rings have been around for a long time. They happen to have a rich history, with their origins being back in 16th century England.
As the name suggests, it signifies a promise made between two people to commit to each other. They are often called pre-engagement rings. 
Exchanging promise rings is one of the most beautiful gestures in the dating phase. You can buy matching promise rings for yourselves if you want to take your relationship to the next level.
Promise rings can come in various designs, but the most common promise rings have an infinity symbol on them, which symbolizes the never-ending love the wearers share between the two of them. 
Mr. and Mrs. Mugs
Mugs make for excellent birthday and anniversary gifts.
Shoot, I have SO many mugs that were gifts and souveniers and ones I've bought for myself – I LOVE mugs!
My mother says I have "too many mugs" (?)
C'mon, can you EVER have too many mugs?
Is that even a thing?
Mr. and Mrs. mugs like these are very popular gift choices in the market for couples right now. These mugs come in various sizes, shapes, designs, and colors. 
Not only do they look fantastic, but they are also very utilitarian. Start your mornings with your significant other by drinking your latte in matching coffee mugs.
You could also use the mugs for display purposes. 
If not, "Mr and Mrs.", or not quite yet, you can also have custom mugs designed for couples or for you and your other half.
You can have your favorite picture printed on the mugs, too. This can give a personal touch to the gift. 
I saw some really cute matching mugs in a Jack and Jill raffle basket at a shower last month – everyone loved them!
Matching phone cases
Speaking of buying matching stuff, identical phone cases are not a bad idea either, is it now?
It's a very creative way to show the love you have for each other – and that your his, and he is yours.
The matching covers could include creative graphics, such as two halves of a heart joining when the sides of the covers are brought together. 
Another beautiful graphic is the pinky fingers of two hands joining, or maybe one displaying the stars, the other the moon.
Again, if standard couple phone covers don't tickle your fancy, you can go for custom-made phone covers. 
A creative custom phone cover idea is selecting a photo of yours with your significant other and cropping the picture from the middle, with one side of the photo printed on one cover and the other on the second.
This way, when both halves are brought together, the couple's picture would be complete! It's time to choose the best photo of yours.
Magnetic keychains
If you want to be a little low-key, you can go for magnetic keychains. They are cute little gifts that are not as flashy as matching t-shirts or phone covers but symbolize the love between two people nevertheless. 
Couples often buy keychains with two halves of a heart. When they connect, the heart gets complete.
If you want to be a bit more subtle, you can go for other designs, such as two whales kissing when connected with the magnet. 
Pillowcases
Pillowcases are also a popular gift for couples.
If your BFFs anniversary is coming up, you can buy them a cute pair of pillowcases, one for your friend and the other for their partner.
It's also a very clever way of making them think of you every day.
You can choose the design for the pillowcases as well. Google design ideas, and see what catches your eye. If not, you can have some memorable moments of the couple printed on the case. 
Custom aprons
Couples that cook together stay together.
What's the best way to encourage your partner to cook with you?
By buying matching aprons, of course!
Not only would they look cute, but they also give you two a reason to make your own meals and make memories in the kitchen.
You can pick any design for the aprons you want or get ready-made couple aprons from the market.
Now you can cook with your partner without getting any speck on your clothing while looking adorable cutting the vegetables. 
Whether you want to gift something to your loved one, your friend, or your parents, these matching gift ideas for couples should definitely help you out in selecting the perfect present.
Custom stuff always manages to bring a smile to the face of the receiver, there's just something so unique and extra personal about it. 
What To Read Next: