---
Let's talk CHOCOLATE smoothies. The fast and easy chocolate smoothie recipes below are both delicious AND healthy. The smoothie drinks of today have gone from the traditional to the bizarre. That's because smoothies are very versatile – you can mix almost anything, and yet, it will still usually taste good.
But the one smoothie recipe type that kids and adults alike go gaga over – chocolate smoothies.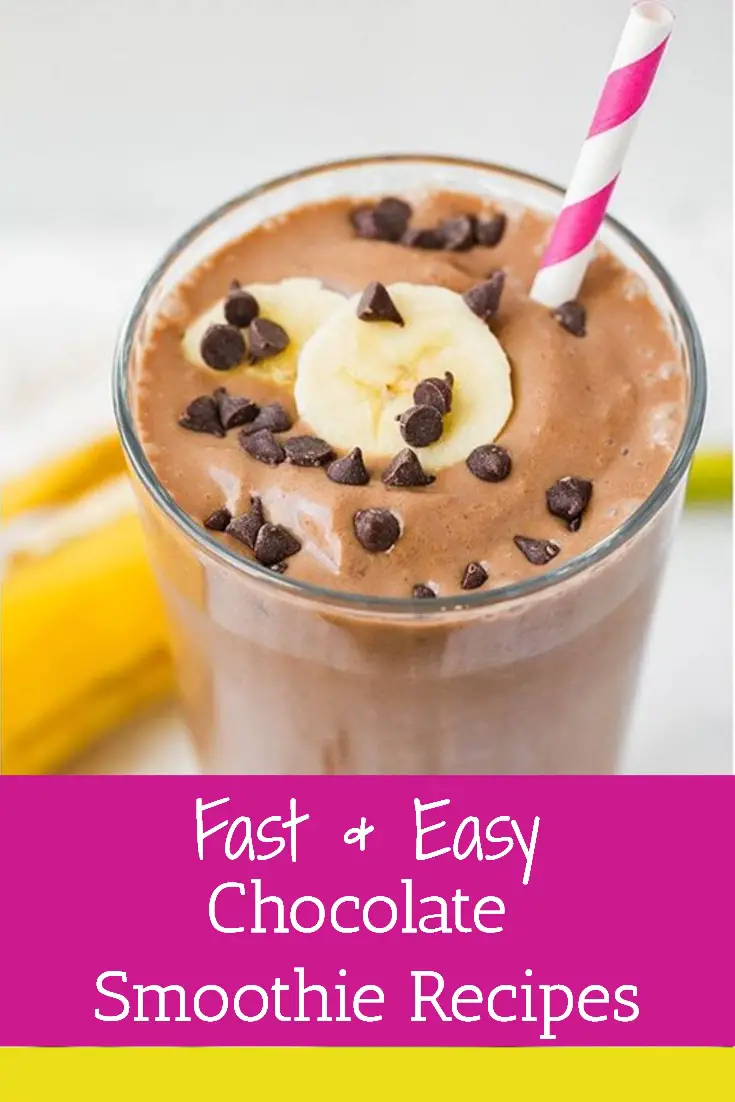 Welcome to Life Hacks for Moms - we hope you enjoy all our tips and tricks for busy moms! Please note that we use affiliate links and ads to generate income at no cost to you.
---
You can make chocolate smoothies with yogurt, protein power, cocoa powder, banana, strawberries – even with ice cream (depending on whether you are drinking smoothies for weight loss or weight gain). There are LOTS of unique ways to make chocolate smoothies!
A bit of a background about chocolate: chocolate was discovered around 2,000 years ago in the tropical rainforests of the Americas.
The tree has pods; the pods have seeds. Those seeds can be processed into the chocolate first used by the people of the ancient cultures of Mexico and Central America (Maya and Aztec civilization included), evolved now into the chocolate we all know and love.
Fast forward to today: Chocolate is now used in a lot of desserts and snacks, smoothies definitely included.
Here are some classic chocolate smoothie recipes to satisfy your cocoa cravings:
Fast & Easy Chocolate Smoothie Recipes
– Blend 6 oz. of chocolate yogurt, one-fourth cup of skimmed milk, 1 chopped banana, and 3 large ice cubes. Add more ice or milk, depending on your desired consistency. Serve immediately.
– Chocolate mocha goes well for people who want to have a little coffee in their drink. Combine three-fourth cup of chocolate ice cream, one-fourth cup of chilled strong coffee, and 2 tablespoons of chocolate ice cream topping and blend until smooth. Add one-fourth cup of club soda and pulse to blend well.
– Choco-mint is perfect, especially for a Christmassy feel. Combine 4 scoops of peppermint ice cream (or if you can't buy one, make some by adding 4 drops of peppermint extract to the ice cream), 1 and a half cups of milk (no low-fat milk here; indulge every once in a while), a drop of peppermint extract, a teaspoon of vanilla extract, and 4 tablespoons of bittersweet chocolate syrup or ice cream topping. Blend until smooth, or until you don't see the whites anymore.
Simple Chocolate Fudge Recipes That are INSANELY Good! When it comes to EASY fudge recipes, these chocolate fudge recipes below are my family's FAVORITE. They are all super simple to make so you can whip up these sweet treats last minute or even make ahead of time and freeze. If …
– Put in a cup of milk, a cup of crushed ice, a banana (chopped), and 1 to 2 tablespoons of chocolate syrup in a blender and process until smooth. Pour into glasses and top with some whipped cream and sprinkle with some chocolate shavings for some presentation. Serve immediately so it doesn't get hot.
– A healthy chocolate smoothie? Try this one for size: Blend 1 frozen banana (frozen fruits let out more of their sweetness compared to freshly-picked ones), 1 cup of soy milk, a tablespoon of cocoa powder, a drop or two of vanilla extract, 1 tablespoon hemp protein powder or flax oil, and a pinch of cinnamon. Process until smooth, pour and enjoy.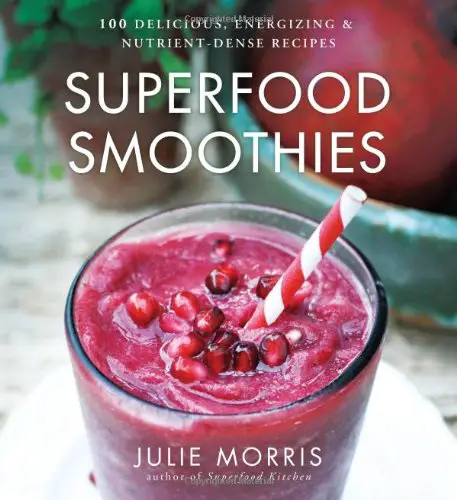 Superfood Smoothies: 100 Delicious, Energizing & Nutrient-dense Recipes

& 
Chocolate Mudslide Skinny Smoothie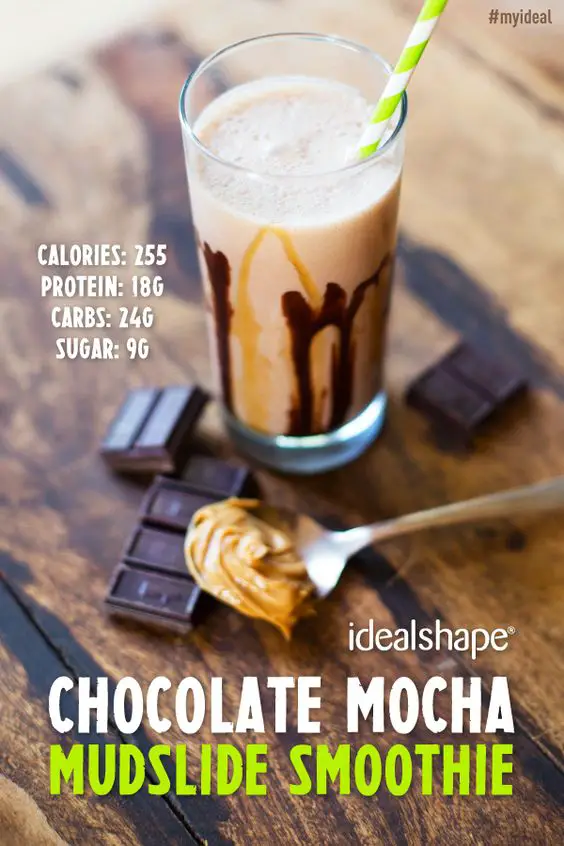 This chocolate smoothie recipe only takes a few minutes to make and is SOOOO delicious!
Recipe:
1 Scoop Mocha IdealShake protein meal replacement
1 cup unsweetened almond milk
1 T. dark chocolate chips
1 T. sugar-free caramel Torani syrup
2 T. PB2
Add ice, blend, and enjoy!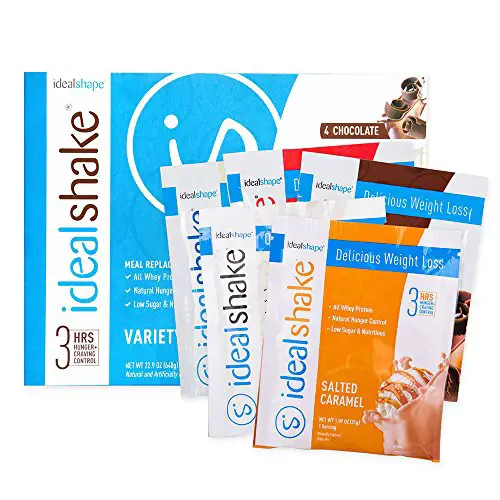 IdealShake, Meal Replacement Shake, Variety Pack Box w/ Hunger Blocker, 20 ServingsGet More Info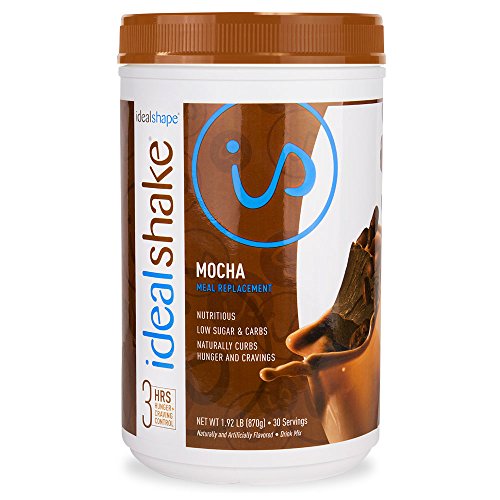 IdealShake, Meal Replacement Shake, Mocha, w/ Hunger Blocker, 30 ServingsGet More Info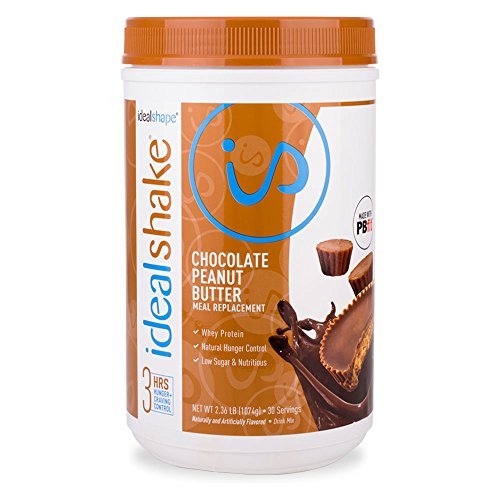 IdealShake, Meal Replacement Shake, Chocolate Peanut Butter w/ Hunger Blocker, 30 ServingsGet More Info
& 
Chocolate Chip Mocha Breakfast Smoothie Recipe

Creamy vanilla greek yogurt, sweet chocolate chips, and ice combined with bold coffee to create the perfect Chocolate Chip Mocha Breakfast Smoothie. It's healthy protein and sweet, sweet caffeine rolled all into one tasty morning treat. This is seriously the easiest breakfast you'll make all week! This chocolate breakfast smoothie is Gluten free, too!

& 
Dark Chocolate Smoothie Recipe
Dark chocolate smoothies taste like dessert for breakfast! Add dark chocolate cocoa powder to your healthy smoothie recipe in the morning for an unbelievable burst of rich chocolate yummy flavor. This is the ultimate in that decadent -you won't believe it's sooo good for you flavor!
Dark chocolate cocoa powder is so healthy because it's high in polyphenol content, which means it has antioxidant power! It's also high in vitamins. This chocolate is a bit bitter, so the base of the smoothie should be either vanilla flavored yogurt and vanilla almond milk with some agave syrup or honey. Adjust the sweetener according to your desired level.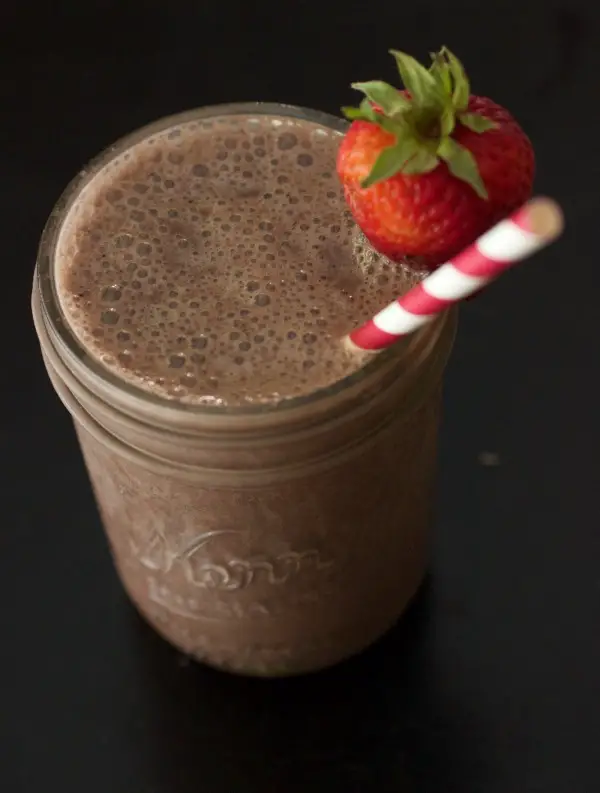 Smoothies are a great way to sneak in protein and extra vitamins and minerals into your kid's breakfast or snack. Great additions for smoothies are protein powder, bee pollen, lecithin granules and brewers yeast. Go easy on the brewer's yeast because it has a bitter taste the kids will taste!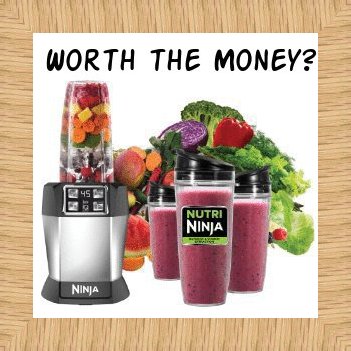 Nutri Ninja Blender – Is It Worth The Money?Get More Info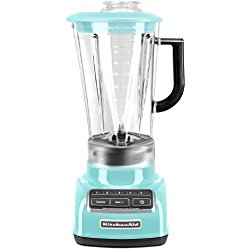 How Long Do KitchenAid Blnders Last?Get More Info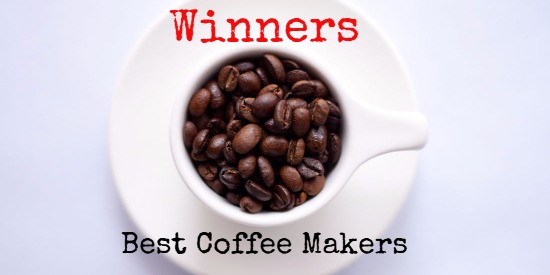 This Year's Best Coffee Makers (winners list)Get More Info
& 
Chocolate Malt Smoothie Recipe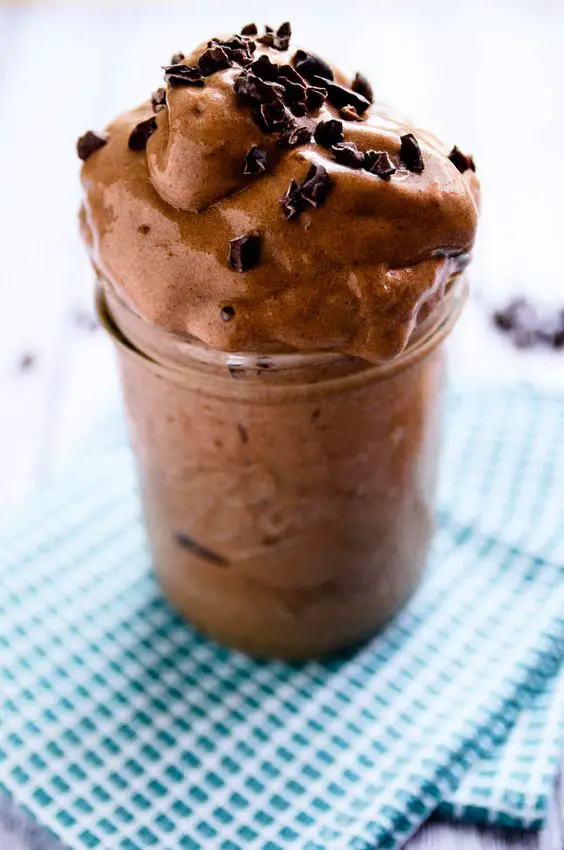 Chocolate smoothies, yum! I don't know about you but I am a big time chocolate lover but most chocolate smoothies are high in fat and calories. Here is a recipe for a chocolate malt type smoothie that you can enjoy guilt free!
Ingredients:
3 Tbsp of Carnation chocolate malted milk powder
1 c. skim milk
2 scoops of vanilla frozen yogurt (fat-free)
4 ice cubes (crushed)
Directions:
First crush the ice cubes in your blender. If you don't have a blender that has the power to crush ice you can reserve the cubes and add them in later, their purpose is mainly for chilling the smoothie. Blend together the crushed ice and the remaining ingredients until smooth. This makes about 2 cups or two servings and is approximately 190 calories.
This chocolate smoothie recipes is an awesome replacement for a chocolate milkshake and tastes just like the smoothies you buy at fast food joints. Not only is this recipe a money saver it is a calorie saver. The kids won't know the healthy difference and will think they are getting the same sweet treat.
Smoothies are very refreshing on a hot summer day or anytime for that matter. They are a great way to eat healthy since you can often hide healthy ingredients in a smoothie, even vegetables! With vegetable smoothies or green smoothies you can disguise the taste of the veggies by combining them with fruit. The fruit taste will dominate the smoothie. It's a wonderful way to enjoy eating healthy and also so easy to make. Just toss your ingredients into a blender and press the button. Chocolate smoothies are a great alternative to chocolate milkshakes.
Healthy Chocolate Peanut Butter Smoothie Recipe
Learn how to make this rich chocolatey peanut butter banana smoothie in the video below! It tastes just like chunky monkey ice cream. Quick and easy, dairy free, no sugar added.
Chocolate Avocado Smoothie Recipe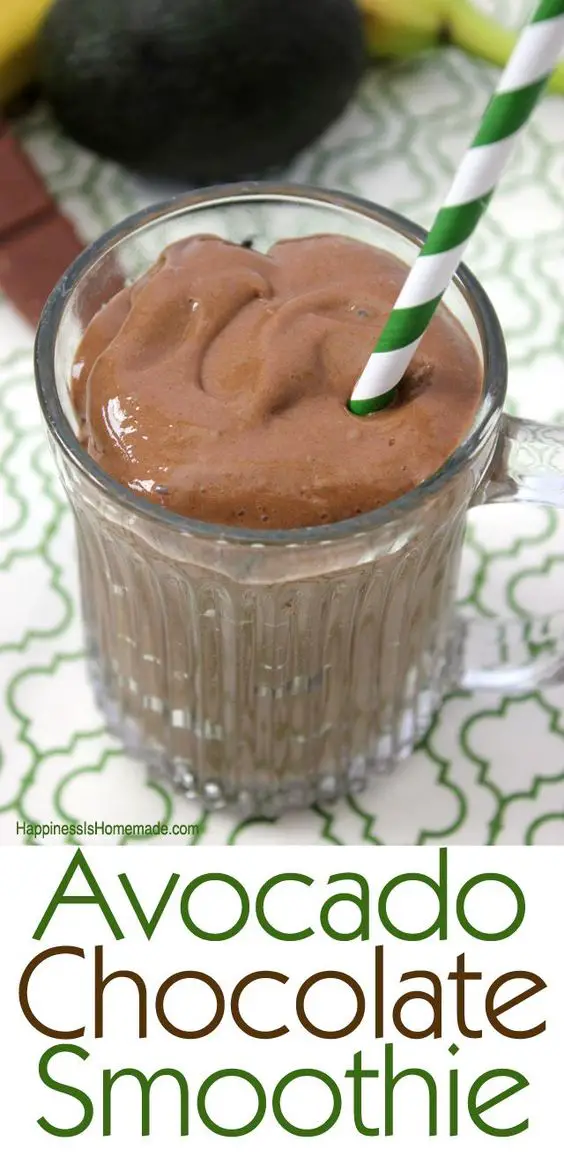 Did you know that avocados have nearly 20 essential vitamins and minerals? They sure do! Why not try this Avocado Chocolate Smoothie idea? It is amazingly delicious, and you can't taste the avocado at all. It's just smooth and creamy perfection! recipe here
Skinny Healthy Chocolate Banana Smoothie Recipe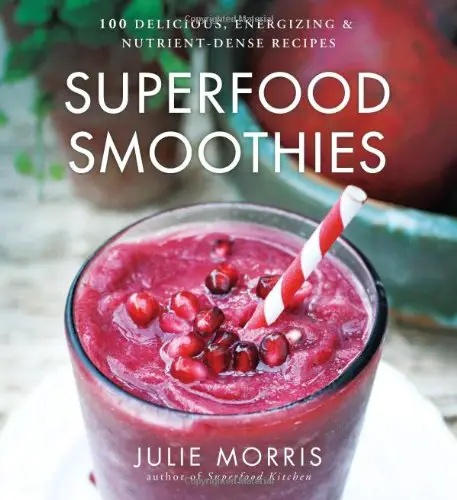 Superfood Smoothies: 100 Delicious, Energizing & Nutrient-dense RecipesGet More Info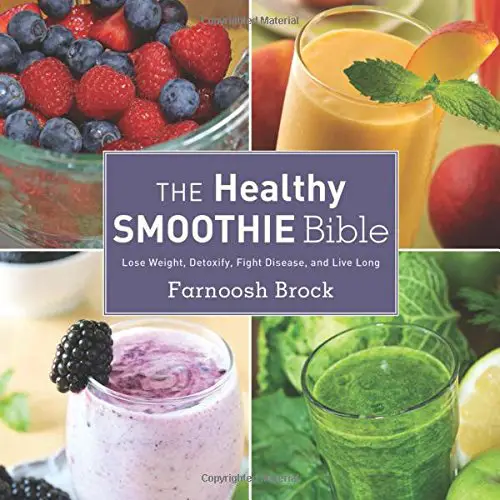 The Healthy Smoothie Bible: Lose Weight, Detoxify, Fight Disease, and Live LongGet More Info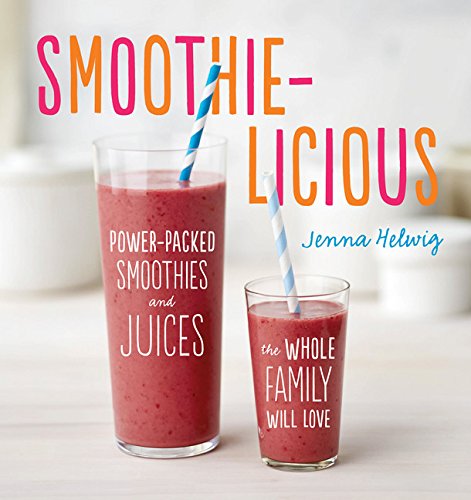 Smoothie-licious: Power-Packed Smoothies and Juices the Whole Family Will LoveGet More Info
& 
Healthy Hot Chocolate Breakfast Smoothie

How does this sound? Try a hot chocolate breakfast smoothie tomorrow for breakfast! So smooth, creamy and sure to keep you satisfied for hours! This warm and comforting vegan smoothie will knock out those chocolate cravings while providing you with a balanced breakfast or snack. Get the recipe here.
 Kidz Superfood Chocolate-Flavored Smoothie Powder

& 
Chocolate Banana Healthy Skinny Smoothie Recipe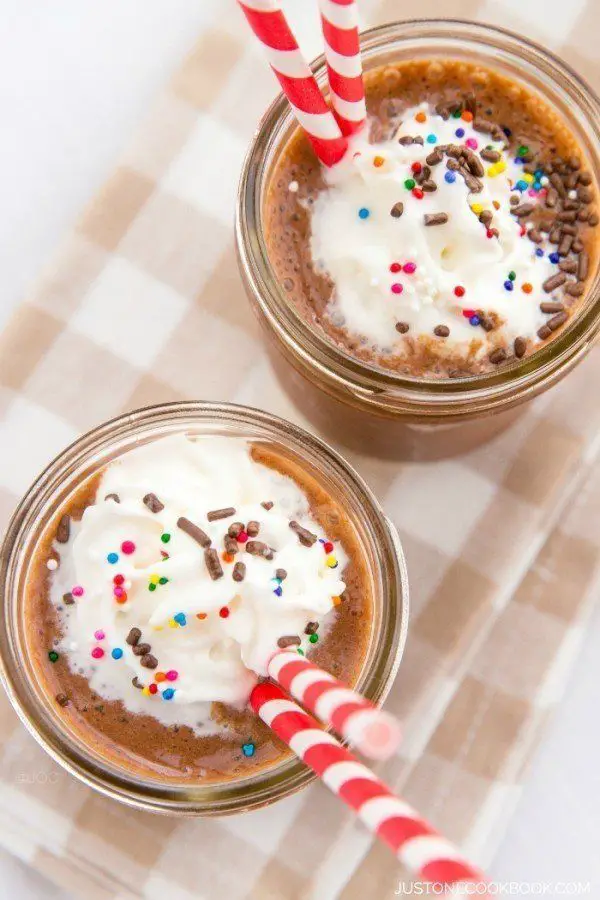 Here's how to make the Chocolate Banana Smoothie in the picture above:
Best Blenders for Smoothies
I use my Nutri Ninja for all my smoothies… why smoothie blender do you use?
Nutri Ninja Pro Top-Rated Smoothie Blender System with Recipe BookGet More Info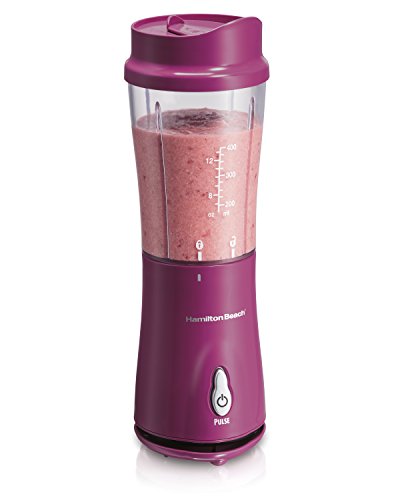 Hamilton Beach Single Serve Blender Smoothie Blender with Travel LidGet More Info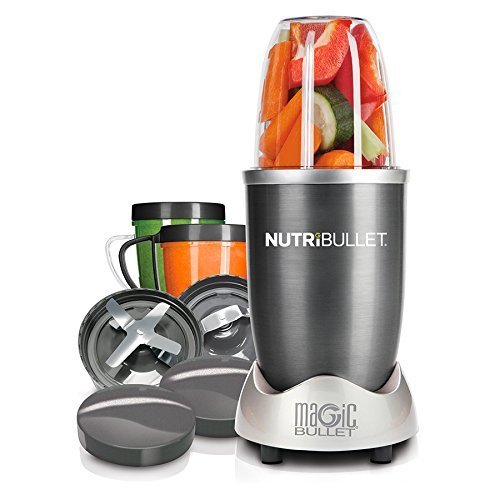 Magic Bullet NutriBullet 12-Piece High-Speed Blender/Mixer SystemGet More Info
& 
More Smoothie Recipes
Make-Ahead Smoothies Recipe Ideas
Freezable Smoothie Recipes
Pineapple Paradise Green Smoothie Recipe