---
Feeding a crowd on a budget? Try these easy COLD meals for large groups – these are easy MUST MAKE dishes that are NOT salad!
Whether it's a potluck at work, a picnic, family reunion, a lunch party, a church supper, a backyard party during the hot days of summer, or a neighborhood block party – or you're hosting an event where you won't have access to a stove or microwave oven…
These inexpensive cold meal ideas for your large group are easy to make AND, best of all – they are NOT salad.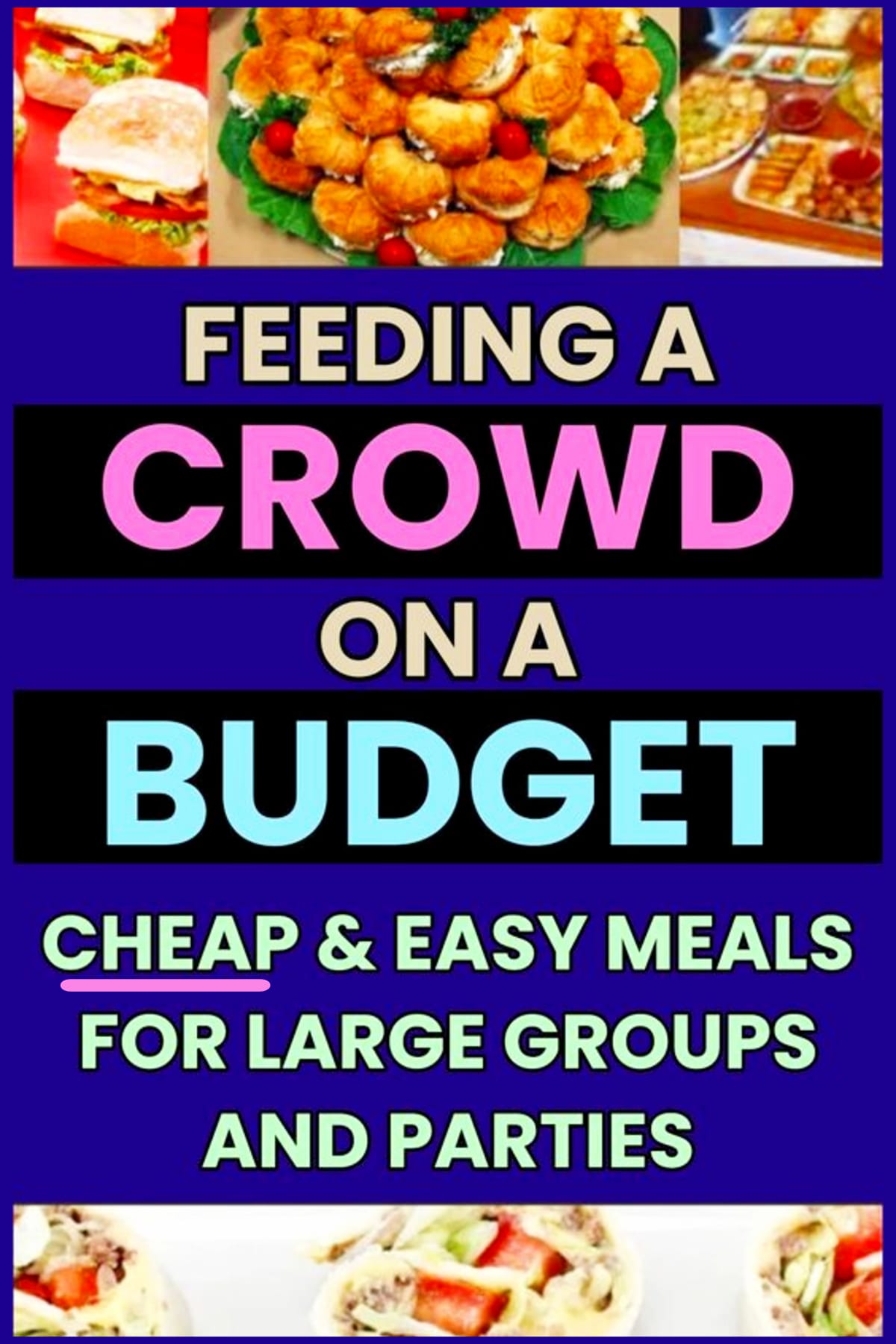 Welcome to Life Hacks for Moms - we hope you enjoy all our tips and tricks for busy moms! Please note that we use affiliate links and ads to generate income at no cost to you.
---
Cold Meals for a Crowd
I've spent a LOT of time looking around online searching for COLD meal ideas for the large group I've got to feed on a super low budget.
I'm telling you – if I see ONE MORE salad recipe as a 'cold MEAL idea', I might scream haha!
Of COURSE salad is cold – and yes, salad can be a meal – but I want something heartier and a bit more imaginative than that.
Now, if YOU are looking for salad recipes – check out these cold salad ideas here.
Otherwise, let me show you the large batch COLD meal ideas for a group of adults that I've found.
Best Cold Meal Ideas For A Crowd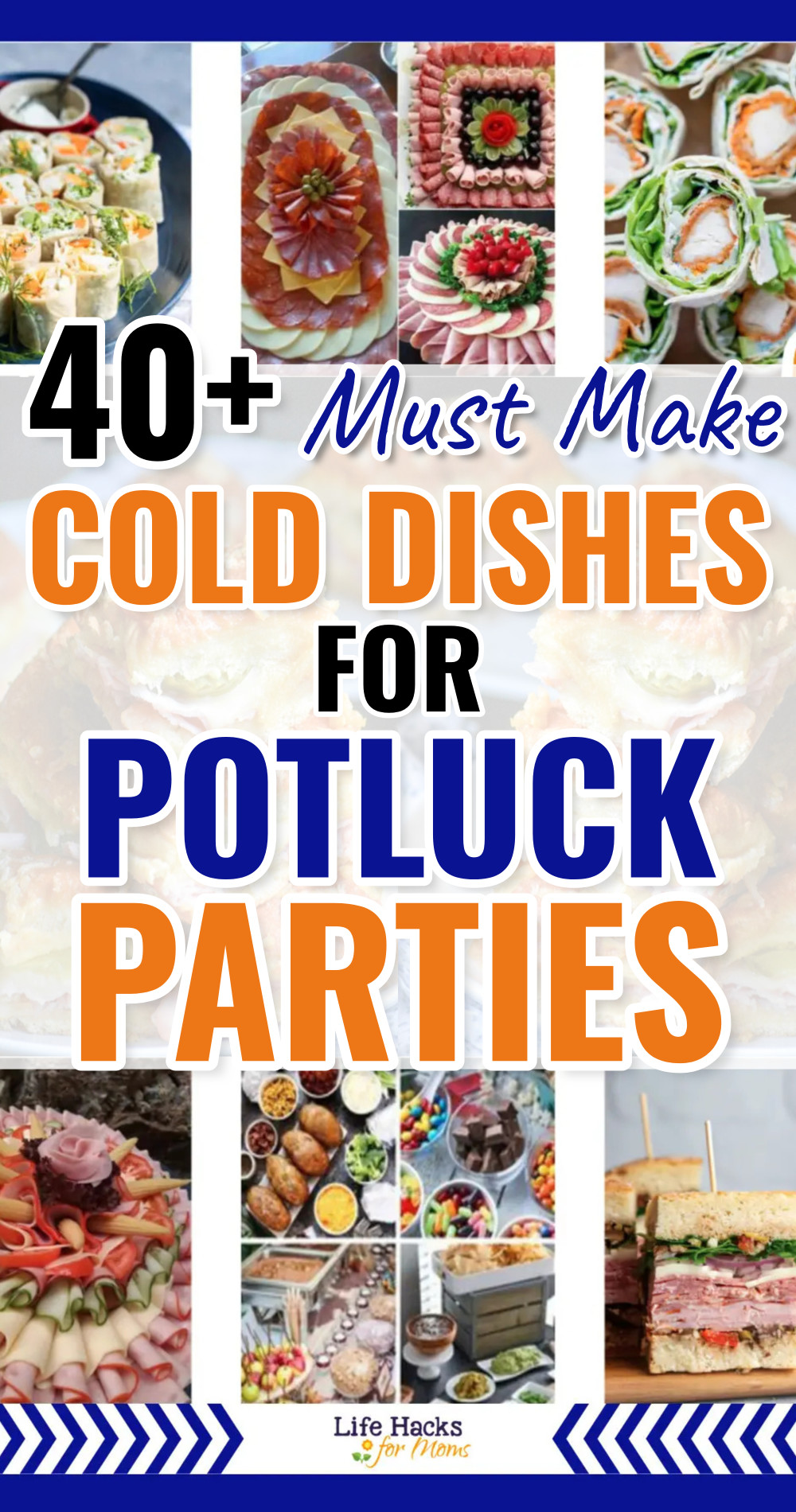 From cold buffet-style food and creative picnic sandwiches to super simple pinwheel rollups, sliders, cheap party food platters, no cook dinner recipes and more – there are TONS of ideas, recipes and resources below to plan the cold food menu at your large group meal.
All the recipes below contain inexpensive ingredients, travel well (if needed), can be made ahead of time OR made last minute – and above all, are real CROWD PLEASERS that you will feel good about serving to your guests.
Let's jump in and take a look at my favorite large group food ideas.
Cold Chicken Croissants
I shared this idea yesterday on my easy party trays post, but I also love these cold chicken croissants as a cold MEAL for a large group.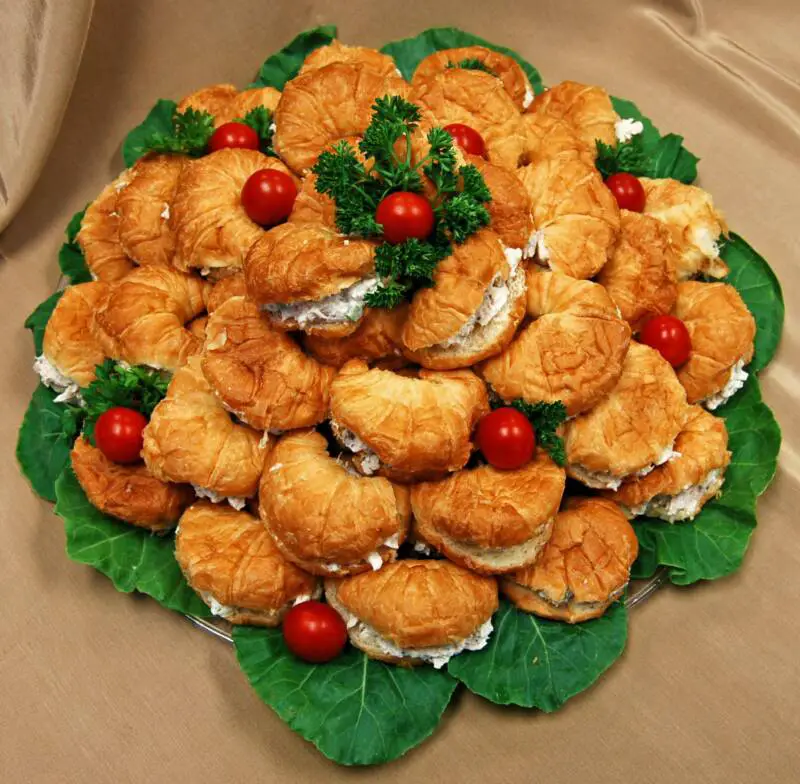 ✅ Tip: if you don't have time to cook the chicken ahead of time, you can take a shortcut and use CANNED chicken breast.
When I'm hosting an event, I buy the canned chicken in bulk at my local Costco or Sam's.
The bulk-sized canned chicken looks like this.
It's not quite as cheap to prepare it with canned chicken BUT it's MUCH easier and tastes just as good.
Cold Meat Platters
Cold meat platters are also a great way to serve cold meals for large groups so they can make their own sandwich.
I love these ideas of making a charcuterie style deli meat tray: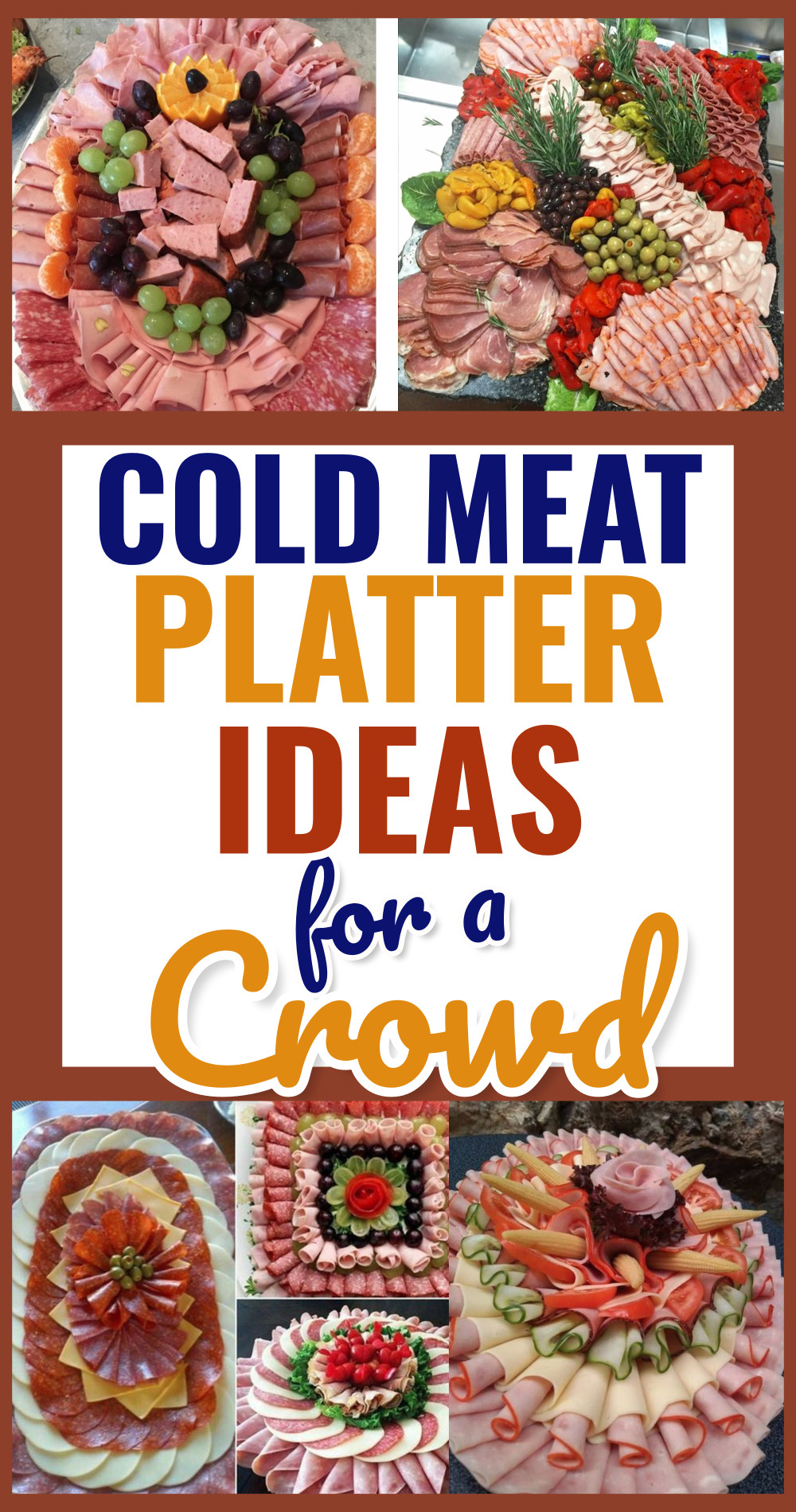 Cold Picnic Sandwiches
If you don't want to set out a "make your own sandwich" meat tray, you could instead make these crowd-pleaser cold picnic sandwiches.
These are my favorite SIMPLE large group cold sandwich recipes that, believe it or not, all taste better than they look (and YES, they LOOK delicious, right!?!?)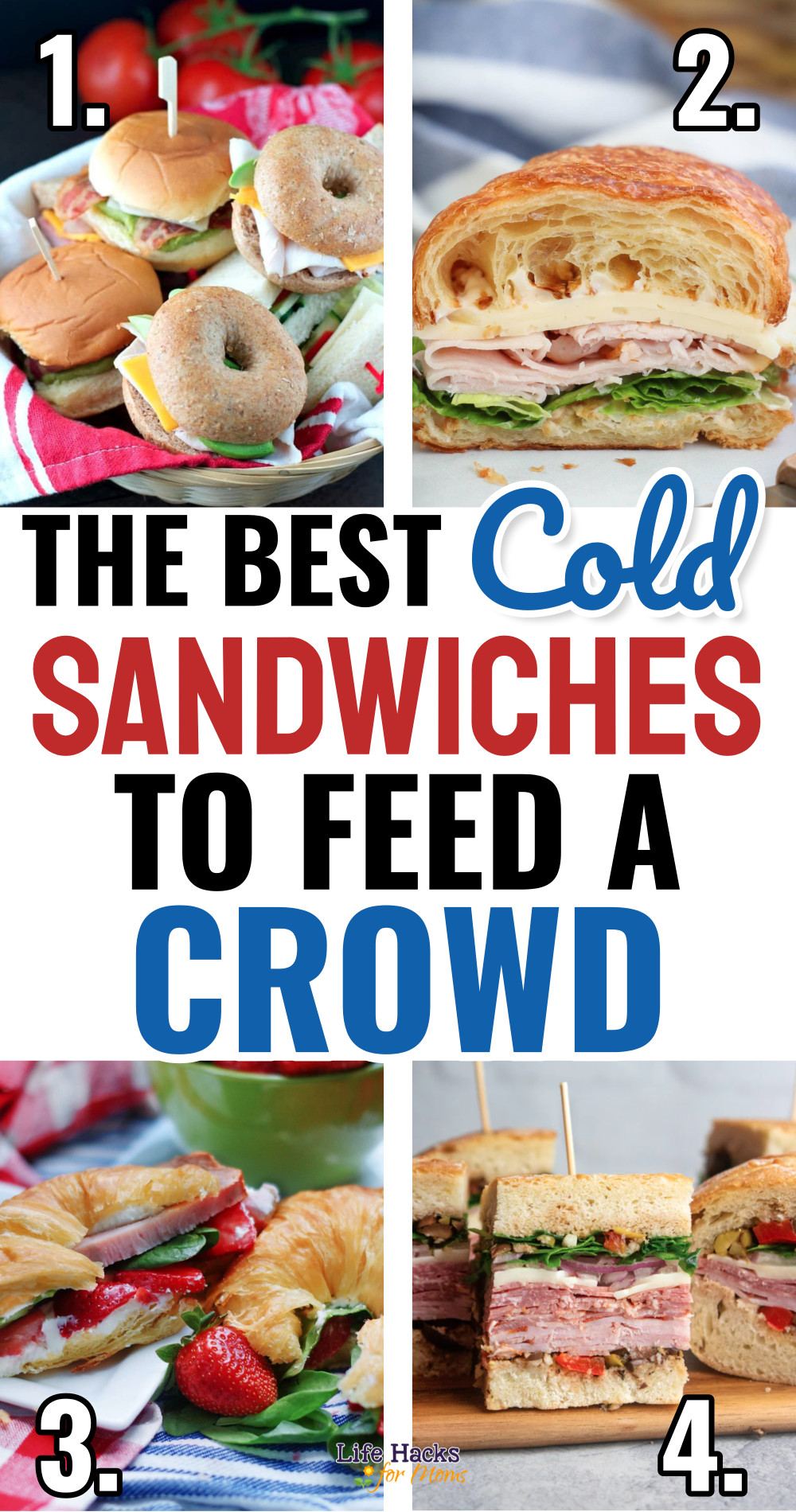 In the picture above:
✅ Best Finger Food Sandwiches For A Crowd – Need finger sandwiches for a crowd at your party, potluck or special event? Check out these easy make ahead finger sandwich recipes for YOUR party platters.
---
(1) 3-Ingredient Picnic Sandwiches – In this delicious list of Picnic Sandwiches, there are 10 Easy, 3-Ingredient Combinations that are sure to please everyone in your crowd
(2) Turkey Croissant Sandwich – This Turkey Croissant Sandwich is the perfect finger food for parties or casual get-togethers. Simple and delicious, everyone loves them
(3) Strawberry Cream Cheese Sandwiches – easy delicious food that's perfect for parties, showers, potlucks or any get together! Dreamy cream cheese, ripe strawberries, crisp spinach and salty smoked turkey or ham all piled high on buttery croissants make a yummy little picnic sandwiches that taste even better than they look!
(4) Italian Muffuletta Sandwiches – A takeoff on the classic Italian hero. The combination of sliced meats is flexible; feel free to substitute or omit any of them. But what makes this sandwich a muffuletta is the olive and red pepper spread, so don't skip it!
If you're doing a "sit down and eat" type of large group meal, here is a really cute way to serve your food and set up your tables: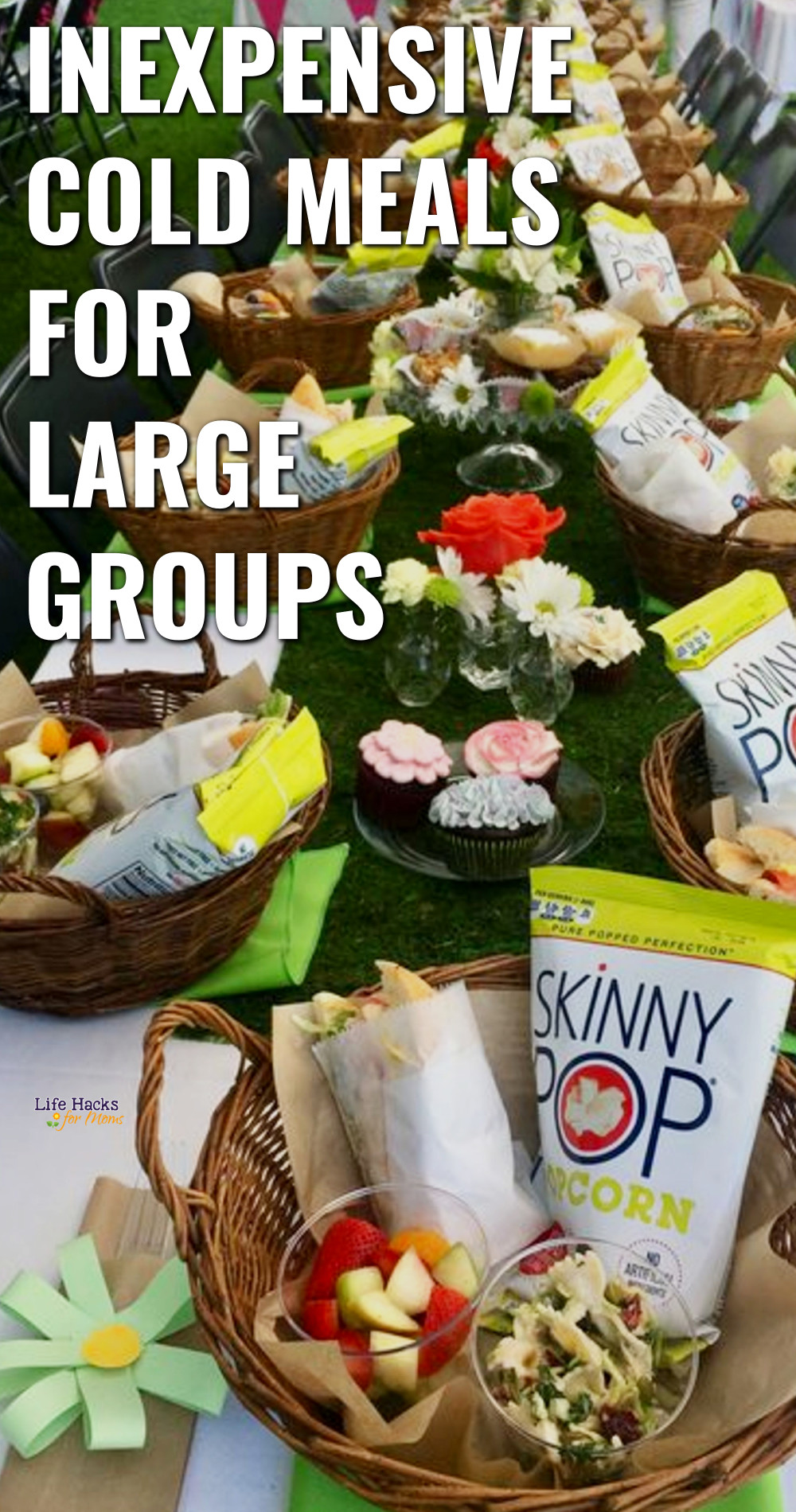 Buffet Style Food Ideas
Personally, when I'm feeding a crowd, I like to set all the food out and let guests serve themselves as opposed to a sit down style meal.
Yep, buffet style =)
If you're looking for EASY buffet style food ideas to feed YOUR crowd, below are my favorite resources for finding cold meal ideas.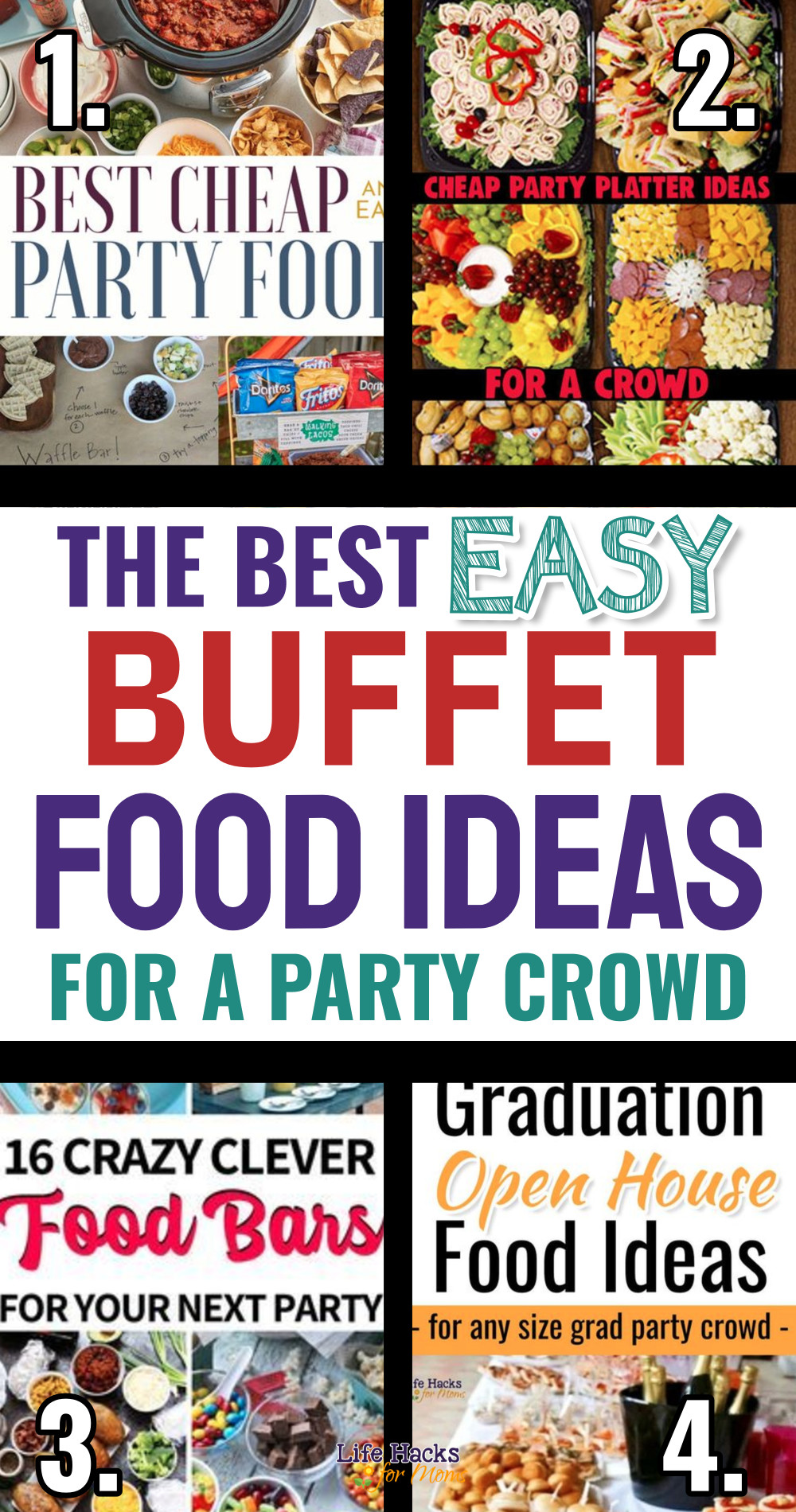 Resources in the picture above:
(1) Best Cheap and Easy Party Food – These cheap easy party food ideas are perfect for planning the ultimate party on a super tight budget.
(2) Cheap Party Platter Ideas For A Crowd – From bite size party sandwiches to cold pinwheeel roll up appetizers, charcuterie boards and fruit, veggies, cheese and cracker trays with dips, these budget-friendly finger food platters are perfect for small groups or a large crowd at any event, special occasion or Holiday party.
(3) Budget Party Food Ideas – Hosting a party and need to keep your budget in check? Check out this Party Finger Foods Ideas on a Budget! Tons of yummy budget recipes
(4) Graduation Open House Food Ideas – Buffet-style food, cold finger foods, appetizers and more graduation party food ideas to feed a party crowd on a budget.
No Cook Roast Beef Rolls
On my cold appetizers post, I shared this idea for cold roast beef rolls: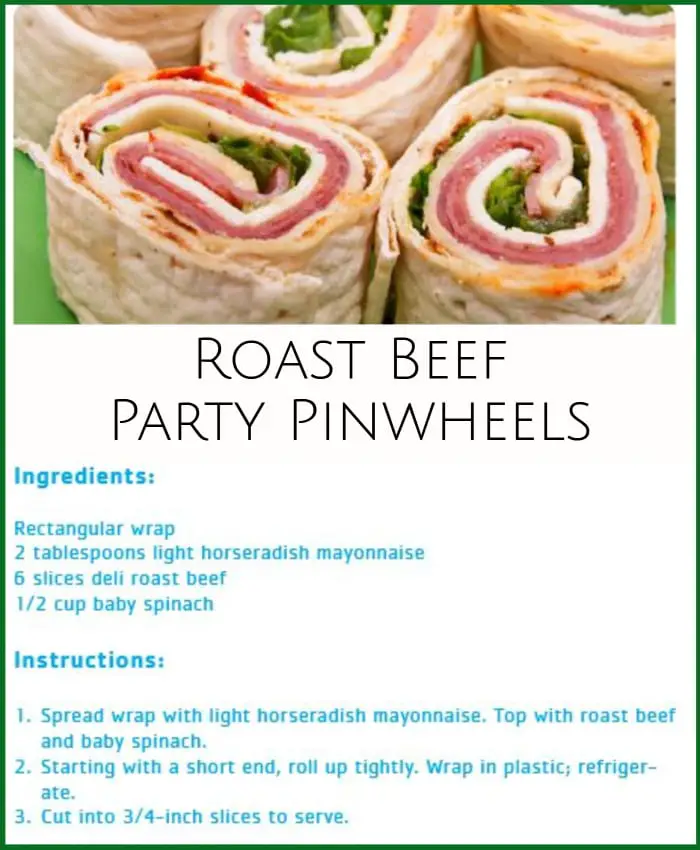 What I love about these roast beef rolls is that they are a TOTAL no-cook cold meal idea and they're SO easy to make.
For grab-and-go appetizers and finger foods, I cut them smaller as more of a toothpick appetizer, but for a cheap and easy cold MEAL, I cut the rolls in half so they're a larger serving.
These travel SO well too!
Make Ahead Cheeseburger RollUps
I know, "cheeseburger" and COLD meal don't sound like they go together, but hear me out.
These COLD cheeseburger rollups are REALLY good!
And YES, they are not only good cold, they're BETTER served cold.
In my opinion, it's one of the BEST meals you can serve COLD.
I used to make these for my husband's lunch all the time when one day it hit me – why not make these for a large group too?
So I made them as graduation party food and everyone loved them.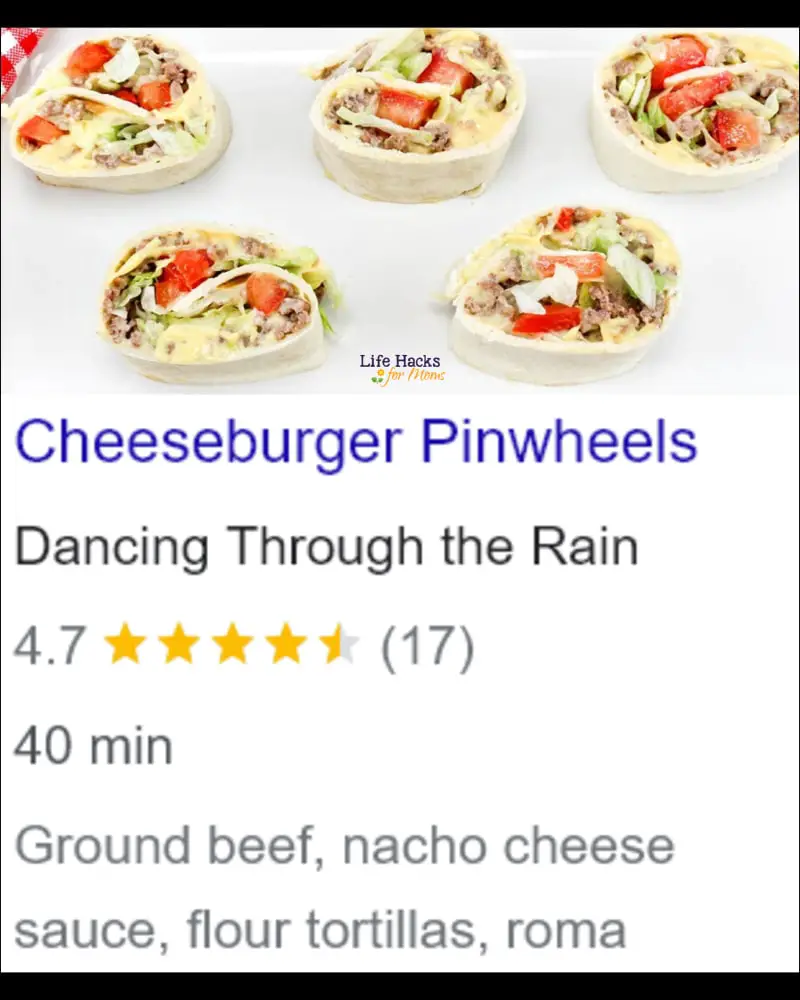 They're the perfect cheap and easy large group cold meal or main dish idea!
Now, you WILL need to cook the meat and put them together ahead of time, but just keep them cold and serve them cold.
Cold Pinwheel Rollups
As you can tell, I think pinwheel rollups are the PERFECT make ahead cold party food – so easy and CHEAP to make! Plus, everyone LOVES them.
I also love them because I can make them last minute if needed.
Inexpensive… easy…. no cook…. perfect!
Below are 4 more of my favorite cold pinwheel rollup recipes that are all highly recommended.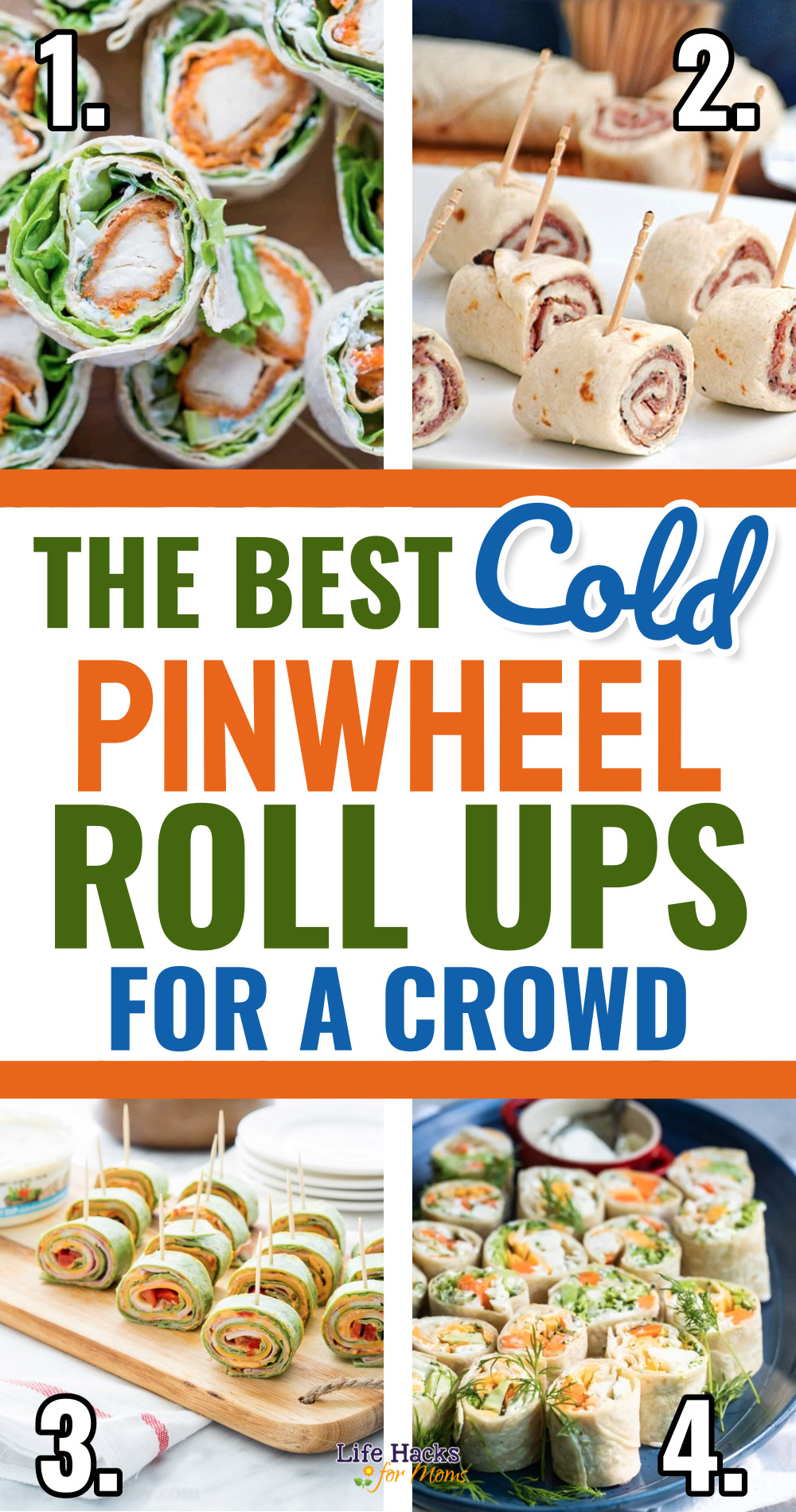 Recipes In The Picture Above:
(1) Buffalo Chicken Roll Ups – Made with all-natural frozen breaded chicken tenders tossed in hot sauce, then rolled up with a homemade blue cheese dip, diced celery, and crisp lettuce.
(2) Garlic Roast Beef Pinwheels – It only takes about 5-10 minutes to put these cold rollups together, and they can be made up ahead of time.
(3) Roasted Red Pepper Hummus Pinwheels – These Roasted Red Pepper Hummus Pinwheels are the perfect appetizer to share during any occasion and make the perfect cold party food that's actually pretty healthy.
(4) Vegetable Tortilla Roll Ups – Vegetable Tortilla Roll Ups with cream cheese filling spread on tortillas, topped with veggies and cheese. Slice and serve. Just like veggie pizza.
BLT Sliders
Sara Lee Bread has this recipe for BLT sliders that I'm excited to try as an easy cold meal for my crowd.
They call for avocado on them, which I don't think I'll do – or won't do on ALL of them (maybe the avocado on the side?)
BUT – they'd be a GREAT cold meal idea that is cheap enough to make.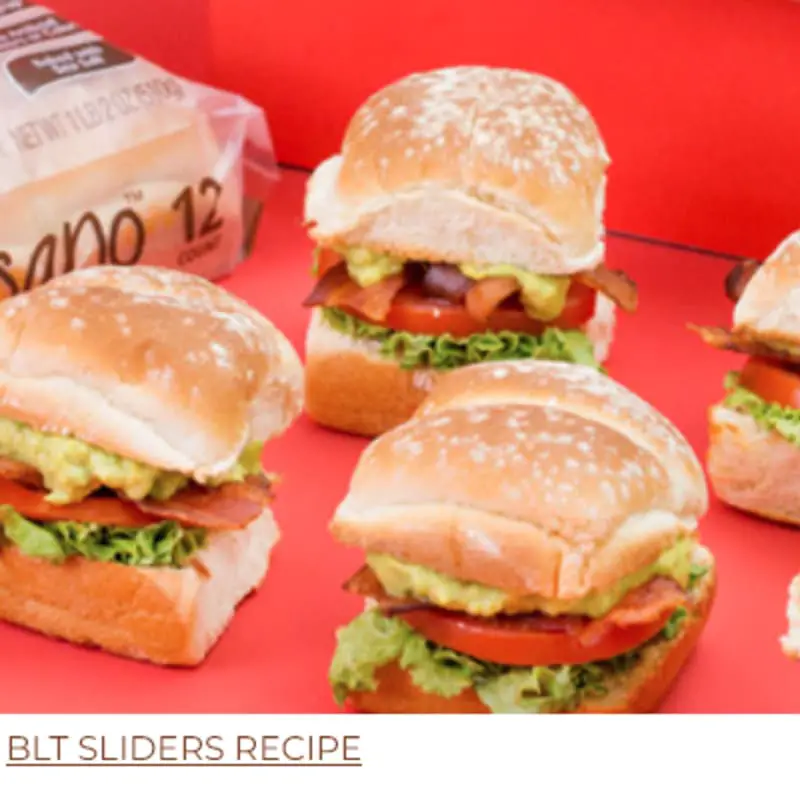 Now that I know how to cook a LOT of bacon in the OVEN, this recipe interests me even more.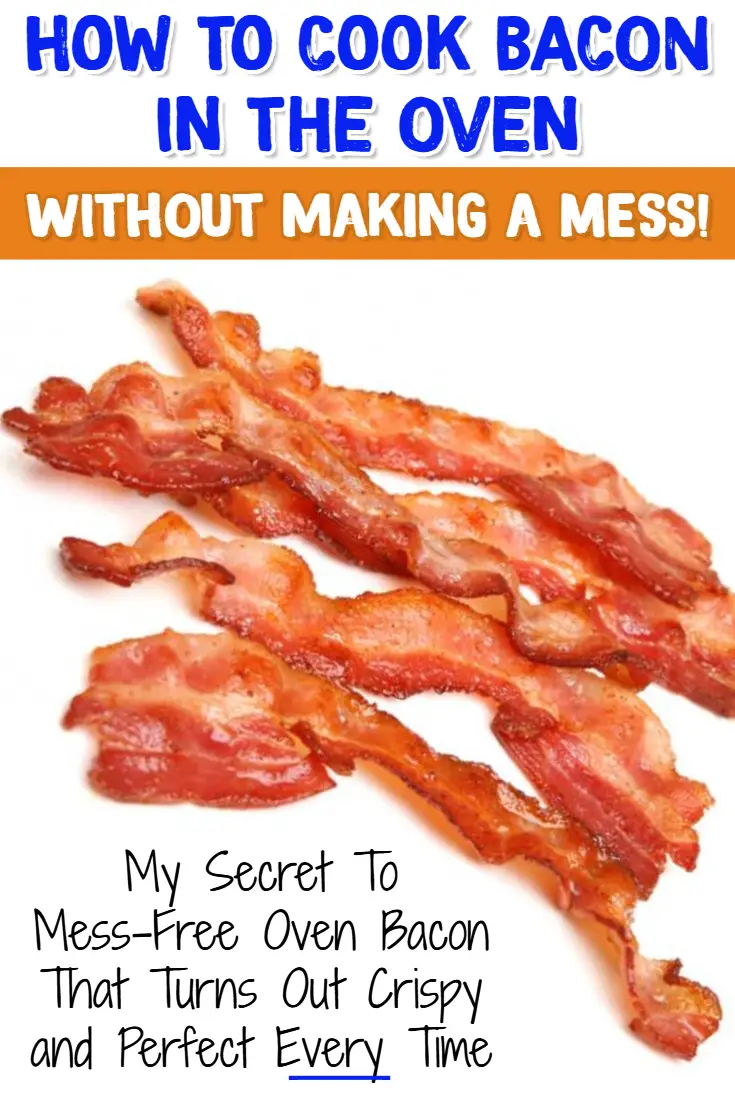 What To DRINK?
Whenever I'm hosting an event with a large group, I make this cheap and easy punch below.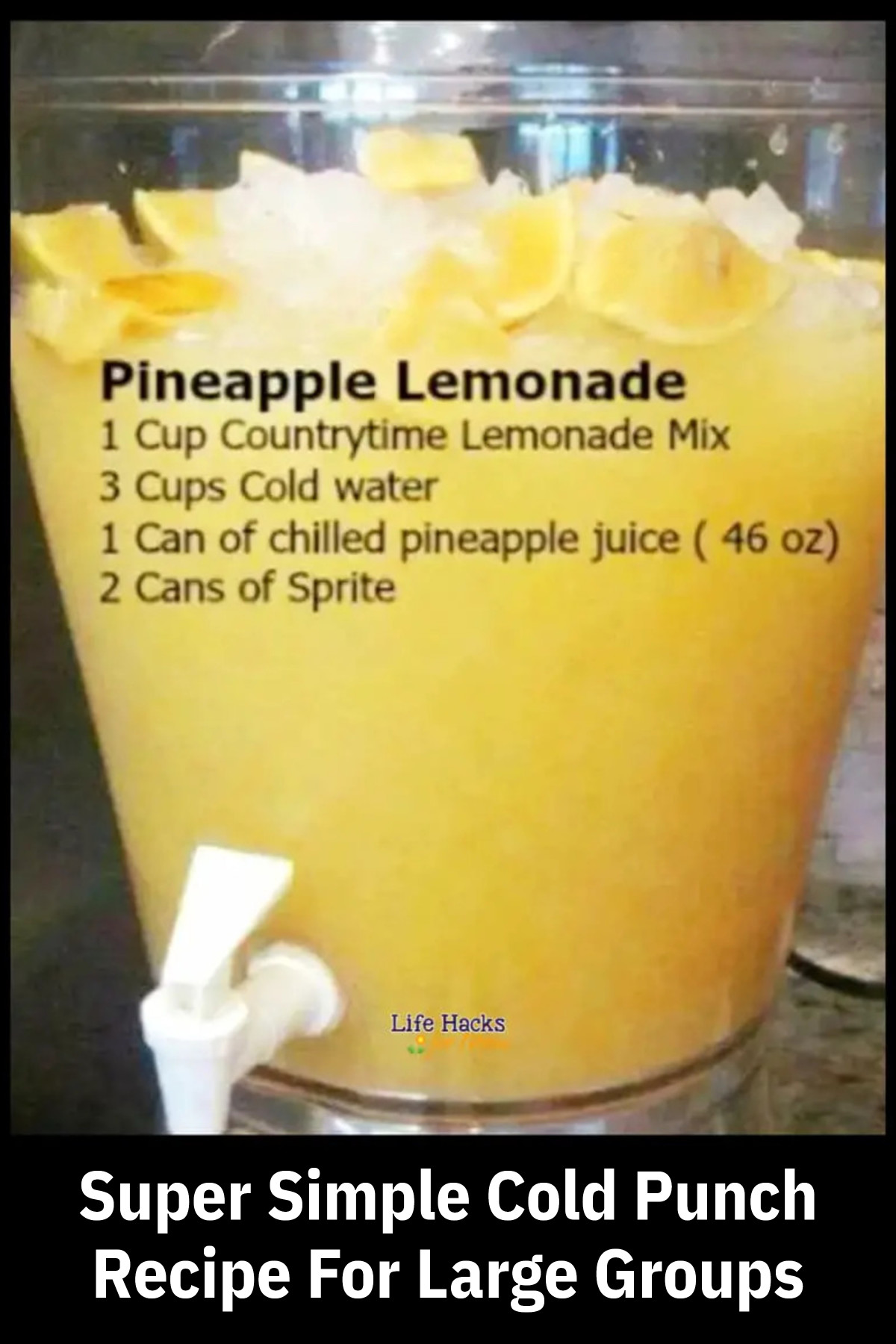 It's delicious and goes with ANYTHING I'm serving.
Yep, go ahead and pin that punch recipe to your Pinterest so you don't lose it – you WILL use it often!
✅ More inexpensive punch recipes here
Dessert Ideas
A cold meal is not complete without a no cook COLD dessert, right?
Here's some large group COLD dessert ideas:
Miss Anything?
Go back to the top of: ==>> Inexpensive Cold Meals for Large Groups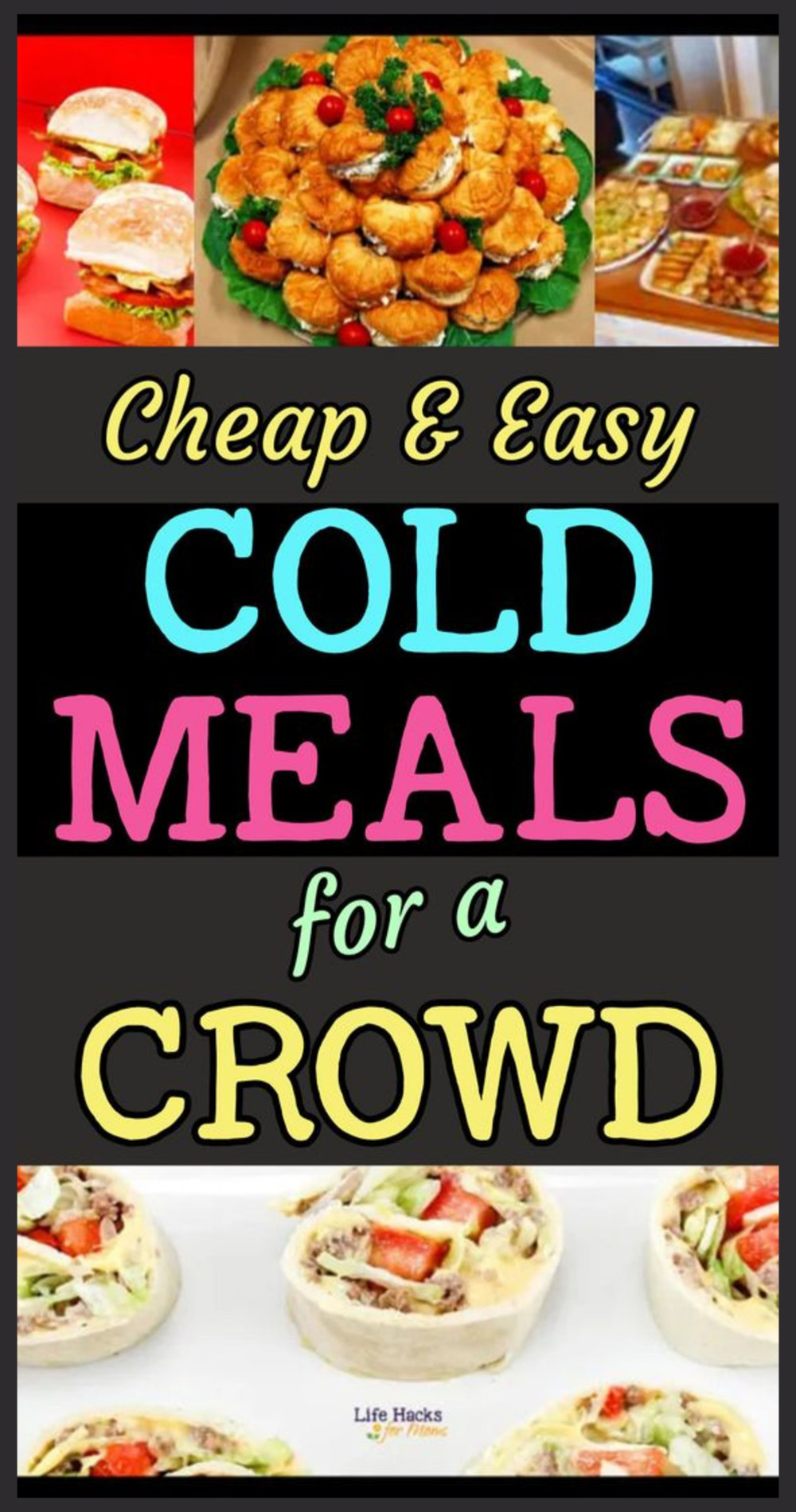 Go back to a specific section:
What To Read Next: