Church Dinner Recipes For a Crowd – Need easy potluck-style recipes for a large group meal at your fellowship dinner, picnic, luncheon, church homecoming, reception, church banquet or your weekly Wednesday night church dinner crowd?
If you're feeding 50, 60, 100 or any large crowd at your church supper, these easy, budget-friendly church dinner recipe ideas are perfect for you.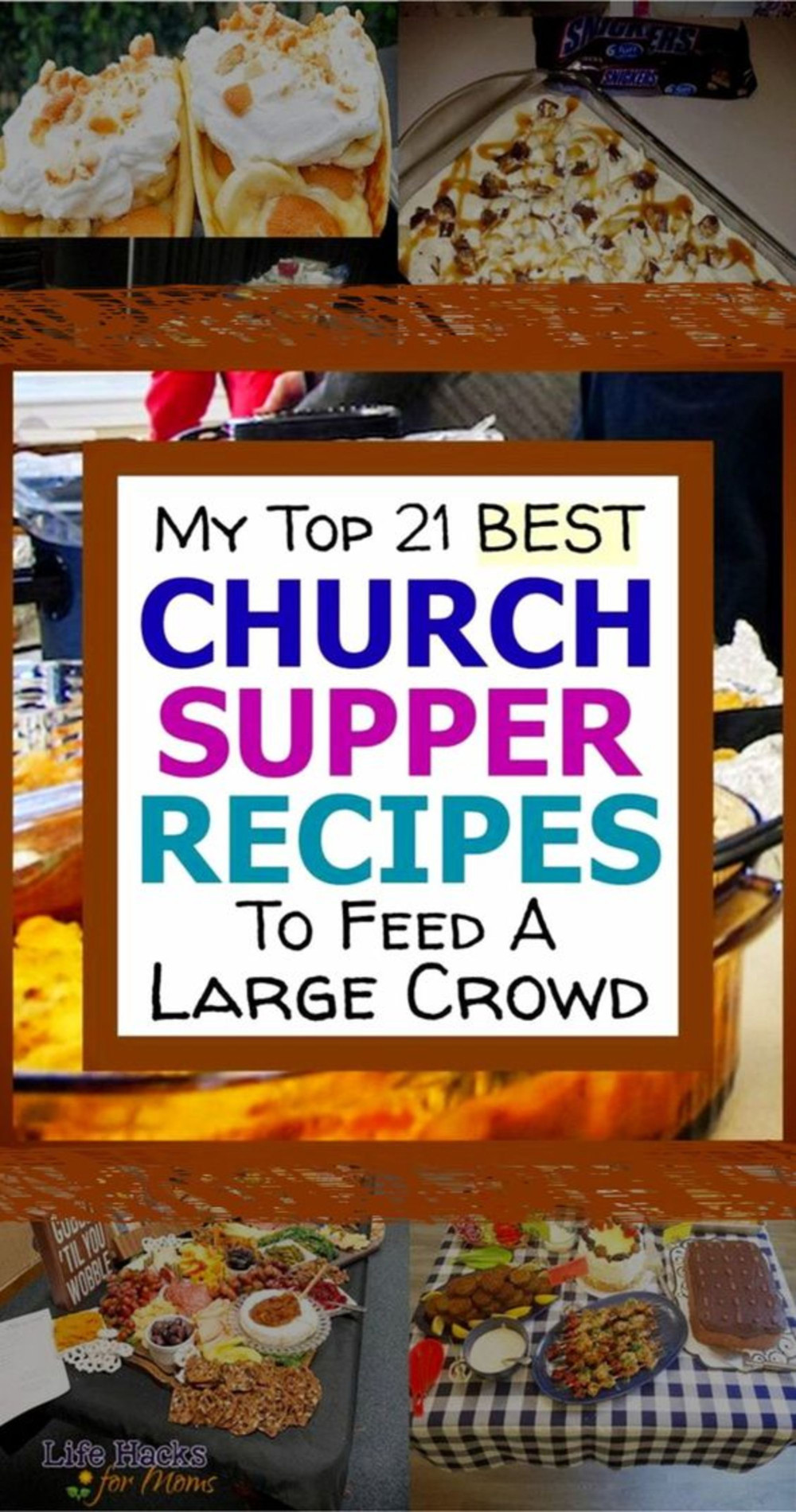 From hot dish ideas for your church dinner, to sides, main dishes, desserts and beverages, these easy recipes below are perfect to bring to a covered dish church supper – they are all CROWD-PLEASERS that are sure to impress!
Easy Church Supper Recipes for a Crowd:
Alrighty, let's talk Wednesday night church dinner ideas for a CROWD.
WHAT to serve to a large group at your church supper that will keep your food costs down AND have more than enough to feed everyone.
First off, if you want to serve a COLD meal (ie, food that does NOT have to be kept warm or cooked on-site), we have large group COLD meal ideas here.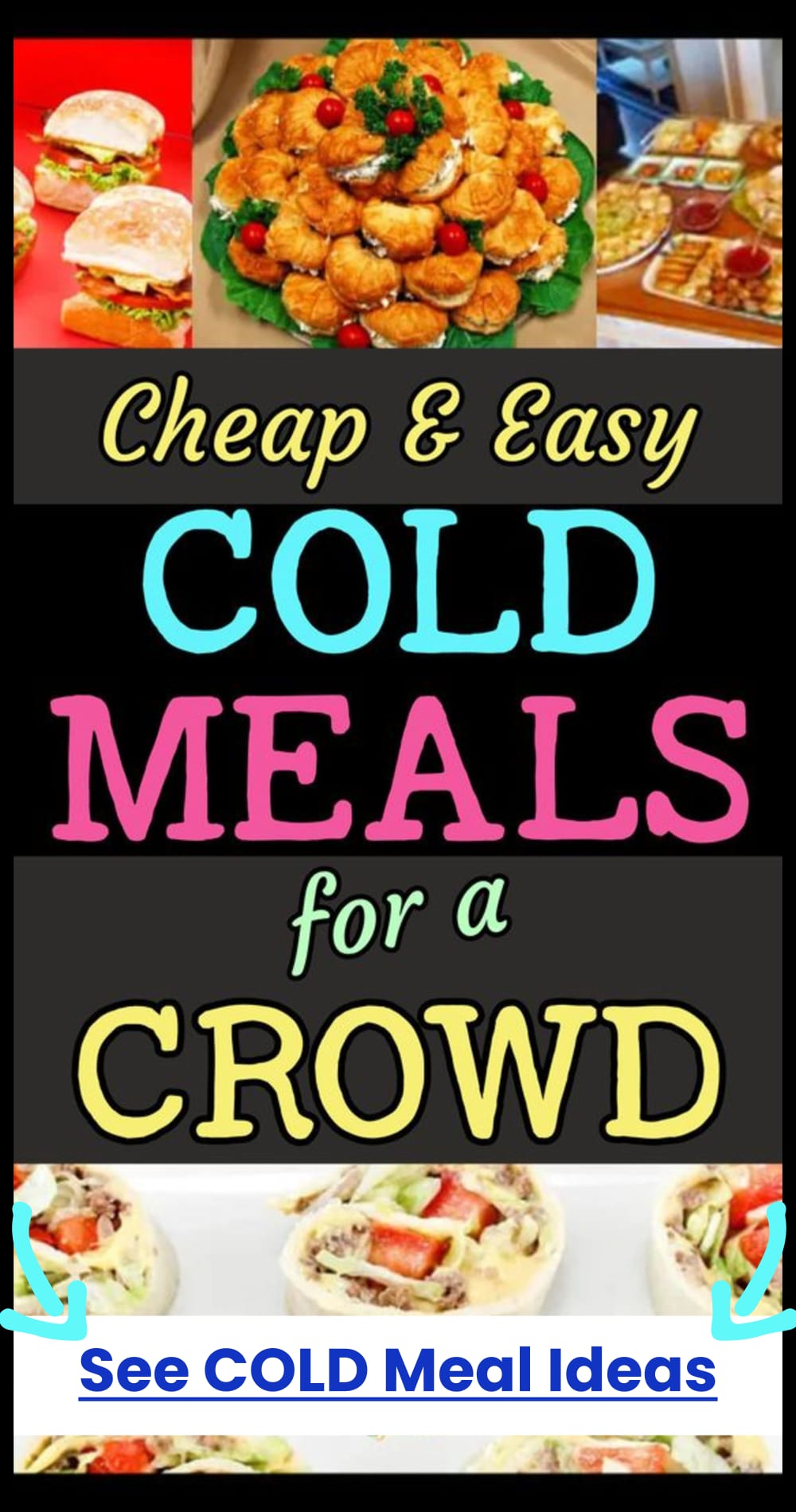 Whether is your Wednesday night fellowship dinner, family night or a Sunday worship lunch, below are my favorite BIG group church supper recipes to make or take to your church dinner.
If you've got a large group meal on YOUR church events information board, be sure to save these recipes – you WILL use them often!
Planning Your Church Supper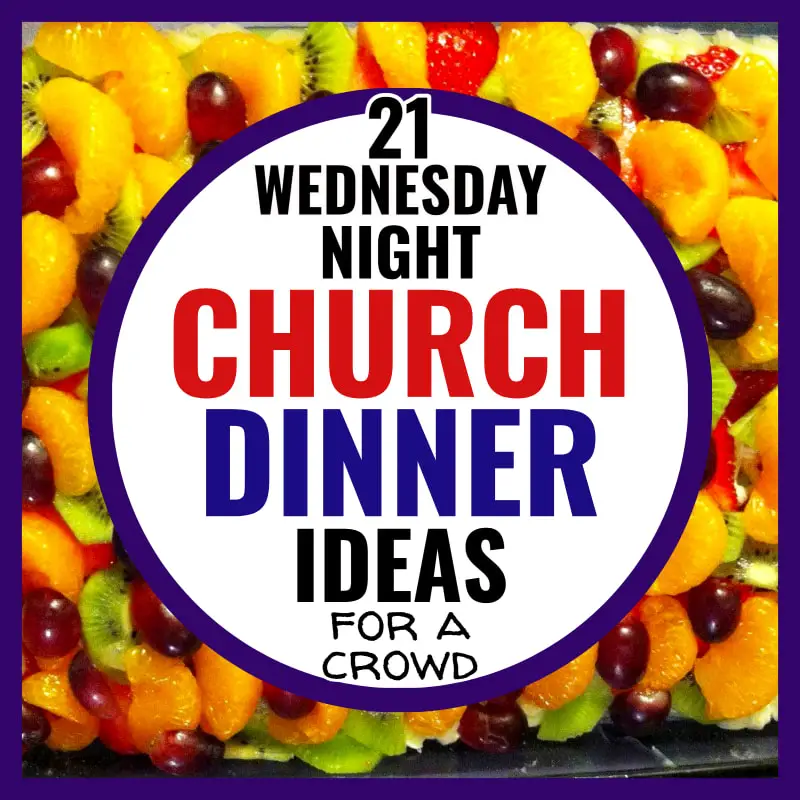 The hardest part of organizing a bring-a-dish church supper is figuring out how MUCH food you need.
That needs to be decided BEFORE you put out the sign up sheet for who brings what.
Here is a handy "cheat sheet" based on a 40-person church potluck meal that should give you a good idea of how much YOUR event will require.
The planning and organizing is truly the most challenging part so knowing how MUCH food you need is a big part of getting it all together.
My Aunt's church provides the potluck main dish and then the rest of us bring the sides and bread and desserts and drinks etc etc and that makes it a ton easier to plan and organize the rest.
It's a lot easier to know what sides to bring to a potluck style meal once you know what the main dish will be.
If the main dish is the biggest challenge, there are lots of recipe ideas below (and there's a LOT of ground beef casseroles recipes here that will also feed a crowd).
TIP – Sandwich platters like these work really well to feed a large group!
I'm also a bit of an "over" preparer so I always have a ton of make ahead and freeze finger foods ready for any event where I have to bring food.
Now, let's jump into the food ideas and recipes.
Potluck-Style Recipes For A Crowd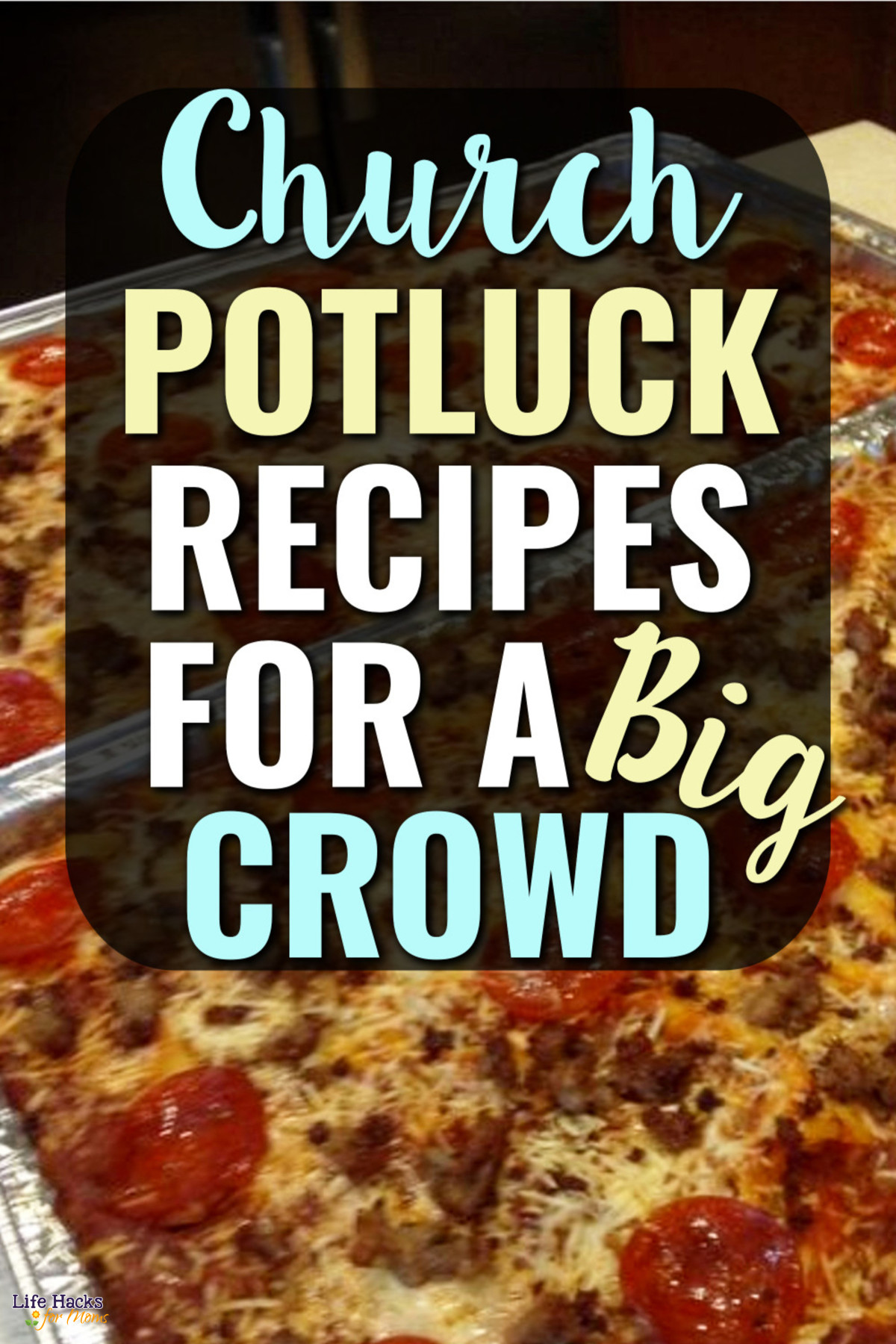 1. Wednesday Fellowship Dinner Casserole
Our Wednesday night church dinner crowd LOVES this classic Church Supper Casserole – thankfully, it's REALLY easy to make so it's ALWAYS on the menu!
2. Church BBQ Supper Recipe For 100
Cooking a church supper for 100 or MORE?
Nothing is easier than these 3-ingredient BBQ ribs.
Line up your crock pots and slow cookers, ladies because this is THE best make-ahead church supper main dish you can make that EVERYONE will love you for!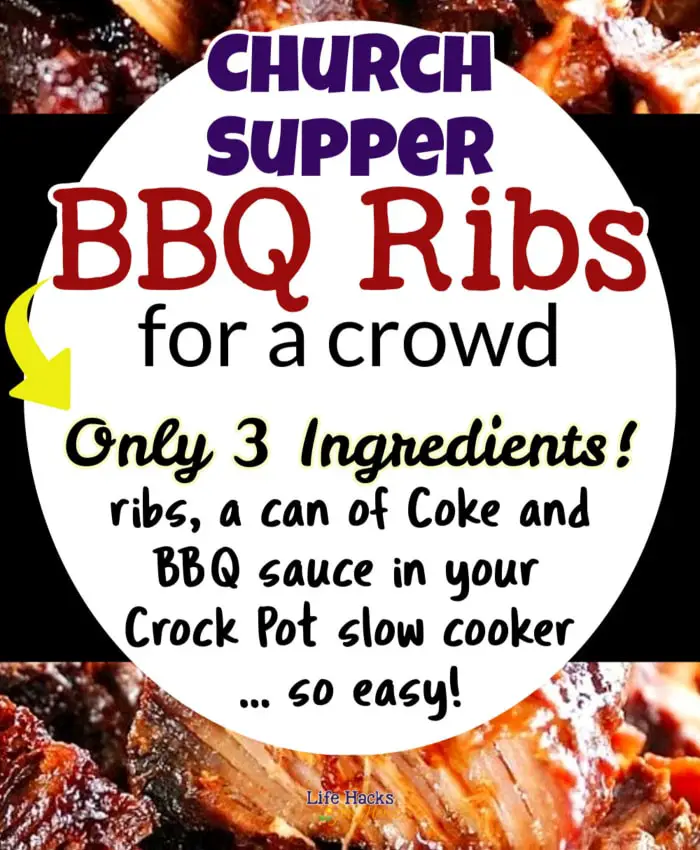 Just dump your ribs, a can of coke and your favorite BBQ sauce in a Crock Pot and cook on low for 8-10 hours or on high for 6-7 hours… done!
These ribs will be SO flavorful and tender.
3. Church Ladies Banana Pudding For a Crowd
This quick and easy banana pudding recipe has only 5 ingredients and only takes 15 minutes to make (yes, I know the time on the picture is wrong).
It's probably the best make ahead church supper dessert for a crowd that EVERYONE loves!
It's also one of my grandmother's famous dessert recipes!
4. Church Potato Casserole
It's not a large group church supper without church potato casserole – it's a tradition!
These church potluck casseroles are also cheap enough to make for a crowd, too!
I make it for all our large group get-togethers (family reunions, Holiday parties, office parties etc).
This is my favorite potato casserole recipe for our church crowd: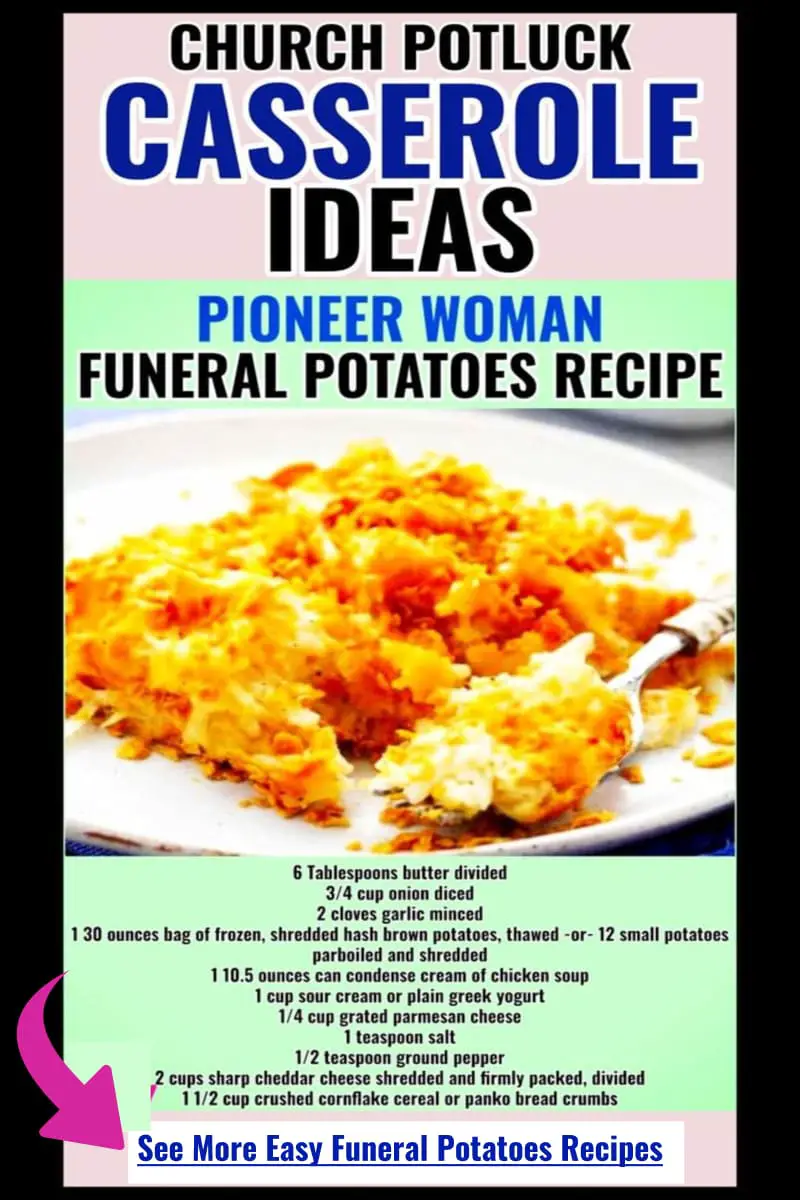 5. 5-Minute Million Dollar Dip
Don't forget dips and appetizers at your church supper – they are crowd-pleasers!
6. Pastor's Wife Potatoes
This church potatoes recipe is an authentic large group church dish that comes straight from a pastor's wife (who is ALWAYS cooking for a crowd!)
7. Pasta Salad For a Crowd
Everyone at my church LOVES my pasta salad – this is the recipe I use:
8. Baked Ziti Casserole
This DELICIOUS baked ziti recipe can be made ahead of time AND it's freezer-friendly.
The recipe feeds up to 20 people, too!
9. Church Picnic Supper Hot Dogs
If your church supper is picnic or a cookout / BBQ theme, you have GOT to make the crowd hot dogs in your crock pot slow cooker – so easy!
If you're wondering HOW to cook a LOT of hot dogs inside for a large group, this is THE easiest way to cook them AND to serve them.
10. Nana's Macaroni Salad
If you want a church supper covered dish to take that travels well AND feeds a crowd, this macaroni salad is a great choice to bring.
11. Boston Cream Poke Cake
When making desserts for a church crowd, nothing is easier that a dump cake or this Boston cream poke cake – oh MY it's so good!
It's an easy "one pan" dessert that you can make up to 2 DAYS ahead of time.
12. Wednesday Night Cocoa Cake
This is a traditional church supper dessert recipe and trust me, you will be FAMOUS if you make it and take to your church crowd.
Yes, it's THAT good!
13. Sloppy Joes for 60
This supper recipe is straight out of an old church cookbook and has been passed down over the years.
If you're feeding a BIG crowd at your church supper, this is THE main dish recipe you've been looking for.
14. Large Batch Punch Recipe
Don't forget beverages at your church supper – this large batch punch recipe below is for 50 people and it's really easy to make!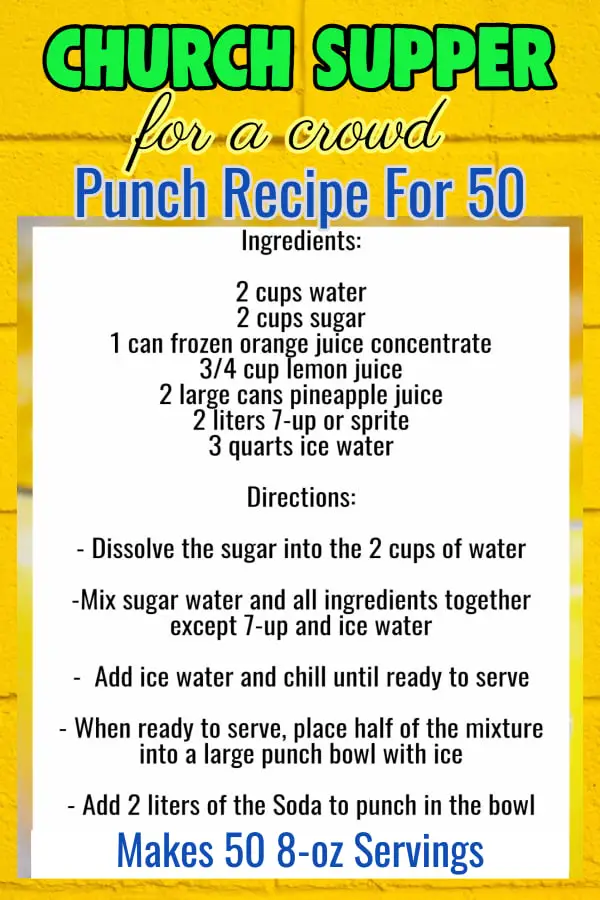 15. Easy Appetizers for a Crowd
If you want to take some sort of easy cold appetizer so you don't have to COOK something, here are some great ideas with very few ingredients:
16. Chocolate Cherry Dump Cake
This super simple dump cake recipe has only THREE ingredients and is ready in a snap.
Perfect to take to your church supper – it's also easy to make multiple batches if you're feed a REALLY large crowd.
More Large Group Food Ideas
More Ideas For Church
Miss Anything?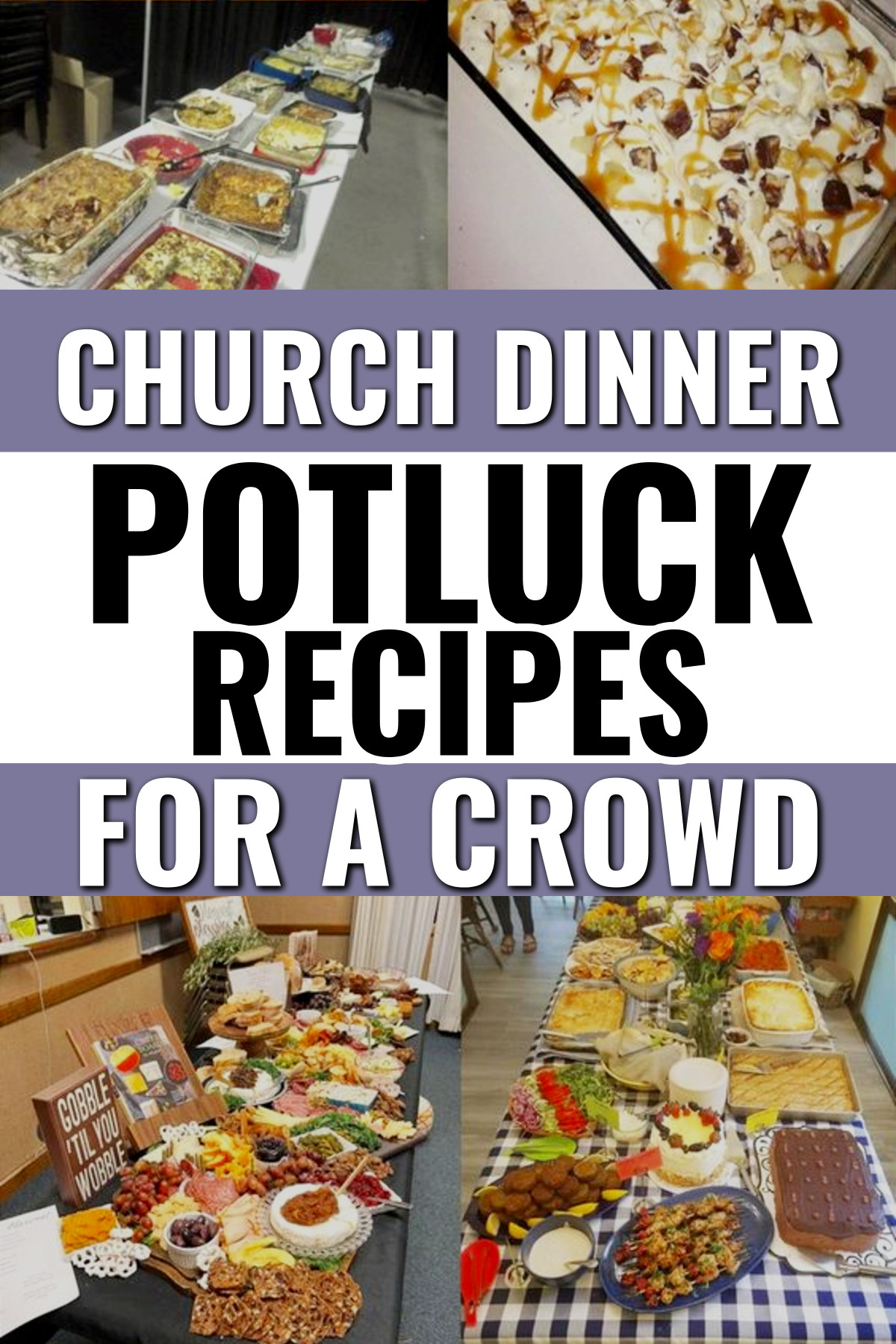 Go back to the top of: ==>> Church Supper Recipes For a Crowd
Go back to a specific section:
What To Read Next: